Bitlumens: An Energy Miracle Powered by IoT and Blockchain Technology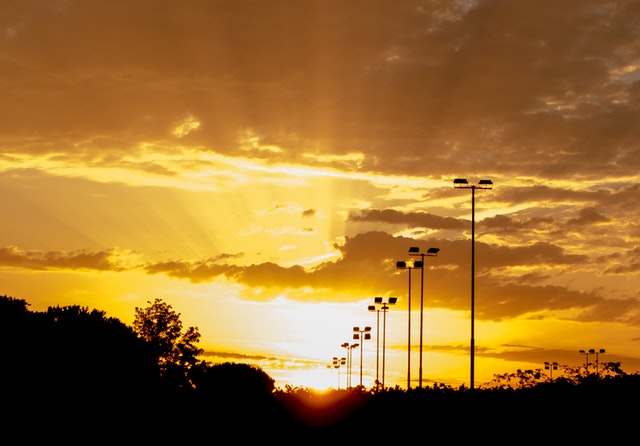 Energy for all is a global priority. An estimated 1.2 billion people lack access to electricity or roughly 17% of the world's population. There needs to be a cheap and clean option. One which is affordable and one that does not increase the carbon footprint.
One solution powered by Blockchain and the Internet of Things (IoT) has been developed by Bitlumens.
Bitlumens
Bitlumens is building a decentralized, blockchain-based micro power-grid for the 1.2 billion people without access to electricity and banking. Bitlumens brings electricity from renewable sources using IoT and the Blockchain. Thanks to solar energy and Bitlumens technology, people can use electricity, charge their electrical appliances and even water their crops.
Off grid communities lease Bitlumens hardware and pay in installments denominated in BLS tokens. This allows them to build a credit score leading to financial inclusion and get access to microloans backed by BLS. 
Solar Home System (SHS)
The Bitlumens Solar Home System (SHS) will initially use a 15/20/50W solar panel and 3000 mAh, Lithium Ferro-Phosphate (LFP) Battery. Bitlumens will sell 3 systems coming with different appliances, i.e. two USB charging ports; integrated dimmable LED lights; LED Backlit LCD TV; Radio and TV. The battery should last for 5 years and the system has a minimum 2-year warranty.
The system must provide to the final user: available credit, battery availability, electricity consumed, lighting duration, daily cost, and energy output. The data will be sent to the network on a daily basis between 7-10pm.
Bitlumens will provide cooperative banks with key pieces of information they require to open an account or facilitate financial services. Each user will be able to have their own ID and credit history. This information can be shared with third parties offering microlending solutions, governments and development banks. Users can get access to microcredits backed by BLS by paying a specific interest rate.
The system will be comprised (at minimum) of the following components:
A token creation smart contract (Ethereum)
A utility billing system contract (Ethereum)
IPFS (hash-based decentralized file storage)
A centralized server to hold fingerprint data and notarize identity
requests (approve/refuse)
smart meter
BLS Tokens
To access and use Bitlumens software, BLS tokens are needed. The tokens serve multiple purposes: villagers need them to pay the installments of their solar power device, banks need them to access the Bitlumens SaaS (Software as a Service), and family members use the tokens to send remittances.
Since most villagers do not have Internet access to pay digitally their Solar Home Systems, Bitlumens employs agents who will collect the payments in cash and buy a corresponding amount of BLS tokens from the open market. The BLS will then be uniquely associated with the solar power device.
The BLS token is an ERC20 token based on the Ethereum blockchain. It does not represent equity in the company. Since every participant in Bitlumens ecosystem will need to buy BLS from the open market, the demand for BLS will increase as the business scales.
Typical Transaction
To assess the risk of each household, Bitlumens' agents collect KYC information from each customer and feed the risk model with that data. The agents distribute and install the machines at the client's house. The machines are leased for a period a period of 12 to 24 months. The client makes the lease payments in BLS tokens. If needed, the client can purchase the BLS tokens for the lease payment from the agent. If lease payments are not made when due, the machine is locked until the payment is made. If users receive remittances from family members to cover a lease payment, Bitlumens charges a 1% transaction fee.
Bitlumens registers the load profile of each machine that is in use. Token holders can monitor these profiles on the blockchain. Thus, they can see the evolution of the project and its environmental and social benefits.
Timeline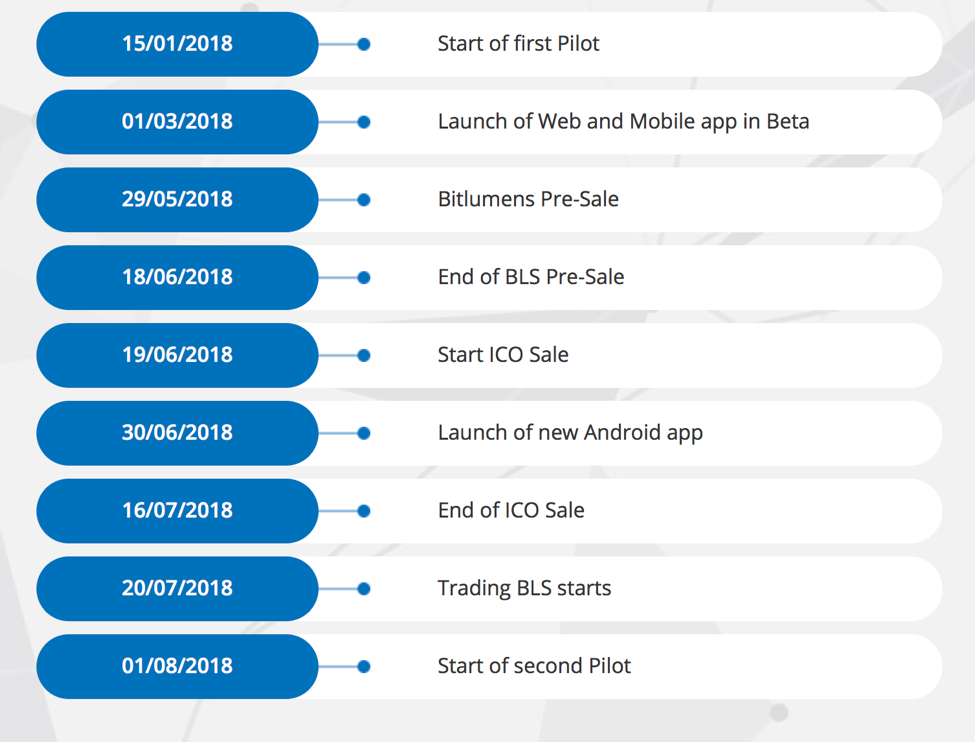 Token Sale
Token: BLS
Platform: Ethereum
Type: ERC20
Pre-ICO Price: 1 BLS = 0.0007 ETH
ICO Price: 1 BLS = 0.001 ETH
Total Supply: 50,000,000 BLS
Soft Cap: $1,000,000
Hard Cap: $25,000,000
The Pre-ICO ends at midnight CET on June 18. The ICO starts on June 19 at midnight CET and goes on for 28 days. On the first day of the ICO BLS tokens are priced at 1.5 BLS/USD. Between the 2nd and the 7th day, the price is 1.4 BLS/USD and between the 8th and the 14th day the price increases to 1.3 BLS /USD. Finally, during the last 14 days of the ICO, the price is 1.2 BLS/USD. The ICO will terminate early if an equivalent USD 25 million is raised.
Bottom line
Bitlumens is indeed one of the most ambitious blockchain projects we have seen and one with enormous potential. Considering the strong need for a clean and affordable energy option for the 1.2 billion people without electricity, Bitlumens could be the energy miracle that so many are looking for. For more information, check out the Bitlumens website, white paper, and Telegram.
Disclaimer: This article should not be taken as, and is not intended to provide, investment advice. Global Coin Report and/or its affiliates, employees, writers, and subcontractors are cryptocurrency investors and from time to time may or may not have holdings in some of the coins or tokens they cover. Please conduct your own thorough research before investing in any cryptocurrency and read our full disclaimer.
Image courtesy of Pexels
Bitcoin about to drop to 4k, how will the market recover?
It's no secret that the cryptocurrency market (including Bitcoin) has been under a bearish run since last December 17th and it's been going down steadily over the previous eleven months. But nobody was ready for the way in which the bears hit the market this November 14th.
It was just insane. The market capitalization for crypto went to its lowest point in a very short time. Bitcoin, which is crypto's canary in a coal mine (so to speak) dropped below the 5k mark. It's trading at $4,443 as we write this article and is expected to hit the 4k mark if things keep going in the same direction.
Can the trend change? Is there any good news to report? Any reason to be hopeful? The answers are: yes, yes, and yes.
The trend can and will change. We know this because drops as dramatic as the current one have already happened four times over the last ten years. Every time the market has bounced back to reach previously unexpected (allegedly impossible) heights.
About good news to report. There's plenty. Blockchain projects like Ripple, Cardano, Stellar Lumens, Tron, and some others have reached impressive milestones this year. They are gaining adoption, becoming useful in the real world and securing strategic partnerships.
Also, even in the bearish climate, the crypto infrastructure has kept snowballing so you'll be hard pressed to find any place in the world in which you…
Kobe Bryant to Attend niTROn Summit 2019 Hosted by TRON as A Special Guest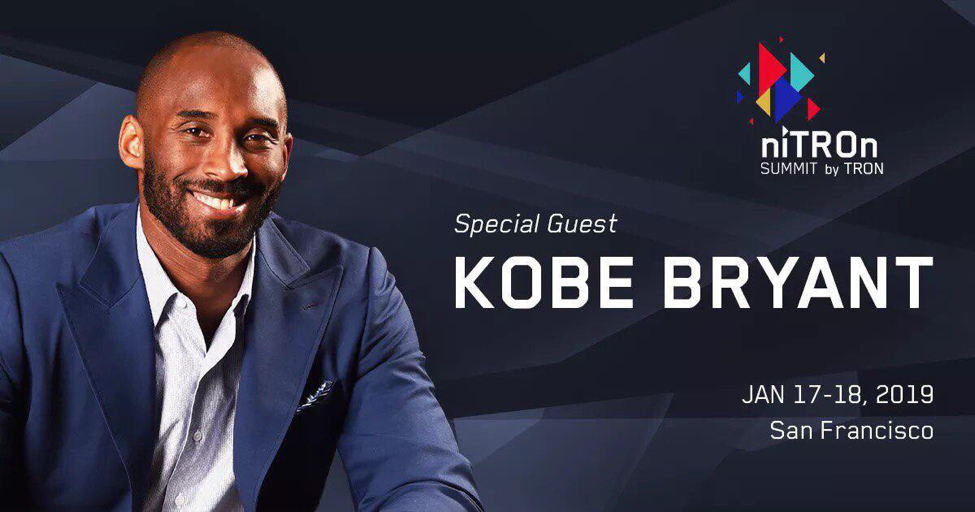 Event Hosted by Tron, niTROn Summit 2019, will take place at Yerba Buena Center for the Arts in San Francisco, USA, on January 17 – 18, 2019.
One of the foremost blockchain protocols in the industry that is committed to a vision of a truly decentralized internet; a platform that offers high-scalability, high-availability, and high-through-put, serving as the foundation for all decentralized applications in the TRON eco-system. The TRON protocol uses an innovative interface for smart contracts to improve compatibility with the Ethereum smart contract environment.
niTROn SUMMIT provides attendees with a platform for communication on a wide range of projects and allows practitioners, as well as KOLs from other industries to congregate and share blockchain solutions and innovations that will lead to groundbreaking technological advancements.
The summit will showcase TRON's projects with follow up insights from the members of the community. Kobe Bryant, former NBA superstar, will attend the summit as a special guest.
After having achieved greatest as a sports superstar, Kobe boasts several entrepreneurial successes in the business world. His career as a basketball player was marked by 1-time regular season MVP, 2-time Finals MVP, 5-time champion, 2-time scoring champion,  4-time All-Star Game MVP, 18-time All-Star, 1-time Slam Dunk Contest champion, 11-time All-NBA First Team selection, 2-time All-NBA Second Team selection, 2-time All-NBA Third Team selection, 9-time All-Defensive First Team selection, 3-time All-Defensive Second Team selection, 17-time Player of the Month, 32-time Player of the…
Stellar Lumens and XLM: All you need to know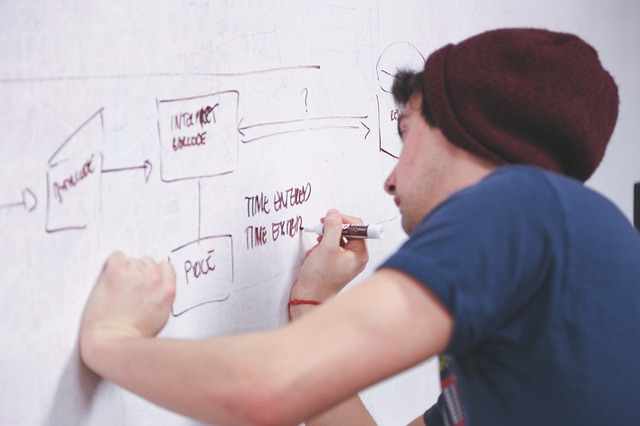 Stellar Lumens is a blockchain project that includes the XLM token. It's meant to connect banks, payments, and people. How? By making money transfers around the world quicker, safer, more efficient, available to people that are usually outside the banking system at a cost so low that it's almost free.
Millions of people are using Stellar already. It's considered to be the closest project to Ripple (hence, its main competitor). But Stellar has found more use cases than Ripple so far and a strategic alliance with IBM. Those two things will end up determining Stellar's success in the long run.
Stellar's leadership, staff, and the team have raised a few doubts in the past. This project was founded by Jed McCaleb who also founded Ripple and eDonkey. The network's governance and centralization could improve regarding transparency as well.
That being said, Stellar's adoption and development have grown exponentially in a short time. It's become one of the leaders regarding blockchain structure. And it's been in the crypto verse's spotlight for several reasons.
With all those successes, Stellar Lumens could do a better job when it comes to decentralized apps. In third-generation blockchain projects, smart contracts and dApps are crucial. This could allow competitors like Tron, Ripple or EOS to gain advantages over Stellar.
But Stellar's versatility is such that it might disrupt many different markets. As a payment tool, it can affect the virtual (and the real-world)…