CoinDeal is celebrating it's Premier League sponsorship renewal with a unique and highly anticipated token launch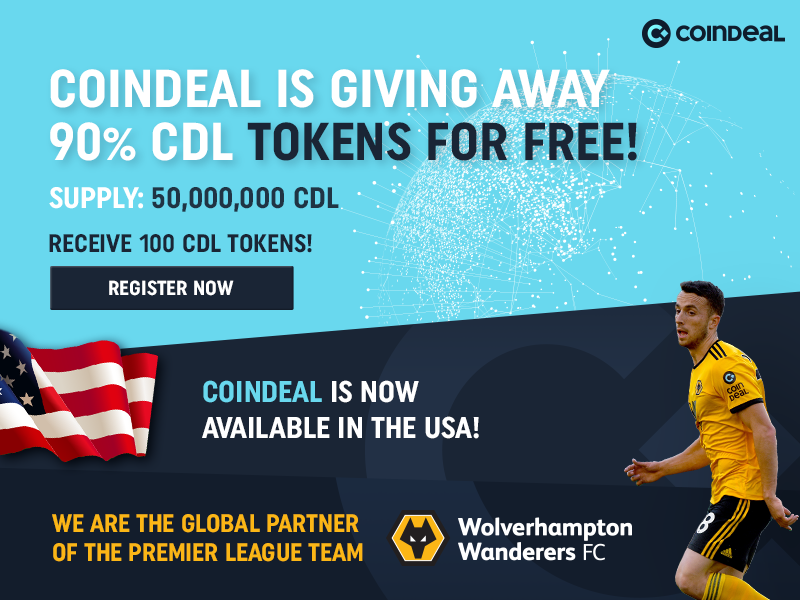 Coindeal's popularity and number of new users are growing very fast. The exchange will soon be available in several states in the USA and has prepared their own CoinDeal token – CDL. This giveaway is addressed to its 300.000 current and 150.000 new users –internal exchange tokens are waiting to get them completely for free!
…is an amazing opportunity to start trading for free on one of the premier global exchanges with various benefits. The token will also allow for a higher liquidity within CoinDeal and for more pairings with cryptocurrencies and fiats.Only the first 450.000 users will receive CDL tokens. This giveaway is unique, since most token projects give only 5-7% of their token to the users via bounty programs and other mechanisms, however, CoinDeal has decided to give their users 90 % of all generated tokens. Something of this magnitude has been unprecedented and may very well create a totally new token distribution model.
We actually created a system where staking 150,000 CDL tokens and over will give a maker fee of 0.000%.– Adam Bicz – one of the Founders
If you already have a fully verified account on CoinDeal you just need to login and click the pop-up with information regarding CDL tokens.
Tokens will automatically appear in your wallet. CoinDeal claims that after the giveaway is completed and all tokens have been distributed to users, it will launch a variety of pairings with crypto and fiats. The total supply is 50,000,000 and the token itself has been created on the EOS blockchain and will boast much faster transaction times as well as drastically smaller network fees (as compared to most ERC20 tokens).
How to get free CDL tokens?
Register on CoinDeal
Go through the verification process (ID and Proof of Address)
Click "Get Free Tokens"
Check Your Wallet
All interested in the CDL token should act fast, as the number of tokens is capped and the necessary verification level to receive tokens via CoinDeal.com may take up to a few days.

By getting CDL you will receive
Decreased trading fees
Customer Support/ Fast Pass priority
Multi tier token staking system can decrease fees to 0.000%
Advanced trading features
Social trading platform access (planned for 2020)
Staking over 150.000 CDL will give you a 0.0000% maker fee and a 0.0250% taker fee. After completed distribution CoinDeal will start buying back CDL tokens on a monthly basis.
You can gain more from this giveaway by sending your friends a referral link that you can copy from your account.creating a Coindeal account.
You will receive 20% of their trading fees and they will automatically get free tokens after creating a Coindeal account.
Taking care of Premier League friendship – 2nd season of the sponsorship of the Wolverhampton Wanderers F.C.
The last season 2018/2019 of cooperation was very successful for Wolves and Coindeal and they discovered many common features, so it's obvious that they wanted to still work together. The CoinDeal team admits it was one of the biggest and most important marketing adventures in the development of the company.
The numbers speak for themselves. Thanks to the cooperation with Wolves, the media value in the period from the June 2018 to April 2019 amounted to over £50,000,000. Coindeal logo was visible on TV-screens worldwide more than 350,000,000 times and the official CoinDeal advertisement with Wolves players gained also over 1,000,000 of views on YouTube.
We truly couldn't be happier and more excited about the possibilities this new season will bring. – Adam Bicz – one of the Founders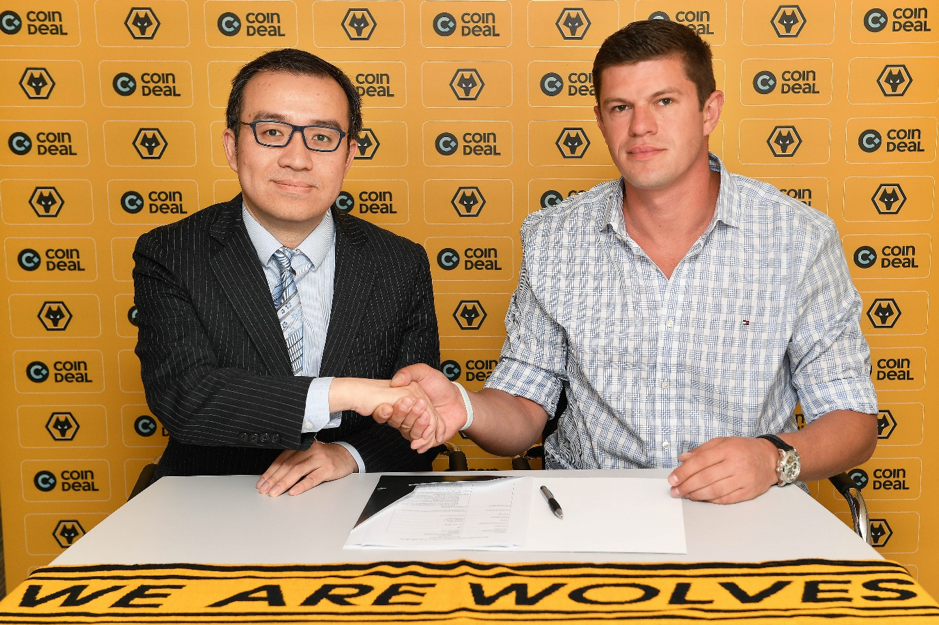 However, the crypto exchange shows that sponsoring is not just a way of advertising for the crypto business, but something more. Apart from the logo visible on the match shirts and the stadium, Coindeal team made friends with the Wolves team and cheered them on each match even for live. Their relation was also seen on the backstage video of the recording of the joint advertising. As they said at the end of cooperation Wolves were something more than partners – they were like family.
USA market…
…is the next step in the development of the one of the largest crypto-fiat exchanges in Europe. The company is ready to enter the American market with 14 crypto to crypto markets for a start and the users from the States will have an opportunity to profit from the newest CoinDeal promotion with their free CDL Tokens.

Coindeal was founded over a year ago by three Poles. Rapid growth on the European and Asian markets was just the beginning. At the request of the users, CoinDeal decided to obtain all the necessary licenses and permits to open trading to American citizens.

Follow CoinDeal on Facebook and other social media channels:
https://www.facebook.com/CoinDealOfficial/
https://www.linkedin.com/company/coin…
Now is the Perfect Time to Become a BitStarz Affiliate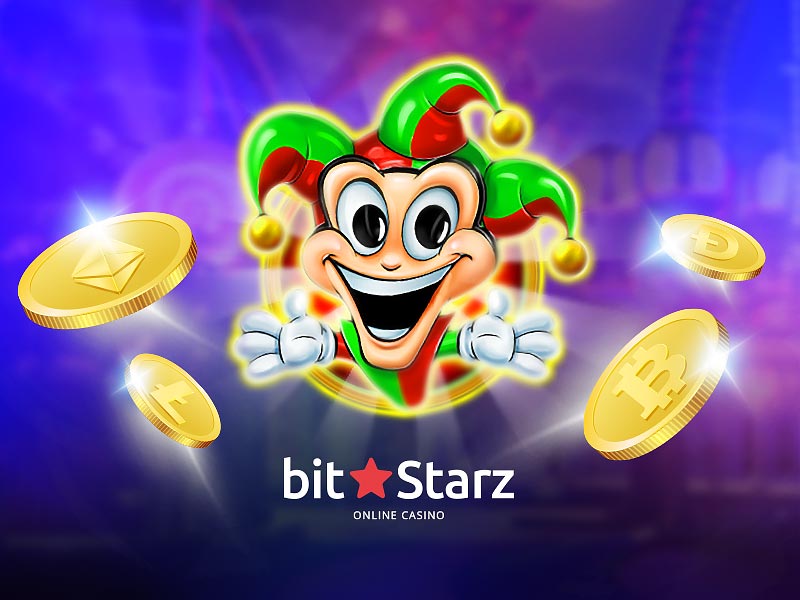 Cryptocurrency isn't just a passing fad or get rich quick scheme, it's an innovation that is changing the world as we know it. No industry has benefited more from cryptocurrencies rocket to the moon than iGaming, as it's grabbed onto the digital coin revolution with both hands.
What was once something offered by just a few niche casinos has actually catapulted the likes of BitStarz to industry superstardom. The growing benefits of Bitcoin and other cryptocurrencies used in iGaming simply can't be ignored, with affiliates now also able to reap the benefits – there simply is no better time to become a BitStarz affiliate!
Affiliate Marketing is a Money Maker
Affiliate marketing has a hand in almost every industry, even if you don't see it. In fact, from retail all the way through to ICOs, affiliate marketing has a role to play in generating business and brand awareness for companies around the globe. This certainly isn't a one way street relationship either, as affiliates under the right scheme can generate huge revenues.
Where there is iGaming there is affiliate marketing, the two just seem to go hand in hand. Long before other industries woke up to the value of affiliate marketing, iGaming was already ahead of the curve. Now, take a new innovation like crypto, which commands headlines, and mesh it with the ever popular online casino industry…
Australia progressively develops a crypto scheme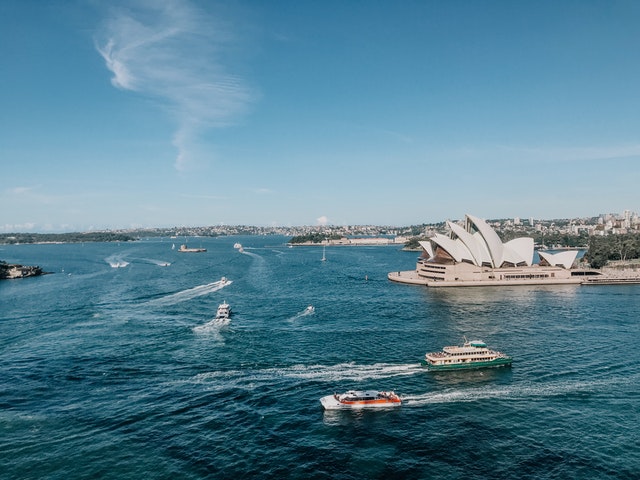 Cryptocurrency and the Bitcoin first entered our vocabulary in 2009. It has been 10 years and up to now many people recognize this terminology, however, it is not really used for payment. Despite it is slow progression worldwide, Australia is a growing market for it. Gambling and online casino is also strongly developing in Australia and it is using more digital exchanges. According to various statistics – online casino Australia is a widely researched topic and surely is attracting more and more people along with cryptocurrencies. There had been some changes in taxation and cash payments, so it is very likely that Australians will go digital and buy cryptocurrency very soon.
Australia has legalised cryptocurrency since 2017 with the support of the government. They have to be treated as property and subject to Capital Gains Tax(CGT). The change in tax law surely demonstrated how Australia is progressing towards digital.
In 2018, new cryptocurrency exchange regulations came into place and it got more complex. The new rules required exchanges to be registered with the Australian Transaction Reports and Analysis Centre (AUSTRAC) in order to prevent deceptive activity.
Australia looks ready to include Initial Coin Offerings (ICOs). They are cryptocurrency's way of community funding, which came into public back in 2014. Although it has been banned in China and criticized By the Us, Australia keeps being open to new possibilities…
ArBinance Takes Arbitrage Trading to Another Level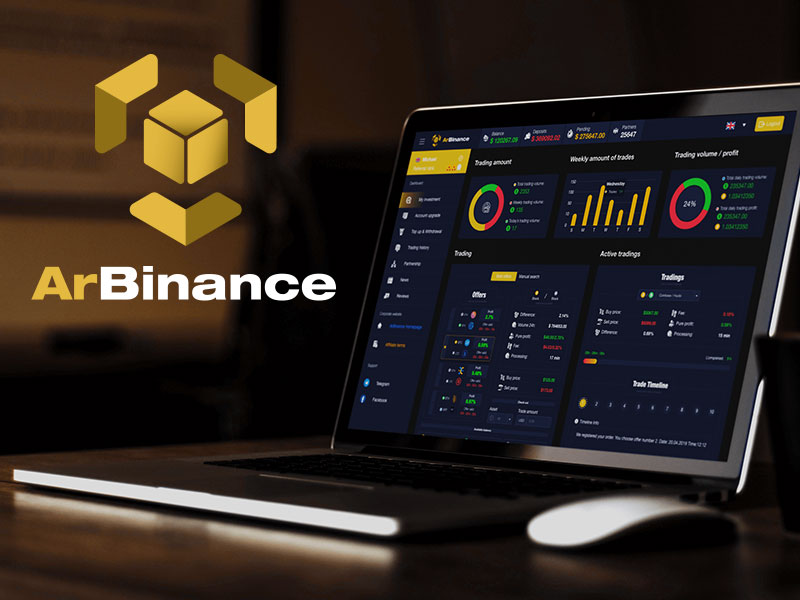 As the cryptocurrency market becomes more prominent among professional traders, it can make conventional trading processes a part of its operations.
One of these mechanisms is arbitrage. Arbitrage allows traders to benefit from buying and selling cryptocurrencies priced differently across different exchanges. But given that tracking price changes and acting on them is very difficult, automated solutions often prove to be helpful for those who want to make use of arbitrage.
ArBinance is a new, automated arbitrage platform that allows its users to use arbitrage trading in an effective manner. With solutions crafted to fit the needs of all traders, ArBinance brings cryptocurrency arbitrage to everyone.
Arbitrage Trading is Helpful but Difficult to Execute
With new cryptocurrency exchanges popping up every other day, the digital asset market is rife with different markets. For those who deal with arbitrage trading, this means a plethora of opportunities to find differences in cryptocurrency pricing.
If a cryptocurrency is priced lower at one exchange but a little higher on another, it can be bought on its lower value and sold at a higher price. As a result, the trader who executes this transaction makes off with some profits. But considering that the price difference isn't that much, to begin with, only one or two arbitrage trades do not cut it as an adequate trading profit.
That is why arbitrage traders have to…