CRYPTOASSETS PROVIDE A GATEWAY TO INVESTING FOR A NEW GENERATION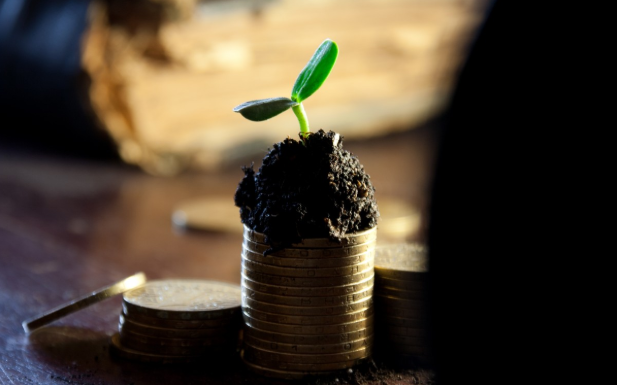 – Crypto investors diversified into stocks, commodities and forex –
Wednesday 27 February 2019
New data released by global multi-asset investing platform, eToro shows that the crypto boom has helped to create a new generation of investors.
The majority (73 percent) of new investors joining eToro in 2017 and 2018 purchased crypto. Of these investors, more than one in ten (11 percent) have since gone on to invest in other assets including stocks, commodities and forex alongside their crypto investment.
The move to invest in other financial instruments alongside crypto is particularly prominent in the younger generation, with nearly half (44 percent) of all those diversifying aged between 25 and 34.
Iqbal V. Gandham, UK Managing Director at eToro,  from eToro said: "Everyday we read another story about how ordinary people, especially millennials, are not investing enough. Yet crypto shows us that if you can capture their interest then people will invest. Regardless of whether you believe in the long-term opportunity offered by crypto, it is worth us looking at what we can learn from these crypto investors, especially as we've seen that once they have dipped their toes into investing, some were then prepared to diversify."
The move into traditional assets was seen all around the world, with 10% of UK cryptoasset investors diversifying into other investments alongside their crypto holdings. The trend was most pronounced in Italy and China, with 14 percent and 12 percent of crypto investors respectively going on to become investors in other asset classes.
Globally, the most popular asset class for crypto investors to try next was stocks, with one-in-three of these investors doing so. The UK followed this trend with more than a third (34 percent) of those crypto investors who diversified choosing stocks as their second investment on the eToro platform. 31 percent chose to copy the activities of other eToro users as their second action and 23 percent invested in commodities.
Of those that chose stocks for their second investment on the eToro platform, 42 percent were aged 25-34, possibly indicating a newfound popularity for stocks amongst younger UK investors.
Iqbal V. Gandham continued: "As an industry we need to rise to the challenge and work harder to engage consumers. For too long investing has been seen as the preserve of the wealthy and/or something that is too complicated for the average man on the street. Crypto changed that.
"We now have an opportunity to show those people whose first experience of investing was crypto, the other opportunities that exist. By making sure people can access all the assets they want to own in one place, we can encourage a new generation of investors to take more control of growing their wealth with a diversified portfolio of investments, including crypto."
The data also showed that those buying cryptoassets held their positions for longer than other asset classes. Globally, crypto positions lasted 71 days longer than the next longest-held asset, ETFs, which could indicate a belief in the long-term investment opportunity offered by cryptoassets.
About the data
The above data is based on an analysis of users of the eToro trading and investment platform during 2017 and 2018. The eToro platform has over 10 million registered users.
About eToro
eToro empowers people to invest on their own terms. The platform enables people to invest in the assets they want, from stocks and commodities to cryptoassets. eToro is a global community of more than ten million registered users who share their investment strategies; and anyone can follow the approaches of those who have been the most successful. Due to the simplicity of the platform users can easily buy, hold and sell assets, monitor their portfolio in real time, and transact whenever they want.
eToro is regulated in Europe by Cyprus Securities and Exchange Commission and regulated by the Financial Conduct Authority in the UK.
eToro is a multi-asset platform which offers both investing in stocks and cryptoassets, as well as trading CFDs.
CFDs are complex instruments and come with a high risk of losing money rapidly due to leverage. 76% of retail investor accounts lose money when trading CFDs with this provider. You should consider whether you understand how CFDs work, and whether you can afford to take the high risk of losing your money.
Cryptoassets are volatile instruments which can fluctuate widely in a very short timeframe and therefore are not appropriate for all investors. Other than via CFDs, trading cryptoassets is unregulated and therefore is not supervised by any EU regulatory framework. Your capital is at risk.
As Brexit negotiations ensue, how will ongoing uncertainty affect the financial markets?

The continued disruption could hold significant value to those willing to take advantage of this uncertain period.
Almost half of food manufacturers have said access to new UK markets will form a significant part of their growth strategies, with a further 46% citing export markets.
Technology will also continue to play an ever-increasing role in our daily lives, regardless of a good, bad or no deal Brexit. For investors, a focus on tech could naturally lead to firms like Apple, Facebook or IBM.
Last year, the London Stock Exchange (LSE) said more than two-thirds of the revenues earned by companies listed on its FTSE 100 came from overseas. BHP, for example, is a mining company that earns 100% of its income from international markets. It produces coal, copper, iron ore and petroleum – even if the UK does stop needing quite so much of them, there are plenty of other places that do. Similarly, banking giant HSBC has a branch on most high streets and employs tens of thousands of people in the UK. But despite its huge footprint here, it earns 75% of its revenues from international markets.
It might be surprising but tobacco companies are classed as Brexitproof as are some booze brands – people rarely give up smoking and drinking in a time of crisis. British American and Imperial Tobacco…
Blockchain project that incentivises people to test for diabetes by handing them cryptocurrency wins first GoodDollar hackathon attended by Israeli ambassador in Rwanda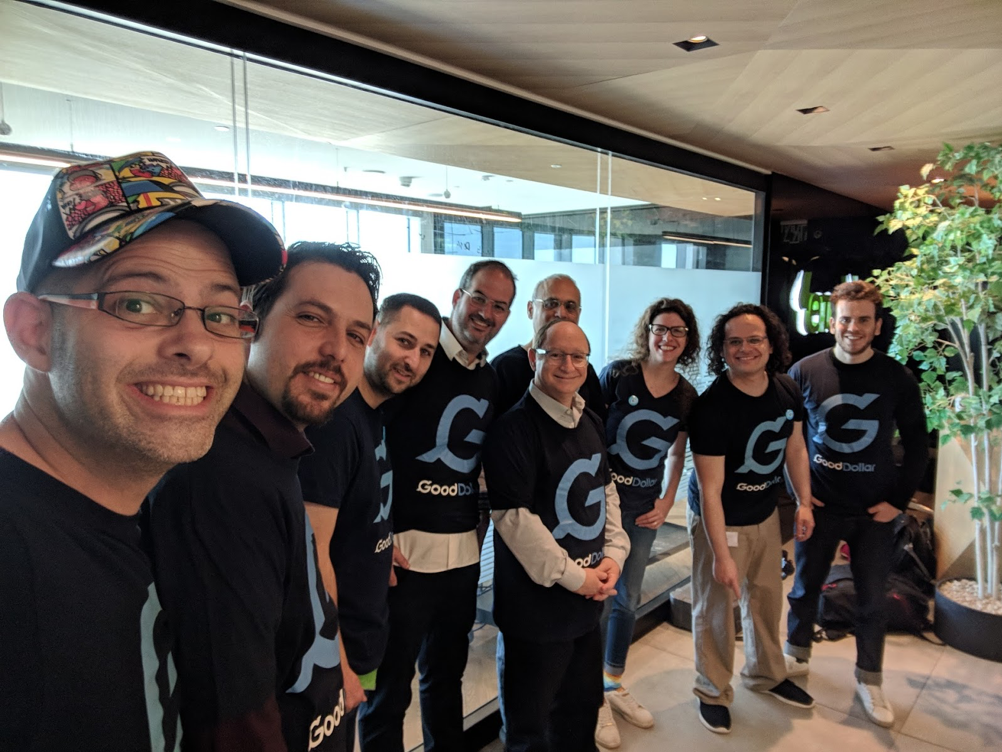 The hackathon for reducing global wealth inequality using decentralised technology was won by a prototype for a system that encourages citizens to be checked for diabetes in return for GoodDollar tokens
GoodDollar, a not-for-profit research hub that explores how decentralised cryptocurrencies and blockchain technology may enable models based on universal basic income (UBI) with the central aim of reducing global wealth inequality, held the inaugural Hackinequality event in Tel Aviv on March 14 and 15.
The judging panel, after much debate, agreed that the three-person t2d team – made up of Jesse Medina, Lior Yaffe, and Yaron Shmaria – had done enough to see off competition from the other eight social impact projects.
The team won the US$2,500 first prize, though the money was of secondary importance, with their contribution for social impact by far the more valuable.
Nine teams had 16 hours to work on their projects at the eToro offices in Bnei Brak, and their dedication was commendable. Most of the talented 35 participants – including programmers, analysts, designers, user experience experts, blockchain enthusiasts – burnt the midnight…
eToro Officially Launches Crypto Trading Platform & Wallet in the U.S.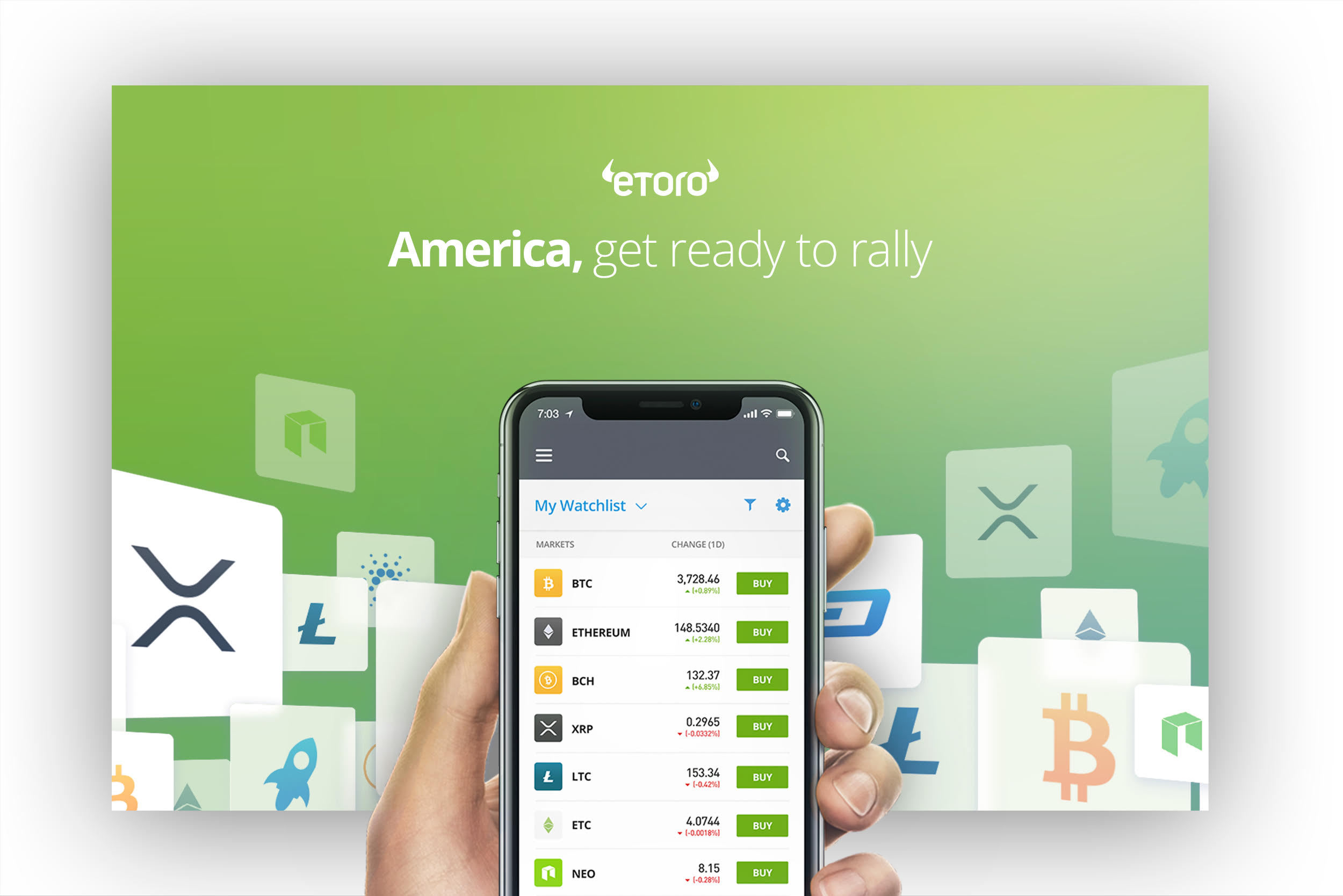 Global platform allows U.S. customers from 32 states and U.S. territories to trade 13 cryptoassets with multi-asset trading to arrive in Q1 2020
New York, NY — March 7, 2019— eToro, a global multi-asset trading platform with over 10 million registered users, announced the launch of its platform and cryptoasset wallet in the United States. With the launch, U.S. customers with diverse levels of expertise can leverage eToro to collaborate with one another to find the best cryptoasset trading strategies in an environment rich with unconventional educational tools.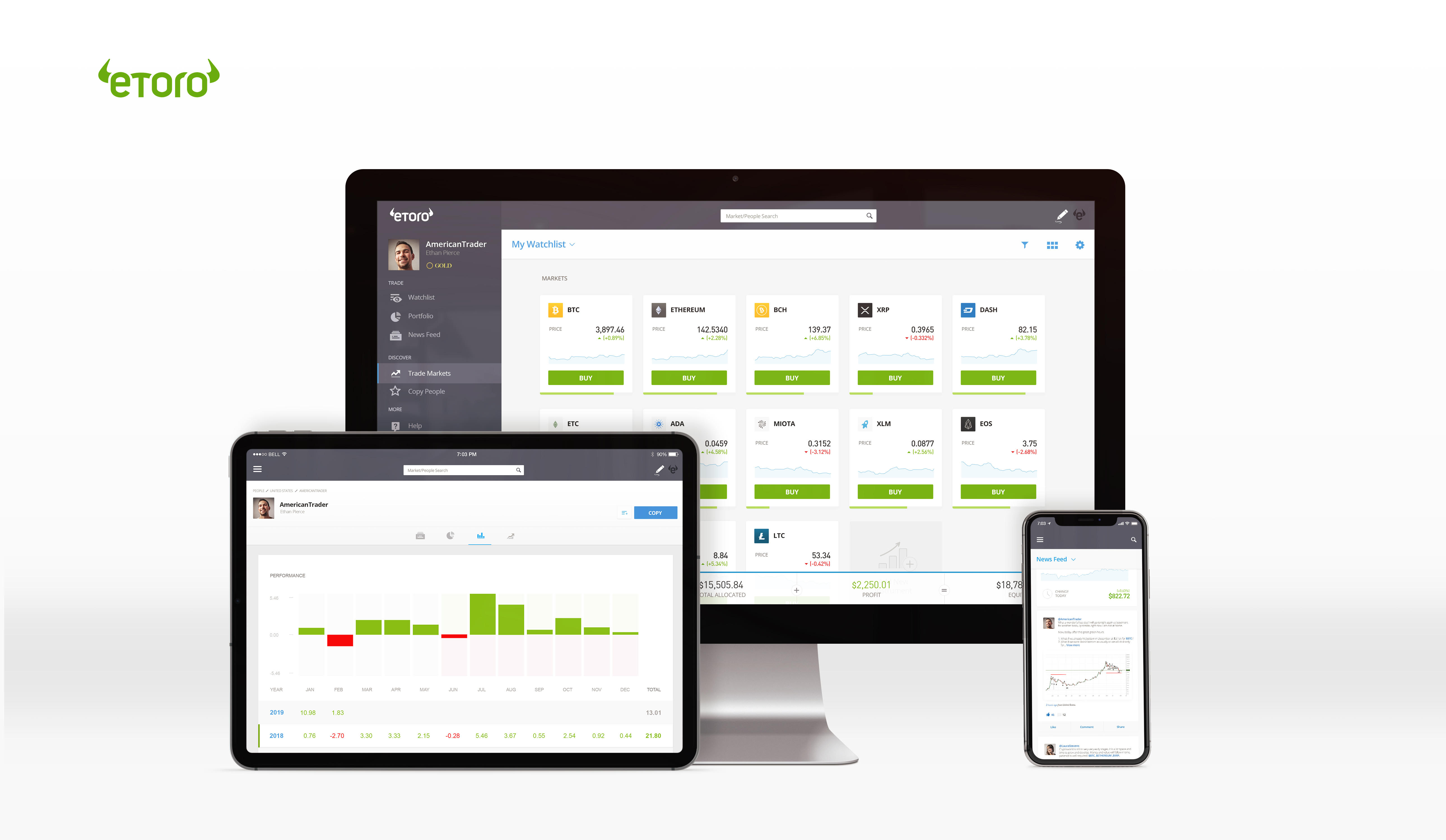 At eToro, you can share your real track record, portfolio, and trades with the community, allowing users to engage with each other on trading ideas that are executed using real dollars. For those new to crypto trading, the community and educational resources introduce users to this new asset class and the risk profiles involved in it.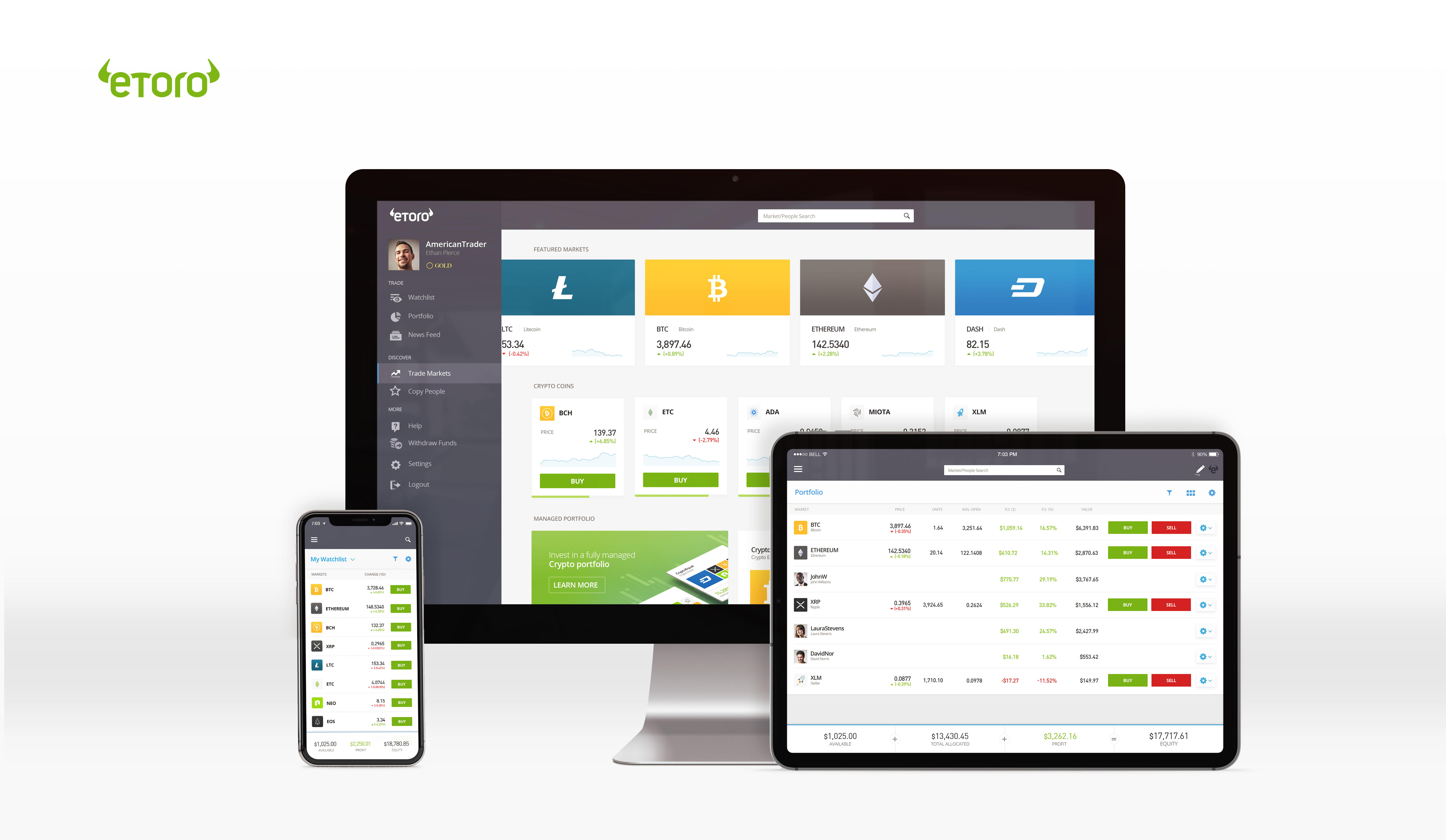 Yoni Assia, Co-founder & CEO of eToro, said: "For the first time, Americans can collaborate with other crypto traders when making buying and selling decisions. Users can adjust their trading strategies by watching and…