eToro announces GoodDollar experiment to reduce wealth inequality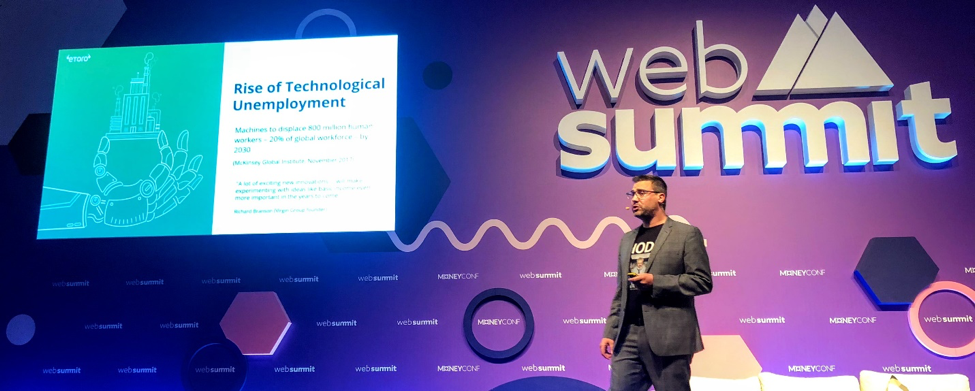 GoodDollar experiment to research how to reduce wealth inequality using blockchain
GoodDollar is an open source community project
eToro announces $1m in funding and calls for more 'brains, ambassadors and funders' to join the experiment
Global, multi-asset, investment platform eToro today announces the launch of the GoodDollar experiment with $1 million in funding from the company. The company is calling on more partners to join the initiative which aims to reduce wealth inequality using new technologies underpinned by blockchain. The experiment will research implementing a cryptocurrency that pays social interest to those who have less, and is continuously distributed to any verified participant for free, creating a global, open, universal basic income (UBI).
Yoni Assia, eToro Co-founder and CEO, said: "The success of new technologies should not be measured only by their ability to power new industries and disrupt old ones, but also on their ability to affect positive change in the world. Too often the tech world focuses on generating commercial value, rather than societal value. Technology should be used to tackle the great challenges of our time. This is especially true of blockchain, which has been harnessed in many creative ways, but hasn't yet been used to tackle our really big challenges."
The GoodDollar experiment is an open invitation for the global community to rethink the existing economic framework. GoodDollar aims to create a non-speculative cryptocurrency that aims to find ways to reduce wealth inequality on a global scale. It is geared towards a global UBI distribution mechanism that is deployed via smart contracts.
Yoni Assia continued: "Inequality is the crucial economic challenge of our time. In 2017 just 1% of the world's population owned more than half of the wealth. With the rise of technology unemployment, the tech industry needs to find solutions for those with less to participate in the economy and pursue their purpose.
"We see a growing interest amongst tech entrepreneurs, such as Mark Zuckerberg and Elon Musk, who understand the challenge of global wealth distribution and want to create a research framework for how technology can help solve this issue.
"The merging of blockchain technology, growing support for UBI and the realization that wealth inequality must be reduced, may finally converge into a new global economic system that would give all humans the financial freedom to pursue their purpose and happiness."
eToro Co-founder and CEO Yoni Assia first shared the idea of addressing wealth inequality a decade ago in an article published in November 2008 entitled 'The Visible Hand'. Yoni's vision is now being made a reality by a team based across Tel Aviv, London, and wherever the right expertise exists.
Yoni Assia added: "We believe that we can create a mass-market cryptocurrency that is engineered to reduce inequality and provide a universal basic income. Engineers, product designers and economists are currently developing the prototype. Today is just step one on a long, ambitious journey.
"I would like to invite more partners to join this important experiment. We're looking for experts in the fields of decentralized identity, governance, local and global adoption of financial products, and wealth distribution. We are also on the hunt for ambassadors to help spread the word about the project, and for funders to help us deliver GoodDollar. So if you're passionate about using technology for social good, please get in touch."
* Source: Credit Suisse Wealth Report, November 2017. As of October 2018, 0.7% of addresses hold as much as 87% of total bitcoin in supply – source: BitInfoCharts, October 2018.
Further information on GoodDollar, including how you can get involved, can be found here.
About GoodDollar
GoodDollar's aim is to create a new economic framework with a cryptocurrency that is available to everyone. The cryptocurrency will be minted and freely distributed to any person, based on social identity verification on the blockchain. The currency will have a built-in social interest/inflation, which gives more to those who have less.
The project is funded through a $1m donation from eToro and incubated by the business in London and Tel Aviv. www.gooddollar.org
About eToro
eToro empowers people to invest on their own terms. The platform enables people to invest in the assets they want, from stocks and commodities to cryptoassets. eToro is a global community of more than ten million registered users who share their investment strategies; and anyone can follow the approaches of those who have been the most successful. Due to the simplicity of the platform users can easily buy, hold and sell assets, monitor their portfolio in real time, and transact whenever they want.
eToro is regulated in Europe by Cyprus Securities and Exchange Commission and regulated by the Financial Conduct Authority in the UK.
About Universal basic income (UBI)
UBI is a revolutionary economic concept, that's been discussed by thought leaders for dozens of years. In lieu of complex wealth programmes, which have many shortcomings, it offers a simple, yet powerful alternative: give any person, no matter who they are or what they do, a basic income on a regular basis.
This would help weak populations, who are constantly busy struggling for survival, in maintaining a normal living – allowing them more freedom to pursue productive and self-fulfilling occupations. Researchers argue that UBI programmes drastically limit extreme poverty, reduce benefit fraud, encourage greater economic participation and reduce wealth inequality.
Existing UBI programme pilots, which are being run around the world,  rely on government funding a basic income being provided through taxation. However, harnessing the power of blockchain for distributing UBI requires no government involvement, is not limited by national borders, and relies on constantly issuing cryptocurrency to verified individuals, using coding mechanisms that can be effectively protected from fraud.
The GoodDollar's social interest rate mechanism represents a unique, economically efficient approach to creating a UBI.
This globetrotting investor explains why he chose to invest in some of eToro's CopyPortfolios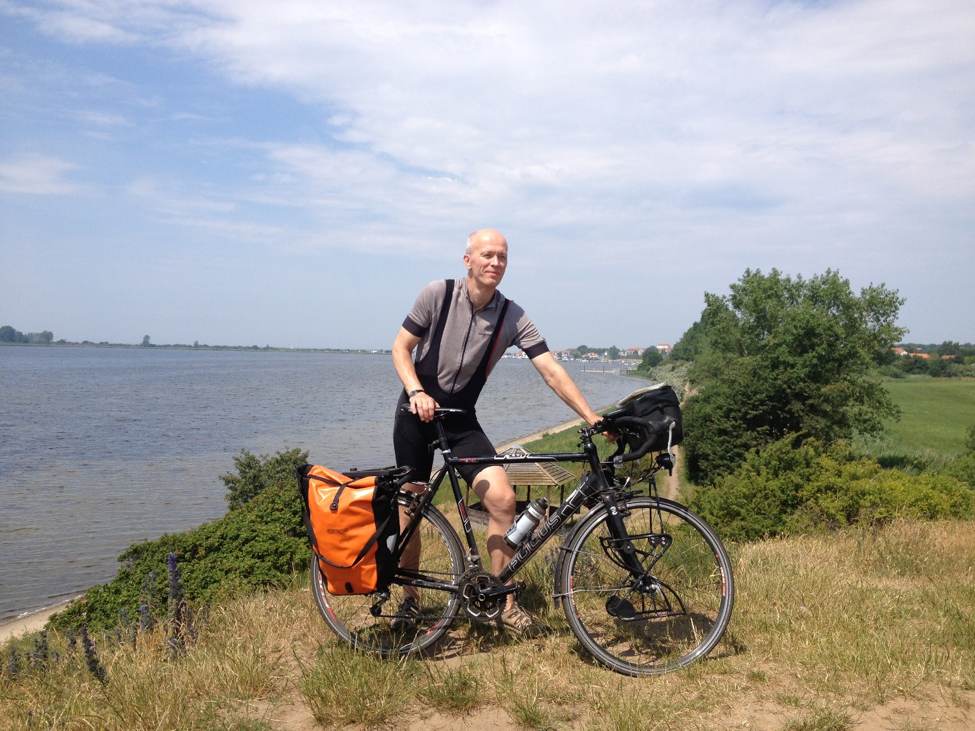 Klass (@oroumann) is an experienced investor who has worked in various fields and owned businesses in several countries. After spending some time on eToro, he discovered CopyPortfolios and started investing through them, as a long-term, complementary investment option to his day-to-day trading portfolio. Check out our interview with him below:
This is not investment advice. Past performance is not an indication of future results. Your capital is at risk.
Tell us a little bit about yourself?
My bio is everything but linear. After finishing school in Germany I moved to Mexico, where I did an apprenticeship with the customs broker TRANSUNISA SA. At the tender age of 21 I became the manager of one of their subsidiaries and only later decided to study economics.  At 30 I became the director of the Danish subsidiary of a German graphic peripherals distributor and later set up their Swedish and UK operations. My family members have multiple nationalities – so I guess we "think we are from everywhere" and that's how I invest.
How did you end up leading FotoInsight?
While studying an MBA in 2003 and with two children in independent schools in Cambridge, I was heading for financial meltdown. A large photo lab that I knew well was going digital. We set-up "FotoInside" to sell their photobooks, prints and calendars. But most internet connections were not providing sufficient bandwidth,…
eToro Rolls Out Crypto Wallet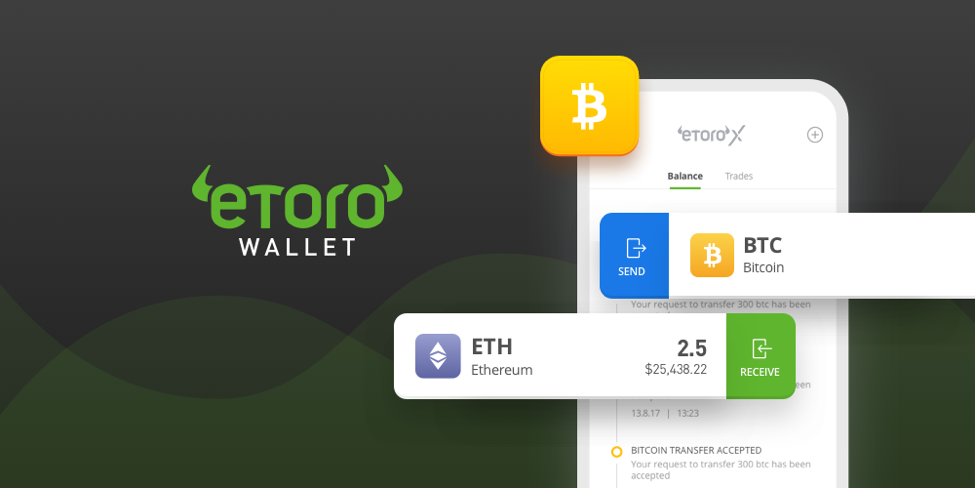 Multi-crypto on-chain wallet with multi-signature security
Coming soon – crypto to crypto conversion, deposit fiat, payment in store
eToro, the global investment platform with over 10 million registered users, today confirms the rollout of its crypto wallet.
The eToro wallet is a mobile application available via Google Play and the Apple App Store. It provides an easy to use customer interface and enhanced security. Multi-signature* security gives users the ability to see their on-blockchain transactions and balances without the fear of losing their private key**.
Yoni Assia, CEO of eToro comments: "We believe that crypto and the blockchain technology that underpins it will have a huge impact on global finance. Blockchain has the potential to revolutionise finance and we believe that we will see the greatest transfer of wealth ever onto the blockchain. We believe that in the future all assets will be tokenised and that crypto is just the first step on this journey. Just as eToro has opened up traditional markets for investors, we want to do the same in a tokenised world. The eToro wallet is a key part of this."  
In order to ensure the best customer experience for clients, eToro is launching its crypto wallet on a phased basis both in terms of users, with a country by country rollout, and functionality.
At launch, users will be able to store Bitcoin, Bitcoin Cash, Ethereum and Litecoin in their eToro…
Cryptocurrency Going For A Song On Bitcoin's 10th Birthday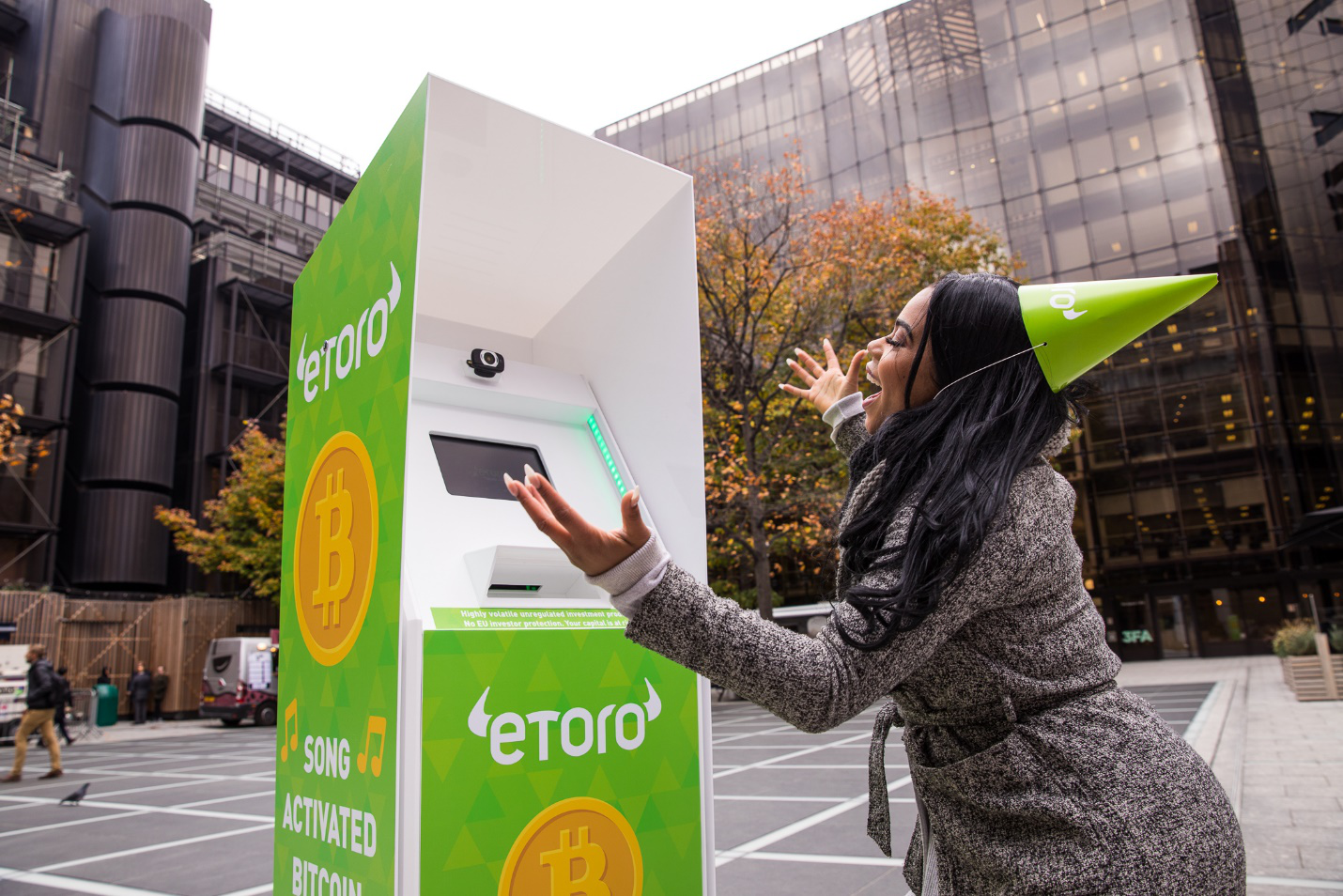 – eToro launches unique karaoke cash machine that ditches the pin and asks users to sing for free bitcoin –
eToro, the global investment platform with over ten million registered users, is helping Brits celebrate the tenth anniversary of Bitcoin today by giving away £10,000 worth of the cryptocurrency via a unique ATM machine that's activated by song.
The machine, that responds when people sing 'Happy Birthday' to it, has popped up today (31st October) in London's Finsbury Avenue Square, 10 years to the day that Bitcoin's whitepaper was released. The ATM is offering vouchers worth between £20 and £250 in bitcoin to successful singers stepping up to its screen and creating sweet har-money.
As well as grabbing free bitcoin rewards, people who visit the ATM can opt to have their singing experience captured on camera for sharing on their social channels with a chance to win a further £1,000 in bitcoin currency.
The first of its kind song-activated ATM was made by a specialist team of computer programmers, tech experts and sound engineers. Using advanced audio and voice technology, the ATM detects when a specific melody is being sung to it, in this instance the song 'happy birthday' and the volume of the singing. A digital display on the ATM lets users know how loudly they are singing, whether they need to increase their volume and how much of the song they need to complete to…