eToro announces GoodDollar experiment to reduce wealth inequality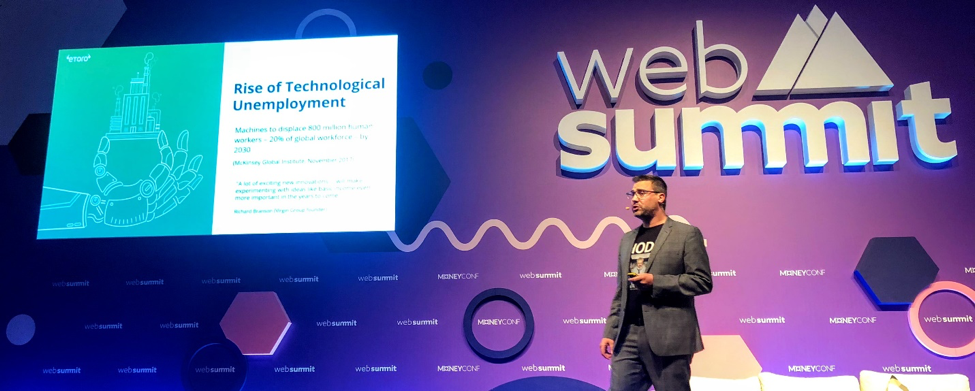 GoodDollar experiment to research how to reduce wealth inequality using blockchain
GoodDollar is an open source community project
eToro announces $1m in funding and calls for more 'brains, ambassadors and funders' to join the experiment
Global, multi-asset, investment platform eToro today announces the launch of the GoodDollar experiment with $1 million in funding from the company. The company is calling on more partners to join the initiative which aims to reduce wealth inequality using new technologies underpinned by blockchain. The experiment will research implementing a cryptocurrency that pays social interest to those who have less, and is continuously distributed to any verified participant for free, creating a global, open, universal basic income (UBI).
Yoni Assia, eToro Co-founder and CEO, said: "The success of new technologies should not be measured only by their ability to power new industries and disrupt old ones, but also on their ability to affect positive change in the world. Too often the tech world focuses on generating commercial value, rather than societal value. Technology should be used to tackle the great challenges of our time. This is especially true of blockchain, which has been harnessed in many creative ways, but hasn't yet been used to tackle our really big challenges."
The GoodDollar experiment is an open invitation for the global community to rethink the existing economic framework. GoodDollar aims to create a non-speculative cryptocurrency that aims to find ways to reduce wealth inequality on a global scale. It is geared towards a global UBI distribution mechanism that is deployed via smart contracts.
Yoni Assia continued: "Inequality is the crucial economic challenge of our time. In 2017 just 1% of the world's population owned more than half of the wealth. With the rise of technology unemployment, the tech industry needs to find solutions for those with less to participate in the economy and pursue their purpose.
"We see a growing interest amongst tech entrepreneurs, such as Mark Zuckerberg and Elon Musk, who understand the challenge of global wealth distribution and want to create a research framework for how technology can help solve this issue.
"The merging of blockchain technology, growing support for UBI and the realization that wealth inequality must be reduced, may finally converge into a new global economic system that would give all humans the financial freedom to pursue their purpose and happiness."
eToro Co-founder and CEO Yoni Assia first shared the idea of addressing wealth inequality a decade ago in an article published in November 2008 entitled 'The Visible Hand'. Yoni's vision is now being made a reality by a team based across Tel Aviv, London, and wherever the right expertise exists.
Yoni Assia added: "We believe that we can create a mass-market cryptocurrency that is engineered to reduce inequality and provide a universal basic income. Engineers, product designers and economists are currently developing the prototype. Today is just step one on a long, ambitious journey.
"I would like to invite more partners to join this important experiment. We're looking for experts in the fields of decentralized identity, governance, local and global adoption of financial products, and wealth distribution. We are also on the hunt for ambassadors to help spread the word about the project, and for funders to help us deliver GoodDollar. So if you're passionate about using technology for social good, please get in touch."
* Source: Credit Suisse Wealth Report, November 2017. As of October 2018, 0.7% of addresses hold as much as 87% of total bitcoin in supply – source: BitInfoCharts, October 2018.
Further information on GoodDollar, including how you can get involved, can be found here.
About GoodDollar
GoodDollar's aim is to create a new economic framework with a cryptocurrency that is available to everyone. The cryptocurrency will be minted and freely distributed to any person, based on social identity verification on the blockchain. The currency will have a built-in social interest/inflation, which gives more to those who have less.
The project is funded through a $1m donation from eToro and incubated by the business in London and Tel Aviv. www.gooddollar.org
About eToro
eToro empowers people to invest on their own terms. The platform enables people to invest in the assets they want, from stocks and commodities to cryptoassets. eToro is a global community of more than ten million registered users who share their investment strategies; and anyone can follow the approaches of those who have been the most successful. Due to the simplicity of the platform users can easily buy, hold and sell assets, monitor their portfolio in real time, and transact whenever they want.
eToro is regulated in Europe by Cyprus Securities and Exchange Commission and regulated by the Financial Conduct Authority in the UK.
About Universal basic income (UBI)
UBI is a revolutionary economic concept, that's been discussed by thought leaders for dozens of years. In lieu of complex wealth programmes, which have many shortcomings, it offers a simple, yet powerful alternative: give any person, no matter who they are or what they do, a basic income on a regular basis.
This would help weak populations, who are constantly busy struggling for survival, in maintaining a normal living – allowing them more freedom to pursue productive and self-fulfilling occupations. Researchers argue that UBI programmes drastically limit extreme poverty, reduce benefit fraud, encourage greater economic participation and reduce wealth inequality.
Existing UBI programme pilots, which are being run around the world,  rely on government funding a basic income being provided through taxation. However, harnessing the power of blockchain for distributing UBI requires no government involvement, is not limited by national borders, and relies on constantly issuing cryptocurrency to verified individuals, using coding mechanisms that can be effectively protected from fraud.
The GoodDollar's social interest rate mechanism represents a unique, economically efficient approach to creating a UBI.
As Brexit negotiations ensue, how will ongoing uncertainty affect the financial markets?

The continued disruption could hold significant value to those willing to take advantage of this uncertain period.
Almost half of food manufacturers have said access to new UK markets will form a significant part of their growth strategies, with a further 46% citing export markets.
Technology will also continue to play an ever-increasing role in our daily lives, regardless of a good, bad or no deal Brexit. For investors, a focus on tech could naturally lead to firms like Apple, Facebook or IBM.
Last year, the London Stock Exchange (LSE) said more than two-thirds of the revenues earned by companies listed on its FTSE 100 came from overseas. BHP, for example, is a mining company that earns 100% of its income from international markets. It produces coal, copper, iron ore and petroleum – even if the UK does stop needing quite so much of them, there are plenty of other places that do. Similarly, banking giant HSBC has a branch on most high streets and employs tens of thousands of people in the UK. But despite its huge footprint here, it earns 75% of its revenues from international markets.
It might be surprising but tobacco companies are classed as Brexitproof as are some booze brands – people rarely give up smoking and drinking in a time of crisis. British American and Imperial Tobacco…
Blockchain project that incentivises people to test for diabetes by handing them cryptocurrency wins first GoodDollar hackathon attended by Israeli ambassador in Rwanda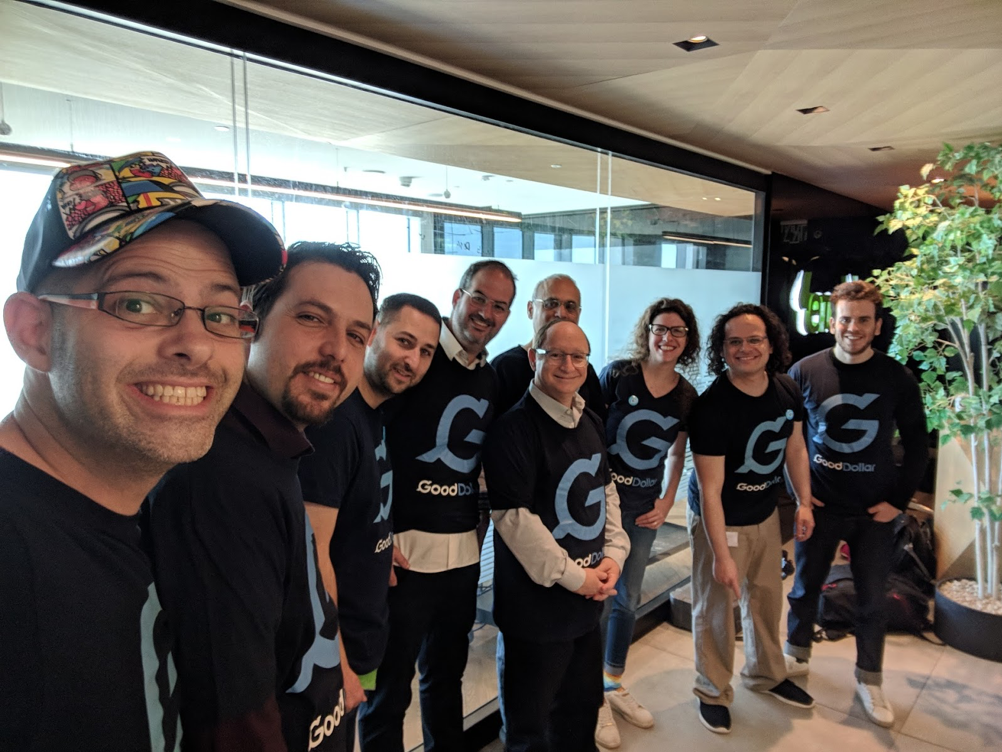 The hackathon for reducing global wealth inequality using decentralised technology was won by a prototype for a system that encourages citizens to be checked for diabetes in return for GoodDollar tokens
GoodDollar, a not-for-profit research hub that explores how decentralised cryptocurrencies and blockchain technology may enable models based on universal basic income (UBI) with the central aim of reducing global wealth inequality, held the inaugural Hackinequality event in Tel Aviv on March 14 and 15.
The judging panel, after much debate, agreed that the three-person t2d team – made up of Jesse Medina, Lior Yaffe, and Yaron Shmaria – had done enough to see off competition from the other eight social impact projects.
The team won the US$2,500 first prize, though the money was of secondary importance, with their contribution for social impact by far the more valuable.
Nine teams had 16 hours to work on their projects at the eToro offices in Bnei Brak, and their dedication was commendable. Most of the talented 35 participants – including programmers, analysts, designers, user experience experts, blockchain enthusiasts – burnt the midnight…
eToro Officially Launches Crypto Trading Platform & Wallet in the U.S.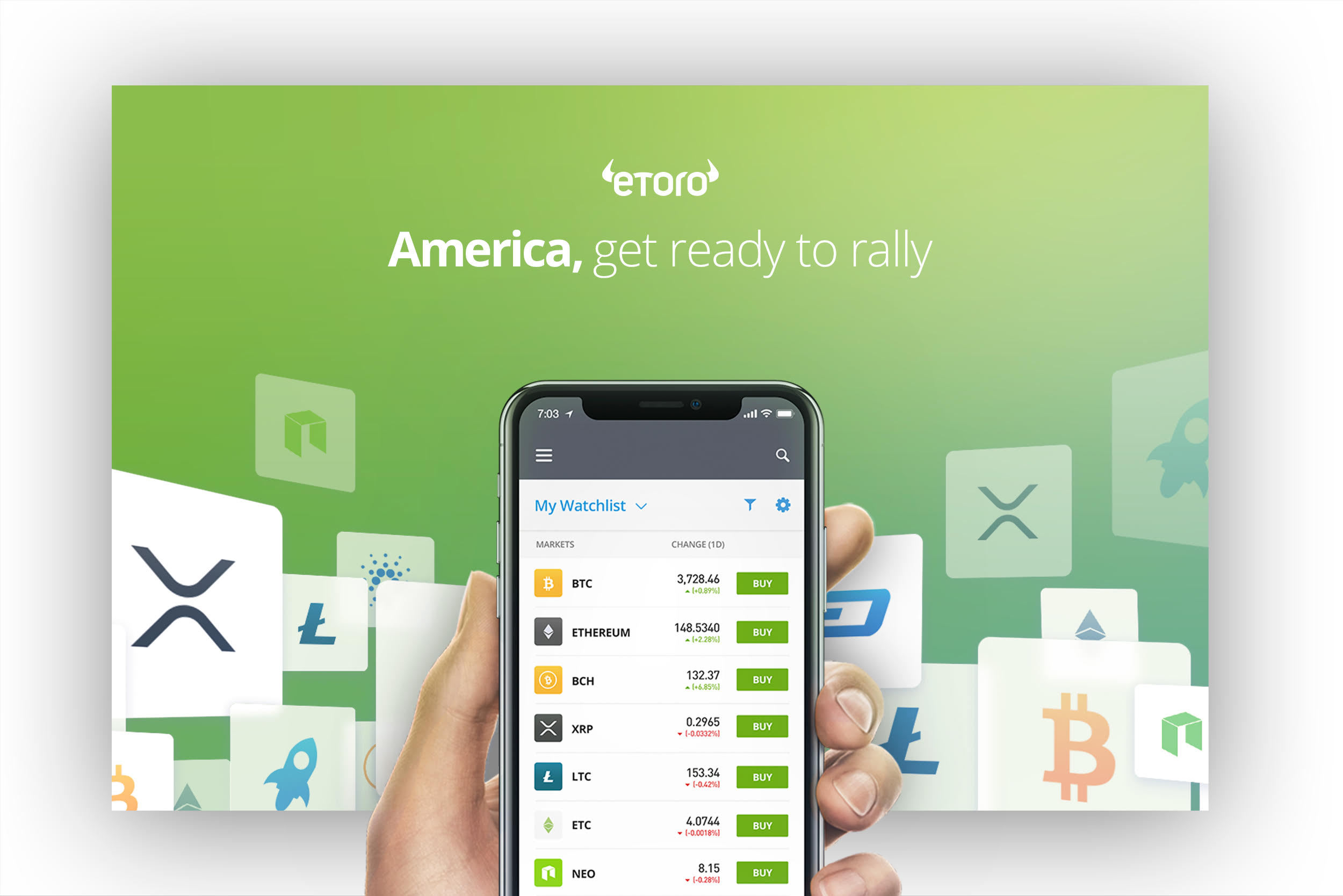 Global platform allows U.S. customers from 32 states and U.S. territories to trade 13 cryptoassets with multi-asset trading to arrive in Q1 2020
New York, NY — March 7, 2019— eToro, a global multi-asset trading platform with over 10 million registered users, announced the launch of its platform and cryptoasset wallet in the United States. With the launch, U.S. customers with diverse levels of expertise can leverage eToro to collaborate with one another to find the best cryptoasset trading strategies in an environment rich with unconventional educational tools.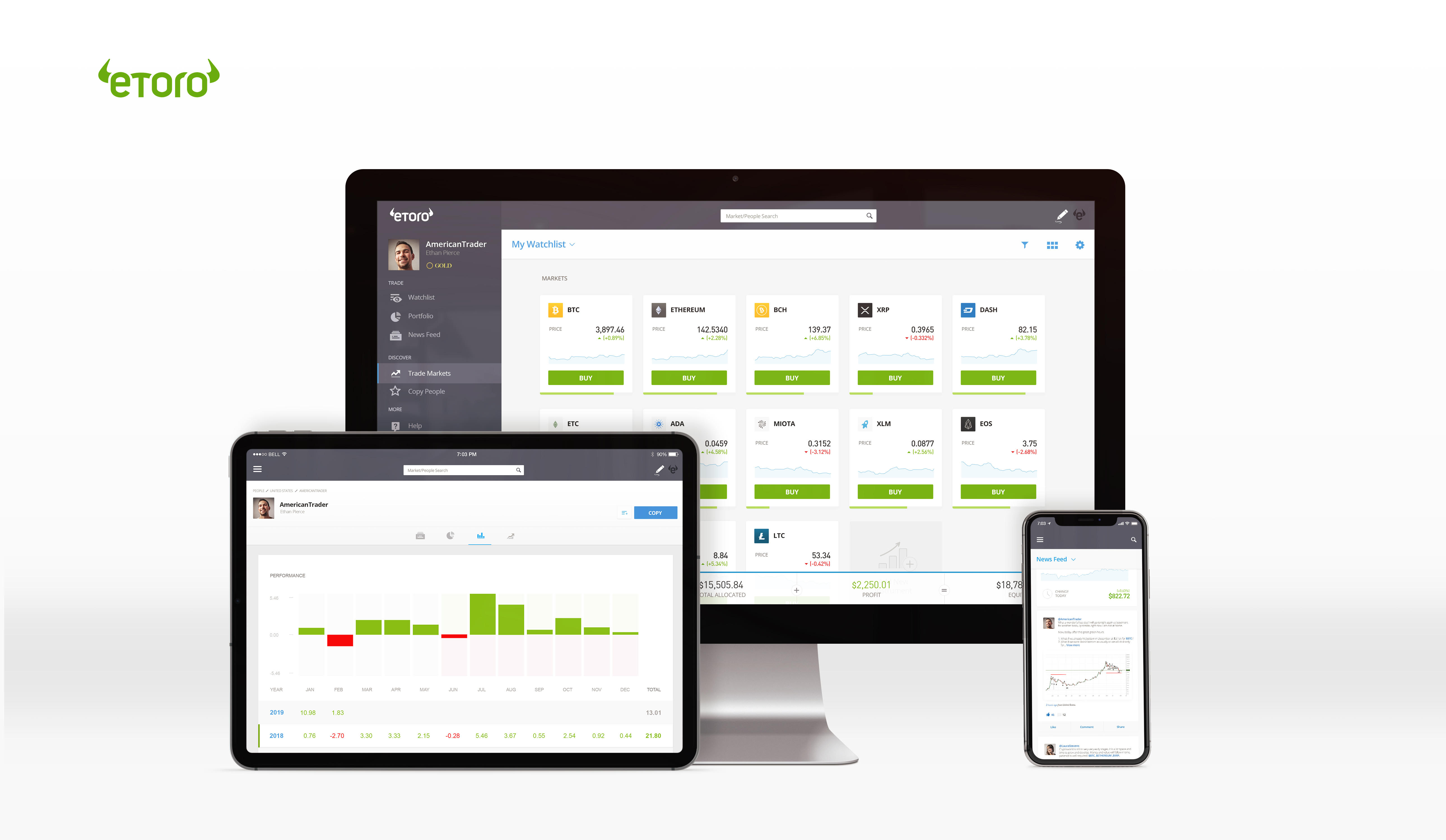 At eToro, you can share your real track record, portfolio, and trades with the community, allowing users to engage with each other on trading ideas that are executed using real dollars. For those new to crypto trading, the community and educational resources introduce users to this new asset class and the risk profiles involved in it.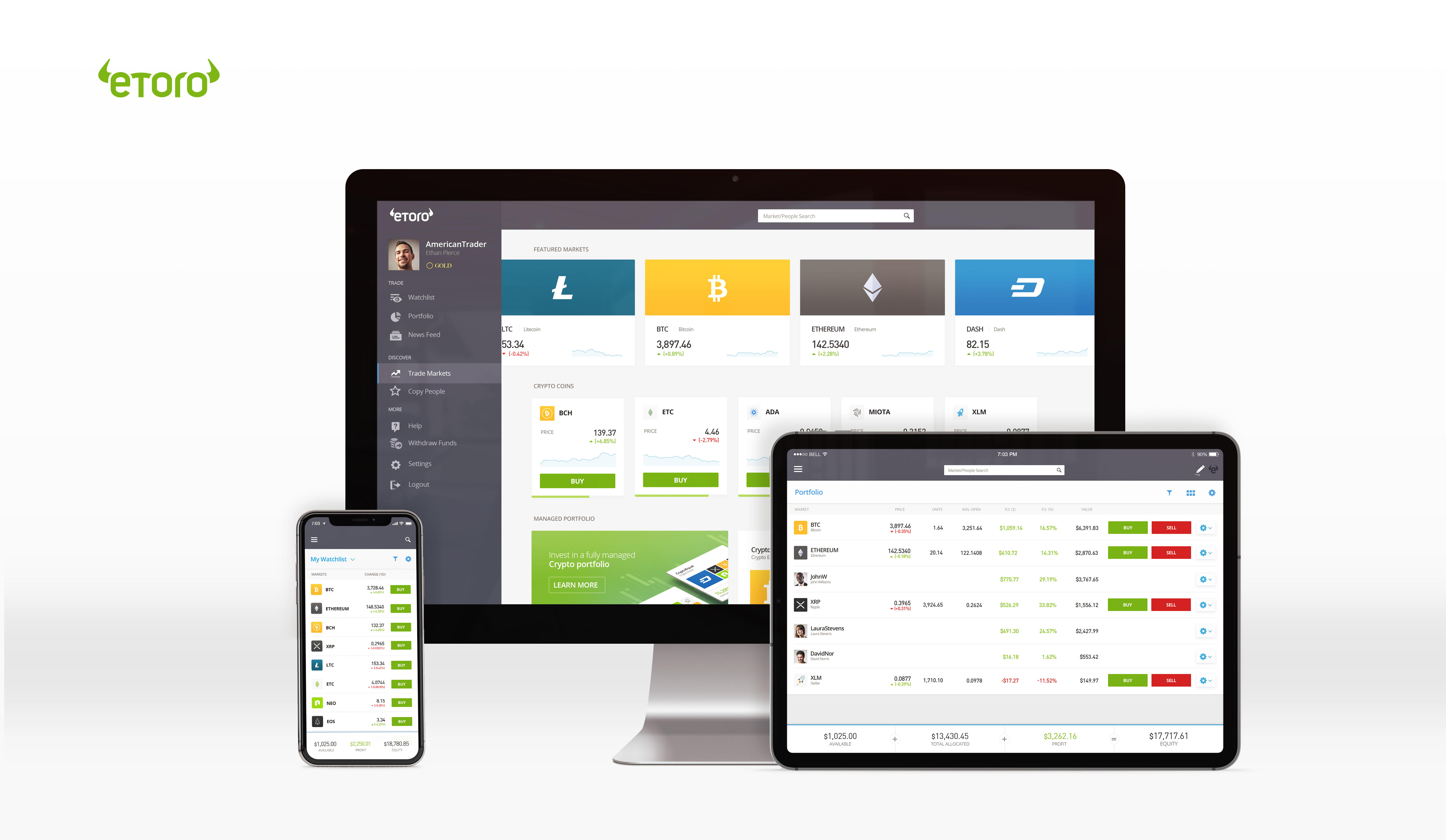 Yoni Assia, Co-founder & CEO of eToro, said: "For the first time, Americans can collaborate with other crypto traders when making buying and selling decisions. Users can adjust their trading strategies by watching and…