eToro Officially Launches Crypto Trading Platform & Wallet in the U.S.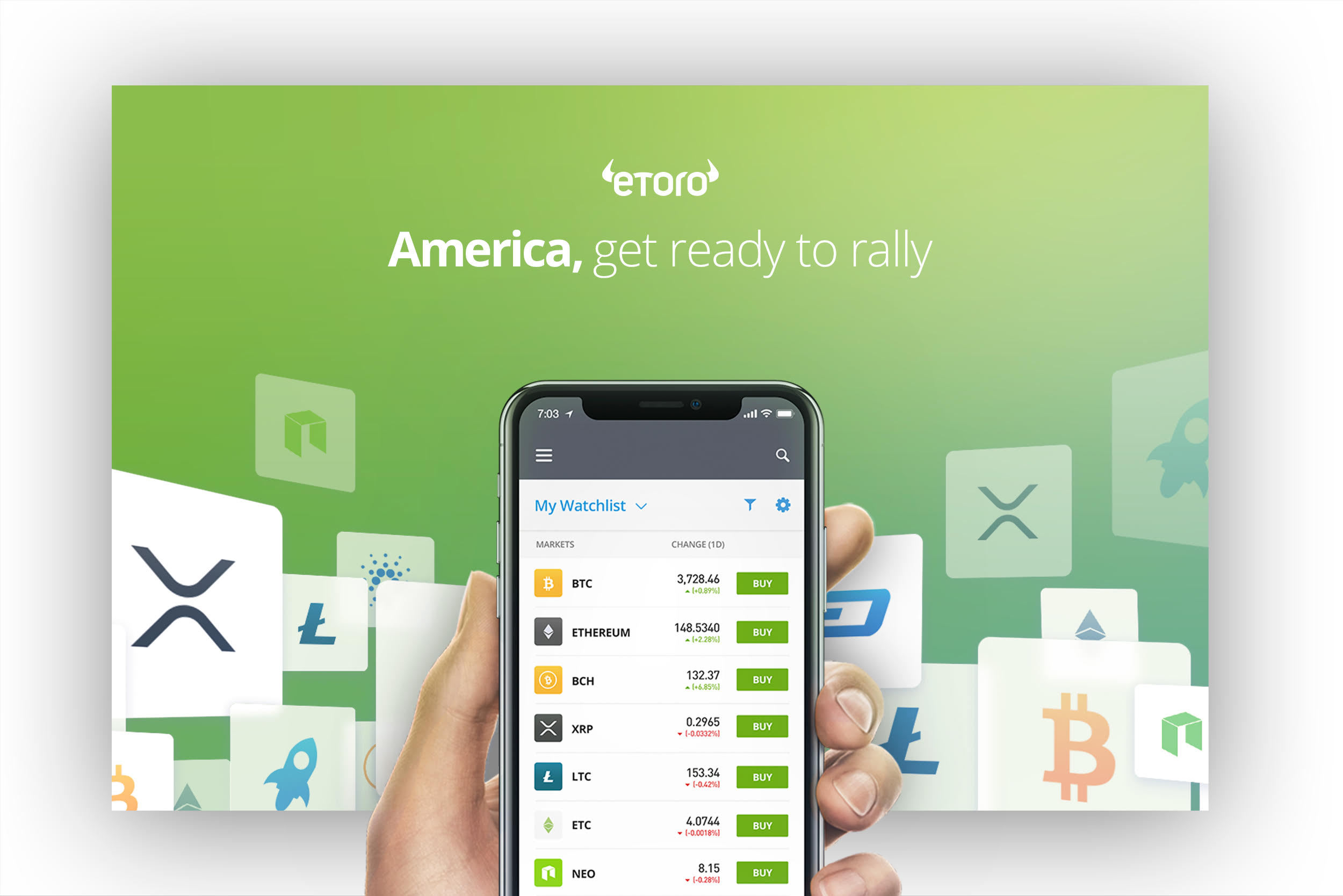 Global platform allows U.S. customers from 32 states and U.S. territories to trade 13 cryptoassets with multi-asset trading to arrive in Q1 2020
New York, NY — March 7, 2019— eToro, a global multi-asset trading platform with over 10 million registered users, announced the launch of its platform and cryptoasset wallet in the United States. With the launch, U.S. customers with diverse levels of expertise can leverage eToro to collaborate with one another to find the best cryptoasset trading strategies in an environment rich with unconventional educational tools.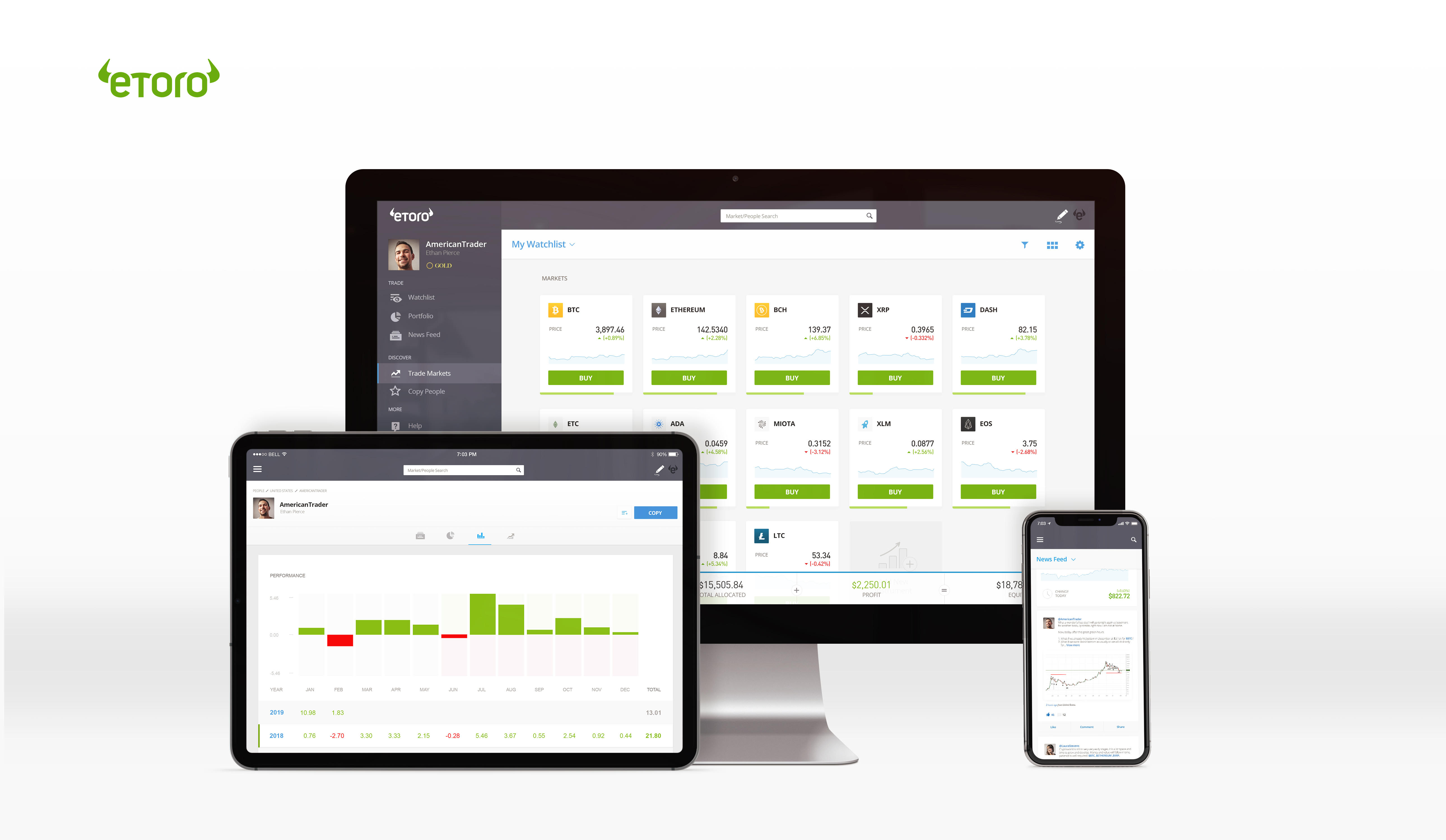 At eToro, you can share your real track record, portfolio, and trades with the community, allowing users to engage with each other on trading ideas that are executed using real dollars. For those new to crypto trading, the community and educational resources introduce users to this new asset class and the risk profiles involved in it.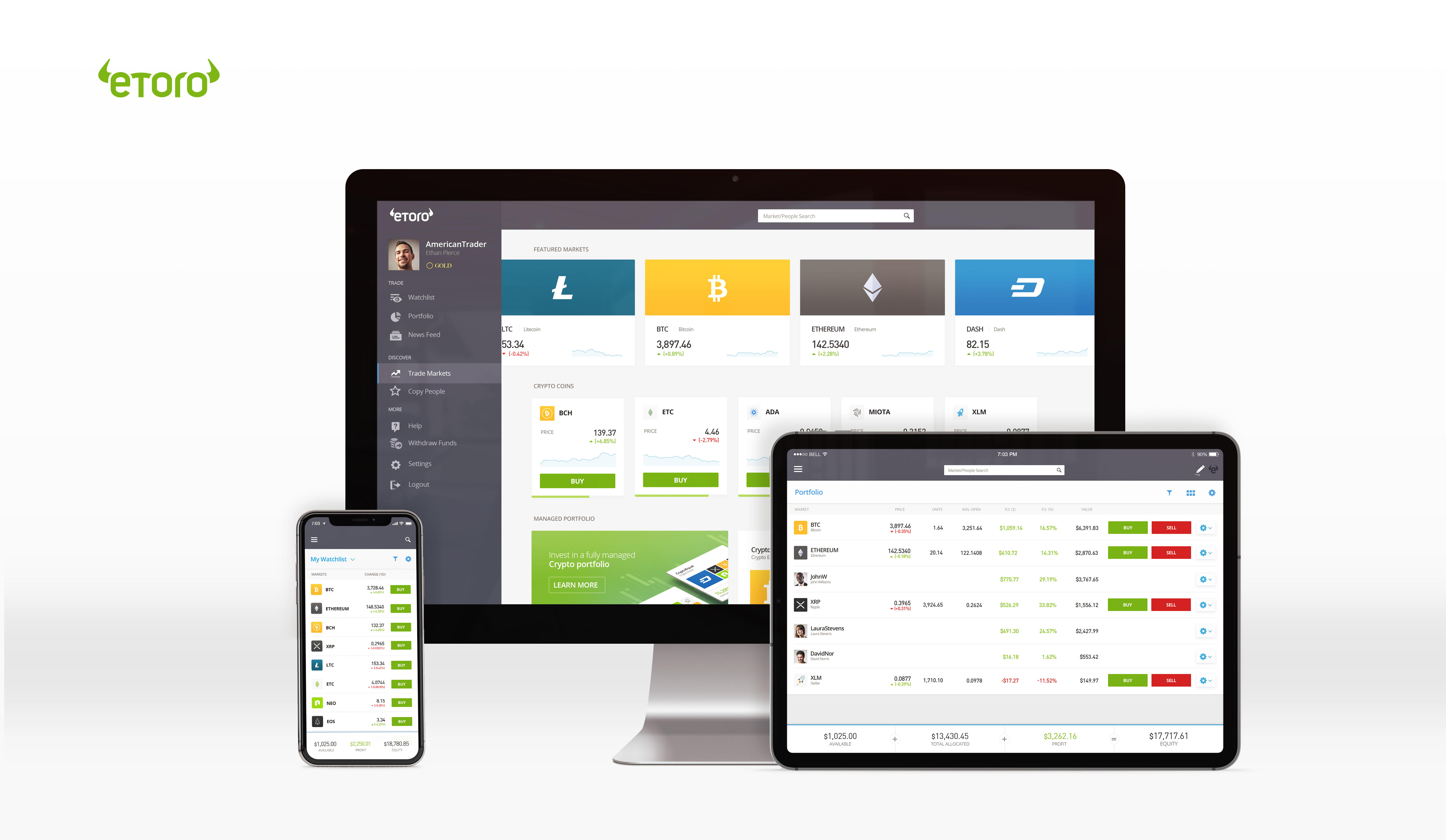 Yoni Assia, Co-founder & CEO of eToro, said: "For the first time, Americans can collaborate with other crypto traders when making buying and selling decisions. Users can adjust their trading strategies by watching and learning from others on the platform. When I founded eToro, I envisioned a community where people could trade, invest and share their knowledge in a simple and transparent way. eToro also acts as a bridge between the old world of investing and a blockchain-powered future, helping our users navigate and benefit from the transition to cryptoassets for wealth building. People create the eToro experience and now Americans will play a major role in shaping our community and future. "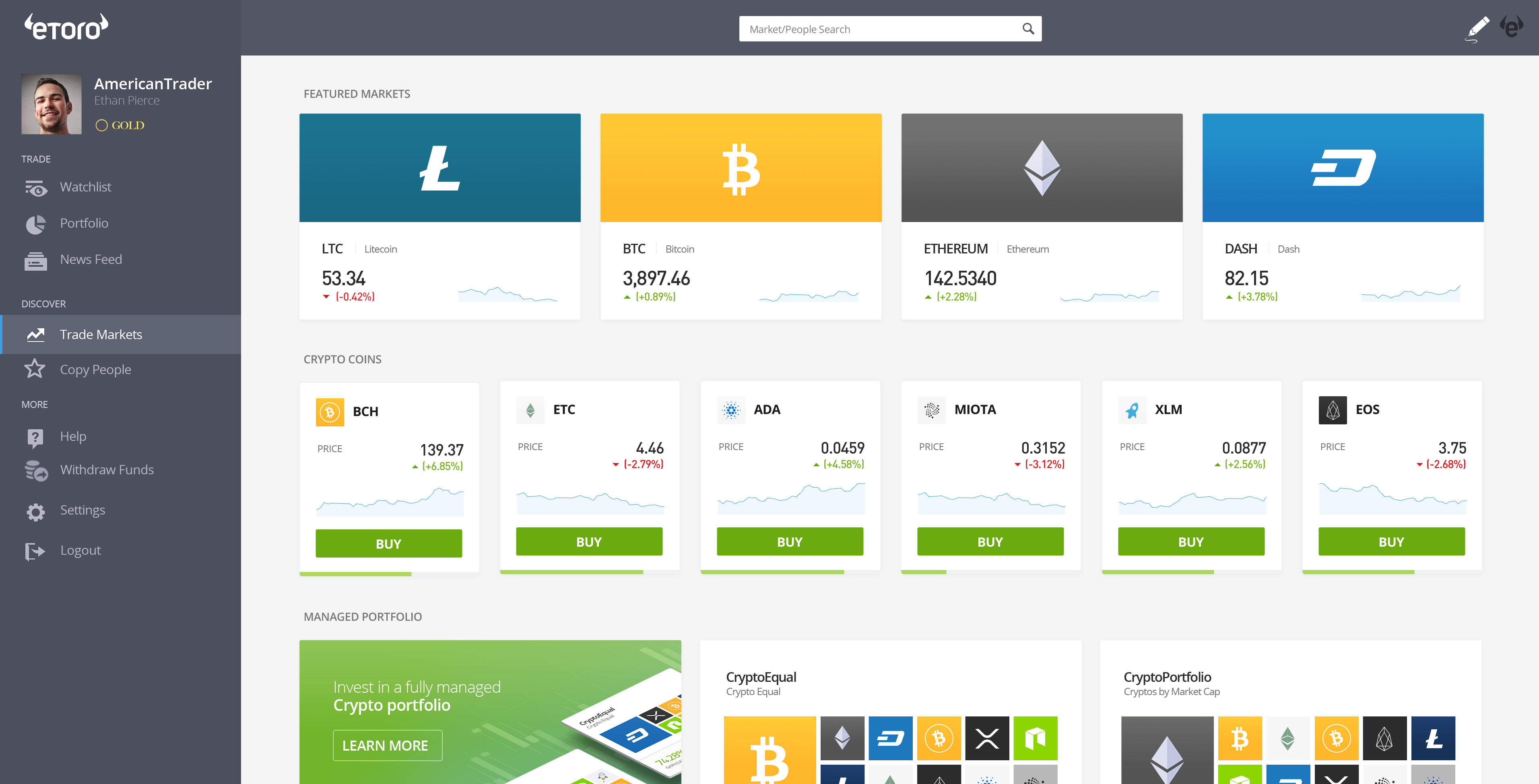 Santo Politi, General Partner at Spark Capital said, "Since Spark Capital's initial investment in 2012, we believed that eToro would lead the charge in disrupting the financial services market. We have watched the growth and success of eToro for the past seven years and, through Yoni's leadership, the organization continues to innovate and thrive amongst the competition. eToro's launch into the U.S. market marks a significant milestone for the company as it builds a leadership position in the online trading space."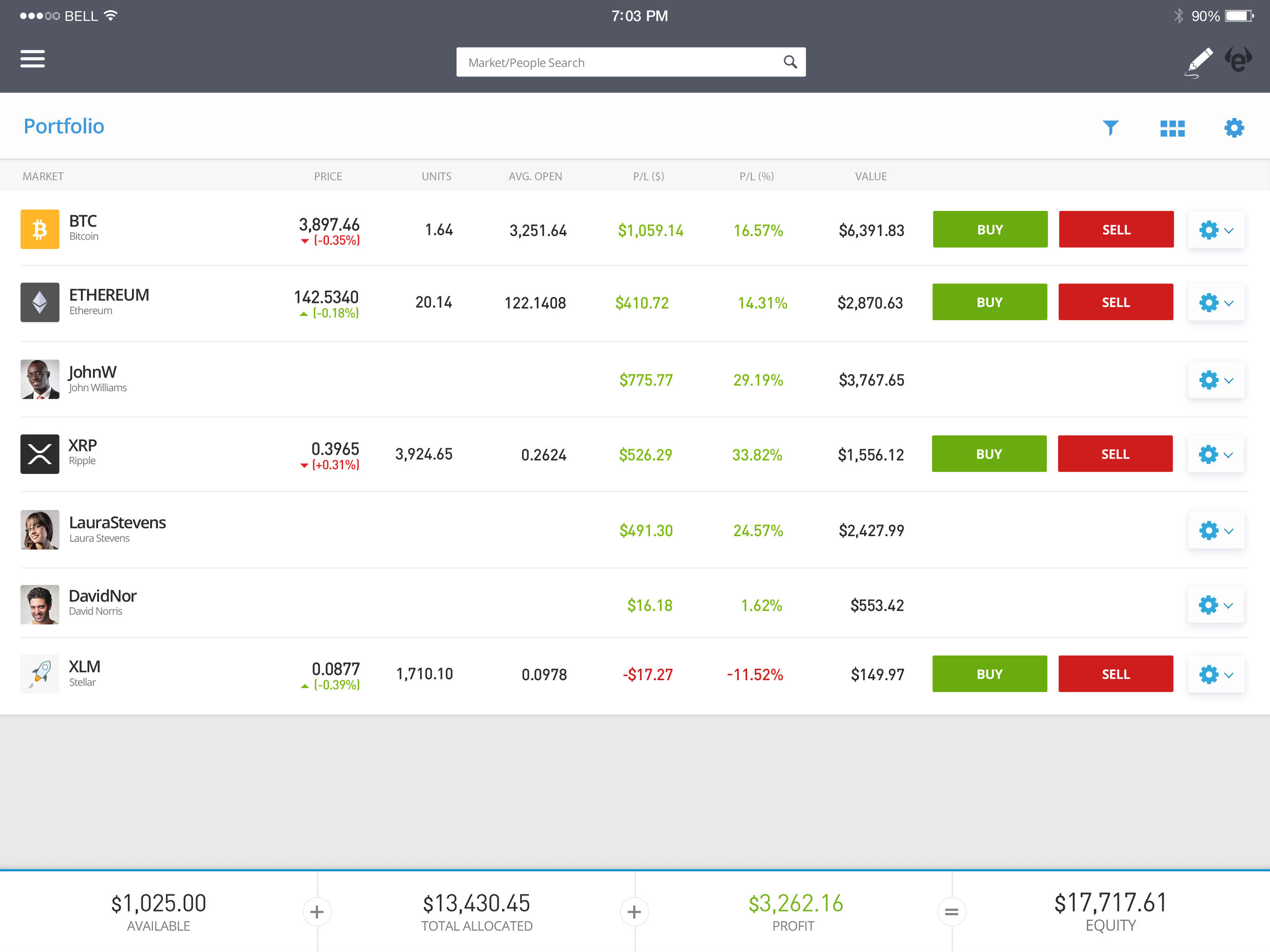 The platform's CopyTrader feature allows users to allocate funds to automatically trade proportionally to the portfolio of another user. This allows users to easily gain exposure to a crypto trading strategy executed by someone who has a proven track record. Additionally, eToro's CopyPortfolios feature bundles together assets under one selected trading strategy, curated by eToro's own analysts. Within the U.S., three cryptoasset CopyPortfolios will be available to traders at launch. As eToro adds new asset classes to the platform later this year, additional CopyPortfolios will be offered. Any eToro customer with an established track record who meets certain eligibility requirements may be copied and compensated for their performance, subject to risk analysis and supplemental evaluation.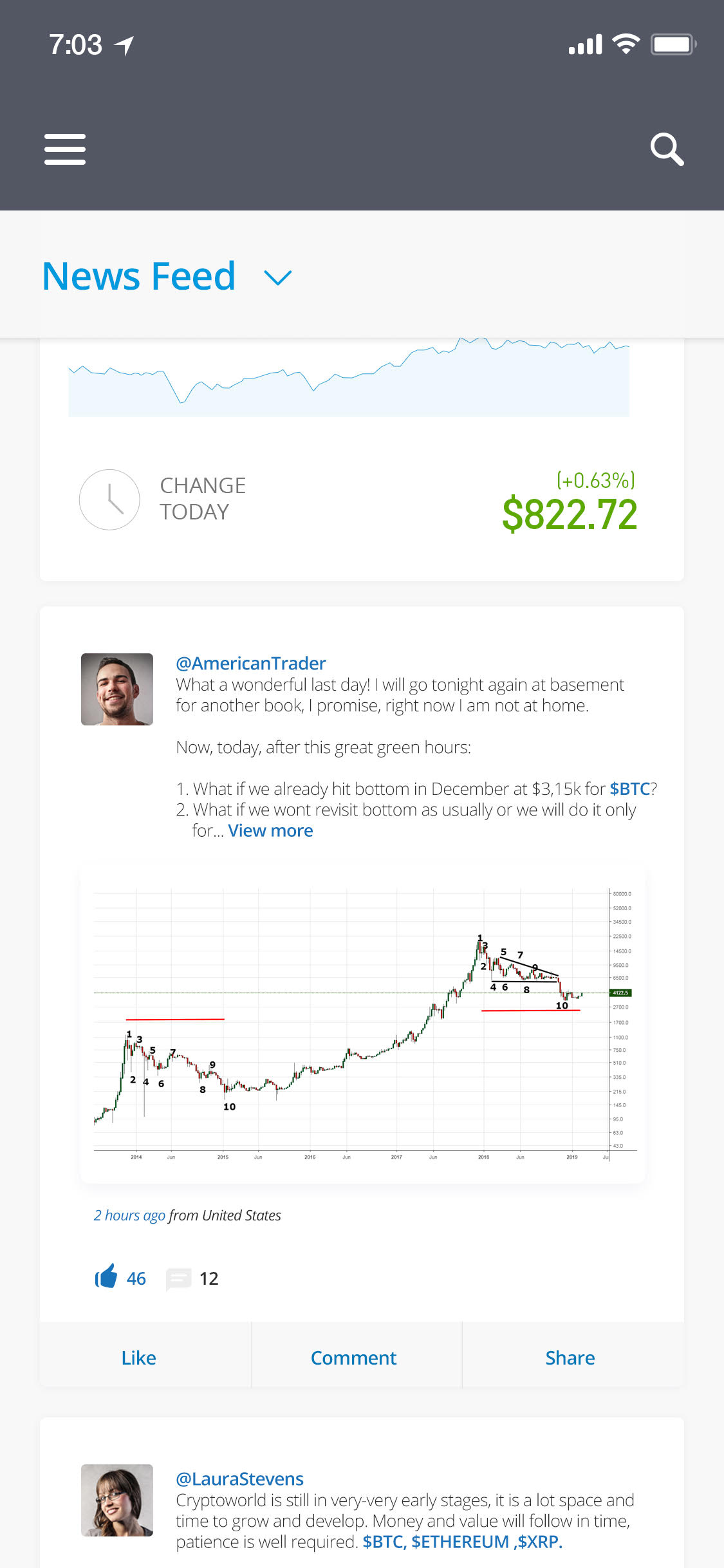 The highly-secure, multi-signature eToro wallet provides multi-coin support and a simple user interface, making it easy to send and receive supported coins. At launch, the eToro wallet will support BTC, ETH, LTC, BCH, XRP, and XLM, with more cryptoassets available in the near future. Users can log into the wallet with their existing eToro accounts and transfer coins from their trading accounts to hold them securely in their wallets. Within the wallet, users can convert between different coins with a click of a button. They can also easily and securely send and receive crypto through a QR code or by sharing their wallet address.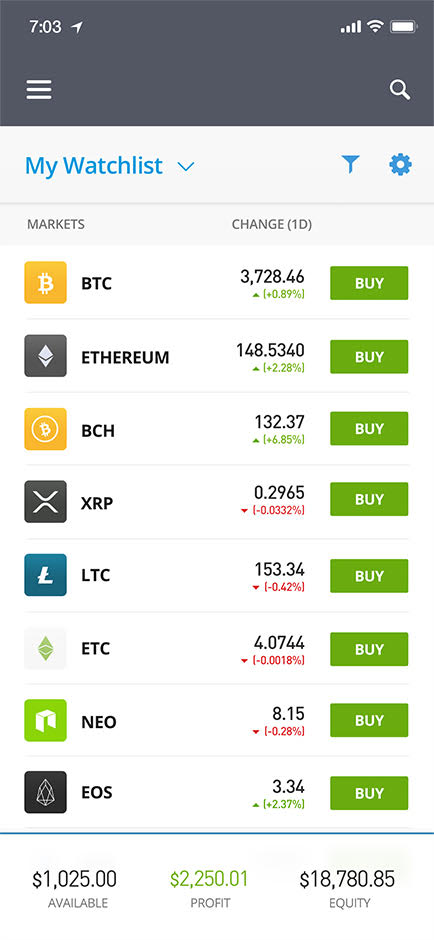 eToro U.S. Managing Director Guy Hirsch said, "eToro will play a lead role in transforming the financial services industry. We're doing that successfully on a global scale and we are thrilled to finally be able to bring our offering to the U.S. audience."
For more than a decade, eToro has been a leader in the global fintech revolution and a disruptor in the blockchain industry. eToro believes that in the future, all assets will be tokenized which will have a huge impact on global finance and, therefore, a major focus for the firm. To that end, eToro will be launching its own cryptoassets exchange, eToroX, on a global basis later this year. Blockchain has the potential to revolutionize finance and eToro believes that the greatest transfer of wealth ever will happen onto the blockchain.
#####
About eToro U.S.
For more than a decade, eToro has been a leader in the global fintech and blockchain revolution. As the world's leading social trading platform, eToro has more than 10 million registered users with diverse levels of expertise who create the unique eToro experience. eToro users share their insights, their actual portfolios, and their real track records with each other in an environment rich with unconventional educational tools. Transforming the traditional money management industry, eToro users can easily elect to automatically copy the trading strategy of the leading traders in our community, as well as be copied and earn a second income. Users on eToro can also leverage the virtual portfolio feature to practice and test their trading strategies.
Trade up with eToro at www.etoro.com/en-us/
eToro first to give retail investors financial exposure to Facebook's Libra project

eToro, the multi-asset investment platform, today announces the launch of its latest portfolio, offering investors the opportunity to take a stake in the companies involved in Facebook's Libra project.
Yoni Assia, CEO and Co-founder of eToro, comments:"The Facebook Libra project presents a seismic shift for global finance as it is the first time we are seeing a tech giant make a move into finance using crypto. We want to give people the opportunity to take a stake in it as in the past, only the private companies and individuals involved in these historic developments have benefitted from them. We want to change that. 
"eToro's mission is to open up global markets for everyone and is the only place retail investors can get exposure to developing technologies such as the Libra Coin, via a managed and regulated investment product for free." 
The portfolio comprises of the 13 publicly-traded companies involved in the Libra Association and as more companies join it, eToro will look to rebalance the portfolio, where possible. The minimum investment is just $2,000.
Yoni Assia added:"Our range of portfolios are about making it as easy as possible for investors to access the assets they want across a range of themes and ideas that they're passionate about. That could be anything from renewable energy to big tech, from cyber security to the medical cannabis industry. Given the importance of…
First wave of 120 ERC-20 tokens added to eToro wallet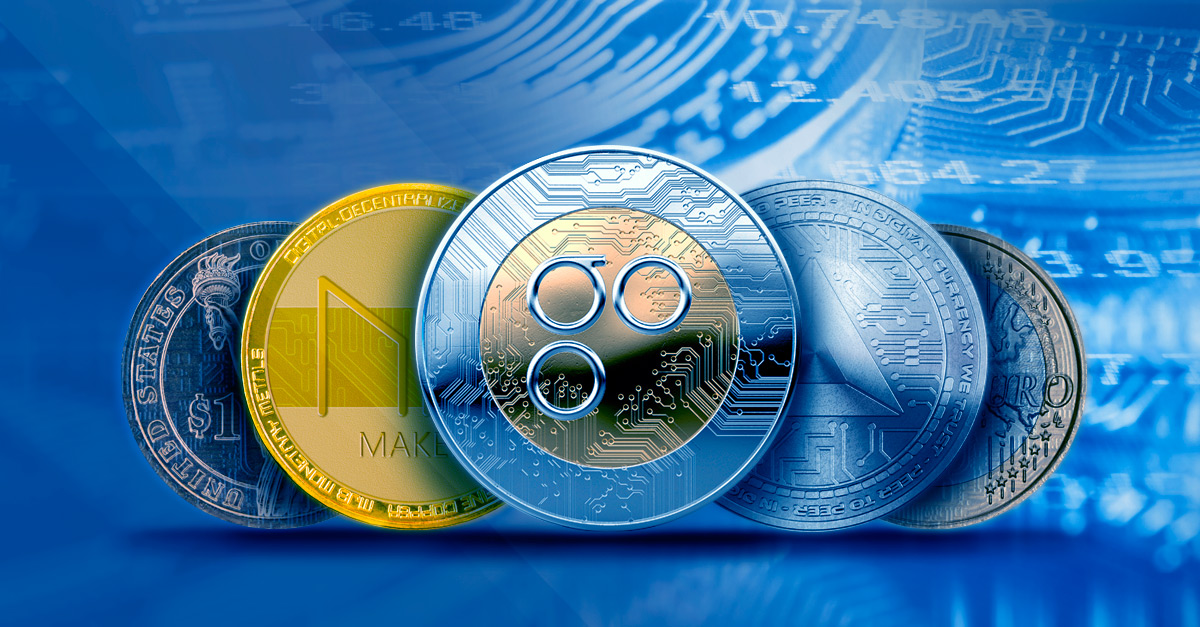 New tokens include two eToro stablecoins
eToroX, the blockchain subsidiary of global investment platform eToro, today announces it will add 120 ERC-20 tokens to its multi-crypto on-chain wallet.
The first 5 of the 120 tokens added to the wallet today are 3 cryptoassets: Maker (MKR), Basic Attention Token (BAT), OmiseGO (OMG) and two eToro stablecoins: eToro EuroX (EURX) and eToro US DollarX (USDX).
Doron Rosenblum, Managing Director of eToroX, comments: "Adding 120 ERC-20 tokens to the eToro wallet is further evidence of our belief that one day all investable assets will be tokenized. One of the main barriers to mass adoption of cryptoassets is lack of access. Making these first 5 tokens available enables more people to transfer and hold them into a secure and regulated wallet. The next step will be adding more ERC-20 tokens to our exchange, which we plan to do in the near future." 
ERC-20 tokens are used solely on the Ethereum blockchain network and must follow a set of rules so that they can be shared, exchanged for other cryptoassets or transferred to a crypto wallet.
The eToro wallet is a mobile application available via Google Play and the Apple App Store. It provides an easy to use customer interface and enhanced security. Multi-signature* security gives users the ability to see their on-blockchain transactions and balances without the fear of losing their private…
ETOROX DEVELOPS CODE TO TOKENIZE ASSETS ON LIBRA BLOCKCHAIN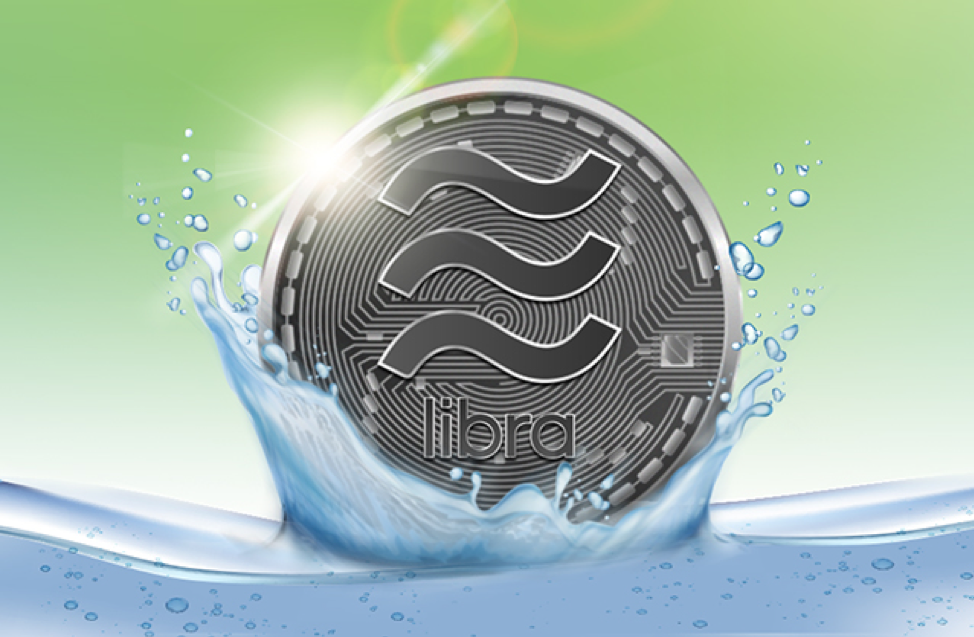 Thursday 20 June 2019
Facebook's Libra project marks a seismic moment for global finance. As the dust begins to settle after Tuesday's announcement, both the crypto and traditional finance industry are busy grappling with the challenges and opportunities presented by Libra.
eToroX Labs Blockchain Science team, comprising Chief Blockchain Scientist Dr. Omri Ross, Peter Emil Jensen, and Johannes Rude Jensen, was quick off the mark to investigate how eToro's tokenized assets (and the technology behind them) would work on Libra's initial prototype, and how well it suited the existing specification.
Dr. Omri Ross, eToro's Chief Blockchain Scientist, comments: "The prototype of the Libra blockchain – the testnet – launched on Tuesday and is in beta mode until the launch in H1 2020. We were excited to explore a test implementation of eToro's tokenized assets on Libra in Move IR."
By exploring Libra's capabilities, and using Move IR (the intermediate representation of what will eventually be the final programming language), they successfully managed to implement an initial version of eToros tokenized assets on the Libra Network.
Using a previous specification targeting the Ethereum blockchain, the team wrote and executed a basic implementation for creating digital assets (tokenization capabilities) on Libra.
Top two takeaways:
In Move, resources (data structure types) cannot be moved or copied — an extremely constructive and beneficial capability, especially for digital assets, since it prevents accidental duplication…