eToro Officially Launches Crypto Trading Platform & Wallet in the U.S.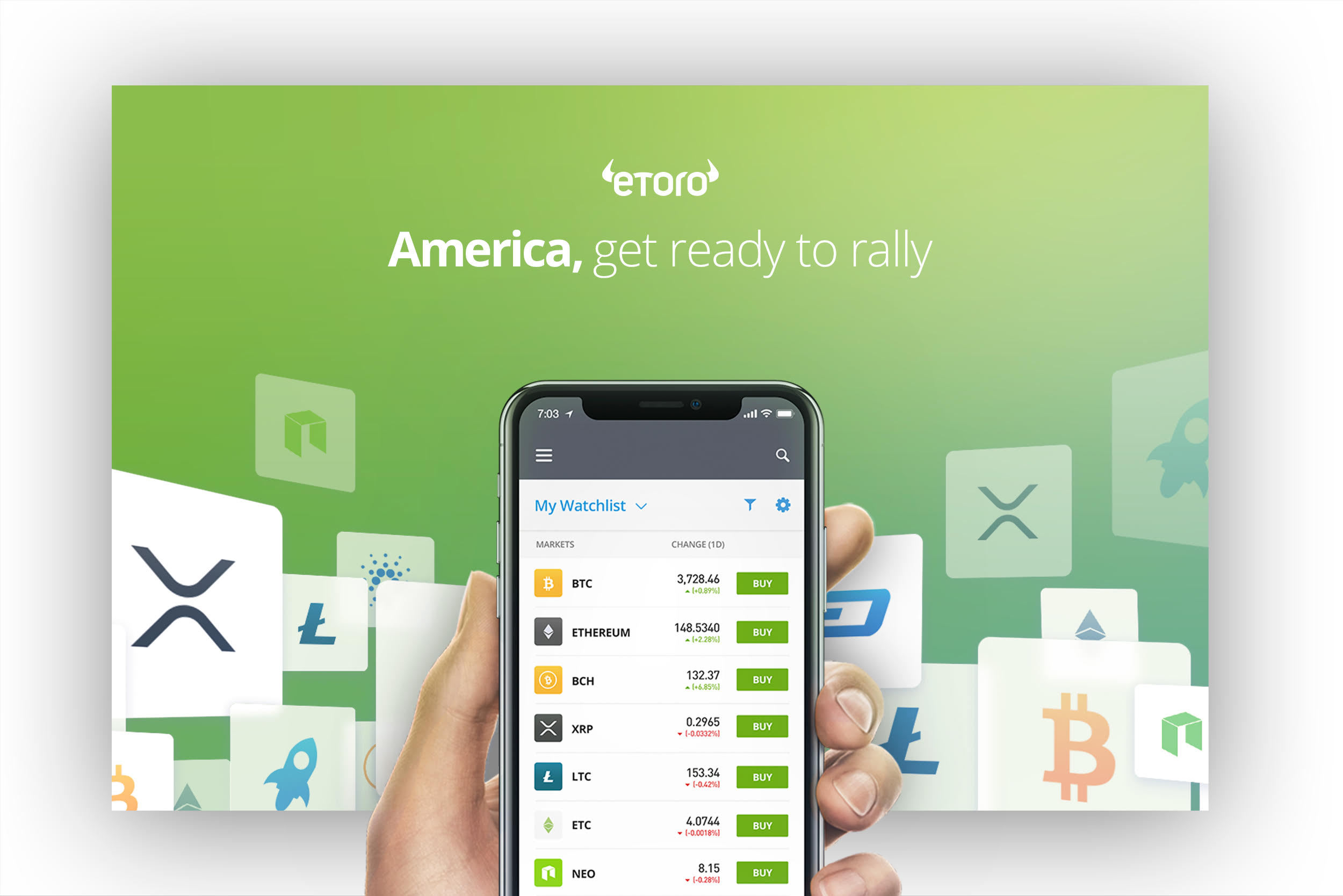 Global platform allows U.S. customers from 32 states and U.S. territories to trade 13 cryptoassets with multi-asset trading to arrive in Q1 2020
New York, NY — March 7, 2019— eToro, a global multi-asset trading platform with over 10 million registered users, announced the launch of its platform and cryptoasset wallet in the United States. With the launch, U.S. customers with diverse levels of expertise can leverage eToro to collaborate with one another to find the best cryptoasset trading strategies in an environment rich with unconventional educational tools.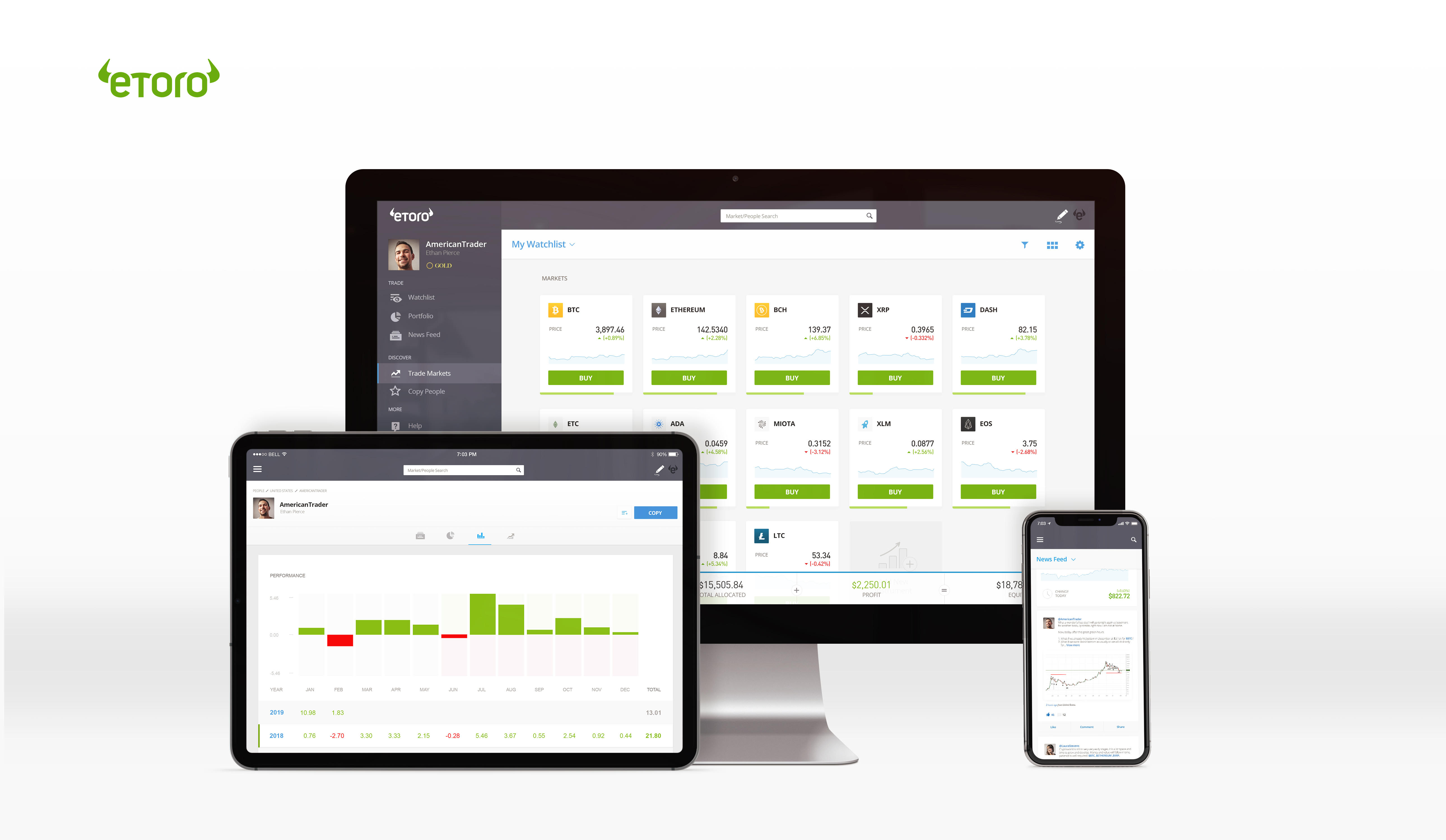 At eToro, you can share your real track record, portfolio, and trades with the community, allowing users to engage with each other on trading ideas that are executed using real dollars. For those new to crypto trading, the community and educational resources introduce users to this new asset class and the risk profiles involved in it.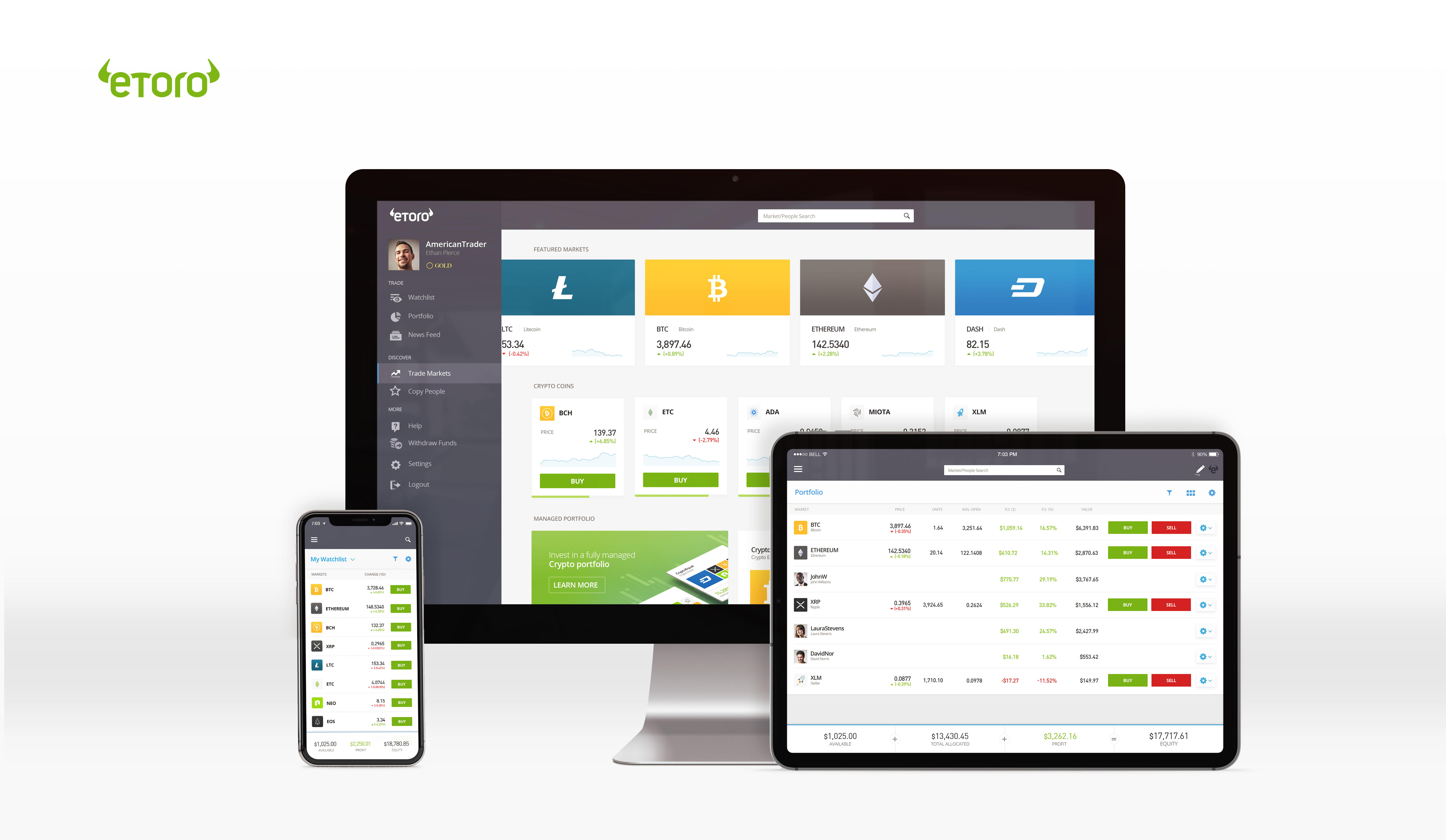 Yoni Assia, Co-founder & CEO of eToro, said: "For the first time, Americans can collaborate with other crypto traders when making buying and selling decisions. Users can adjust their trading strategies by watching and learning from others on the platform. When I founded eToro, I envisioned a community where people could trade, invest and share their knowledge in a simple and transparent way. eToro also acts as a bridge between the old world of investing and a blockchain-powered future, helping our users navigate and benefit from the transition to cryptoassets for wealth building. People create the eToro experience and now Americans will play a major role in shaping our community and future. "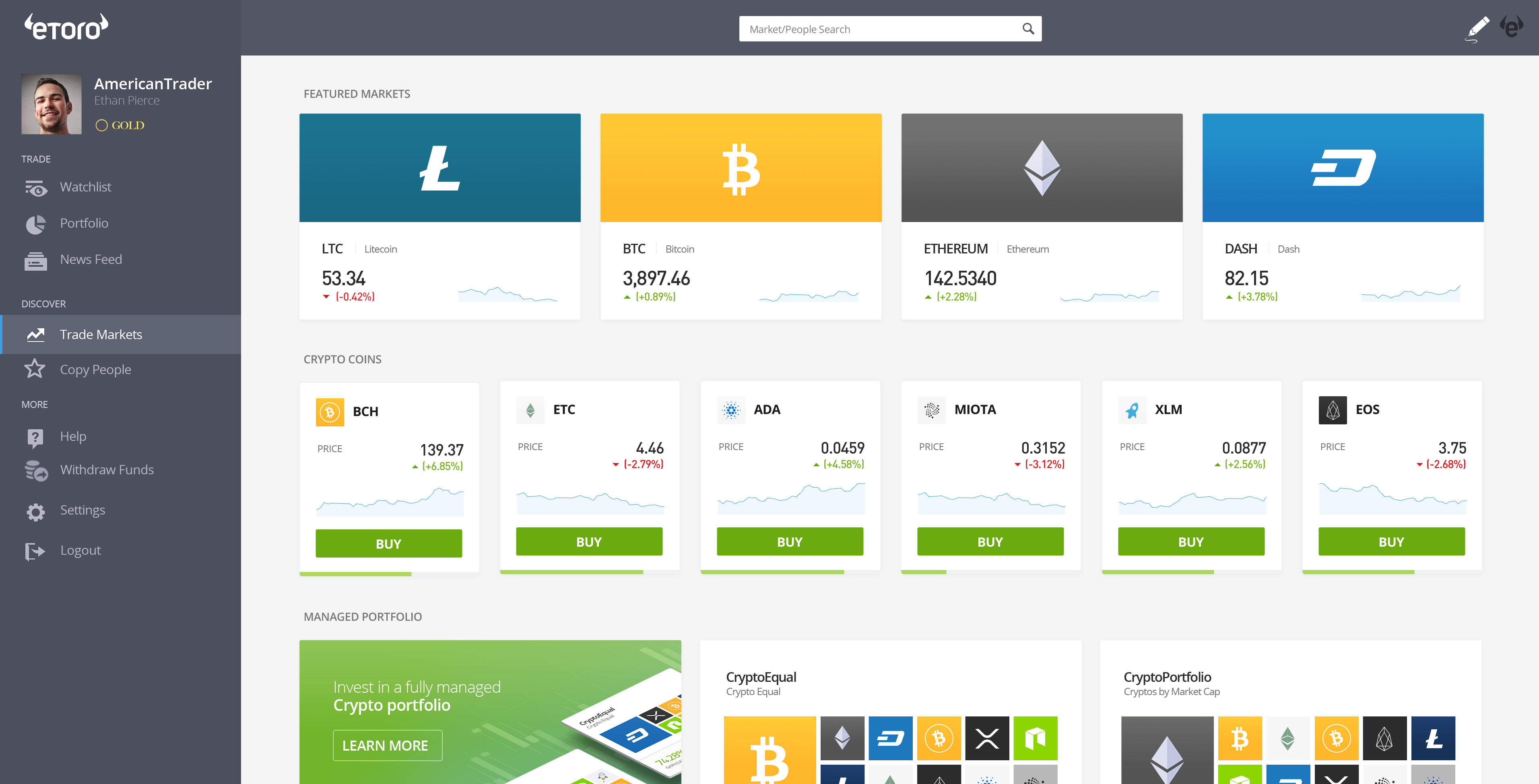 Santo Politi, General Partner at Spark Capital said, "Since Spark Capital's initial investment in 2012, we believed that eToro would lead the charge in disrupting the financial services market. We have watched the growth and success of eToro for the past seven years and, through Yoni's leadership, the organization continues to innovate and thrive amongst the competition. eToro's launch into the U.S. market marks a significant milestone for the company as it builds a leadership position in the online trading space."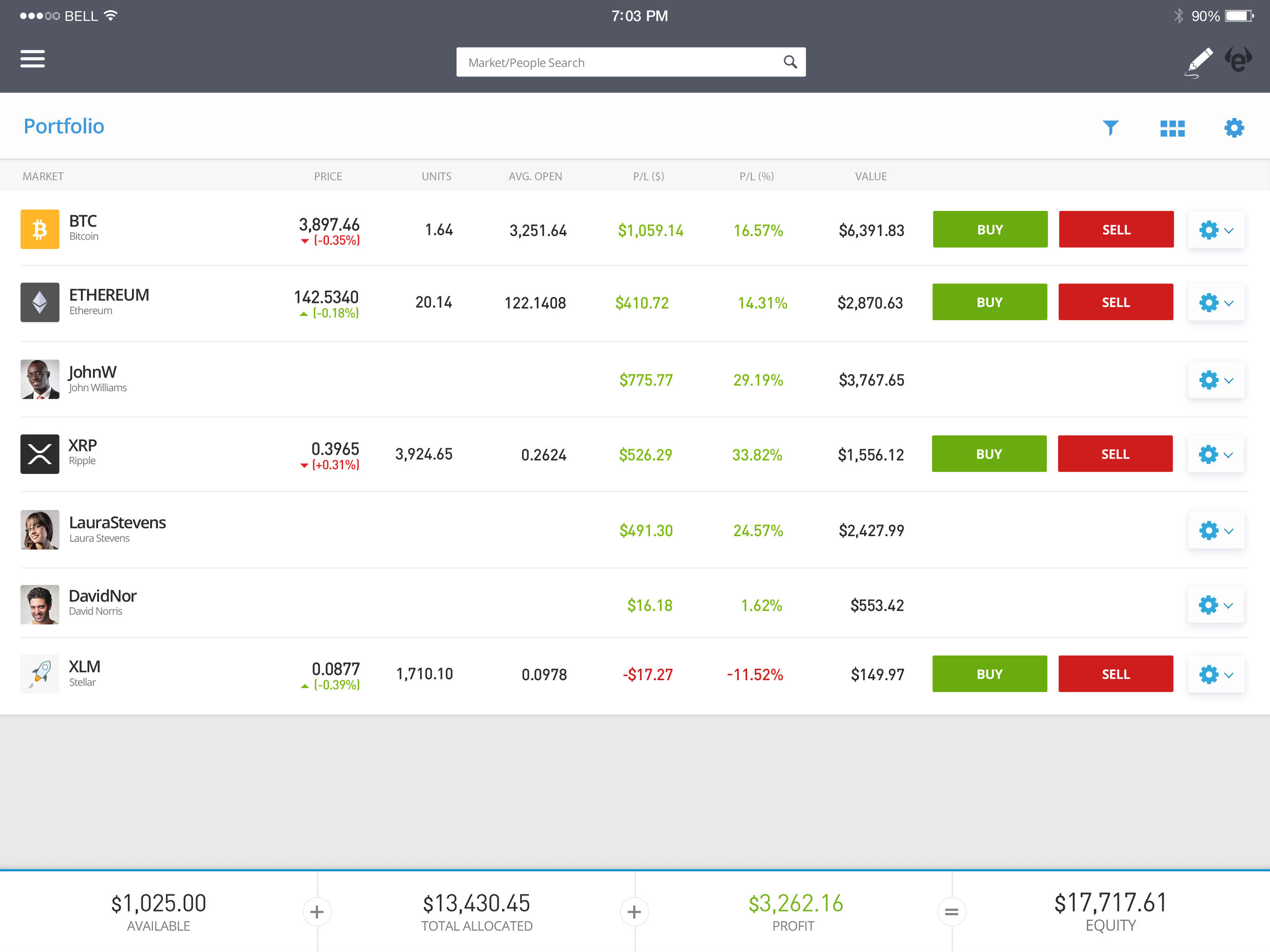 The platform's CopyTrader feature allows users to allocate funds to automatically trade proportionally to the portfolio of another user. This allows users to easily gain exposure to a crypto trading strategy executed by someone who has a proven track record. Additionally, eToro's CopyPortfolios feature bundles together assets under one selected trading strategy, curated by eToro's own analysts. Within the U.S., three cryptoasset CopyPortfolios will be available to traders at launch. As eToro adds new asset classes to the platform later this year, additional CopyPortfolios will be offered. Any eToro customer with an established track record who meets certain eligibility requirements may be copied and compensated for their performance, subject to risk analysis and supplemental evaluation.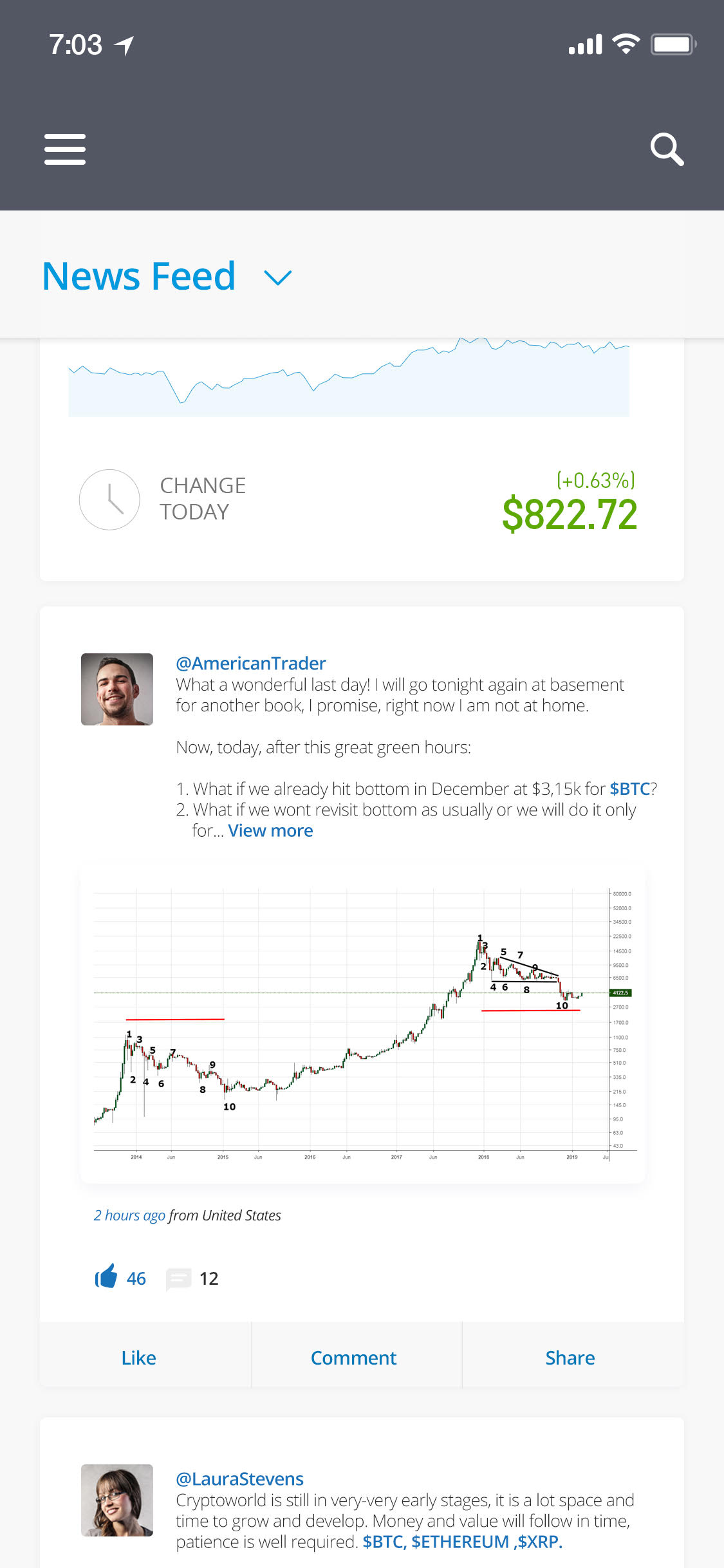 The highly-secure, multi-signature eToro wallet provides multi-coin support and a simple user interface, making it easy to send and receive supported coins. At launch, the eToro wallet will support BTC, ETH, LTC, BCH, XRP, and XLM, with more cryptoassets available in the near future. Users can log into the wallet with their existing eToro accounts and transfer coins from their trading accounts to hold them securely in their wallets. Within the wallet, users can convert between different coins with a click of a button. They can also easily and securely send and receive crypto through a QR code or by sharing their wallet address.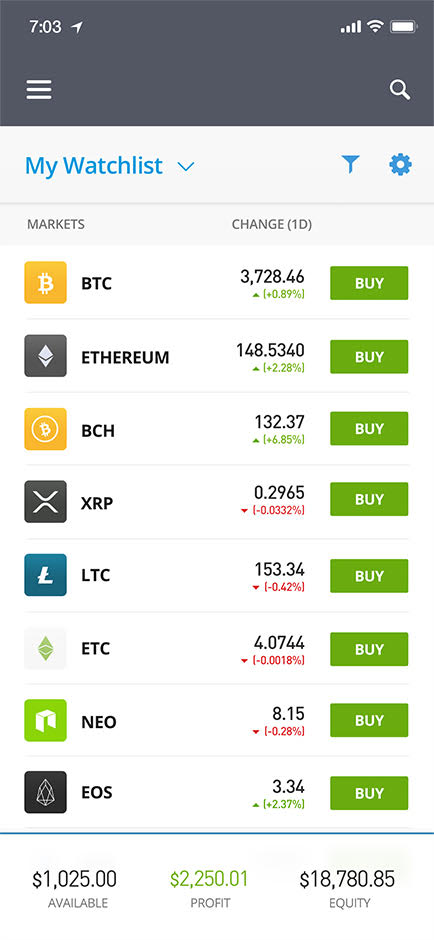 eToro U.S. Managing Director Guy Hirsch said, "eToro will play a lead role in transforming the financial services industry. We're doing that successfully on a global scale and we are thrilled to finally be able to bring our offering to the U.S. audience."
For more than a decade, eToro has been a leader in the global fintech revolution and a disruptor in the blockchain industry. eToro believes that in the future, all assets will be tokenized which will have a huge impact on global finance and, therefore, a major focus for the firm. To that end, eToro will be launching its own cryptoassets exchange, eToroX, on a global basis later this year. Blockchain has the potential to revolutionize finance and eToro believes that the greatest transfer of wealth ever will happen onto the blockchain.
#####
About eToro U.S.
For more than a decade, eToro has been a leader in the global fintech and blockchain revolution. As the world's leading social trading platform, eToro has more than 10 million registered users with diverse levels of expertise who create the unique eToro experience. eToro users share their insights, their actual portfolios, and their real track records with each other in an environment rich with unconventional educational tools. Transforming the traditional money management industry, eToro users can easily elect to automatically copy the trading strategy of the leading traders in our community, as well as be copied and earn a second income. Users on eToro can also leverage the virtual portfolio feature to practice and test their trading strategies.
Trade up with eToro at www.etoro.com/en-us/
As Brexit negotiations ensue, how will ongoing uncertainty affect the financial markets?

The continued disruption could hold significant value to those willing to take advantage of this uncertain period.
Almost half of food manufacturers have said access to new UK markets will form a significant part of their growth strategies, with a further 46% citing export markets.
Technology will also continue to play an ever-increasing role in our daily lives, regardless of a good, bad or no deal Brexit. For investors, a focus on tech could naturally lead to firms like Apple, Facebook or IBM.
Last year, the London Stock Exchange (LSE) said more than two-thirds of the revenues earned by companies listed on its FTSE 100 came from overseas. BHP, for example, is a mining company that earns 100% of its income from international markets. It produces coal, copper, iron ore and petroleum – even if the UK does stop needing quite so much of them, there are plenty of other places that do. Similarly, banking giant HSBC has a branch on most high streets and employs tens of thousands of people in the UK. But despite its huge footprint here, it earns 75% of its revenues from international markets.
It might be surprising but tobacco companies are classed as Brexitproof as are some booze brands – people rarely give up smoking and drinking in a time of crisis. British American and Imperial Tobacco…
Blockchain project that incentivises people to test for diabetes by handing them cryptocurrency wins first GoodDollar hackathon attended by Israeli ambassador in Rwanda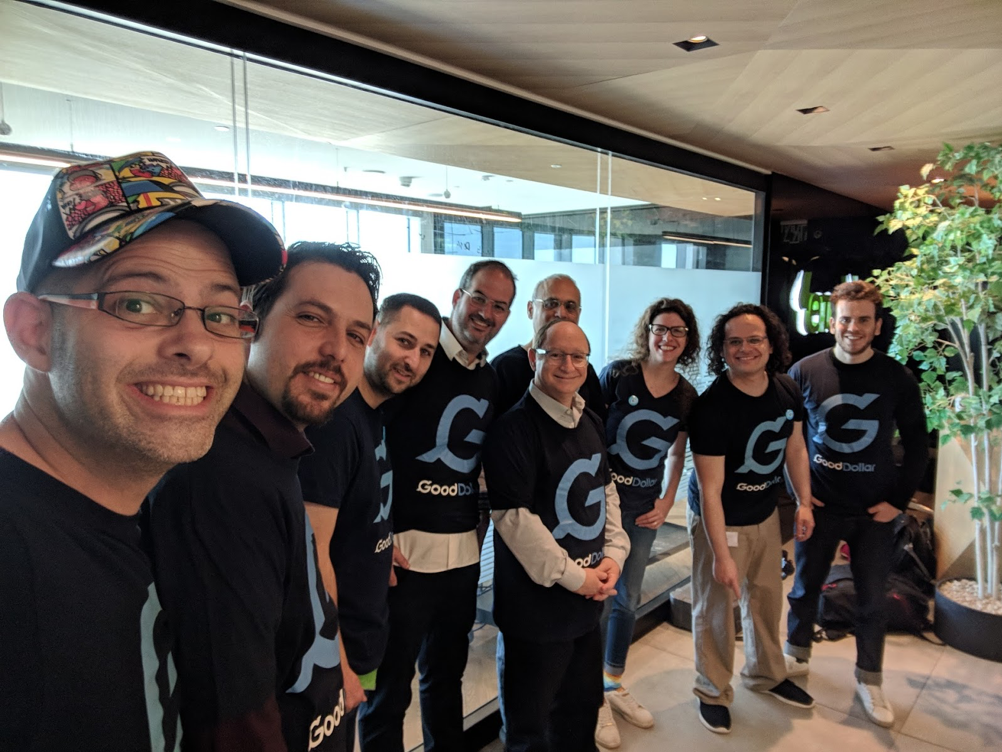 The hackathon for reducing global wealth inequality using decentralised technology was won by a prototype for a system that encourages citizens to be checked for diabetes in return for GoodDollar tokens
GoodDollar, a not-for-profit research hub that explores how decentralised cryptocurrencies and blockchain technology may enable models based on universal basic income (UBI) with the central aim of reducing global wealth inequality, held the inaugural Hackinequality event in Tel Aviv on March 14 and 15.
The judging panel, after much debate, agreed that the three-person t2d team – made up of Jesse Medina, Lior Yaffe, and Yaron Shmaria – had done enough to see off competition from the other eight social impact projects.
The team won the US$2,500 first prize, though the money was of secondary importance, with their contribution for social impact by far the more valuable.
Nine teams had 16 hours to work on their projects at the eToro offices in Bnei Brak, and their dedication was commendable. Most of the talented 35 participants – including programmers, analysts, designers, user experience experts, blockchain enthusiasts – burnt the midnight…
Why be average when you can be extraordinary?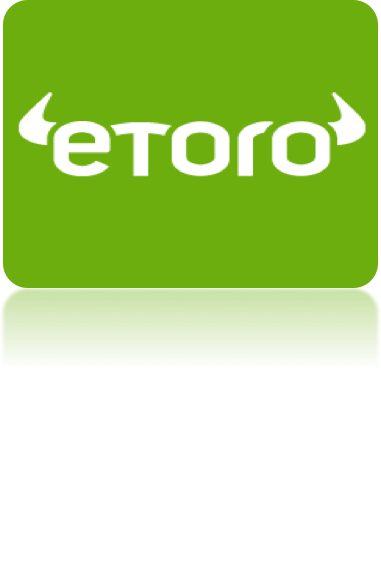 In 2018, world stock markets went up. Then they went down, then up, then down and down again.
By the end of the year, the three major indexes tracking world stock markets were all flashing red. This means if an investor had decided to just purchase products that followed these indexes, they would have lost money.
The MSCI World Index, which – tracking the stocks in 23 of the most developed economies – is the financial sector's "go-to" for taking the economic temperature, slumped 8.71%. Investing £100 in line with that index would have seen you finish the year with £91.30.
Not great if you are building for a financially secure future.
It is debatable as to whether these indexes should be used as a path for investors as the theory behind them is to demonstrate the overall movement of share prices. They track each company's stock and do not either highlight more of the winners or dump those that are really struggling.
But there is another way to invest without blindly following these general ups and downs.
Our Popular Investors don't just track the market. They make investment decisions based on financial and economic information and use their experience to gauge how external factors might impact a company's stock price.
They get to know companies and if they like it or think it stands to do well after…