eToro Officially Launches Crypto Trading Platform & Wallet in the U.S.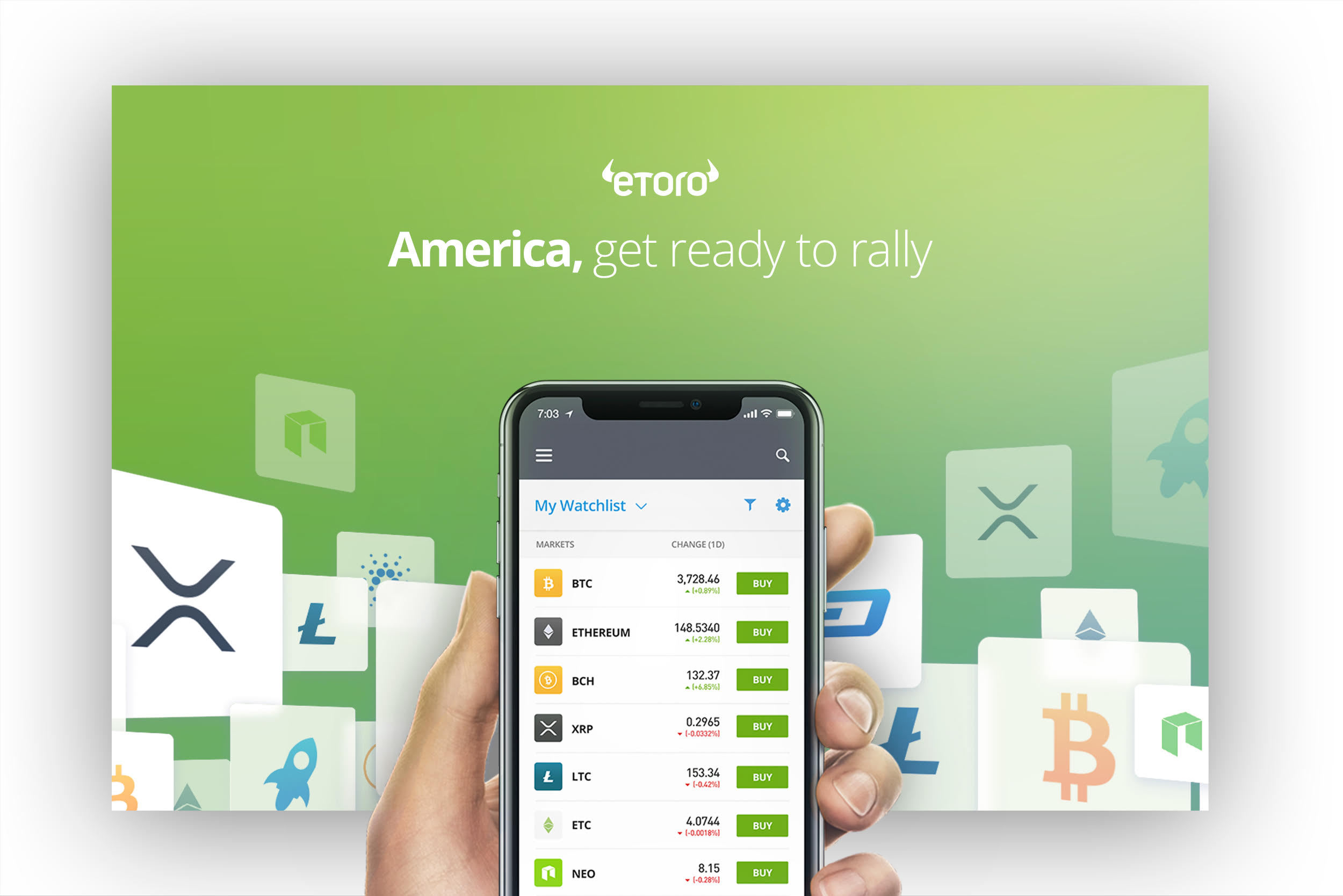 Global platform allows U.S. customers from 32 states and U.S. territories to trade 13 cryptoassets with multi-asset trading to arrive in Q1 2020
New York, NY — March 7, 2019— eToro, a global multi-asset trading platform with over 10 million registered users, announced the launch of its platform and cryptoasset wallet in the United States. With the launch, U.S. customers with diverse levels of expertise can leverage eToro to collaborate with one another to find the best cryptoasset trading strategies in an environment rich with unconventional educational tools.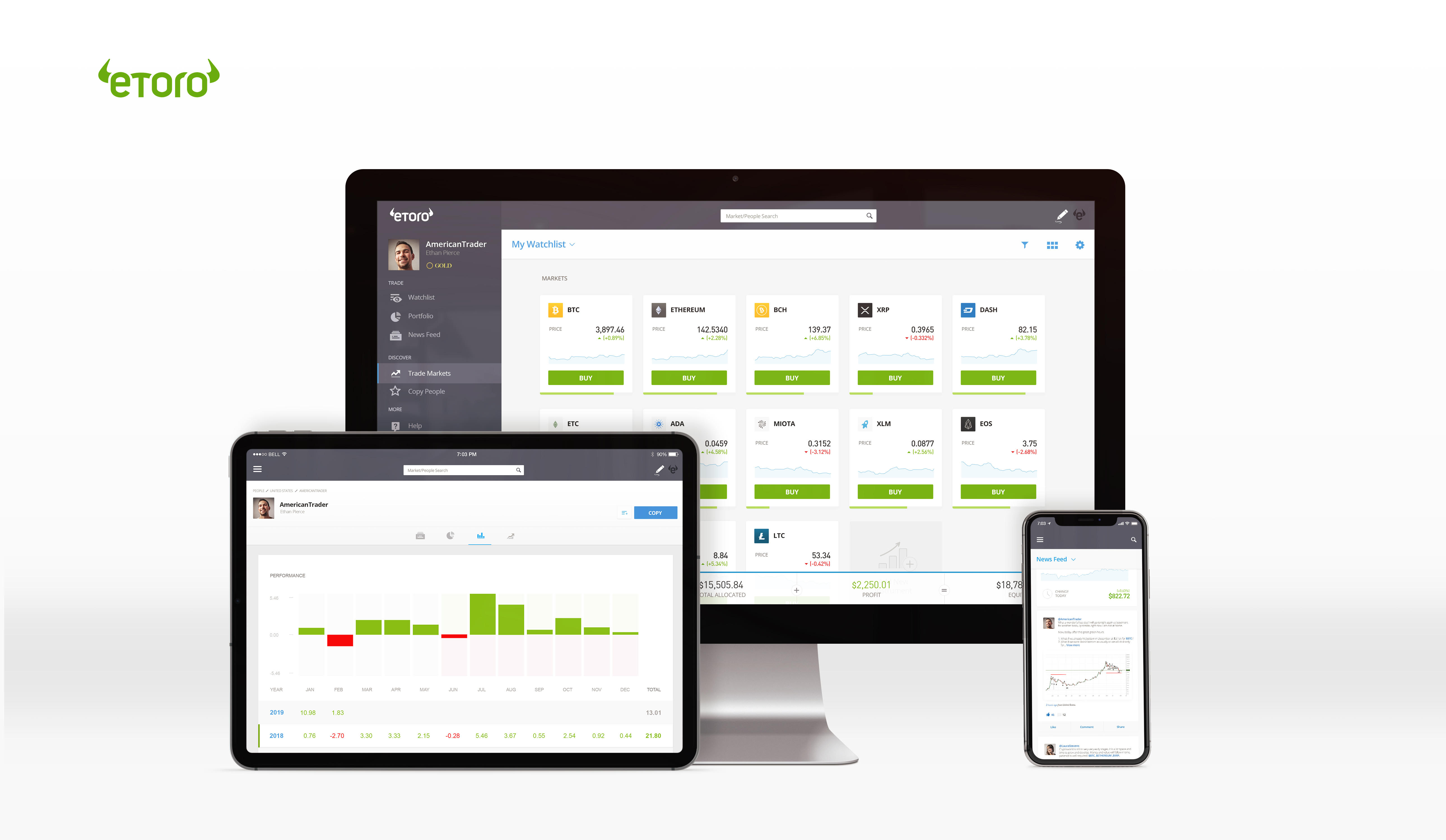 At eToro, you can share your real track record, portfolio, and trades with the community, allowing users to engage with each other on trading ideas that are executed using real dollars. For those new to crypto trading, the community and educational resources introduce users to this new asset class and the risk profiles involved in it.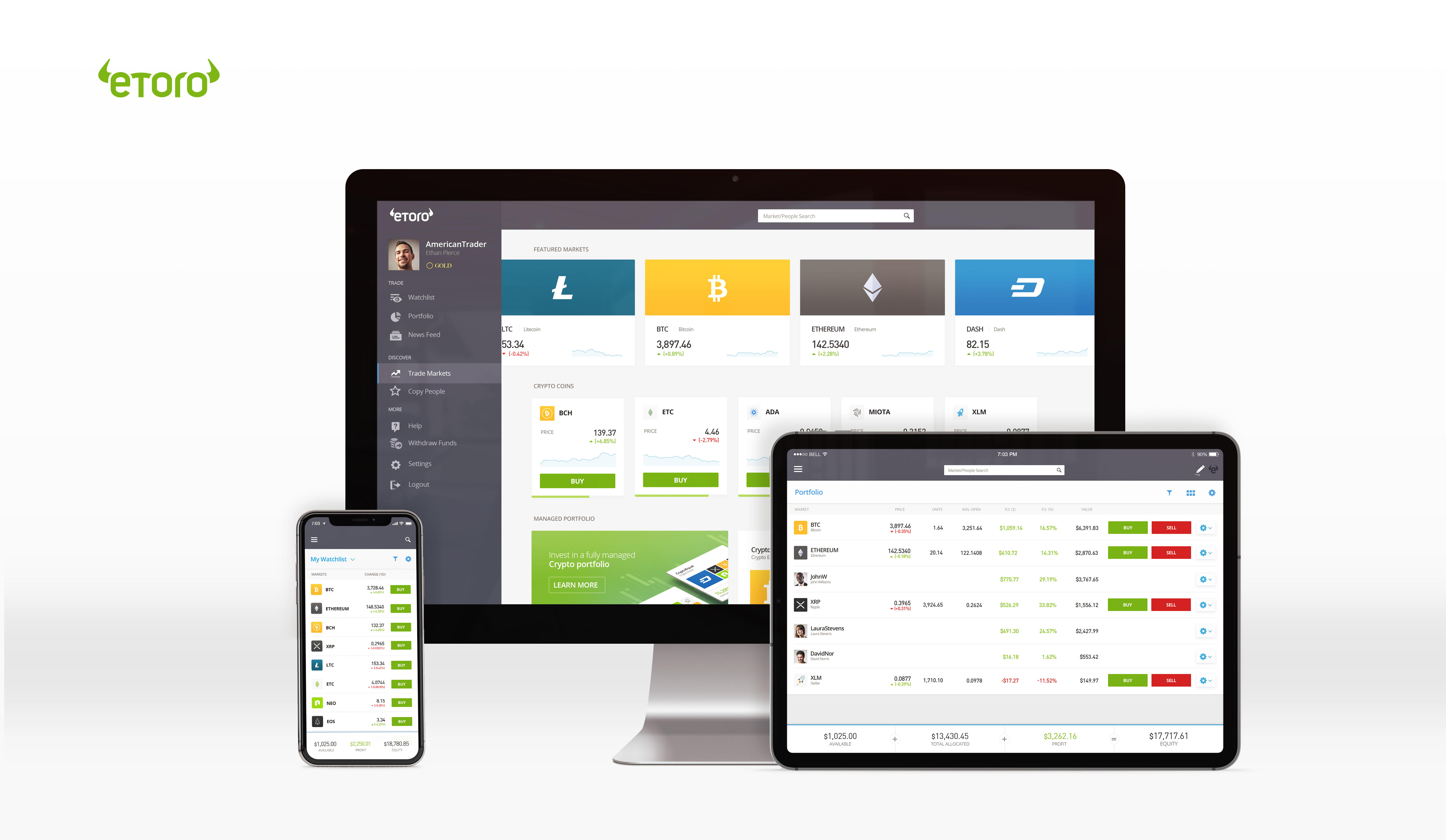 Yoni Assia, Co-founder & CEO of eToro, said: "For the first time, Americans can collaborate with other crypto traders when making buying and selling decisions. Users can adjust their trading strategies by watching and learning from others on the platform. When I founded eToro, I envisioned a community where people could trade, invest and share their knowledge in a simple and transparent way. eToro also acts as a bridge between the old world of investing and a blockchain-powered future, helping our users navigate and benefit from the transition to cryptoassets for wealth building. People create the eToro experience and now Americans will play a major role in shaping our community and future. "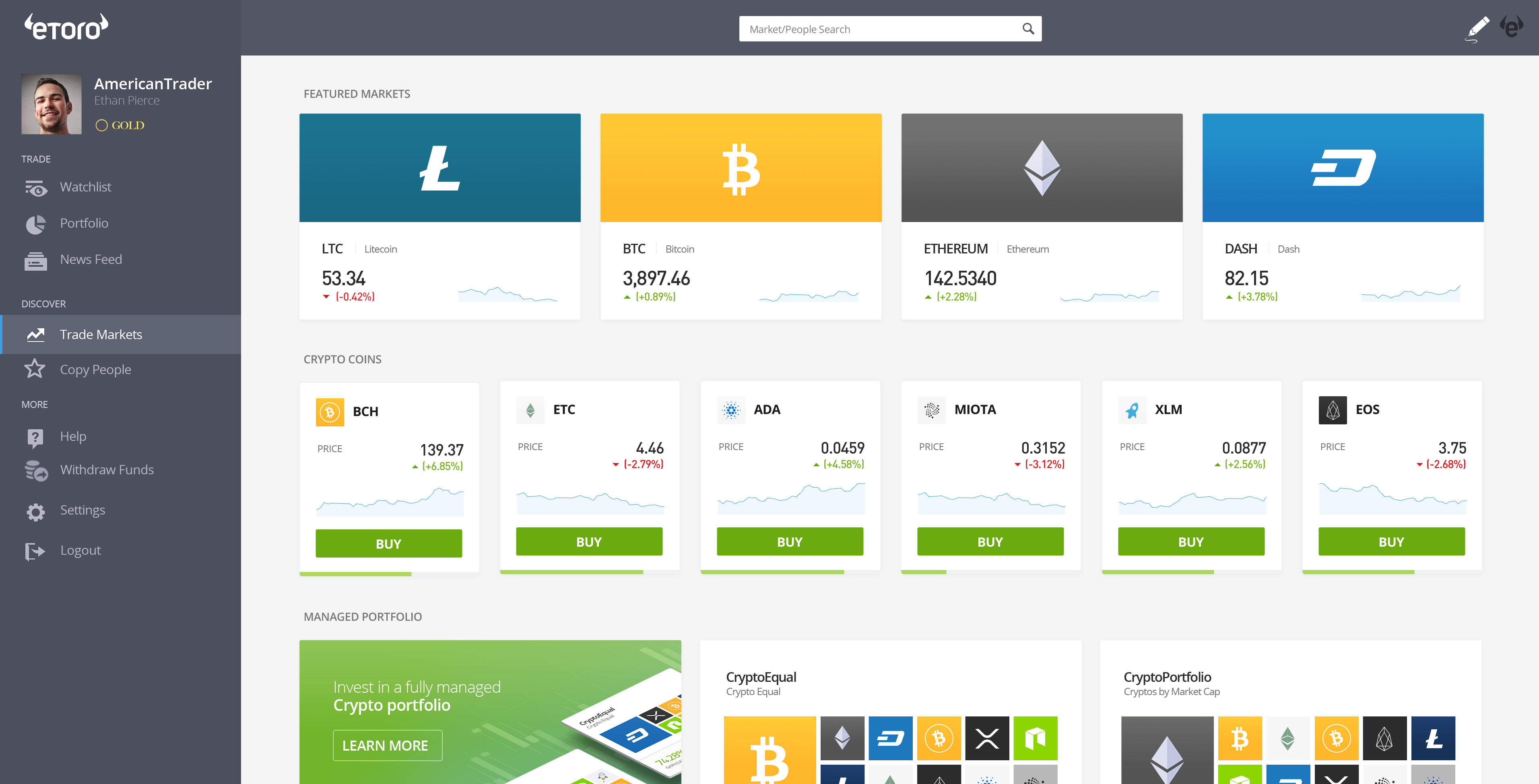 Santo Politi, General Partner at Spark Capital said, "Since Spark Capital's initial investment in 2012, we believed that eToro would lead the charge in disrupting the financial services market. We have watched the growth and success of eToro for the past seven years and, through Yoni's leadership, the organization continues to innovate and thrive amongst the competition. eToro's launch into the U.S. market marks a significant milestone for the company as it builds a leadership position in the online trading space."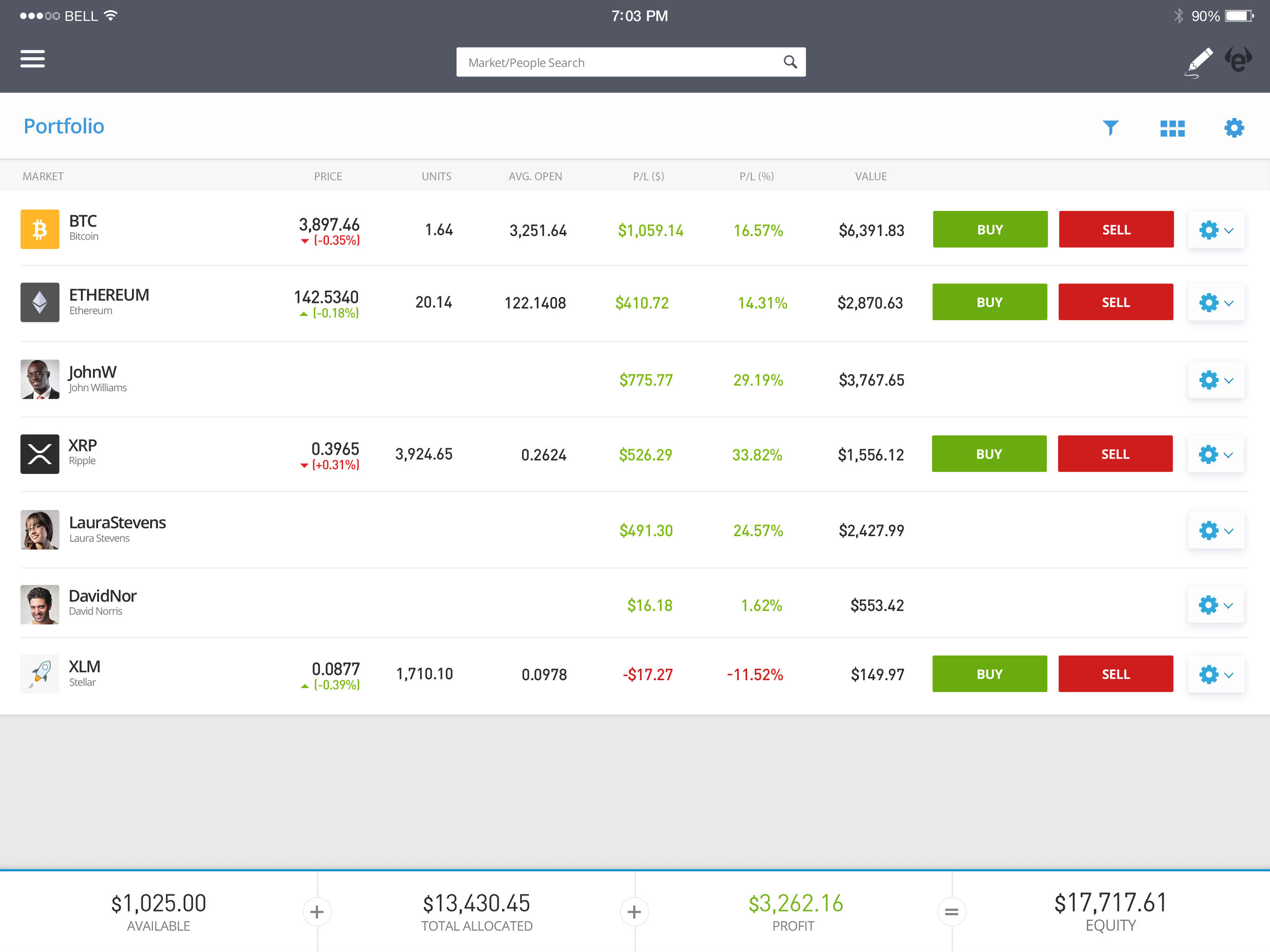 The platform's CopyTrader feature allows users to allocate funds to automatically trade proportionally to the portfolio of another user. This allows users to easily gain exposure to a crypto trading strategy executed by someone who has a proven track record. Additionally, eToro's CopyPortfolios feature bundles together assets under one selected trading strategy, curated by eToro's own analysts. Within the U.S., three cryptoasset CopyPortfolios will be available to traders at launch. As eToro adds new asset classes to the platform later this year, additional CopyPortfolios will be offered. Any eToro customer with an established track record who meets certain eligibility requirements may be copied and compensated for their performance, subject to risk analysis and supplemental evaluation.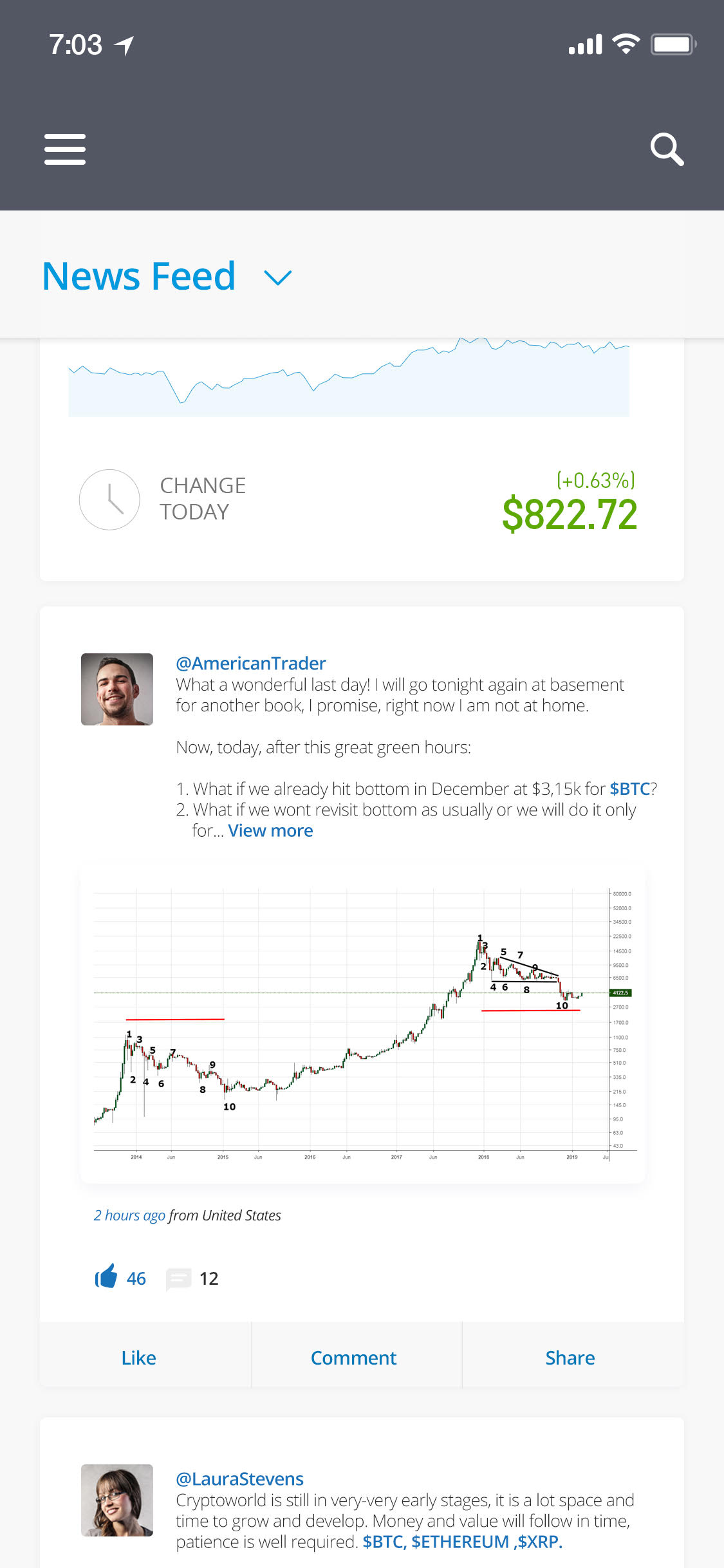 The highly-secure, multi-signature eToro wallet provides multi-coin support and a simple user interface, making it easy to send and receive supported coins. At launch, the eToro wallet will support BTC, ETH, LTC, BCH, XRP, and XLM, with more cryptoassets available in the near future. Users can log into the wallet with their existing eToro accounts and transfer coins from their trading accounts to hold them securely in their wallets. Within the wallet, users can convert between different coins with a click of a button. They can also easily and securely send and receive crypto through a QR code or by sharing their wallet address.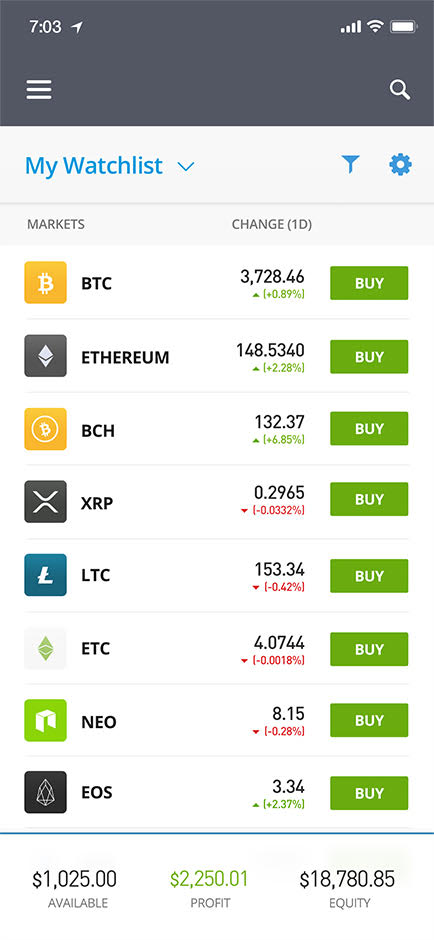 eToro U.S. Managing Director Guy Hirsch said, "eToro will play a lead role in transforming the financial services industry. We're doing that successfully on a global scale and we are thrilled to finally be able to bring our offering to the U.S. audience."
For more than a decade, eToro has been a leader in the global fintech revolution and a disruptor in the blockchain industry. eToro believes that in the future, all assets will be tokenized which will have a huge impact on global finance and, therefore, a major focus for the firm. To that end, eToro will be launching its own cryptoassets exchange, eToroX, on a global basis later this year. Blockchain has the potential to revolutionize finance and eToro believes that the greatest transfer of wealth ever will happen onto the blockchain.
#####
About eToro U.S.
For more than a decade, eToro has been a leader in the global fintech and blockchain revolution. As the world's leading social trading platform, eToro has more than 10 million registered users with diverse levels of expertise who create the unique eToro experience. eToro users share their insights, their actual portfolios, and their real track records with each other in an environment rich with unconventional educational tools. Transforming the traditional money management industry, eToro users can easily elect to automatically copy the trading strategy of the leading traders in our community, as well as be copied and earn a second income. Users on eToro can also leverage the virtual portfolio feature to practice and test their trading strategies.
Trade up with eToro at www.etoro.com/en-us/
Bitcoin of 2020: On the Rise, Better Established, and Much More Stable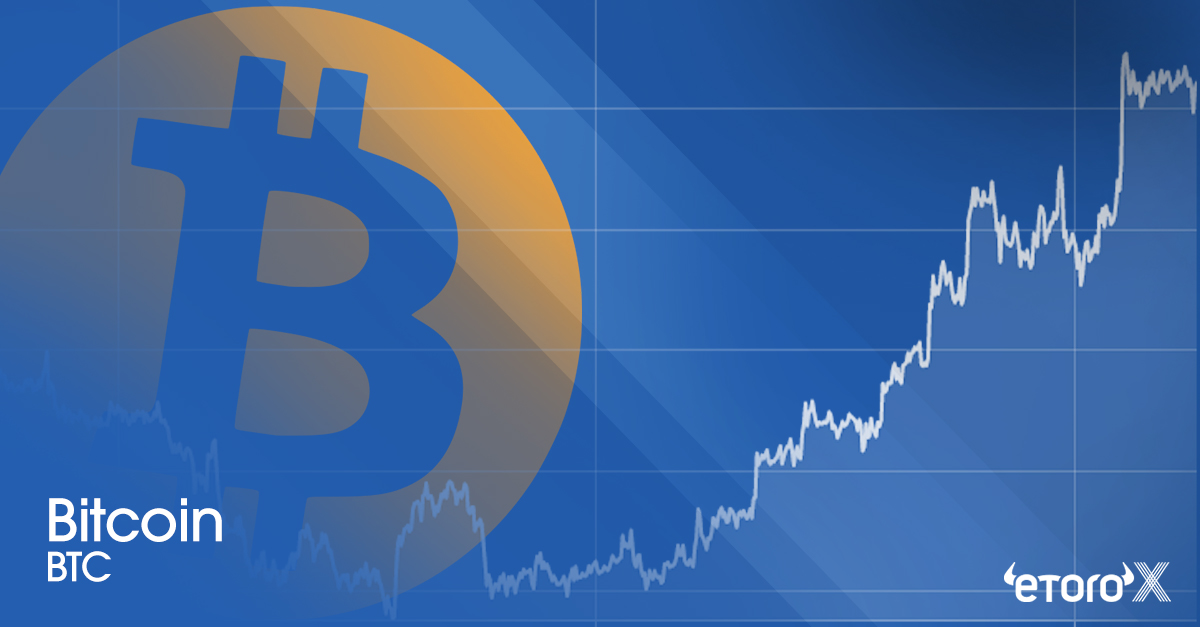 Why Bitcoin is Continuing to Climb, from More Solid Ground Than Ever
Last night saw Bitcoin once again soaring up the market, with a 6% increase over the course of three hours. This continues a fantastic start to the year for the world's largest decentralized currency, which is up 30% since January 1st, and pulling along with it several other primary cryptocurrencies, including Ether, Litecoin, Ripple, and Dash.
A Significant Moment for Bitcoin
January 2020 is certainly proving highly significant for Bitcoin. The sharp increases and painful falls of the past pale into comparison with now, as the current increase seems to come from a far better-established position with much more stability. Furthermore, the activity around Bitcoin is expanding in exchanges, banks, and other financial institutions, together with its legitimacy and relevancy.
World Economic Forum 
Last week, at the World Economic Forum annual summit at Davos, Switzerland, Bitcoin, cryptocurrencies, and blockchain technology were honored guests. Many of the billionaires, bankers and treasury ministers who gathered in Davos are still fairly skeptical about the decentralized economy, but despite this, they also realize that they cannot stop it.
The World Descends into Chaos, And Bitcoin is on the Rise
It seems that the more agitated the world agenda, the more Bitcoin's popularity grows, and strengthens its status as a…
World's Richest 22 Men Are Worth The Same As All 325 Million Women In Africa — New Oxfam Report Reveals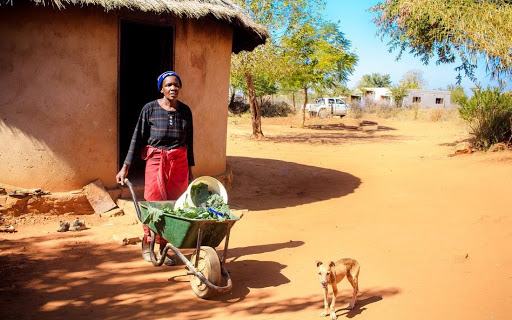 "Wealth inequality remains shockingly high." This is the sobering conclusion of Oxfam's latest report, published on the eve of the World Economic Forum Annual Meeting 2020.
The 162 richest people on the planet boast the same wealth as the poorest 50 percent — 3.85 billion — in the world.
From Tuesday, January 21, close to 3,000 delegates — including 53 heads of state — from 117 countries, will participate in the WEF summit in Davos-Klosters, Switzerland. According to the website blurb, the WEF Annual Meeting is "the foremost creative force for engaging the world's top leaders in collaborative activities to shape global, regional and industry agendas at the beginning of each year".
This year's topic, for the great and the good of the business world and politics, is "stakeholders for a cohesive and sustainable world". While the hellish fires raging in Australia fan the flames for climate change, the perverse irony that most of the 774 public speakers will have been flown into the summit will not be lost on the people who are truly concerned about the heating of the world.
Similarly, that many of the wealthiest people in the world will gather to no doubt use the WEF platform to further boost their richest, through additional business deals and contacts, while…
Cryptocurrency Prices Rally Towards Double-Digit Gains in 2020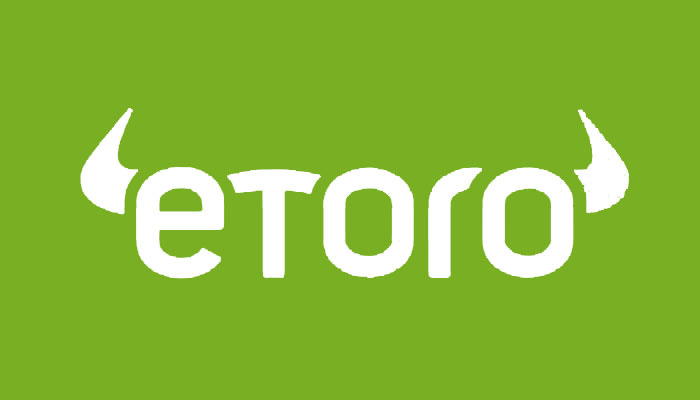 The cryptocurrency market has started 2020 with a huge bang, expanding by an impressive 23% within the first two weeks of the year. The overall market capitalization of the cryptocurrency market – a measure of the size of the market – has grown from $192 billion at the start of the year, to well over $240 billion by the middle of January.
Leading the pack is Bitcoin (BTC), which constitutes more than 65% of the overall market size. Going from just under $7,200 at the end of 2019 to a high of $8,800, Bitcoin recorded double-digit gains within two weeks. January 14 saw a spike of more than 11% in Bitcoin's price, fuelling speculation that the two-year-long cryptocurrency recession could finally be over.
Among the many factors that contributed to Bitcoin's price increase was the geopolitical upheaval emanating from increasing tensions between the USA and Iran, which led to a flight of safety capital by investors, to safe-haven assets such as gold. Already established as a manifestation of digital gold, it seems hardly coincidental that the prices of both gold and Bitcoin went up.
Another catalyst for the increase was the official…