Miningzoo Bitcoin Cloud Mining Platform Appoints New CEO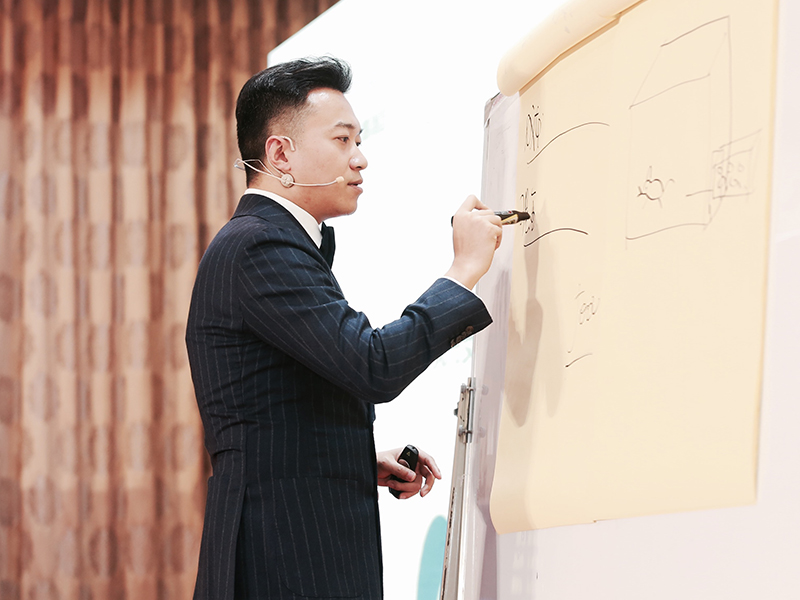 The market's most value-for-money bitcoin cloud mining service provider, Miningzoo, will have a new CEO starting from next week.
Mr. Jason Wu will be taking over the role on the 12th of August. He will be the first CEO of the budding and booming cloud mining platform, Miningzoo.
Miningzoo's board of directors announced Wu's appointment on Monday. He has over 18 years of experience in management and chief executive roles and until recently was the CEO of Milestown, a high-end mansion-renting platform, based in Shanghai.
In his years of experience working as a startup founder and company executive, Mr. Wu has held a variety of management positions, including the managing director of Trend (Beijing) Cultural Media Co. Ltd. and later the founder and CFO of ZhongfuXinhe Asset Management Ltd. He was an early bitcoin advocate and has been invested in crypto-related industries' long-term prospects.
The board and shareholders of Miningzoo said in a statement that Jason Wu would bring skills "vital" to the Mining Platform's future. Wu will design a comprehensive and executable business model that will be focused on "innovation, sustainability, collaboration, and long-term strategy decisions." He brings valuable insights to the company and smoothes out the company's financial and legal status.
"Backed by a finance degree and MBA, together with a career of 15 years of general management and CEO roles and 18 years of governance experience, Jason Wu is well equipped to drive the growth and development of Miningzoo," they said.
Wu said he was attracted to the job by Miningzoo's "strong balance sheet and very capable team."
Since Miningzoo's launch, the company's revenue grew from scratch to $7 million in the 2019 financial year.
Miningzoo recorded 47, 000 registered users and 804,000 website visits. The company boasts 53,000 miners and employs 35 staff.
Harmony One listed on KuCoin Cryptocurrency Exchange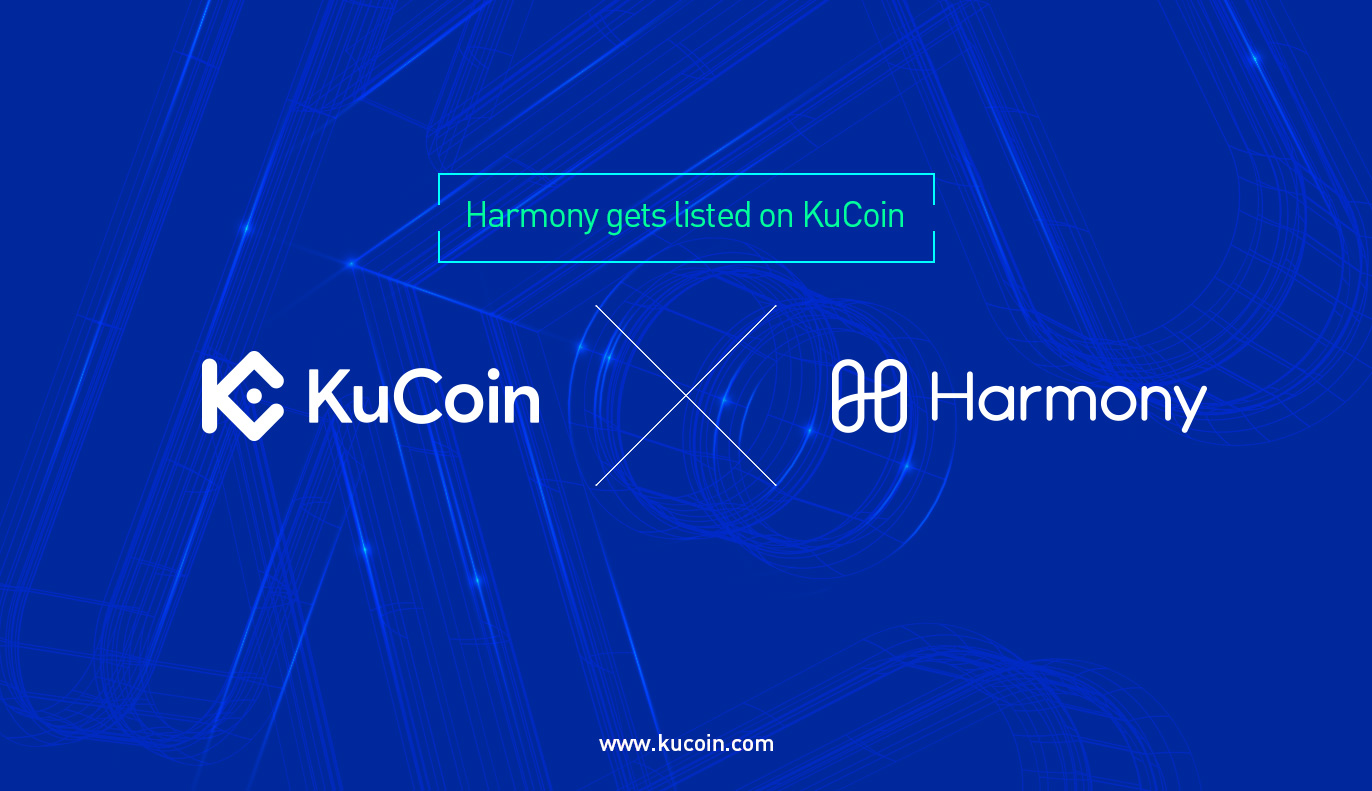 Harmony One, the deep sharded scalable blockchain built by a team of engineers from Google, Apple, Amazon, Facebook, Harvard and Stanford, has announced its launch on KuCoin exchange. The trading will start at 6pm (UTC+8), August 22nd and supported tradingpairs include ONE/BTC and ONE/USDT.
With over 5 million registered users from about 100 countries and regions, KuCoin, an IDG-backed crypto exchange, is often known for a wide range of tradable digital assets. By listing high quality blockchain projects, the platform aims to better meet investors' needs while provide enhanced liquidity of projects' token to worldwide base of users.
Garlam Won, Head of Marketing at Harmony One said, "We want to make $ONE available to everyone in the world, regardless of their country, race or gender. And having a global exchange like Kucoin as a launch partner will allow us to provide liquidity of $ONE without borders"
With the mainnet launched, Harmony is expanding its ecosystem out into the Non-Fungible Collectibles sector with its recent acquisition of Sequoia funded  digital collectible startup Quidd with Animoca Brands.  Quidd raised $13m in venture funding led by Sequoia to build a digital collectible mobile app. Today, Quidd has 325 brand licenses including Game of Thrones, Rick and Morty, and Marvel superheroes. Quidd has issued and sold over 2.1 billion individually-serialized digital collectibles, and generated over $10m in gross revenues from…
Kriptomat Exchange Launches World's First Gamified Blockchain Rewards Program
Estonia, Europe 12th of August –Today, the government-regulated cryptocurrency exchange Kriptomat launched the world's first gamified blockchain rewards program. The unique experience allows users to play games of chance, collect blockchain assets, craft collectibles, and acquire non-fungible tokens that provide discounts and can be played in over 20 different video games. The loyalty program, called The Dragon Riders of Kriptomat, operates on the Enjin Platform and utilizes the new ERC-1155 token standard recently adopted by the Ethereum community.
"We are thrilled to lead the charge when it comes to adopting blockchain for rewards because we honestly believe that on-chain tokens are the most advanced form of digital asset in existence," said Srdjan Mahmutovich, Kriptomat CEO. "Our team always strives to advance personal sovereignty, economic equality, and social equity by building community-centric platforms that offer transparency, opportunity, and self-governance to all who use them. This rewards program is another one of our innovations that will prove to the general public that blockchain is the future of digital proprietary."
In the launch announcement, Kriptomat explains that blockchain assets are far more valuable than ordinary reward points. Users can store blockchain assets securely for a lifetime, sell or trade them for money or cryptocurrency, or use them in a multitude of apps and games.
With the Kriptomat rewards program, the team aspires to provide its customer base with the…
NEXO Token Holders Receive US$2,409,574.87 in Dividends

Nexo is delighted to announce that the Dividend Payment of US$2,409,574.87 to NEXO Token Holders scheduled for August 15, 2019, is now complete.
NEXO Token Holders can simply log in to the Nexo Mobile App to view the dividend that has been credited to their wallets.
The annualized dividend yield is an impressive 12.73%, which surpasses all of the highest dividend-paying stocks in the S&P 500.
Nexo's innovative dividend-distribution methodology rewards long-term investor confidence and also decreases market volatility around ex-dividend dates. It consists of two parts – the Nexo Base Dividend and the Nexo Loyalty Dividend, each making up 50% of the total amount in the current distribution.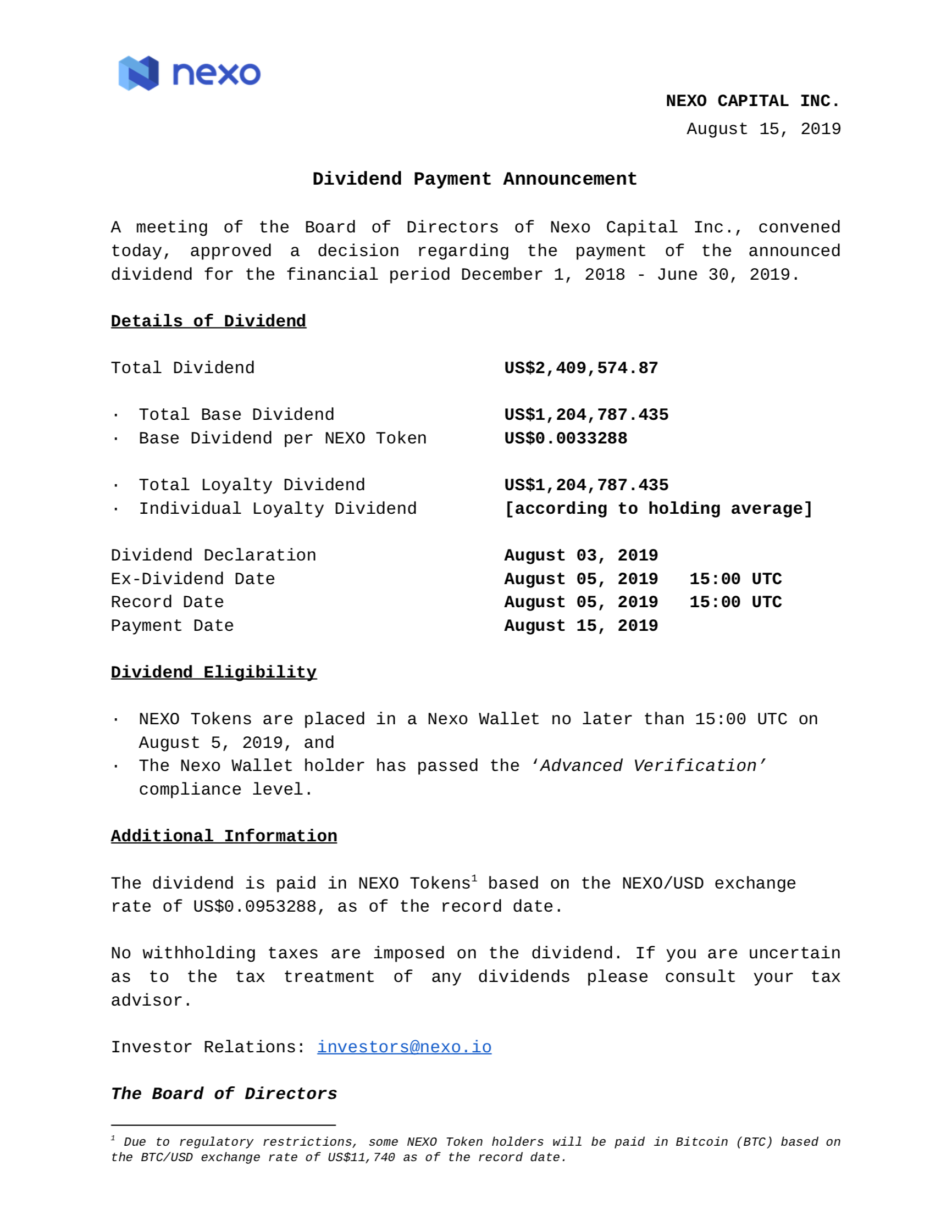 Since the April 2018 launch, Nexo has seen exorbitant growth of the registered user base to 250,000+ and has gained significant market share, making Nexo the market leader in Crypto FinTech.
Nexo's impeccable and innovative marketing strategies, unrivaled customer support, combined with a substantial upswing in crypto asset prices across the board has ensured unprecedented demand for Nexo's signature Instant Crypto Credit Lines™.
This has given us the means to further give back to the community, by allowing investors from around the world to generate 8% with Nexo's