SuchApp Sees African Continent as Strategic Place for Growth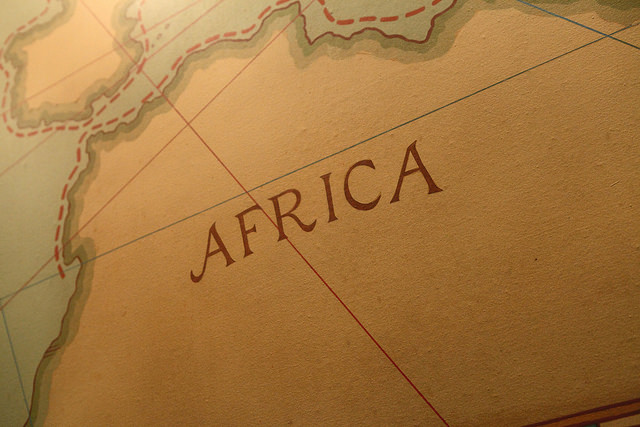 Company's Expansion Efforts Aim to Democratize Entrepreneurship in Developing Economies
SuchApp is expanding its presence across the African continent as part of an initiative to help developing countries by integrating blockchain into the local, national, and international economies across the continent. As the world's first 5G real-time messaging app using blockchain technology, SuchApp will use its services to connect communities, improve economic stability, and build international business networks for entrepreneurs in African countries.
One of the challenges that many business owners in African countries have historically faced is connectivity between rural and urban economies. But the mainstream adoption of SuchApp bridges the gap between rural and urban communities, increasing the flow of communication and allowing individuals to communicate with domestic and international markets across the African continent.
SuchApp serves as more than just a messenger platform. It is an economic portal that connects businesses, government, and customers together more effectively. SuchApp's expansion into African markets will improve economic stability by empowering business owners in the following ways:
Better customer service: Customers and business owners have a direct line of communication, making it easier for companies to solve problems and build social proof.
Greater marketing campaigns: SuchApp's branding and marketing tools make it easier for business owners to conduct market research and connect with their target markets.
Location-based messaging: Businesses can focus on specific locations when marketing or connecting with customers.
Incentives and rewards programs: SuchApp makes it easy for business owners to create rewards programs, like gift cards and loyalty points.
SuchApp leverages blockchain technology and cryptocurrencies to make transactions between store owners and customers quick, efficient, and secure. The smartphone app comes with a fully-functional digital cryptocurrency wallet that stores the SPS token, SuchApp's digital currency which is used to facilitate transactions.
Not only does the SPS token provide a safer way to buy and sell items, it is used to boosts the pan-African economy by allowing buyers and sellers across Africa to make instant transactions without expensive middleman fees. This means that more small and medium business owners have easier access to other domestic and international markets, which ultimately creates a platform that empowers more entrepreneurs across Africa.
About SuchApp: SuchApp combines best-of-class messaging with the power of a social network architected over a robust, enterprise-level blockchain economy to create the world's first 5G messaging ecosphere. Developed by Footprint Media Holdings Corporation, it will be the single point of contact for socializing, buying, selling, trading and making payments. SuchApp launched its alpha version in January 2018.
Disclaimer: This article should not be taken as, and is not intended to provide, investment advice. Global Coin Report and/or its affiliates, employees, writers, and subcontractors are cryptocurrency investors and from time to time may or may not have holdings in some of the coins or tokens they cover. Please conduct your own thorough research before investing in any cryptocurrency.
Image courtesy of Sam Howzit via Flickr
ISW Holdings Continues Anti-Dilution Agenda by Eliminating Major Convertible Note with $363k Preemptive Payment
LAS VEGAS, March 9, 2021 (GLOBE NEWSWIRE) – ISW Holdings, Inc. (OTC: ISWH) ("ISW Holdings" or the "Company"), a global brand management holdings company with commercial operations in Telehealth and Cryptocurrency Mining, is pleased to announce that the Company has paid off and canceled a major convertible debt note by allocating $363k to settle the outstanding obligation and remove it from the books.
"As our financial reality has shifted over recent months, we have an opportunity to drive value for our shareholders in many ways, including eradicating dilution risk by being proactive in addressing outstanding liabilities," noted Alonzo Pierce, President and Chairman of ISW Holdings. "Without this action, the note would have had the potential to convert at a 50% discount to current share pricing. We weren't comfortable with that potential outcome, so we deployed capital to eliminate that risk."
The Convertible Note that has now been canceled presented a dilution risk for shareholders upon potential conversion into equity at as much as a 50% discount to market pricing for shares. Management is committed to preventing dilution risk as part of its official anti-dilution strategic initiative, introduced last year. The Company has regularly and consistently taken steps to eliminate, cancel, or pre-empt dilution risks such as those presented by convertible debt notes since announcing this initiative.
This announcement follows the Company's recent moves to energize its initial POD5IVE crypto mining unit and to acquire the means to assemble and energize…
ISW Holdings Triples Active Cryptocurrency Mining Fleet with Additional POD5IVE Mining Pods
LAS VEGAS, March 2, 2021 (GLOBE NEWSWIRE) – ISW Holdings, Inc. (OTC: ISWH) ("ISW Holdings" or the "Company"), a global brand management holdings company with commercial operations in Telehealth and Cryptocurrency Mining, is pleased to announce that, following the signing of hosting agreements with Bit5ive LLC and Scrubgrass Generating Company, LLP, based in Kennerdell, PA, the Company has successfully tripled its active Cryptocurrency mining fleet with the addition of two (2) new POD5IVE datacenters.
The Company now operates three POD5IVE datacenter units and anticipates a record acceleration in cash flows, revenue growth, and profitability ahead.
The POD5IVE datacenter, produced in partnership with Bit5ive, is based on an evolutionary design, and includes the following specifications:
• Active Mining Power: 62-92 Th/s depending on the miners
• SHA 256 Hashrate: Currently 6,557.28 TH/s
• Per POD5IVE quantity: 3x 280-360
• Depending off each miner, 1x 280 and type of miner: 3x Up S17/T17, 1x up to S19/T19
• Power capacity for all POD5IVE: Each can go 2x 800A, 2x 1000A, or 2x 1200A
• Total power capacity per POD5IVE: 4x 920,038.40 Watts, Current site is using 800A fuse per service
• Container Size: 40′ x 8′
• Shelving: 3x with 10 medium Racks, 1x with 4 large racks
• Voltage: 415V 3 Phase
• Ventilation: Passive airflow with a temperature controlled evaporative cooler. 133,000 CFM total each.
• Digital smart (breakers,…
ISW Holdings Negotiating Purchase of Additional 300 to 900 Cryptocurrency Miners in Preparation for Phase 3 Expansion in Mining Operations
LAS VEGAS, February 11, 2021 (GLOBE NEWSWIRE) – ISW Holdings, Inc. (OTC: ISWH) ("ISW Holdings" or the "Company"), a global brand management holdings company with commercial operations in Telehealth and Cryptocurrency Mining, is pleased to announce that the Company is currently in negotiations toward the purchase of an additional large number of miners (between 300 and 900) in preparation for its coming Phase 3 expansion in mining volume.
The Company previously announced that it is currently launching its initial Pod5 Cryptocurrency Mining Pod, a fully self-contained high-PUE mining solution designed, assembled, and installed in partnership with Bit5ive, LLC, ("Bit5ive") at the Bit5ive 100 MW renewable energy cryptocurrency mining facility in Pennsylvania.
Expansion involves assembling, equipping, and powering up additional Pod5 units, each of which houses 300 miners and is capable of driving roughly $2.9 million in annualized revenues at current cryptocurrency market pricing. Management is targeting the acquisition of 900 new miners capable of equipping three (3) new Pod5 units, which would lead to an additional $8.64 million in annualized revenues from mining activities at current market prices.
As noted in prior Company communications, the Company began a four-phase process last year.
Phase 1 (completed) was about integrating leading design solutions and establishing a supply chain to bring in industry-leading parts and equipment for the Pod5 mining solution.
Phase 2 (completed) was about assembling and shipping its initial Pod5 unit.
Phase 3 (underway) is the mining launch – targeting…