TrustDice releases Crash Game supporting BTC and ETH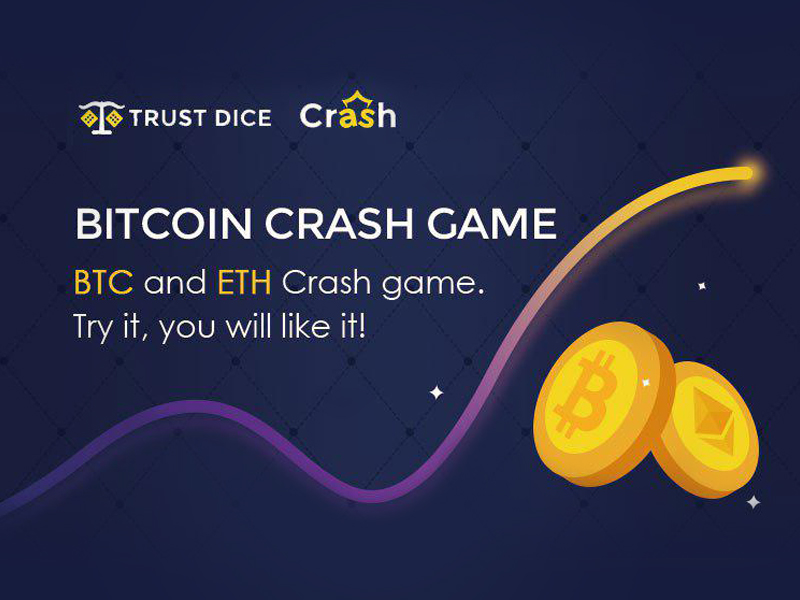 People always ask when blockchain will go mainstream. When Facebook launches its own cryptocurrency? When Telegram launches TON network? Or when old money starts buying Bitcoin?
The TrustDice team believes that blockchain will go mainstream when millions of people play blockchain games every day. During the past 2 years, blockchain gaming grows fast. Nowadays there're almost 3000 Dapps (Decentralized Apps) built on blockchain (Ethereum, EOS, TRON, etc) and 60% of them are games, according to the data from DappReview.
However, the number of daily active users of blockchain games is still small (around 100k) compared with that of traditional games. To accelerate the process of bringing blockchain gaming to the mass market, the TrustDice team makes a lot of efforts. They released Trust Protocol in March 2019. And now they release the first Crash game to support multiple cryptocurrencies (Bitcoin, Ethereum, EOS, etc), with the help of Trust Protocol.
We talk with the TrustDice team about their vision and plans in the future.
Why do you build this Crash game?
Crash is an innovative game invented by people in the world of cryptocurrency. The first Crash game was released by Bustabit in 2014 and since then it has been popular among the Bitcoin community.
However, Bustabit only supports Bitcoin, for people holding other coins, they cannot enjoy the fun of this game. Therefore, we came up with the idea to build a Crash game supporting multiple tokens (Bitcoin, Ethereum, EOS, etc). And this will also be a good showcase of Trust Protocol.
Any other differences between your Crash game and Bustabit?
Besides supporting more tokens than Bustabit. There'll be daily wagering contest in our Crash game. Those who wager more will win more. Another big difference is that our Crash game is built on EOS blockchain. All the random numbers are generated on blockchain.
It is truly provably fair and more transparent than games built on centralized servers. Finally, we have a Coinbox feature for new players to claim free coins (BTC, ETH, EOS, etc) every 6 hours. Even people without holding any cryptocurrencies can enjoy the game and maybe win a lot of coins, as long as they have good skills and luck.
Why do you focus on casino games now?
Our team is composed of veterans in the gaming industry and geeks. We've actually delivered several different types of blockchain games during the past 2 years: collectible game, FOMO game, Dice game and so on. Most of them can generate hypes during a short time, yet lose players quickly, while casino games like Dice and Crash, has been popular in the world of cryptocurrency for a long time.
The number of transactions in SatoshiDice was once taking 60% of all transactions on Bitcoin. What's more, the daily betting volume of casino games on those new blockchains (Ethereum, EOS, TRX, etc) surpasses 10M USD. It's definitely a great use case of blockchain and helps a lot of new users to learn cryptocurrency easily. It will keep contributing to the ecosystem of cryptocurrency in the future, and we believe that we can add value to it.
What's the plan for 2019?
Well, our strategy is always customer first, and our highest priority is to provide the best gaming experiences to our players. In the rest of 2019, we'll polish the product, deliver more games, as well as supporting more tokens on TrustDice.
For Trust Protocol, we'll support more blockchains including TRON, NEO and so on. We hope to open source Trust Protocol by the end of 2019 so that more developers can benefit from our experiences before.
Kriptomat Exchange Launches World's First Gamified Blockchain Rewards Program
Estonia, Europe 12th of August –Today, the government-regulated cryptocurrency exchange Kriptomat launched the world's first gamified blockchain rewards program. The unique experience allows users to play games of chance, collect blockchain assets, craft collectibles, and acquire non-fungible tokens that provide discounts and can be played in over 20 different video games. The loyalty program, called The Dragon Riders of Kriptomat, operates on the Enjin Platform and utilizes the new ERC-1155 token standard recently adopted by the Ethereum community.
"We are thrilled to lead the charge when it comes to adopting blockchain for rewards because we honestly believe that on-chain tokens are the most advanced form of digital asset in existence," said Srdjan Mahmutovich, Kriptomat CEO. "Our team always strives to advance personal sovereignty, economic equality, and social equity by building community-centric platforms that offer transparency, opportunity, and self-governance to all who use them. This rewards program is another one of our innovations that will prove to the general public that blockchain is the future of digital proprietary."
In the launch announcement, Kriptomat explains that blockchain assets are far more valuable than ordinary reward points. Users can store blockchain assets securely for a lifetime, sell or trade them for money or cryptocurrency, or use them in a multitude of apps and games.
With the Kriptomat rewards program, the team aspires to provide its customer base with the…
NEXO Token Holders Receive US$2,409,574.87 in Dividends

Nexo is delighted to announce that the Dividend Payment of US$2,409,574.87 to NEXO Token Holders scheduled for August 15, 2019, is now complete.
NEXO Token Holders can simply log in to the Nexo Mobile App to view the dividend that has been credited to their wallets.
The annualized dividend yield is an impressive 12.73%, which surpasses all of the highest dividend-paying stocks in the S&P 500.
Nexo's innovative dividend-distribution methodology rewards long-term investor confidence and also decreases market volatility around ex-dividend dates. It consists of two parts – the Nexo Base Dividend and the Nexo Loyalty Dividend, each making up 50% of the total amount in the current distribution.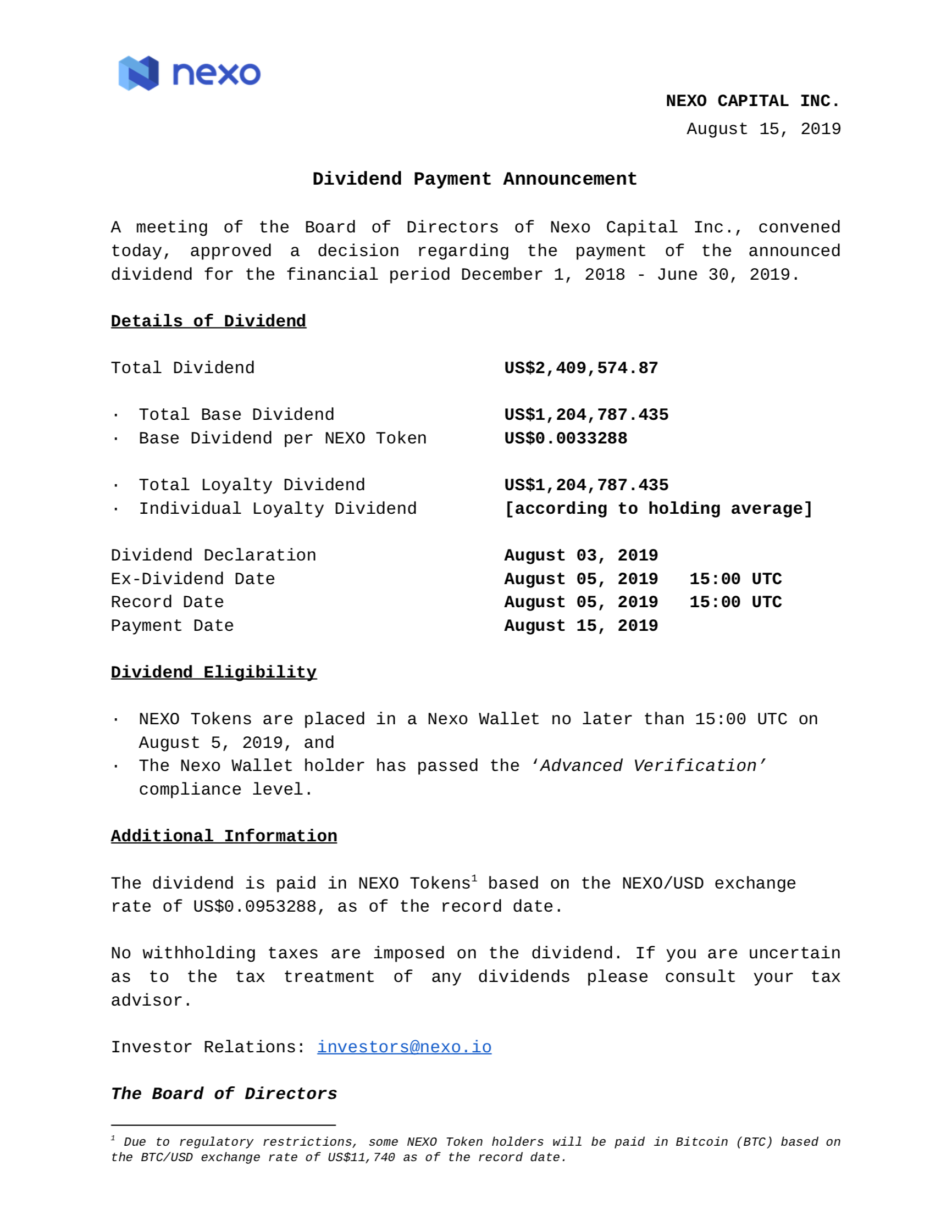 Since the April 2018 launch, Nexo has seen exorbitant growth of the registered user base to 250,000+ and has gained significant market share, making Nexo the market leader in Crypto FinTech.
Nexo's impeccable and innovative marketing strategies, unrivaled customer support, combined with a substantial upswing in crypto asset prices across the board has ensured unprecedented demand for Nexo's signature Instant Crypto Credit Lines™.
This has given us the means to further give back to the community, by allowing investors from around the world to generate 8% with Nexo's
Smart Mixer Unveils Privacy Enhancing Solutions to Keep Your Transactions Anonymous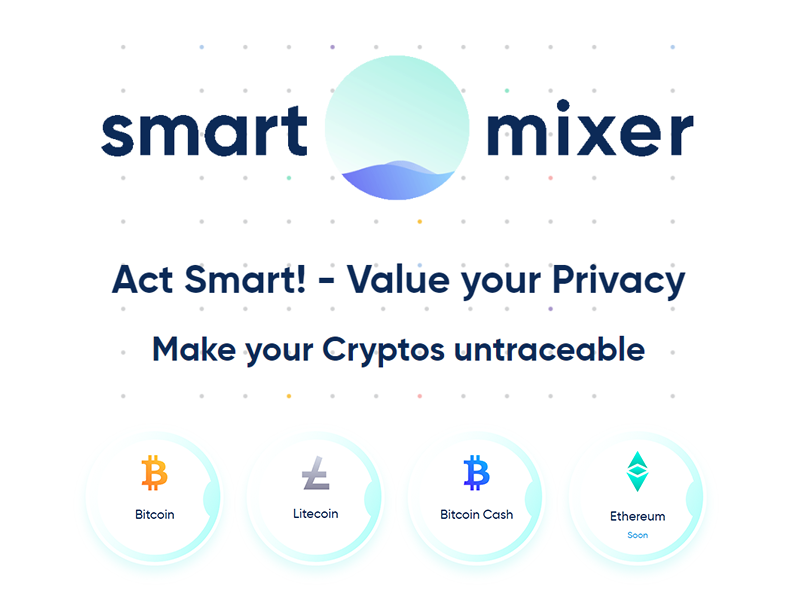 New privacy-enhancing solutions presented by Smart Mixer help users protect their financial privacy by supplying them with a complete service for conducting anonymous blockchain transactions. Smart Mixer provides a differentiated solution that offers full anonymity and proof of mixing to every Smart Mixer user.
SmartMixer, a custom cryptocurrency provider focused on improving an essential service to cryptocurrency users, has unveiled its offering, transaction anonymity.
The SmartMixer solution is an important one that protects the identity and transaction details of the SmartMixer user. The team at SmartMixer realizes that anonymity is a crucial component in a digital era that has stripped all notions of privacy away from the end-user.
Financial privacy is of the utmost importance since the value is transferred from one individual to the other. As such, security, privacy, and non-censorship are fundamental tenets of the financial transaction. While the blockchain may offer compelling solutions in security, accounting, and lack of censorship, anonymity may not be a high priority.
SmartMixer exists to address the crucial problem of the lack of financial transaction anonymity in this digital era.
How Does Smart Mixer Work?
The SmartMixer privacy-enhancing and anonymizing solution is designed with the end-user in mind in each step of the process. Smart Mixer provides simplicity and anonymity throughout the entire process.
To use SmartMixer, enter the recipient's coin address and send coins. Smart Mixer will mix the…