When buying bitcoin turns you into a trader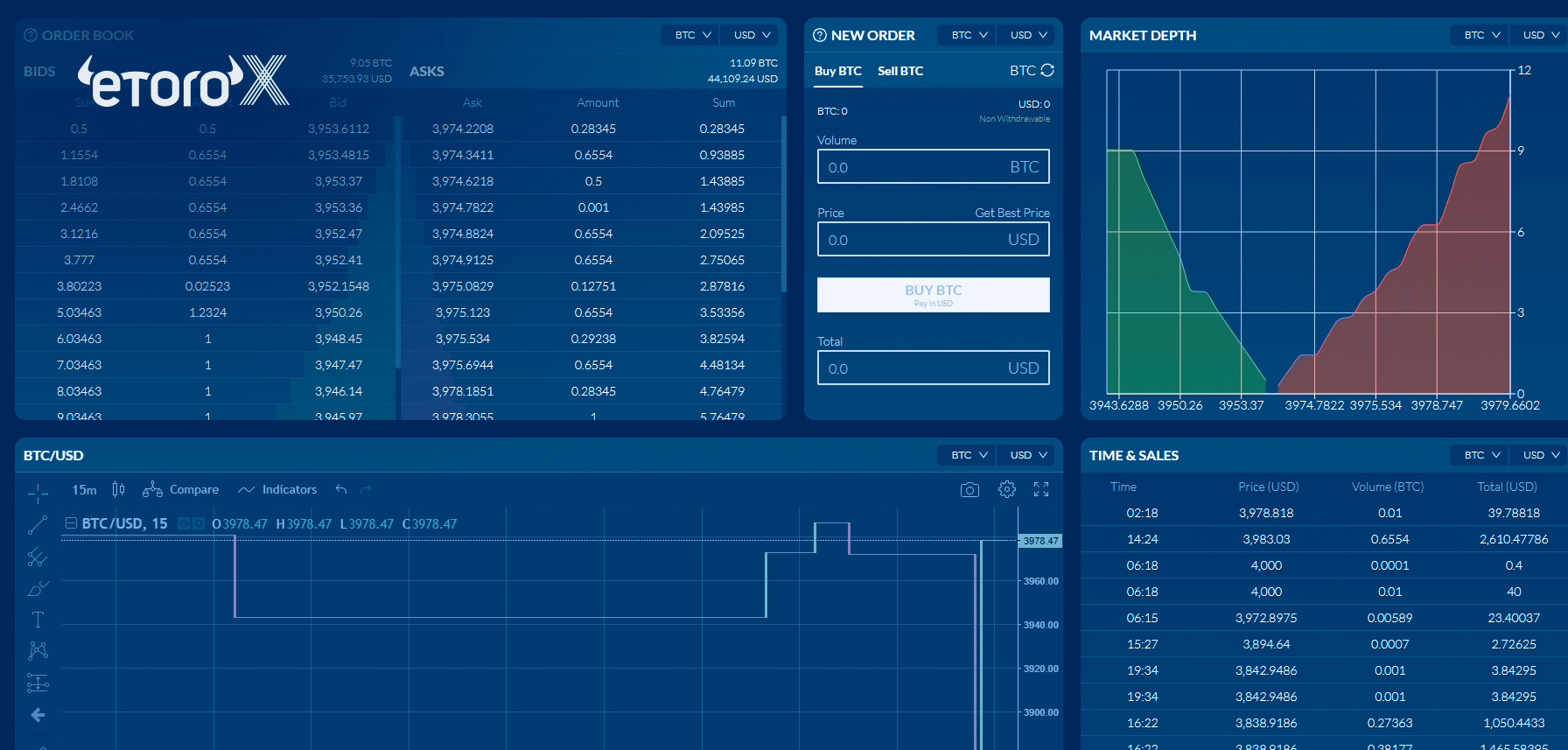 For most of us, the image of a trader is someone sitting in a busy stock exchange, looking stressed out and sweaty or with their head in their hands as the market crashes.
Or, they could be pacing up and down your high street bellowing "Buy! Buy!" or "Sell! Sell!" into a mobile phone, making sure everyone hears them.
But have you considered that you could also be a trader? If you have been buying Bitcoin, Litecoin or any of the others with the specific intent of selling when it rises, only to buy it again when it falls, in the eyes of some fairly important people, you might be classed as a trader.
USE ETORO'S CRYPTO TAX CALCULATOR
These fairly important people are Her Majesty's Revenue and Customs, and if they suspect you are trading cryptoassets, there might be taxes to pay (if you are a UK resident).
Unlike long-term investments, which the government actually likes as it ties in capital into supporting companies, currencies and other projects it doesn't want to spend the money to do, trading is treated differently.
FIND OUT IF YOU OWE CRYPTO TAX
Trading attracts Income Tax, which is additional to what you pay on your regular earnings. HMRC doesn't like people earning extra cash – digital, traditional or otherwise – and not telling it, so it could be worth checking up before you file your tax return. Just like your regular income tax though, you are able to offset it against some losses.
READ ETORO'S CRYPTOASSET TAX REPORT
The good news is that HMRC has set the bar quite high. You would have to make lots of trades every day for the authorities to think you're setting up shop as the next Barclays or Goldman Sachs.
However, if HMRC deems you to not be a trader, you don't get off the hook for your dues. Applicable to UK taxpayers, Capital Gains Tax is due on all profit made from investments and assets that grow in value, is still due to be paid… and no, the Exchequer does not accept Bitcoin.
As cryptos are fairly new – to the powers that be, at least – there are few rules and regulations so far set in place. But it is important to note that these will be tightened up over the coming years and months as they become more mainstream, so keep an eye out for updates.
To help you understand how this new tax regime might affect you, eToro has created a crypto tax calculator, infographic and crypto tax guide.
You can also listen to eToro, HMRC and ICAEW explore the cryptoasset landscape, the future of crypto, the tax levy and dispel common misconceptions in our webinar here.
Cryptoassets are volatile instruments which can fluctuate widely in a very short timeframe and therefore are not appropriate for all investors. Other than via CFDs, trading cryptoassets is unregulated and therefore is not supervised by any EU regulatory framework. Your capital is at risk CFDs work, and whether you can afford to take the high risk of losing your money.
Applies to UK taxpayers only.
The information above does not constitute financial advice, always speak to a tax professional to ensure it is right for your specific circumstances.
eToro does not represent any government entity. You should check with a tax professional or HMRC if you are paying the right amount of tax.
eToroX adds Dash, USDC, USDT and 5 new stablecoins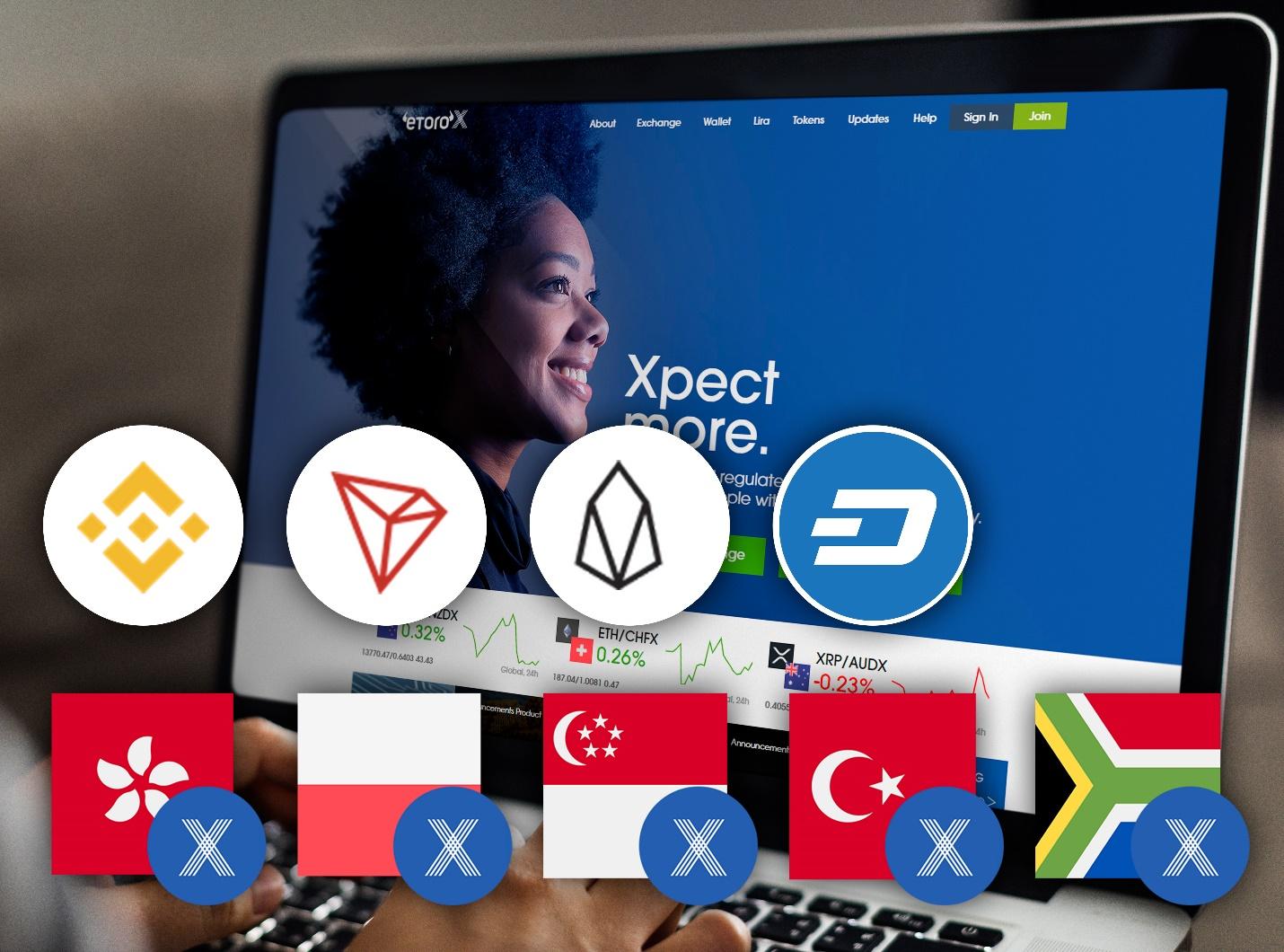 Institutional traders now have access to more instruments on regulated crypto exchange
12 November 2019:  eToroX, the blockchain subsidiary of global investment platform eToro, has added five new fiat stablecoins, a new cryptoasset, two further established stablecoins and a crypto-commodity pair, signalling its rapid growth, having only launched only six months ago. There are now 26 tradable assets available on the exchange.
The new assets announced today are:
Turkish Lira (

TRYX

), Polish Zloty (

PLNX

), South African Rand (

ZARX

), Hong Kong Dollar (

HKDX

), and Singapore Dollar (

SGDX

)

Peer-to-peer cryptoasset,

Dash

Circle's

USDC

and Tether's

USDT

stablecoins

GOLDX/BTC

pairing
eToroX is committed to supporting the needs of algo traders seeking to diversify into cryptoassets on a secure and regulated platform. These new additions also demonstrate eToroX's focus on Asian markets.
Doron Rosenblum, Managing Director of eToroX commented, "We see the addition of USDC and USDT as a way for eToroX to further meet the needs of professional and institutional algo traders, particularly in the Asian markets. Adding five new stablecoins, plus the addition of the Dash cryptoasset, demonstrates our ongoing commitment to bridge the gap between the world of…
MATCH GOING PREMIER LEAGUE FANS WILL SPEND £1.3BN TO SUPPORT THEIR CLUB THIS SEASON, UP 31% SINCE 2014/15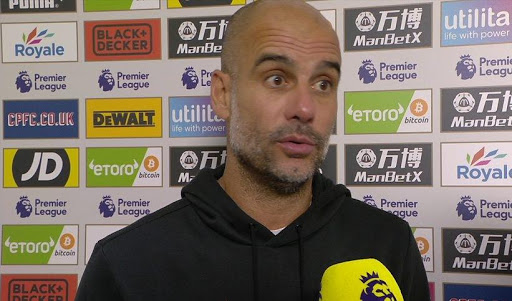 – Gary Neville welcomes research into fans' spend –
Premier League match-going fans will have to shell out £1.3 billion this season to follow their teams – as increases in the price of home tickets, TV subscriptions and merchandise hit their wallets. 
The eToro Fan Financial Statement, research carried out by multi-asset investment platform eToro in association with KPMG Football Benchmark, provides a comprehensive study into the financial commitment UK football fans make to support their Premier League clubs and which clubs offer the best value.
As one of the biggest sponsors of the Premier League, eToro have been promoting their crypto offering through their six club partnerships this season. Currently, they are running promotions on match day LED boards and media backdrops, helping raise awareness of cryptoassets to a global audience.
Key findings of the report include:
Premier League match-going fans will spend an estimated

£1.3bn

this season

Increase of

31%

since 2014/15, and

6.5%

since last season

Overall cost of tickets for a 'dedicated fan' risen only

1%

since 2014/15

Biggest increases per match-going fan are TV subscriptions (

40%

), merchandise (

21%

), home tickets (

14%

) and…
eToro signals commitment to growth with acquisition of Delta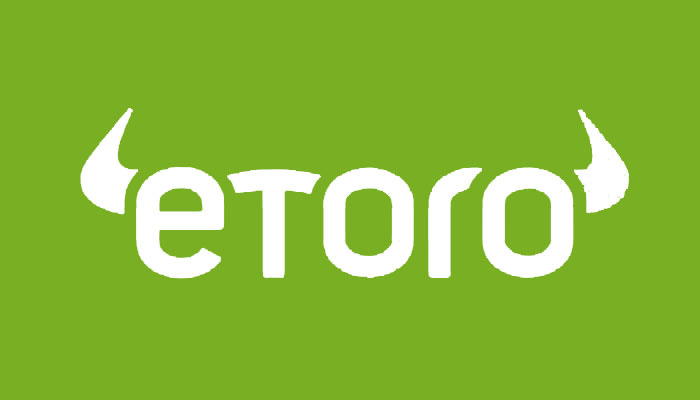 – Second deal of 2019 supports expansion as eToro eyes further acquisitions –
Global multi-asset investment platform eToro has today announced the acquisition of Delta for an undisclosed amount. Delta helps investors make better decisions regarding their crypto investments by providing tools such as portfolio tracking and pricing data. 
Commenting on the news, Yoni Assia, Co-founder and CEO of eToro, said: "We are excited to announce that Delta will become part of the eToro Group. This is our second acquisition this year and reflects our commitment to continued growth and innovation. When we started eToro our goal was to disrupt the world of trading. We wanted to change the way people think about trading and investing, ultimately reducing dependency on traditional financial institutions and make trading and investing more transparent and fun. This mission remains our guiding light and we will continue to evolve both organically and by acquisition in order to bring our customers the very best experience."
Delta is a crypto portfolio tracker app with over 6,000 cryptoassets available from more than 180 exchanges. It provides investors with a range of tools to track and analyze their crypto portfolios. To date, Delta has been downloaded by over 1.5 million users and has hundreds of thousands of active monthly…