Bitcoin Price Analysis – Three Times A Charm?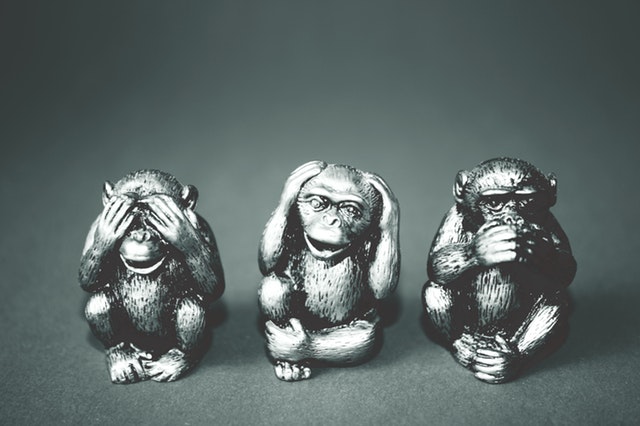 After finding its footing last week at the 5700 level, Bitcoin price has since started to exhibit some momentum/mojo and has begun to show some life in the past week of trade. While the overall trend remains lower, which both investors/traders need to be cognizant of such conditions, as well as further work required in order for BTC to right the ship and repair the technical damage inflicted over the past six months, nonetheless, the recent action is a start and certainly welcome for those longer-term HODL'ers.
While Bitcoin Cash (BCH); Ethereum (ETH) and LiteCoin (LTC) continue to struggle with their 20 day moving average and have been unable to overcome the hurdle thus far, BTC has not only managed to recapture its 20 SMA but, has now been capable of four consecutive closes above its 20 SMA and is presently working on its fifth if it can complete the job in today's session, which from a short-term technical perspective, would be a favorable development.
Furthermore, when observing the daily Chart of BTC below, we can see that it appears that Bitcoin is once again in the process of forming a potential inverted Head-and-Shoulders (H&S) formation. Although additional work is required in the development process, it is something that both investors/traders may want to monitor in the days ahead for further clues.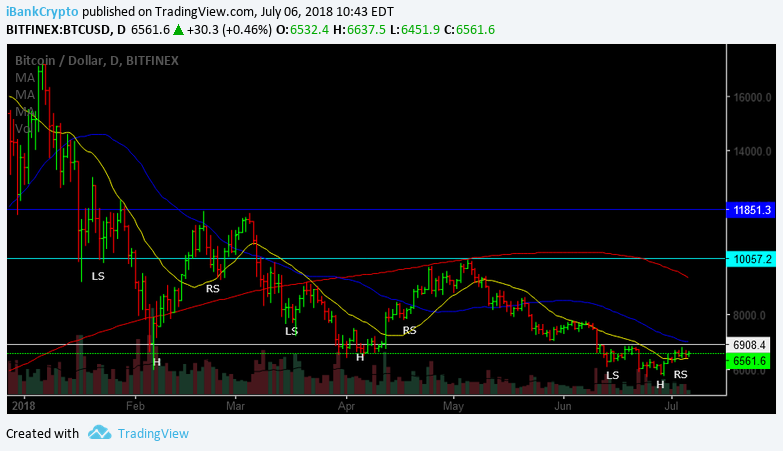 As we can witness from the daily chart above, not only is BTC in the process of yet another potential inverted H&S formation, yet we can also see that on two (2) prior occasions in both 1Q as well as 2Q, where on both attempts at completing the formation, BTC was rejected (dark blue and light blue horizontal lines) and subsequently rode the slippery slope to lower depths.
Thus, will this recent formation for BTC be three times a charm via its completion?
With the jury remaining in deliberations and having yet to deliver its verdict, both investors/traders may want to pay particular attention to the following levels moving forward as a guide as well as providing additional evidence/clues with regards to short-term direction.
If, at any time in the days/weeks ahead, BTC can go 'top-side' of the 6900 level and 'stick', such development, should it materialize, would likely set the stage for greener pastures with a potential objective from the measured move of 7800-8000 zone.
On the flip-side, the 20 SMA (yellow line), presently located at 6388 as of this writing, provides potential short-term support and perhaps more importantly, the 6190 level. Should 6190 'give way' at any point in the not too distant future, such would likely suggest another failure and void the developing inverted H&S formation currently in progress.
Needless to say, risk management remains priority number one, as always, while we await further cards from the deck to be revealed.
Happy Trading!!
For the latest cryptocurrency news, join our Telegram!
Disclaimer: This article should not be taken as, and is not intended to provide, investment advice. Global Coin Report and/or its affiliates, employees, writers, and subcontractors are cryptocurrency investors and from time to time may or may not have holdings in some of the coins or tokens they cover. Please conduct your own thorough research before investing in any cryptocurrency and read our full disclaimer.
Image courtesy of Pexels
Charts courtesy of tradingview.com
Trusted Crypto Tumbler To Protect Your Wealth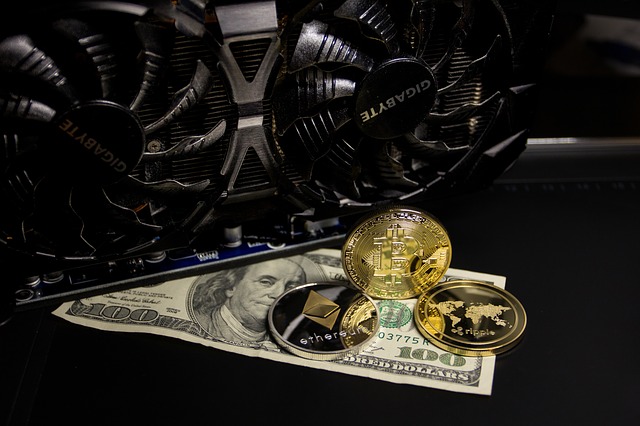 Back when Bitcoin originally emerged, over 11 years ago at this point, cryptocurrency transactions were believed to be fully anonymous. This belief stuck around for years to come, but today, we know that, in most cases — this is no longer the truth.
Since the invention of blockchain explorers, it became possible to track every Bitcoin transaction, all the way back to the genesis block. This came as a part of blockchain transparency which promises to eliminate corruption, theft, and other such issues.
However, there is still a need for a certain level of privacy, as people like to keep their wealth to themselves, and not let everyone know how much money they have, or how much they sent for whatever purpose. This is why many are now using crypto tumblers, or mixers.
What do crypto mixers do?
As the name suggests, crypto mixers/tumblers mix up the coins in order to hide/disguise/make it difficult to discover where the coins came from. Things like the amounts, transactions, and wallet addresses to and from which the coins travel are fully traceable, which is why tumblers exist.
In a way, you could say that mixers can add an extra layer of privacy while using Bitcoin, Ethereum, Litecoin, and many other cryptocurrencies. There are many Bitcoin mixers Continue Reading
5 Best Places to Bet with Bitcoin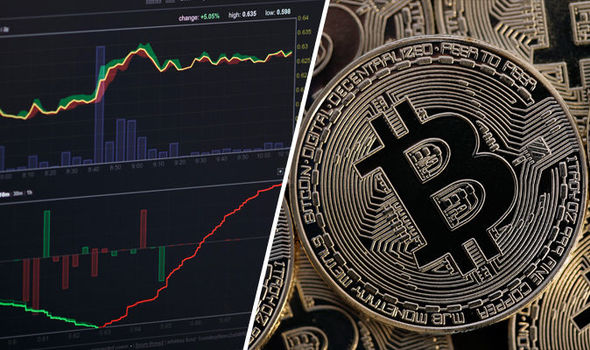 It seems like BTC is always making headlines for one reason or another.
When the market points towards bullish behavior Bitcoin is all the rage. When there is so much long action (going on right now) and then the price plummets, BTC also dominates the headlines. The same goes for legislation and when any new crypto product or platform comes out. It's always compared against BTC.
So with BTC fever in full swing, sportsbooks around the world have adopted digital currencies as one of their main forms of funding accounts and paying out winnings. And with sports betting legalized in states across the USA, both BTC and legal online gambling are in the limelight. 
But where are the best places to bet using BTC and other cryptos? Furthermore, why would you want to use BTC, LTC, or Ethereum in this manner?
The Why
The principal reason why you would want to use cryptocurrencies in your 'sports investing' ventures is speed, cost, security, and bonuses.
When you use cryptos like BTC (BTX) to move money in and out of your account. You bypass the standard centralized banking system which drastically improves on both the speed of the transaction and the cost of the transaction – this is especially true with payouts. 
…
Bitplaza Inc Introducing Cryptocurrency to Retail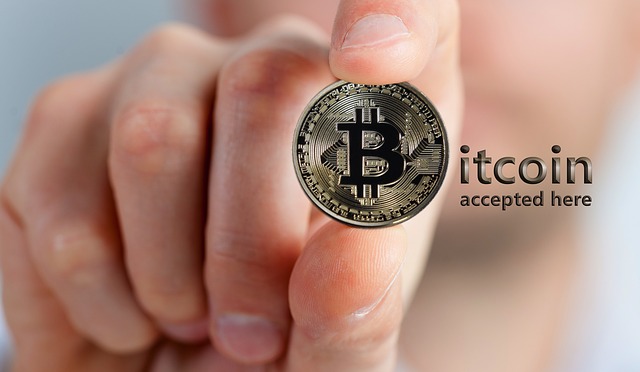 Even though influential companies are not ready to validate cryptocurrencies as a stable form of money, Bitcoin is becoming a more frequently used currency daily. There is a rising number of companies that accept Bitcoin for the purchase of their products, validating it as a spendable currency around the globe.
Bitplaza Inc took the next step into technology and commerce, providing customers with a platform where they can spend Bitcoins for their needs through a mobile device. It opens the opportunity for companies and brands to list their products in exchange for Bitcoin, which will give more credibility to the coin.
What is Bitplaza?
Bitplaza is a shopping app that belongs to a retail company called Bitplaza Inc, located in Pennsylvania. The app is available on both Google Play and the Apple App Store. Bitplaza allows anyone globally to purchase brand new items with Bitcoin. The app has a wide variety of products to buy online, from electronic devices, video games, even groceries. The products that can be purchased from the app range from popular brands such as Sony, Starbucks, Adidas, Apple, and many more. The Bitplaza team is always adding new products to the shopping app, making more items available to be purchased with Bitcoin. The app covers a broad range of products for the different needs of the…