IMX Price Double-Tops Ahead of Immutable X Token Unlocks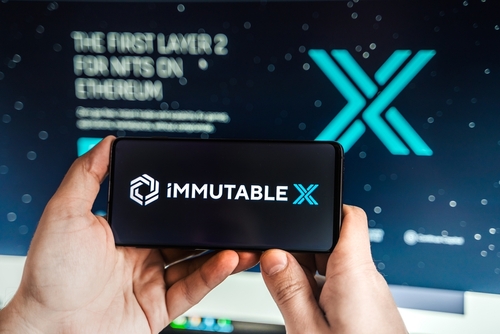 IMX crypto price pulled back on Friday as investors waited for the upcoming token unlock that is scheduled for Saturday. The token rose to a high of $0.675, which was slightly above the intraday low of $0.6513. It remains a few points below this year's high of $0.7500. 
Immutable X token unlock
Immutable X is a relatively small blockchain that plays an important role in the non-fungible token (NFT) industry. It is a layer-2 network that is focused on the non-fungible token (NFT) industry. A layer-2 network is a sidechain that handles transactions at a faster pace and at lower costs than Ethereum.
These networks, which include networks like Polygon, Arbitrum, and Optimism, handle transactions at a significantly lower cost. That's because Ethereum is well-known for its substantially slow speeds and high transaction costs.
As a result, Immutable X has become a favorite blockchain for developers to launch their NFT collections. Data compiled by CryptoSlam shows that Immutable X handles tens of millions of NFT collections on a daily basis. In January, it has handled $11.3 million NFTs, lower than the $14 million that it processed in December. At its peak, it was handling over $53 million worth of NFTs per month.
Immutable X's IMX token price retreated slightly ahead of the upcoming token unlock that will happen during the weekend. A token unlock is a situation baked in a blockchain's tokenomics where some tokens are released periodically. Earlier this week, I wrote about the token unlock for dYdX exchange.
Immutable X will release new tokens worth about $12.2 million, representing about 0.9% of the total tokens in circulation. In most cases, token unlocks is usually a bearish thing for a cryptocurrency because it increases the amount of tokens in circulation.
IMX crypto price prediction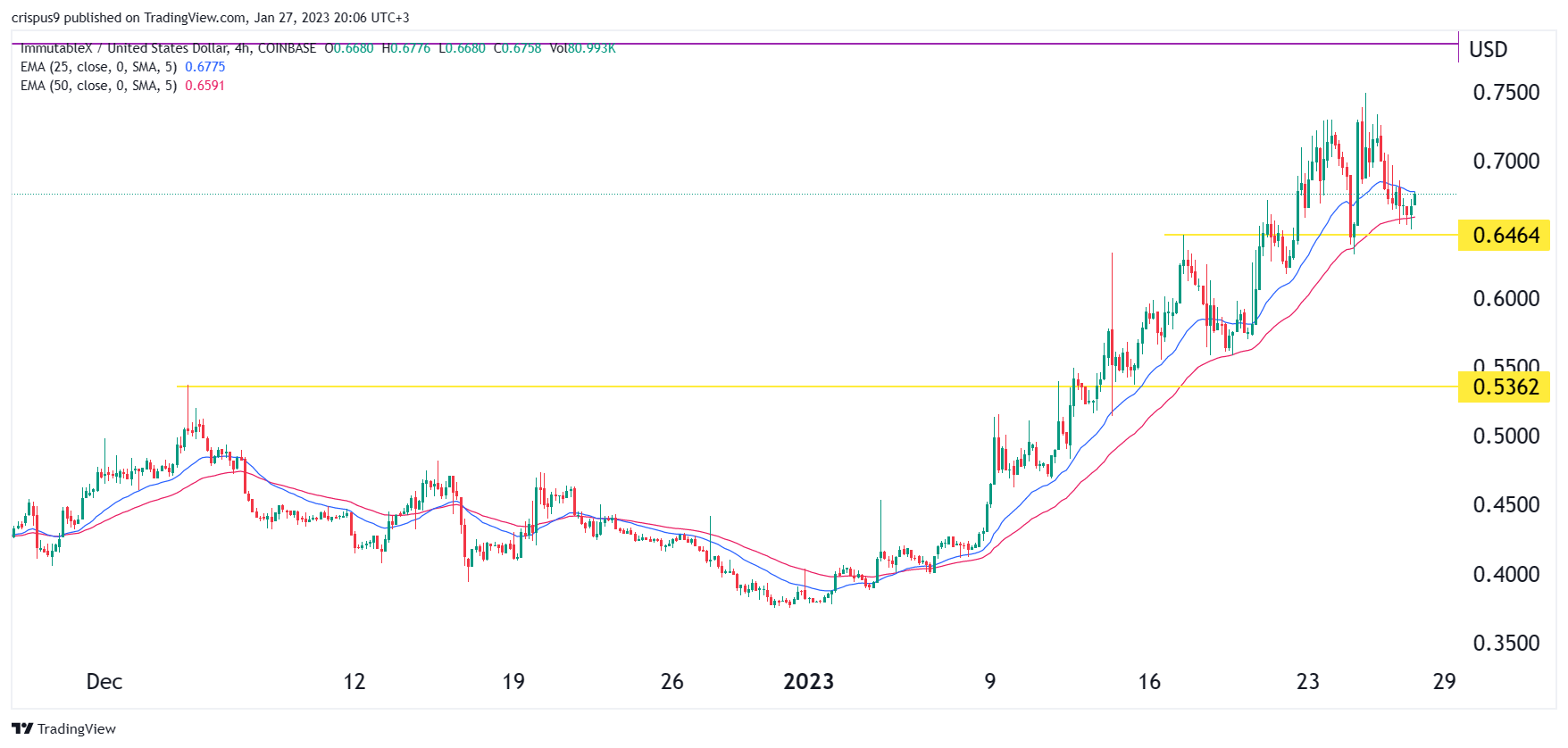 The 4H chart shows that the IMX crypto price has been in a strong bullish trend in the past few months. In this period, the token has managed to move above all moving averages. It also rose and retested the important support level at $0.6464, the highest point on January 17. The coin is also hovering at the 25-day and 50-day moving averages. 
It has also formed a double-top pattern whose neckline is at $0.63. Therefore, there is a likelihood that the coin will have a bearish breakout in the coming days. If this happens, the next key level to watch will be at $0.6.
Ethereum Price: ETH Has Managed to Flip Major Hurdle at $1,800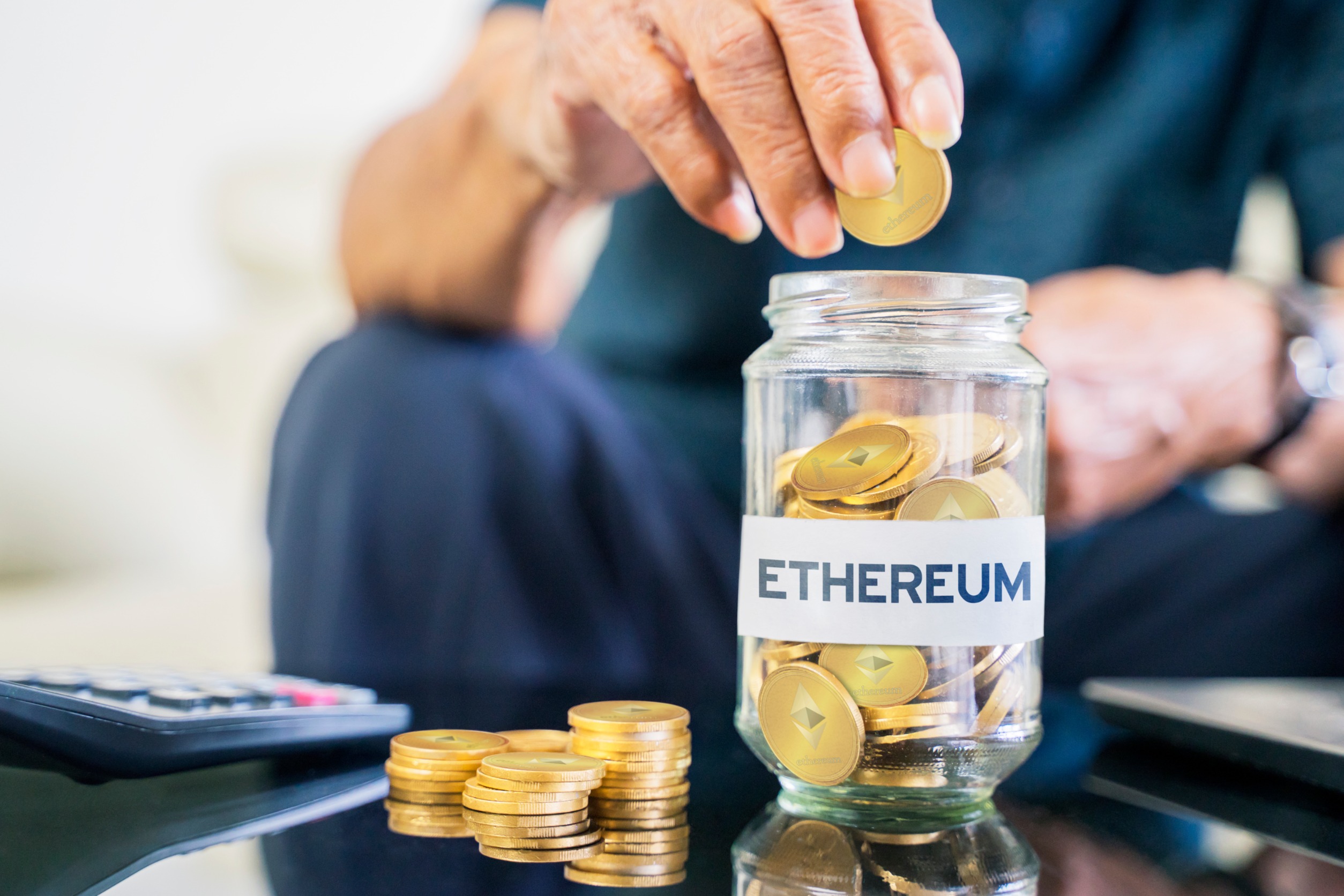 Ethereum price has been in consolidation mode for the past few days as macroeconomic concerns send investors into conservation mode. At the time of writing, Ethereum was trading slightly higher at $1,832.32. ETH's total market cap, as well as its total volume, have increased over the past 24 hours. It currently has a market capitalization of $220 billion.
Fundamental Analysis
Ethereum price has been moving sideways for the past few days, in tandem with the global cryptocurrency market as investors shift their focus to US debt ceiling talks and Fed's monetary policy outlook. The global crypto market cap has increased by 1.30% over the last day to $1.13 trillion, while the total crypto market volume fell by more than 7%.
The cryptocurrency market has been moving sideways for the past few days characterized by a mix of bullish and bearish trading sessions. The recent trend in the cryptocurrency market has been amid the uncertainty around the outcome of the US debt ceiling talks and the prospect of a US government default. With less than a week to default, investors have shifted to conservation mode, especially around risk assets such as cryptocurrencies.
Potential interest rate hikes by the US Federal Reserve have also been weighing on the markets. Traders have ramped up bets of an interest rate hike in the Fed's next meeting in June after several policymakers sounded their support. According to a gauge released on Friday,…
Bitcoin Price: BTC Bulls Need to Sustain Current Momentum for Further Price Growth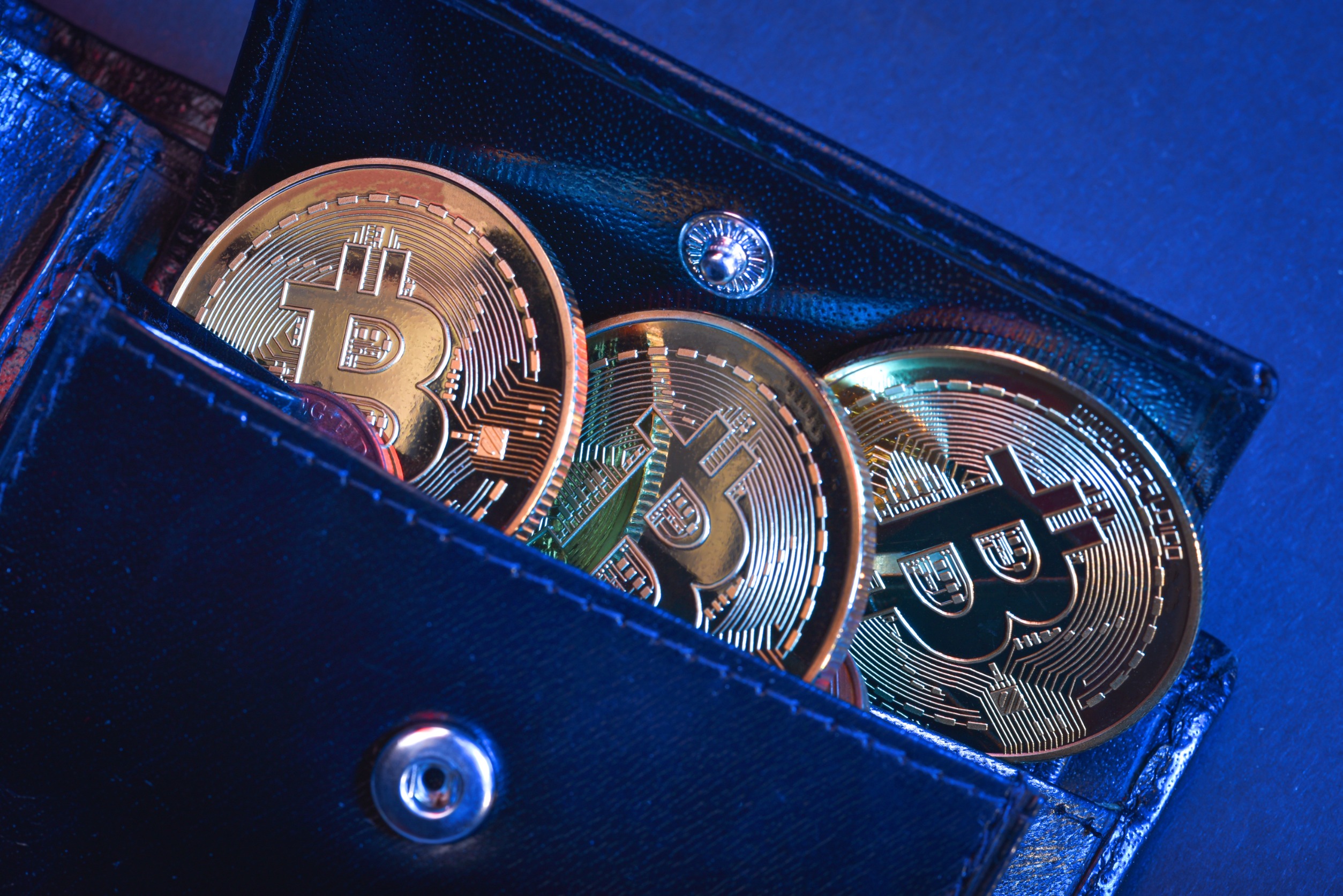 Bitcoin price was trading higher on Tuesday, building on gains made in the previous trading session. At the time of writing, Bitcoin was trading 1.04% at $27,129.92 after clearing the crucial $27,000 level. The coin's market cap has risen higher to $526 billion over the last day, while its total volume edged higher.
Macroeconomic Concerns
Data by Coinmarketcap shows that the global crypto market cap has increased by more than 1% over the last day to $1.13 trillion, while the total crypto volume jumped 20% over the same period. Bitcoin's dominance also increased over the day.
Bitcoin's price was gaining on Tuesday on the back of greenlight of some retail crypto trading by Hong Kong. Hong Kong's Securities and Futures Commission announced on Monday that it would allow retail traders to trade certain crypto assets beginning June 1 on registered platforms. Markets widely anticipated the move amid Hong Kong's broader efforts to become a global crypto hub.
Even so, Hong Kong's new guidelines are in sharp contrast with China's ban on crypto trading in 2021, as well as the continued US regulatory crackdown on cryptocurrencies since the fall of crypto exchange FTX. The Securities and Futures Commission of Hong Kong (SFC) has already licensed two digital asset platforms, Hash Blockchain and OSL.
Despite Hong Kong's move to support crypto assets, concerns about the Federal Reserve's monetary policy outlook have continued to weigh on markets…
Polkadot Price is in Consolidation Mode: What Next?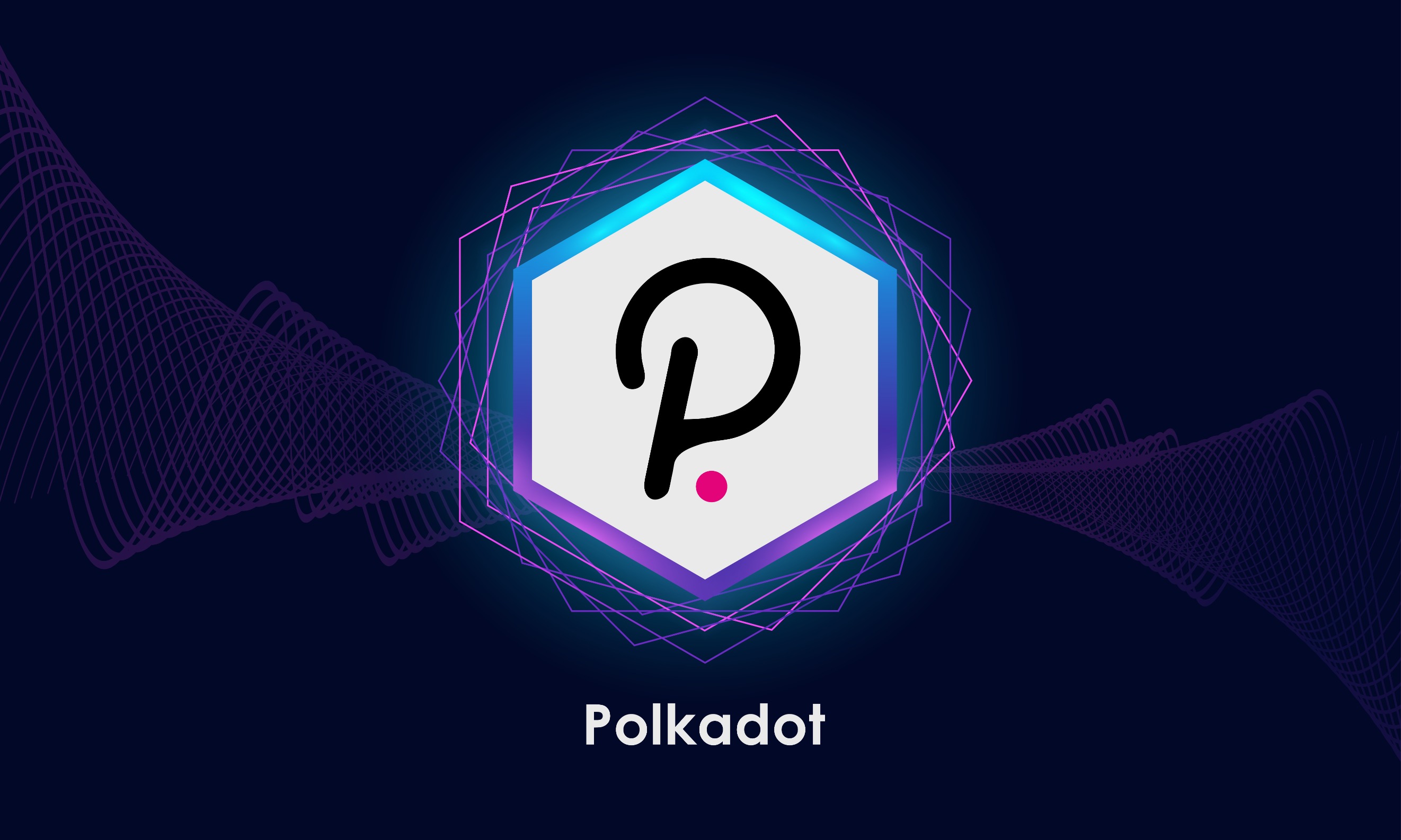 Polkadot price has been under intense pressure for the past few days amid the recent bearish sentiment in the crypto market. At the time of writing, DOT was barely unchanged, trading at $5.351. The altcoin has dipped more than 25% for the past month but remains 24.23% higher in the year to date. The asset's total market cap has slipped over the last day to $6.343 billion, ranking it the 13th largest cryptocurrency.
Is the Worst Yet to Come?
Polkadot price has been consolidating for the past few days amid the recent sell-off in the crypto market. Statistics by Coinmarketcap show that the global crypto market cap has dropped 1.29% over the last day to $1.13 trillion, while the total crypto market volume decreased by nearly 7%.
The biggest cryptocurrencies, Bitcoin and Ethereum, have been in a freefall for the past few days, falling to $26,880 and $1,807, respectively. Most altcoins, including BNB, Cardano, Solana, Shiba Inu, and Avalanche, have plunged seeing that most altcoins move in tandem with the performance of heavyweights Bitcoin and Ethereum.
Looking ahead at the global market mayhem with the US debt ceiling debate and the US banking crisis, investors expect more downside in the crypto market. The US dollar has continued growing stronger, hovering around a six-month high against the Yen, as optimism around the US debt ceiling talks in Washington raised expectations of higher-for-longer interest rates.
Two…