Manufacturing Blockchain Company Syncfab Featured in NASDAQ Entrepreneurial Center's Event in Times Square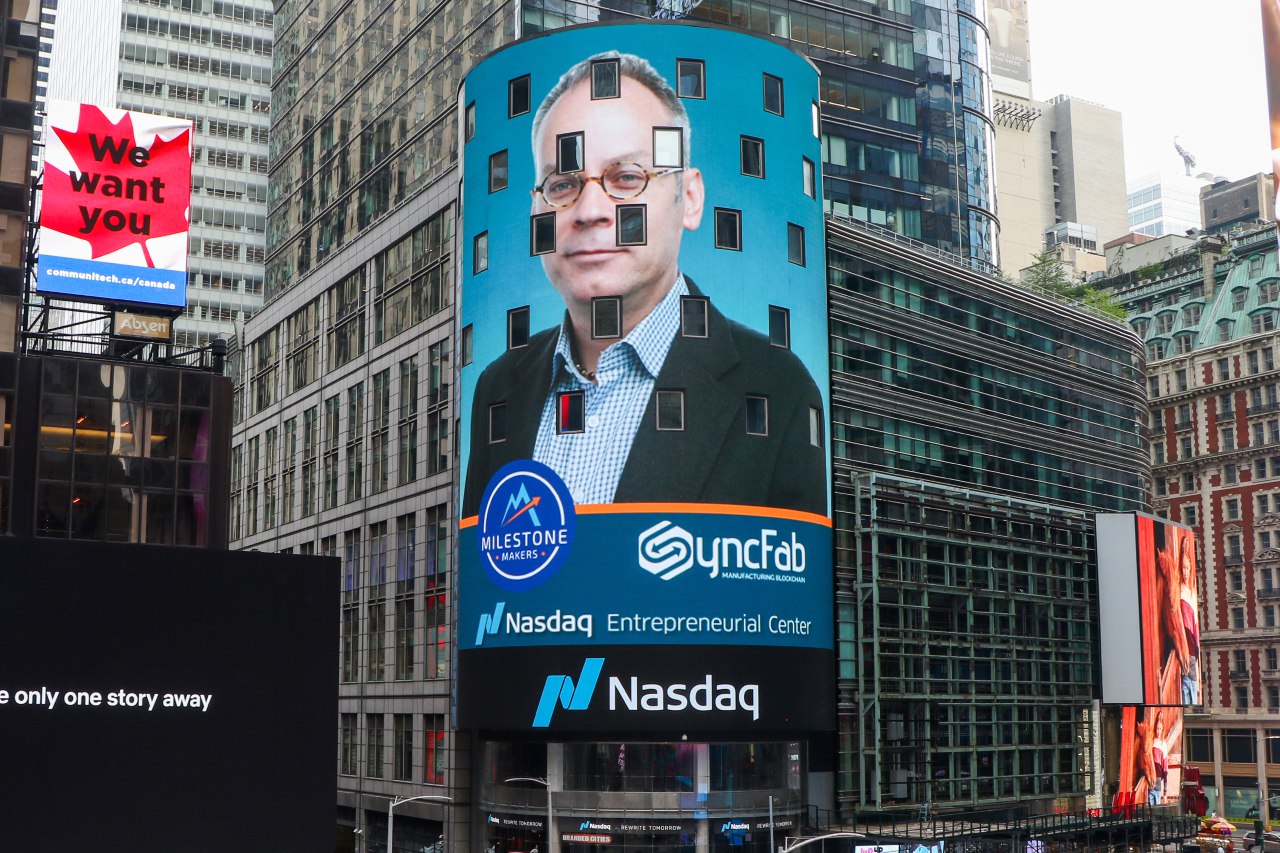 The NASDAQ Entrepreneurial Center hand-picked several advanced projects and companies to provide individualized mentorship and executive coaching in an effort to support tech startups working on various COVID-19 solutions. As part of the program, the NASDAQ Tower in Times Square broadcasted its Milestone Makers COVID-19 Solutions Cohort live last Wednesday.  
Time-tested communications and manufacturing supply chains have been significantly damaged this year due to the pandemic. This is why manufacturing blockchain company SyncFab was one of the headliners at the conference. Supply chains have become all but non-responsive, and innovative solutions are being prioritized.
SyncFab has built and launched an advanced blockchain platform for supporting smart supply chains and allowing users to source, procure, track, secure, and pay for precision spare parts. Led by Forbes Business Council Member Jeremy Goodwin, SyncFab brings real-time capacity savings opportunities alongside addressing the billion-dollar pain points in manufacturing supply chains. It connects automotive, aerospace, and medical manufacturers with more cost-effective suppliers using blockchain-secured transactions.
"In 2020 the time has finally arrived for industry to jettison the limitations of old-fashioned manual procurement processes," said SyncFab CEO Jeremy Goodwin in his presentation during the conference. He added that "looking forward, we [SyncFab] will expand supplier coverage, add new supplier response incentive and purchase order programs, and continue to innovate post-procurement blockchain traceability features" to meet shifting needs in the industry.
While the company utilizes many industrial verticals, two of them stand out in SyncFab's portfolio with the most recent traction. Last year, SyncFab landed a strong partnership with NTMA (National Tooling and Machining Association), which unites machine shops from all over the United States. Earlier this year, SyncFab joined MOBI, a member-led consortium working to "make transportation greener, more efficient, and more affordable, using blockchain and related technologies."  The consortium's advisors are some of the best known blockchain leaders, while Ford, GM, Toyota and BMW are among its member companies.
Gaining traction in yet another strategic vertical, just last week SyncFab got accepted into Starburst Aerospace accelerator, the largest program of its kind for aerospace. The European office of this accelerator is the space division of Airbus. CEO Jeremy Goodwin stresses that SyncFab is ITAR compliant and has an ability to go "upstream to the component manufacturing supplier", and points to other efforts by the company facilitating the blockchain adoption by the mainstream market.
Earlier this year, SyncFab started the tokenization program for aerospace and automotive OEM IT departments and purchase managers who could tokenize their precision hardware part supply chains right at the point of production using SyncFab's Manufacturing Blockchain Network and the MFG Token.  The company has been paving the way for commercialized hardware and OEM parts tokenization with many in the industry taking notice.
DeFi Wizard Raises $750k from Blockchain Investment Bigshots, to Simplify Multi-chain DeFi Legos
Bengaluru,, India, 24th February, 2021, // ChainWire //
In order to give shape to their 'one-click DeFi contracts creation' dream, Defi Wizard has raised a total of $750,000 from X21 Digital, AU21 Capital, Amsterdam-based TRG Capital, DeltaHub Capital, NGC Ventures, and ExNetwork.
Speaking on latest development Defi wizard founder and CEO, Anand Kamath said: 
"It gives us immense pleasure to announce that our platform, DeFi Wizard has attracted the attention of leading blockchain investors and funds."
DeFi Wizard aims to help cryptocurrency companies and businesses seamlessly create digital assets, without any hassles, with the objective of becoming an all-in-one token creation platform. 
Investment Usage
This recently concluded fundraising round is an important milestone for Defi Wizard. It will fuel the development of the platform along with operations/maintenance.
Other ways in which Defi wizard will receive assistance is with liquidity bootstrapping for Uniswap listing, alongwith added global and regional promotional efforts to generate awareness for the platform. 
About Defi Wizard
Defi wizard is a dashboard for building DeFi (decentralized finance) smart contracts with a few clicks. It offers real-time programmer analytics and allows users to create smart contracts for ERC20 / BEP20 / EDST, staking, yield farming, governance, cross-chain bridge, gasless relayer baked in.
As per the latest statistics, more than five projects are already using DeFi Wizard's staking services and more than $100M AUM has been locked through the smart contracts generated through the…
LGCY and Unido Partner for Secure Custody Services
Unido is an all-in-one platform that serves as an asset management and investment service for crypto-native enterprises. As an incoming wave of companies, asset managers, and investors resort to these technologies, its business banking portal and DeFi interoperability features are becoming essential to blockchain networks looking to welcome new users. 
One such case is LGCY, an open-source blockchain protocol that forks the TRON blockchain to provide more scalable and decentralized functionality. As a Layer 1 DPOS decentralized network, it is capable of handling over 10,000 transactions per second at an average cost of $0.01 per transaction. It also counts on a growing community of developers that seek to build new applications securely. This is why the network has decided to partner with Unido for its secure multi-signature wallet technology.
The network will integrate a white-label version of Unido's wallet where users can store their tokens securely using a patent-pending private key obfuscation algorithm. Developers will also be able to use Unido's Core API to build decentralized applications designed for enterprise solutions. 
While Unido will benefit from the integration of a new user base, LGCY will become a better service for crypto-native enterprises as well as asset managers and investors that need secure all-in-one custody services. 
The teams behind Unido and LGCY announced that "the integration…
99Bitcoins takes over the "Dead Coins" project to become the cryptocurrency undertaker
Singapore, Singapore, 17th February, 2021, // ChainWire //
99Bitcoins, an educational website that maintains a list of Bitcoin obituaries made by the media, has taken over the Dead Coins project as well. This move effectively crowns 99Bitcoins as "The undertaker of the cryptoverse".
Deadcoins.com was established in late 2017 to document the death of thousands of altcoins that popped up during the cryptocurrency mania of that time. The idea was simple – create a list of coins that have ceased to exist after the hype died down.
A coin can become "dead" due to a variety of reasons such as its development being halted, having no one that uses or trades it, being exposed as a scam and more. While the project was initially maintained only by its founders, it was later outsourced to the cryptocurrency community which was allowed to add their own dead coins.
"I think the dead coins project is a brilliant idea that needs a bit of polishing" says Ofir Beigel, owner and founder of 99Bitcoins. "The fact that anyone can add a dead coin themselves made the list of coins very inaccurate. We've spent days going through the complete list and sifted out all of the coins that were buried alive, so to speak. For example, Bitcoin, Tron, Dogecoin and Tether are just some of the coins that were listed when we took…