Bitcoin gets a new rival?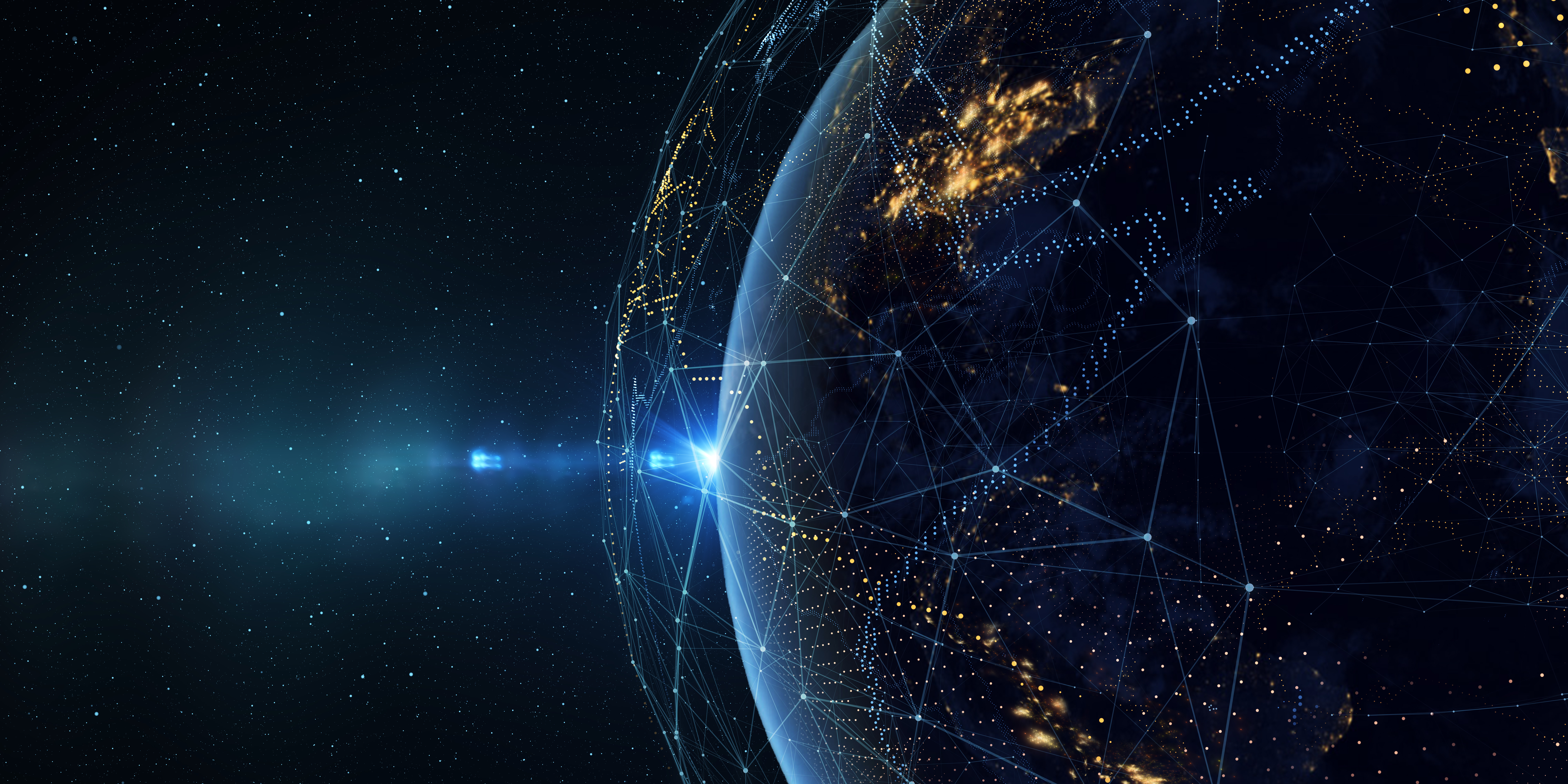 After Bitcoin climbed at $8500 and Justin Sun bid $4.57 million for having lunch with Warren Buffett, all the news indicated that Bitcoin would raise at $9000, but it fell below $8,000 suddenly. Nevertheless, cryptocurrency is at the beginning of a big bull market now.
According to a new poll by crypto analyst: DonAlt, investor's portfolios are all comprised by major tokens, such as BTC and ETH. Besides, a popular token called LinkToken (LTK) issued by a Chinese team attracted global attention.
Launched at Coinall Exchange
According to the announcement of LianXiang Cloud, LinkToken had launched at Coinall Exchange which belongs to OKEx Exchange group, users can recharge now and Exchange will open LTK/BTC pair at 17:00 pm on June 14, withdraw operation will be allowed at 17:00 pm on June 18. To celebrate the launching of LinkToken, LianXiang Cloud will airdrop million tokens to fans.
As the partner of OKEx, Coinall Exchange shared tens of millions of users and resources with OKEx. It is said that LianXiang Cloud is also applying for legitimate rights of trading LinkToken in other countries,In partnership with many Exchanges, LinkToken will launch at them per week.
What is LinkToken?
LinkToken is the workload proof of shared resources based on LianXiangCloud blockchain technology in the shared computing ecosystem, it can measure, register and demonstrate resources fairly.
Users acquire LinkToken by sharing bandwidth, storage space and other computing resources with intelligent hardware which is recognized by LianXiangCloud.
According to reports, there are more than 1.5 million users participated in LinkToken.
Quadrupled in price last 40 days
LinkToken had increased from 0.2$ to 0.9$ since April, soared more than 400% in 40 days, more volume and users are along with it, LinkToken is the most talked about tokens among investors in 2019.
More exciting news are proliferating, according to rumors, LianXiangCloud has obtained Philippine CEZA digital currency license which can solve liquidity problem of LinkToken, with the open source plan of LianXiangCloud Chain phasing,LinkToken's ecosystem has earned its first pattern. Not surprisingly, more good news will release in the next few months.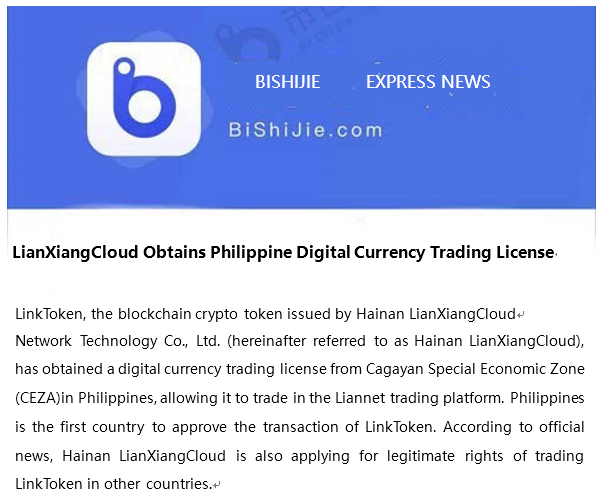 Recently Good News
LinkToken is great for real scenario, which has been favored by many senior crypto traders since issued. Recently, a series of actions by LianXiangCloud gived the market great confidence, which has directly led to a four-fold increase in price last 40days.
Firstly, completed the handover and independently operated.
According to the announcement of LianXiang Cloud, LinkToken had officially become the token of Xiangyun Cloud chain, a public chain owned by LianXiang Cloud in May this year, it would develop in a transparent way.
LianXiang Cloud will publish whitepaper, launch blockchain browser, open node, intelligent contract and source code, set up community and so on to build scenarios and circulation environment for LinkToken.
LianXiang Cloud Chain is a public chain, it will release final codes of whitepapers, blockchain browser, wallets and so on, especially open nodes. At the same time, LianXiang Cloudwill also provide completed intelligent contract and virtual machine service, build communities with all the users, and welcome trade.
This means that the value of LinkToken will be fully released, which became the horn of price boom.
Secondly, LianXiang Cloud has quite gone according to plan and surging user confidence. It officially announced to open source code on June 3.
LianXiangCloud opened source code
2019-06-03
Dear users,
The public chain LianXiangCloud created by LianXiangCloud has opened source code today. The first open source data node code can be used to synchronize data across all blocks on LianXiangCloud.
Github Address: https://github.com/lianxiangcloud/lk-chain
The source code of LianXiangCloud will be continuously updated. The first version is mainly for LinkToken's book synchronization feature.
Super nodes and other features'code will open in the future versions.
The browser officially launched on June 5 which would support the query of data information on the chain.
LianXiangCloud browser officially launched
2019-06-05
Dear users,
LianXiangCloud browser has launched today, browser address: https://explorer.lianxiangcloud.com
LianXiangCloud browser contains all the data of the blockchain. By integrating and indexing the data on the chain, it can support quick query based on transaction hash, block number and address of account, everyone can find all related transaction information conveniently.
With launching browser, all the data on the chain can be reviewed easily, we will continue to build a transparent ecosystem of LianXiangCloud chain.
Openness and decentralization of nodes, which were the weakness part of LinkToken had been solved, enhanced users confidence directly.
Beyond that, LianXiangCloud obtained Philippine digital currency trading license
Cagayan Special Economic Zone (CEZA) in Philippines has always been friendly to digital currency policy, many famous exchanges have set up business here, such as Huobi. The license from CEZA means legal status for payment, international remittance and other use scenarios, LinkToken will appear on more trading platforms in the future.
Looking at the Future Prospect from the Basis
However, what really supports the future space of LinkToken is its inherent basic part, the reason why LinkToken is called "the first Chinese currency" in the workshop is also from its basic point of view.
LianXiangCloud is a Fujian New Land Group subsidiary. Fujian New Land Group has a long history and most of its shareholders come from state-run capital company. Main business such as digital citizenship construction has relationship with national projects, LinkToken is definitely worth expecting.
In addition to traditional large projects such as BTC, Ethereum and EOS, a common blockchain project with ten thousand users can be identified as popular, the number of people in telegraph group is usually less than 100,000. The community is still an oligopoly market which has not reached consensus. LinkToken's valuation has got the limitless foreground with million users.
The most representative usage scenario of LinkToken is shared computing. Users get LinkToken by sharing resources and then exchange it for value-added services and products. For now, LinkToken Mall has already attracted more than 200 merchants settled, including many well-known brands such as iQIYI and Netease Yanxuan, this is totally different from those gambling and game applications on Ethereum and EOS, LianXiangCloud will expand more application scenarios in the future.
The value of digital currency depends on its application. The performance and number of users of LinkToken can compete with EOS, its price is still at a low point.
Above all, LinkToken has got rid of bondages and will become more valuable by continuous positive news.
The rise of the crypto casinos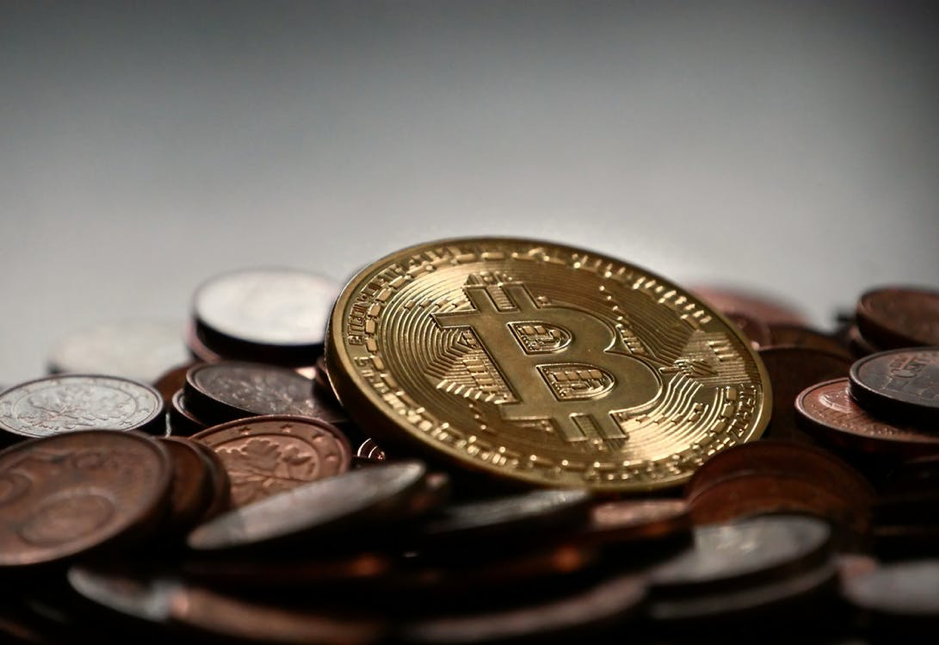 In the hyper-competitive world of online casinos, operators are always looking for ways to stand out from the crowd. The most usual methods include using distinctive branding, offering generous bonuses and making sure that they are on all of the major so-called affiliate sites where players can compare and contrast casinos' different offerings.
But now a whole new generation of casinos are starting to emerge – ones whose key difference isn't what and how you play, but more in how you pay.
The rise and rise of the cryptocurrency casino is seen by many as the next logical step in a world that is slowly but surely starting to accept that Bitcoin, Ethereum, Ripple, et al. are certainly here to stay.
Of course, it's the first of these cryptocurrencies that has really grabbed the headlines and led the way with its meteoric performance in 2017 when it seemed like its $20,000 value was just the start of the story. Admittedly, this was short-lived and the value quickly fell back to a more sustainable level but, if it achieved one thing, it was to cement this exciting new kind of currency in the consciousness of the general public.
Why Bitcoin and online casinos are the perfect partners
In many ways, it's the perfect partnership between Bitcoin and online casinos with multiple benefits for both.
The first of…
Matrix Exchange receives In-Principle Approval from Abu Dhabi Global Market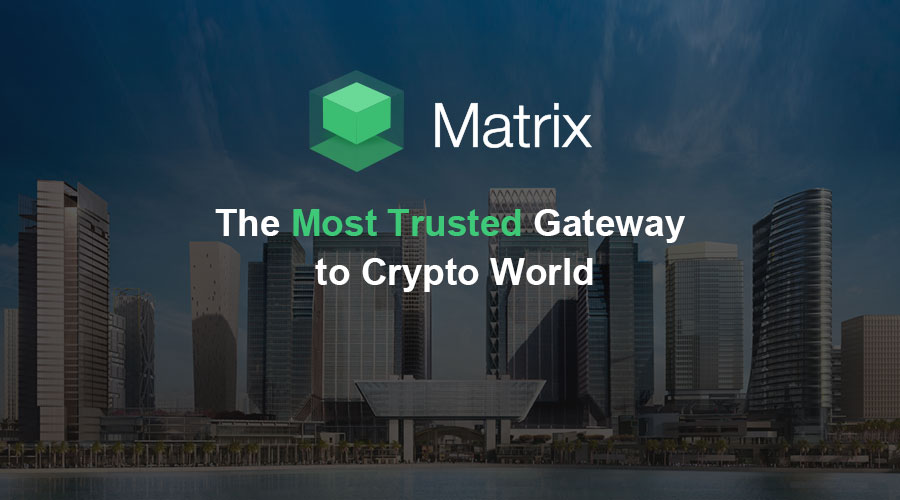 Abu Dhabi-based crypto asset exchange, Matrix Exchange announced on July 12 that it has received an In-Principle Approval (IPA) from the Financial Services Regulatory Authority (FSRA) of the Abu Dhabi Global Market (ADGM) to operate as a crypto asset exchange and custodian in ADGM.
The United Arab Emirates keeps embracing and regulating blockchain & crypto assets into its financial system. ADGM was first in the Middle East and Africa region to establish and launch a fully operational and regulated crypto-asset framework and regime in June 2018. The ADGM business friendly and well-regulated ecosystem continues to attract more and global digital assets investors, blockchain technology companies and other related financial institutions to the UAE.
With digital assets becoming popular alternative investments, compliance is increasingly significant for investors and customers. "The IPA is an important milestone. Subject to regulatory approvals by the FSRA, Matrix Exchange aims to be a recognized regulated crypto asset exchange in the Middle East. It gives us the legitimacy to provide compliant, secure and reliable digital asset transactions for users when we are fully operational." Matrix Exchange Chairman James Wo said.
With a particular focus on the UAE market, Matrix Exchange is also dedicated to establishing a world-class regulated exchange for international investors.
Matrix Exchange is sponsored by Digital Finance Group (DFG), which operates investments in both primary and secondary markets. DFG's blockchain private equity fund has invested…
Distributed E-Commerce: A New Commercial Civilization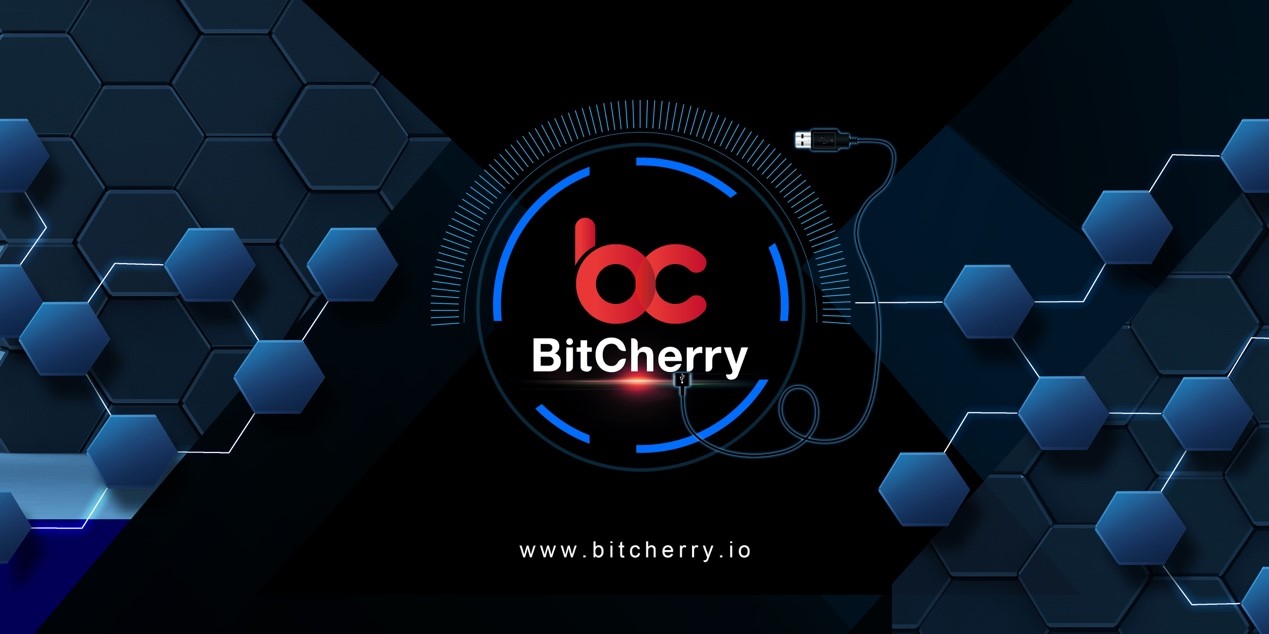 In recent years, during the "Double 11"and "618"shopping carnivals, Taobao, Tmall and JD transaction volumes have rocketed. Especially in 2018, the commodities turnover for the major e-commerce platforms increased rapidly through "618"e-commerce promotion. While centralized e-commerce has created beautiful transcripts, other e-commerce platforms find it difficult to obtain user flow while their customer acquisition costs remain high and consumer rights cannot be well protected. This create a sharp contrast between "prosperity and decline". As a matter of fact, the centralized e-commerce is prominent in the current pain point, and its difficulty to obtain potential developments. On the other hand, the popularity of decentralized distributed e-commerce networks is inevitable.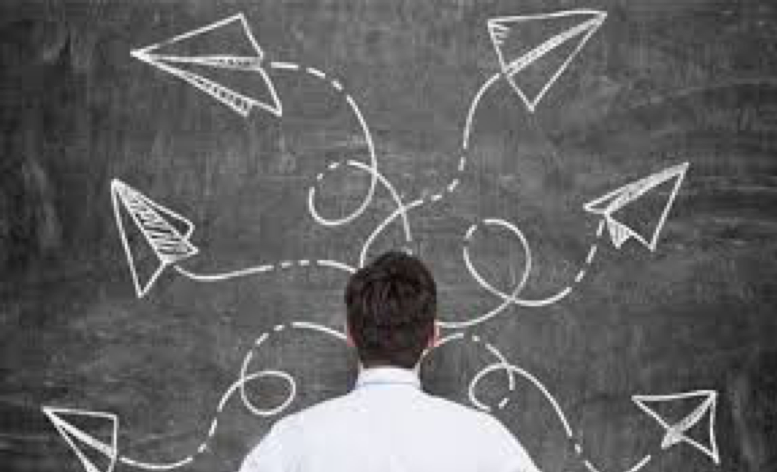 The potential of distributed e-commerce
The root cause for the large gap between "prosperity and decline" is that the centralized e-commerce company born in the Internet era concentrates user flow, customers, and profits on itself, and enjoys the gradually accumulated traffic and benefits it brings. At the same time, it raises the entry barriers of other e-commerce companies, forming a monopoly situation. The centralized e-commerce model has a series of problems from information asymmetry between merchants and consumers, malicious malpractices, to inconsistencies. These problems are suspected of deceiving consumers, causing loss of consumer rights and causing a…