Bitcoin gets a new rival?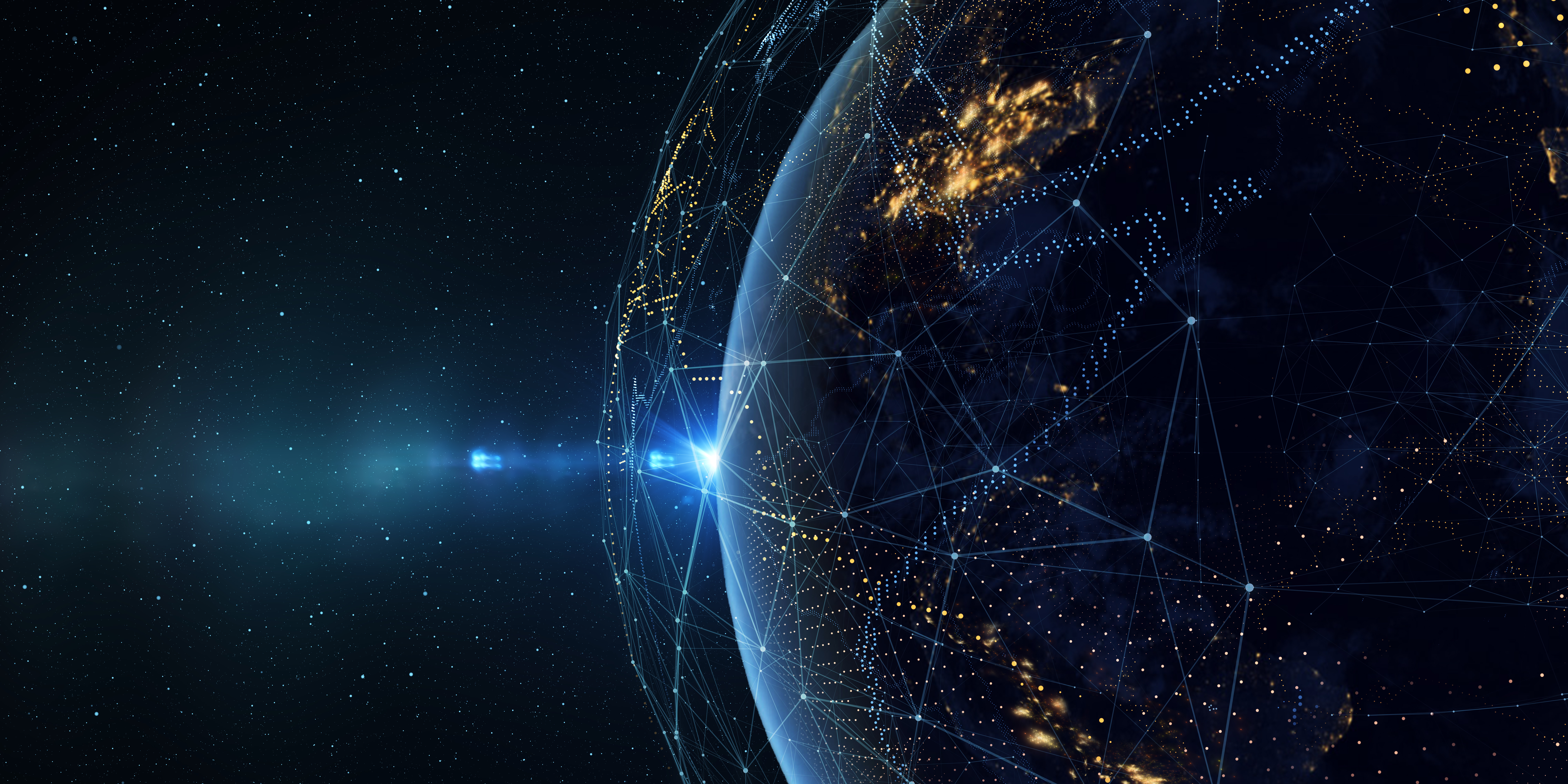 After Bitcoin climbed at $8500 and Justin Sun bid $4.57 million for having lunch with Warren Buffett, all the news indicated that Bitcoin would raise at $9000, but it fell below $8,000 suddenly. Nevertheless, cryptocurrency is at the beginning of a big bull market now.
According to a new poll by crypto analyst: DonAlt, investor's portfolios are all comprised by major tokens, such as BTC and ETH. Besides, a popular token called LinkToken (LTK) issued by a Chinese team attracted global attention.
Launched at Coinall Exchange
According to the announcement of LianXiang Cloud, LinkToken had launched at Coinall Exchange which belongs to OKEx Exchange group, users can recharge now and Exchange will open LTK/BTC pair at 17:00 pm on June 14, withdraw operation will be allowed at 17:00 pm on June 18. To celebrate the launching of LinkToken, LianXiang Cloud will airdrop million tokens to fans.
As the partner of OKEx, Coinall Exchange shared tens of millions of users and resources with OKEx. It is said that LianXiang Cloud is also applying for legitimate rights of trading LinkToken in other countries,In partnership with many Exchanges, LinkToken will launch at them per week.
What is LinkToken?
LinkToken is the workload proof of shared resources based on LianXiangCloud blockchain technology in the shared computing ecosystem, it can measure, register and demonstrate resources fairly.
Users acquire LinkToken by sharing bandwidth, storage space and other computing resources with intelligent hardware which is recognized by LianXiangCloud.
According to reports, there are more than 1.5 million users participated in LinkToken.
Quadrupled in price last 40 days
LinkToken had increased from 0.2$ to 0.9$ since April, soared more than 400% in 40 days, more volume and users are along with it, LinkToken is the most talked about tokens among investors in 2019.
More exciting news are proliferating, according to rumors, LianXiangCloud has obtained Philippine CEZA digital currency license which can solve liquidity problem of LinkToken, with the open source plan of LianXiangCloud Chain phasing,LinkToken's ecosystem has earned its first pattern. Not surprisingly, more good news will release in the next few months.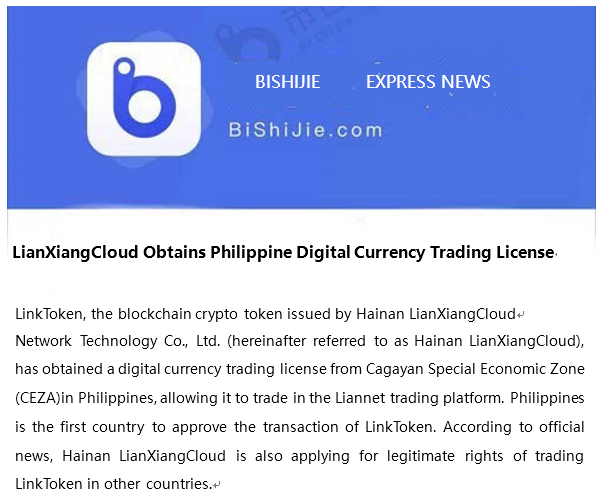 Recently Good News
LinkToken is great for real scenario, which has been favored by many senior crypto traders since issued. Recently, a series of actions by LianXiangCloud gived the market great confidence, which has directly led to a four-fold increase in price last 40days.
Firstly, completed the handover and independently operated.
According to the announcement of LianXiang Cloud, LinkToken had officially become the token of Xiangyun Cloud chain, a public chain owned by LianXiang Cloud in May this year, it would develop in a transparent way.
LianXiang Cloud will publish whitepaper, launch blockchain browser, open node, intelligent contract and source code, set up community and so on to build scenarios and circulation environment for LinkToken.
LianXiang Cloud Chain is a public chain, it will release final codes of whitepapers, blockchain browser, wallets and so on, especially open nodes. At the same time, LianXiang Cloudwill also provide completed intelligent contract and virtual machine service, build communities with all the users, and welcome trade.
This means that the value of LinkToken will be fully released, which became the horn of price boom.
Secondly, LianXiang Cloud has quite gone according to plan and surging user confidence. It officially announced to open source code on June 3.
LianXiangCloud opened source code
2019-06-03
Dear users,
The public chain LianXiangCloud created by LianXiangCloud has opened source code today. The first open source data node code can be used to synchronize data across all blocks on LianXiangCloud.
Github Address: https://github.com/lianxiangcloud/lk-chain
The source code of LianXiangCloud will be continuously updated. The first version is mainly for LinkToken's book synchronization feature.
Super nodes and other features'code will open in the future versions.
The browser officially launched on June 5 which would support the query of data information on the chain.
LianXiangCloud browser officially launched
2019-06-05
Dear users,
LianXiangCloud browser has launched today, browser address: https://explorer.lianxiangcloud.com
LianXiangCloud browser contains all the data of the blockchain. By integrating and indexing the data on the chain, it can support quick query based on transaction hash, block number and address of account, everyone can find all related transaction information conveniently.
With launching browser, all the data on the chain can be reviewed easily, we will continue to build a transparent ecosystem of LianXiangCloud chain.
Openness and decentralization of nodes, which were the weakness part of LinkToken had been solved, enhanced users confidence directly.
Beyond that, LianXiangCloud obtained Philippine digital currency trading license
Cagayan Special Economic Zone (CEZA) in Philippines has always been friendly to digital currency policy, many famous exchanges have set up business here, such as Huobi. The license from CEZA means legal status for payment, international remittance and other use scenarios, LinkToken will appear on more trading platforms in the future.
Looking at the Future Prospect from the Basis
However, what really supports the future space of LinkToken is its inherent basic part, the reason why LinkToken is called "the first Chinese currency" in the workshop is also from its basic point of view.
LianXiangCloud is a Fujian New Land Group subsidiary. Fujian New Land Group has a long history and most of its shareholders come from state-run capital company. Main business such as digital citizenship construction has relationship with national projects, LinkToken is definitely worth expecting.
In addition to traditional large projects such as BTC, Ethereum and EOS, a common blockchain project with ten thousand users can be identified as popular, the number of people in telegraph group is usually less than 100,000. The community is still an oligopoly market which has not reached consensus. LinkToken's valuation has got the limitless foreground with million users.
The most representative usage scenario of LinkToken is shared computing. Users get LinkToken by sharing resources and then exchange it for value-added services and products. For now, LinkToken Mall has already attracted more than 200 merchants settled, including many well-known brands such as iQIYI and Netease Yanxuan, this is totally different from those gambling and game applications on Ethereum and EOS, LianXiangCloud will expand more application scenarios in the future.
The value of digital currency depends on its application. The performance and number of users of LinkToken can compete with EOS, its price is still at a low point.
Above all, LinkToken has got rid of bondages and will become more valuable by continuous positive news.
Now is the Perfect Time to Become a BitStarz Affiliate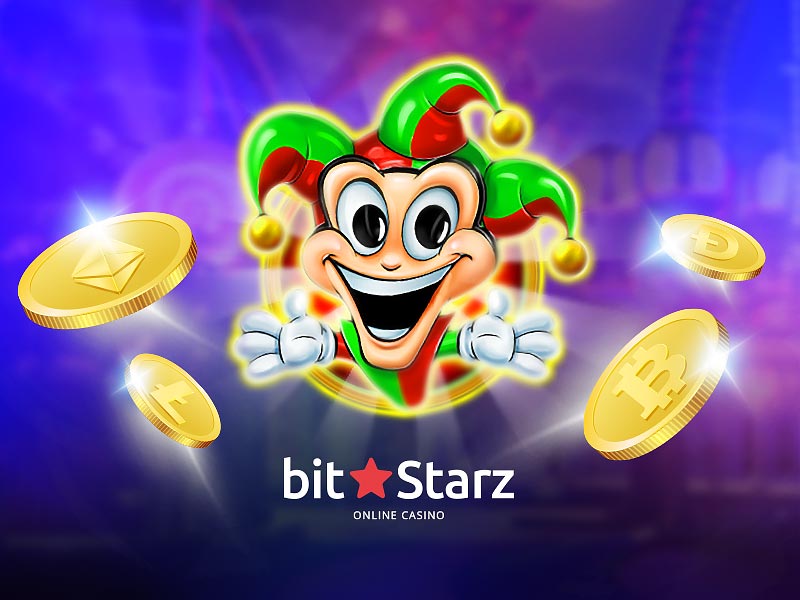 Cryptocurrency isn't just a passing fad or get rich quick scheme, it's an innovation that is changing the world as we know it. No industry has benefited more from cryptocurrencies rocket to the moon than iGaming, as it's grabbed onto the digital coin revolution with both hands.
What was once something offered by just a few niche casinos has actually catapulted the likes of BitStarz to industry superstardom. The growing benefits of Bitcoin and other cryptocurrencies used in iGaming simply can't be ignored, with affiliates now also able to reap the benefits – there simply is no better time to become a BitStarz affiliate!
Affiliate Marketing is a Money Maker
Affiliate marketing has a hand in almost every industry, even if you don't see it. In fact, from retail all the way through to ICOs, affiliate marketing has a role to play in generating business and brand awareness for companies around the globe. This certainly isn't a one way street relationship either, as affiliates under the right scheme can generate huge revenues.
Where there is iGaming there is affiliate marketing, the two just seem to go hand in hand. Long before other industries woke up to the value of affiliate marketing, iGaming was already ahead of the curve. Now, take a new innovation like crypto, which commands headlines, and mesh it with the ever popular online casino industry…
Australia progressively develops a crypto scheme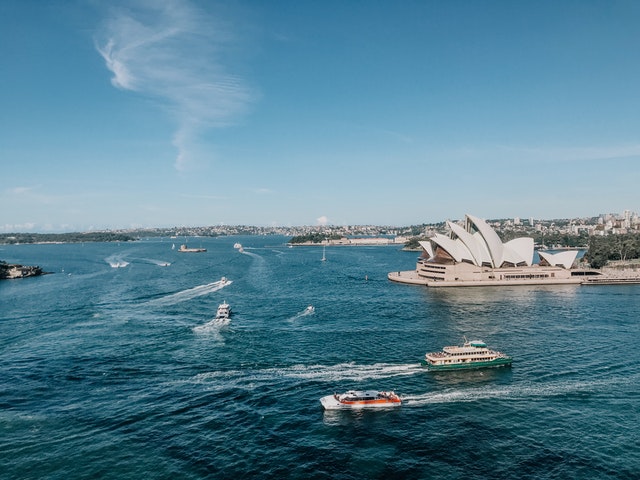 Cryptocurrency and the Bitcoin first entered our vocabulary in 2009. It has been 10 years and up to now many people recognize this terminology, however, it is not really used for payment. Despite it is slow progression worldwide, Australia is a growing market for it. Gambling and online casino is also strongly developing in Australia and it is using more digital exchanges. According to various statistics – online casino Australia is a widely researched topic and surely is attracting more and more people along with cryptocurrencies. There had been some changes in taxation and cash payments, so it is very likely that Australians will go digital and buy cryptocurrency very soon.
Australia has legalised cryptocurrency since 2017 with the support of the government. They have to be treated as property and subject to Capital Gains Tax(CGT). The change in tax law surely demonstrated how Australia is progressing towards digital.
In 2018, new cryptocurrency exchange regulations came into place and it got more complex. The new rules required exchanges to be registered with the Australian Transaction Reports and Analysis Centre (AUSTRAC) in order to prevent deceptive activity.
Australia looks ready to include Initial Coin Offerings (ICOs). They are cryptocurrency's way of community funding, which came into public back in 2014. Although it has been banned in China and criticized By the Us, Australia keeps being open to new possibilities…
ArBinance Takes Arbitrage Trading to Another Level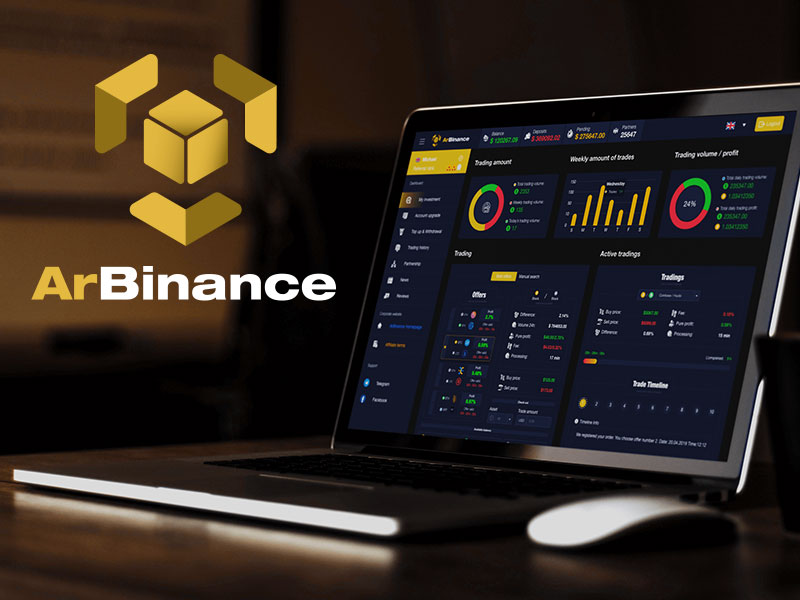 As the cryptocurrency market becomes more prominent among professional traders, it can make conventional trading processes a part of its operations.
One of these mechanisms is arbitrage. Arbitrage allows traders to benefit from buying and selling cryptocurrencies priced differently across different exchanges. But given that tracking price changes and acting on them is very difficult, automated solutions often prove to be helpful for those who want to make use of arbitrage.
ArBinance is a new, automated arbitrage platform that allows its users to use arbitrage trading in an effective manner. With solutions crafted to fit the needs of all traders, ArBinance brings cryptocurrency arbitrage to everyone.
Arbitrage Trading is Helpful but Difficult to Execute
With new cryptocurrency exchanges popping up every other day, the digital asset market is rife with different markets. For those who deal with arbitrage trading, this means a plethora of opportunities to find differences in cryptocurrency pricing.
If a cryptocurrency is priced lower at one exchange but a little higher on another, it can be bought on its lower value and sold at a higher price. As a result, the trader who executes this transaction makes off with some profits. But considering that the price difference isn't that much, to begin with, only one or two arbitrage trades do not cut it as an adequate trading profit.
That is why arbitrage traders have to…