Cryptocurrency Going For A Song On Bitcoin's 10th Birthday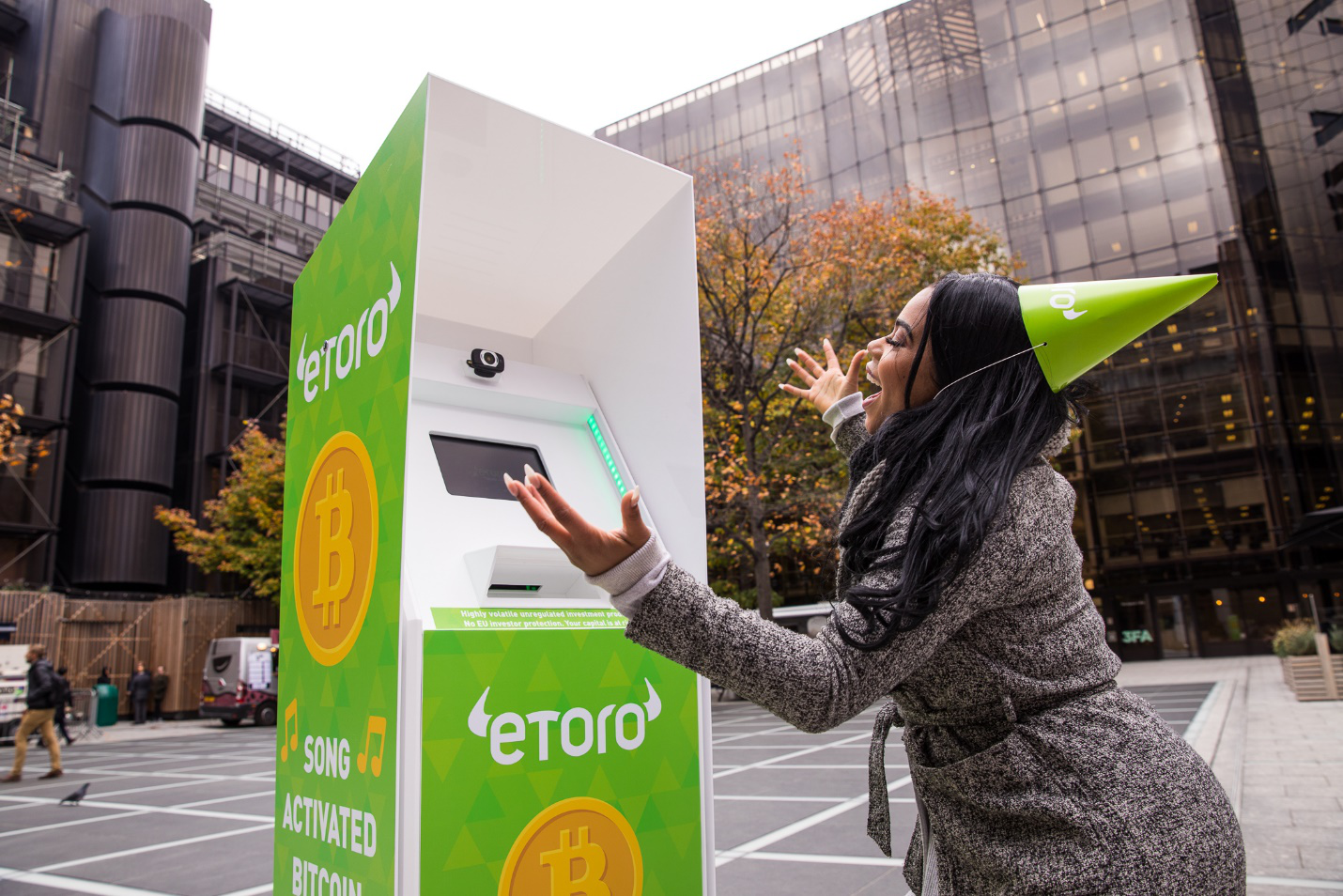 – eToro launches unique karaoke cash machine that ditches the pin and asks users to sing for free bitcoin –
eToro, the global investment platform with over ten million registered users, is helping Brits celebrate the tenth anniversary of Bitcoin today by giving away £10,000 worth of the cryptocurrency via a unique ATM machine that's activated by song.
The machine, that responds when people sing 'Happy Birthday' to it, has popped up today (31st October) in London's Finsbury Avenue Square, 10 years to the day that Bitcoin's whitepaper was released. The ATM is offering vouchers worth between £20 and £250 in bitcoin to successful singers stepping up to its screen and creating sweet har-money.
As well as grabbing free bitcoin rewards, people who visit the ATM can opt to have their singing experience captured on camera for sharing on their social channels with a chance to win a further £1,000 in bitcoin currency.
The first of its kind song-activated ATM was made by a specialist team of computer programmers, tech experts and sound engineers. Using advanced audio and voice technology, the ATM detects when a specific melody is being sung to it, in this instance the song 'happy birthday' and the volume of the singing. A digital display on the ATM lets users know how loudly they are singing, whether they need to increase their volume and how much of the song they need to complete to activate the dispenser.
Publicly announced in 2008 in a white paper entitled Bitcoin: A peer to peer electronic cash system written by an anonymous developer called Satoshi Nakamoto, bitcoin was the first cryptocurrency, allowing people to send and receive payments from one party to another without going through a financial institution. Whilst eToro's innovative ATM celebrates the ground-breaking 10-year history of bitcoin, the musical machine also looks to the future, encouraging people to explore the possibilities of a currency designed for the digital age.
Iqbal V. Gandham, UK Managing Director at eToro says: "Bitcoin has demonstrated resilience over the past decade and remains the world's dominant crypto. In the next 10 years we could well see the mass adoption of bitcoin for payments and money transfer.
"Currently, the level of understanding of crypto is one of the barriers to wide-scale user adoption of, and investment in, cryptoassets. It's a barrier that we've looked to address at eToro as part of our vision of opening up global markets to everyone. Our ATM machine is a fitting and fun celebration of bitcoin's 10-year anniversary, and one that we hope will give even more people the opportunity to learn about crypto."
WHAT: The eToro Bitcoin Birthday ATM is free to use and is available on a first-sing-first-win basis. Those who can demonstrate their singing skills will be in with a chance of receiving a voucher for the equivalent amount in bitcoin.
WHERE: Finsbury Avenue Square, Broadgate, London
WHEN: From 11am, 31st October
About eToro:
eToro empowers people to invest on their own terms. The platform enables people to invest in the assets they want, from stocks and commodities to cryptoassets. eToro is a global community of more than ten million registered users who share their investment strategies; and anyone can follow the approaches of those who have been the most successful. Due to the simplicity of the platform users can easily buy, hold and sell assets, monitor their portfolio in real time, and transact whenever they want.
eToro is regulated in Europe by Cyprus Securities and Exchange Commission and regulated by the Financial Conduct Authority in the UK.
Cryptoassets are a highly volatile, non-regulated investment product and are not appropriate for all investors. No EU investor protection. Your capital is at risk. Past performance is not an indication of future results.
Gooddollar presents a vision for global Universal Basic Income cryptocurrency at the OECD forum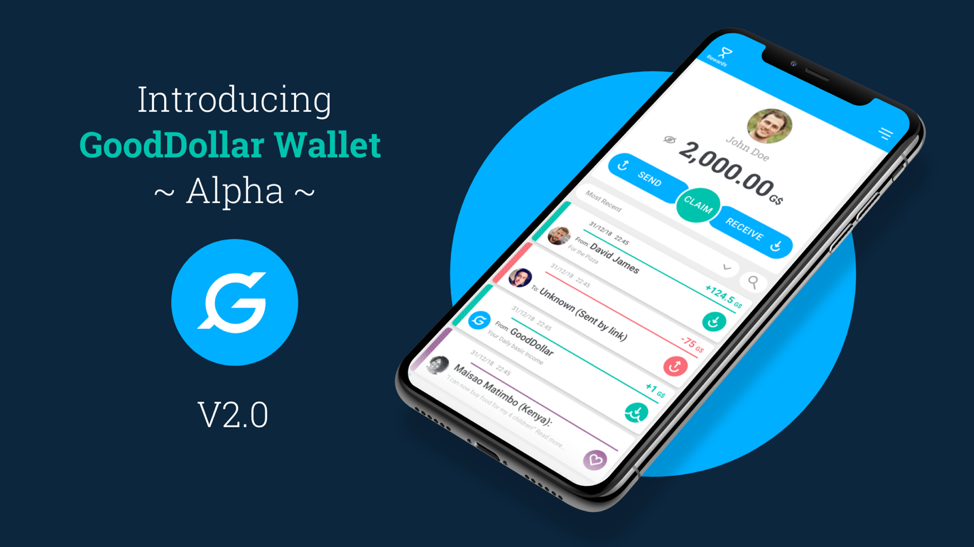 Yoni Assia, Chief Executive of multi-asset trading platform eToro, took the stage at the second Global Blockchain Policy Forum, recently hosted by the Organisation for Economic Co-operation and Development (OECD), to present the not-for-profit GoodDollar project.
The blockchain ecosystem is moving fast with pressure on governments and institutions to keep abreast of the latest innovations. At the prestigious event, held in Paris, the OECD gathered industry leaders together for the second year in a row to discuss the hype around cryptocurrencies and the possibilities that the technology brings to make social impact and lasting change.
Mr Assia told delegates that GoodDollar is launching a decentralised cryptocurrency – also called GoodDollar, or G$ – powered by blockchain, in a bid to reduce global wealth inequality and "fix one of the biggest problems in the world".
"Today, 94 per cent of the wealth in the world is actually held by the top 20 per cent," he said. "An even more mind-blowing number is that the richest 26 people in the world have more wealth than the lower 3.8 billion."
"A lot of very smart and very wealthy people understand that this is a big issue and they understand the responsibility of the elite, or top percentiles, to make sure that we fix this problem before it becomes too significant."
Mr Assia explained that because of the development of cryptocurrencies and blockchain…
eToro's new open-source programming language is first step in bringing $500 trillion OTC derivatives market onto the Blockchain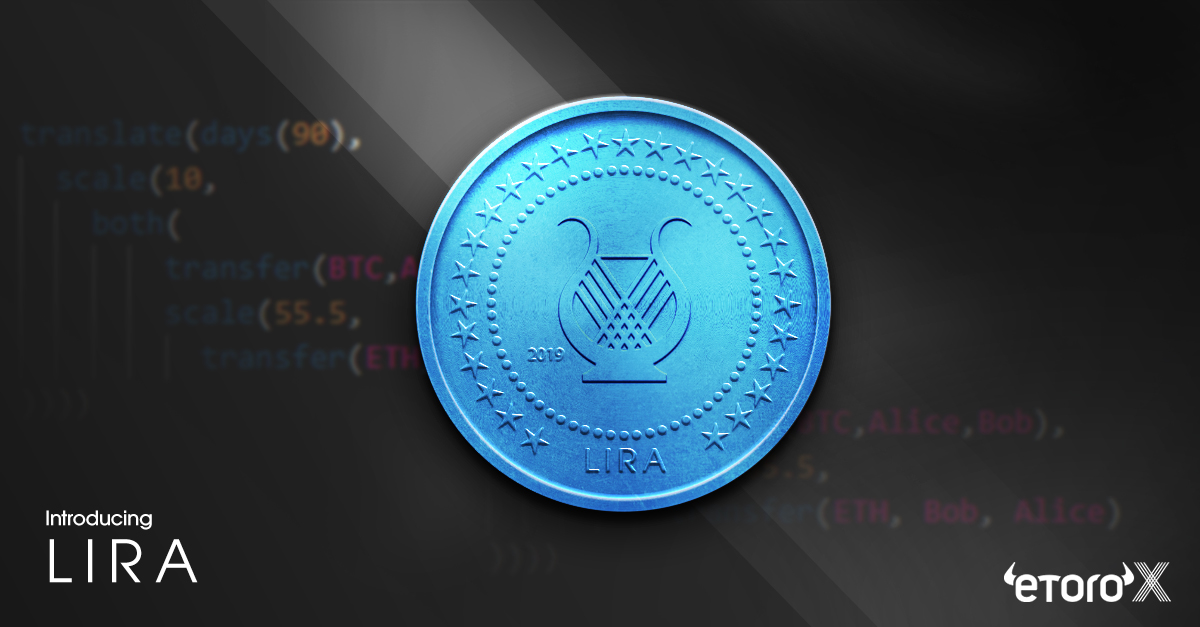 -Lira is first project born out of eToro's acquisition of smart contract company, Firmo, earlier this year –
eToro, the global multi-asset investment company, has today released the details of Lira, a new open-source programming language for financial contracts. Lira is the first step in bringing the $500 trillion OTC derivatives market onto the Blockchain by introducing a new formal contract language.(i)
Lira is a domain-specific language that can be used to write OTC financial contracts for assets currently on the Ethereum blockchain. It is both secure and easy to programme whilst guaranteeing self-executing global settlement and automated trade reporting and monitoring. It's easy tracking and compression will enable better collateral requirement efficiencies. Furthermore, it is the first decentralised finance (DeFi) project that will look to expand the code across different blockchains now that it is open-sourced.
Yoni Assia, CEO and Co-Founder of eToro, commented: "Bringing the OTC derivatives market onto the blockchain will bring more transparency and capital efficiencies to the industry. Activities in the post-trade cycle, such as settlement and the clearing of derivatives, are both expensive and a source of systemic risk. We believe that blockchain technology can provide a secure execution environment in which settlement is guaranteed by design. That is why today we are introducing a new formal contract language – Lira. This has the potential to open up and transform the derivatives market."
At…
eToroX launches new professional API trading program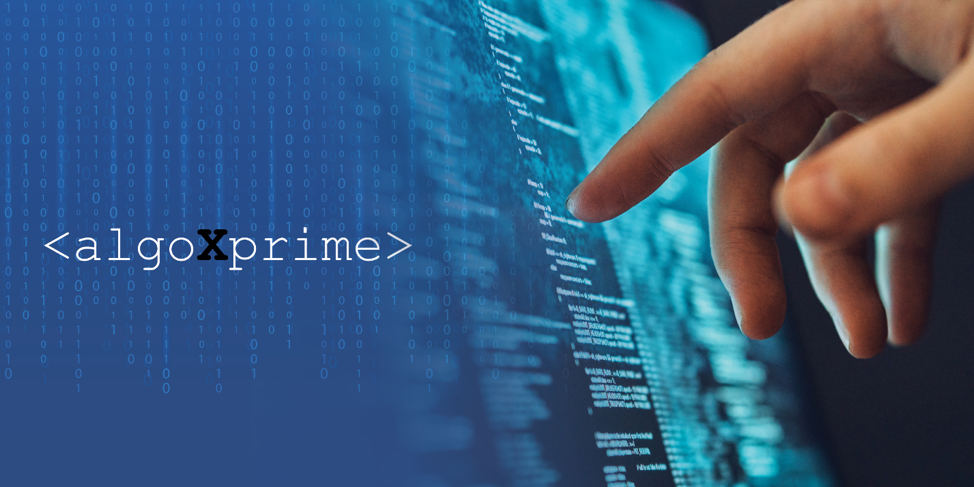 AlgoX Prime API introduced by blockchain subsidiary of eToro  
11 September 2019: eToroX, the blockchain subsidiary of global investment platform eToro, today announced the launch of its institutional-grade API trading programme, AlgoX Prime.
AlgoX Prime is the top-tier API program of eToroX Exchange, the eToro Group's regulated and secure cryptoasset exchange. Employing the deep liquidity of eToro, tight spreads, and bespoke capabilities for cryptoasset trading, AlgoX Prime is carefully tailored to suit the needs and requirements of institutional-grade algorithmic traders from both the traditional and crypto spheres.
The program offers highly competitive fees, a free enterprise-grade market data package, and a high-quality, low-latency colocation service that incorporates professional-level connectivity, enabling direct access to eToroX's dedicated, high-security data centre. The continuous and ongoing rollout will include an ever-expanding list of cryptoassets, increased volume from eToro, and much more.
From the Consensus invest:Asia event in Singapore, Doron Rosenblum, eToroX Managing Director, said "AlgoX Prime, our new API trading program, offers sophisticated trading capabilities to institutional and corporate traders. We believe that it will open the door for institutional traditional financial algo trading companies to trade cryptoassets, and by doing so, greatly increase market liquidity." 
"The AlgoX Prime trading program aligns with eToro's strategy of bridging the gap between blockchain and the traditional financial markets," saidYoni Assia, CEO of eToro. "The ability to trade on eToroX using APIs will help…