Cryptocurrency Going For A Song On Bitcoin's 10th Birthday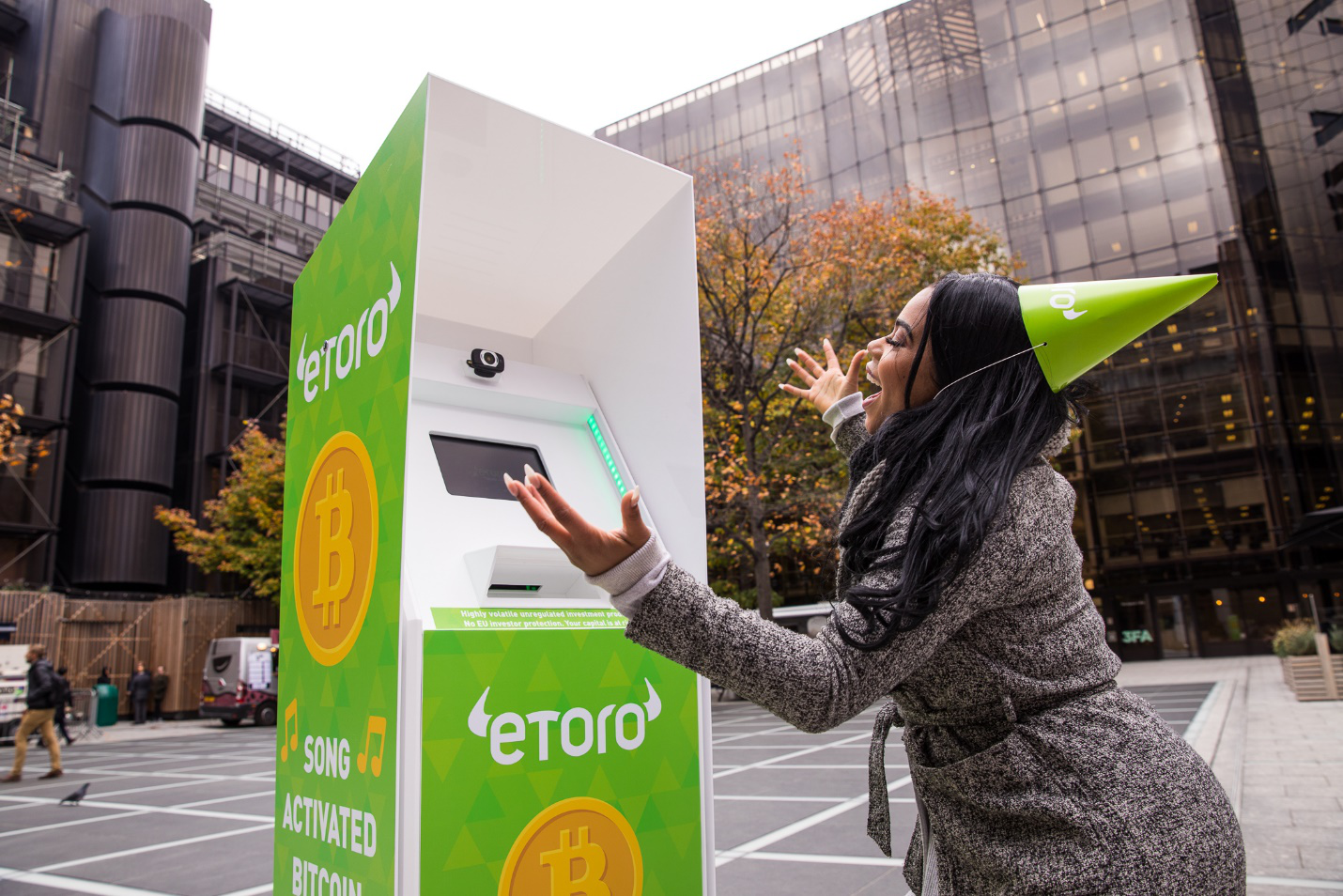 – eToro launches unique karaoke cash machine that ditches the pin and asks users to sing for free bitcoin –
eToro, the global investment platform with over ten million registered users, is helping Brits celebrate the tenth anniversary of Bitcoin today by giving away £10,000 worth of the cryptocurrency via a unique ATM machine that's activated by song.
The machine, that responds when people sing 'Happy Birthday' to it, has popped up today (31st October) in London's Finsbury Avenue Square, 10 years to the day that Bitcoin's whitepaper was released. The ATM is offering vouchers worth between £20 and £250 in bitcoin to successful singers stepping up to its screen and creating sweet har-money.
As well as grabbing free bitcoin rewards, people who visit the ATM can opt to have their singing experience captured on camera for sharing on their social channels with a chance to win a further £1,000 in bitcoin currency.
The first of its kind song-activated ATM was made by a specialist team of computer programmers, tech experts and sound engineers. Using advanced audio and voice technology, the ATM detects when a specific melody is being sung to it, in this instance the song 'happy birthday' and the volume of the singing. A digital display on the ATM lets users know how loudly they are singing, whether they need to increase their volume and how much of the song they need to complete to activate the dispenser.
Publicly announced in 2008 in a white paper entitled Bitcoin: A peer to peer electronic cash system written by an anonymous developer called Satoshi Nakamoto, bitcoin was the first cryptocurrency, allowing people to send and receive payments from one party to another without going through a financial institution. Whilst eToro's innovative ATM celebrates the ground-breaking 10-year history of bitcoin, the musical machine also looks to the future, encouraging people to explore the possibilities of a currency designed for the digital age.
Iqbal V. Gandham, UK Managing Director at eToro says: "Bitcoin has demonstrated resilience over the past decade and remains the world's dominant crypto. In the next 10 years we could well see the mass adoption of bitcoin for payments and money transfer.
"Currently, the level of understanding of crypto is one of the barriers to wide-scale user adoption of, and investment in, cryptoassets. It's a barrier that we've looked to address at eToro as part of our vision of opening up global markets to everyone. Our ATM machine is a fitting and fun celebration of bitcoin's 10-year anniversary, and one that we hope will give even more people the opportunity to learn about crypto."
WHAT: The eToro Bitcoin Birthday ATM is free to use and is available on a first-sing-first-win basis. Those who can demonstrate their singing skills will be in with a chance of receiving a voucher for the equivalent amount in bitcoin.
WHERE: Finsbury Avenue Square, Broadgate, London
WHEN: From 11am, 31st October
About eToro:
eToro empowers people to invest on their own terms. The platform enables people to invest in the assets they want, from stocks and commodities to cryptoassets. eToro is a global community of more than ten million registered users who share their investment strategies; and anyone can follow the approaches of those who have been the most successful. Due to the simplicity of the platform users can easily buy, hold and sell assets, monitor their portfolio in real time, and transact whenever they want.
eToro is regulated in Europe by Cyprus Securities and Exchange Commission and regulated by the Financial Conduct Authority in the UK.
Cryptoassets are a highly volatile, non-regulated investment product and are not appropriate for all investors. No EU investor protection. Your capital is at risk. Past performance is not an indication of future results.
Cryptocurrency Bear Market: Four Options – Choose Wisely
In the decade since the introduction of bitcoin, it has been a rollercoaster of a ride for cryptocurrency investors – especially after the start of the bull run late in 2017. There have been thrills and spills, and more ups than downs across the 10 years. Certainly, those who were clever – or lucky – enough to invest in the early days will be very pleased with their yield.
Much like a rollercoaster, following a steep ascent comes an exhilarating – sometimes scary – drop, and that has been the case for bitcoin and the other major cryptos in 2018.
There is talk of another bull run on the horizon, though whether it will happen is anyone's guess. So what strategies do crypto investors employ in a bear market? Basically, you have four options – as listed below. Choose wisely.
Short sell
"Shorting" is when a trader backs a certain market to decline. If their hunch is correct, then they will benefit. Arguably the most famous example of short selling happened in September 1992, when Hungarian-American investor George Soros netted approximately $1 billion after correctly predicting the British pound would drop when it was forced out of the European Exchange Rate Mechanism.
Shorting is made possible through Contracts For Difference (CFDs), or derivatives, as they allow the trader to sell assets he or she doesn't actually own. Simply put,…
eToro and Mumsnet research reveals over half of Mums (55%) want to take control of their finances

New research from Mumsnet and eToro busts the age-old myth that women aren't interested in their own finances and investments.
In a new survey of 1,000 mums*, Mumsnet and eToro asked how they approach their investments. Research reveals just under half (47%) of respondents know a little or a lot about investing, while over half (55%) want to take control of their finances and invest on behalf of themselves.
The biggest drivers for mums looking to invest are to generate a long-term return (73%) and to save for their children's future (71%). The research also reveals mums are more adventurous in their investment outlook than many would think.
When considering investment options, mums are already knowledgeable about cryptoassets. Four-fifths (4 out of 5) are familiar with the term cryptocurrency and 42% are currently invested or would consider investing in cryptoassets.
Today, 90% of female investors on eToro are invested in cryptoassets, with XRP the most popular cryptoasset. The top five cryptoassets for female investors are:
XRP (56%)

Bitcoin (15%)

Ethererum (10%)
What's Wrong with Crypto?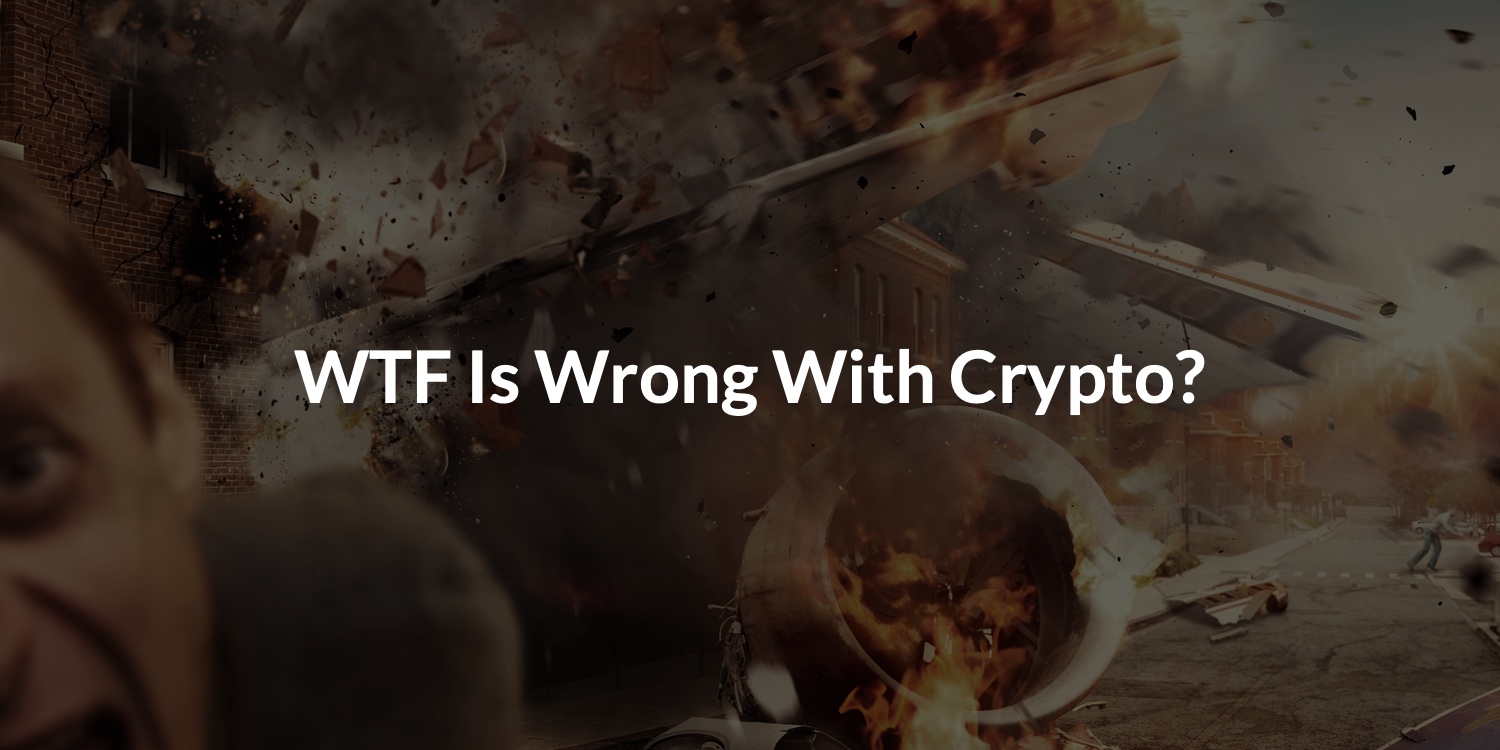 Sponsored by Global Coin Report and ICOsuccess
Hey! Are you fed up with the crypto market?
Hungry to see the charts bursting with green again?
The purpose of this very short survey is to get your thoughts on what is holding back our industry and collectively brainstorm ideas for turning it around.
We are looking to get a couple thousand responses over the next couple of weeks, and we'll be sharing the aggregated results with you once we're done!
Click below to do your share in bringing back a thriving crypto market!