eToro first to give retail investors financial exposure to Facebook's Libra project

eToro, the multi-asset investment platform, today announces the launch of its latest portfolio, offering investors the opportunity to take a stake in the companies involved in Facebook's Libra project.
Yoni Assia, CEO and Co-founder of eToro, comments:"The Facebook Libra project presents a seismic shift for global finance as it is the first time we are seeing a tech giant make a move into finance using crypto. We want to give people the opportunity to take a stake in it as in the past, only the private companies and individuals involved in these historic developments have benefitted from them. We want to change that. 
"eToro's mission is to open up global markets for everyone and is the only place retail investors can get exposure to developing technologies such as the Libra Coin, via a managed and regulated investment product for free." 
The portfolio comprises of the 13 publicly-traded companies involved in the Libra Association and as more companies join it, eToro will look to rebalance the portfolio, where possible. The minimum investment is just $2,000.
Yoni Assia added:"Our range of portfolios are about making it as easy as possible for investors to access the assets they want across a range of themes and ideas that they're passionate about. That could be anything from renewable energy to big tech, from cyber security to the medical cannabis industry. Given the importance of the Libra project, this portfolio was devised just two weeks after the project's whitepaper was made public." 
Companies in the Libra portfolio include: Mastercard (MA); Paypal (PYPL); VISA (V); Booking Holdings INC (BKNG); eBay (EBAY); Lyft (LYFT); MercadoLibre (MELI); Spotify (SPOT); Uber (UBER); Facebook (FB); Iliad (ILD.PA); Vodafone (VOD) and Farfetch (FTCH).
Notes to editors
About eToro
eToro was founded in 2007 with the vision of opening up the global markets so that everyone can invest in a simple and transparent way. The eToro platform enables people to invest in the assets they want, from stocks and commodities to cryptoassets. We are a global community of more than ten million registered users who share their investment strategies; and anyone can follow the approaches of those who have been the most successful. Due to the simplicity of the platform users can easily buy, hold and sell assets, monitor their portfolio in real time, and transact whenever they want. www.etoro.com
Disclaimer
eToro is regulated in Europe by the Cyprus Securities and Exchange Commission, by the Financial Conduct Authority in the UK and by the Australian Securities and Investments Commission in Australia.
Your capital is at risk. CopyPortfolios™ is a portfolio management product. CopyPortfolios™ should not be considered as exchange-traded funds, nor as hedge funds.
eToroX adds Dash, USDC, USDT and 5 new stablecoins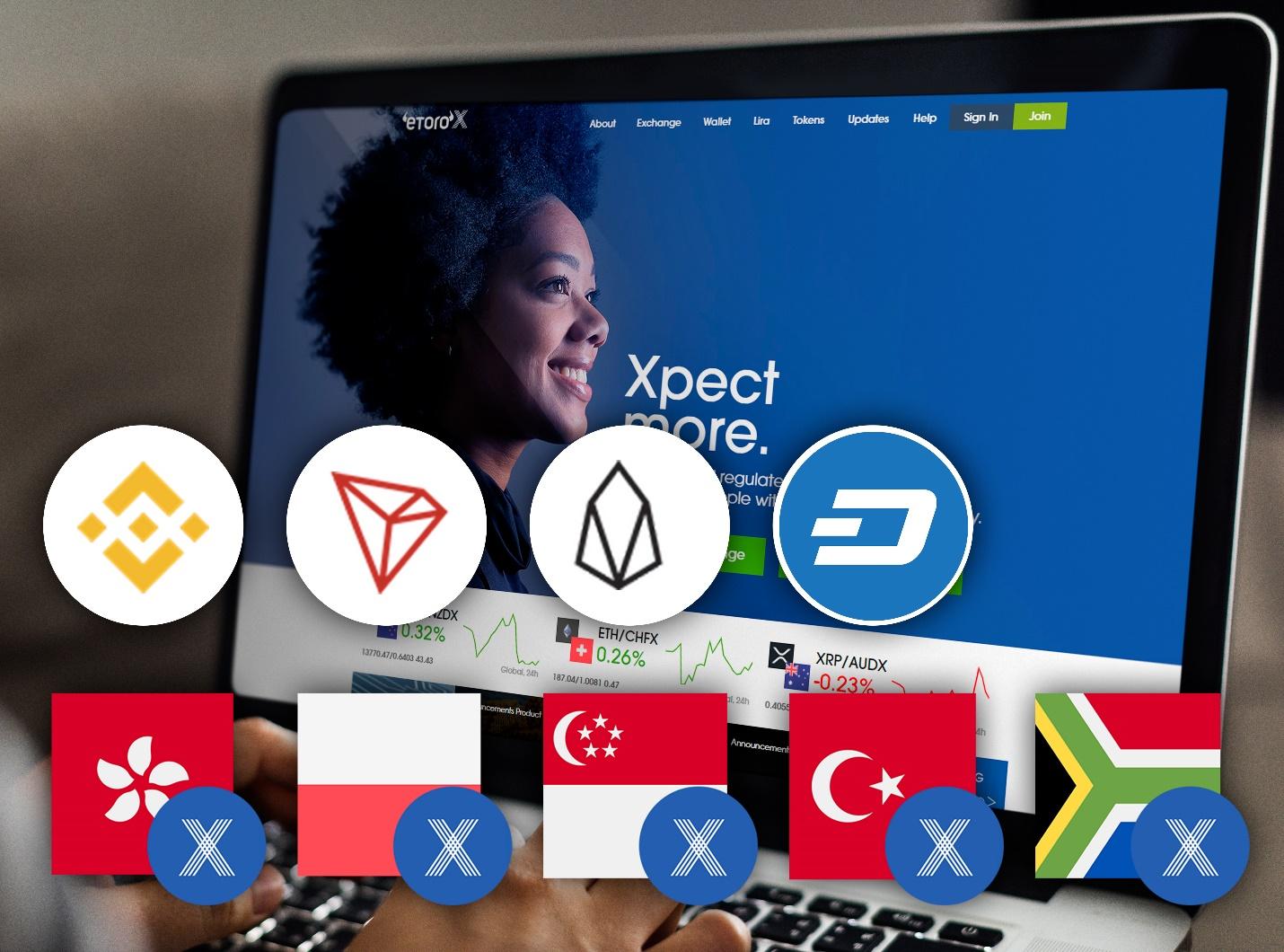 Institutional traders now have access to more instruments on regulated crypto exchange
12 November 2019:  eToroX, the blockchain subsidiary of global investment platform eToro, has added five new fiat stablecoins, a new cryptoasset, two further established stablecoins and a crypto-commodity pair, signalling its rapid growth, having only launched only six months ago. There are now 26 tradable assets available on the exchange.
The new assets announced today are:
Turkish Lira (

TRYX

), Polish Zloty (

PLNX

), South African Rand (

ZARX

), Hong Kong Dollar (

HKDX

), and Singapore Dollar (

SGDX

)

Peer-to-peer cryptoasset,

Dash

Circle's

USDC

and Tether's

USDT

stablecoins

GOLDX/BTC

pairing
eToroX is committed to supporting the needs of algo traders seeking to diversify into cryptoassets on a secure and regulated platform. These new additions also demonstrate eToroX's focus on Asian markets.
Doron Rosenblum, Managing Director of eToroX commented, "We see the addition of USDC and USDT as a way for eToroX to further meet the needs of professional and institutional algo traders, particularly in the Asian markets. Adding five new stablecoins, plus the addition of the Dash cryptoasset, demonstrates our ongoing commitment to bridge the gap between the world of…
MATCH GOING PREMIER LEAGUE FANS WILL SPEND £1.3BN TO SUPPORT THEIR CLUB THIS SEASON, UP 31% SINCE 2014/15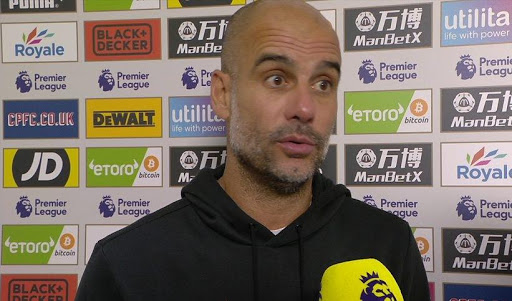 – Gary Neville welcomes research into fans' spend –
Premier League match-going fans will have to shell out £1.3 billion this season to follow their teams – as increases in the price of home tickets, TV subscriptions and merchandise hit their wallets. 
The eToro Fan Financial Statement, research carried out by multi-asset investment platform eToro in association with KPMG Football Benchmark, provides a comprehensive study into the financial commitment UK football fans make to support their Premier League clubs and which clubs offer the best value.
As one of the biggest sponsors of the Premier League, eToro have been promoting their crypto offering through their six club partnerships this season. Currently, they are running promotions on match day LED boards and media backdrops, helping raise awareness of cryptoassets to a global audience.
Key findings of the report include:
Premier League match-going fans will spend an estimated

£1.3bn

this season

Increase of

31%

since 2014/15, and

6.5%

since last season

Overall cost of tickets for a 'dedicated fan' risen only

1%

since 2014/15

Biggest increases per match-going fan are TV subscriptions (

40%

), merchandise (

21%

), home tickets (

14%

) and…
eToro signals commitment to growth with acquisition of Delta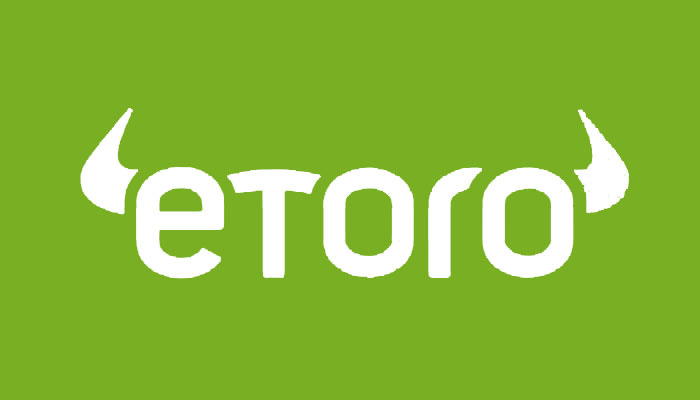 – Second deal of 2019 supports expansion as eToro eyes further acquisitions –
Global multi-asset investment platform eToro has today announced the acquisition of Delta for an undisclosed amount. Delta helps investors make better decisions regarding their crypto investments by providing tools such as portfolio tracking and pricing data. 
Commenting on the news, Yoni Assia, Co-founder and CEO of eToro, said: "We are excited to announce that Delta will become part of the eToro Group. This is our second acquisition this year and reflects our commitment to continued growth and innovation. When we started eToro our goal was to disrupt the world of trading. We wanted to change the way people think about trading and investing, ultimately reducing dependency on traditional financial institutions and make trading and investing more transparent and fun. This mission remains our guiding light and we will continue to evolve both organically and by acquisition in order to bring our customers the very best experience."
Delta is a crypto portfolio tracker app with over 6,000 cryptoassets available from more than 180 exchanges. It provides investors with a range of tools to track and analyze their crypto portfolios. To date, Delta has been downloaded by over 1.5 million users and has hundreds of thousands of active monthly…