eToro Launches Sentiment-Based Portfolio for Crypto Investors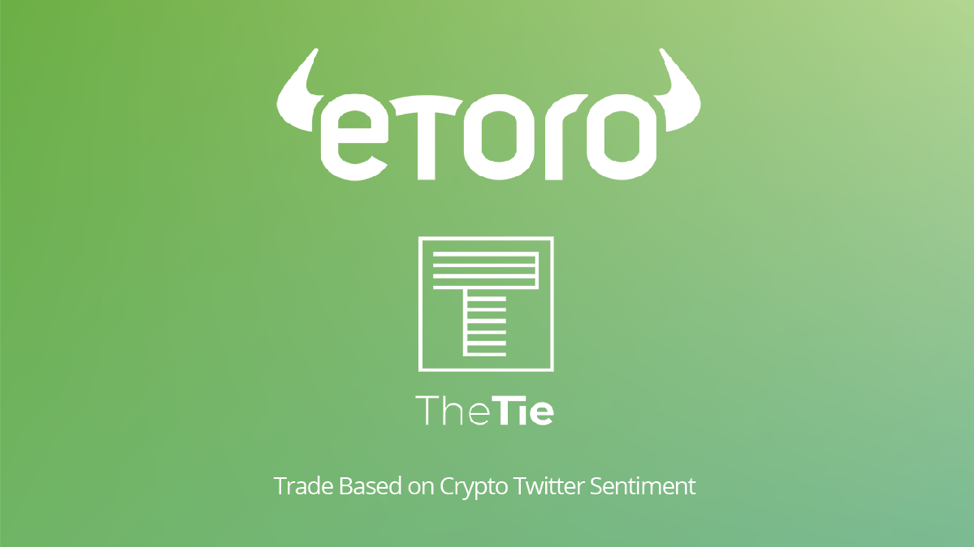 eToro users can now invest in a professional-grade algorithmic strategy from The TIE
October 15, 2019 —  eToro, the leading global investment platform, announces the launch of TheTIE-LongOnly CopyPortfolio, offering users access to a sentiment-based, AIgo-driven investment strategy from The TIE, a cryptocurrency data analytics platform trusted by some of the largest traditional quantitative hedge funds as well as crypto-specific funds.
Guy Hirsch, US Managing Director of eToro, said: "In traditional markets, retail investors have historically lagged behind the 'smart money' when it comes to the data and tools available to them. This puts individual investors at a major disadvantage. In the spirit of crypto and decentralized technology, we believe that offering institutional-grade tools to every investor will level the playing field and democratize investing." 
Cryptocurrency fundamentals are still maturing. They have no revenue, dividends or debt. As a result, social sentiment — people's positive or negative perceptions — is a significant indicator of crypto asset  price movement. The Tie's proprietary machine learning and language processing models ingest 850 million tweets per day, quantifying the positive and negative tone of conversations on Twitter. TheTIE-LongOnly CopyPortfolio strategy allocates based on positive sentiment, algorithmically rebalancing once per month.
Joshua Frank, CEO of The TIE, said: "eToro is well-known as a community where some of the smartest crypto traders share insights and strategies. We're proud to offer investors of all experience levels a way to employ artificial intelligence and machine learning in an automatically-executed strategy, unified with eToro in our goal to make traders more active and informed." 
Since launching the strategy in October 2017, the algorithm has generated a 281% return after fees, compared to a 41% return generated by Bitcoin alone. Annualized, The TIE's Long-Only portfolio strategy generates on a return of 123% on average, compared to a 29% return from an equally weighted basket of the same underlying crypto assets.
The TIE's Partner CopyPortfolios were developed in collaboration with Social Market Analytics, an investor in The TIE and a premier provider of quantified sentiment data to the world's largest financial firms. eToro will be debuting two additional CopyPortfolio strategies from The Tie, including a Long-Short and Market-Neutral strategy, in 2020.
About eToro
eToro has been a leader in the global fintech and blockchain revolution for over 10 years, servicing more than 11 million registered users from over 140 countries. eToro users trade over $1 trillion in volume per year and share their insights, portfolios, and real-time track records on eToro's suite of social and educational trading features. Transforming the traditional money management industry, eToro users can automatically copy the trading strategy of the leading traders in our community. Copy the smart money with eToro at www.etoro.com/en-us/
About The TIE
The TIE is a leading cryptocurrency information services firm providing sophisticated and proprietary digital asset data solutions to buy-side firms and other market participants. The TIE has developed algorithmic cryptocurrency trading models powered by the wisdom of the crowd which have achieved significant historical outperformance and reduced risk as compared to an equally weighted benchmark. Based in New York, New York and Greenwich, Connecticut, The TIE, LLC was founded in December 2017 by co-founders Joshua Frank, Joseph Gits, Ben Latz and Eric Frank
The TIE has committed to a strict ethics policy ensuring our independence and the integrity of our data and offerings. For additional information on our commitment to trust, transparency, and accountability you can read our ethics statement at http://data.thetie.io/ethics. Follow The TIE on Twitter @TheTIEIO.
eToroX adds Dash, USDC, USDT and 5 new stablecoins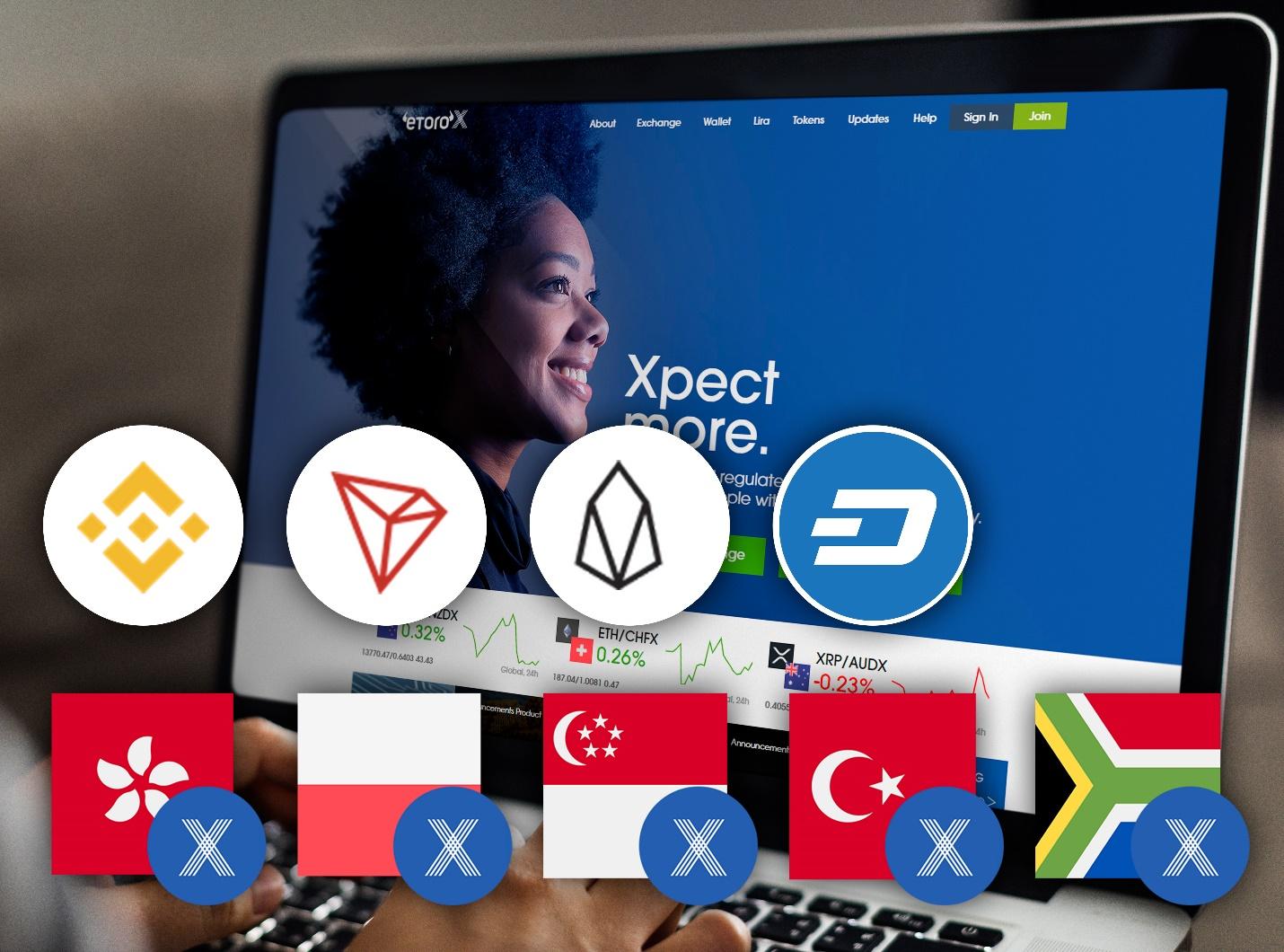 Institutional traders now have access to more instruments on regulated crypto exchange
12 November 2019:  eToroX, the blockchain subsidiary of global investment platform eToro, has added five new fiat stablecoins, a new cryptoasset, two further established stablecoins and a crypto-commodity pair, signalling its rapid growth, having only launched only six months ago. There are now 26 tradable assets available on the exchange.
The new assets announced today are:
Turkish Lira (

TRYX

), Polish Zloty (

PLNX

), South African Rand (

ZARX

), Hong Kong Dollar (

HKDX

), and Singapore Dollar (

SGDX

)

Peer-to-peer cryptoasset,

Dash

Circle's

USDC

and Tether's

USDT

stablecoins

GOLDX/BTC

pairing
eToroX is committed to supporting the needs of algo traders seeking to diversify into cryptoassets on a secure and regulated platform. These new additions also demonstrate eToroX's focus on Asian markets.
Doron Rosenblum, Managing Director of eToroX commented, "We see the addition of USDC and USDT as a way for eToroX to further meet the needs of professional and institutional algo traders, particularly in the Asian markets. Adding five new stablecoins, plus the addition of the Dash cryptoasset, demonstrates our ongoing commitment to bridge the gap between the world of…
MATCH GOING PREMIER LEAGUE FANS WILL SPEND £1.3BN TO SUPPORT THEIR CLUB THIS SEASON, UP 31% SINCE 2014/15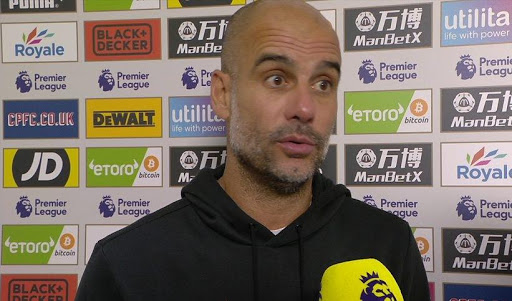 – Gary Neville welcomes research into fans' spend –
Premier League match-going fans will have to shell out £1.3 billion this season to follow their teams – as increases in the price of home tickets, TV subscriptions and merchandise hit their wallets. 
The eToro Fan Financial Statement, research carried out by multi-asset investment platform eToro in association with KPMG Football Benchmark, provides a comprehensive study into the financial commitment UK football fans make to support their Premier League clubs and which clubs offer the best value.
As one of the biggest sponsors of the Premier League, eToro have been promoting their crypto offering through their six club partnerships this season. Currently, they are running promotions on match day LED boards and media backdrops, helping raise awareness of cryptoassets to a global audience.
Key findings of the report include:
Premier League match-going fans will spend an estimated

£1.3bn

this season

Increase of

31%

since 2014/15, and

6.5%

since last season

Overall cost of tickets for a 'dedicated fan' risen only

1%

since 2014/15

Biggest increases per match-going fan are TV subscriptions (

40%

), merchandise (

21%

), home tickets (

14%

) and…
eToro signals commitment to growth with acquisition of Delta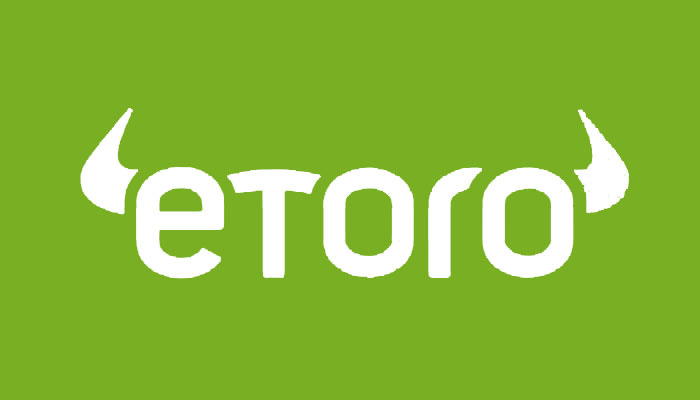 – Second deal of 2019 supports expansion as eToro eyes further acquisitions –
Global multi-asset investment platform eToro has today announced the acquisition of Delta for an undisclosed amount. Delta helps investors make better decisions regarding their crypto investments by providing tools such as portfolio tracking and pricing data. 
Commenting on the news, Yoni Assia, Co-founder and CEO of eToro, said: "We are excited to announce that Delta will become part of the eToro Group. This is our second acquisition this year and reflects our commitment to continued growth and innovation. When we started eToro our goal was to disrupt the world of trading. We wanted to change the way people think about trading and investing, ultimately reducing dependency on traditional financial institutions and make trading and investing more transparent and fun. This mission remains our guiding light and we will continue to evolve both organically and by acquisition in order to bring our customers the very best experience."
Delta is a crypto portfolio tracker app with over 6,000 cryptoassets available from more than 180 exchanges. It provides investors with a range of tools to track and analyze their crypto portfolios. To date, Delta has been downloaded by over 1.5 million users and has hundreds of thousands of active monthly…