eToro Launches CopyTrader for U.S. Users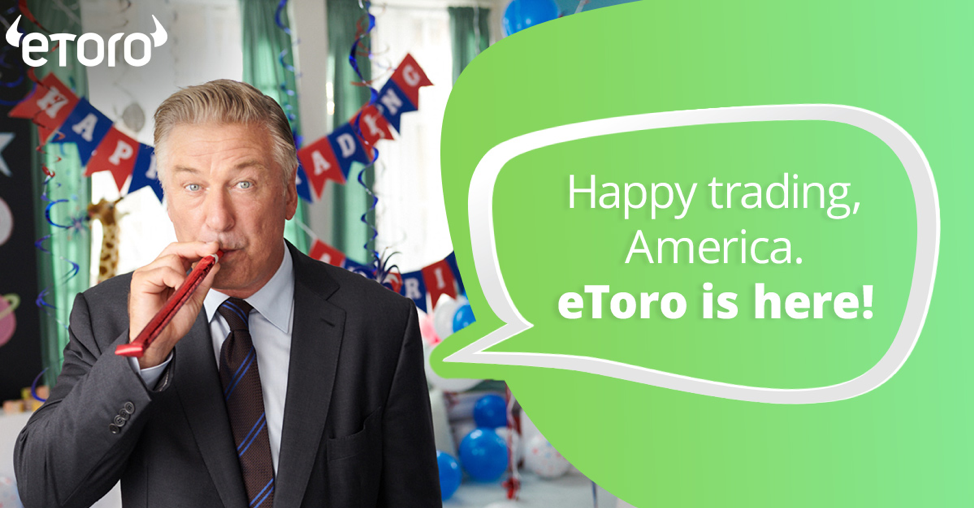 U.S. users can now automatically copy trades made by eToro's top investors
Hoboken, NJ – October 29, 2019 — eToro, the global trading platform, announced the launch of its CopyTrader™ in the U.S., which allows traders to set their account to automatically copy all the trades of top-performing crypto asset investors on the eToro platform.
eToro users can access the Copy Traders tab in the app to select from a suite of Popular Investors available for copying. The pool of eligible traders includes crypto influencers like Nicholas Merten, the host of the DataDash YouTube channel, and #11 Ranked Welterweight UFC fighter Ben Askren. With over 1 million combined followers, these partners were specifically chosen to be copied by the eToro community for their role in growing and promoting the crypto ecosystem.
CopyTrader democratizes investment portfolio management for investors of all kinds. Trades are executed at the same price in real-time and in proportional amounts, enabling any eToro user to execute the same trading strategies of proven crypto investors. Users retain full control of their account and can stop copying a trader altogether at any time.
This new tool for retail investors is accompanied by a star-studded marketing campaign. To announce the launch of CopyTrader in the U.S., eToro partnered with Alec Baldwin on a series of ad spots to promote the feature. This intersection between crypto and Hollywood is a notable continuation of mainstream adoption of crypto.
Yoni Assia, Co-founder & CEO of eToro, said: "CopyTrader empowers the eToro community to collaborate in improving the experience of investing for traders of all levels of experience. Our traders are able to comment, share, and engage with each other in a way that's unique across all asset classes. We built CopyTrader to bring the tremendous value of network effects inherent to social platforms into the world of investment advice."
Crypto traders who are accepted into the Popular Investor program can earn compensation for being copied by the eToro community. eToro is dedicated to attracting top crypto traders from across America, offering advanced charting tools and social network scalability to help them further monetize their trading activities.
Guy Hirsch, US Managing Director of eToro, said: "CopyTrader can help anyone to build their wealth in a simple and transparent way. Users who want to leverage the crypto asset class can now simply look for an investor with a proven track record and just hit copy to execute the same trades automatically. CopyTrader allows users with less time or expertise to connect with users who have demonstrated capabilities in the trading space, all on one platform.
Too Busy to Trade on Your Own? Discover Copy Trading on eToro™
About eToro U.S.
eToro has been a leader in the global fintech and blockchain revolution for over 10 years, servicing more than 11 million registered users from over 140 countries. eToro users trade over $1 trillion in volume per year and share their insights, portfolios, and real-time track records on eToro's suite of social and educational trading features. Transforming the traditional money management industry, eToro users can automatically copy the trading strategy of the leading traders in our community. Copy the smart money with eToro at https://www.etoro.com/en-us/copytrader/.
eToroX adds Dash, USDC, USDT and 5 new stablecoins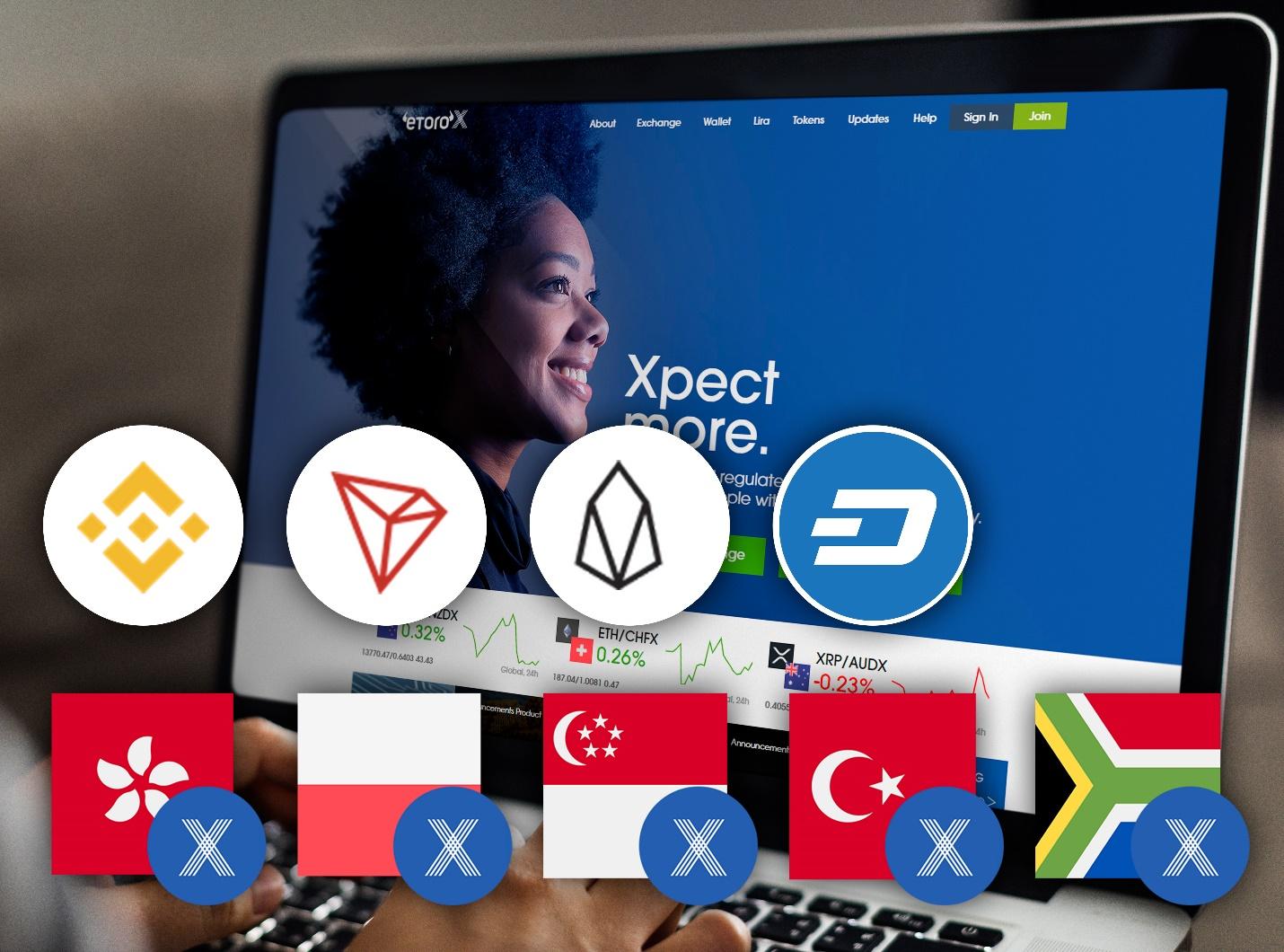 Institutional traders now have access to more instruments on regulated crypto exchange
12 November 2019:  eToroX, the blockchain subsidiary of global investment platform eToro, has added five new fiat stablecoins, a new cryptoasset, two further established stablecoins and a crypto-commodity pair, signalling its rapid growth, having only launched only six months ago. There are now 26 tradable assets available on the exchange.
The new assets announced today are:
Turkish Lira (

TRYX

), Polish Zloty (

PLNX

), South African Rand (

ZARX

), Hong Kong Dollar (

HKDX

), and Singapore Dollar (

SGDX

)

Peer-to-peer cryptoasset,

Dash

Circle's

USDC

and Tether's

USDT

stablecoins

GOLDX/BTC

pairing
eToroX is committed to supporting the needs of algo traders seeking to diversify into cryptoassets on a secure and regulated platform. These new additions also demonstrate eToroX's focus on Asian markets.
Doron Rosenblum, Managing Director of eToroX commented, "We see the addition of USDC and USDT as a way for eToroX to further meet the needs of professional and institutional algo traders, particularly in the Asian markets. Adding five new stablecoins, plus the addition of the Dash cryptoasset, demonstrates our ongoing commitment to bridge the gap between the world of…
MATCH GOING PREMIER LEAGUE FANS WILL SPEND £1.3BN TO SUPPORT THEIR CLUB THIS SEASON, UP 31% SINCE 2014/15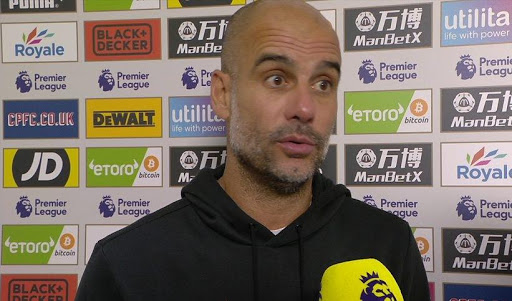 – Gary Neville welcomes research into fans' spend –
Premier League match-going fans will have to shell out £1.3 billion this season to follow their teams – as increases in the price of home tickets, TV subscriptions and merchandise hit their wallets. 
The eToro Fan Financial Statement, research carried out by multi-asset investment platform eToro in association with KPMG Football Benchmark, provides a comprehensive study into the financial commitment UK football fans make to support their Premier League clubs and which clubs offer the best value.
As one of the biggest sponsors of the Premier League, eToro have been promoting their crypto offering through their six club partnerships this season. Currently, they are running promotions on match day LED boards and media backdrops, helping raise awareness of cryptoassets to a global audience.
Key findings of the report include:
Premier League match-going fans will spend an estimated

£1.3bn

this season

Increase of

31%

since 2014/15, and

6.5%

since last season

Overall cost of tickets for a 'dedicated fan' risen only

1%

since 2014/15

Biggest increases per match-going fan are TV subscriptions (

40%

), merchandise (

21%

), home tickets (

14%

) and…
eToro signals commitment to growth with acquisition of Delta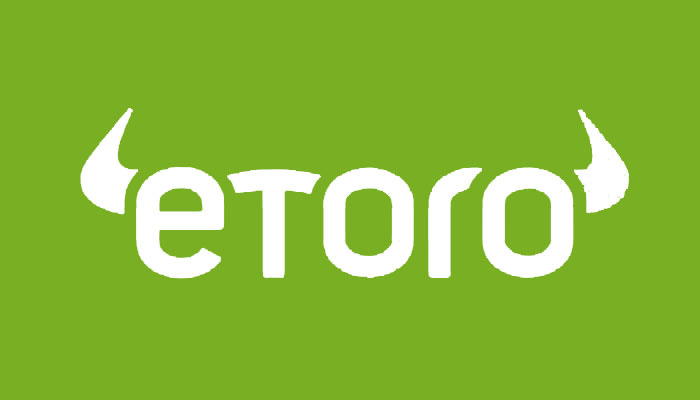 – Second deal of 2019 supports expansion as eToro eyes further acquisitions –
Global multi-asset investment platform eToro has today announced the acquisition of Delta for an undisclosed amount. Delta helps investors make better decisions regarding their crypto investments by providing tools such as portfolio tracking and pricing data. 
Commenting on the news, Yoni Assia, Co-founder and CEO of eToro, said: "We are excited to announce that Delta will become part of the eToro Group. This is our second acquisition this year and reflects our commitment to continued growth and innovation. When we started eToro our goal was to disrupt the world of trading. We wanted to change the way people think about trading and investing, ultimately reducing dependency on traditional financial institutions and make trading and investing more transparent and fun. This mission remains our guiding light and we will continue to evolve both organically and by acquisition in order to bring our customers the very best experience."
Delta is a crypto portfolio tracker app with over 6,000 cryptoassets available from more than 180 exchanges. It provides investors with a range of tools to track and analyze their crypto portfolios. To date, Delta has been downloaded by over 1.5 million users and has hundreds of thousands of active monthly…