Fear & Greed Index Suggests A Bull in the Bitcoin Market?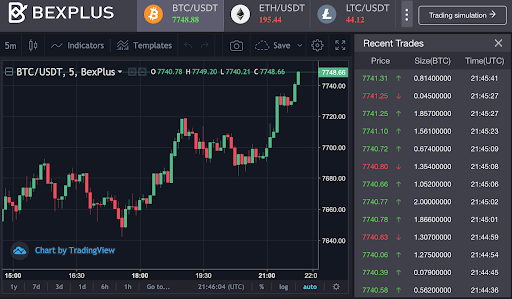 As indicated by Justin Kwo, an analyst director from Bexplus, Cryptocurrency trading is a game of nerves and it cannot withstand the emotional behavior. Traders keep on changing their minds with the sudden and strong market fluctuations. This behavior reflects their psychological instability and prevailing sentiment in a particular time zone. However, in the Bitcoin market, traders' emotions will determine their trading behaviors, which, therefore, affects the future trend of Bitcoin. 
So, what is Fear and Greed Index?
Alternative.me has the most well-known and respected Bitcoin fear and greed index.
Extreme fear can be a sign that investors are too worried. That could be a buying opportunity.

When Investors are getting too greedy, that means the market is due for a correction.
To make it precise:
When the index drops below 20 it indicates extreme fear.

When the index rises above 60, it indicates extreme greed.
The result of Fear and Greed Index is calculated from the following aspects:
Volatility: the program marks wider fluctuations as a sign of fear
Market volume: if buying volumes increase significantly, the greed levels rise, too
Social media: the client monitors, gathers and counts posts on various hashtags, to see how many interactions they receive over certain time-frames
Dominance: when Bitcoin dominance rises, it indicates an increasing level of greed, and vice versa, when the dominance shrinks, it means that people get scared to invest in BTC. 
Trends: the program pulls Google Trends data for various Bitcoin-related search queries and crunches those numbers, especially the change of search volumes.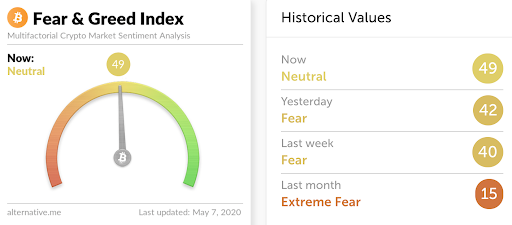 Fear and Greed Index Signals A Bull Recently
From the picture below, we can see that in the past 2 months approximately, the crypto Fear and Greed Index has been between "Extreme Fear" and "Fear" degrees. Amid the coming halving as well as Bitcoin has nearly doubled since the extreme low set back in mid-March, showing that this very well could be the disbelief rally is coming which may surges to new highs.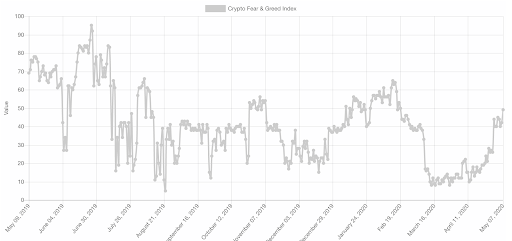 Take Advantage of Market Fluctuation and Double Profits
Though the Fear and Greed Index may indicate a bullish trend, there will be a lot of fluctuations. Make profits on these fluctuations, you can make great fortune before BTC skyrockets to $20,000 again. 
Bexplus is one of the world-leading futures exchanges in the cryptocurrency area. It's registered in Saint Vincent and the Grenadines, in late 2017. Bexplus offers 100x leverage perpetual contracts across all major trading pairs including BTC/USDT, ETH/USDT, LTC/USDT, XRP/USDT and EOS/USDT. With 100x leverage, traders can open a "short" or a "long" position of 100 BTC with only 1 BTC used as margin. If BTC price increases or decreases 10%, the profit would be 10 BTC, whereas without leverage, the profit would just be 0.1 BTC.
Win Up to 10 BTC in Bexplus
Up to 100% FREE BTC bonus will be sent to clients who deposit and trade futures contracts in Bexplus. 
For example, deposit 10 BTC, you will get 20 BTC credited in your account. 
For more details: https://www.bexplus.com/activity/cash_back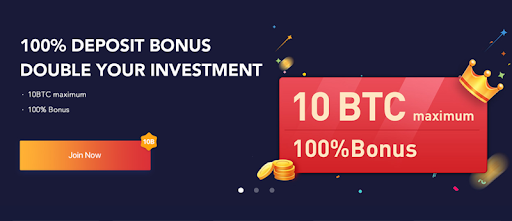 One of the richest traders on the planet Warren Buffet said, "Investors should remember that excitement and expenses are their enemies. And if they insist on trying to time their participation in equities, they should try to be fearful when others are greedy and greedy only when others are fearful." 
Remember the quote, you can make successful trades in Bexplus easily!
Ethereum Price Outlook as the DXY Index Crash Continues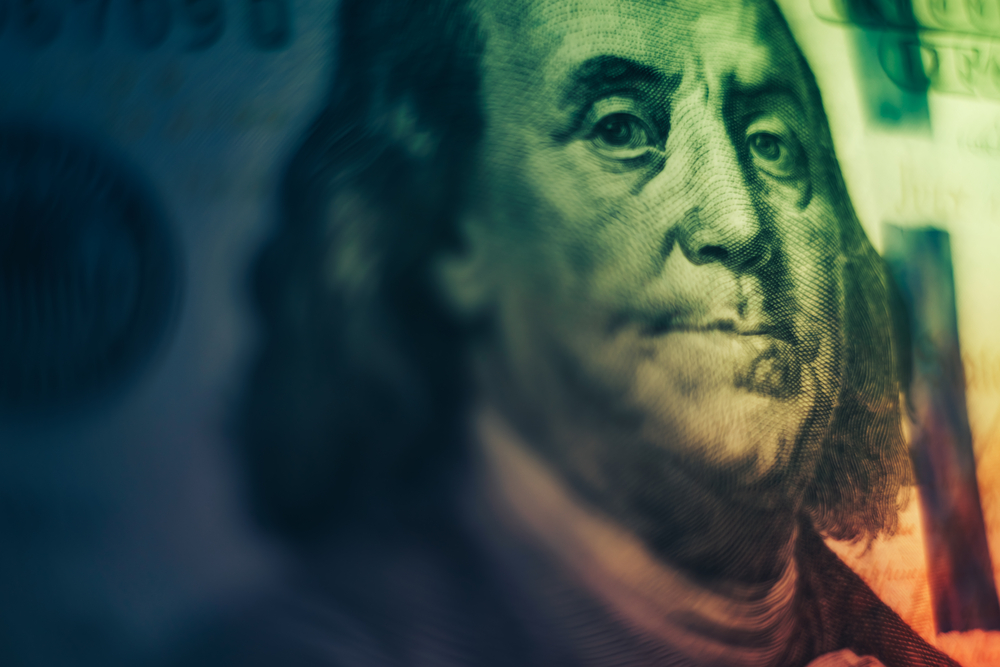 Cryptocurrency prices remained in an upbeat tone on Thursday as the US dollar index continued its bearish move. Bitcoin, the biggest cryptocurrency in the world, rose to $23,165, the highest level in months. Similarly, Ethereum has risen by more than 4% in the past 24 hours while BNB Coin and XRP surged to $307 and $0.41, respectively. 
US dollar index retreats
Cryptocurrencies have an inverse relationship with the US dollar index. For example, the DXY, which looks at the performance of the greenback vs other currencies, soared to a 20-year high of $115 in 2022. As that happened, cryptocurrencies like Bitcoin plunged during the year.
The foundation of this relationship is the Federal Reserve. In most periods, the US dollar index tends to rise when the Fed is extremely hawkish and vice versa. And it was extremely hawkish in 2022 as it hiked interest rates by more than 400 basis points. 
Therefore, while the Fed has remained hawkish recently, the US dollar has dropped because of what the data is saying. Data published recently showed that America's inflation is easing. The closely watched consumer price index dropped to 6.5% in December while core inflation fell to 5.7%. 
At the same time, other parts of the economy are showing that the American economy is indeed recoiling. Retail sales dropped sharply in December while many…
STG Price Soars as Stargate Finance's Token Forms Double-Top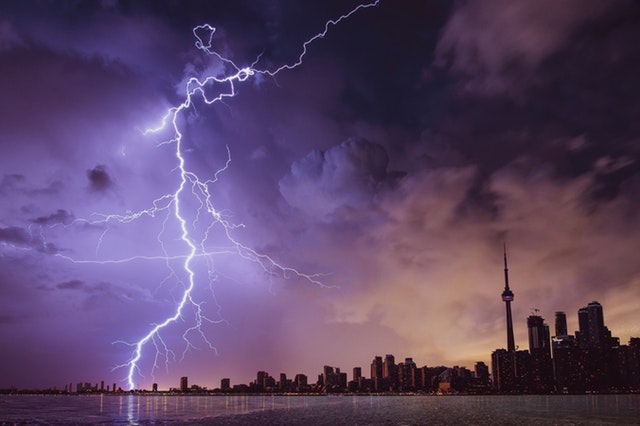 STG price surged to a high of $0.7566 this week as interest in DeFi tokens jumped. Stargate Finance's native token has risen by over 85% from the lowest point in 2022. So, what is Stargate and why is the token soaring?
What is Stargate Finance?
DeFi has emerged as one of the most important areas in the blockchain industry. In fact, with the metaverse and NFTs struggling, it is the only bastion of hope for the sector. While the amount of assets held in DeFi has dropped recently, it is still worth about $70 billion. And DEX protocols like dYdX and Uniswap are handling hundreds of millions of dollars every day.
Stargate Finance is a little-known platform in the DeFi industry. It exists in numerous blockchains like Ethereum, Avalanche, BNB Chain, Arbitrum, and Optimism. Like most cross-chain blockchains, Ethereum is the most dominant player in Stargate, where it has a TVL of more than $102 million.
Stargate Finance is a DeFi protocol that makes it possible for users to stake, farm, and transfer tokens across multiple chains. It describes itself as a fully composable liquidity transport protocol that lives at the heart of the omnichain. 
As such, you can swap tokens on a 1:1 basis and add liquidity to Stargate's Omnichain protocol and earn stablecoin rewards. Also, liquidity providers can farm their LP tokens in exchange for STG…
Cronos Price Forms Bearish Divergence as Cryptos Rebounds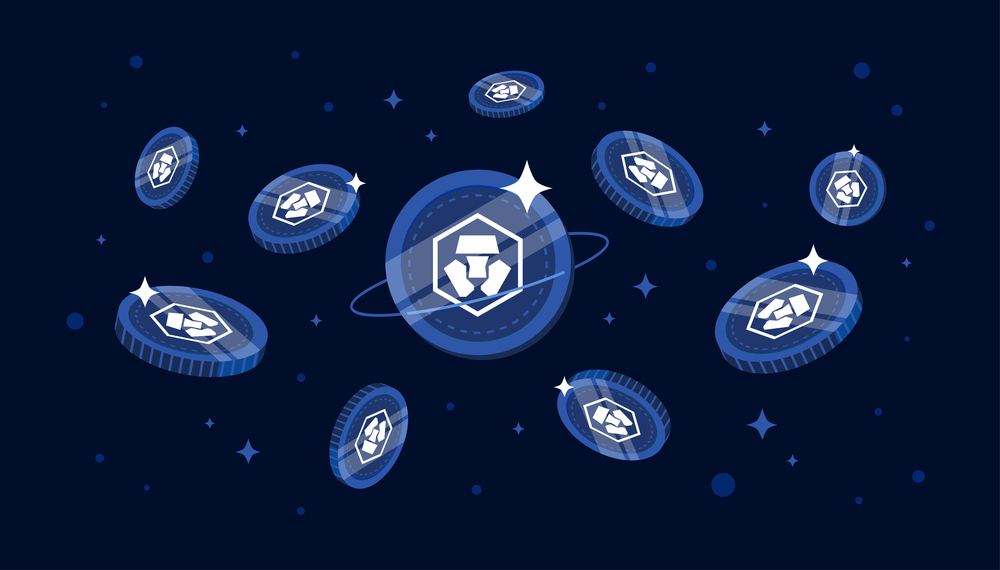 Cronos price has been in a strong recovery in the past few weeks as cryptocurrencies rebound. CRO rose to a high of $0.066, the highest point since December 10. It has soared by more than 18% from the lowest point in 2022. So, what next for the token?
What is Cronos?
Cronos is a blockchain project that was developed by Crypto.com, one of the biggest crypto exchanges in the world. It was previously known as Crypto.com Chain until it rebranded in November 2021. 
Cronos is a smart contract platform that aims to be a better alternative to Ethereum and other networks like Solana and Avalanche. It is also an Ethereum Virtual Machine (EVM), meaning that apps developed in its ecosystem are compatible with Ethereum. 
Cronos has been used to build all types of dApps, including Decentralised Finance (DeFi), Non-Fungible Tokens (NFT), and the metaverse. Some of the most notable DeFi apps in its ecosystem are Tectonic, VVS Finance, Ferro, and MM Finance among others.
The metaverse platforms in the ecosystem are Metaverse Pixels, Cronos Ragdolls, Pampered Pandas, and Crowboys. It has also been used to build NFT collections like Cronos Chimp Club, Crosmonauts, Crocus NFT, and Agora among others.
CRO price crashed in 2022 as other cryptocurrencies plunged. This decline happened as the Fed increased interest rates. The bank hiked interest…