ISBG Announces Strong IoT Implementation in Supply Chain Features for CBD Product Line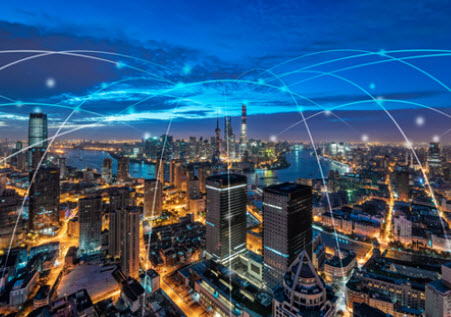 LAS VEGAS, NV, October 27, 2018 — International Spirits and Beverage Group Inc. (OTCQB:ISBG) ("ISBG" or the "Company"), a top-tier brand incubator in the Global Wine & Spirits market, is excited to announce material advances in the Company's implementation of its Internet-of-Things ("IoT") technology solution as it incorporates new CBD products into core operational strategy.
The company, in partnership with Bengala Technologies LLC, ("Bengala"), has been developing a groundbreaking logistics and supply chain management solution that relies heavily on a marriage between Blockchain and IoT technology to streamline and "smarten" the process of bringing new brands to market in the craft spirits industry.
According to management, that same technology is proving valuable as the company expands into the CBD marketplace with its new line of CBD products following its collaboration with a leading CBD products company.
"The internet of things, or IoT, is a system of interrelated computing devices, mechanical and digital machines, with unique identifiers and the ability to transfer data back and forth over a network without requiring human-to-human or human-to-computer interaction," said Arnaldo A. Detrés, CEO of Bengala Technologies, LLC. "Our technology is already sufficiently advanced to begin to have a material impact on margins upon initial implementation into ISBG's operations, particularly as the Company begins to roll out its new line of CBD products and its coming pilot run of the new batch of Besado Tequila."
Management believes the implementation of its new QR code (quick response code) system can be used to register initial lots of production, track and trace units, load information, dramatically improve quality control, and improve the impact of marketing spend through information efficiencies.
Mr. Detrés continued, "IoT can be custom designed and made with sensors, GPS tracking, and embedded wireless services to extend both reach and functionality within our network. QR codes are made with immutable information. When implemented in the context of CBD product management, they can be used to streamline literally every part of the chain from supplier to customer, and offer critical supplemental data to augment inventory management."

About ISBG
ISBG is a Nevada-based alcoholic beverage company specializing in the development, marketing and global sales of innovative wine and spirits brands. The Company's expertise lies in the strategic development and aggressive early growth of its brands and establishing these brands as viable and profitable. ISBG intends to build its own brands while seeking out individual acquisition candidates to continue to develop its pipeline of new brands into the ISBG portfolio. For more information visit: www.isbg.global
ABOUT ISBG-BENGALA BLOCKCHAIN PROJECT
The Project is a blockchain and Fintech company that represents the partnership between ISBG and Bengala Technologies LLC, ("Bengala"), a development firm that specializes in tailored technology solutions with an expertise in blockchain and distributed ledger technology. The platform consists of a marriage between the Internet-of-Things and the Blockchain to produce a comprehensive product management solution for the beverage industry. The company is creating a single, functionally-integrated, decentralized system designed to streamline all steps from farmer to bartop or countertop, including logistics and marketing.

ABOUT BENGALA TECHNOLOGIES, LLC
Bengala Technologies is a Blockchain engineering firm that specializes in tailored technology solutions with a particular expertise in blockchain and distributed ledger technology. The Company has achieved excellence in the field of blockchain and data efficiency by creating and deploying custom decentralized blockchain apps in partnership with select clients, producing reliable, secure and transparent identities and operational platforms for businesses in a range of different industries and markets.

Forward-Looking Statements: This press release may contain forward-looking statements that involve risks and uncertainties. These statements relate to future events or our future financial performance. In some cases, you can identify forward-looking statements by terminology including "could", "may", "will", "should", "expect", "plan", "anticipate", "believe", "estimate", "predict", "potential" and the negative of these terms or other comparable terminology. While these forward-looking statements, and any assumptions upon which they are based, are made in good faith and reflect our current judgment regarding the direction of our business, actual results will almost always vary, sometimes materially, from any estimates, predictions, projections, assumptions or other future performance suggested in this report. Except as required by applicable law, we do not intend to update any of the forward-looking statements so as to conform these statements to actual results. Investors should refer to the risks disclosed in the Company's reports filed from time to time with OTC Markets (www.otcmarkets.com).
Contact:
International Spirit & Beverage Group, Inc.
info@isbg.global
Bengala Technologies, LLC:
info@bengalatech.io
ISW Holdings Continues Anti-Dilution Agenda by Eliminating Major Convertible Note with $363k Preemptive Payment
LAS VEGAS, March 9, 2021 (GLOBE NEWSWIRE) – ISW Holdings, Inc. (OTC: ISWH) ("ISW Holdings" or the "Company"), a global brand management holdings company with commercial operations in Telehealth and Cryptocurrency Mining, is pleased to announce that the Company has paid off and canceled a major convertible debt note by allocating $363k to settle the outstanding obligation and remove it from the books.
"As our financial reality has shifted over recent months, we have an opportunity to drive value for our shareholders in many ways, including eradicating dilution risk by being proactive in addressing outstanding liabilities," noted Alonzo Pierce, President and Chairman of ISW Holdings. "Without this action, the note would have had the potential to convert at a 50% discount to current share pricing. We weren't comfortable with that potential outcome, so we deployed capital to eliminate that risk."
The Convertible Note that has now been canceled presented a dilution risk for shareholders upon potential conversion into equity at as much as a 50% discount to market pricing for shares. Management is committed to preventing dilution risk as part of its official anti-dilution strategic initiative, introduced last year. The Company has regularly and consistently taken steps to eliminate, cancel, or pre-empt dilution risks such as those presented by convertible debt notes since announcing this initiative.
This announcement follows the Company's recent moves to energize its initial POD5IVE crypto mining unit and to acquire the means to assemble and energize…
ISW Holdings Triples Active Cryptocurrency Mining Fleet with Additional POD5IVE Mining Pods
LAS VEGAS, March 2, 2021 (GLOBE NEWSWIRE) – ISW Holdings, Inc. (OTC: ISWH) ("ISW Holdings" or the "Company"), a global brand management holdings company with commercial operations in Telehealth and Cryptocurrency Mining, is pleased to announce that, following the signing of hosting agreements with Bit5ive LLC and Scrubgrass Generating Company, LLP, based in Kennerdell, PA, the Company has successfully tripled its active Cryptocurrency mining fleet with the addition of two (2) new POD5IVE datacenters.
The Company now operates three POD5IVE datacenter units and anticipates a record acceleration in cash flows, revenue growth, and profitability ahead.
The POD5IVE datacenter, produced in partnership with Bit5ive, is based on an evolutionary design, and includes the following specifications:
• Active Mining Power: 62-92 Th/s depending on the miners
• SHA 256 Hashrate: Currently 6,557.28 TH/s
• Per POD5IVE quantity: 3x 280-360
• Depending off each miner, 1x 280 and type of miner: 3x Up S17/T17, 1x up to S19/T19
• Power capacity for all POD5IVE: Each can go 2x 800A, 2x 1000A, or 2x 1200A
• Total power capacity per POD5IVE: 4x 920,038.40 Watts, Current site is using 800A fuse per service
• Container Size: 40′ x 8′
• Shelving: 3x with 10 medium Racks, 1x with 4 large racks
• Voltage: 415V 3 Phase
• Ventilation: Passive airflow with a temperature controlled evaporative cooler. 133,000 CFM total each.
• Digital smart (breakers,…
ISW Holdings Negotiating Purchase of Additional 300 to 900 Cryptocurrency Miners in Preparation for Phase 3 Expansion in Mining Operations
LAS VEGAS, February 11, 2021 (GLOBE NEWSWIRE) – ISW Holdings, Inc. (OTC: ISWH) ("ISW Holdings" or the "Company"), a global brand management holdings company with commercial operations in Telehealth and Cryptocurrency Mining, is pleased to announce that the Company is currently in negotiations toward the purchase of an additional large number of miners (between 300 and 900) in preparation for its coming Phase 3 expansion in mining volume.
The Company previously announced that it is currently launching its initial Pod5 Cryptocurrency Mining Pod, a fully self-contained high-PUE mining solution designed, assembled, and installed in partnership with Bit5ive, LLC, ("Bit5ive") at the Bit5ive 100 MW renewable energy cryptocurrency mining facility in Pennsylvania.
Expansion involves assembling, equipping, and powering up additional Pod5 units, each of which houses 300 miners and is capable of driving roughly $2.9 million in annualized revenues at current cryptocurrency market pricing. Management is targeting the acquisition of 900 new miners capable of equipping three (3) new Pod5 units, which would lead to an additional $8.64 million in annualized revenues from mining activities at current market prices.
As noted in prior Company communications, the Company began a four-phase process last year.
Phase 1 (completed) was about integrating leading design solutions and establishing a supply chain to bring in industry-leading parts and equipment for the Pod5 mining solution.
Phase 2 (completed) was about assembling and shipping its initial Pod5 unit.
Phase 3 (underway) is the mining launch – targeting…