NEXO Token Holders Receive US$2,409,574.87 in Dividends

Nexo is delighted to announce that the Dividend Payment of US$2,409,574.87 to NEXO Token Holders scheduled for August 15, 2019, is now complete.
NEXO Token Holders can simply log in to the Nexo Mobile App to view the dividend that has been credited to their wallets.
The annualized dividend yield is an impressive 12.73%, which surpasses all of the highest dividend-paying stocks in the S&P 500.
Nexo's innovative dividend-distribution methodology rewards long-term investor confidence and also decreases market volatility around ex-dividend dates. It consists of two parts – the Nexo Base Dividend and the Nexo Loyalty Dividend, each making up 50% of the total amount in the current distribution.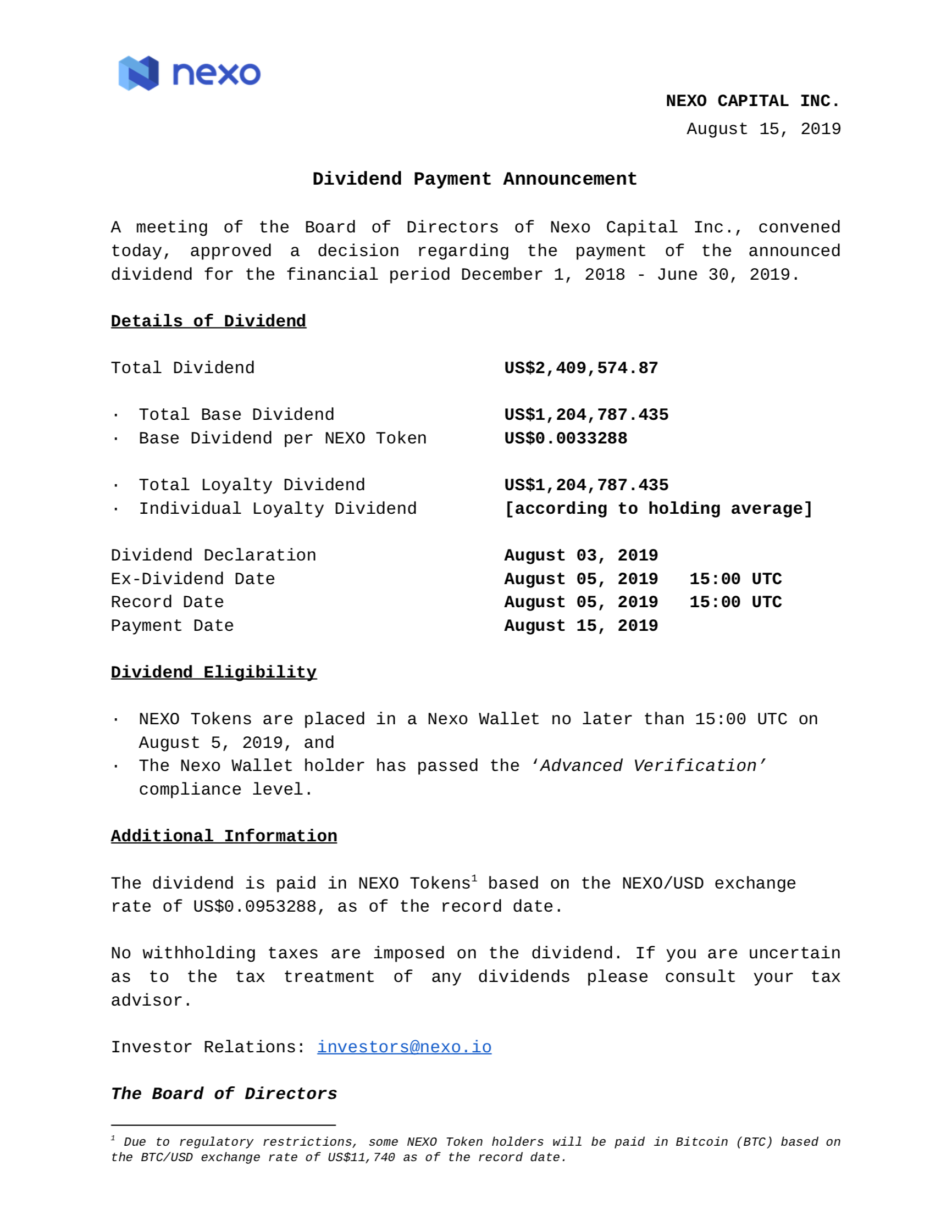 Since the April 2018 launch, Nexo has seen exorbitant growth of the registered user base to 250,000+ and has gained significant market share, making Nexo the market leader in Crypto FinTech.
Nexo's impeccable and innovative marketing strategies, unrivaled customer support, combined with a substantial upswing in crypto asset prices across the board has ensured unprecedented demand for Nexo's signature Instant Crypto Credit Lines™.
This has given us the means to further give back to the community, by allowing investors from around the world to generate 8% with Nexo's high-yielding 'Earn Interest' product.
The launch of the Nexo Mastercard, the acquisition of commercial banking capabilities and bridging the gap between traditional and decentralized finance all ensure Nexo's lead in the market and the sustainability of our long-term growth rates.
The entire Nexo Team is dedicated to making sure that our savvy investors earn ever-larger returns on their investment.
In addition to regular and growing dividend payouts, the team is working on the NEXO Token Utilities 2.0 that will bring a plethora of new amazing utility features, including, but not limited to:
Better interest rates on all Nexo products
Premium features and functionalities
Higher Nexo Card Cashback
Exclusive Nexo Card designs
Affiliate commissions
Invite-only access to products and events
This Utilities 2.0 overhaul ensures a continuously growing demand and appreciation of the NEXO Token.
To participate in Nexo's financial success, make sure to purchase NEXO Tokens on Huobi, the community's most preferred cryptocurrency exchange.
Thank everyone for their ongoing trust and support!
Alpha Capital LLC and OncoGenerix announce a new US-based pharmaceutical factory with tokenized ownership (ONGX Tokens)
Novel and generics pharma producer OncoGenerix and Alpha Capital LLC are launching a new injectable pharmaceutical factory in the US, both companies announced in a press release.  The new production facility will be similar to the one that OncoGenerix already operates in China, the company stated.  Alpha Capital LLC also said it is considering a Georgia Opportunity Zone as the location for the new plant. The output capacity of the new project is expected to reach 20 million vials of injectable oncology products and vaccines. OncoGenerix has recently completed a state-of-the-art pharmaceuticals factory in Mudanjiang Province, China. 
The announcement follows an international capital raise that Alpha Capital, LLC initiated in May.  The offering is a first-of-its-kind digital investment opportunity, which includes tokenized ownership of a pharmaceutical facility. Alpha Capital, LLC said it is offering up to 500 million ONGX Tokens at US $0.12 per token and a US onshore offering of shares in Alpha Capital's special purpose vehicle. The ONGX Tokens are built on the ERC20 blockchain protocol, serve as a SAFE (simple agreement for future equity), and will be exchangeable at the option of the investor for equity-token securities..
"Our joint…
Revolutionary Blockchain-Powered Social Media Platform Hyprr Set To Launch In August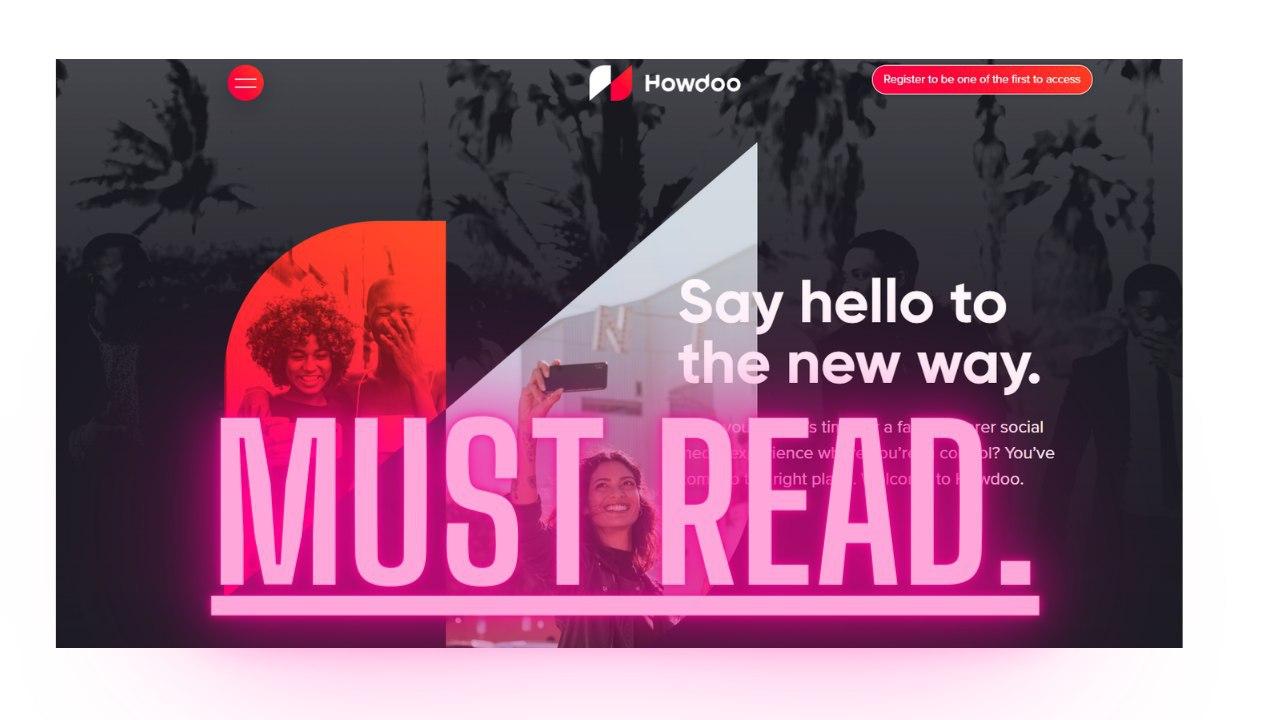 This could be a game-changer as Hyprr (formerly Howdoo) incorporates most of the benefits of other social media platforms and combines them into one. Oh…and it's also on the blockchain, so censorship-resistant you could say. 
HowDoo officially changes its name to Hyprr. The team is pleased to finally announce the launch of their new blockchain-powered social media platform Hyprr going public in August.
Why Hyprr? You may ask.
The answer is simple and straightforward.
The current social media landscape is no longer sustainable. There have been several cases of data breach and unauthorized mining of users' data. The owners of the popular social media platforms wield too much power and take arbitrary decisions. It is really all about them and what they want, when in fact, it should be about the users.
Now is the time for a change. This is why the idea of a social media platform truly powered by blockchain technology is an exciting one. A platform that gives full control and ownership to users, a safe and secure space where users can decide what happens to their information. A social media platform where content creators are duly paid and rewarded for their content. The good news is, a social platform like this already here, it is called Hyprr. Let's say you're a content creator with a few thousand followers, well under youtube's…
Casino Card Games Everyone Should Know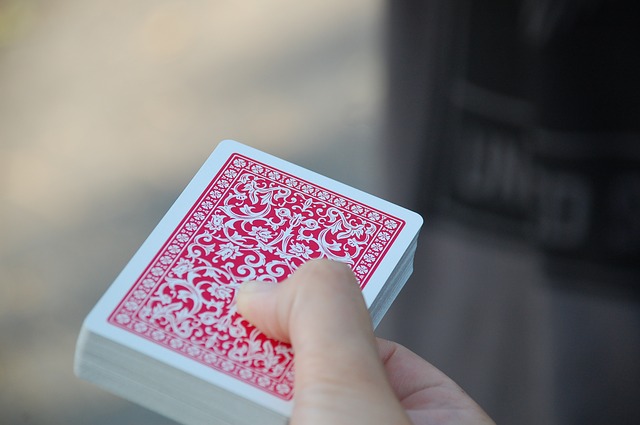 Do you know how to play the most iconic, rewarding, and popular casino games? Surely you thought of roulette and slots first, but you might be surprised how much more lucrative and exciting playing card games can be. 
Ok, we understand that poker takes a lot longer to learn and master than blackjack. But out of this list of the top casino card games, it's definitely a favorite of players all around the world. Card games generally tend to challenge us a little more than the other games like slots and roulette. Perhaps that's the reason why players who love blackjack or baccarat usually stick to them. 
Some card games are based mostly on luck, but the ones that challenge you are a lot of fun as well. Here are the classic card games you'll find in every casino, including online at sites like 888 Casino.
Blackjack – The World's Favorite Casino Card Game
The blackjack table is usually crowded when you visit a casino, that's because blackjack players understand what they can gain. Blackjack has the highest return to player rate out of all the table games. Roughly 99.7% of all the money the casino earns from blackjack goes back to players!
Moreover, with blackjack, you can choose from several different variants, so even if you are a pro, you don't need to feel bored. Plus,…