How 3D-Token Could Revolutionize the Manufacturing Space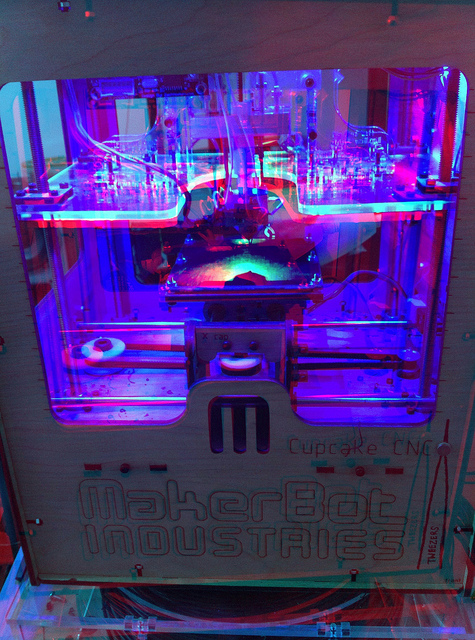 One of the key arguments used in opposition to cryptocurrency is the lack of real-world value. The makers of the upcoming 3D-Token have completely sidestepped that argument, augmenting their existing business structure with a cryptocurrency that effectively fuels their 3D printing network. Politronica is an offshoot of the well regarded Italian Institute of Technology in Turin, Italy. Throughout the past decade, the Institute has received multiple grants from the Italian government to fund experimentation in the field of 3D printing – something that the Institute has since excelled at.
Over the course of the past year, they have started prototyping their "Just In Time" factory model. This proof of concept model contained one hundred 3D printing units and had 50 members within the network to stress test the system. The prototype was a complete success, and Politronica is ready to start deploying their "Network Robots' Workforce' at production scale. They are expecting to increase the number of printers by a factor of 30, and increase the network member size accordingly. To do this, they will use the 3D-Token blockchain as a facilitator. They are hoping to see over 20 million hours of effective production per year, once the workforce is fully up and running.
The 4pointzero.net Factory
Politronica envisions a centralized factory space where customers can pay for production time through their Network Robots' Workforce. They've titled this factory 4pointzero.net, and it will exist as a means to easily lease 3D printers. The leases are by necessity short term and would be used to produce a limited run of products. This, in turn, allows the customer to produce items on an as-needed basis, avoiding inventory costs while still providing products to the end consumer promptly. While they have proven that the technology is functional, they have yet to fully integrate the blockchain network into the system. That's the next hurdle they have to cross, but their academic pedigree suggests they will succeed.
3D Printing is an explosive emerging technology and has finally reached a level of public acceptance and mass adoption. The cheapest 3D printers are now becoming comparable in price point to higher-end traditional printers. Industries are looking at the myriad ways they can incorporate 3D Printers into their production processes, with some specialty manufacturers converting entirely to a printer based business model. Even assuming that demand remains where it is today, rather than rises as predicted, leased 3D printing time would come at a stiff premium.
Integration of the 3D-Token
To help combat this inevitable traffic jam of consumers looking for 3D printing solutions, Politronica has developed the 3D-Token, or 3DT, cryptocurrency for use within their factory. The ERC20 smart contract capable token exists as a digital stake in production time at the 4pointzero.net Factory. Holders can spend the token to reserve production time within the Network Robot's Workforce, and ensure that their inventory arrives promptly. The customer can stockpile an amount of 3DT necessary to ensure that they can always provide the inventory that they will require, while not having to spend the money to keep the inventory in stock.
As with any cryptocurrency, it can also be traded person-to-person on an exchange or through Politronica's own 3Dwix.com network, ensuring a consistent value against the Ethereum standard. The token can also always be sold back to Politronica, should the customer decide that they will no longer require that reserved production time. There is also an intention to create 3D-crowd.com, a form of crowdfunding site where users can donate 3DT to start-ups seeking to fund their 3D printing based projects, efficiently crowdsourcing the leased printer time itself.
Blockchain Technology in Parallel with Bleeding Edge Manufacturing
3D-Token shows a complete synergy between two emerging technologies; Blockchain networking and 3D printer manufacturing. Both industries are seeing almost unprecedented growth, and Politronica has managed to combine the two in a way that legitimately uses the strengths of both. Their token generation event sold out in only ten days of the expected two-month pre-sale period. This suggests the cryptocurrency investing public at large has confidence in both the existing Politronica infrastructure, and their intended final product.
You can watch the ICO live here.
You can also scroll through the whitepaper here.
Disclaimer: This article should not be taken as, and is not intended to provide, investment advice. Please conduct your own thorough research before investing in any cryptocurrency.
Image courtesy of Jenna Fox via Flickr
Wirex adds WAVES to its Platform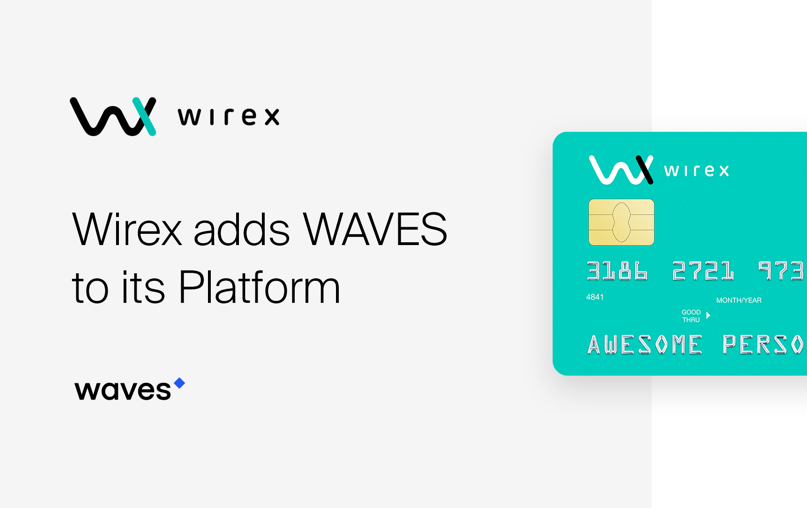 London UK, January 10th2018 – Wirex, the UK FCA-licenced digital money platform that facilitates the seamless conversion of cryptos and traditional currency, has joined forces with Waves to add the in-demand WAVES token to its platform. The WAVES token holds a unique place in the cryptocurrency spectrum because its underlying utility addresses some critical hurdles that hinder the mainstream adoption of blockchain technology, such as scaling, interoperability, and security.
Sasha Ivanov, CEO and Founder of Waves Platform, says, "We see Waves as the bridge that will facilitate the transition from web 2.0 to web 3.0. The goal of our team is to put tools in place that will allow both enterprise and individuals to easily implement their own blockchains while improving the UX of DApps and blockchain infrastructure."
Like Wirex, the Waves Platform was purpose-built, and since its launch in 2016, Waves has become one of the fastest, most secure and user-friendly public blockchain platforms available.
In terms of its underlying protocol Waves is closer to Ethereum than Bitcoin. Ethereum is used to develop various DApps, but it can be expensive due to its Smart Contract language complexity and Gas fees that can grow dramatically over time. Waves Smart Contracts are simplified – they are a plug-and-play solution with fixed fees. Another improvement is the Waves-NG protocol with throughput of up to 1000 TX/s.
Make Profit in the Bear Market? Recommend the 1st Cryptocurrency Futures Exchange – Bexplus
In 2018, Bitcoin has declined from $20,000 to $3100. Is $3100 the bottom of BTC and will the bull come in 2019? I don't think there will be a bull in the cryptocurrency market next year. Instead, it may keeps "steady" price fluctuation, which means Bitcoin price goes up and down but hard to rebound to $20,000 in 2019. So is it possible to earn money during the cryptocurrency bear market? Absolutely YES!
If you've traded BTC spot before, you must know that you can only make profits when its price rises. Different from the spot trading, Bitcoin futures contract as well as other altcoins futures trading are popular among investors, because it gives investors chance to earn money even during the bear market.
What is Cryptocurrency Futures Trading?
Cryptocurrency futures contract enables you to enter a larger trade with a small number of assets that you possess. You can earn money in both directions. For example, buy/long BTC means that speculator can place a "bet" on BTC rising. On the contrary, sell/short BTC means to "bet" on BTC falling. Besides, with X times leverage added, investors can enter a large trade though they hold a smaller amount of BTC. Some investors, especially the beginners may think that futures trading is relatively high risk. But different from the traditional futures contract, Perpetual contract allows you to set stop-profit…
Introducing Interdax: The fastest new crypto trading platform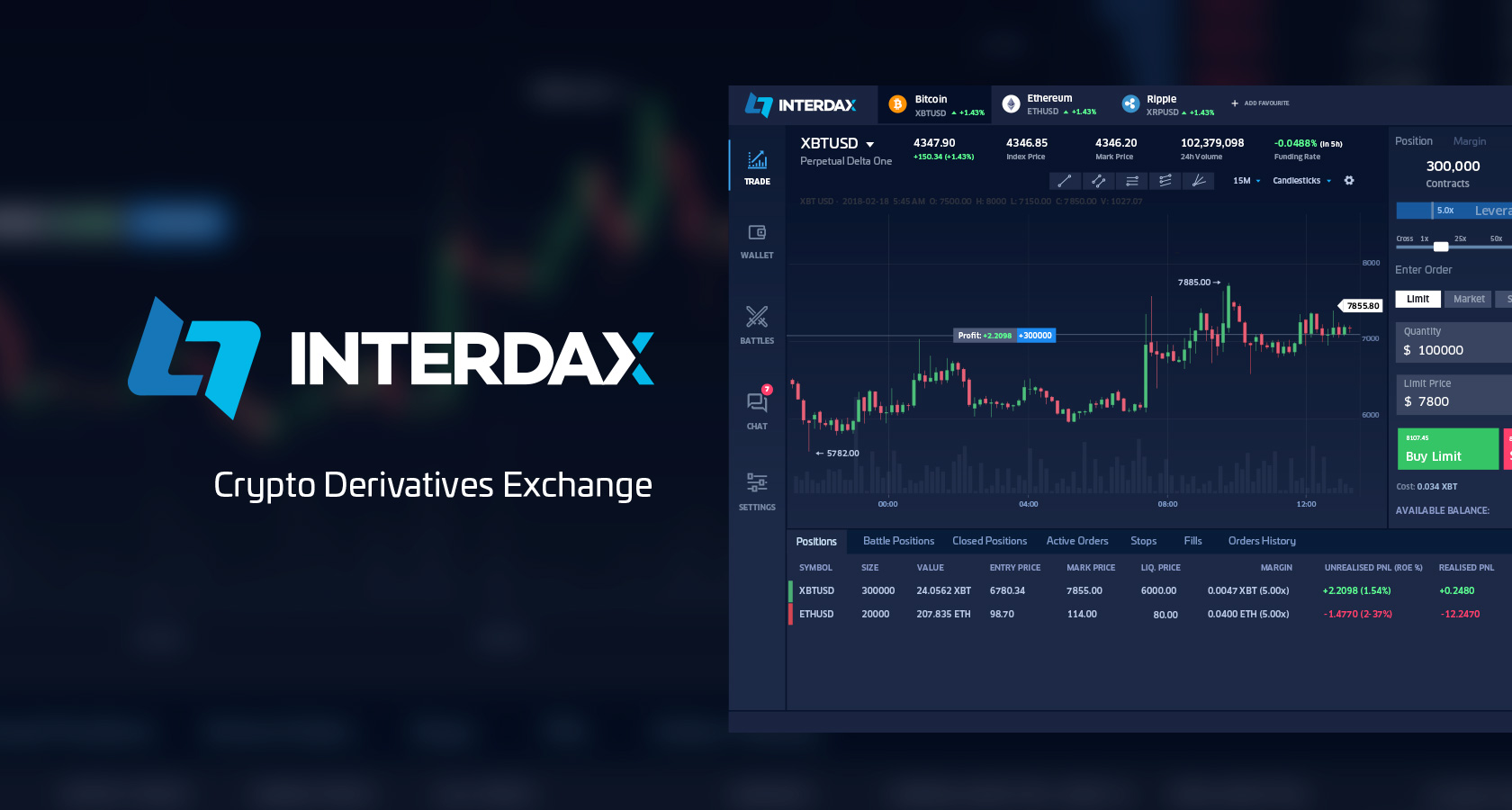 Considering the rapid development of cryptocurrencies, as well as the increase in their popularity and trading volumes, it is also necessary for crypto-related services to advance as well. As modern problems require modern solutions, the newest services can often make quite a difference, if they are done right.
One such service is Interdax — a new, international crypto trading platform that focuses on derivatives, primarily perpetual swaps, and futures. Interdax is a big project that has been under development for over 18 months. After spending so much time working on it, developers are finally ready to push it out of the stealth mode, and into the market.
The platform itself expects to bring massive change to the market through superior technology and innovation. In fact, many believe that Interdax might become a direct competition even to big names such as Bitmex within a few months, mostly due to their excellent offers, such as 100x leveraged perpetual swap contracts with the underlying coin as collateral.
Team & Tech
Interdax aims to become a Wall Street-grade derivatives exchange, and to achieve this, the platform needed to hire a team of experts with a long history in finance and development. The majority of the team members came from well-known financial institutions of the City of London, and even Wall Street itself. This also shows the team members' faith in the project,…