An In-depth Review of the New SuchApp Messaging App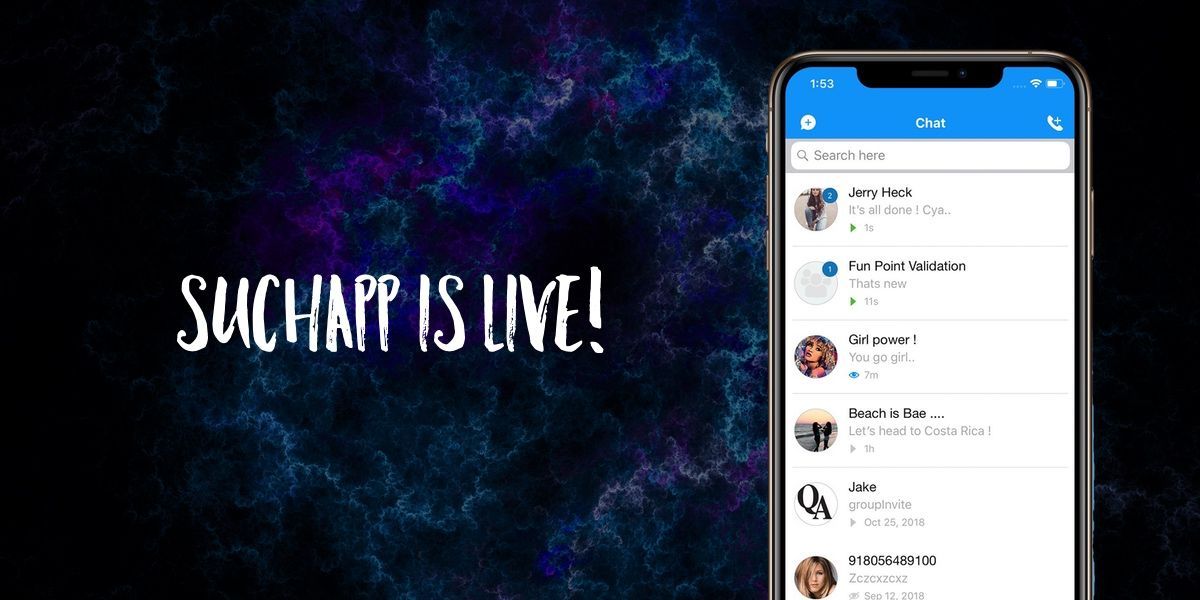 SuchApp has launched and with that comes the next generation of a multi-functioning messaging app which will open doors to targeted communication with individuals and groups. There is unlimited potential in business growth and advertising as well as interactive campaigns and communication with a broad audience.
Join A Group
There is a growing list of groups being developed by leaders and influencers who see the potential for targeted growth in their sectors. Retail and Commercial business owners want to be where the people are, and SuchApp has diverse functionality to reach a global marketplace. What's more, SuchApp offers uncapped groups, meaning an you have the ability to communicate and network with an unlimited number of people in your target groups.
There are three different types of groups: private, open and secure. What differentiates between them is the ability to keep it open to the public, be invite-only, or launch secure closed groups.
One of our popular open groups is Dogs. Small businesses are beginning to promote their products or services. Large businesses can share their latest sales. The Dogs group invites dog lovers, groomers, pet supply businesses, veterinarians, dog sitters. Like-minded people can find a local dog park and hang out.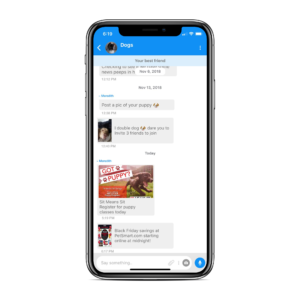 Broader topic open groups like Cryptocurrency and Blockchain offer the latest news and market information with curated articles, polls, and interaction with real life people, not bots.
Group functions
SuchApp groups can be as niche or broad as one's imagination. Post directly in the group for everyone to see, or use the Activities function to send directly to group members only.
Share a poll and get insight into what people think or desire. Using the app gets realtime results in A/B testing.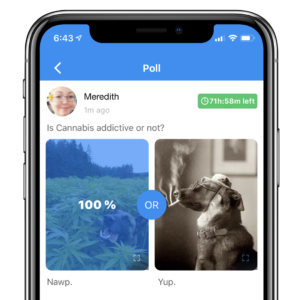 Use the campaign function to schedule posts like birthday and holiday wishes, or share targeted advertising and special deals to your group.
Explore other groups and expand your business circle. Join public groups or send a join request to private business groups. The opportunity of finding local businesses, making new friends and growing your network just became limitless.
End-to-end encrypted messages
SuchApp respects the privacy of everyone which is why we adopted end-to-end encryption which guarantees zero intrusion from third parties. Keep your personal texts, photos, voice messages, and documents safe and secure.
What's coming…
The dev team is working tirelessly to get all functions that we promised delivered. Our multi-function app promises next generation, real world solutions for business, brands and individuals who like to keep the world at their fingertips.
Business solutions
We're onboarding more and more businesses who see the value of our business solutions such as:
Video conferencing and livestreaming. Immersive. Inclusive. This powerful technology will allow groups to interact for realtime offers and solutions.
SuchAppay integrated digital wallet. Store or use your digital currency using our secure services including e-commerce functionality.
One-click loyalty programs for all groups offer interactive and
proactive tools to increase brand awareness.
Be an influencer with photo and video editing that showcases you in the best possible way which include photo editing, stickers and live filters.
We're also working on a desktop version!
What are you waiting for? Download SuchApp for iOS or Android today.
Top 3 Cryptos to Serve as an Alternative to Bitcoin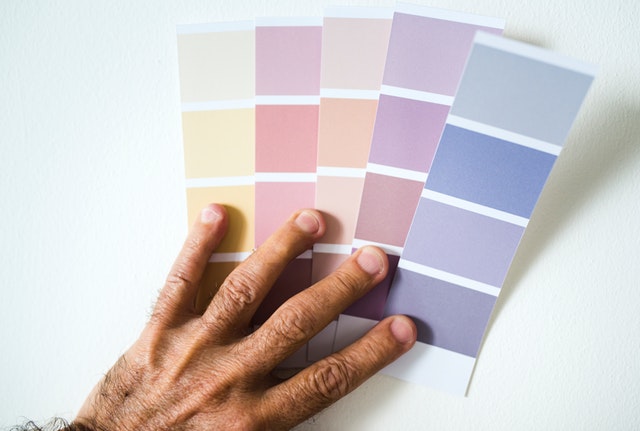 The crypto market continues to struggle on its way of reaching mass adoption, with most people focusing on Bitcoin. However, Bitcoin still has its fair share of problems, a few of which are quite challenging, with no guarantee that they will ever be fully solved.
While Bitcoin is, and has been the largest cryptocurrency from the moment it was created, there is no guarantee that it will remain at the number one spot forever. While this is mostly what skeptics tend to say, it is still a possibility that cannot be ignored. With that in mind, here are top 3 cryptos that might serve as an alternative to Bitcoin in the future, or maybe even now, considering how high its fees are, and how long its waiting periods tend to be.
1. XRP
XRP has become known as a 'remittance coin' due to its goal of providing better, faster, and cheaper international transactions. It was created by a company called Ripple Labs, and so far, it has been one of the best ways for sending money cross-border. It works in combination with Ripple's products such as xRapid, fueling it and allowing for near-instant transactions at low fees.
The company has decided to offer its products to banks around the world, and most of the financial institutions decided to accept the offer. This is their way of trying to…
Why HODLing XRP, BAT, and EOS is a Smart Idea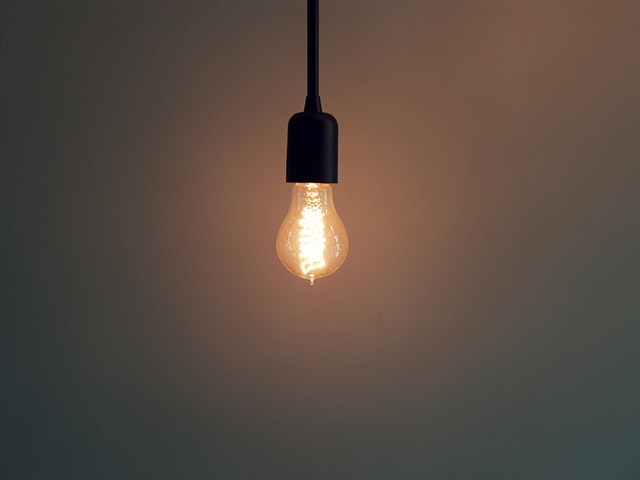 The crypto market continues to grow, even though the prices of its many coins were severely damaged during the so-called 'crypto winter' of 2018. Even so, the market has grown a lot, and it currently features over 2,100 digital currencies, all parts of their own projects, with a goal of making an impact and entering the mainstream.
Of course, it goes without saying that not a lot of these coins have real potential. Many of them came to be during the ICO craze of 2017 and early 2018 when investors were willing to buy just about any coin. As a result, new startups emerged, each offering its own cryptocurrency. Most of these coins are believed to be bad projects with no future, with only a matter of time before they are declared 'dead.'
However, there are several coins out there which are worthy of investing in, as well as HODLing on to them. Three such coins that we will focus on today are XRP, Basic Attention Token (BAT), and EOS.
XRP
Let's start with XRP. This is a coin created by a company called Ripple Labs. As a result, the coin has a strong connection to the company, which many have taken as proof that it is not a real cryptocurrency, that it is centralized, and that it will eventually fade away as a bad project.…
Why XRP is Worth Much Less than What Fans Expect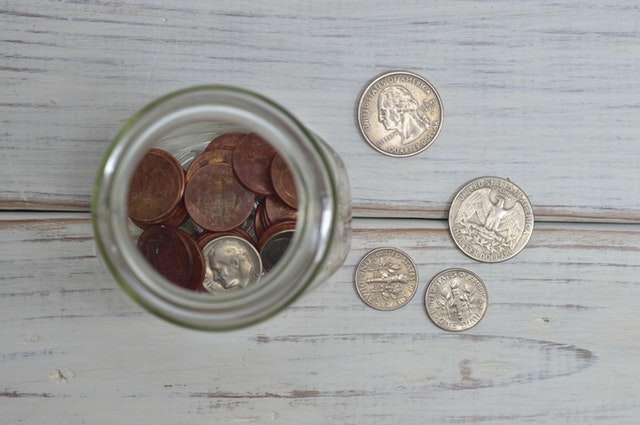 The crypto world is currently facing an uncertain situation as a result of XRP value. Many fans of the digital currency are arguing that the worth should be higher than what it now. A poll taken by Twitter this year showed that 80% of the participants want XRP to be higher than Ethereum. The participant preferred the digital currency to occupy the second largest position against what experts thought. Since XRP has not offered much to improve its reputation, the participant's reaction was surprising indeed.
From what we have seen so far, one question to ask is, why does the cryptocurrency have many supporters? The simple answer is that Ripple focuses on offering remittance services to its fans more than other digital currency. The company offers many products of which one known as xRapid a cross-border payment service impress many supporters.
Why Fans expect an increase in value
Weiss Ratings did not hide the fact that their agency is not supporting Ripple. However, they admitted that the global payment platforms which the cryptocurrency created are commendable. This commendation proves that Ripple has been impactful in that area of blockchain tech application. Also, the players in the community have seen these achievements as well. Therefore, it is not a surprise that they expect an improvement in the market cap and price of XRP
Many people have raised arguments…