Cryptocurrency Universe Technical Analysis – Nvidia (NVDA) Unleashes A Sea-Of-Red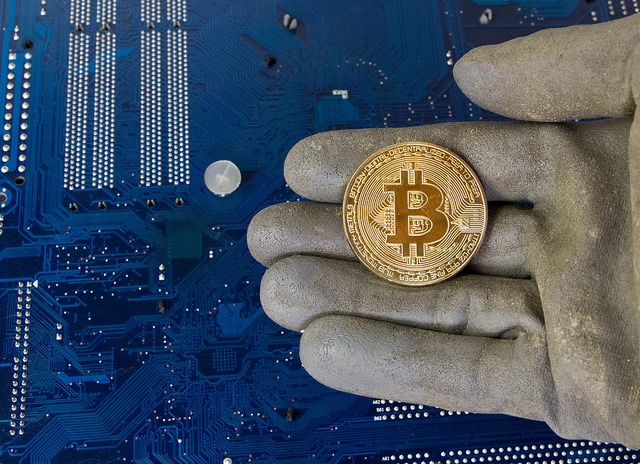 Mid-yesterday afternoon, the entire cryptocurrency universe found itself under selling pressure with rumors that large blocks of Bitcoin (BTC) were being unloaded once again by the Mt. Gox custodian, which forced prices lower across the board, yet soon thereafter, prices started to stabilize.
However, after stabilizing throughout afternoon trade, a second wave of selling hit the entire cryptocurrency landscape when Nvidia (NVDA) announced their quarterly results after the 4PM bell and disclosed that while quarterly sales had topped expectations, it was also revealed that a greater portion of their demand for its powerful graphic processors (GPU) were derived from the cryptocurrency space (non news event in our view as such has been known for quite some time).
Nevertheless, it appears that what NVDA had to say next is more than likely what triggered the sharp selling pressure, which persists as we presently stroke the words on the keyboard.
The company (NVDA) stated, that while it generated $289M (excellent number) in sales to Miners during its quarter, CFO Colette Kress also noted that the company expects cryptocurrency related sales to fall 65% to roughly $100M in its next quarter, which lit the wick for yet the second wave of selling, which continues to act as a drag on the entire space.
Whether both (Mt. Gox suspicions or Nvidia news) events are worthy and or justifiable reasons/contributors for the resulting sea of red throughout the cryptocurrency universe, it appears nonetheless, that both investors/traders have responded via activation of the sell button as we can observe via the charts below: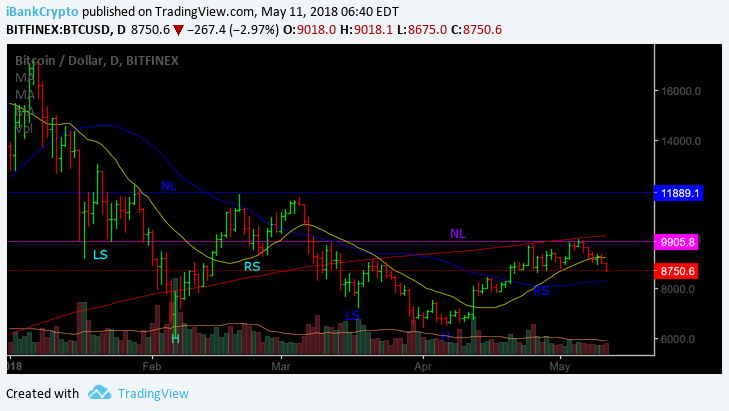 As we can observe from the action in Bitcoin (BTC) above, BTC now finds itself flirting with important short-term support located at the 8650-8750 zone. This area of potential support will more than likely need to hold/sustain in order to corral any additional selling.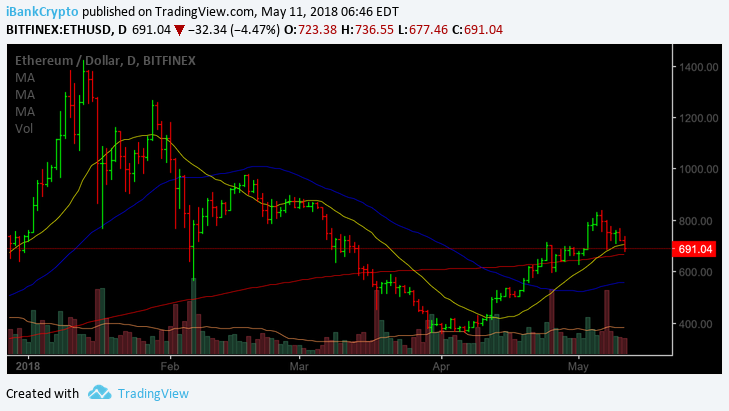 Looking at the chart of Ethereum (ETH) above, while ETH presently finds itself in a favorable technical posture – for now, we can also witness that ETH is finding its way back to its 200DMA (red line) located at roughly the 660 level where both investors/traders may want to monitor closely for signs of potential support.
The current selling pressure has taken its toll on IOTA (IOT) as we can observe above, whereby IOT was shaping-up and acting as a recent leader from a technical perspective and now finds itself violating its 200DMA (red line). Additional meaningful potential support resides in the 1.60-1.70 zone.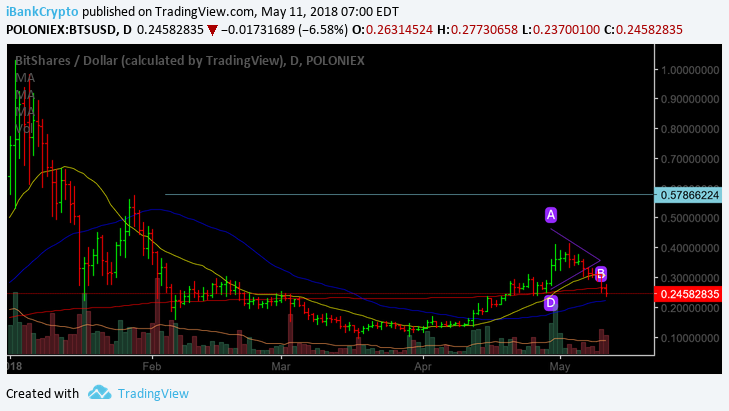 BitShares (BTS) has broken beneath its triangle pattern as well as its 200DMA (red line) as can be observed above and now finds itself flirting with critical potential support at the .238-.24 level and will need to hold in order to stem the tide.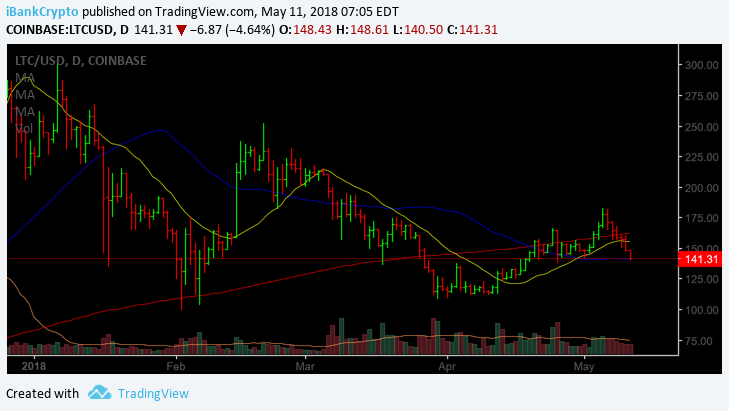 Taking a glance at Litecoin (LTC), we can observe that LTC is now resting on its 50DMA (blue line) and testing its potential support zone in the 138-142 local. This level will need to hold or, LTC may just find the slope slippery down to its next potential level of support located at the 124 level.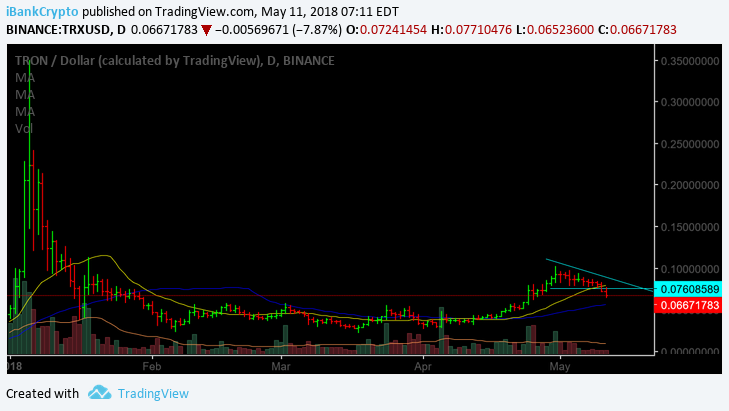 Observing the chart above of Tron (TRX), we can see that TRX has violated its triangle pattern to the downside and as many of the previously noted names, it too also finds itself flirting with meaningful potential support located in the .062-.065 range.
Needless to say, the past eighteen hours have wrecked havoc throughout the entire cryptocurrency universe from both a price and technical perspective whereby, we now find many names and or technical levels at a critical juncture from a short-term perspective. Let's see if a bid materializes throughout and puts a halt to the sea of red or if we're to treated to additional pressure moving forward.
Happy Trading!!
For the latest cryptocurrency news, join our Telegram!
Disclaimer: This article should not be taken as, and is not intended to provide, investment advice. Global Coin Report and/or its affiliates, employees, writers, and subcontractors are cryptocurrency investors and from time to time may or may not have holdings in some of the coins or tokens they cover. Please conduct your own thorough research before investing in any cryptocurrency and read our full disclaimer.
Image courtesy of Marco Verch via Flickr
Chart courtesy of tradingview.com
Bitcoin ETF approval is imminent
Could Securities and Exchange Commission (SEC) commissioner, Elad Roisman be the missing piece to the approval of Bitcoin ETF? That thought is as a result of a meeting between commissioner Roisman and options exchange CBOE, investment management firm VanEck alongside blockchain technology company SolidX.
The Bitcoin exchange-traded fund (ETF) was proposed in June but got denied by the federal regulation. The next deadline for the decision to be made is December, and for now, it seems that the approval confidence is 'high'.
All issues seem to be resolved, Bitcoin ETF approval imminent
The SEC had highlighted some issues on the bitcoin ETF proposal that they said were the major reasons for the denial. Now if we look at the meeting comments, during the discussion, SolidX, VanEck, and CBOE convinced Roisman that all the cited issues had been addressed and the proposal is ready for approval.
According to sources, the issues raised and cited by SEC concerning the approval of Bitcoin ETF earlier are now fixed; such as the existence of a significant regulated derivatives market for Bitcoin, relevant markets such as bitcoin futures, CBOE, and OTC desks are all regulated. The presentation also emphasized that two other major SEC anxieties including Bitcoin price manipulation concerns mitigation as well as investor protection are ensured now.
Bitcoin (BTC) and Litecoin (LTC) adoption on the rise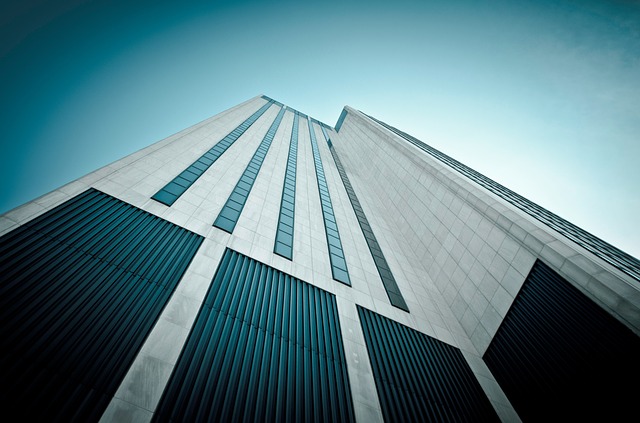 A famous New Jersey-based Italian eatery, Pompton Lakes, has opened its arms for Bitcoin and Litecoin payments.
When it comes to virtual currencies, many crypto pundits agree for these virtual assets to gain and appreciate, they need to be adopted and be put in use in the way they were designed to, and that is in transactions and exchange of coinage.
While this might not be the case for all digital currencies, some of the renowned virtual tokens like Bitcoin were originally considered as a means to transact between entities with the added advantage of convenience and privacy.
Sadly, even if virtual currency holders were willing to spend their digital assets on transfers and purchases, they would not find many appropriate occasions for doing so. That is why the latest news of an eatery starting to allow payments to be made in cryptocurrency is big news that is worth noting for investors.
Obviously, if more merchants and traders accept and adopt this mode of payment as an alternative to traditional modes of payment, the prices of Bitcoin, Litecoin, and virtual currencies in general, would be supported by real significant values.
Pompton Lakes Eatery Accepts Cryptocurrency Payments
Monica's Restaurant is old but modern wine and dines eatery joint that is situated on Lakeside Avenue in Pompton Lakes in New Jersey. Recently, the Italian Restaurant came out to announce to the public that they now allow their…
Will Ripple (XRP) advocacy hike affect bitcoin dominance of China?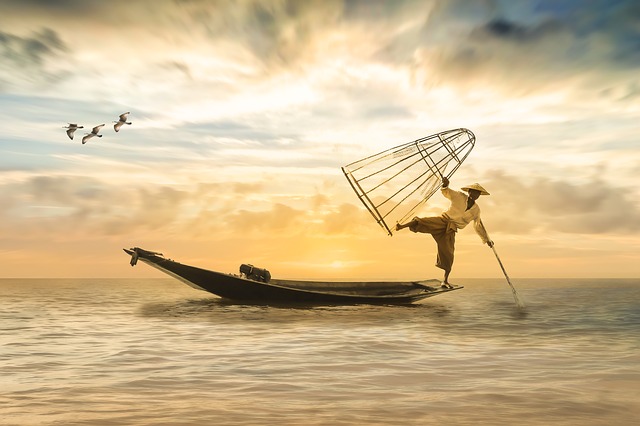 Currently, China is leading in Bitcoin mining industry by far, second to none for bitcoin mining power. Literally, it's contributing over 70% of the network's hash rate (a term that is used in describing the total processing power of a blockchain network). But how Ripple fits in here and what it has to do with that? We'll talk about that a bit later below, let's cover some in-depth facts about China's dominance over Bitcoin first.
It's a near-complete dominance by China on the BTC mining grid that has made it responsible for mining a majority of circulating bitcoins. A Beijing-based company, Bitmain Technologies, is highly responsible for extracting the significant part – more than half of the globe's bitcoin, and alone, it has approached 50% of the total hash rate more than once.
The fact that China is controlling a majority of Bitcoin hash rate, clearly tells that it has the power of manipulating or merely destroy the bitcoin network if it gets enough support should it decide to take such a move. Therefore, this has led to serious concerns among countries including the US that China might get an edge in this cryptocurrency industry and possibly becoming a potential threat.
China is the biggest manufacturer of Bitcoin as well as cryptocurrency mining equipment. The reason behind the massive growth of mining farms in the country is because of cheap electricity bills.
Furthermore, the country has adopted several…