Ripple (XRP) Price Technical Analysis: Market Stabilizing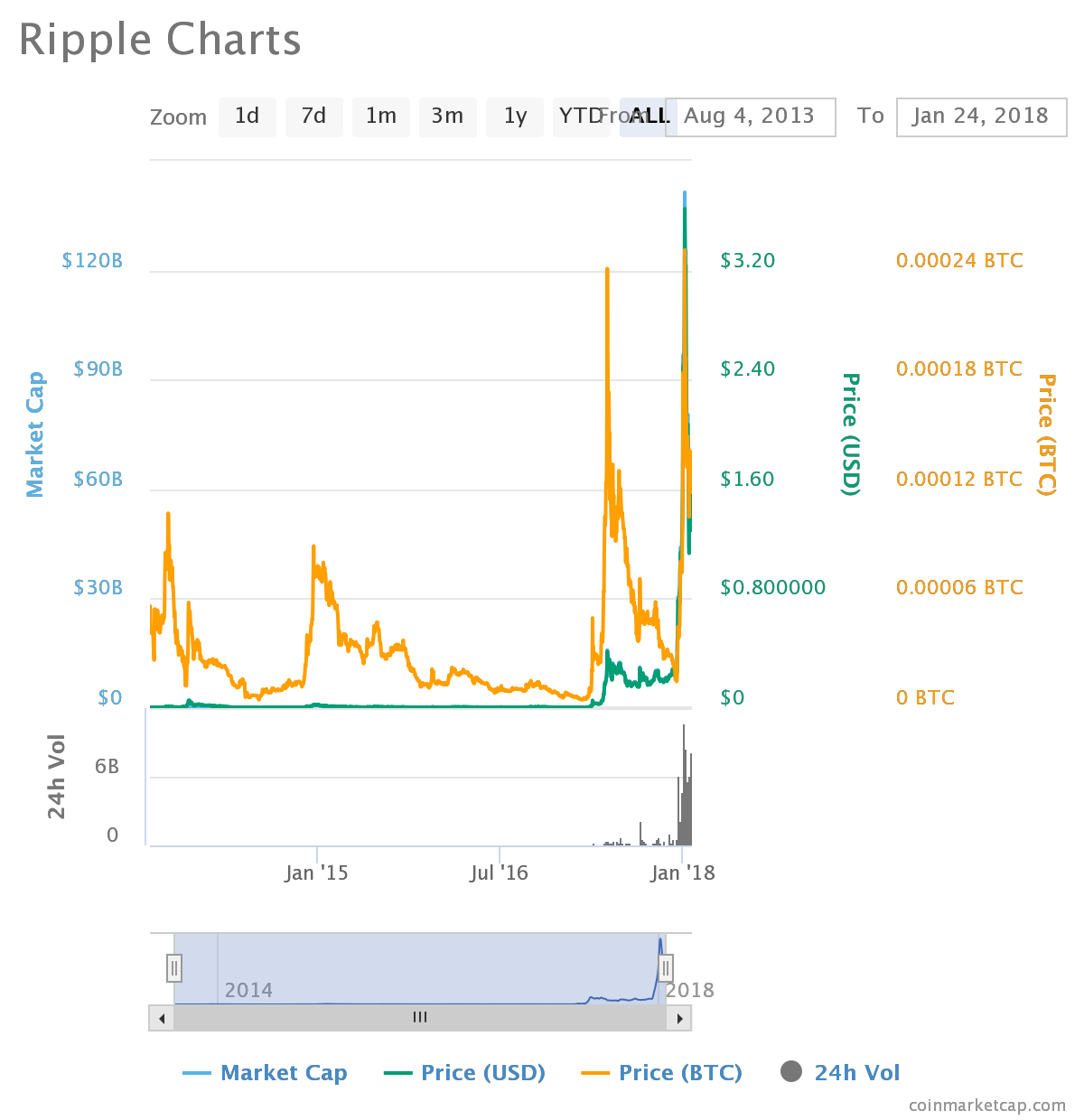 News for the cryptocurrency market, in general, seems bleak. Headline after headline seems to paint a miserable outlook for the crypto market.
Lest not we forget that Bitcoin hit its all-time high of $19,666 on December 17, 2017. That was ONLY about 5-weeks ago. At that time, the media, and most people familiar with the crypto market could not believe the gains that it was making. And for the most part, most people had no idea what the cryptocurrency market was.
Now that Bitcoin is back near $10,000, the media hysteria is the exact inverse of a month ago. Market sentiment in the cryptocurrency market is very fluid, and can change "overnight."
As the cryptocurrency market slump continues, Ripple is beginning to show early signs stabilizing. Chart #1 below, the daily price bar for January 23rd closed slightly up to $1.34366 with both a higher high and a higher low than the prior day. Moreover, the day's high briefly went above the 9-day moving average after testing a support level at $1.17709, as indicated on the daily chart.
Chart #1: Ripple Daily
Chart #2 shows a 15-minute chart with volume and momentum. The support level at $1.17709 shown in purple was tested three times. The third time was followed by an upward price move to $1.36570.
More importantly, the move was accompanied by a surge in volume, and an increase in momentum, as displayed in the chart. By mid-day, price retraced to $1.17889 approaching the support level again, and then made another upward move to the day's high of $1.44653.
This second upward move was also accompanied by momentum and even more volume. Ripple is beginning to show indication of hitting a bottom.
Chart #2: Ripple 15-Minute
For the savvy investors and traders, dips in markets are not something to panic about. Quite the contrary, a price dip to an investor is synonymous with a "sale" to a compulsive shopper.
The key is to catch the prices at their lowest. When markets seem at their worst, according to the market media pundits, this is akin to "black-Friday" for savvy investors (refers to the first shopping day of the holiday season).
The one sure fact we can come away with is that the cryptocurrency market is very "unconventional," and things happen "very , VERY, FAST!" It took Bitcoin 15-days to reach its all-time high of $19,666 from where it was trading at the same price as it is trading now at $10,730.
What will we be saying a month or two from now?
Difficult to predict.
But the one thing we traders/investors don't want to say is that we "missed out on an opportunity." For those that don't have positions in cryptocurrencies now, this significant market dip is an opportunity to NOT get into the crypto market at the high.
We will be updating our subscribers as soon as we know more. For the latest on XRP, sign up below!
Disclaimer: This article should not be taken as, and is not intended to provide, investment advice. Global Coin Report and/or its affiliates, employees, writers, and subcontractors are cryptocurrency investors and from time to time may or may not have holdings in some of the coins or tokens they cover. Please conduct your own thorough research before investing in any cryptocurrency.
Image courtesy of coinmarketcap.com
Is Unification (UND) XRP 2.0? IEO April 10th at UTC+8 on Bitforex!

Unification is a Hybrid blockchain solution for Enterprise. Above is my interview with CEO Neyma Jahan I explore what is Unification, how does a WRKchain actually work and why is this something people will quickly adopt. What is a really telling story here is that this is one of the few ICO/IEO/ITO etc… that actually is revenue positive which I honestly could not think of many others that were?
Neyma and team come from a background in real business, and they are focused on bringing blockchain adoption to the next level. They decided to go with the WRKchain or better known by some as a permissioned sidechain so that nodes can work together even if they do not like each other.
An example:
In education, we have tons of issues with plagiarism in universities and several, miss this and people write half copied thesis papers and get away with it. Imagine now for papers across Ivy league to Community colleges a system where professors come to a consensus about papers. Now also think of it this way those professors reading this paper all must read it, evaluate it, and come to a consensus. This will take out the professor knowing that student and give an honest overall evaluation. So each professor is basically a node. Then for each paper, there would be…
Adoption from the grass roots: The reason its just not happening yet!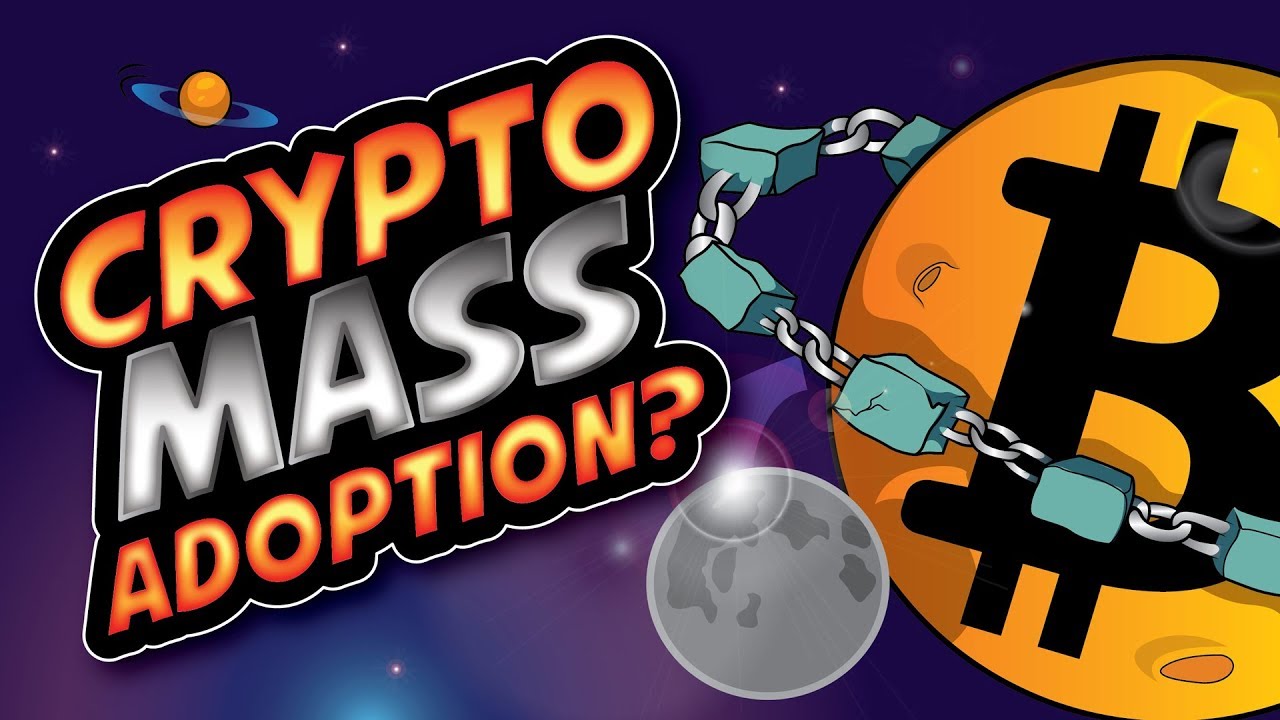 As someone who has been extremely involved in the cryptocurrency space the past 2 years, and 6 as an investor I want to point some things out.
The whole space is full of egomaniacs
When I first got involved as an investor in 2013 buying 2.5 BTC I thought very little of where it could go. It was a small tight group of believers back then. As the space evolved you found there were more and more Craig Wright's. What I mean by that is there were tons of people with massive egos who did not care what others said. It was okay before 2016-2017 as I wasn't so closely following what was going on.
Once I got involved in the space more quit my job and went deep into the space I noticed something. I saw a tom of egomaniacs pretending they really knew what they were talking about, I saw people acting like they knew everything about everything and I saw CEOs who had little to no hope other than big talk and hopium.
In my opinion, we need more humble leaders in the space, people who truly care about it more than making as much money from people as they can. People who aren't showing off watches during a hash war that ended with zero winners, and led us into the longest crypto winter…
Stablecoins aren't the answer for Crypto!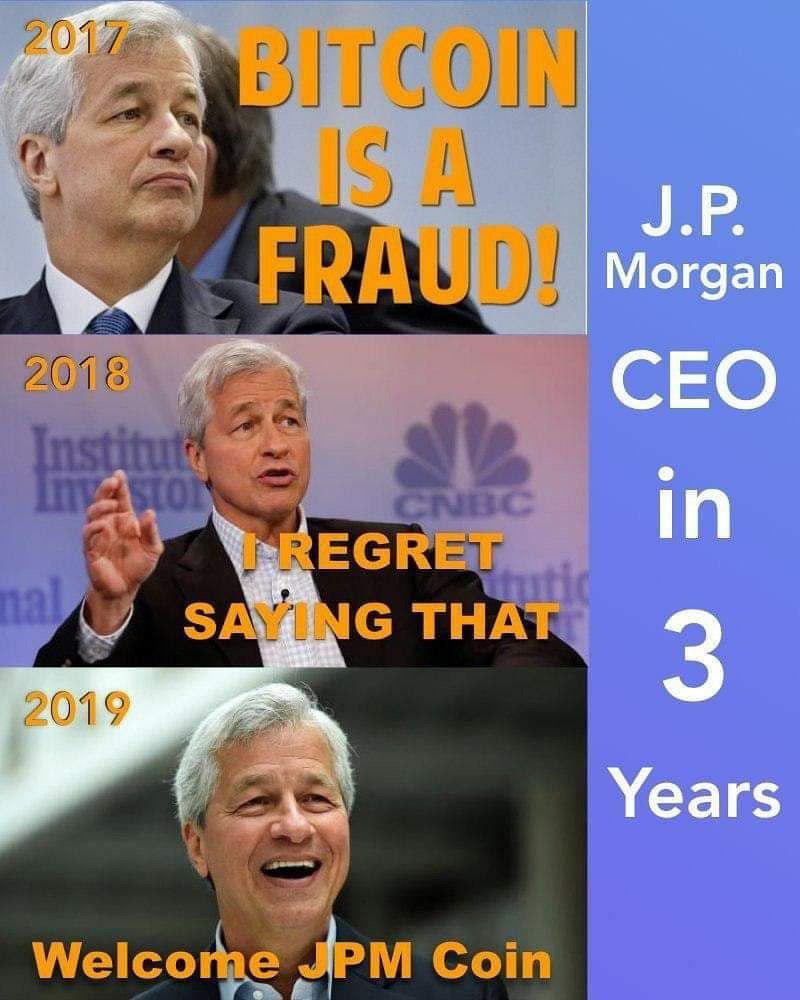 Please Subscribe if you enjoy the video.
Jamie Dimon and Bitcoin
JP Morgan's Jamie Dimon is well known for his hatred of Bitcoin and love for the blockchain. It is understandable that he does not really have any clue what Bitcoin was created for or where its inherent value comes from. In a clip from 2017 at the Institute of International Finance seen HERE.  Jamie Dimon was cautioning people saying bitcoin will one day hurt them, that bitcoin has no value, that blockchain is amazing and he loved it. Its really odd that a man would have such a hate for bitcoin and it was also clear that he did not understand the cash he values so highly loses 2-3% per year from inflation.
Inflation of currencies
To put that last statement into perspective, the USD loses between 2-3 cents of inherent value each year. This means if you leave money in the bank the last 5 years your 1 USD from 5 years ago is now worth only $.90. Yes that actually is true and how inflation works, but with bitcoin if you had bought a dollar in 2013 at say around $100 BTC your 1% of the BTC today would be worth over 35USD today. This is because Bitcoin's price is based on supply and…