The Crucial Role of Cryptocurrencies & Blockchain in Modernising The Telco Industry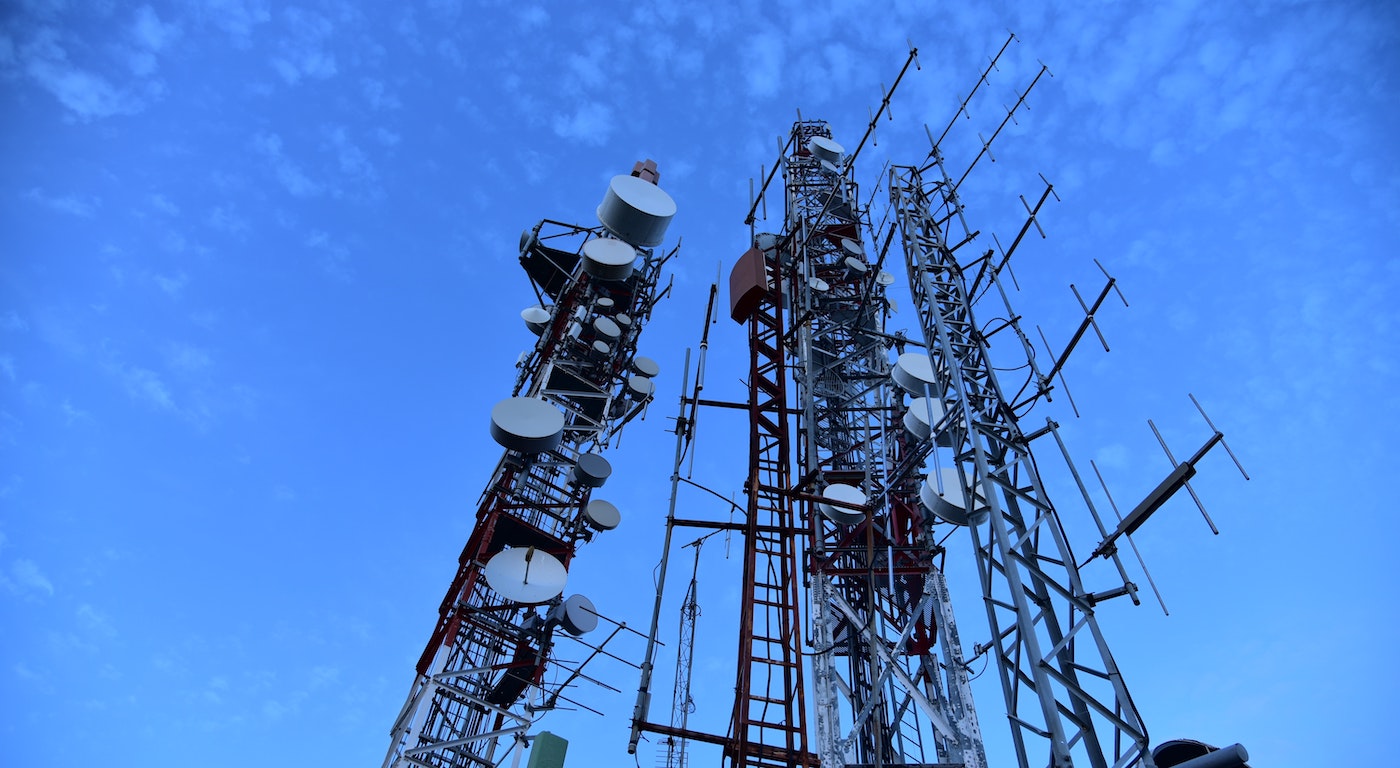 Blockchain has caused quite a stir in recent years. In fact, there's a school of thought that firmly believes the digital ledger technology will prove to be the 21st Century's biggest innovation. 
There are a great many industries braced for the disruptive force of blockchain, and the sweeping benefits it can bring to telecommunications can't be underestimated. 
A blockchain is a decentralised, distributed, public digital ledger that's fundamentally used to record transactions online. Every transaction that takes place is recorded across an extensive array of computers in a way that ensures that any individual record within the chain can't be tampered with or retroactively modified. 
Because of the virtually impregnable security associated with blockchain and the efficiency that comes with a fully decentralised ledger, there's plenty of potential for the technology within the telco industry in particular – especially given the financial flexibility that comes with cryptocurrency transactions beyond borders. 
Let's take a deeper look at the important role that both blockchain and its associated cryptocurrencies can play in modernising and securing the telco industry:
Unprecedented security
The arrival of blockchain is causing a stir at Deloitte. The professional services giant has contributed tens of thousands of words on blockchain within its 'insights' network, and there are few more fascinating than that between the burgeoning digital ledger and the telco industry. 
Identity plays a significant role in fostering Deloitte's excitement over the implementation of blockchain within telecommunications. In the company's 2018 survey focussing on blockchain, over half of the respondents said that their company is already working on blockchain-based identity solutions. 
Because of the unprecedented level of security provided by blockchain, a secure record of identities for users, assets, personal devices and IoT endpoints can be established. The arrival of such powerful measures to ensure our safety will play a significant role in reducing fraud and building trust within the industry.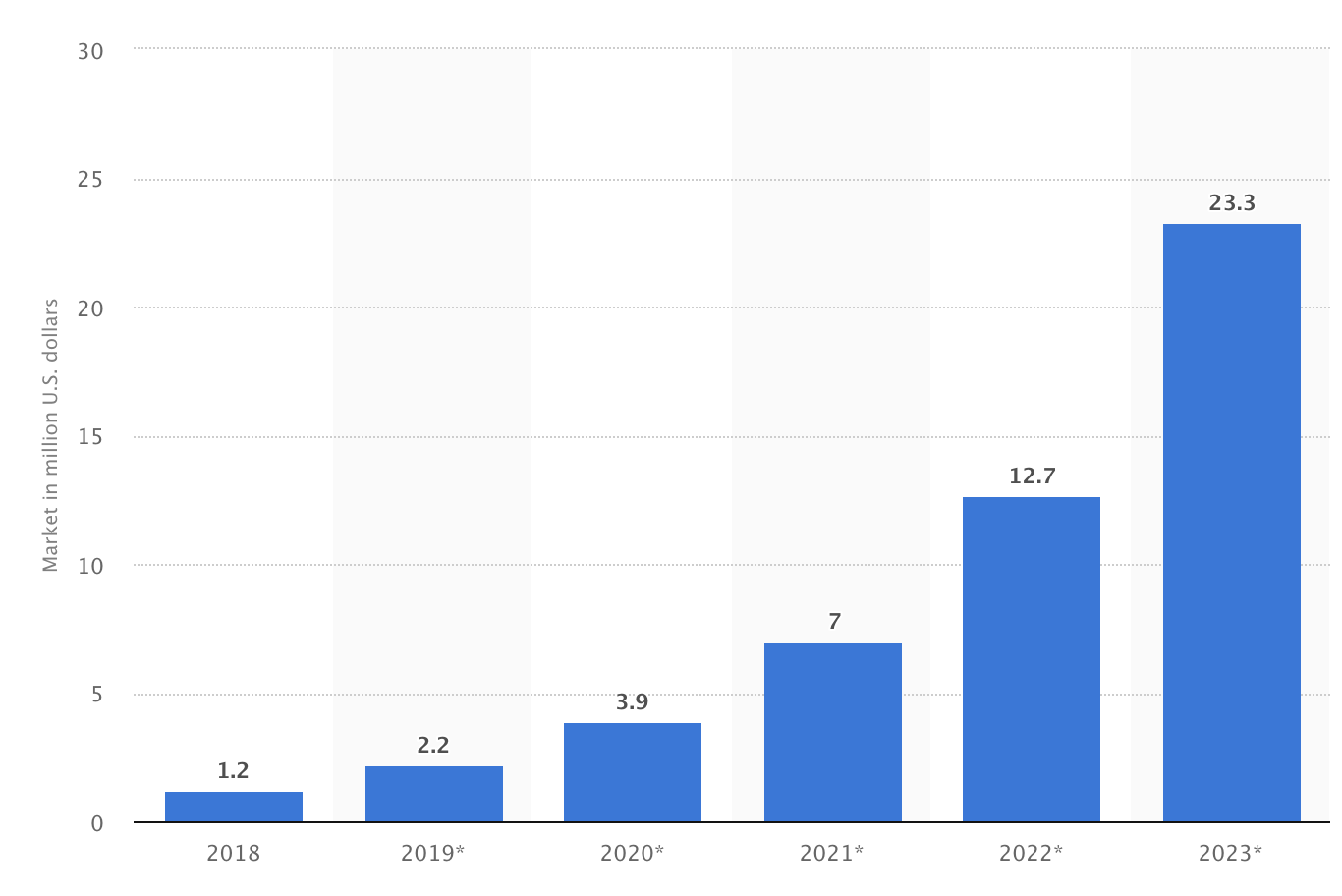 (Chart showing the size of the blockchain market in $ billion. Image Source: Statista)
Deloitte goes further to explain that the security that blockchain will bring won't be limited to protecting our personal records, but also bring flawless privacy for our devices, content and accounting records. "Transactions stored in a blockchain are encrypted, time-stamped, and synchronized across the entire network. Likewise, the identities of transacting parties and devices are cryptographically unique and registered on the blockchain," Deloitte's insights team surmises. 
The arrival of blockchain is likely to play a key role in modernising the communication industry that has remained largely unchanged in the 21st Century. 
As an example, UpGuard produced a research based on their security tests of major US cell carriers. And, as a matter of fact, the results leave us hoping for the best.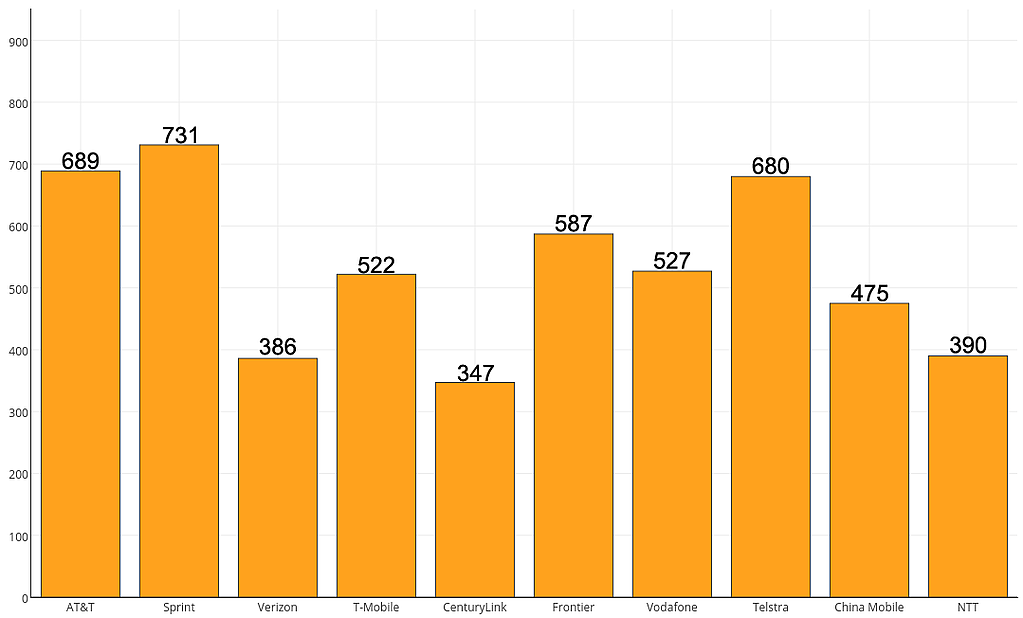 (The higher the score the more secure the network appears to be. Image Source: UpGuard)
As you can see, most carriers have a long way to go to ensure our privacy.
When it comes to the UK, according to Tech Advisor, networks like EE and O2 are among the better-performing ones. 
The case for efficiency
There's also plenty of scope for blockchain actively improving the efficiency within the telecommunications industry. Delta Partnership Group highlights the reduced time of execution needed for information to be stored within a blockchain as a key factor in enhancing performance within telco. 
In a published paper entitled 'Blockchain's potential for the telecom industry,' a team of authors explained that "for industries with regular and low-value interactions with their customer base, such as telecom, blockchain can verify and automate transactions, with increased transparency for the end customer. The higher the number of low-value transactions, the greater the potential of blockchain."
Essentially, the more people involved in a transaction, the better blockchain performs in the face of alternative technologies. For example, in a telecom intercarrier settlement scenario involving three parties, the blockchain will deliver three times the value compared to a two-player scenario. 
In addition to this, the efficiency of blockchain will no doubt offer plenty of solutions after the advent of 5G connectivity for mobile phone networks. Given the complexity of such a high-speed and powerful network, a secure digital ledger may ultimately prove essential in dealing with so many different cellular connections and data transactions taking place. 
Seamless micropayments
Blockchain was initially conceptualised as a means to support the launch of the cryptocurrency Bitcoin a little over a decade ago. Although the potential of blockchain has caused a massive stir worldwide, it's Bitcoin that initially took the world by storm after rallying to a value of almost $20,000 USD in December 2017.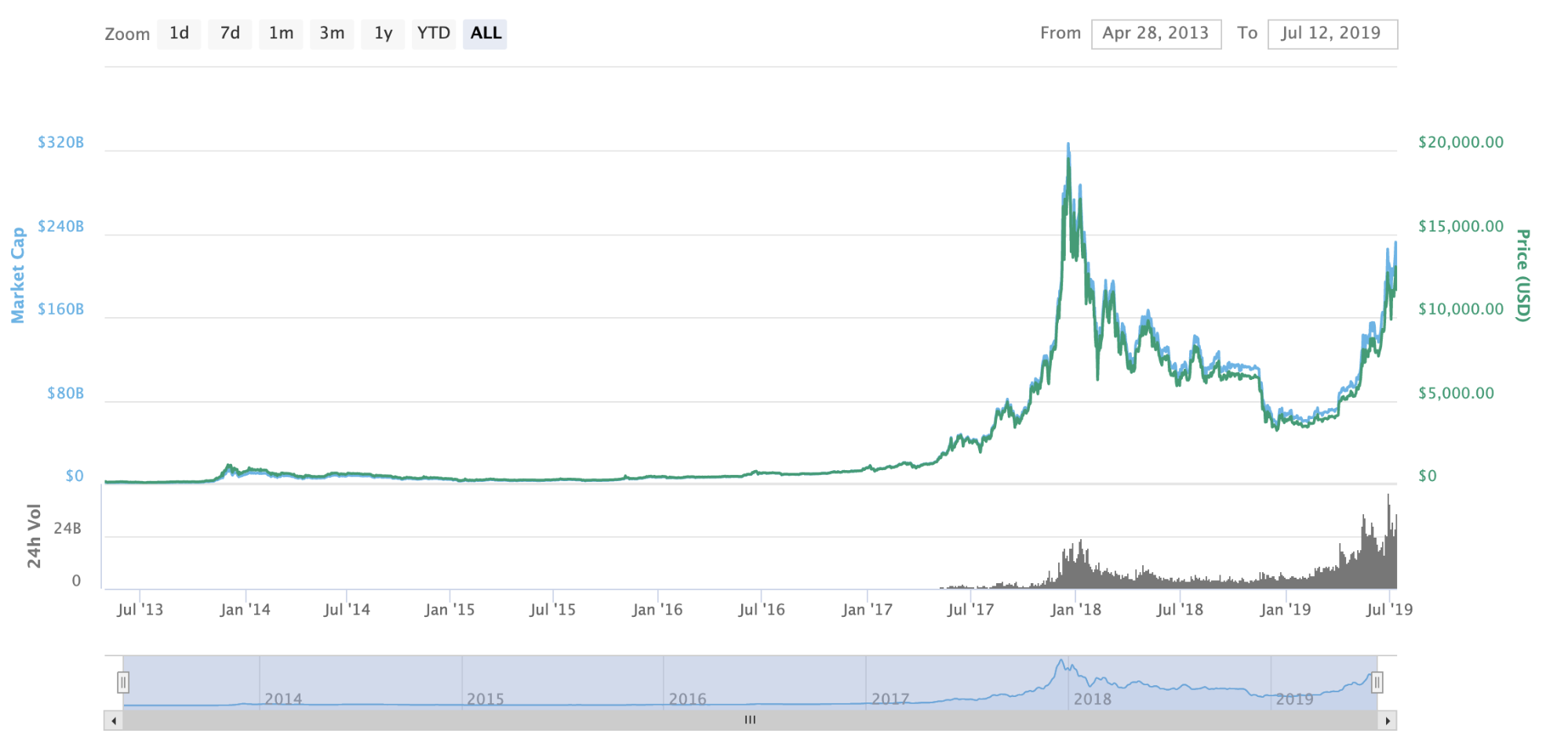 Image Source: CoinMarketCap
The telecommunications industry can benefit greatly from the emergence of cryptocurrencies as a means of offering customers the option to make digestible micropayments for both calls and services through the medium of digital currency. Fundamentally, the decentralised nature of cryptocurrencies built on a blockchain network means there's no more need for middlemen in the industry, and thus no more fees and surcharges to deal with when paying for services. Through the power of blockchain and crypto combined, the intermediary fees of international calling charges and roaming transactions can be assigned to the history books. 
Whether you choose to embrace or evade the looming spectre of blockchain, we have to thank it for contributing to making the world that little bit smaller.
As Global Tensions Grow, Bitcoin Price May Go Higher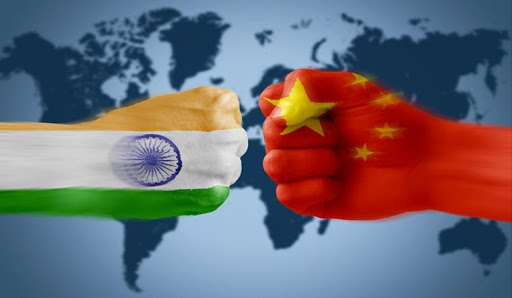 BTC Surged Again as A Safe Haven Asset During Global Tensions
India – China Border Conflict
After weeks of squabbling and brawling along their long-disputed border, hundreds of Indian and Chinese soldiers engaged in a deadly clash Monday in a river valley that's part of the region of Ladakh last week. Troops had massed on both sides of the border in recent months in the northern India region of Ladakh and the southwestern Chinese region of Aksai Chin, causing global concerns of a potential escalation between the two.
North and South Korea Clash
Last Tuesday, North Korea destroyed the liaison office it jointly operates with South Korea in the city of Kaesong, just north of the demilitarized zone that separates the two countries. 
North Korea also said it would send troops to now-shuttered joint cooperation sites on its territory, reinstall guard posts and resume military drills at front-line areas in a violation of separate 2018 deals with South Korea. Jeong said South Korea will take "immediate, swift and corresponding" steps to any North Korean provocation.
The tensions grown in Asia and the potential "second wave" of coronavirus in the United States may add more difficulties to the global economic recovery. Thus, Bitcoin, as a safe haven asset, attracts more investors to…
CoinFlip Continues to Dominate the U.S. Cryptocurrency ATM Market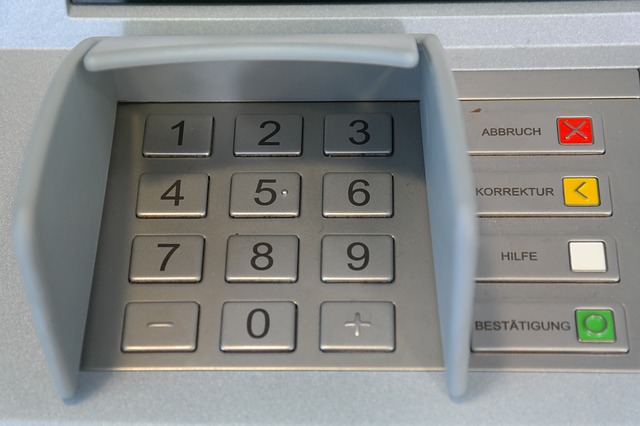 Although cryptocurrency has brought in a lot of traders seeking the dream of overnight wealth, cryptocurrency is a lot more than just striking it rich.  Cryptocurrency is about creating a new market with companies that are building cutting edge technology in an effort to continue elevating our way of life.  As the crypto market continues to expand, several companies are involved in creating ways for more people to participate.  One such company that appears to be making all the right moves is CoinFlip.
CoinFlip is the world's leading cryptocurrency ATM operator that currently allows users to buy and sell 10 different cryptocurrencies including BTC, ETH, LTC, DASH, TRX, KMD, LINK, BNB, XLM, and USDC.  Due to the company's quick growth, CoinFlip has quickly gained a reputation of being the place to go for all crypto ATM transactions.  In addition to its massive geographic coverage, there are four advantages that CoinFlip currently offers over its competitors:
Lowest fees of any cryptocurrency ATM in the world
Lightning-fast transactions that are typically completed between 10 and 30 minutes
Extremely easy customer verification
24/7 customer support through phone, text, and chat
Given the global pandemic currently facing us, many companies have been struggling just to survive.  CoinFlip, on the other hand, is not only surviving but thriving.  The company has had an exciting few months and has even bigger plans…
Cryptocurrency Fraud is Evolving; Bitcoin ATMs Mitigate Risk 
In one of the more overlooked aspects of the crypto ecosystem, it appears that the bulk of illicit activities are shifting from hacks and thefts to cryptocurrency fraud and scams.
CipherTrace, the crypto-surveillance, and analysis firm released a report at the end of Q4 2019 that revealed hacks and thefts had decreased by 66 percent in 2019 while fraud and misappropriation of funds surged by 533 percent. And beneath the COVID-19 hysteria of 2020, hacks in the crypto sector have been eerily isolated. 
Outside of a few exploited flaws in P2P exchanges and DeFi flash loan vulnerabilities, the headline-grabbing hacks of exchanges for hundreds of millions of dollars have been absent so far this year. Is the industry due for another massive hack, or are stringent KYC/AML processes, regulatory crackdowns, better security practices, and blockchain surveillance working? 
KYC/AML Improvements Are Reducing the Appeal of Crypto Exchange Laundering 
2020 is far removed from the no-KYC wild west days of the early-mid 2010s where anonymous altcoin casinos preponderated and the Dark Underbelly of Cryptocurrency Markets thrived. 
Today, bitcoin and the crypto ecosystem is becoming institutionalized with a surfeit of derivatives (e.g., options, futures, perp swaps, etc.) available on…