5 interesting SiaCoin (SC) facts you need to know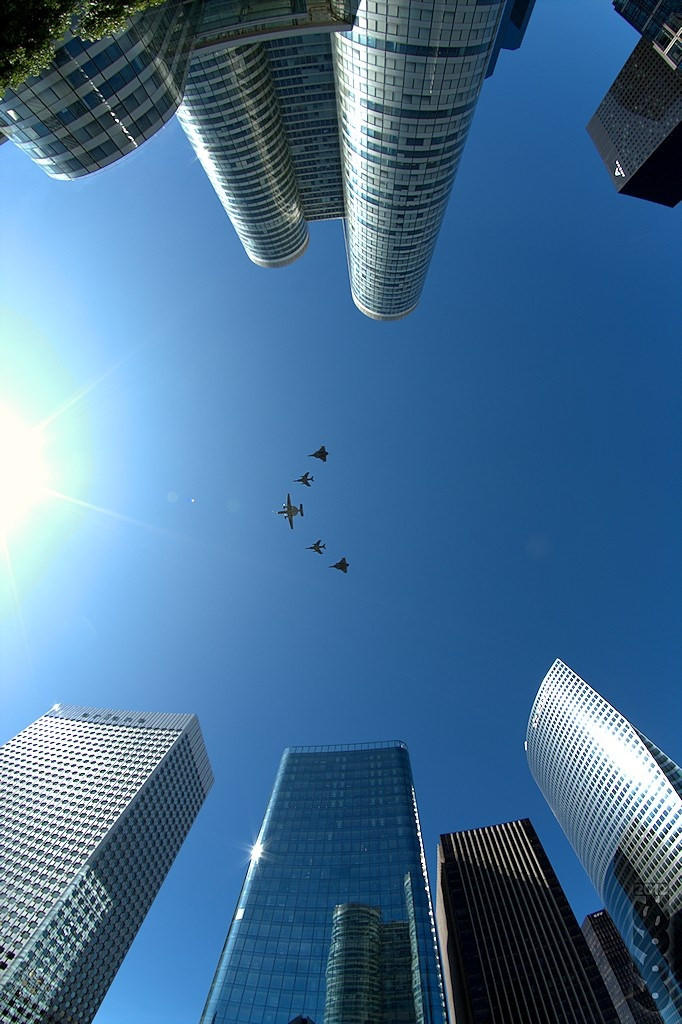 Data undoubtedly is vital, isn't it? Therefore, it is worth storing that in not only a secure depository — but also a trustworthy place. With the ever-advancing technology, the amount of data that gets generated across the globe is simply overwhelming.
SiaCoin is a crypto that you definitely need for your data to be secure, as it was designed with the purpose of creating perfect decentralized cloud storage secured by the blockchain technology. Sia platform works in a way that your files, on cloud storage, are separated and encrypted to make them available to you only. They are then spread on the platform — and storage is not in your account, but instead divided into smaller pieces distributed in the decentralized network.
Therefore, SiaCoin has the ability to secure your sensitive data from any kind of manipulation and hacking. In fact, the following are some exciting SiaCoin data storage hacks for you to consider.
SiaCoin (SC) Platform = Decentralized Cloud-Based Data Storage
The point here basically is that you need to be in control of your sensitive data, and with SiaCoin, you will achieve that with ease. All your information is immutable as you are the only person who has access to the data.
What SiaCoin does is that it connects all those individuals that need data storage space and those individuals with space. A small fee is charged so that you can get all your information safely stored in cloud storage.
All in all, storage of SiaCoin is smart contract oriented and is non-comparable to others like Google Drive, Amazon S3, Dropbox or ICloud as it merely has the best quality for data safeguarding.
SiaCoin Secure Data Sharing
As said earlier, you are the very own boss of your data, which means any third-party doesn't have access to your sensitive information. In fact, the data stored and shared is encrypted with files separated into smaller bits without any alteration in the data.
On top of stealthy data safety, the sharing and transaction speeds are higher when the files are compacted. The fee of SiaCoin is roughly $2 per 1TB, unlike Amazon S3 (for example) which charges $23 for 1GB per month.
Therefore, from whichever angle you may want to look at SiaCoin; it is a win-win situation for you and a good value for your hard-earned money.
SC is the only supported mode of payment
On the SiaCoin platform, all the transactions are paid using SC (currency unit for paying for space) tokens and the data storage is offered as a service. Other cryptocurrencies cannot be used to pay directly for the services.
Several hosts are also available in the platform whereby you can easily buy space from, and for the cost, it depends on the required amount of space you need for the data. All transactions are secure and trusted; thanks to the enabled smart contract.
SiaCoin is Global, and for everyone
Ideally, you are first required to fund your wallet so that you can participate in the platform. To make everything possible, therefore, SiaCoin has partnered with some exchanges making it possible to convert other currencies into SC coins.
Also, you can fund the SiaCoin wallet through mining, too – hence mining is made possible from anyplace with the right mining hardware. But, that might be not easy for everyone as the mining hardware price is above $2300.
A Professional Asset
At the moment any investment in SiaCoin would be well-worth-it, such as exploring the token well. Anyone who uses data, let it be an organization or individual, should consider SiaCoin (SC) platform as it saves a lot of money as well as provides unmatchable information security which ultimately enhances professionalism.
It is highly likely that the SiaCoin value will be positively triggered by the increase in popularity of the cloud storage. As long as you interact with some information that is worth sharing or storing, you will find using the SiaCoin (SC) platform worth it. Storing sensitive (and real-time) information is never simple after all.
We will be updating our subscribers as soon as we know more. For the latest on SC, sign up for our free newsletter!
Disclaimer: This article should not be taken as, and is not intended to provide, investment advice. Global Coin Report and/or its affiliates, employees, writers, and subcontractors are cryptocurrency investors and from time to time may or may not have holdings in some of the coins or tokens they cover. Please conduct your own thorough research before investing in any cryptocurrency and read our full disclaimer.
Image courtesy of fs999 via Flickr
The low volatility of Litecoin and Bitcoin on the spotlight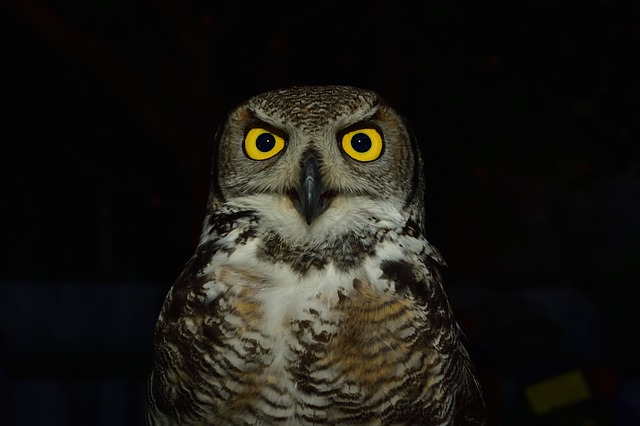 Just like many other cryptocurrencies, Bitcoin, as well as Litecoin, currently sit in vitality as much as the market is concerned. Will Bitcoin and Litecoin recover as much as many have been speculating? Apparently, it is hard to tell how the investors will react to all these recent events.
When looking at the current trend of the volatility of Litecoin and bitcoin prices in US dollars, it is quite clear to note that there is a decrease in volatility. The price of bitcoin stands at $6,574 with a slight change (24h) of +0.06%. On the other hand, Litecoin is trading at $53.94 with a difference (24h) of -1.45% at the press time. Basically, at the moment there isn't a significant downward movement between the two cryptocurrencies.
Spectators Never Fail to Give Reasons
As always many spectators will seek to give some reasons for the trends and some think that the downward move is just a manipulation by some small group so that they can outscore the stock market. Perhaps, it is a bear market, and with the volatility of the coins being technically low, it means it is cheaper, which is definitely better.
The Real Meaning
What the trends literally mean is that there is an accountable resistance with both Bitcoin and Litecoin contrary to the expectations of many who were anticipating at least some positive movement after the sharp market rise last week.
However, that doesn't mean that…
Ripple blockchain integration into DZ Bank Germany probably underway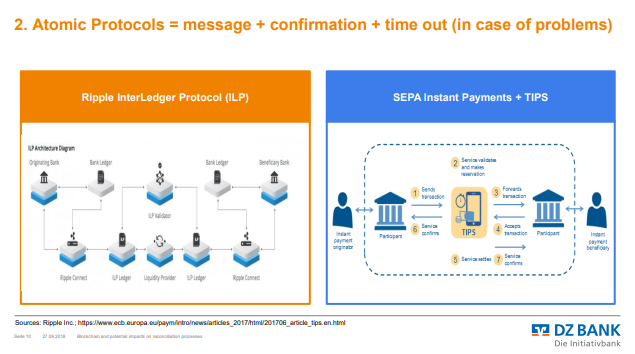 The online world of business is undeniably changing. But, have we seen its full extent yet? Perhaps the answer lies with the blockchain technology. Some studies point out that with blockchain (like Ripple, and of course, other similar ones like Stellar or the ones that might come to the party) integration by the banks, they will be able to realize significant savings.
The banks will enjoy cost reductions not only in their payment processing as well as reconciliation alongside compliance and treasury operations.
DZ Bank AG Considering Ripple Interledger Protocol
DZ Bank is one of the most talked after bank in Germany. It is the second largest bank in the country by asset size as well as the central institution. The bank functions as both a central institution as well as corporate and investment bank.
Concerning potential Ripple Interledger protocol integration, the bank has listed a couple of slides in their recent report "blockchain(s) and potential impacts on reconciliation." It is not rocket science to what that may mean just because the protocol is all about cross-border transactions.
"…..we are very confident that Germany will move as well ahead with #ripple"

see full clip from @BankXRP https://t.co/SWJ5NnouwT#xrp #ripplenet #ripplenews #xrpcommmunity #xRapid #xrpthestandard #xrparmy pic.twitter.com/sWJQd4MNvs

— 🅂🅃🅄🄰🅁🅃🅇🅁🄿💧⚡🇬🇧 (@stuart_xrp) October 12, 2018
If at…
Taking the Booming Cosplay Industry to the Next Level with Tokenization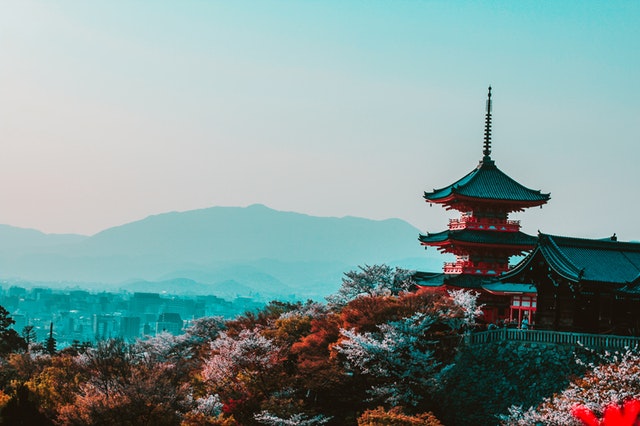 In the past couple of decades, some aspects of Japanese culture have begun to spread like wildfire through the rest of the world. Foremost among them is the fascinating and thought-provoking world of Japanese comics and animation.
At the same time, it's become increasingly popular for fans to interact with each other and express their enthusiasm for manga and anime through cosplay, where people dress up as their favorite fictional characters or even create their own.
In fact, cosplay has grown to be a jaw-dropping $45 billion industry, with no signs of slowing down anytime soon. However, the industry and its participants aren't without problems.
At the top of the list of issues holding the cosplay industry back are those associated with copyright and revenue sharing. As with most any global industry, there is inefficiency due to language barriers, different currencies, and varying regulatory guidelines for intellectual property.
So, how can blockchain technology help? There are a handful of answers to that question, actually. A few are:

An immutable blockchain can be used to store records such that there is no longer any doubt about a piece of content's original creator.

A blockchain can securely store and track user's digital IDs in order to discourage harassment and other nastiness that prevails on online media forums.

…