Cindicator (CND): What Is Cindicator And Why Is It Progressing So Fast?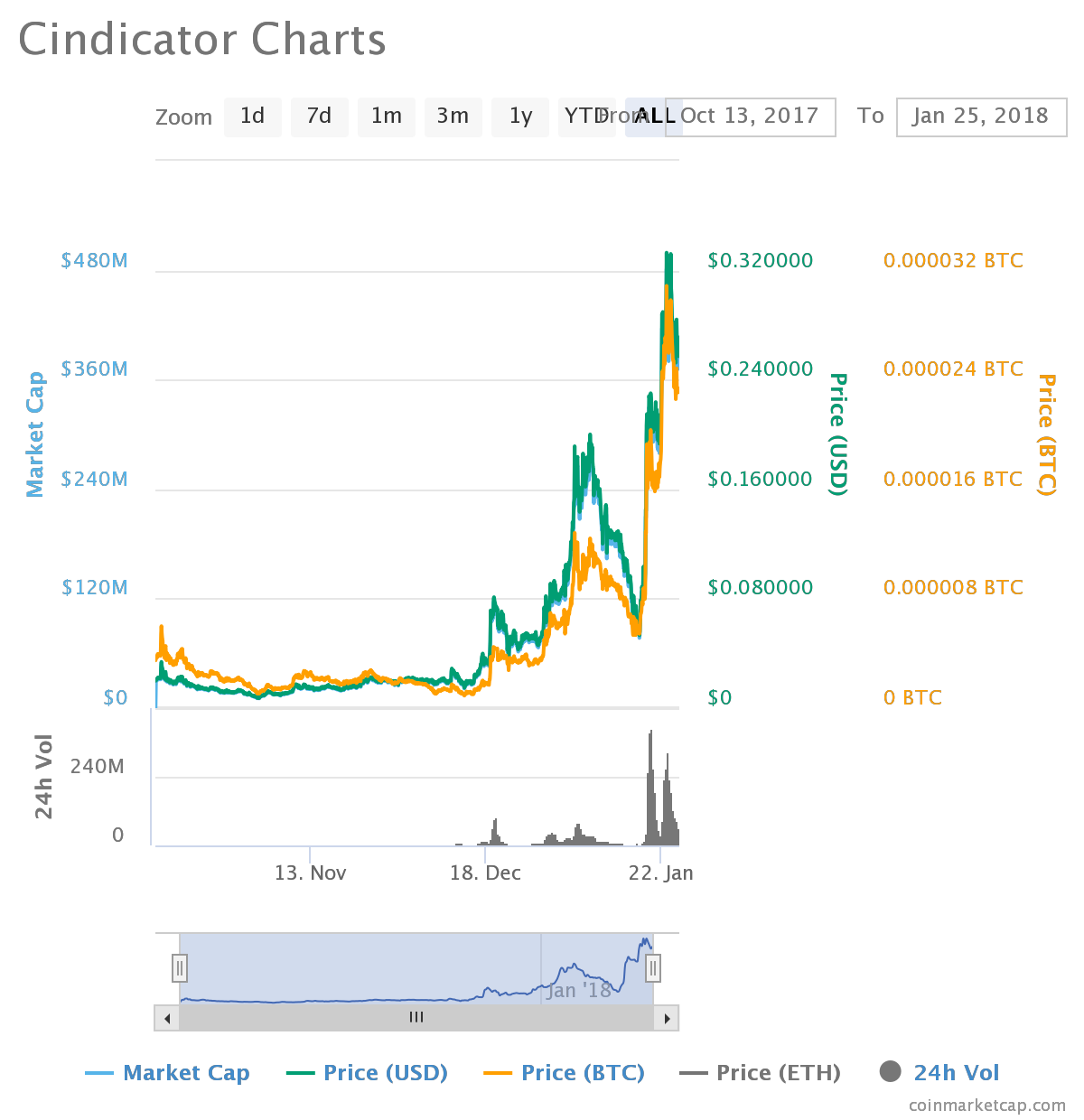 After the recent and very sudden drop of prices with the majority of cryptocurrencies that occurred only a couple of days ago during the previous week between January 17th and 18th 2018, we like to hear more about currencies that aren't going through a rough patch with dropping prices and massive selling occurring.
Cindicator is one of such digital coins, but what interests us the most is what exactly is CND and why is it progressing so fast.
To learn the truth behind this benevolent occasion of having CND rising promptly in price and within the general interest of the public, here is everything you need to know about this digital coin.
What is Cindicator?
CND, or otherwise known as Cindicator, started out back in 2015 but started to trade in 2017 when its ICO started to run. Almost every coin has a unique idea behind its creation, and the concept behind CND is more than impressive as CND deals with promoting Artificial Intelligence through creating a blockchain based ecosystem that will allow members and users to interact with each other by using CND as their token of value.
The targeted members CND is dealing with within its community are financial analysts, people trading with artificial intelligence and data scientists. You can easily become a part of CND community if you are working in any of these departments or in case you are professionally eligible to either get involved with trading with Artificial Intelligence products, financial analysis or science of data and information.
The main idea behind the project is to create a growing community that focuses on creating an ecosystem based on blockchain specialized in collecting knowledge of all members that are working on the CND platform. The main goal is to create a functional and operational community with an entirely new and revolutionary infrastructure that would contribute to the development of Hybrid Intelligence.
Hybrid Intelligence, for all of those yet unfamiliar with the term, is a combination of human intelligence and machine learning, used to establish new ways of efficient management of different assets – in this case this development is focused on creating more efficient crypto trading and enabling the community to function with prediction data regarding the market of cryptocurrencies. This is why CND community ecosystem has a unique infrastructure.
The infrastructure within the CND ecosystem is made to encourage forecasters (financial analysts) to join the community so they would be able to earn rewards in the form of CND tokens in exchange for the information they have and the work they are contributing with.
The forecasters would be working within the CND ecosystem, sharing valuable information related to business, investments, economy and general investing in the crypto market, while that information would become available within the Collective Intelligence Platform where analysts, data scientists, and Artificial Intelligence traders work together.
The information and data generated to hold value are rewarded with CND, that way encouraging forecasters to contribute more and allowing coin holders to participate, gain access to information and perform purchases and transactions within the platform.
Since CND is base on blockchain technology, as with all coins in general, all transactions are decentralized and done promptly with the interaction between two parties only and completely without a third party.
Given that CND is involved in developing one of the hottest tech topics ever to arrive – machine learning, hybrid intelligence and artificial intelligence in general, including services and products related to this field, it is no wonder that CND is thriving, progressing promptly and gaining on its price with a steady pace.
How is CND Doing?
We all remember the last year with a big smile on our face when we think about what 2017 did for cryptocurrencies. CND was jumping up and hitting the moon in the previous year as well when this coin had a total market cap of 15 million dollars.
Now, it seems that although 2018, especially the third week of January isn't going too well for the majority of crypto coins, it appears that CND is not affected by any of the recent crisis on the crypto market.
It's quite the opposite, as this new coin has managed to reach the fantastic number of $600 million by the end of 2017, while it continues to progress even in January 2018 while the majority of other coins are still in shock after the selloff that occurred at the end of the last week.
That would mean that from the end of November 2017 to the end of December the same year, this coin was up to almost 930%, which is truly fantastic progress. What is even more interesting is that this coin is still progressing at the same pace with constant increases in price where the last increase stood at 43.11%.
Even though CND still holds the value of under 1 dollar per single unit, it is predicted to have it jumping to that point latest by the end of February 2018 in case the coin would continue to increase.
The fact that financial data found within CND bots and provided by financial analysts was almost 75% accurate, this degree of accuracy have set a milestone of success for this digital coin, showing its purpose in practice, and that way drawing more investors into buying CND. The price is set to go over one dollar per unit pretty soon.
We will be updating our subscribers as soon as we know more. For the latest on CND, sign up below!
Disclaimer: This article should not be taken as, and is not intended to provide, investment advice. Global Coin Report and/or its affiliates, employees, writers, and subcontractors are cryptocurrency investors and from time to time may or may not have holdings in some of the coins or tokens they cover. Please conduct your own thorough research before investing in any cryptocurrency.
Image courtesy of coinmarketcap.com
Rewards Platform StormX Offers 50% Crypto Cashback Bonus for Thanksgiving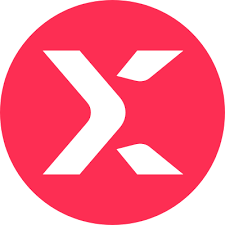 Singapore, Singapore, 23rd November, 2020, // ChainWire //
Blockchain-based rewards platform StormX has released a seasonal promotion for its award-winning Crypto Cash Back App. The promotion will allow app users to earn a 50% bonus on top of their cashback between Thanksgiving Day and Cyber Monday (November 26-30).
StormX has also introduced a brand-new staking service, allowing users to earn an additional 50% per year when they stake STMX tokens. The native ERC20 token of the StormX ecosystem, STMX has a total supply of 10 billion and is available to trade at many of the world's top exchanges, including Binance and Bittrex.
"With Bitcoin's price approaching its all-time high, interest in cryptocurrencies has renewed, though some people believe it's now too expensive to buy in," said StormX CEO and Co-Founder Simon Yu. "What we have done is create an easy way for such individuals to accumulate bitcoin, ethereum and other cryptocurrencies via everyday shopping.
"We're also excited to provide users with the ability to earn greater rewards simply by staking their tokens."
Since the StormX mobile app launched its Shop feature with over 700 stores in February 2020, some 400,000 unique users have been added to the rewards platform. StormX has also witnessed over 50% month-on-month growth for sales. The app is available for download on the App and Google Play Stores, and can be downloaded as a browser add-on from the Chrome Web…
BITTREX GLOBAL CONFIRMS FREE TRADING AND LISTING FOR TOP DEFI TOKEN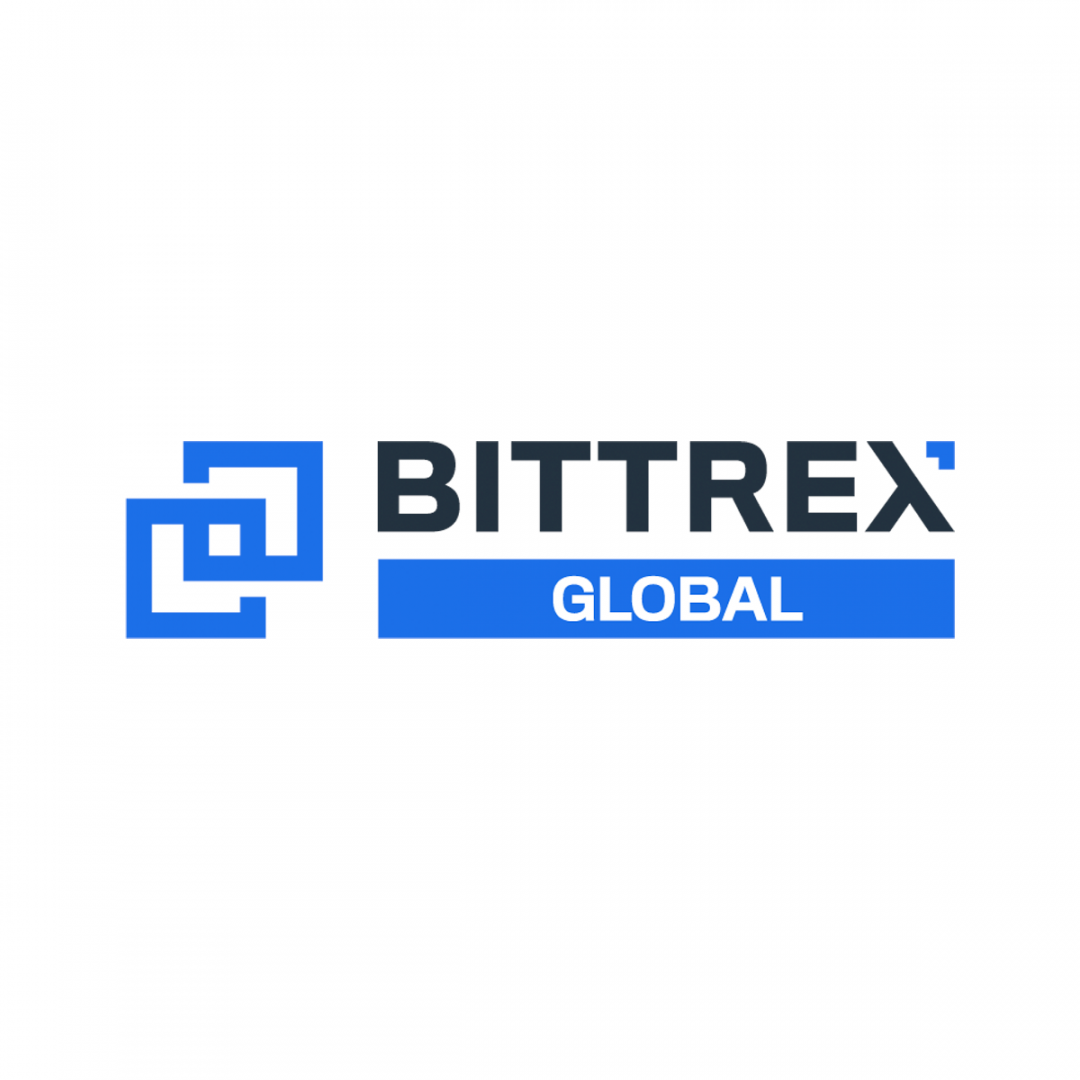 Valduz, Liechtenstein, 17th November, 2020, // ChainWire //
International cryptocurrency exchange promotes free trading and no gas fees for leading DeFi tokens
17th November 2020 — Bittrex Global GmbH. announced today 8 new DeFi tokens will be listed this week including:
UMA (UMA)
Aave (AAVE)
Balancer (BAL)
REN (REN & renBTC)
Kyber Network (KNC)
Band Protocol (BAND)
YF Link – (YFL)
Bittrex Global's users can trade all of their DeFi  tokens with no trading or gas fees until 2021. The decision to enable free trading on Bittrex Global for DeFi tokens  follows on from the 1,000% growth of the DeFi asset class over the course of 2020.
The decision to enable free transactions will see more investors enter the Blockchain Act's digital asset regulatory system, supervised by the Financial Market Authority in Liechtenstein (FMA) under the Due Diligence Act which requires traders to comply with the KYC/AML/CFT standards.
"The last year has seen huge growth in DeFi as an asset class and a number of significant milestones completed," said Bittrex Global's CEO Tom Albright. "As the asset class matures and more institutional and professional investors look at the fundamentals, we are likely to see increased demand and higher trading volumes for DeFi in 2021.
We're really excited about what we're seeing in the space and want to see these DeFi projects grow and help them build stronger platforms through increased adoption. Offering free trading fees…
Ready for Chaos? Swingby's Chaos-Mainnet Launches on December 28th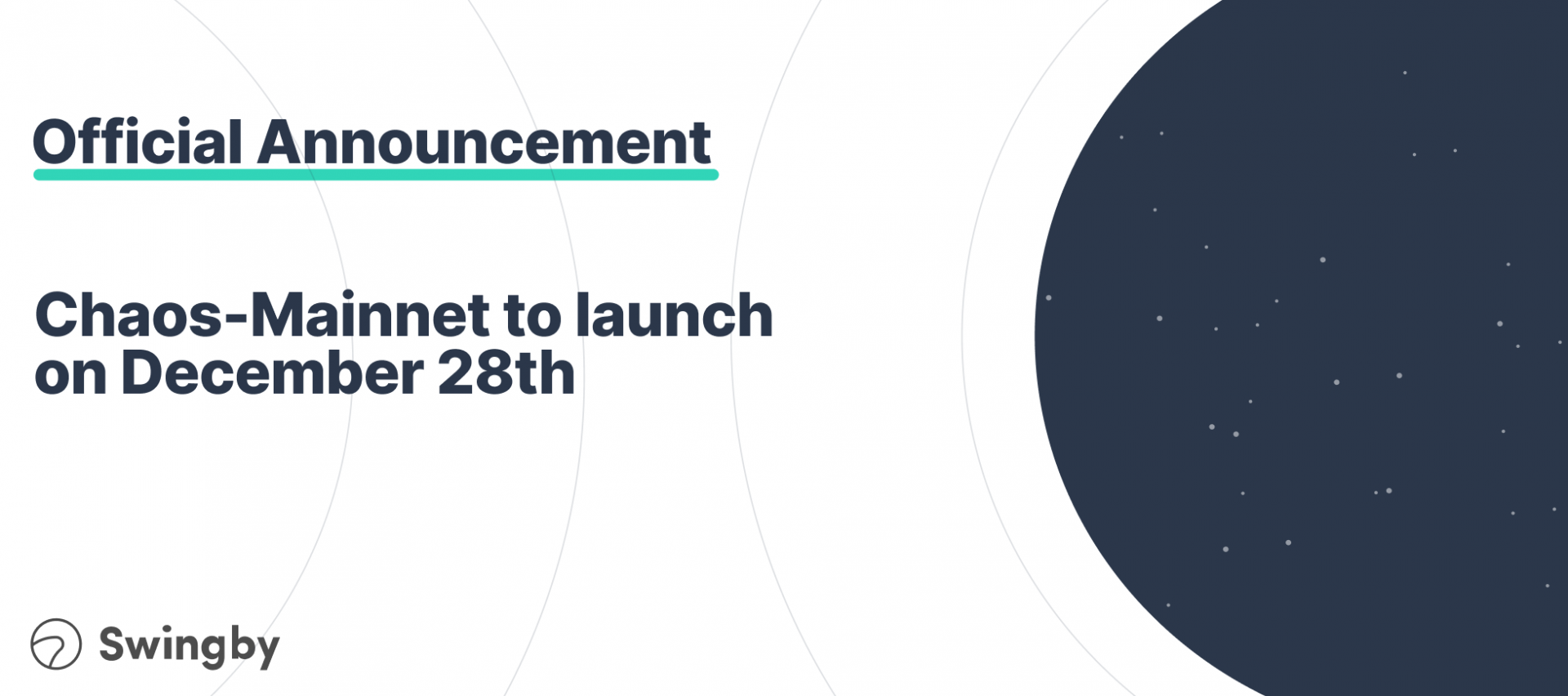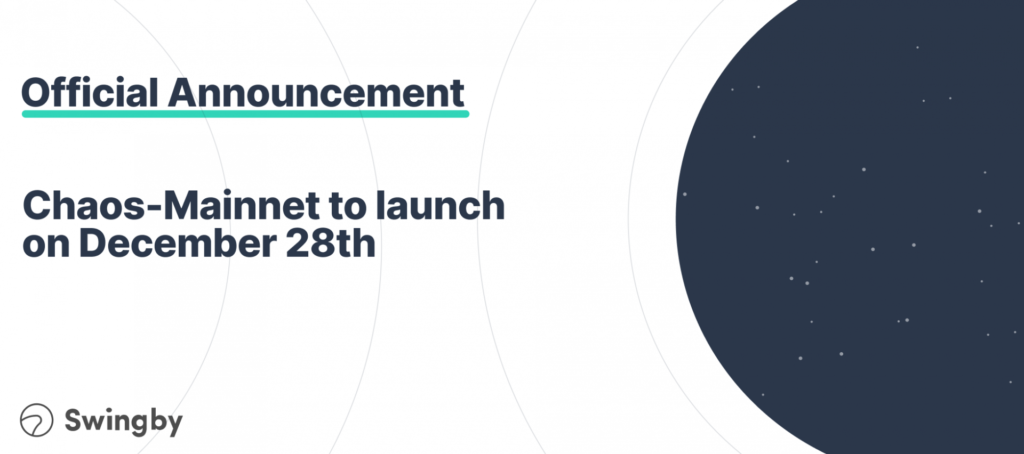 Singapore, Singapore, 9th November, 2020, // ChainWire //
Swingby is the "warp-speed" protocol for inter-blockchain swaps. It allows all DeFi users to move assets between blockchains without a trusted party. 
Today, Swingby announces its first mainnet network will be released on the 28th of December; it will bridge native Bitcoins onto Ethereum via Wrapped BTC (WBTC).
The initial bridge will enable the most liquid digital asset in the world (Bitcoin), currently valued at a $300 billion market cap, to be moved onto the Ethereum network to tap its $10b DeFi ecosystem.
"This launch will be pivotal to Swingby. After December 28th, Swingby will have a fully operational Chaos-Mainnet network which will be generating a tremendous amount of value to the world of DeFi and bringing in a large number of new users" – Yusaku Senga, CEO
Why is this big news for DeFi?
On December 28th, Swingby will be launching its first Chaos-Mainnet bridge, allowing users to easily move their bitcoins into WBTC on Ethereum without the need for a trusted party. Similarly, the bridge can be used in the opposite direction allowing WBTC-ERC20 tokens to be moved back into native BTCs.
What's so special about it?
Trustless: Swingby's Skybridge will be the only way to trustlessly swap BTC into wrapped Bitcoin (WBTC).
Simple to use: The Swingby bridge has been designed to work with standard transaction types removing the need for complex smart contract calls…