From successful entrepreneur to successful CopyPortfolio investor: Meet Chris Hyland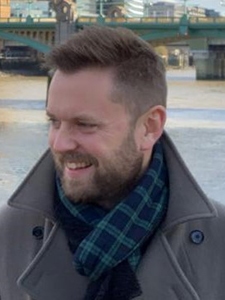 Chris (@ChrisHyland) from the UK is a successful entrepreneur who founded one marketing agency that went global and is now the head of another company he founded, The Happiness Index.  He is an active investor on eToro and a fan of the platform's CopyPortfolio investment strategies. We asked him to answer a few questions about himself and his trading habits:
65% of retail investor accounts lose money when trading CFDs with this provider. You should consider whether you can afford to take the high risk of losing your money.
Past performance is not an indication of future results. This is not investment advice.
Tell us a little bit about yourself?
I grew up in the UK in Sussex. I am an entrepreneur – at the age of 26, I started a digital marketing agency called 4Ps Marketing with a friend/ business partner. The agency eventually went global and was sold to a larger company, NetBooster.
How did you end up building The Happiness Index?
Through experience at 4Ps Marketing, and having to deal with a lot of people, you kind of learn how important it is for people to be happy and motivated in their jobs. This is what our new business, The Happiness Index, focuses on. The mission is to change the world and redefine work/life balance. We were recently awarded the "New Business of the Year" at the 2018 European Business Awards.
Why did you choose to invest on eToro?
I originally chose eToro because I loved the idea of choosing my own investments and controlling my own portfolio. I like the fact that I can choose my own instruments to invest in on their own and I can also invest in portfolios made by eToro such as BigTech or Driverless CopyPortfolio. I also really enjoy that I can copy other investors because they are trading on my behalf and I learn so much just by reading their updates. It's also really just a simple platform, whereas other platforms seemed very confusing to me.
What is your previous experience in regards to investing?
I've been investing in small companies for 5-10 years, however, I've only been investing in the stock market for a couple of years. I don't have so much experience.
Which CopyPortfolios are you investing in and why?
At the moment I'm invested in a few CopyPortfolios:
The first one is the FoodDrink CopyPortfolio – I chose this one because I wanted something safe and secure with low risk.
Previously I was investing in the BigTech CopyPortfolio but I recently closed it and started investing in the CannabisCare Portfolio. I chose this one because, in my opinion, people are starting to realise that there's a massive opportunity to legalise cannabis and I see that market growing significantly bigger in the future.
I also recently started investing in the YieldKing Portfolio. This was mostly for dividends. I also like to invest in companies which I believe will grow long term. I like how you can invest in the company and get money back on the way.
What are your investment goals in regards to these CopyPortfolios?
When things are going well, I sometimes think the CopyPortfolios are too safe, but when the market begins to drop — I think they're great. They really diversify my portfolio. I like how the portfolios are managed for me and I don't have to do anything.
What do you think differentiates CopyPortfolios from investing elsewhere?
I think the themes of the CopyPortfolios, especially the newer ones, are forward thinking- such as the CannabisCare and the CryptoPortfolio. I also do plan to invest in the CRISPR-Tech Portfolio as I believe in it long term. It's exciting and revolutionary.
What are your hobbies/interests?
I am definitely a family man. I enjoy spending time with my wife and 2 kids. I also love to eat good food and drink good beer 🙂
65% of retail investor accounts lose money when trading CFDs with this provider. You should consider whether you can afford to take the high risk of losing your money.
Past performance is not an indication of future results. This is not investment advice.
Blockchain project that incentivises people to test for diabetes by handing them cryptocurrency wins first GoodDollar hackathon attended by Israeli ambassador in Rwanda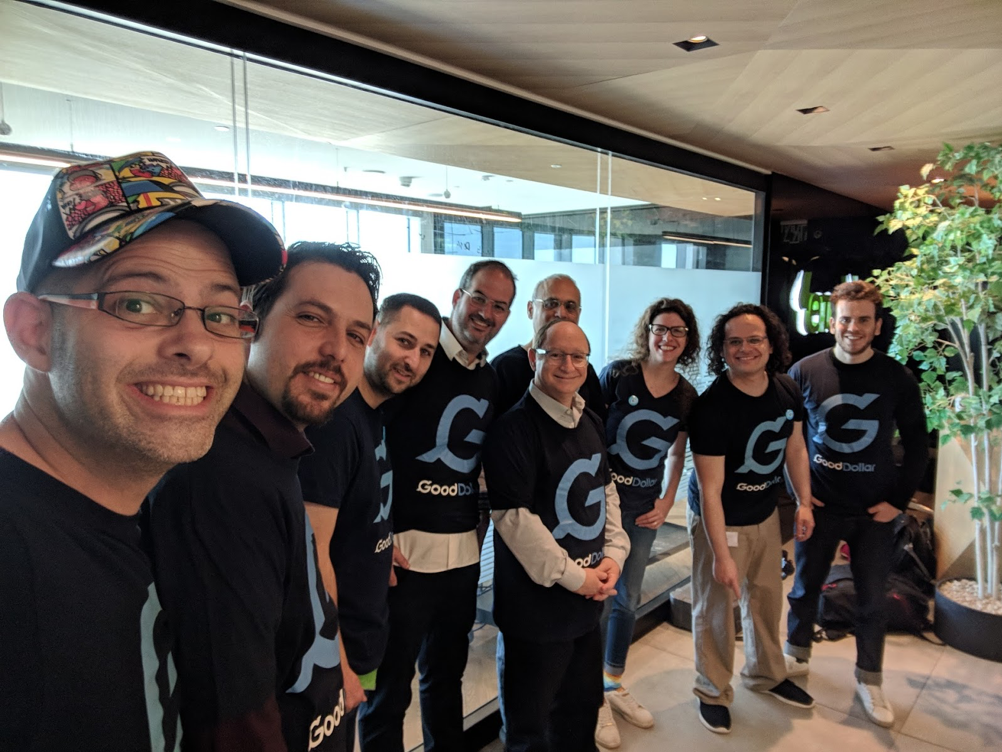 The hackathon for reducing global wealth inequality using decentralised technology was won by a prototype for a system that encourages citizens to be checked for diabetes in return for GoodDollar tokens
GoodDollar, a not-for-profit research hub that explores how decentralised cryptocurrencies and blockchain technology may enable models based on universal basic income (UBI) with the central aim of reducing global wealth inequality, held the inaugural Hackinequality event in Tel Aviv on March 14 and 15.
The judging panel, after much debate, agreed that the three-person t2d team – made up of Jesse Medina, Lior Yaffe, and Yaron Shmaria – had done enough to see off competition from the other eight social impact projects.
The team won the US$2,500 first prize, though the money was of secondary importance, with their contribution for social impact by far the more valuable.
Nine teams had 16 hours to work on their projects at the eToro offices in Bnei Brak, and their dedication was commendable. Most of the talented 35 participants – including programmers, analysts, designers, user experience experts, blockchain enthusiasts – burnt the midnight…
eToro Officially Launches Crypto Trading Platform & Wallet in the U.S.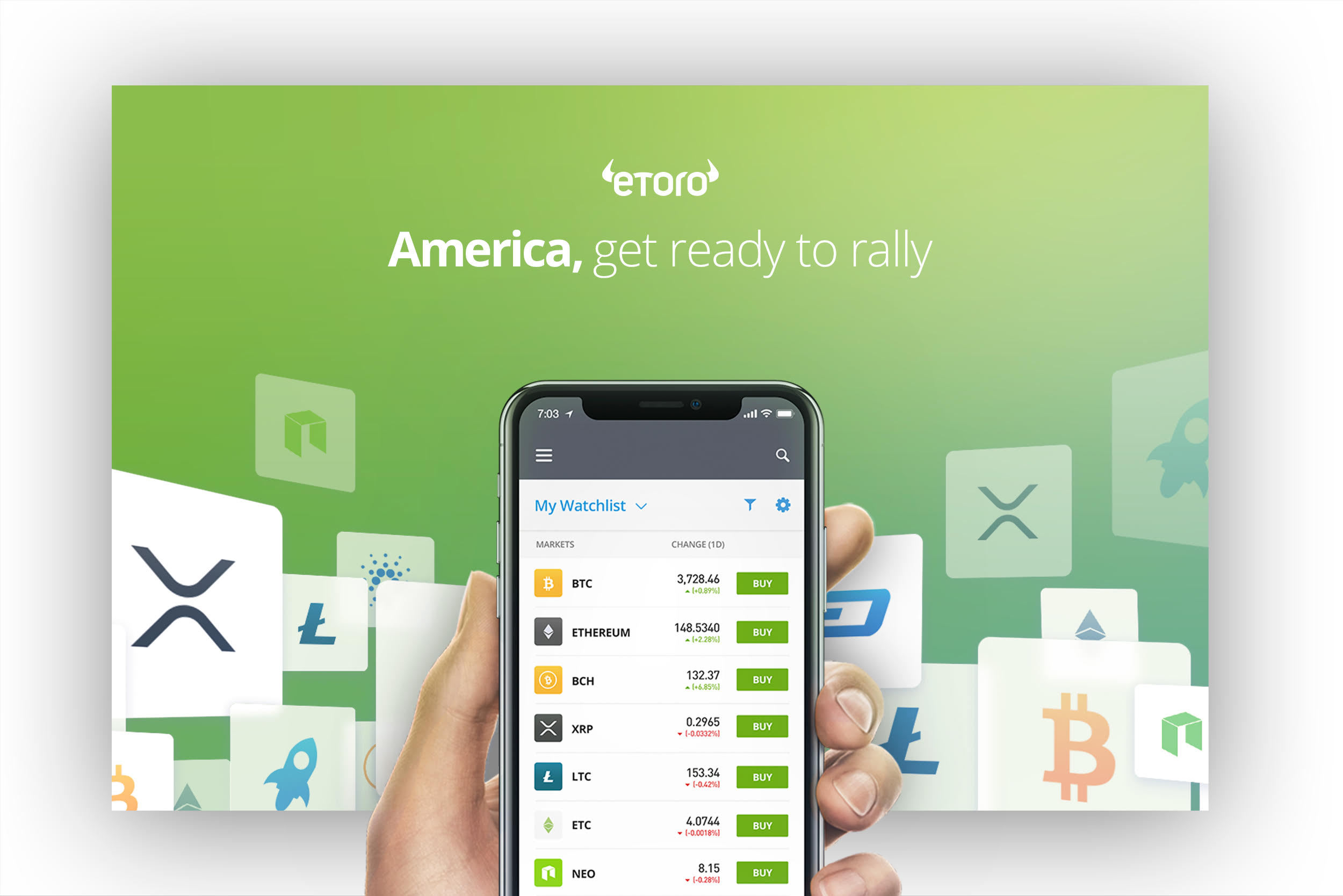 Global platform allows U.S. customers from 32 states and U.S. territories to trade 13 cryptoassets with multi-asset trading to arrive in Q1 2020
New York, NY — March 7, 2019— eToro, a global multi-asset trading platform with over 10 million registered users, announced the launch of its platform and cryptoasset wallet in the United States. With the launch, U.S. customers with diverse levels of expertise can leverage eToro to collaborate with one another to find the best cryptoasset trading strategies in an environment rich with unconventional educational tools.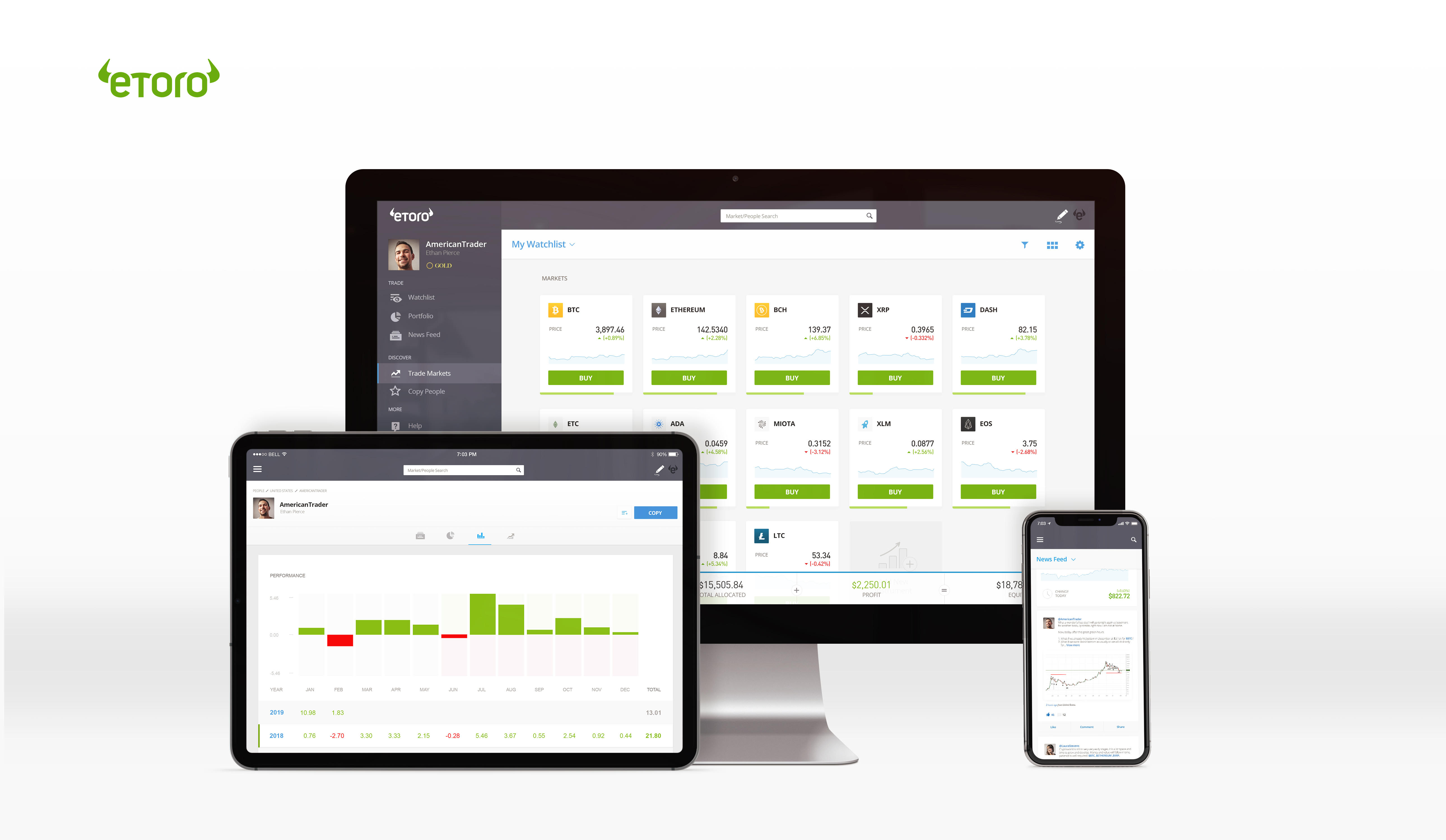 At eToro, you can share your real track record, portfolio, and trades with the community, allowing users to engage with each other on trading ideas that are executed using real dollars. For those new to crypto trading, the community and educational resources introduce users to this new asset class and the risk profiles involved in it.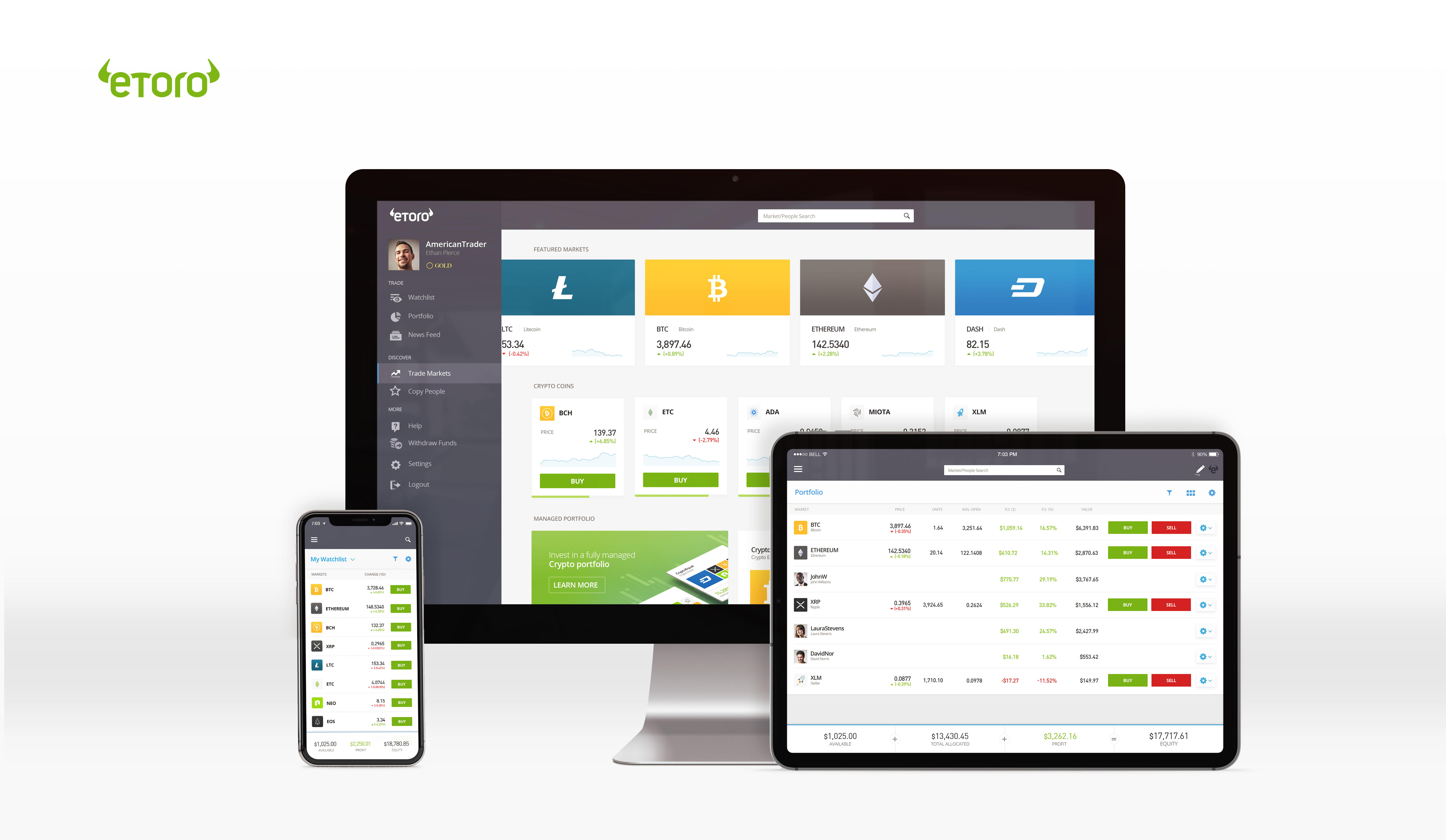 Yoni Assia, Co-founder & CEO of eToro, said: "For the first time, Americans can collaborate with other crypto traders when making buying and selling decisions. Users can adjust their trading strategies by watching and…
Why be average when you can be extraordinary?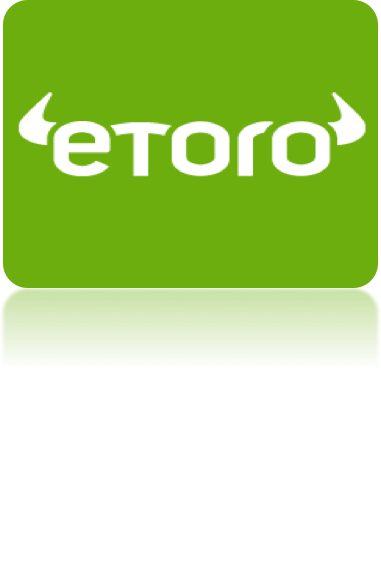 In 2018, world stock markets went up. Then they went down, then up, then down and down again.
By the end of the year, the three major indexes tracking world stock markets were all flashing red. This means if an investor had decided to just purchase products that followed these indexes, they would have lost money.
The MSCI World Index, which – tracking the stocks in 23 of the most developed economies – is the financial sector's "go-to" for taking the economic temperature, slumped 8.71%. Investing £100 in line with that index would have seen you finish the year with £91.30.
Not great if you are building for a financially secure future.
It is debatable as to whether these indexes should be used as a path for investors as the theory behind them is to demonstrate the overall movement of share prices. They track each company's stock and do not either highlight more of the winners or dump those that are really struggling.
But there is another way to invest without blindly following these general ups and downs.
Our Popular Investors don't just track the market. They make investment decisions based on financial and economic information and use their experience to gauge how external factors might impact a company's stock price.
They get to know companies and if they like it or think it stands to do well after…