EOS/BTC and NEO/BTC Price Analysis: Canary in the Coal Mine?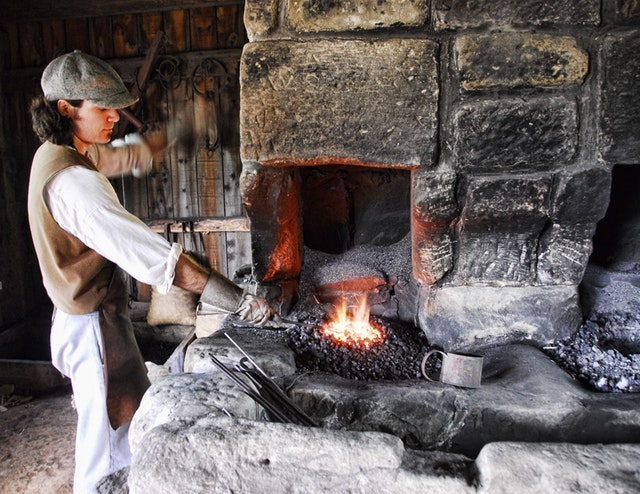 While many of the coins that we follow most closely have been mired in a bearish trend for the past month, that trend is also well exemplified by pairs denominated with the Bitcoin base.
For example, as we take a look at EOS/BTC and NEO/BTC, we can see this relative weakness, which is well characterized by the concept of demoralization as non-fiat wallets suffer flight to the relative safety of Bitcoin.
While this demonstrates the internal structure of a new leg of the overall bear market among cryptocurrencies, it may also represent the type of action that we may come to see as a bear market reaching old age, which suggests the possibility of a bullish inflection in the space around the next corner.
EOS/BTC
Price Analysis
High: 0.00077533
Low: 0.00074088
24-Hour Volume: 190.15K
MACD Signal: Sell
The chart for the EOS/BTC pair demonstrates this shift toward demoralization quite clearly given that EOS was a clear point of relative strength in the complex up until its highs in early May.
The EOS/BTC pair broke beneath both its 50-day and 200-day simple moving averages in step, with the so-called "death cross" appearing earlier this month. Both of these major moving averages are now downward sloped for this pair.
That said, at this point, the chart for this pair has also recently triggered extremely oversold levels on the 14-day RSI. But a closer examination through drilling down to the hourly chart shows a possible inflection in play signaled by a bullish divergence on the hourly MACD followed by a bullish breakout in the histogram for that same indicator last night.
Integrating all of these ideas, the EOS/BTC pair may be a canary in the coal mine for bears on the cryptocurrency space given the oversold levels on the daily chart, the importance of this pairing as a signal about demoralization of animal spirits, and the technical inflection possibly starting to take shape on the hourly chart.
NEO/BTC
Price Analysis
High: 0.002738
Low: 0.002562
24-Hour Volume: 11.787K
MACD Signal: Sell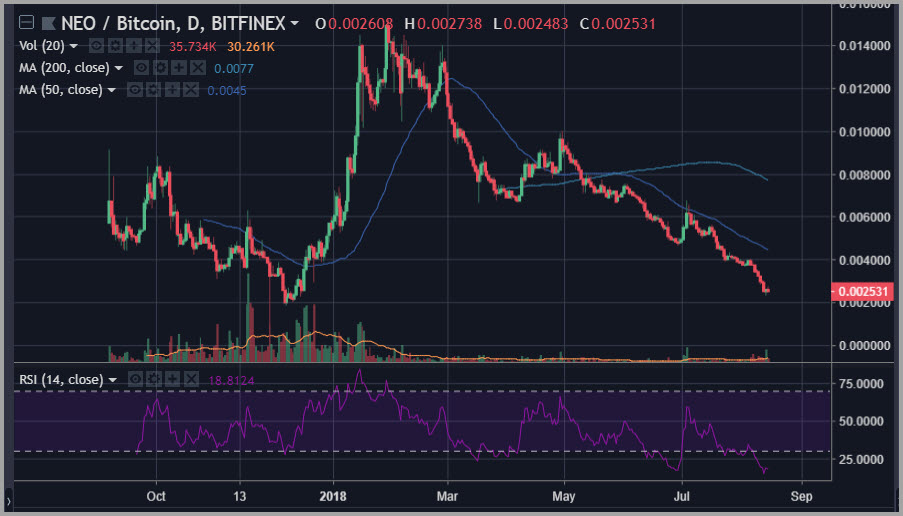 The NEO/BTC chart is one of the most directional bearish charts that we see for 2018 as a whole, with very little relief for anyone long this pair from the excitement and fervor characterizing the action in January.
At this point, NEO/BTC is trading well beneath its major moving averages and trending lower in what appears to be an accelerating decline. There is chart level support that traces back to the pivot lows formed in December, which lie just below its current levels.
However, with this type of acceleration often comes the prospect of capitulation and the possibility of a snapback bounce. This idea is demonstrated well by the action on the 14-day RSI, which has printed as low as 15 on the raw indicator score over the past 24 hours for NEO/BTC.
Happy Trading~
To trade cryptocurrencies, sign up with BitMex or Binance!
Disclaimer: This article should not be taken as, and is not intended to provide, investment advice. Global Coin Report and/or its affiliates, employees, writers, and subcontractors are cryptocurrency investors and from time to time may or may not have holdings in some of the coins or tokens they cover. Please conduct your own thorough research before investing in any cryptocurrency and read our full disclaimer.
Image courtesy of Pexels
Charts courtesy of tradingview.com
Bitcoin about to drop to 4k, how will the market recover?
It's no secret that the cryptocurrency market (including Bitcoin) has been under a bearish run since last December 17th and it's been going down steadily over the previous eleven months. But nobody was ready for the way in which the bears hit the market this November 14th.
It was just insane. The market capitalization for crypto went to its lowest point in a very short time. Bitcoin, which is crypto's canary in a coal mine (so to speak) dropped below the 5k mark. It's trading at $4,443 as we write this article and is expected to hit the 4k mark if things keep going in the same direction.
Can the trend change? Is there any good news to report? Any reason to be hopeful? The answers are: yes, yes, and yes.
The trend can and will change. We know this because drops as dramatic as the current one have already happened four times over the last ten years. Every time the market has bounced back to reach previously unexpected (allegedly impossible) heights.
About good news to report. There's plenty. Blockchain projects like Ripple, Cardano, Stellar Lumens, Tron, and some others have reached impressive milestones this year. They are gaining adoption, becoming useful in the real world and securing strategic partnerships.
Also, even in the bearish climate, the crypto infrastructure has kept snowballing so you'll be hard pressed to find any place in the world in which you…
What's Wrong with Crypto?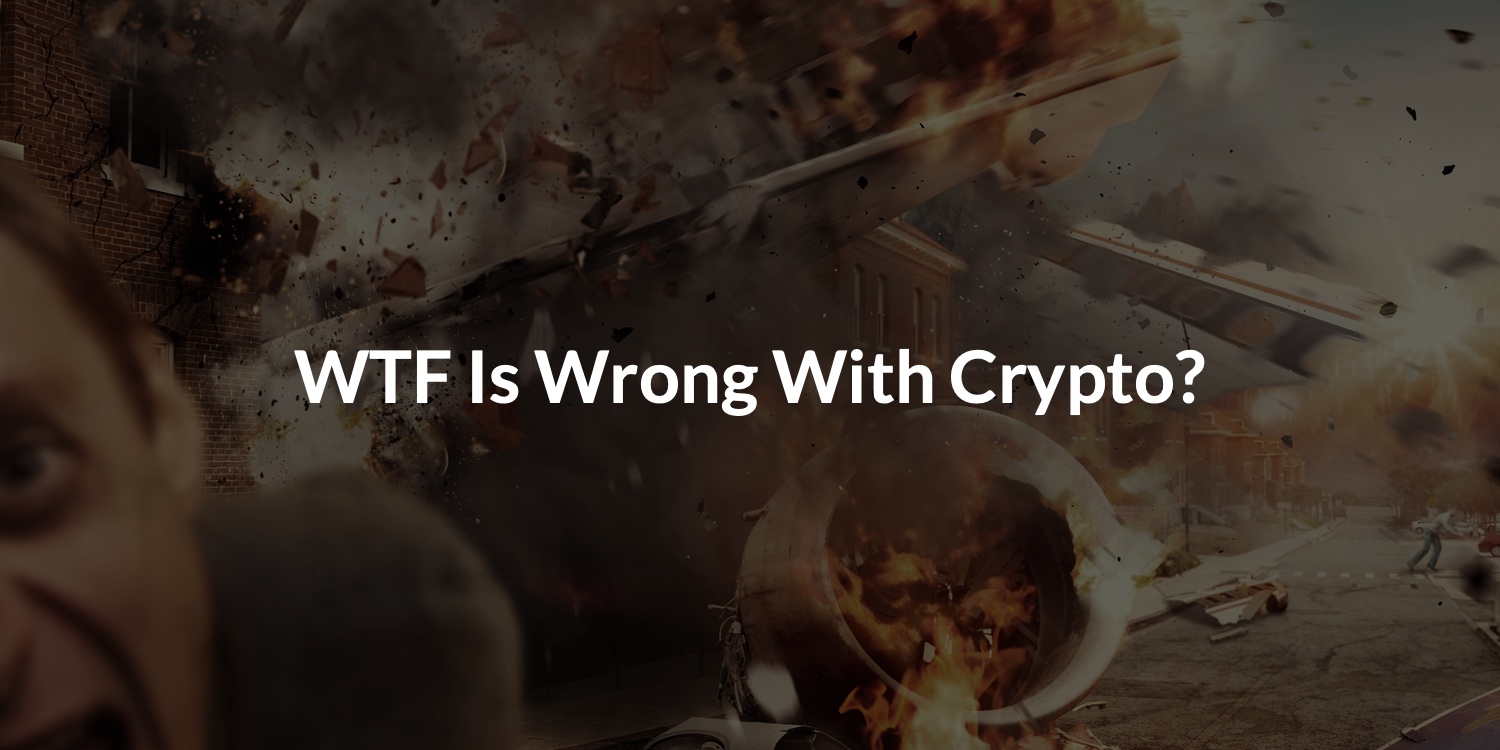 Sponsored by Global Coin Report and ICOsuccess
Hey! Are you fed up with the crypto market?
Hungry to see the charts bursting with green again?
The purpose of this very short survey is to get your thoughts on what is holding back our industry and collectively brainstorm ideas for turning it around.
We are looking to get a couple thousand responses over the next couple of weeks, and we'll be sharing the aggregated results with you once we're done!
Click below to do your share in bringing back a thriving crypto market!
First crypto ETP gets approval from Switzerland, XRP takes a significant bite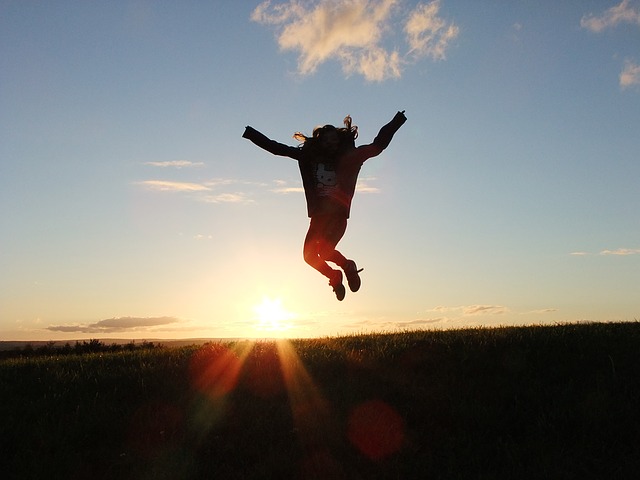 Bitcoin is currently at the lowest price it's had in a year and, yet, confidence and interest among the traditional financial industry (which has been very skeptic since it all started) keeps growing at an unprecedented rate. Switzerland, the world's quintessential banking country, has green-lighted the world's first exchange-traded product tracking multiple cryptocurrencies.
It will be called Amun Crypto ETP and will go online next week on Zurich's Six exchange. It's designed to track five cryptocurrencies and to index their market performance. The five digital assets in question are Bitcoin, XRP, ETH, Bitcoin Cash, and Litecoin.
Having your tokens managed by Amun will set you back by 2.5%. It's expected for Bitcoin to be responsible for about half of the trade, with XRP doing a quarter of business and the three remaining coins at smaller percentages.
The Swiss exchange parent company is Amun, a fintech company based in London and founded by Hany Rashwan. Mr. Rashwan assured to the press that the ETP is built to meet all the same standards valid in conventional exchange trade used by investors all over the world. Mr. Rashwan added,
"The Amun ETP will give institutional investors that are restricted to investing only in securities or do not want to set up custody for digital assets exposure to cryptocurrencies. It will also provide access for retail investors that currently have no access to crypto exchanges due to local regulatory impediments."
…