Can't-Miss Free Event on the Benefits of Blockchains in Supply Chain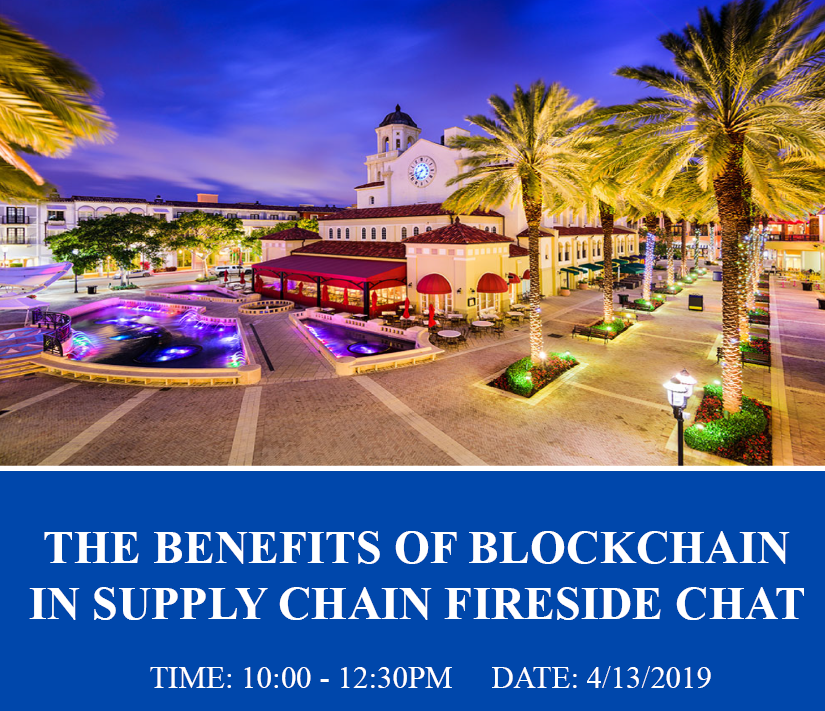 On Saturday, April 13th, CNC Blockchain and Blockchain in Transportation Alliance (BiTA) will be co-hosting a fireside chat on the benefits of blockchain technology in the supply chain industry. The event will take place at Venture X in downtown West Palm Beach, Florida from 10:00 – 12:30 PM. Admission is free, but space is limited so you must RSVP beforehand at: BiTA Fireside Chat.
One of the featured speakers at the event is Chris Tyler, an embedded solutions evangelist from IBM who has presented around the world on the most important technologies of the present day including blockchains, internet of things (IoT), artificial intelligence and machine learning. Since launching the IBM Blockchain in March of 2017, IBM has been established as one of the leading major tech companies to see the potential of blockchains to improve security, control, ease-of-use, trust and efficiency for businesses in countless industries.
With IBM recently launching TradeLens – an open, blockchain-powered platform for global trade – there are lots of new opportunities for IBM customers to get started with their own blockchain initiatives. Chris will be able to share his unique insights on this space, focusing on how improved transparency and traceability in supply chains can ultimately transform trade and boost the entire global economy.
Another industry leader who will be participating in the fireside chat is J.W. Taylor, a founding member of Taylor & Associates, Attorneys At Law. He represents transportation and logistics companies across the nation and internationally in all legal aspects of their businesses, helping them to achieve compliance with federal and state regulations while also reducing risk exposure across the supply chain.
Due to the complexity of blockchain technology and a general lack of public understanding about what blockchains do and what they are useful for, many businesses have been weary of getting involved in this space. In reality, blockchains can be extremely useful for mitigating risk due to properties such as immutability and robustness, and Mr. Taylor will address the benefits companies can realize by integrating blockchain tech into their supply chains.
Rounding out the group of speakers at the fireside chat will be John P. Riley III, the founder and CEO of C-N-C Blockchain Advisory. John has 17+ years of experience in software applications, having previously worked for Oracle and SAP before moving into the blockchain industry full-time.
Since founding CNC Blockchain, John has been consulting organizations to advise them on software implementations, business process changes, digital transformation initiatives and end-user adoption training.
John has become a prominent figure at blockchain and other tech conferences around the world, sharing his expertise on the significant challenges that currently exist in spreading adoption of blockchain technology. He's discussed the promising possibilities of combining blockchains with other emerging technologies such as AI and IoT, and how those innovations can complement each other.  (Watch his interview for Bloxlive.TV).
This local event will provide an opportunity to learn about the transformative potential of blockchain technology in supply chain and to talk directly with industry leaders who specialize in helping businesses become early adopters. To reserve your seat at the event and get your business started towards blockchain integration, RSVP at BiTA Fireside Chat.
CoinField Starts One Week SOLO Token Pre-Sale

CoinField has launched its SOLO Token Pre-Sale today, which started at 6 pm UTC (10 am PST). The pre-sale will run December 9-16, 2019. A limited number of participants will be able to purchase a total of 40 million SOLO tokens at a discounted rate, ahead of the public sale in Q1 2020.
Last month, CoinField sent out 50,000 invitations to the Sologenic VIP community members who needed to sign up for a CoinField account, pass the KYC verification process and successfully fund their account before December 6, 2019, to join the pre-sale.  
Built on top of the XRP Ledger, Sologenic was unveiled at the Malta AI & Blockchain Summit in November, where it was nominated as "DeFi Project of the Year."
"I have to say that from all the projects in 2019, this one, in particular, caught my eye for various reasons. The first one being that this is an ambitious project that aims to revitalize the trading industry through a blockchain-only solution, and the second being the innovative use of XRP Ledger technology to make it all happen. I'm confident that with Sologenic's stellar direction, this will be one of the projects to…
Five Strategies for Lowering Your Crypto Taxes
Getting taxes done isn't always the highest item on everyone's to do list. This is especially true if you have accumulated significant gains from investing in cryptocurrencies. What many investors often don't consider are the opportunities to actually reduce their tax liabilities from their crypto investing. This article discusses five strategies that you can use to help minimize your crypto tax liability.
Depending on what country you live in, your cryptocurrency will be subject to different tax rules. The questions below address implications within the United States, but similar issues arise around the world. As always, check with a local tax professional to assess your own particular tax situation.
1. Tax loss harvesting
Tax loss harvesting is a common strategy in the world of investing where you sell your assets that will realize a capital loss. All you need to do is look at your investments and see which ones you bought for more than they are currently worth. By selling at a loss, you can potentially dramatically lower your net capital gains and thus reduce your taxable income. Given the market we are currently in, there are abundant opportunities to harvest losses and save on your tax bill. Cryptocurrency tax calculators have built specific tax loss harvesting tools that you can use automatically detect which coins present…
The Best Thing to Share with Your Family on Thanksgiving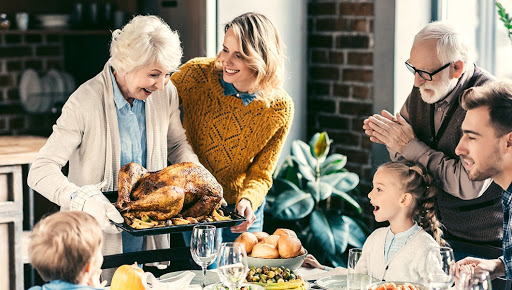 Sitting at the Thanksgiving table, your cousin remarks that her credit card was stolen in their data breach and was used to shopping during Black Friday last year. You quickly say, "That wouldn't have happened if you used Bitcoin," which leads to an awkward silence. "Isn't that what people use to buy illegal drugs?" your cousin finally asks, while your other relatives nod their heads. At this Thanksgiving Day, it's time to share the true meaning of cryptocurrency.
The first thing to do is to compare the cryptocurrency to cash. Remind your cousin that when she pays with cash, she doesn't have to give away any of her personal details unless the purchase requires it, and more importantly, the merchant has no access to get more of her money than what she gave him. Similarly, cryptocurrency works the same way in the digital realm. Therefore, cryptocurrency payment is also less open to fraud and theft comparing to credit card.
How to make profits with cryptocurrency
What's more, you can also make profits in crypto trading. In spot trades, investors buy cryptocurrencies like bitcoins and make a profit when BTC rise in price. But there are more opportunities to profit in another way: futures trading.
Compared to spot trades, futures trading enables investors to make a profit on both the upward and…