Ripple (XRP) is Stepping Up Its Game with Santander Bank Partnership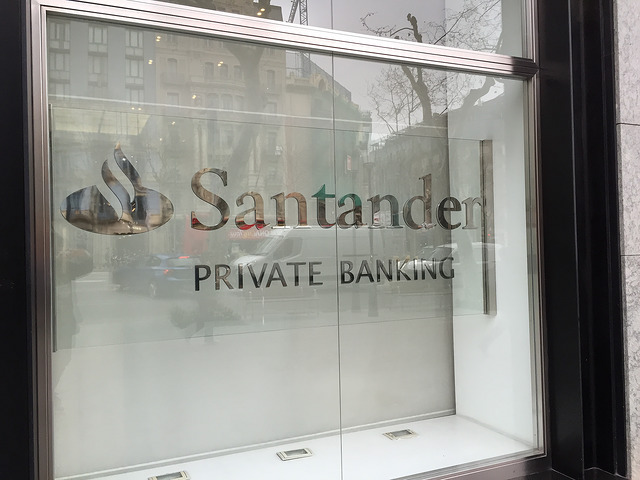 Ripple is one of the most talked about currencies these days, which is no wonder at all since Ripple is one of the most real-life integrated cryptos currently present in the market. In addition to this case, Ripple has been tested by numerous banks, banking institutions, and financial services, where these parties have taken over testing of XRP and xRapid for fast transactions on global levels. Although these institutions state that they have no interest in XRP as a cryptocurrency, this case is not preventing Ripple in acquiring new prospective partnerships that could sky-rocket this currency and its technology.
Ripple Partners up with Santander Bank
Two days ago, on April 12th, Ripple has announced its partnership with Santander Bank, which significantly pushed its value up in the market, resulting in the price of 0.5$ per one XRP unit, which is the highest price this currency had in weeks.
It was immediately obvious from that point on, that Ripple would be able to benefit greatly from this newly acquired partnership. Santander bank is actually one of the biggest banks in Europe, so its appreciation of XRP technology definitely adds more value to Ripple.
During the announcement of the newly acquired, and a pretty important partnership, Brad Garlinghouse stated that Ripple is further planning on realizing the idea of the Internet of Value. Apparently, Santander bank should be able to aid Ripple in this amazing venture that could revolutionize the world of cryptos.
Mentioning the word "crypto", Brad Garlinghouse, Ripple's own CEO stated that Ripple is not a cryptocurrency in reality, as it is also stated in the whitepaper of XRP. Garlinghouse added that this "currency" as we are all calling it, is actually a digital asset as it cannot be currency by any means if you can't go to Starbucks and use it for paying for your coffee.
Thinking about the way blockchain technology works, we can't miss on noticing that it works similarly to how the Internet was working as it first appeared. The Internet served the purpose of transferring and exchanging data, but at the time it first appeared it was deeply unorganized and unregulated, which reminds us of the way blockchain platforms are operating now.
The only difference is that blockchain actually has the ability to exchange real value. There came the idea of the Internet of Value that Ripple described as Web 2.0 in its official whitepaper.
On the occasion of Ripple partnering up with Santander Bank a couple of days ago, the executive chairman of this European bank, Ana Botin, stated that blockchain-based protocols for making payments are far faster, more efficient and more cost-effective while being safe and secure at the same time. The technology would allow Santander banks users to make transactions that would be available for the receiver on the same day when the initial transaction was made, which is the experience expected from a bank like Santander.
The chairman further added that they are planning on implementing this technology onto more than several markets already by the beginning of summer, which is pretty soon at this point.
Ripple and IoV
IoV or the Internet of Value has the idea of creating a blockchain-based environment that would be able to transfer value from and to anywhere in the world just like any type of information can be transferred from one side of the globe to the other with the use of the Internet.
Ripple is planning on creating such environment and it seems that this company is getting closer to making the Internet of Value into realization with each partnership they acquire, especially with the fact that they are now being used by MoneyGram and more than several other financial services and banking institutions.
The main objective the XRP has is to lower the costs of transactions while making transactions a lot cheaper and easier to process with a minimal percentage of errors and bugs present in the system. In addition, to enable everyone to exchange any type of value via their system, Ripple is also aiming at cutting the time needed for processing transactions that are being sent globally. So, with Ripple's technology, payments can be available and processed within seconds instead of 3 to 5 days, which is an amazing progress.
Santander bank seems to be sharing this idea with Ripple, so this bank launched an application called One Pay FX, partnered up with Ripple. This application is available in UK, Brazil, Spain, and Poland and should soon become available in more countries.
This app is powered by Ripple's xCurrent and it enables users in the named countries to send their transactions globally with only using their phone. All transactions made via One Pay FX will become available for the receiver at the same day on which transaction has been made instead of waiting for 3 to 5 days which was previously the case.
How is Ripple doing at the Current Moment?
Although XRP was doing pretty fine with the announcement of their partnership with Santander bank, which is one of the biggest banks in Europe, it seems that this digital asset is dropping once again as the majority of currencies are falling in the price as well.
After the most recent change in the market, Ripple started to trade in the red while losing -7.39% against the dollar. In addition to this case, XRP is also trading down against BTC for a bit over -6%.
With the latest change, Ripple can be purchased at the price of 0.63$, which is still far from its all-time high of 3.33$ as recorded at the beginning of January 2018.
We will be updating our subscribers as soon as we know more. For the latest on XRP, sign up for our free newsletter!
Disclaimer: This article should not be taken as, and is not intended to provide, investment advice. Global Coin Report and/or its affiliates, employees, writers, and subcontractors are cryptocurrency investors and from time to time may or may not have holdings in some of the coins or tokens they cover. Please conduct your own thorough research before investing in any cryptocurrency and read our full disclaimer.
Image courtesy of Yasunari Goto via Flickr
Rewards Platform StormX Offers 50% Crypto Cashback Bonus for Thanksgiving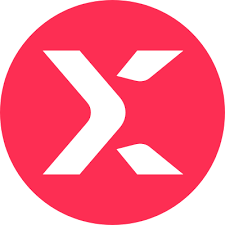 Singapore, Singapore, 23rd November, 2020, // ChainWire //
Blockchain-based rewards platform StormX has released a seasonal promotion for its award-winning Crypto Cash Back App. The promotion will allow app users to earn a 50% bonus on top of their cashback between Thanksgiving Day and Cyber Monday (November 26-30).
StormX has also introduced a brand-new staking service, allowing users to earn an additional 50% per year when they stake STMX tokens. The native ERC20 token of the StormX ecosystem, STMX has a total supply of 10 billion and is available to trade at many of the world's top exchanges, including Binance and Bittrex.
"With Bitcoin's price approaching its all-time high, interest in cryptocurrencies has renewed, though some people believe it's now too expensive to buy in," said StormX CEO and Co-Founder Simon Yu. "What we have done is create an easy way for such individuals to accumulate bitcoin, ethereum and other cryptocurrencies via everyday shopping.
"We're also excited to provide users with the ability to earn greater rewards simply by staking their tokens."
Since the StormX mobile app launched its Shop feature with over 700 stores in February 2020, some 400,000 unique users have been added to the rewards platform. StormX has also witnessed over 50% month-on-month growth for sales. The app is available for download on the App and Google Play Stores, and can be downloaded as a browser add-on from the Chrome Web…
BITTREX GLOBAL CONFIRMS FREE TRADING AND LISTING FOR TOP DEFI TOKEN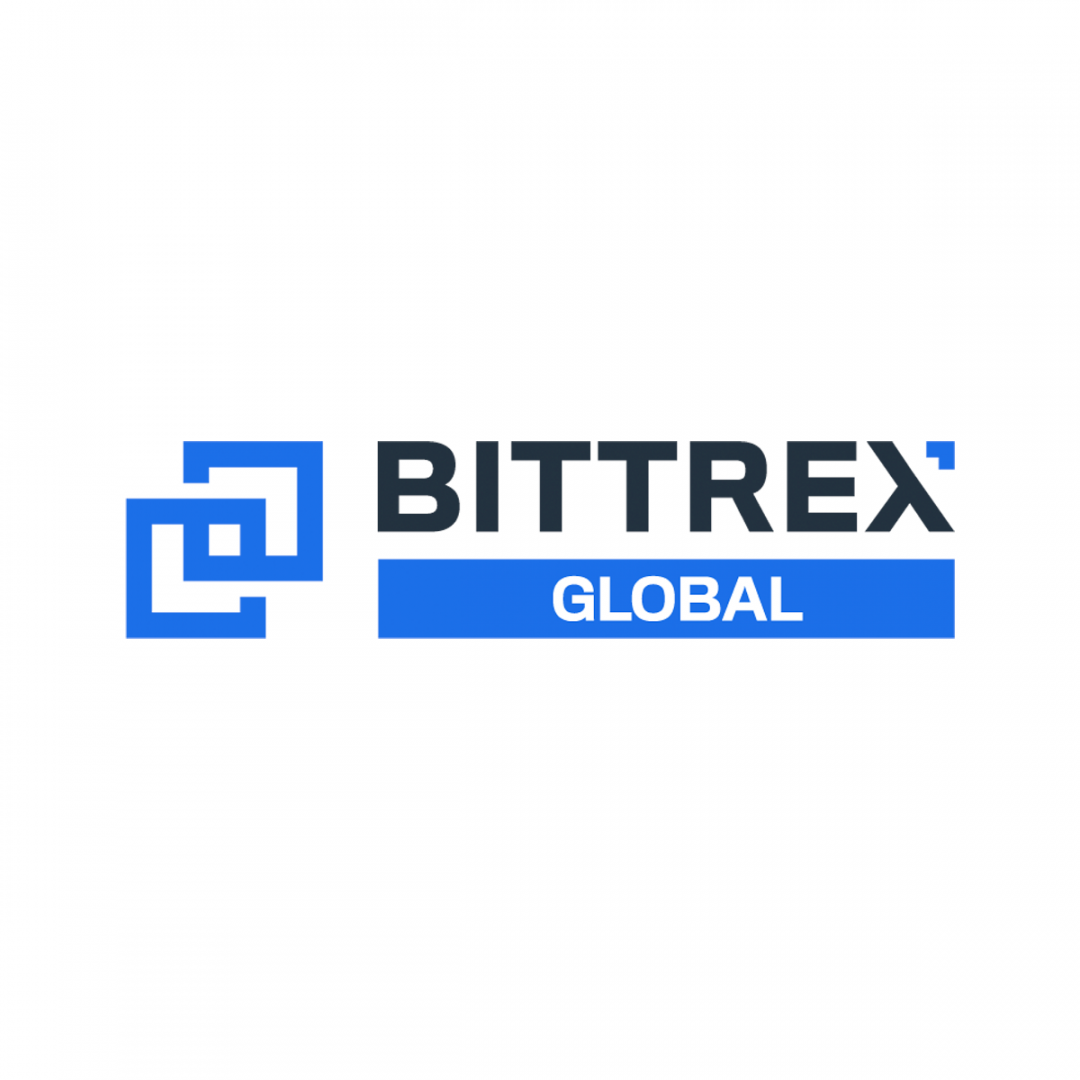 Valduz, Liechtenstein, 17th November, 2020, // ChainWire //
International cryptocurrency exchange promotes free trading and no gas fees for leading DeFi tokens
17th November 2020 — Bittrex Global GmbH. announced today 8 new DeFi tokens will be listed this week including:
UMA (UMA)
Aave (AAVE)
Balancer (BAL)
REN (REN & renBTC)
Kyber Network (KNC)
Band Protocol (BAND)
YF Link – (YFL)
Bittrex Global's users can trade all of their DeFi  tokens with no trading or gas fees until 2021. The decision to enable free trading on Bittrex Global for DeFi tokens  follows on from the 1,000% growth of the DeFi asset class over the course of 2020.
The decision to enable free transactions will see more investors enter the Blockchain Act's digital asset regulatory system, supervised by the Financial Market Authority in Liechtenstein (FMA) under the Due Diligence Act which requires traders to comply with the KYC/AML/CFT standards.
"The last year has seen huge growth in DeFi as an asset class and a number of significant milestones completed," said Bittrex Global's CEO Tom Albright. "As the asset class matures and more institutional and professional investors look at the fundamentals, we are likely to see increased demand and higher trading volumes for DeFi in 2021.
We're really excited about what we're seeing in the space and want to see these DeFi projects grow and help them build stronger platforms through increased adoption. Offering free trading fees…
Ready for Chaos? Swingby's Chaos-Mainnet Launches on December 28th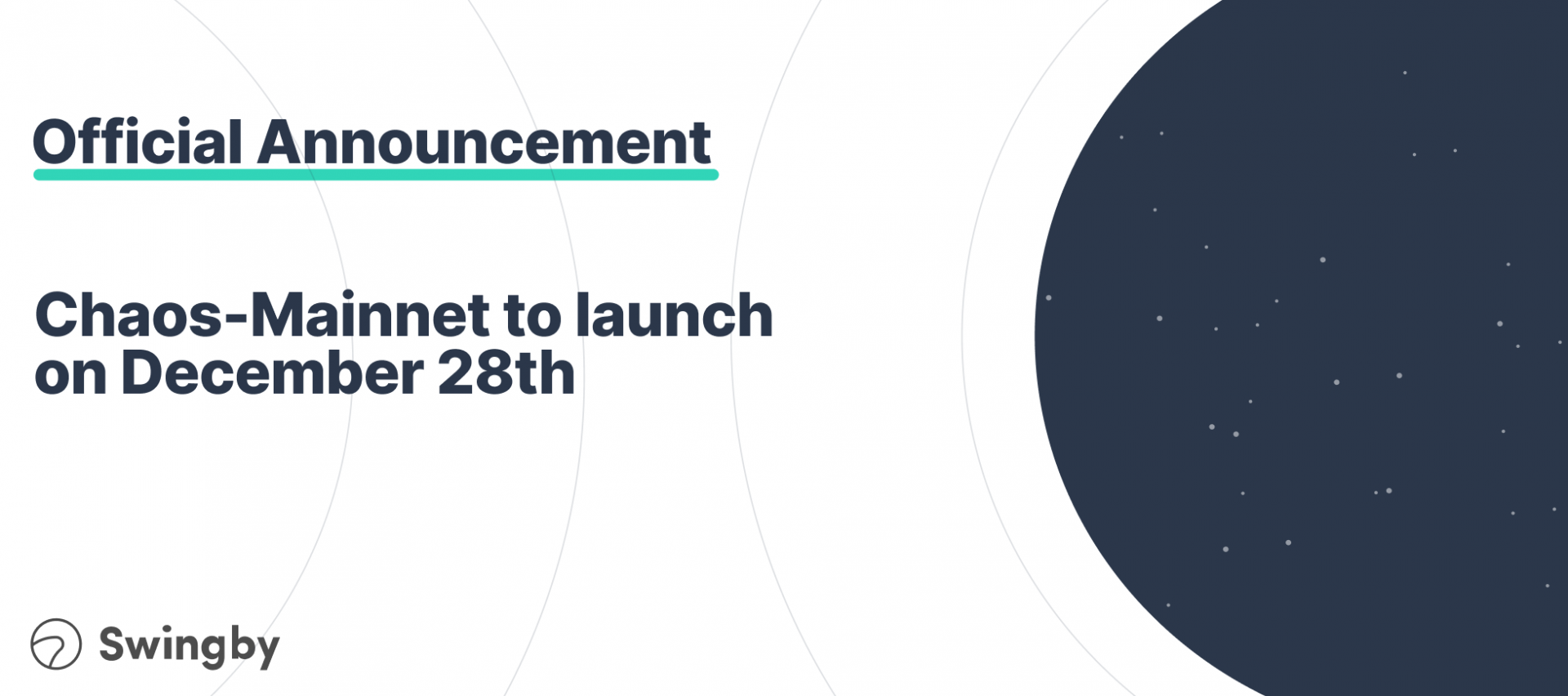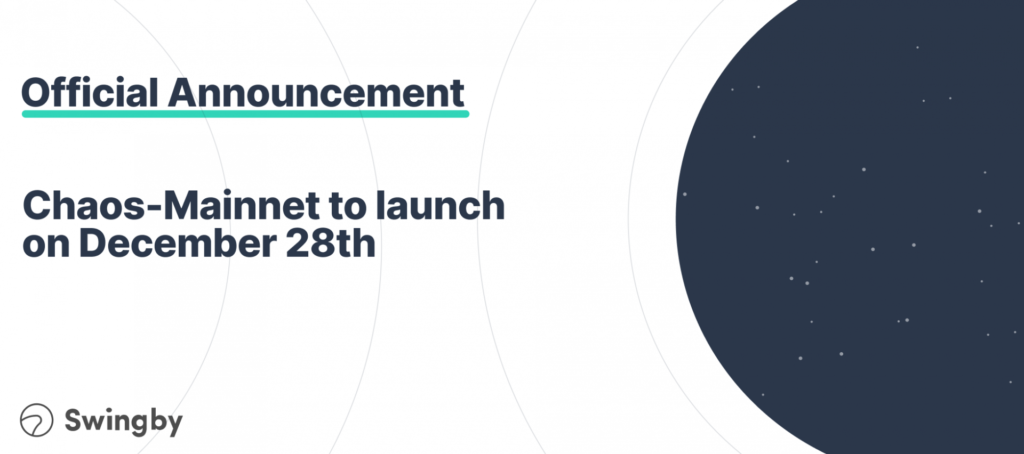 Singapore, Singapore, 9th November, 2020, // ChainWire //
Swingby is the "warp-speed" protocol for inter-blockchain swaps. It allows all DeFi users to move assets between blockchains without a trusted party. 
Today, Swingby announces its first mainnet network will be released on the 28th of December; it will bridge native Bitcoins onto Ethereum via Wrapped BTC (WBTC).
The initial bridge will enable the most liquid digital asset in the world (Bitcoin), currently valued at a $300 billion market cap, to be moved onto the Ethereum network to tap its $10b DeFi ecosystem.
"This launch will be pivotal to Swingby. After December 28th, Swingby will have a fully operational Chaos-Mainnet network which will be generating a tremendous amount of value to the world of DeFi and bringing in a large number of new users" – Yusaku Senga, CEO
Why is this big news for DeFi?
On December 28th, Swingby will be launching its first Chaos-Mainnet bridge, allowing users to easily move their bitcoins into WBTC on Ethereum without the need for a trusted party. Similarly, the bridge can be used in the opposite direction allowing WBTC-ERC20 tokens to be moved back into native BTCs.
What's so special about it?
Trustless: Swingby's Skybridge will be the only way to trustlessly swap BTC into wrapped Bitcoin (WBTC).
Simple to use: The Swingby bridge has been designed to work with standard transaction types removing the need for complex smart contract calls…