XLM/BTC and BNB/BTC Price Analysis: Where to Look for Opportunity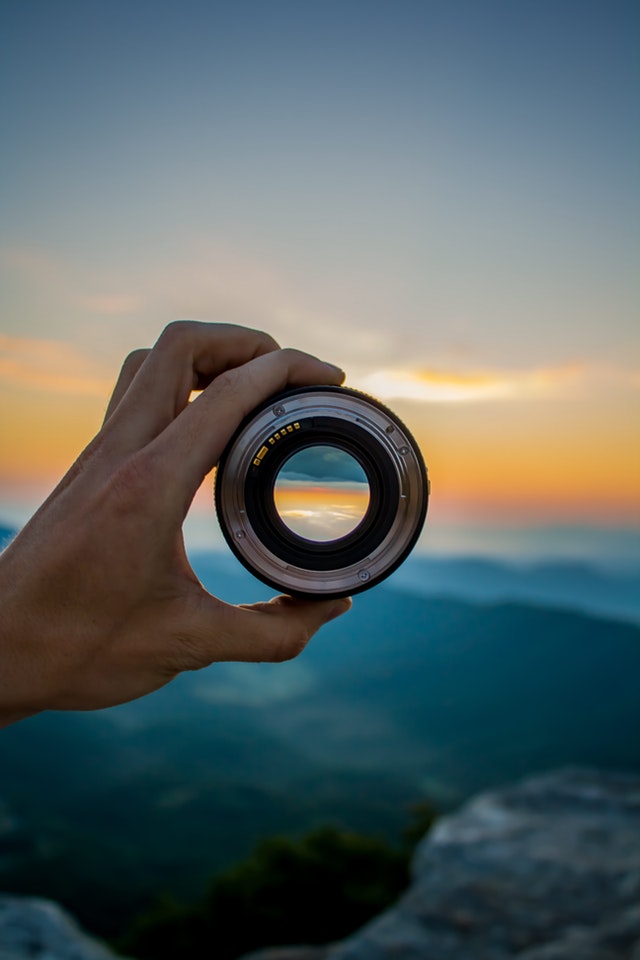 While the action has been somewhat monotonous over the past several weeks for cryptocurrency traders – down, down, and more down – the picture is actually a little bit more two-sided and interesting when we focus on various large market cap coin pairings, particularly with some interesting coins when paired with Bitcoin.
For example, in the analysis below, we're going to take a look at two very interesting pairs – BNB/BTC and XLM/BTC. In each case, the relationship between the short-term charts in the longer-term patterns is revealing.
BNB/BTC
Price Analysis
High: 0.0016965
Low: 0.0015138
24-Hour Volume: 352.194K
MACD Signal: Sell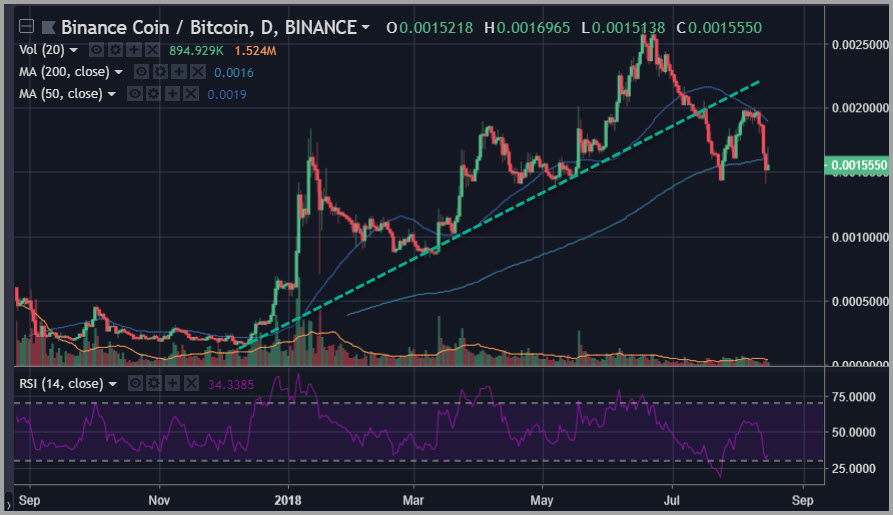 Without a doubt, the BNB/BTC pair is one of the more interesting technical pictures in the crypto complex at present. Binance Coin (BNB) has been one of the sharpest outperformers across the cryptocurrency space since late 2017, consistently outperforming Bitcoin all the way into this summer.
However, as we started to trigger the new phase or leg of this bear market, we are beginning to see some flight to safety which is beginning to cripple the trend in the BNB/BTC pair, knocking this chart down through its 50-day simple moving average to test support at a rising 200-day simple moving average.
In the process, BNB/BTC broke just underneath its 200-day simple moving average, thus registering a deeply oversold reading on the 14-day RSI, which cracked under the 20 level in terms of raw indicator reading.
At the same time, this BNB/BTC chart broke beneath a price shelf defined by the January 2018 highs in confluence with the March 2018 highs. This action also quickly broke beneath a strong trend line that you can see drawn in the chart above.
However, if we begin to see some more adventurous trading reemerge in the second half of the year, the BNB/BTC pair may be a very interesting place to look for speculative outperformance.
XLM/BTC
Price Analysis
High: 0.0000361
Low: 0.00003492
24-Hour Volume: 126.696K
MACD Signal: Sell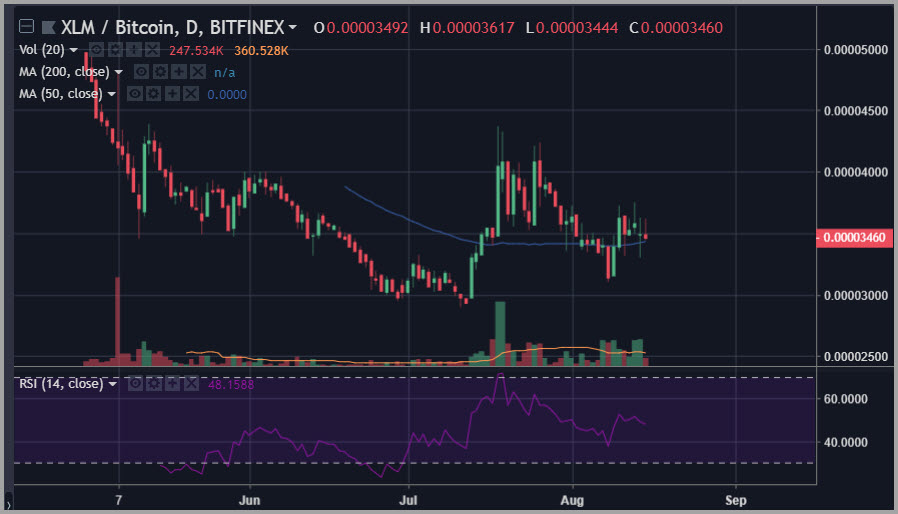 By comparison, the XLM/BTC pair is both thinly traded and wallowing. That said, this pairing is also outperforming many others, with the current price level sitting above its 50-day simple moving average about midway through a trading range defined by the span seen in the mid-July rally shown on this chart.
The essence of the XLM/BTC pattern at present is a symmetrical triangle with the price very near the axis point as we come into the action today.
The triangle nature of this pattern suggests something of a battle between XLM and BTC for the honor and title of "least dirty shirt in the hamper". In other words, relative to fiat currencies – and especially the US dollar – basically everything in the crypto complex has been plastered over the past three weeks. But the majority of large market cap coins have been similarly plastered when compared with Bitcoin.
But XLM is more or less holding its own, which is clear on the XLM/BTC chart.
Happy Trading~
To trade cryptocurrencies, sign up with BitMex or Binance!
Disclaimer: This article should not be taken as, and is not intended to provide, investment advice. Global Coin Report and/or its affiliates, employees, writers, and subcontractors are cryptocurrency investors and from time to time may or may not have holdings in some of the coins or tokens they cover. Please conduct your own thorough research before investing in any cryptocurrency and read our full disclaimer.
Image courtesy of Pexels
Charts courtesy of tradingview.com
Bitcoin about to drop to 4k, how will the market recover?
It's no secret that the cryptocurrency market (including Bitcoin) has been under a bearish run since last December 17th and it's been going down steadily over the previous eleven months. But nobody was ready for the way in which the bears hit the market this November 14th.
It was just insane. The market capitalization for crypto went to its lowest point in a very short time. Bitcoin, which is crypto's canary in a coal mine (so to speak) dropped below the 5k mark. It's trading at $4,443 as we write this article and is expected to hit the 4k mark if things keep going in the same direction.
Can the trend change? Is there any good news to report? Any reason to be hopeful? The answers are: yes, yes, and yes.
The trend can and will change. We know this because drops as dramatic as the current one have already happened four times over the last ten years. Every time the market has bounced back to reach previously unexpected (allegedly impossible) heights.
About good news to report. There's plenty. Blockchain projects like Ripple, Cardano, Stellar Lumens, Tron, and some others have reached impressive milestones this year. They are gaining adoption, becoming useful in the real world and securing strategic partnerships.
Also, even in the bearish climate, the crypto infrastructure has kept snowballing so you'll be hard pressed to find any place in the world in which you…
What's Wrong with Crypto?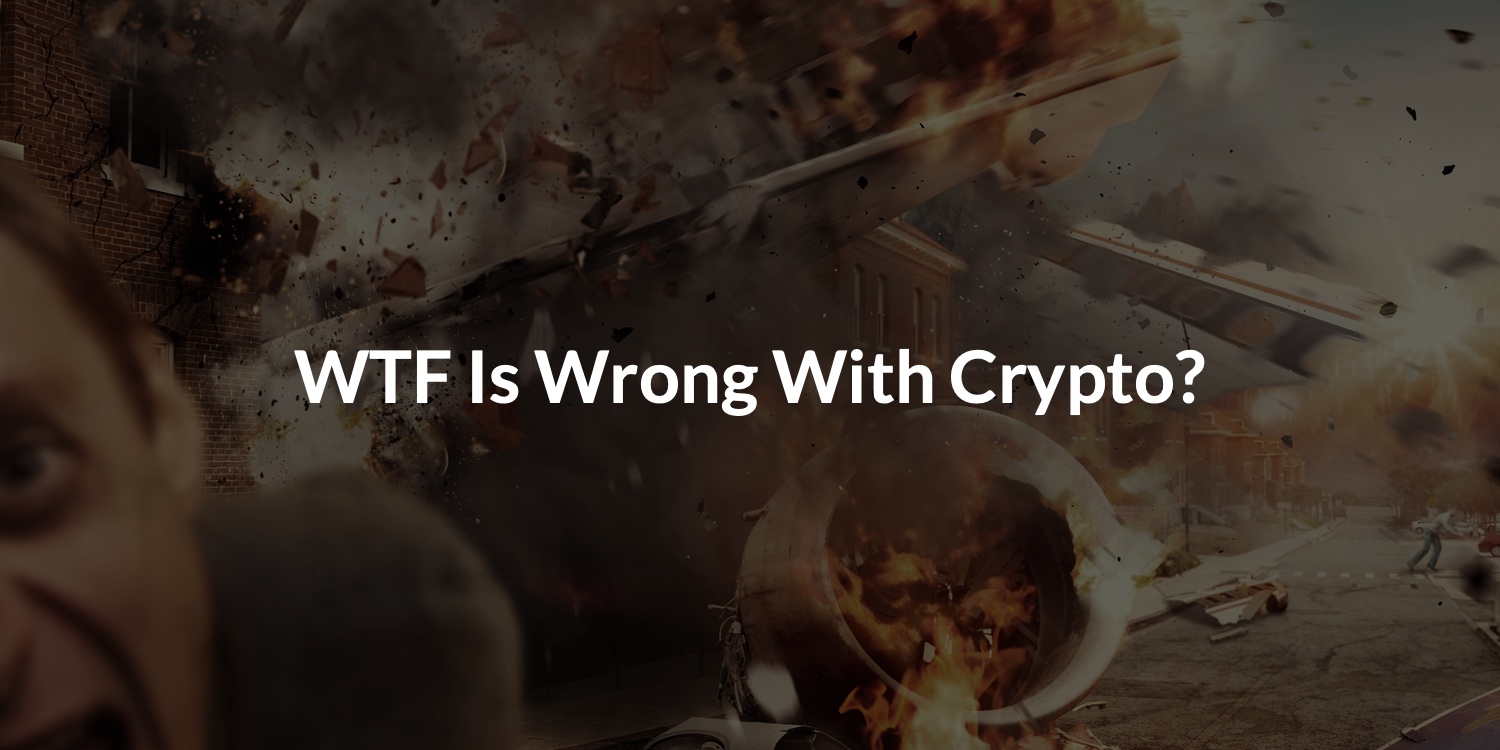 Sponsored by Global Coin Report and ICOsuccess
Hey! Are you fed up with the crypto market?
Hungry to see the charts bursting with green again?
The purpose of this very short survey is to get your thoughts on what is holding back our industry and collectively brainstorm ideas for turning it around.
We are looking to get a couple thousand responses over the next couple of weeks, and we'll be sharing the aggregated results with you once we're done!
Click below to do your share in bringing back a thriving crypto market!
First crypto ETP gets approval from Switzerland, XRP takes a significant bite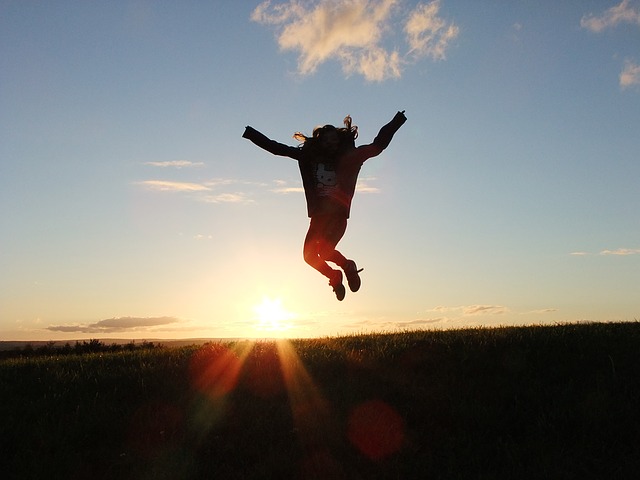 Bitcoin is currently at the lowest price it's had in a year and, yet, confidence and interest among the traditional financial industry (which has been very skeptic since it all started) keeps growing at an unprecedented rate. Switzerland, the world's quintessential banking country, has green-lighted the world's first exchange-traded product tracking multiple cryptocurrencies.
It will be called Amun Crypto ETP and will go online next week on Zurich's Six exchange. It's designed to track five cryptocurrencies and to index their market performance. The five digital assets in question are Bitcoin, XRP, ETH, Bitcoin Cash, and Litecoin.
Having your tokens managed by Amun will set you back by 2.5%. It's expected for Bitcoin to be responsible for about half of the trade, with XRP doing a quarter of business and the three remaining coins at smaller percentages.
The Swiss exchange parent company is Amun, a fintech company based in London and founded by Hany Rashwan. Mr. Rashwan assured to the press that the ETP is built to meet all the same standards valid in conventional exchange trade used by investors all over the world. Mr. Rashwan added,
"The Amun ETP will give institutional investors that are restricted to investing only in securities or do not want to set up custody for digital assets exposure to cryptocurrencies. It will also provide access for retail investors that currently have no access to crypto exchanges due to local regulatory impediments."
…