XLM/BTC and BNB/BTC Price Analysis: Where to Look for Opportunity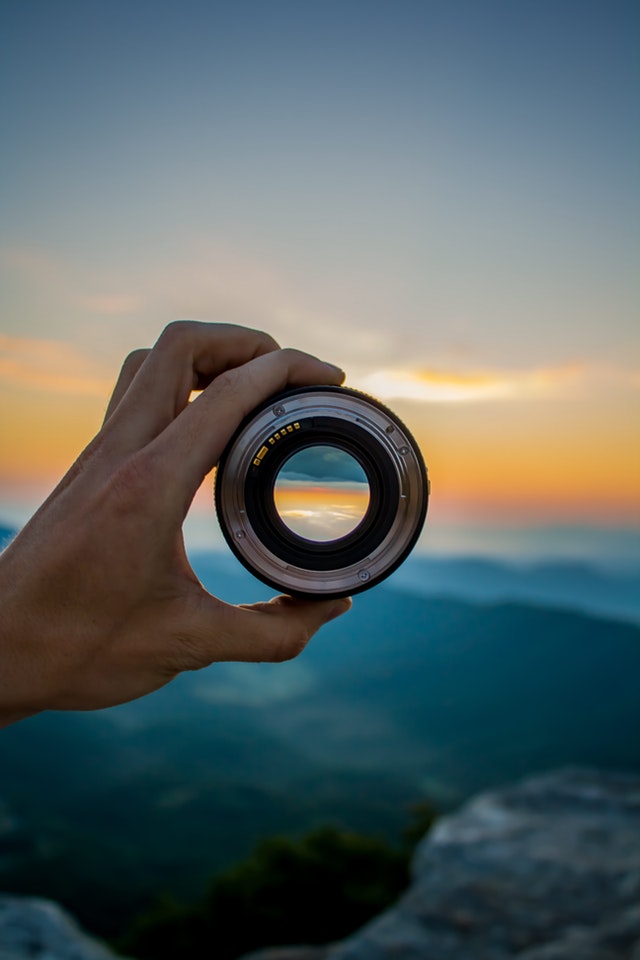 While the action has been somewhat monotonous over the past several weeks for cryptocurrency traders – down, down, and more down – the picture is actually a little bit more two-sided and interesting when we focus on various large market cap coin pairings, particularly with some interesting coins when paired with Bitcoin.
For example, in the analysis below, we're going to take a look at two very interesting pairs – BNB/BTC and XLM/BTC. In each case, the relationship between the short-term charts in the longer-term patterns is revealing.
BNB/BTC
Price Analysis
High: 0.0016965
Low: 0.0015138
24-Hour Volume: 352.194K
MACD Signal: Sell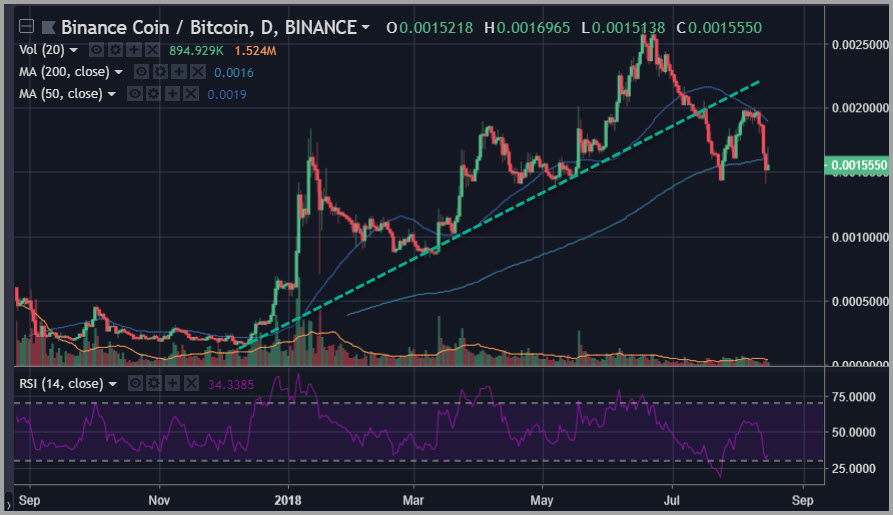 Without a doubt, the BNB/BTC pair is one of the more interesting technical pictures in the crypto complex at present. Binance Coin (BNB) has been one of the sharpest outperformers across the cryptocurrency space since late 2017, consistently outperforming Bitcoin all the way into this summer.
However, as we started to trigger the new phase or leg of this bear market, we are beginning to see some flight to safety which is beginning to cripple the trend in the BNB/BTC pair, knocking this chart down through its 50-day simple moving average to test support at a rising 200-day simple moving average.
In the process, BNB/BTC broke just underneath its 200-day simple moving average, thus registering a deeply oversold reading on the 14-day RSI, which cracked under the 20 level in terms of raw indicator reading.
At the same time, this BNB/BTC chart broke beneath a price shelf defined by the January 2018 highs in confluence with the March 2018 highs. This action also quickly broke beneath a strong trend line that you can see drawn in the chart above.
However, if we begin to see some more adventurous trading reemerge in the second half of the year, the BNB/BTC pair may be a very interesting place to look for speculative outperformance.
XLM/BTC
Price Analysis
High: 0.0000361
Low: 0.00003492
24-Hour Volume: 126.696K
MACD Signal: Sell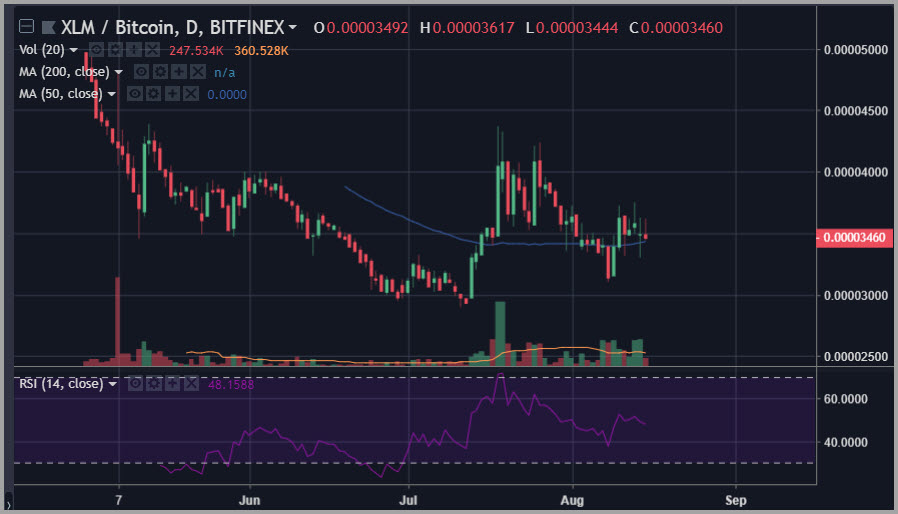 By comparison, the XLM/BTC pair is both thinly traded and wallowing. That said, this pairing is also outperforming many others, with the current price level sitting above its 50-day simple moving average about midway through a trading range defined by the span seen in the mid-July rally shown on this chart.
The essence of the XLM/BTC pattern at present is a symmetrical triangle with the price very near the axis point as we come into the action today.
The triangle nature of this pattern suggests something of a battle between XLM and BTC for the honor and title of "least dirty shirt in the hamper". In other words, relative to fiat currencies – and especially the US dollar – basically everything in the crypto complex has been plastered over the past three weeks. But the majority of large market cap coins have been similarly plastered when compared with Bitcoin.
But XLM is more or less holding its own, which is clear on the XLM/BTC chart.
Happy Trading~
To trade cryptocurrencies, sign up with BitMex or Binance!
Disclaimer: This article should not be taken as, and is not intended to provide, investment advice. Global Coin Report and/or its affiliates, employees, writers, and subcontractors are cryptocurrency investors and from time to time may or may not have holdings in some of the coins or tokens they cover. Please conduct your own thorough research before investing in any cryptocurrency and read our full disclaimer.
Image courtesy of Pexels
Charts courtesy of tradingview.com
Ethereum Flippening Bitcoin In 5 Years?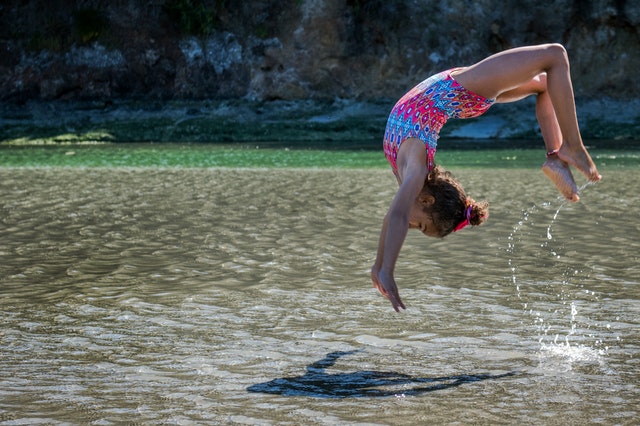 The dominance of Bitcoin (BTC) in the crypto markets due to the bear market, currently stands at 55.2%. Ethereum's dominance is a distant second at 10.8% of the total cryptocurrency market capitalization. This is despite the fact that the value of ETH is still shaky with many traders postulating that it could get worse for the digital asset before it gets better. Ethereum's decline has been blamed on three factors outlined below:
Congestion issues on the network
ICOs cashing out the ETH raised in the ICO boom of last December to late February this year
Traders shorting ETH due to the above two reasons
Ethereum Flippening Bitcoin?
In a tweet on the 18th of September, Weiss Ratings stated that ETH will grab 50% of Bitcoin's market share in 5 years. Doing the math, this means Ethereum flippening Bitcoin in the markets with a dominance that will be around 38%. BTC would be at half its current value, and at 27.6% of the total crypto market cap.
The full tweet from Weiss Ratings would go on to explain why this would happen:
"#Bitcoin will lose 50% of its #cryptocurrency market share to #ETH within 5 years, due to it offering more uses and being backed with superior #blockchain technology. We completely agree – unlike #BTC, which is a one-trick pony, the limit of…
Crypto News: What Happened To Bitcoin?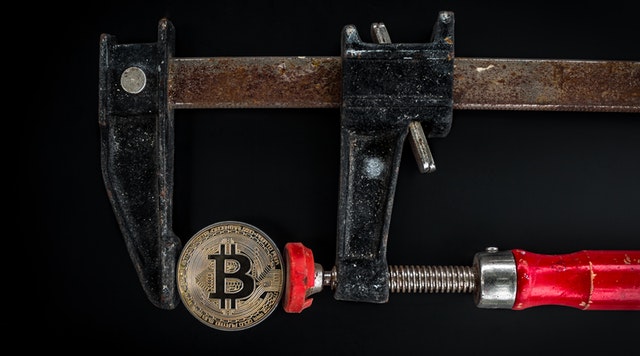 The crypto news of the day is what the heck happened yesterday in Bitcoin? In a matter of 2 hours, we saw the Bitcoin price go from 6320 to 6080 on Bitmex and then rocket higher to 6580. In the process, stops were cleaned out for both longs and shorts.
For all of 2018, Bitcoin has been a perfect vehicle for swing traders. The market has been playing support and resistance levels perfectly. The play has been to buy Bitcoin around the 6000 level and sell above 7000. Until this pattern changes, it's what traders and investors need to keep doing. Yesterday's price action, while crazy and extreme, does still support this strategy.
Why the crazy move in Bitcoin?
There are a number of thoughts as to why Bitcoin made the move that it did. They are technical related and don't involve a fundamental reason. The first is that there are bots on Bitmex that go hunting for stops. The bot utilizes inside knowledge of where the orders are clustered. If the bot can move the market to where the stops are, it can get filled.
The second is that yesterday was the expiration of the CBOE futures contract. I am an ex-futures trader (now crypto) and know that expiration days can see some crazy moves. This is because it's the last day to close a position on that futures contract.
…
XRP Rally Lifts Bitcoin and Ethereum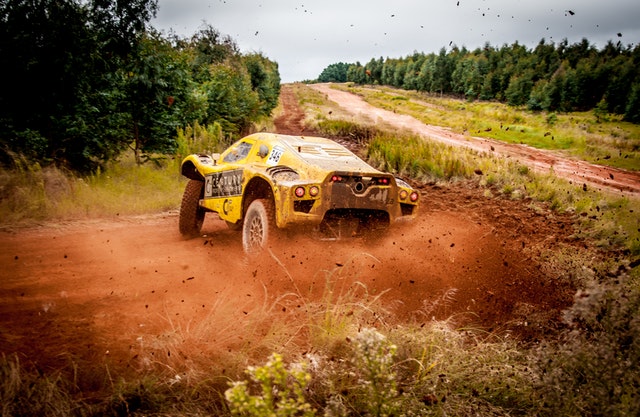 It's quite surprising to be writing this, but the XRP rally lifted Bitcoin and Ethereum off yesterday's lows. As I wrote yesterday in covering Bitcoin, my bullish enthusiasm was dampened by Bitcoin's $300 drop. XRP rising has given renewed hopes that the lows for the year are in and higher prices are ahead.
XRP Rally
The most frustrating part about the XRP rally was the news put out by our competitors. We read the XRP rally was due to xRapid launching soon and also that a major Saudi Arabian bank had joined the Ripple network for international payments. I've been trading cryptocurrencies long enough to know that no one knows the exact reason why something happens in the market. This is a major buy spike that came out of left field.
Bitcoin
I am certainly feeling better about Bitcoin now than I was 24 hours ago. The lack of volume and the price action felt like the market was heading lower. Today, however, we are back around the 6350 levels.
The problem is that it still not enough to make me buy more Bitcoin. We are still in the middle of the range between 6100 and 6500. This neutral zone is not an area that I want to be putting on trades. Yesterday's jump was indeed positive, but need proof that it was not…