Bitcoin (BTC) Bitcoin Cash (BCH) Ethereum (ETH) LiteCoin (LTC): Better, But Not There Quite Yet
Several weeks ago, June 27th to be precise, we penned a piece entitled, Where To From Here? Get Ready, where we noted the potential for, as well as anticipated, a large counter-trend rally throughout the entire cryptocurrency space.
At that time, we suspected that we may experience some further downside action, but that the potential for a large move into higher ground was nearing when we noted, "While the daily time-frames continue to portray potential for lower levels, not everything is bleak. When zooming-out to both the Weekly and perhaps more specifically, the Monthly time-frame/s, we're nearing an important inflection point from which we suspect that the bleed lower subsides/pauses and in turn, results in a massive counter-trend rally that may begin as early as the next 2-3 weeks," which has yet to play-out thus far despite the recent recovery in price/s.
While we now find ourselves in the third (3rd) week of such prognostication and although we've yet to witness the anticipated large counter-trend move thus far, we're beginning to see some signs of health from a technical perspective throughout the landscape.
More specifically, as we can witness from the Daily charts below, Bitcoin; Bitcoin Cash; Ethereum as well as LiteCoin have recently recaptured their 20 day SMA's for the first time since early May, whereby those who have been following our work, are well aware of the emphasis that we've placed on the action surrounding the 20 day SMA for some time now with respect to short-term direction.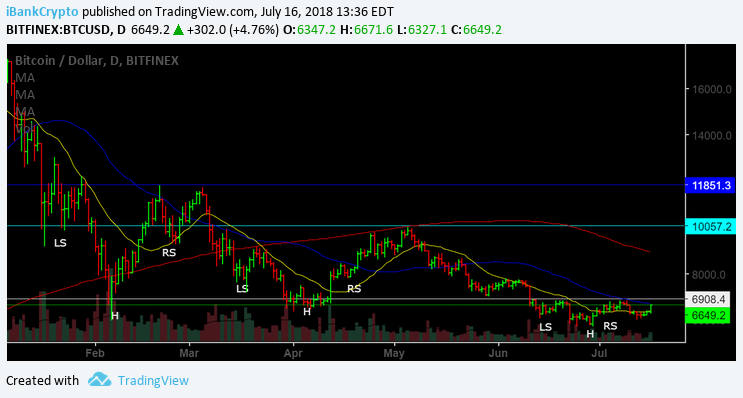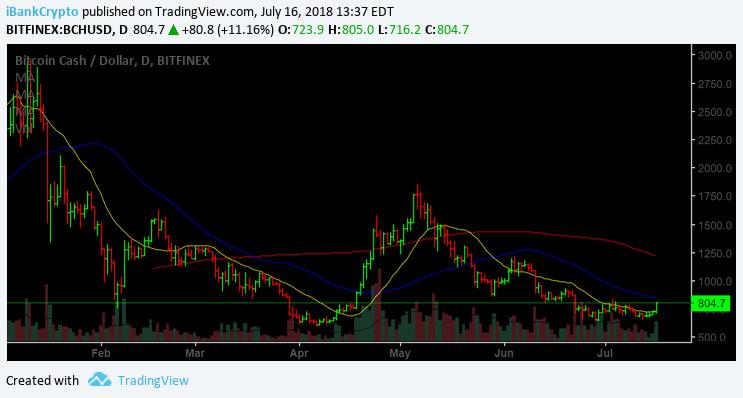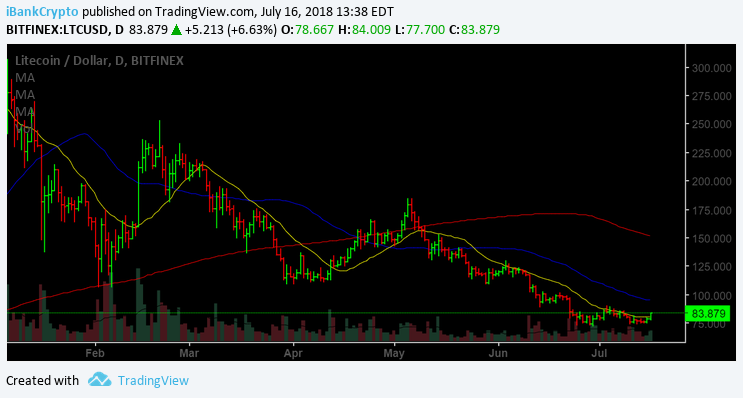 As we can observe from the Daily charts above, BTC; BCH; ETH as well as LTC have cleared their 20 day (yellow line) SMA's and now appear to have their sights set on doing battle with their 50 day SMA (blue line).
Although further work is required and it's a bit premature to declare the 'Coast Clear', the recent action is encouraging, at least from a short-term perspective. And, while we suspected that the large counter-trend move that we anticipated several weeks ago would commence from lower depths (BTC 5400/5000/4400), such has not been the case thus far.
Nevertheless, while our Timing may be off a bit (or perhaps not if the recent action does indeed morph into the beginnings of our anticipated large counter-trend rally), we continue to believe that a rapid/sharp/vicious move, that may catch many off guard/balance and travel to levels far beyond what many may anticipate, awaits in the offing.
In the meantime, all of the above aforementioned (BTC; BCH; ETH and LTC) have work to attend to at their 50 day SMA's.
Thus, if at any time in the days/weeks ahead, Bitcoin (BTC) can clear the previously noted 6900 (Neckline of the inverted H&S) level and 'stick', such would likely be the trigger/signal for both Investors/Traders, that the party is about to begin. On the flip-side of the ledger, should BTC find its way back to the 6000 level and it 'gives way' and unable to hold, such development, should it materialize, would suggest yet another disappointing failure for higher levels.
While the overall action is indeed better, we're not there quite yet.
Happy Trading~
For the latest cryptocurrency news, join our Telegram!
Disclaimer: This article should not be taken as, and is not intended to provide, investment advice. Global Coin Report and/or its affiliates, employees, writers, and subcontractors are cryptocurrency investors and from time to time may or may not have holdings in some of the coins or tokens they cover. Please conduct your own thorough research before investing in any cryptocurrency and read our full disclaimer.
Image courtesy of Pexels
Charts courtesy of tradingview.com
XRP Surges By 8% In A Surprise Bull Run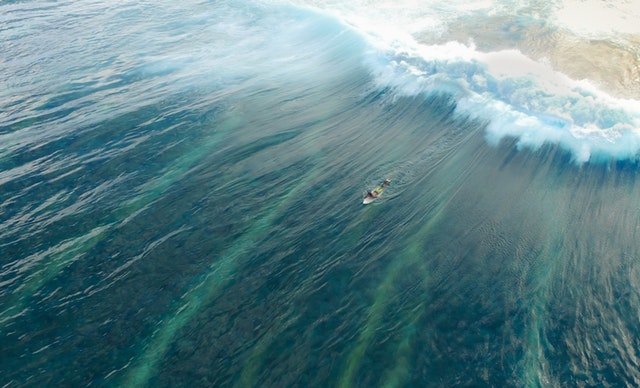 The new price surge that surrounded almost the entire crypto market brought quite a pleasant surprise for XRP holders, as Ripple grew in price by over 8% in the last 24 hours. In fact, XRP managed to achieve a price surge equal to that of Ethereum as of this morning.
While the third largest cryptocurrency is still quite behind ETH when it comes to market cap, many believe that it is only a matter of time before XRP regains its former glory. With that being said, a lot of people are still more than pleased with seeing Ripple climbing back to more stable levels, especially after a big price drop that hit the coin last week.
The new hike up allowed XRP to climb back to $0.446322. While this is still low when compared to its highest point in the last week ($0.52), the coin still seems to be well on its way to recovery. In fact, many believe that XRP has found a new bottom, one that is significantly higher than the last one. Most of this new success can be traced back to a price surge that Ripple has had recently when it even managed to briefly overthrow Ethereum as the second largest coin by market cap.
Despite its drop since then, XRP still remains one of the coins with the strongest growth in the last month. While the market is still far from stable,…
If Tether crashes, will that money pour into Bitcoin?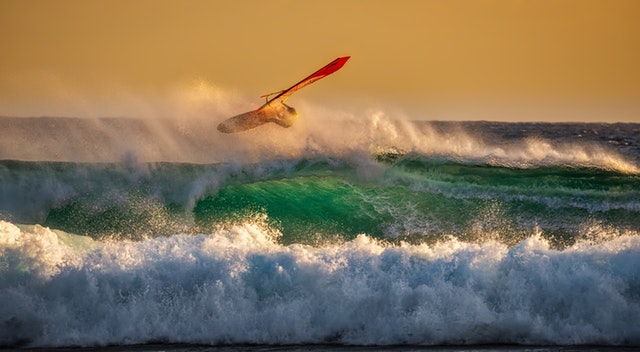 For a long time now, the so-called stablecoin, Tether (USDT) has been a topic of discussion within the crypto community.
Tether, as a stablecoin, is said to be fully backed by the USD. This allowed it to be one of only a handful of cryptos that can avoid volatility issues, due to the fact that it is backed by a stable fiat currency. However, for as long as it was around, Tether was very secretive of its bank accounts and funds in general.
While claiming to have the ability to back each of its USDT coins, many have questioned whether or not this can be true. At the time of writing (October 16, 2018), Tether has released 2,256,421,736 USDT in circulation. This means that it needs to have at least $2,256,421,736 in order to cover its circulating supply.
At this point, three questions emerge, and answering them could very well change the future of this stablecoin. The questions are as follows:
Are all USDT coins fully backed?
If yes, then where did that much money come from?
If not, what will happen when the market discovers the lie?
Tether continues to keep secrets
As mentioned, Tether has always claimed to be able to back each of its coins. However, instead of operating on transparency, the coin used different tools, mostly opaqueness, misdirection, and playing the victim whenever someone tried to unveil what is truly going…
Is Bitcoin (BTC) Better Than USD?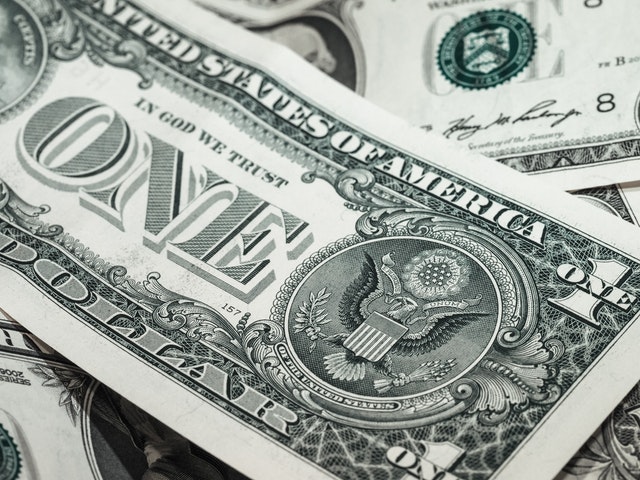 Despite all its recent progress, cryptocurrencies still do not inspire trust in a lot of people. Many view them as unsafe money, with its very nature being doubtful. However, a recent report by the Polish Academy of Sciences' Institute of Nuclear Physics shows that situation regarding cryptocurrencies may not be as bad as it seems. In fact, the report claims that Bitcoin might even be a better currency than it looks like.
Bitcoin vs traditional money
Bitcoin, as many are already aware of, is the first cryptocurrency. It was created a decade ago and was officially launched in 2009. But, even though it has been around for around 9 years at this point, it is still largely mistrusted by a lot of investors, especially when it comes to large institutions.
However, thanks to the Cracow-based Institute of Nuclear Physics' recent report, this common opinion might actually be wrong. The Institute has conducted a detailed statistical analysis of the BTC market and has published the results in a scientific journal called Chaos: An Interdisciplinary Journal of Nonlinear Science.
Surprisingly enough, the report portraits Bitcoin in a very positive light.
The report started by commenting on the credibility of traditional money. In the past, money that people have been using was backed by specific material commodities, such as gold. These commodities gave the money its value and served as a guarantee that the money actually has worth. This is…