IOTW Leverages IoT, New Blockchain Algorithm to Help Miners Generate Coins with Electrical Devices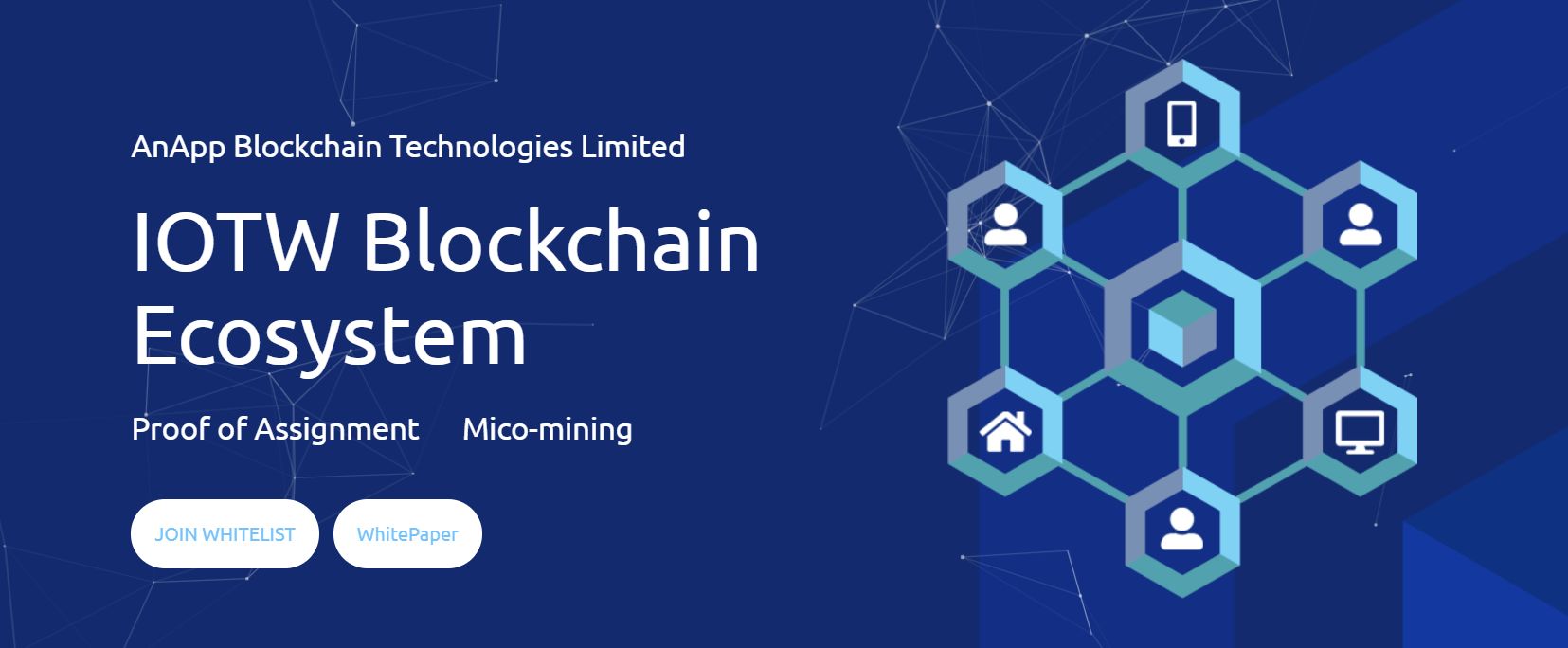 The Internet of Things (IoT) is one of the most promising technologies, along with the distributed ledger technology (DLT) – also called blockchain, artificial intelligence, and a few others. ANAPP Blockchain Technologies Limited, a blockchain-oriented startup, plans to merge IoT with blockchain for an innovative infrastructure that would allow users to mine digital currencies with the help of any electronic device and home appliance that can act as an IoT device.
IOTW, as the new project is called, will use blockchain to provide a better alternative to the popular Proof of Work (PoW) and Proof of Stake (PoS) consensus algorithms. IOTW proposes Proof of Assignment (PoA) – a completely new approach that solves some of the main problems inherent in the traditional algorithms. The ecosystem is fueled by IOTW coins, which allow high-speed micro-transactions.
Some may find IOTW quite similar with IOTA, a popular project that combines a distributed ledger system with the IoT concept. However, IOTA doesn't use an actual blockchain system but an architecture called Tangle, and more importantly, it doesn't perform as well as IOTW.
Leveraging IoT to Beat Proof of Work
Bitcoin is by far the most popular and oldest cryptocurrency, and today most of the miners would target it given its high price. However, the competition became fierce and retail miners don't find it profitable to generate new Bitcoins, which has led to the formation of a monopoly where companies like Bitmain are dominating the market. Besides, the PoW algorithm used to mine BTC requires much electricity, which has negative consequences for the environment, especially when the electricity comes from coal-based power stations.
IOTW proposes a new approach to mining. The Proof of Assignment (PoA) algorithm requires less computational power and less memory capacity compared to PoS and especially PoW. With the new method, those who have more IoT devices connected to the IOTW ecosystem have the chance for higher profits. Thus, typical home appliances can generate IOTW coins without significantly impacting the electricity bill. You can think about it as micro-mining, as it doesn't require advanced processors like those found in the ASIC devices. However, the potential profit is worthy of consideration. IOTW blockchain solution will be open-SDK so that any IoT and connected device can download their app to join the ecosystem and start mining. However, the devices don't have to download the whole blockchain to become eligible nodes, so no significant memory capacity is required.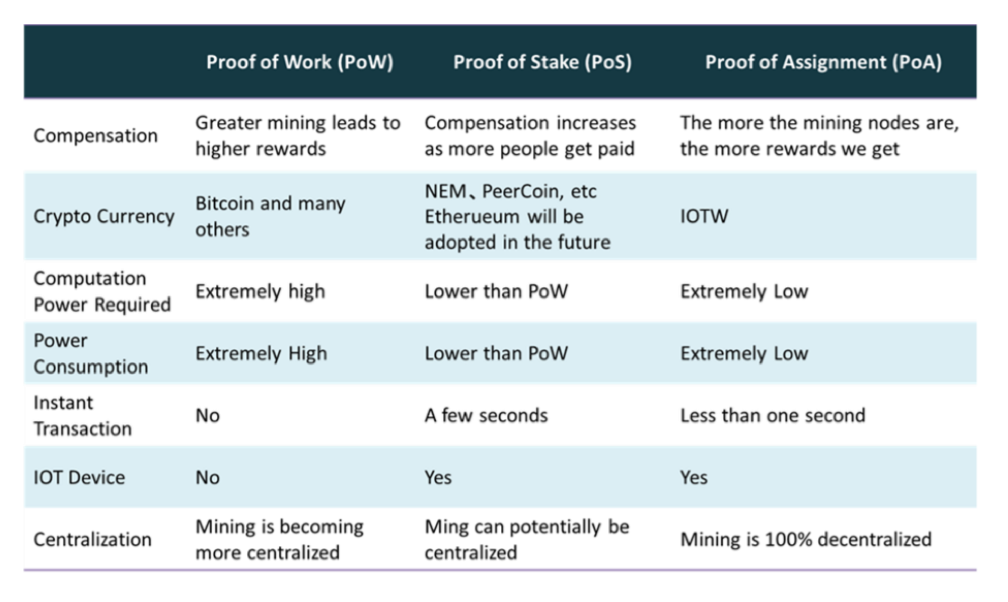 Source: https://iotw.io/wp-content/uploads/IOTW%20Whitepaper%20EN.pdf
If a mining equipment unit to generate new Bitcoins can cost you over $2,000, then IOTW lets any IoT device become a miner. Besides, the system allows typical electrical devices become suitable for the IOTW ecosystem by integrating a special DPS chip that replaces their traditional analog power systems. This procedure would convert the appliances into IoT devices that might be used for mining.
IOTW Benefits
The system proposed by IOTW has some clear benefits over the mining approaches used by Bitcoin and Ethereum. Some of the advantages are as follows:
Mining IOTW coins consumes much less energy than mining Bitcoin or even Ethereum;
IOTW decentralizes the blockchain much more efficiently than Bitcoin or Ethereum does. The latter ones have become controlled by several big players;
IOTW is an ecosystem that offers an unmatched level of scalability;
IOTW provides a far opportunity for miners to get rewarded with new coins;
The IOTW team will work to promote the project and make the coin be accepted for as many business cases as possible. The team will have to partner with goods and services providers to make the IOTW token work as a payment method. Besides, the ecosystem will be used to collect and sell data for device owners, which will represent another use case for the token. Last but not least, IOTW coins can be conveniently used for peer-to-peer transactions between members.
IOTW Prospects
The IOTW project is at its nascent stage, but it definitely has a great potential for the future. The ecosystem, which is backed by an expert team, can literally reach millions of users around the world by allowing their home applications to generate profits through the new concept of micro-mining. The blockchain community would rapidly adopt IOTW given that it addresses some of the key issues that are characteristic for the PoW and PoS algorithms.
The IOTW team has already filed three patent applications for inventions related to the Proof of Assignment algorithm and other software and hardware solutions. The startup intends to file for more relevant patent applications by the end of 2018.
As of July 31, 2018, the IOTW project has raised about $4.14 million, and the testing version of its system hosts over 200 micro-mining IoT devices. The token sale is still continuing, so potential investors are free to apply to join the whitelist.
Disclaimer: This article should not be taken as, and is not intended to provide, investment advice. Global Coin Report and/or its affiliates, employees, writers, and subcontractors are cryptocurrency investors and from time to time may or may not have holdings in some of the coins or tokens they cover. Please conduct your thorough research before investing in any cryptocurrency and read our full disclaimer.
Bitcoin Cloud Mining Startup Miningzoo Receives Strategic Investment from Institutional Investors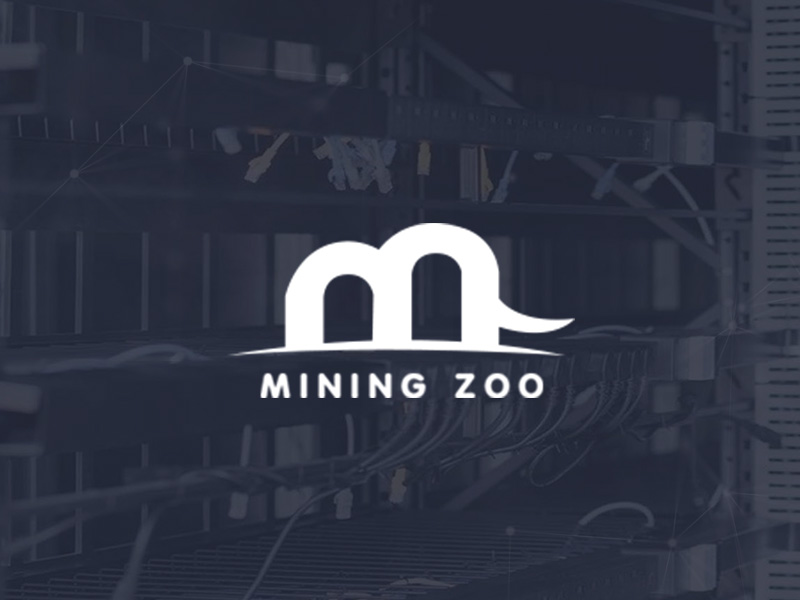 -Long crypto, short fiat!
Looking for an easy and smart investment solution for the crypto market? Cloud mining of bitcoin at Miningzoo.com is the answer for you. This cloud mining provider, though newly launched, has already gained a solid reputation for its convenience, efficiency, and stability. Miningzoo, a rising start in cloud mining, is on its way to become one of the best cloud mining platforms, gaining attention from global investors.
Already in a strategic partnership with Lpool and Li De United Co. Ltd, over the past few months, Mining zoo has obtained new funding from Ceyuan Ventures, a high-tech focused VC and United Capital, adding to its existing investors' list of Longling Capital, Consensus Fund, etc.
Miningzoo boasts large-scale miners based in distributed locations across the globe, equipped with professional operation and maintenance teams, and top-of-the-line miners. Miningzoo provides users with a one-stop efficient bitcoin mining service. At present, the Miningzoo platform focuses on bitcoin mining power for rent. Miningzoo is committed to creating the smoothest experience in cloud mining for clients.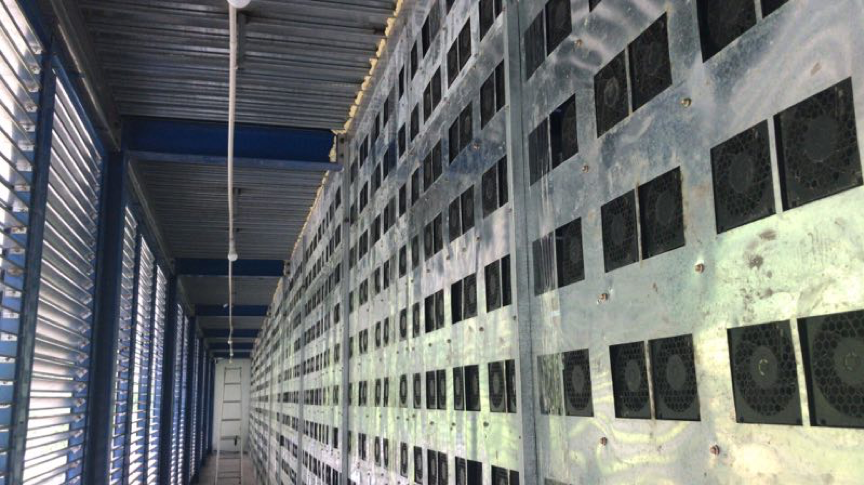 MicroBT – The Most Trustworthy Bitcoin Miner Provider
About MircroBT
Shenzhen Bit Microelectronics Technology Co., Ltd. (also known as "Bit Micro" or "MicroBT") was founded in 2016 and has its main office based in Shenzhen, China. The company is specialized in producing and designing high-end 28nm/16nm/7nm dedicated chips, as well as providing developments in sectors such as blockchain technology, cloud computing and artificial intelligence.
The MicroBT company has independent intellectual property rights over its dedicated chips and ancillary products. The company also deploys cloud computing data centers and platform processes, catering to areas such as cloud computing, artificial intelligence, blockchain, where big data processing is required.
MicroBT Founder
Yang Zuoxing is the Chairman, General Manager, and CTO of MicroBT, establishing the company back in July 2016. He holds a Ph.D. from the Tsinghua University, and is accredited with founding the full-custom chip design methodology, which is the core technology of the dedicated high-performance computing chip.
A serial entrepreneur with more than two decades of experience in chip design, technology management, business and company management, Dr Yang aims to use his full-customization methodology to bring forth the greatest innovation in the field of technology.
What Miners Can You Purchase at MicroBT?
MicroBT's miners can be used to mine cryptocurrency that runs on the SHA256 algorithm, such as Bitcoin and Bitcoin Cash. The five ASIC miner models, M20S, M10, M10S, D1, M21, can be purchased directly from their official website.
MicroBT Whatsminer M20s
The MicroBT Whatsminer M20S has…
Is CCRB's New App The Latest Big Shot In E-Tail And Mobile Mining?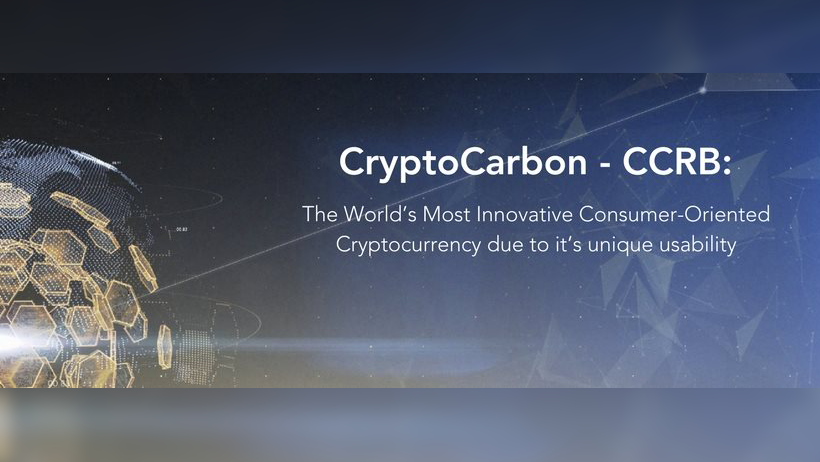 CCRB to launch a dedicated consumer-oriented app allowing users to Shop, Trade, and Earn. While companies like Coinbase with their e Gift cards are just about to knock the doors of this multi-billion dollar market, CCRB has already unlocked a host of opportunities for thousands of consumers from all across the world – including mining through their mobile device. 
Cryptocarbon, a UK based, consumer-driven Blockchain venture is proud to announce the launch of its power-packed CCRB App. The new Crypto Carbon App is particularly designed for crypto lovers all across the globe – it allows users to shop with 100% payments made in cryptocurrency – there is no getting a new card or paying in fiat. The new app is loaded with features as it also allows users to swap between 6 major cryptocurrencies and allows for crypto mining right from their mobile devices.
The cryptocarbon platform is exclusive and unique as it genuinely allows its users to make valid purchases from over 35,000 partner outlets spread across 200 countries using their crypto assets. The exciting new app is a promising development. Big names like Coinbase are coming with typical eGift cards to allow crypto users to directly use their crypto assets to purchase limited products at select retail stores. The team is already working on an advanced version of the app – CCRBXPRO. The pro version will have added features and functionality.
While CCRB already acquired a good…