Paymon – An Innovative Approach to a Multifaceted Blockchain Transformation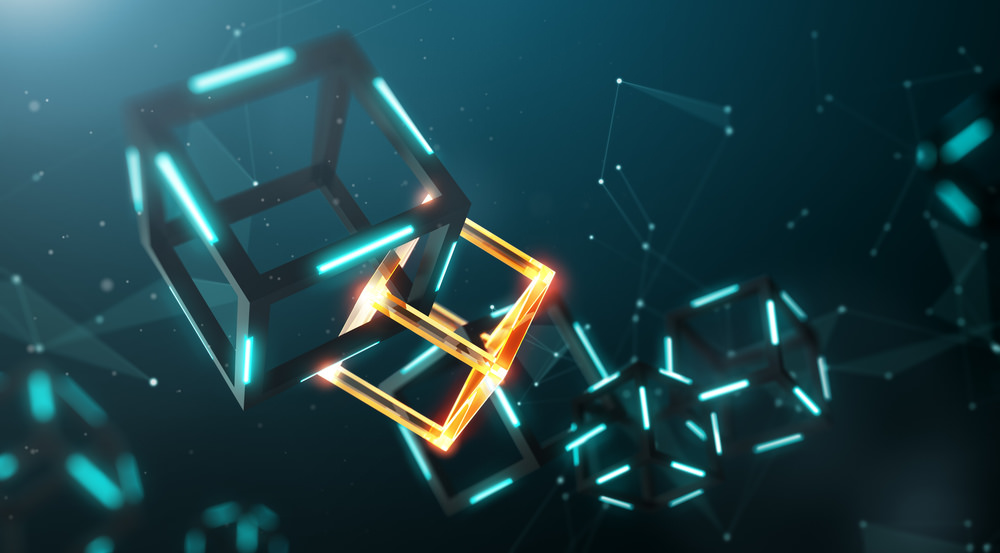 Paymon is a crypto project born of a market gap in the digital currency industry. It seeks to improve the basic blockchain model to make it more accessible and flexible so as to allow for more widespread use than is currently the case.
Cryptocurrency technology set in motion an undeniable revolution in the world of finance and a host of other industries. Its inherent blockchain innovation made it possible, for the first time, to carry out transactions without the need for a central intermediary. But some limitations within the model have led to the use of these currencies as stores of value but not exchange media.
Scalability issues on most of the popular crypto blockchains make it impractical to use them for everyday transactions as users have to wait for extended periods for confirmation and approval. This, in turn, has made them costly and therefore not ideal especially for small transactions.
A Novel Blockchain Model
Paymon proposes a custom blockchain model with a difference. The Hive blockchain technology used on the platform combines a number of crypto innovations to make way for limitless scalability and facilitate a feeless transaction structure. In this regard, it is armed with the tools necessary to address the scaling issue, create modern architecture with higher flexibility and also allow for compliance with current regulatory frameworks.
This technology is applied to the custom business platform, Profit, which offers a universal commercial solution on the blockchain. Profit has an improved smart contract feature and makes it easy for business owners to move commercial operations to the blockchain and enjoy performing transactions without any fee payment.
Hive makes use of atomic swaps, a technology that allows for swaps between different digital currencies without the need for an exchange platform. It also uses a rating system known as Proof-of-Me algorithm and the Directed Acyclic Graph (DAG). This combination of innovations gives the model unlimited speed and scalability.
A Hybrid Application for Users' Convenience
Paymon has already created a mobile device app whose beta version is already available for Android and iOS devices. The app is in its own league in the sense that it functions as a blockchain messenger with digital wallet capabilities. At the moment, it allows for the storage and transfer of bitcoin and ether but will with time include other digital currencies as well.
It sports an intuitive user interface as one of the key objectives of the Paymon project is to make crypto facilities accessible to anyone and everyone. Once a user downloads the app and goes through the registration process, a digital wallet is automatically created. Additionally, the app has all the functions of a standard messaging app to facilitate communication.
An ICO with a Focus on Accountability
Paymon has elected to hold a three-round ICO in order to generate the funds needed to give the project traction. The objective is to distribute as many Paymon PMNT tokens as possible but breaking it down into three stages is aimed at giving investors the opportunity to track their KPI. This level of accountability is rare in the ICO world and is a positive sign for the project's likelihood of success.
The ICO aims to distribute a total of 1 billion PMNT tokens, 400 million for the first round, 250 million for the second and 200 million for the third. The rest, 150M will be held in reserve. These tokens can later be exchanged for PMNC or Paymon coin the digital currency that operates on Hive and that will function on the platform at a ratio of 1:1.
Paymon – The Dark Horse on the ICO market
The fact that Paymon already has an MVP ready for market consumption marks a big difference between this and other ICO projects. The project is also keener on achieving its intended its objective other than just gaining popularity. To this end, instead of spending half a million dollars on marketing, they would rather invest more into creating a product.
Another key differentiator for the project is that, as the team explains, they wish to limit the number of big investors. This is to avoid having one or two centralized entities getting a majority of the token share and thus controlling token prices. But they are not locking them out altogether since they already reached the soft cap and have numerous token holders already. They will, however, accept only two or three big investors into the project.
Paymon is clearly a cryptocurrency project with a difference. Unlike many other ICO proposals that only have a white paper and no working product for their concept, the Paymon project already has a working app available for download on Google Play and the App Store. This gives investors the opportunity to experience first-hand the viability of the proposal and inspires trust in the model.
Disclaimer: This article should not be taken as, and is not intended to provide, investment advice. Global Coin Report and/or its affiliates, employees, writers, and subcontractors are cryptocurrency investors and from time to time may or may not have holdings in some of the coins or tokens they cover. Please conduct your own thorough research before investing in any cryptocurrency and read our full disclaimer.
Image courtesy of Crypto Demystified via Flickr
The low volatility of Litecoin and Bitcoin on the spotlight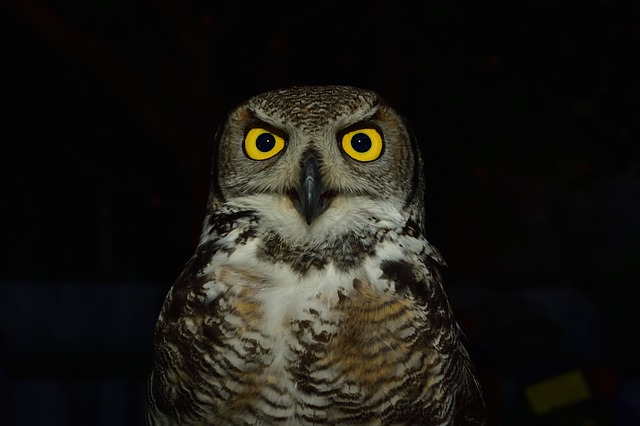 Just like many other cryptocurrencies, Bitcoin, as well as Litecoin, currently sit in vitality as much as the market is concerned. Will Bitcoin and Litecoin recover as much as many have been speculating? Apparently, it is hard to tell how the investors will react to all these recent events.
When looking at the current trend of the volatility of Litecoin and bitcoin prices in US dollars, it is quite clear to note that there is a decrease in volatility. The price of bitcoin stands at $6,574 with a slight change (24h) of +0.06%. On the other hand, Litecoin is trading at $53.94 with a difference (24h) of -1.45% at the press time. Basically, at the moment there isn't a significant downward movement between the two cryptocurrencies.
Spectators Never Fail to Give Reasons
As always many spectators will seek to give some reasons for the trends and some think that the downward move is just a manipulation by some small group so that they can outscore the stock market. Perhaps, it is a bear market, and with the volatility of the coins being technically low, it means it is cheaper, which is definitely better.
The Real Meaning
What the trends literally mean is that there is an accountable resistance with both Bitcoin and Litecoin contrary to the expectations of many who were anticipating at least some positive movement after the sharp market rise last week.
However, that doesn't mean that…
Ripple blockchain integration into DZ Bank Germany probably underway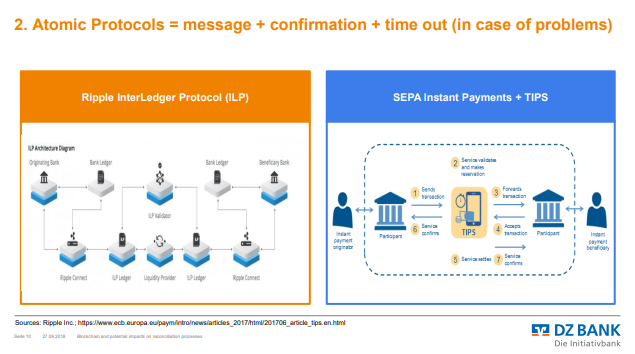 The online world of business is undeniably changing. But, have we seen its full extent yet? Perhaps the answer lies with the blockchain technology. Some studies point out that with blockchain (like Ripple, and of course, other similar ones like Stellar or the ones that might come to the party) integration by the banks, they will be able to realize significant savings.
The banks will enjoy cost reductions not only in their payment processing as well as reconciliation alongside compliance and treasury operations.
DZ Bank AG Considering Ripple Interledger Protocol
DZ Bank is one of the most talked after bank in Germany. It is the second largest bank in the country by asset size as well as the central institution. The bank functions as both a central institution as well as corporate and investment bank.
Concerning potential Ripple Interledger protocol integration, the bank has listed a couple of slides in their recent report "blockchain(s) and potential impacts on reconciliation." It is not rocket science to what that may mean just because the protocol is all about cross-border transactions.
"…..we are very confident that Germany will move as well ahead with #ripple"

see full clip from @BankXRP https://t.co/SWJ5NnouwT#xrp #ripplenet #ripplenews #xrpcommmunity #xRapid #xrpthestandard #xrparmy pic.twitter.com/sWJQd4MNvs

— 🅂🅃🅄🄰🅁🅃🅇🅁🄿💧⚡🇬🇧 (@stuart_xrp) October 12, 2018
If at…
Taking the Booming Cosplay Industry to the Next Level with Tokenization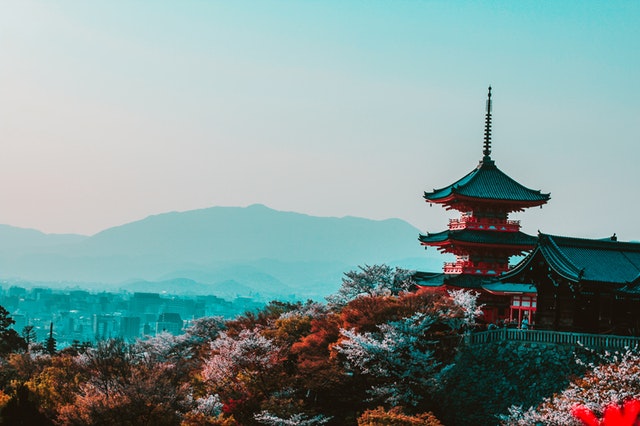 In the past couple of decades, some aspects of Japanese culture have begun to spread like wildfire through the rest of the world. Foremost among them is the fascinating and thought-provoking world of Japanese comics and animation.
At the same time, it's become increasingly popular for fans to interact with each other and express their enthusiasm for manga and anime through cosplay, where people dress up as their favorite fictional characters or even create their own.
In fact, cosplay has grown to be a jaw-dropping $45 billion industry, with no signs of slowing down anytime soon. However, the industry and its participants aren't without problems.
At the top of the list of issues holding the cosplay industry back are those associated with copyright and revenue sharing. As with most any global industry, there is inefficiency due to language barriers, different currencies, and varying regulatory guidelines for intellectual property.
So, how can blockchain technology help? There are a handful of answers to that question, actually. A few are:

An immutable blockchain can be used to store records such that there is no longer any doubt about a piece of content's original creator.

A blockchain can securely store and track user's digital IDs in order to discourage harassment and other nastiness that prevails on online media forums.

…