Global Coin Report TopiaCoin White Paper Review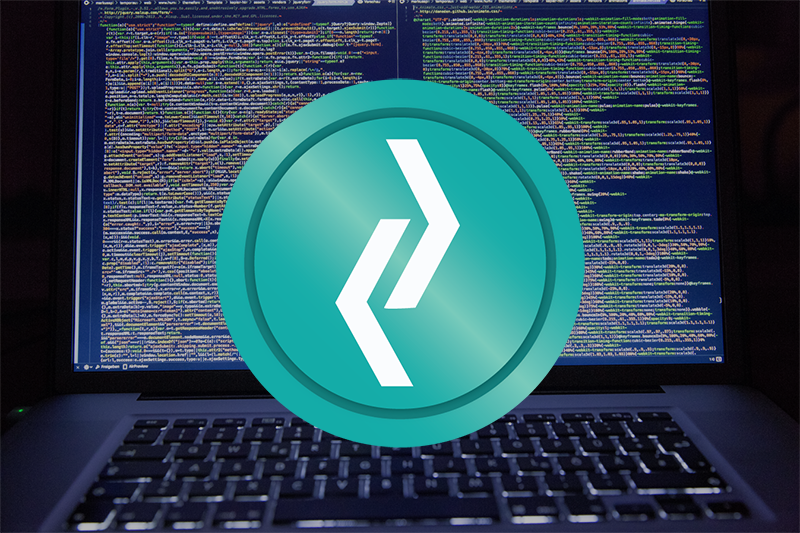 Our analysts took a look at the TopiaCoin White Paper. Here's what they found.
White Paper available here.
Company website here.
Right now, companies are being set up to tackle every area of the global industry using blocking technology. Many of these companies are conducting initial coin offerings (ICOs) in order to raise the capital required to fund the development of the project in question.
Here at Global Coin Report, we have set our team of analysts the task of reviewing what we see as some of the most promising white papers associated with these projects in an attempt to offer our readers some degree of insight into whether or not participating in the various ICOs is warranted.
The latest company on which our team set its sights is Topia Technology and, specifically, this white paper outlining the company's efforts in the blockchain space.
So, here's what we found out.
Executive Summary
The white paper kicks off with an executive summary, as is generally pretty standard in this arena, which gives a nice outline of what problem Topia is trying to solve and, more specifically, how the company intends to go about it.
As is outlined in the executive summary, the problem is as follows:
"Numerous projects have appeared that offer pieces of this decentralized Internet, from name lookup services to a world-wide shared storage system. But missing from amongst all of these pieces is a decentralized data layer for the decentralized applications being built on top of the blockchain."
So, that seems to make sense, but what is Topia doing about this?
The answer is rooted in what Topia calls its SDFS Network.
Taken from the paper:
"The SDFS network is designed to provide decentralized applications with a secure, point-to-point data layer that enables the exchange of data between instances of an application across the network. Data and digital assets can be securely sent to other application instances and will be automatically shredded and encrypted using Topia's world-class encryption technology to ensure that the data is available only to the application instances for which it is intended."
It's worth noting right off the bat that this is something of a technical white paper in the sense that this isn't merely a conceptual description of what this company is trying to do, but, instead, the company has really dug down into the technology and implementation from the outset.
For us, this has both advantages and disadvantages.
From a disadvantage perspective, this sort of approach (that is, a technical focus approach) can make it difficult for new entrants into the relevant spaces to grasp exactly what's driving the concept. This, in turn, can serve to turn these new entrants off to potential participation purely based on the gap in their understanding of the project.
On the other hand, however, and from an advantage perspective, when it comes to allocating capital towards a startup, the more that is available in terms of detail, the better, as this allows anybody who has the inclination or the time to really get into the white paper and the opportunity to pick up a deep understanding of exactly what they are considering trying to fund.
So, while as an initial point the approach that Topia is taking here might seem a little complex, when it comes to actually pushing participants to part with their hard-earned cash, we think it's a strong approach.
So, we now move on to the introduction of the paper.
Introduction section
In this section, Topia essentially builds on what it has explained in the executive summary, outlining the fact that, under current frameworks, when data needs to be shared, clients contact a server to request the data in question and the servers respond with the data. Further, when security is required, clients will establish SSL/TLS protected connections that encrypt the data flowing between the client and server.
This is fine when you're willing to accept centralization, but in a decentralized environment, SSL/TLS type gatekeepers are just not viable. This, of course, presents a problem of security – you can either go for a centralized SSL/TLS protected system or a decentralized system that doesn't have the security features (read: encryption and data storage) that an SSL/TLS based system offers.
This is where the above-mentioned SDFS comes into the equation.
Basically, SDSF is designed to provide decentralized applications with a secure, point-to-point data layer that allows the exchange of data between instances of the application across the decentralized network. Put another way, it takes the above solution for centralized data transfer but applies it to decentralized transfer.
The white paper goes into a considerable amount of detail with regards to exactly where this implementation fits into the overall picture, but as mentioned above, we feel that this large-scale detail feeds into the provision of a well-rounded understanding of exactly what Topia is trying to do with its technology for any potential ICO participants.
In other words, we think that the company's focus on a solid explanation is a real strong point of this paper. We won't go into too much detail here, as the company is able to explain what's going on far better that we can, but the key takeaway from this introduction section is the following:
"The SDFS data layer will allow applications to establish containers for digital assets and invite other application instances/users to access the container. In this way, applications will be able to securely exchange data between their instances."
User-Facing Tech
Once all of the above is established, the white paper details what it calls the Secure Collaboration Application, which is a sort of end goal solution that incorporates the above technology into a product that can be utilized by end-users.
Basically, the suite will provide users the ability to create a secure collaborative workspace where files and digital assets are uploaded, shredded, encrypted and can be assembled and decrypted accordingly by users as, and when, required.
The best way to think of this, as far as our interpretation of what this collaboration application is designed to be, is as a sort of front-facing environment that takes all of the technology on which the Topia ecosystem is built and creates an interface through which general end-users can interact with the technology without having to actually have too deep an understanding of how everything works.
Again, we think this is a smart move by Topia.
Why?
Because everybody wants security and ease of transfer but, at the same time, very few people actually have an in-depth understanding of how these facilities function. When you are targeting mass scale adoption, you need to create an interface that overcomes any knowledge gaps and, with its Secure Collaboration Application, Topia looks as though it is able to do just that.
Use Cases
So, with all that in place, the white paper then goes on to suggest certain use cases for this technology.
As we have said on numerous white paper reviews before, this sort of use case outline is a key component of any strong white paper and the way that Topia has approached this section really strengthens its case as a potential participation candidate in our eyes.
At concept level, the company outlines three primary use cases but, of course, these are just the start of what could be a whole raft of alternative use cases as and when this technology is implemented and takes hold of the market.
These three use cases are as follows:
Secure Messaging dApp using SDFS

A company requiring the need to for secure communication between employees can create a Secure Message application on top of the SDFS network

Delivery of Digital Assets for Online Sales

A company that needs to securely process the sale and delivery of digital assets (such as movies, music, or electronic tickets) could use the SDFS network and data layer libraries to streamline the delivery process.

Lawyers, CPAs, and other Professional Services Providers

Lawyers, CPAs, and other professional service providers need to be able to exchange confidential documents with their customers and clients
As noted, chances are we will see Topia present many more use cases as the ICO gets going and as the company expands its media presence throughout the standard cryptocurrency, blockchain and other technological media outlets in the space.
Even with just the three outlined above, however, it is clear to see that the potential market for this sort of technology could be very large if executed on correctly and effectively.
Token Economics
So, as is an important section of any white paper, let's now move on to the token economics of this project.
Here's what the paper says right off the bat:
"As part of the launch of the SDFS network, Topia Technology will release a new cryptocurrency token known as TopiaCoin. This token will be used within the SDFS network to pay for services as well as reward users who contribute to the healthy functioning of the network."
Basically, the entire ecosystem will function on the exchange of these tokens.
Pretty much every action that takes place within the system will require a certain (and variable) amount of tokens to take place, which provides for a natural and organic demand for the tokens subsequent to the company launching its platform.
One of the key parts of any potential ICO participation thesis is a clear path to token value appreciation long-term.
In this instance, then, there is a clear path to appreciation and we view this as a strong point of the white paper. Specifically, as the user base of this technology expands, the mechanics of the system mean that more and more tokens will be required to serve as function payments.
An increased demand for tokens will, inevitably, and as per standard classical economics, increase the price of the tokens individually, assuming supply doesn't increase.
In order to achieve this functionality, the company has created two separate blockchains, one focusing on containers (which are the root of all functionality in this system) and one focusing on cryptocurrency. The image below illustrates how these two blockchains interact with one another.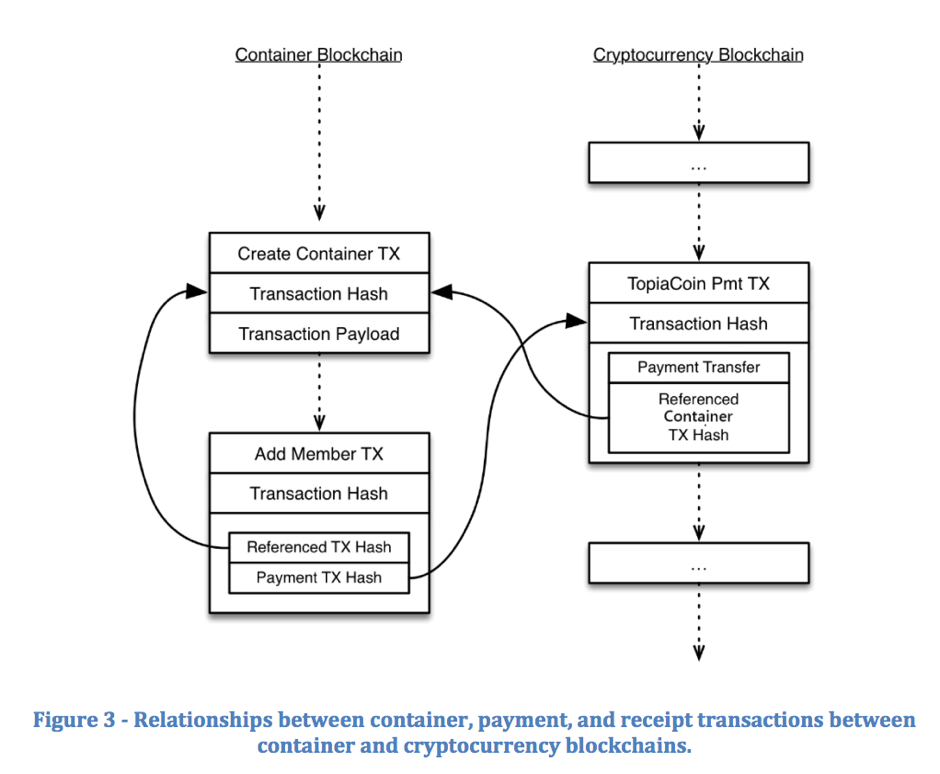 As far as we're concerned, this is a pretty neat solution to what could be a relatively complex problem. The Topia team has taken what essentially amounts to a legacy framework and has redesigned it using cutting edge technology and, with this being the case, we think it looks set to achieve what it's going for in this industry.
The next section of the white paper takes a real deep dive into the technical underpinnings of this whole endeavor and, for the purposes of this discussion, we don't feel it's necessary to include this deep dive in the review.
What we will say, however, is that for anybody considering participating in the token so, it's well worth taking a look at so as to garner a deep understanding as to exactly how this system works and, in turn, to really get an idea of what makes it potentially game-changing in this industry.
Take a look at it here, page 15 onwards.
Conclusion
So, finally, let's put forward a conclusion in line with the introduction to this piece and answer our initial question – is this one worth a look for potential ICO (token sale) participants?
In a word, yes.
Topia has put forward an incredibly strong white paper here and it looks as though the company really understands what it is trying to do as far as creating a solution to an existing problem is concerned. Not only that, but this is a company that has been around for close to two decades and is an established entity within its space in the US and globally.
This is a rare situation for a company that is conducting an ICO and we think this really sets it apart from many of its peers (and when we say peers, we mean in terms of those companies currently conducting these sorts of token sales) from a potential investor/participatory perspective.
Finally, because blockchain only deals with transaction data, we see the addition of a secure data layer as an important driver for blockchain adoption across industries.
Disclaimer: This article should not be taken as, and is not intended to provide, investment advice. Global Coin Report and/or its affiliates, employees, writers, and subcontractors are cryptocurrency investors and from time to time may or may not have holdings in some of the coins or tokens they cover. Please conduct your own thorough research before investing in any cryptocurrency and read our full disclaimer.
Property Loans for Foreigners in Singapore That You Must Know About
Intending to invest in a residential or commercial property in Singapore?  
When it comes to foreigners applying for a loan in Singapore, things can be pretty hard regardless of the reason whether you need the property for personal or business purposes.  
In Singapore, buying a property is challenging, whether you are a foreigner or a native, and sometimes applying for a loan is the only way for you to afford it.  
HOW MUCH CAN YOU BORROW FOR A PROPERTY LOAN IN SINGAPORE? 
As for the Foreigner Loans, in Singapore, there is an exact amount of money you can borrow to finance the purchase of a property.  
In this sense, Singapore has the Loan to Value Ratio (LTV).  
The LTV ratio is what determines the exact amount of money you can borrow for a property loan, which changes depending on where you try to obtain the loan:  
If you are applying for a bank loan, you can borrow a maximum of 75% of the value of the property you want to purchase. That means if you are looking for a property that costs $500.000, the maximum amount of money a bank lender can give you like a loan in Singapore is going to be $375.000. 

When you are applying for a loan with a Housing…
CoinField Launches Sologenic Initial Exchange Offering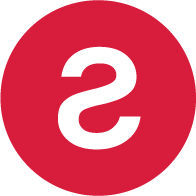 CoinField has started its Sologenic IEO, which is the first project to utilize the XRP Ledger for tokenizing stocks and ETFs. The sale will last for one week and will officially end on February 25, 2020, before SOLO trading begins on the platform.  Sologenic's native token SOLO is being offered at 0.25 USDT during the IEO.   
Earlier this month, Sologenic released the very first decentralized wallet app for SOLO, XRP, and tokenized assets to support the Sologenic ecosystem. The app is available for mobile and desktop via the Apple Store and Google Play.  The desktop version is available for Windows and Mac.
"By connecting the traditional financial markets with crypto, Sologenic will bring a significant volume to the crypto markets. The role of the Sologenic ecosystem is to facilitate the trading of a wide range of asset classes such as stocks, ETFs, and precious metals using blockchain technology. Sologenic is an ecosystem where users can tokenize, trade, and spend these digital assets using SOLO cards in real-time. The ultimate goal is to make Sologenic as decentralized as possible, where CoinField's role will be only limited to KYC and fiat ON & OFF ramping," said CoinField's CEO…
Many of the Top Sports Betting Websites for 2020 Can Be Found On Boomtown's Best Betting Page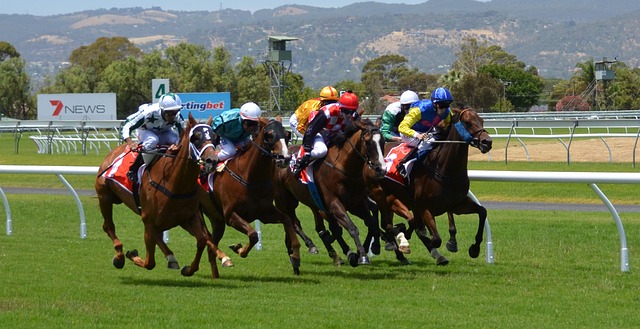 Sports betting is one of the widely known types of online gambling. With a large number of sports fans around the world, this type of gambling is one of the most sought after. The problem usually comes from when gamblers try to find the best sites out of the many available ones. Many new sports betting sites come up daily, thus making the selection process even harder. One of the best places to find top betting websites for sports is Boomtown Bingo. This platform doesn't just give users the best online casino games websites, but they also cover sports betting. As such, boomtown bingo remains a one-stop-shop for everyone who needs the best and the latest online gambling and gaming sites for all types of devices.
Performance
The performance of any website is critical. Users need to find their way around the site easily, and that can be made possible with the site structure and arrangement. Loading time is also essential. A website that always hangs thus pushing the user to refresh every time is no good. These are some of the factors that Boomtown Bingo looks into when selecting the best sites for its users. You can be sure that the new sports betting websites listed on Boomtown's platform have faster loading time, can be used easily by everyone, including those who are trying this betting for the first time.…