Ripple: A Stable and Convenient Addition to the Cryptocurrency Market
When we talk about the cryptocurrency market as a whole, Bitcoin always seems to take the center stage. Since its development in 2009, Bitcoin has been the most frequently used digital currency among the traders around the world till date. As a result, a significant number of traders seem to overlook the activities associated with the rest of the eighteen hundred cryptocurrencies, more commonly known as altcoins or alternative coins. Among these altcoins, Ripple is majorly familiar to the investors for the stability it provides and for the convenience of using its technologically advanced network. Here, a few aspects of this ingenious digital currency will be discussed.
Ripple's Introduction to Cryptocurrency Market:
Ripple basically refers to a real-time gross settlement (RTGS) system developed by a company of the same name. The Ripple Company, based in San Francisco, at first developed Ripple as an efficient remittance network as well as a currency exchange. The main purpose of introducing Ripple to the market was to offer an instantaneous transaction facility to its users spread across the globe. The focus was also on providing an impregnably secured system so that the users can rely on the system without any major concern.
Ripple was first released as Ripple Transaction Protocol (RTXP) in 2012. Since then, it has undergone numerous updates to make the system even more effective and user-friendly. The latest update took place on 3rd February of 2018 when Ripple version 0.81.0 was successfully launched. Despite undergoing so many developments, the core technology of this cryptocurrency still remains unchanged. The structure of Ripple's system is based upon a consensus ledger, a distributed open source protocol, and its globally accepted cryptocurrency XRP.
Ripple network is capable of supporting various fiat currencies along with other commodities and cryptocurrencies. Also, it can also operate among other internet service providers, various organizations, and within the campus of Massachusetts Institute of Technology. Being one of the most stable cryptocurrencies in terms of total market capitalization and value of an individual coin, Ripple's popularity among both novice and experienced traders is growing rapidly. As a result of this, Ripple now holds the third position behind Bitcoin and Ethereum in the list of Coinmarketcap.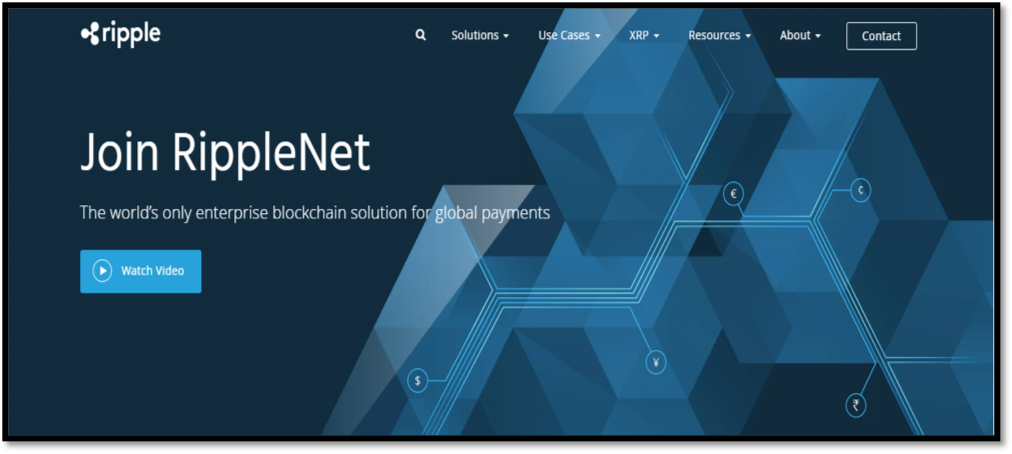 Figure 2: Ripple's Official Website
Breaking down Ripple's Technology:
As mentioned above, Ripple's technology is a decentralized open-sourced protocol that can offer a lightning-fast payment system with a veritably low transaction cost and also without any charge-backs. The principal constituents of Ripple's technology include gateways, a consensus ledger, a payment/forex system, privacy settings, market makers, and an open API. The XRP coin of Ripple network acts as a bridge to other currencies (both fiat and digital). As Ripple does not discriminate between a fiat and a cryptocurrency, exchanging one currency for another is considerably easy on its network compared to others.
Advantages Provided by Ripple:
Ripple's ingenious technology comes with myriads of beneficial features for its users. Some of those advantages are:
Greater speed: The payment system of Ripple offers an incredible speed in comparison with other cryptocurrencies like Bitcoin or Ethereum. As a result, transactions can be carried out instantaneously on this network. The average time taken for each transaction is approximately four seconds on Ripple's decentralized system.
Distributed system: Ripple's decentralized network provides a highly efficient distributed payment procedure that can be operated from any part of the world as long as there is a decent internet connection available.
Scalability: Scalability is one of the principal features that Ripple exhibits. Scalability refers to the ability to execute multiple tasks simultaneously while maintaining accuracy and quality. When it comes to transactions, Ripple network is capable of maneuvering nearly 1500 transactions per second without any interruption or glitch. This tremendous ability makes Ripple extremely favorable to numerous cryptocurrency traders.
Stability: Cryptocurrencies like Bitcoin often suffer from a drastic decline and recover from it in no time. This capricious nature makes certain cryptocurrencies unreliable to invest. Many cryptocurrency experts have remarked such currencies as "bubble" due to their volatile nature. On the other hand, Ripple's price, however small it may seem in comparison with Bitcoin's whopping figure (circa $11,000 on 27th Feb 2018), is very stable and does not undergo drastic changes. This feature makes XRP one of the most reliable cryptocurrencies available in the market.
Exchanges Where Ripple Is Available:
There are several cryptocurrency exchanges available in the cryptocurrency market accepting Ripple nowadays. The most reliable ones among them include Bithumb, Coinone, Korbit, Bitso, Bittrex, Bitfinex, Poloniex, BitStamp, HitBTC, Kraken, etc. Also, new exchanges like BitPanda, CoinMama, and many more have also started accepting Ripple as a valid cryptocurrency. The way more and more investors are inclining towards Ripple, it is likely to get listed on other cryptocurrency exchanges as well.
The Current Position of Ripple:  
As far as overall market capitalization is concerned, Ripple currently stands on the third position in the list of cryptocurrencies with a market cap of approximately 38 billion (as on 27th February 2018). An individual XRP coin is equivalent to $0.967513 at the moment with a steady upward trend.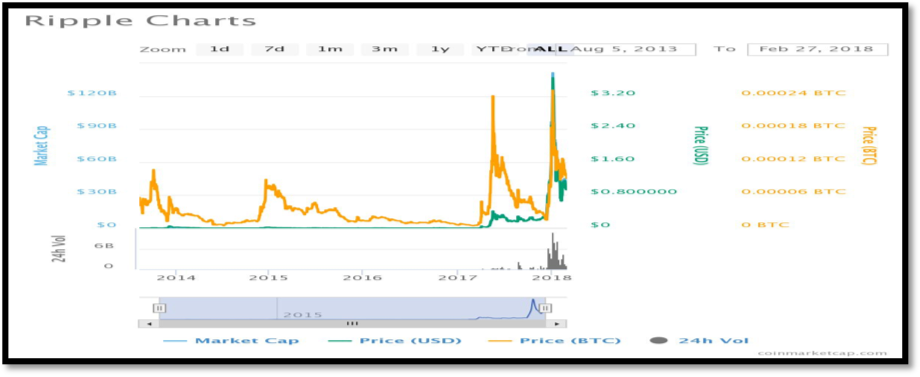 Figure 3: Ripple Chart on 28th Feb 2018
Ripple Speculation:
In 2017, the price of Ripple grew by nearly 28,000%. Judging by this trend, many speculators are hopeful about a significant escalation in Ripple's total market cap as well as the value of its XRP coin. Another reason behind such positive speculation is Ripple's tendency to engage in fructuous partnerships and customer acquisition. In the previous year, Ripple got involved with 75 commercially deploying customers.
Conclusion:
With the technological ingenuity, reliability, and convenience it offers to its customers, Ripple is likely to achieve more significant feats along with moving further up in the list of cryptocurrencies.
We will be updating our subscribers as soon as we know more. For the latest on XRP, sign up below!
Disclaimer: This article should not be taken as, and is not intended to provide, investment advice. Global Coin Report and/or its affiliates, employees, writers, and subcontractors are cryptocurrency investors and from time to time may or may not have holdings in some of the coins or tokens they cover. Please conduct your own thorough research before investing in any cryptocurrency.
We know what the Institutions are saying, but what are they doing?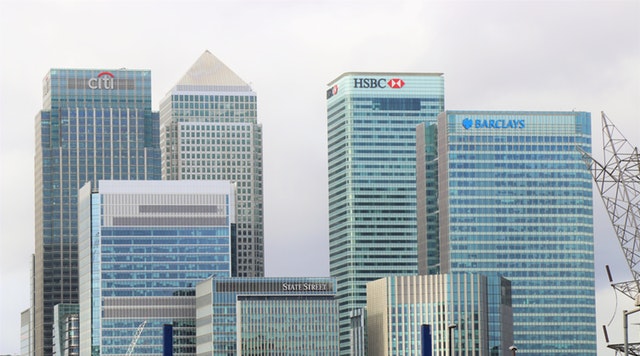 Many of us hear that institutions are buying tons of BTC, XRP, and other top 20 cryptocurrencies.  The thing is how much truth really is there to that when we cannot even see the market moving in any direction other than on a downtrend. Right now, many do not know this but there is the OTC or the over the counter exchanges that exist. These exchanges like OTC trading desks do the trades off the market hense over the counter. This means that it functions in the same way the black market functions as when you sell these items it is essentially off the books so to speak.
Why does all this matter? Have any of you seen this VIDEO with Tekka Tiwari. Here he explains what I love to say as listening with your eyes. He goes on to show how Wall Street legally manipulates the market, they throw out in the media and go into the limelight and bash the said stocks, or bitcoin. The result is that of them falling drastically as many panic sell the asset. While everyone is selling off tons of their assets when it gets close to the bottom, similar to where cryptocurrency is currently they buy it in droves. He explains how this is exactly what happened in the…
Why Is Coinbase Stalling With XRP?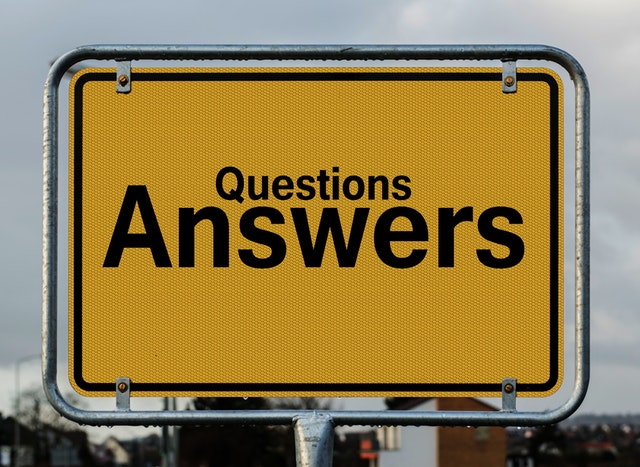 For a cryptocurrency project, getting their coin to Coinbase is one of their biggest goals. However, the popular exchange has become infamous over the years for only accepting a handful of top-ranking coins, while other ones were deemed unsafe for listing for various reasons. In the first half of 2018, however, Coinbase decided to distance itself from this old way of looking at things, and it has even announced that it will look into numerous altcoins, in order to locate and list the best among them.
Since then, the exchange has kept its word, and while it did not add dozens of new coins, they still did open up to a few projects, such as 0x and even Zcash.
However, for all this time, there was no mention of XRP, a cryptocurrency formerly known as Ripple, which is currently the second largest coin by market cap. Despite high demand, constant requests, and alike — Coinbase did not even consider adding XRP.
That is, until several days ago, when numerous reports of Coinbase considering another group of altcoins emerged. While the XRP community was very excited to see XRP listed as a candidate for a potential listing, many believe that it is still not going to happen.
Why Coinbase doesn't want to add XRP?
As mentioned, the XRP community has been asking for the addition of XRP for…
Why 2019 Will Be A Big Year For Crypto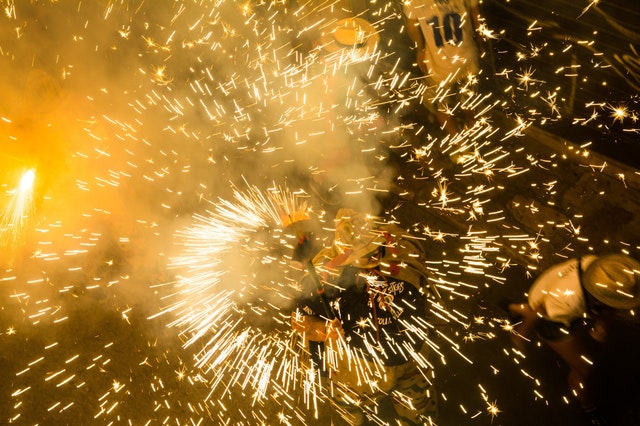 As 2018 is getting close to its end, a lot of crypto investors are turning their gaze towards the future. Considering the crypto bearish trend that has dominated this entire year, not to mention two big market crashes, it is of no surprise that everyone is more than ready to leave these harsh events behind.
However, a few questions still remain unanswered — what to expect in 2019? Is the situation going to change, or will there be just more of the same? Is investing now, when the prices are low, a good idea? These are the issues on every investor's mind right now.
What to expect in 2019 in terms of crypto value?
Understandably, after a year such as 2018, expectations of the future are quite high. The crypto scene is still in its infancy, as many analysts have stated numerous times. Add a few more issues, such as regulatory uncertainty, mistrust coming from institutional investors, and constant hacks, scams, and theft that have been a significant factor in this and previous years, and it's no wonder that the market keeps crashing.
However, there is more to it than that. Due to high volatility and no real control over cryptocurrencies, a massive bull run of 2017 brought cryptos to heights that were not supposed to be reached that early. Because of that, some analysts claim that, what…