Bitpanda digitises physical gold and silver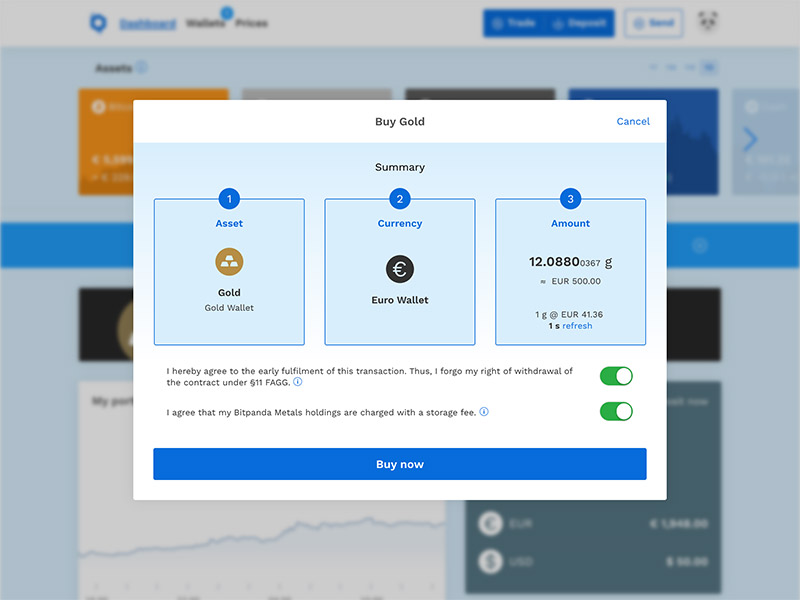 Vienna, 13 May 2019 – Vienna-based fintech Bitpanda launches gold and silver trading for its 1 million users. The new product Bitpanda Metals allows users to securely and conveniently invest in gold and silver and benefit from ultra-low fees. The assets are 100% physically backed, fully insured and stored in a high-security vault in Switzerland. 
Users can buy gold and silver to diversify their portfolio
Gold and silver are asset-backed by physical gold and silver bars
Transparent and low fees
Duty-free, 100% insured and safely stored in Switzerland
Swap gold and silver with any digital asset on Bitpanda
Set up savings plans for regular invests
Bitpanda, the Viennese fintech with around 1 million users and more than 100 employees is adding gold and silver as a new asset class to their trading platform. With Bitpanda Metals the company is introducing the user experience and convenience of buying digital assets to the world of precious metals trading.
Bitpanda partnered with precious metals brokers pro aurum and philoro to securely store the physical underlying of the gold and silver tokens offered by Bitpanda. The physically backed, digitised gold and silver can be traded with the same ease as with other digital assets on the Bitpanda platform. Users can buy small amounts beginning from €1 using a wide variety of payment methods and pay in Euro, Swiss Franc, British Pound or US Dollar. Gold can be bought for no fees no matter the amount (after the launch promo for a low fee of just 0,5%) and stored for a transparent and industry-wide unique storage fee of just 0,0125% per week. Gold and silver holdings are 100% insured. Users can sell anytime they see fit, and they are also able to instantly swap any amount of their gold or silver holdings with Bitcoin and any other available digital asset available on Bitpanda.
"Gold and silver stood the test of time as an asset class, and we are now bringing it to the 21st century. With high transparency, very low fees and the same convenience as for other assets on our platform, we are disrupting the gold trading business. With Bitpanda Metals we allow small investors to buy without having to pay horrendous fees. This is a real game changer," says Bitpanda CEO Eric Demuth.
To celebrate the launch of Bitpanda Metals, Bitpanda charges no fees on buying gold until 15 June 2019, plus users receive 5 to €200 worth of digitised gold or silver when they invest at least €25 gold or silver on the Bitpanda platform.
About Bitpanda
Bitpanda is a fintech based in Vienna, Austria founded in 2014 by Eric Demuth, Paul Klanschek and Christian Trummer. The company is a firm believer in the innovative power of cryptocurrencies, digitised assets and blockchain technology. Bitpanda's mission is to tear down the barriers to personal finance and bring traditional financial products to the 21st century. Today, Bitpanda has around 1 million users and more than 100 team members. With a PSD2 payment service provider license, state-of-the-art security and streamlined user experience, Bitpanda has grown into a popular trading platform for newbies and experts alike. Users can currently trade Bitcoin, Ethereum, gold and over 20 other digital assets.
CoinField Launches Sologenic Initial Exchange Offering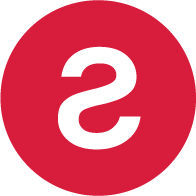 CoinField has started its Sologenic IEO, which is the first project to utilize the XRP Ledger for tokenizing stocks and ETFs. The sale will last for one week and will officially end on February 25, 2020, before SOLO trading begins on the platform.  Sologenic's native token SOLO is being offered at 0.25 USDT during the IEO.   
Earlier this month, Sologenic released the very first decentralized wallet app for SOLO, XRP, and tokenized assets to support the Sologenic ecosystem. The app is available for mobile and desktop via the Apple Store and Google Play.  The desktop version is available for Windows and Mac.
"By connecting the traditional financial markets with crypto, Sologenic will bring a significant volume to the crypto markets. The role of the Sologenic ecosystem is to facilitate the trading of a wide range of asset classes such as stocks, ETFs, and precious metals using blockchain technology. Sologenic is an ecosystem where users can tokenize, trade, and spend these digital assets using SOLO cards in real-time. The ultimate goal is to make Sologenic as decentralized as possible, where CoinField's role will be only limited…
5 reasons why you should use a brokerage exchange service to buy and convert cryptocurrencies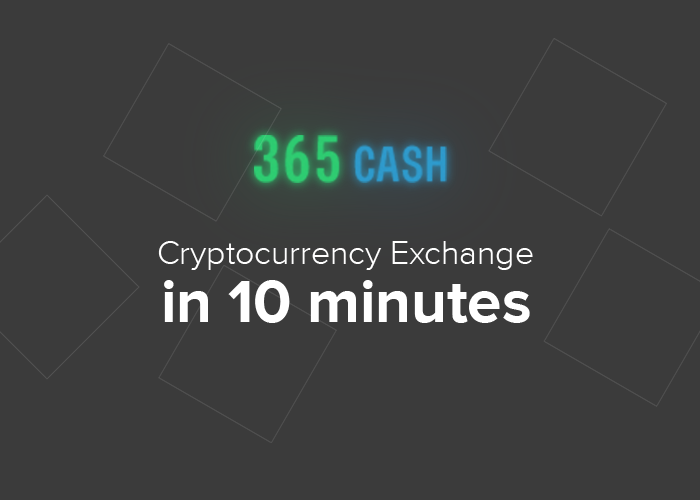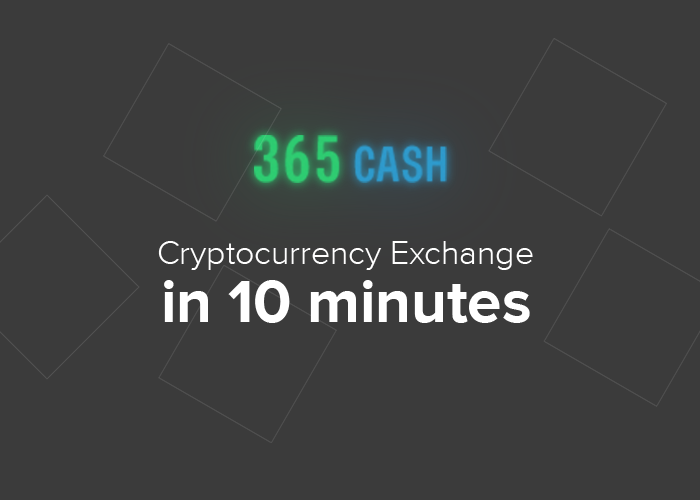 It is considered that the best place to buy cryptocurrencies exchanges. But this is a mistake. Let's think about why we don't buy fiat currencies on stock and currency exchanges or on the interbank market. Because it takes a lot of time, you need to have quite large amounts, and trading licenses are also a problem.
The situation is similar in the cryptocurrency market. Exchanges require a lengthy KYC verification process. the process of withdrawing funds through a merchant can take up to 5 banking days. It should also be remembered that before withdrawing funds, you must conduct trading operations. 
What are the advantages of the brokerage service 365Cash.co?
You don't need to go through a lengthy KYC verification process. This is a crucial aspect for those who worry about their anonymity. 
Low limits and fast execution of the exchange order. If you need a small amount quickly – 365Cash.co is the best choice.
The ability to use payment systems like Perfect Money, Payeer, AdvCash to buy cryptocurrencies at the market rate. Exchanges do not provide this opportunity.
Low commission. We do not charge customers a fixed fee for the exchange. We work at the market rate and are completely dependent on the spread.
Quick…
Many of the Top Sports Betting Websites for 2020 Can Be Found On Boomtown's Best Betting Page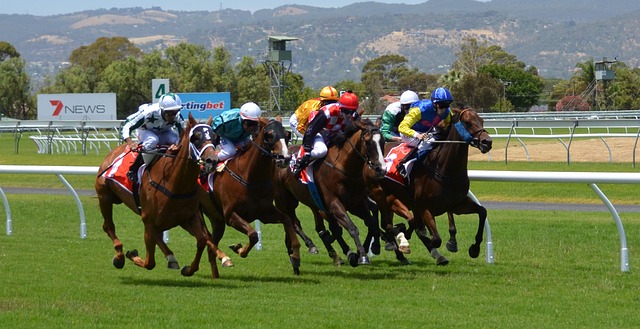 Sports betting is one of the widely known types of online gambling. With a large number of sports fans around the world, this type of gambling is one of the most sought after. The problem usually comes from when gamblers try to find the best sites out of the many available ones. Many new sports betting sites come up daily, thus making the selection process even harder. One of the best places to find top betting websites for sports is Boomtown Bingo. This platform doesn't just give users the best online casino games websites, but they also cover sports betting. As such, boomtown bingo remains a one-stop-shop for everyone who needs the best and the latest online gambling and gaming sites for all types of devices.
Performance
The performance of any website is critical. Users need to find their way around the site easily, and that can be made possible with the site structure and arrangement. Loading time is also essential. A website that always hangs thus pushing the user to refresh every time is no good. These are some of the factors that Boomtown Bingo looks into when selecting the best sites for its users. You can be sure that the new sports betting websites listed on Boomtown's platform have faster loading time, can be used easily by everyone,…