Enhancing the DigitalBits Ecosystem through the XDB Foundation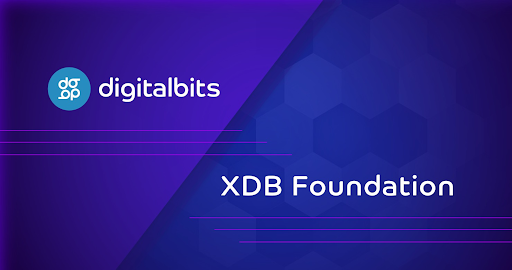 The DigitalBits ecosystem welcomed a new benefactor in the form of the XDB Foundation, a non-profit organization dedicated to providing support for DigitalBits. The main objectives of the XDB Foundation include the DigitalBits Ecosystem Support Program, supplying both financial and non-financial assistance to qualified entities and projects within the DigitalBits community, with a focus towards innovation and speeding ecosystem growth.
Michael Gord, MLG Blockchain and GDA Capital founder, has been appointed to the role of Managing Director of the XDB Foundation.  "I am excited to see the launch of the XDB Foundation and to be joining the DigitalBits ecosystem in this new capacity," says Gord. "In the coming weeks, the XDB Foundation will share additional updates regarding its key initiatives.  Over the past 2 years, we have seen DigitalBits achieve various milestones and with this next chapter I'm excited to see the XDB Foundation contribute as the new project lead supporting education, research and development, and ecosystem growth and adoption."
Michael Gord's first initiatives within blockchain started with establishing the McGill Students' Cryptocurrency Club, McGill Students' Fintech Association, Bitcoin Canada and providing leadership on the global expansion of the Blockchain Education Network.  Notably, he is also a key contributor to the Kerala Blockchain Academy, one of the largest innovation hubs for blockchain technology worldwide. 
Under Michael's leadership, GDA and its affiliates have operated with Fortune 500 companies, such as Toronto Dominion Bank, as well as governments in North America, the Caribbean, Africa and Asia. Michael has participated in some of the world's largest blockchain ecosystems, including TRX, LRC, and ONT. Gord has fronted initiatives such as Canada's Next Top Blockchain Exec, the global Blockchain Gauntlet startup competition, global hackathon events such as the Borderless Block Party, and the build-out of global industry ambassador networks.
Foundation Governance and Initiatives
The XDB Foundation will establish a set of committees focused on the supervision of: research and development, ecosystem growth and adoption, education and governance. The Foundation's central objectives include supporting innovation and implementation of the DigitalBits blockchain, shaping commercial standards and requests for technical development, expanding the DigitalBits Community through a diverse regional strategy, providing accountability and sustainability practices, and facilitating partnerships and ecosystem development.
The DigitalBits Project
The DigitalBits Project is an open-source project that developed the DigitalBits blockchain protocol and a secure, low-cost global transaction network, and tools. This blockchain protocol and network layer support various use cases including consumer digital assets, specifically branded currencies. 
The DigitalBits Project, since its founding in 2017 and launching of the DigitalBits blockchain in March 2018, has seen a large array of support from an ecosystem of top-level partners, including developers, other blockchain projects, exchanges and enterprise partners. As the new project lead for the DigitalBits Project, the XDB Foundation will also leverage these building blocks to support the next stage of commercial integrations and brand adoption. The Foundation will provide a framework to help ensure longevity, integrity, and effective collaboration between the Foundation, the DigitalBits Project and a hallmark of commercial companies.
As Q2 approaches its end, the DigitalBits Project is planning its roadmap updates under the oversight of the XDB Foundation. A new category – Brand Integration – has been included in the DigitalBits Roadmap to share updates from the robust ecosystem partners that will leverage the DigitalBits blockchain for their unique solutions. 
DeFi Wizard Raises $750k from Blockchain Investment Bigshots, to Simplify Multi-chain DeFi Legos
Bengaluru,, India, 24th February, 2021, // ChainWire //
In order to give shape to their 'one-click DeFi contracts creation' dream, Defi Wizard has raised a total of $750,000 from X21 Digital, AU21 Capital, Amsterdam-based TRG Capital, DeltaHub Capital, NGC Ventures, and ExNetwork.
Speaking on latest development Defi wizard founder and CEO, Anand Kamath said: 
"It gives us immense pleasure to announce that our platform, DeFi Wizard has attracted the attention of leading blockchain investors and funds."
DeFi Wizard aims to help cryptocurrency companies and businesses seamlessly create digital assets, without any hassles, with the objective of becoming an all-in-one token creation platform. 
Investment Usage
This recently concluded fundraising round is an important milestone for Defi Wizard. It will fuel the development of the platform along with operations/maintenance.
Other ways in which Defi wizard will receive assistance is with liquidity bootstrapping for Uniswap listing, alongwith added global and regional promotional efforts to generate awareness for the platform. 
About Defi Wizard
Defi wizard is a dashboard for building DeFi (decentralized finance) smart contracts with a few clicks. It offers real-time programmer analytics and allows users to create smart contracts for ERC20 / BEP20 / EDST, staking, yield farming, governance, cross-chain bridge, gasless relayer baked in.
As per the latest statistics, more than five projects are already using DeFi Wizard's staking services and more than $100M AUM has been locked through the smart contracts generated through the…
LGCY and Unido Partner for Secure Custody Services
Unido is an all-in-one platform that serves as an asset management and investment service for crypto-native enterprises. As an incoming wave of companies, asset managers, and investors resort to these technologies, its business banking portal and DeFi interoperability features are becoming essential to blockchain networks looking to welcome new users. 
One such case is LGCY, an open-source blockchain protocol that forks the TRON blockchain to provide more scalable and decentralized functionality. As a Layer 1 DPOS decentralized network, it is capable of handling over 10,000 transactions per second at an average cost of $0.01 per transaction. It also counts on a growing community of developers that seek to build new applications securely. This is why the network has decided to partner with Unido for its secure multi-signature wallet technology.
The network will integrate a white-label version of Unido's wallet where users can store their tokens securely using a patent-pending private key obfuscation algorithm. Developers will also be able to use Unido's Core API to build decentralized applications designed for enterprise solutions. 
While Unido will benefit from the integration of a new user base, LGCY will become a better service for crypto-native enterprises as well as asset managers and investors that need secure all-in-one custody services. 
The teams behind Unido and LGCY announced that "the integration…
99Bitcoins takes over the "Dead Coins" project to become the cryptocurrency undertaker
Singapore, Singapore, 17th February, 2021, // ChainWire //
99Bitcoins, an educational website that maintains a list of Bitcoin obituaries made by the media, has taken over the Dead Coins project as well. This move effectively crowns 99Bitcoins as "The undertaker of the cryptoverse".
Deadcoins.com was established in late 2017 to document the death of thousands of altcoins that popped up during the cryptocurrency mania of that time. The idea was simple – create a list of coins that have ceased to exist after the hype died down.
A coin can become "dead" due to a variety of reasons such as its development being halted, having no one that uses or trades it, being exposed as a scam and more. While the project was initially maintained only by its founders, it was later outsourced to the cryptocurrency community which was allowed to add their own dead coins.
"I think the dead coins project is a brilliant idea that needs a bit of polishing" says Ofir Beigel, owner and founder of 99Bitcoins. "The fact that anyone can add a dead coin themselves made the list of coins very inaccurate. We've spent days going through the complete list and sifted out all of the coins that were buried alive, so to speak. For example, Bitcoin, Tron, Dogecoin and Tether are just some of the coins that were listed when we took…