China's Blockchain Billboard Announced That SmartMesh Won The "International Blockchain Innovation Award"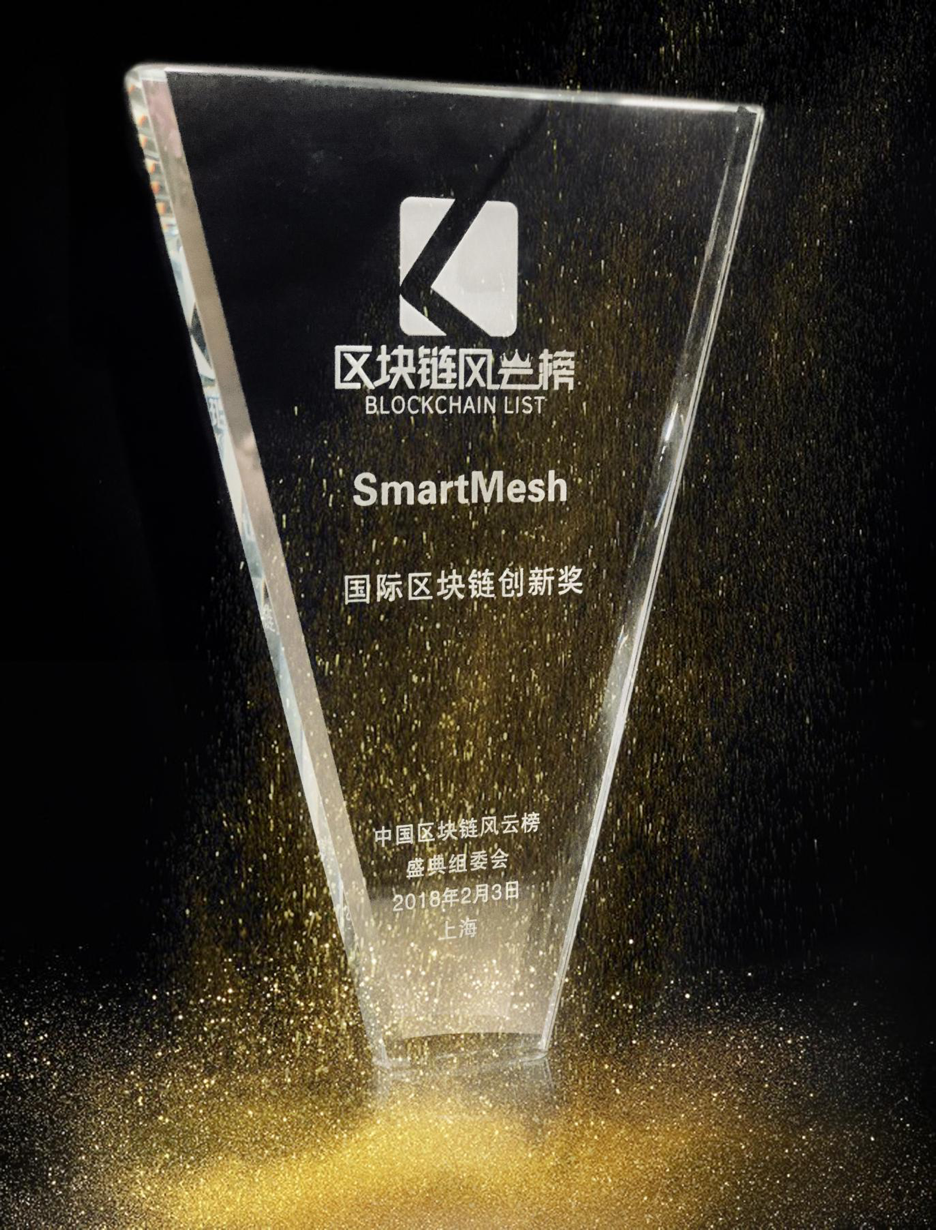 February 3rd, 2018 13:27:19 China Xinhua News
February 3, 2018, "2017-2018 China Blockchain Billboard Grand Ceremony " a.k.a "The Third China Blockchain Industry Summit "was held in Shanghai as scheduled. Leaders from Ministry of Industry and Information Technology of the People's Republic of China, Computer and Communications Industry Association (CCIA), China Hi-Tech Industrialization Association (CHIA), and the blockchain industry experts from different parts of the world, a total of more than 500 guests attended the summit. Based on its major breakthrough in blockchain technology, SmartMesh won International Blockchain Innovation Award.
In fact, the Blockchain Billboard Awards are granted only to the international project teams who contributed to the innovative breakthrough of the blockchain technology. Singapore based SmartMesh won this award because recently it made a major breakthrough in the blockchain expansion technology of Mobile Lightning Network development which fostered its success.
Prof. Weide Cai, a scientist of the "Thousand Talents Program" said that blockchain technology is the fourth industrial revolution which is far more beyond artificial intelligence and big data technology. Stanford University professor, an associate member of three US universities Prof. Shoucheng Zhang said that blockchain technology is the new turning point in the development of the Internet.
The invention of TCP / IP protocol has propelled the advent of the Internet era. Packet Switching has replaced Circuit Switching. And the Atmosphere and Token Switching that proposed by SmartMesh founder and CEO Henry Wang are able to allow cross-chain on the blockchain's Secondary Architecture and on the level of Lightning Network, Raiden Network and Plasma; to allow interconnection on the MeshBox. After decades of development, the internet has ushered in another era of frequent separation and integration. SmartMesh and Token Switching will drive the internet to advance to The Internet of Value and The Internet of Things.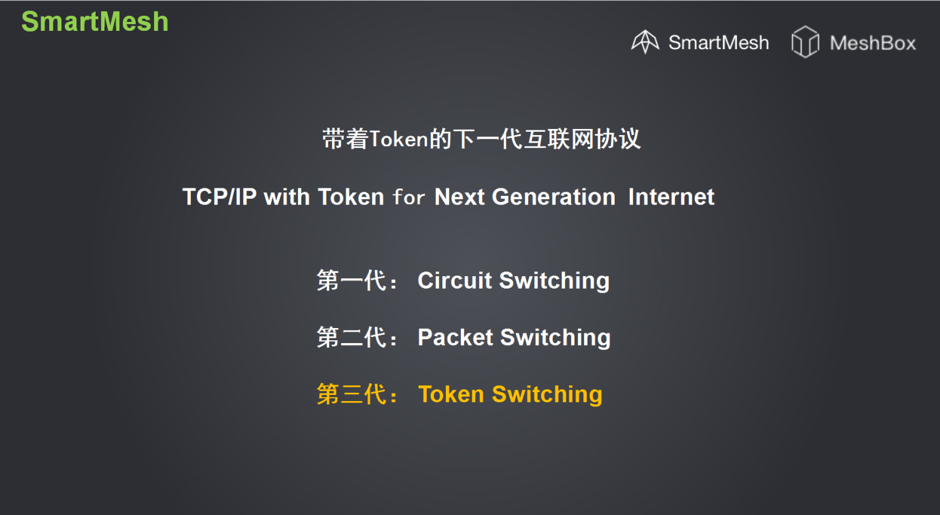 Henry Wang shared SmartMesh's mission and its future development ideas during the summit, it won the praise and applause of the guests. Henry Wang said that at present in the world there are still billions of people who have no access to the Internet, and also network congestion is a common problem in the areas where internet is developed. The Internet operators have no effective solutions to above-mentioned problems, so it seems that the development of the Internet industry has reached its bottleneck. These problems can be resolved by the Mesh Network constructed by the SmartMesh protocol.
The ultimate goal of SmartMesh protocol is to build a global coverage of the mesh network to form a parallel Internet. The existing network services can all be distributed through a mesh network, providing communications, video, games and other services to the people when the Internet is not available.
SmartMesh is more than just a public blockchain. With Atmosphere, SmartMesh will lead the blockchain industry to break through the borders of the Internet, which will greatly enhance their scope of application and improve the number of potential target customers. As a result, many businesses may profit from these changes, and bring even greater transformation. The work and life of people will, therefore, become more convenient.
Not long ago, SmartMesh has completed the world's first Mobile Raiden micro-payment test on the Ethereum Testnet network, which means that Mobile Raiden is about to enter people's lives, and the era of offline payment is imminent.  And The MeshBox, the first eco project under SmartMesh protocol, is tailor-made for hosting Mesh networks. In future, most of the Mesh network nodes will be provided by MeshBox. Whether or not connected to the Internet, as long as MeshBox is set up, even in remote areas, information can be transmitted through Mesh network, which will provide the convenience of the network to those who are unable to connect to the Internet.
More importantly, each MeshBox in the future will become a network node for the Mobile Raiden which means that Lighting Network will have tens of millions of network nodes around the world. This will build a mobile micro-payment system that is linking the world and building up a more effective link for global network transactions. At the same time, the realization of Mobile Lightening Network on smart devices has resulted in a substantial increase in transaction speed and has greatly reduced the transaction costs. This makes the much-needed M2M payment for the Internet of Things a reality and opens up a new era of decentralized IoT.
Disclaimer: This article should not be taken as, and is not intended to provide, investment advice. Global Coin Report and/or its affiliates, employees, writers, and subcontractors are cryptocurrency investors and from time to time may or may not have holdings in some of the coins or tokens they cover. Please conduct your own thorough research before investing in any cryptocurrency.

ISW Holdings Continues Anti-Dilution Agenda by Eliminating Major Convertible Note with $363k Preemptive Payment
LAS VEGAS, March 9, 2021 (GLOBE NEWSWIRE) – ISW Holdings, Inc. (OTC: ISWH) ("ISW Holdings" or the "Company"), a global brand management holdings company with commercial operations in Telehealth and Cryptocurrency Mining, is pleased to announce that the Company has paid off and canceled a major convertible debt note by allocating $363k to settle the outstanding obligation and remove it from the books.
"As our financial reality has shifted over recent months, we have an opportunity to drive value for our shareholders in many ways, including eradicating dilution risk by being proactive in addressing outstanding liabilities," noted Alonzo Pierce, President and Chairman of ISW Holdings. "Without this action, the note would have had the potential to convert at a 50% discount to current share pricing. We weren't comfortable with that potential outcome, so we deployed capital to eliminate that risk."
The Convertible Note that has now been canceled presented a dilution risk for shareholders upon potential conversion into equity at as much as a 50% discount to market pricing for shares. Management is committed to preventing dilution risk as part of its official anti-dilution strategic initiative, introduced last year. The Company has regularly and consistently taken steps to eliminate, cancel, or pre-empt dilution risks such as those presented by convertible debt notes since announcing this initiative.
This announcement follows the Company's recent moves to energize its initial POD5IVE crypto mining unit and to acquire the means to assemble and energize…
ISW Holdings Triples Active Cryptocurrency Mining Fleet with Additional POD5IVE Mining Pods
LAS VEGAS, March 2, 2021 (GLOBE NEWSWIRE) – ISW Holdings, Inc. (OTC: ISWH) ("ISW Holdings" or the "Company"), a global brand management holdings company with commercial operations in Telehealth and Cryptocurrency Mining, is pleased to announce that, following the signing of hosting agreements with Bit5ive LLC and Scrubgrass Generating Company, LLP, based in Kennerdell, PA, the Company has successfully tripled its active Cryptocurrency mining fleet with the addition of two (2) new POD5IVE datacenters.
The Company now operates three POD5IVE datacenter units and anticipates a record acceleration in cash flows, revenue growth, and profitability ahead.
The POD5IVE datacenter, produced in partnership with Bit5ive, is based on an evolutionary design, and includes the following specifications:
• Active Mining Power: 62-92 Th/s depending on the miners
• SHA 256 Hashrate: Currently 6,557.28 TH/s
• Per POD5IVE quantity: 3x 280-360
• Depending off each miner, 1x 280 and type of miner: 3x Up S17/T17, 1x up to S19/T19
• Power capacity for all POD5IVE: Each can go 2x 800A, 2x 1000A, or 2x 1200A
• Total power capacity per POD5IVE: 4x 920,038.40 Watts, Current site is using 800A fuse per service
• Container Size: 40′ x 8′
• Shelving: 3x with 10 medium Racks, 1x with 4 large racks
• Voltage: 415V 3 Phase
• Ventilation: Passive airflow with a temperature controlled evaporative cooler. 133,000 CFM total each.
• Digital smart (breakers,…
ISW Holdings Negotiating Purchase of Additional 300 to 900 Cryptocurrency Miners in Preparation for Phase 3 Expansion in Mining Operations
LAS VEGAS, February 11, 2021 (GLOBE NEWSWIRE) – ISW Holdings, Inc. (OTC: ISWH) ("ISW Holdings" or the "Company"), a global brand management holdings company with commercial operations in Telehealth and Cryptocurrency Mining, is pleased to announce that the Company is currently in negotiations toward the purchase of an additional large number of miners (between 300 and 900) in preparation for its coming Phase 3 expansion in mining volume.
The Company previously announced that it is currently launching its initial Pod5 Cryptocurrency Mining Pod, a fully self-contained high-PUE mining solution designed, assembled, and installed in partnership with Bit5ive, LLC, ("Bit5ive") at the Bit5ive 100 MW renewable energy cryptocurrency mining facility in Pennsylvania.
Expansion involves assembling, equipping, and powering up additional Pod5 units, each of which houses 300 miners and is capable of driving roughly $2.9 million in annualized revenues at current cryptocurrency market pricing. Management is targeting the acquisition of 900 new miners capable of equipping three (3) new Pod5 units, which would lead to an additional $8.64 million in annualized revenues from mining activities at current market prices.
As noted in prior Company communications, the Company began a four-phase process last year.
Phase 1 (completed) was about integrating leading design solutions and establishing a supply chain to bring in industry-leading parts and equipment for the Pod5 mining solution.
Phase 2 (completed) was about assembling and shipping its initial Pod5 unit.
Phase 3 (underway) is the mining launch – targeting…