Genie Is Taking Some Of The Risk Out Of An ICO Investment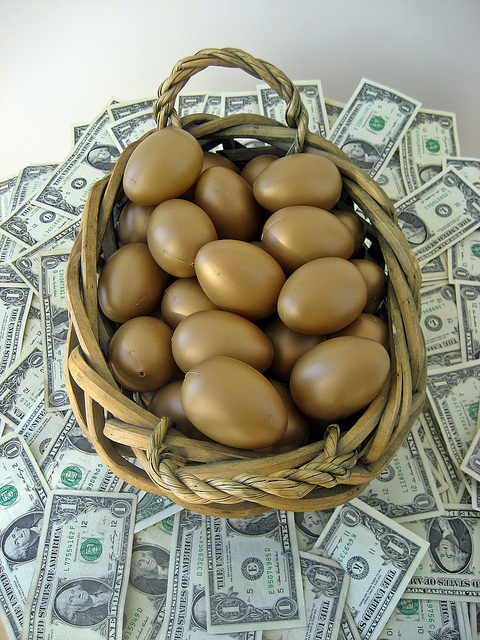 The wave of ICOs that has hit markets over the past 12 months has left investors with a huge amount of choice when it comes to allocating capital towards growth companies in the technology space.
At the same time, it's also exposed his investors to a potentially risk-fraught environment, not just because there is the potential for malicious activity but also rooted in the fact that the vast majority of these offerings are designed to fund companies that are as yet nonoperational.
If an investor, therefore, had the opportunity to invest in an ICO that was designed to fund growth in an already operational company, a large portion of the risk would be removed from the equation.
With Genie ICO, investors have the opportunity to do just that.
Its related company, Crowd Genie is one of the few licensed and fully operational peer-to-peer digital lending platforms in Singapore and the company was granted a "Dealing in Securities" license by the Monetary Authority of Singapore (MAS), the nation's central bank (so, equivalent of the Federal Reserve in the US) in March 2017.
The company isn't raising cash the development of a brand-new concept, therefore, but is instead looking to use any capital raised through its offering as a means with which to drive the large-scale expansion of its existing operations.
So, what is Crowd Genie?
The company has developed a platform that connects borrowers with lenders in real time and has built this platform using the blockchain technology. The utilization of a blockchain as a foundation on which the platform rests means that there is no need for middlemen or third parties when it comes to the mechanics of transferring funds, which, in turn, results in a removal of the unnecessary fees associated with doing so in the current landscape.
To put this another way, through the platform that Crowd Genie has built, lenders can gain quick and easy access to borrowers and vice versa with practically no (and certainly no fees related) costs of doing so.
So where does the ICO come into the equation?
The company is issuing tokens (ERC20 compliant) called CGC, towards a goal of a $35 million hard cap, amounting to a total issue of 60 million CGCs. The conversion rate is 1ETH for 400 GCG. There's a minimum purchase of 0.1ETH, with no limit to a maximum purchase. During the first two weeks of the issue, there's a 25% bonus on any tokens acquired. During week three, this dips to 15% and, during week four, the bonus comes in at 5%.
And why would a user participate?
The company is aiming to buy back tokens with 80% of its net profit, with buyback tokens then being burnt. This will reduce supply, will should organically result in a price rise. Additionally, transactions on the lending platform will be denominated in CGC. While borrowers are rewarded with CGC Credits for timely repayments, which can be monitored publicly to establish trust.
Each of these processes will play a part in increasing the value of CGC tokens on the open market, outside of any organic growth rooted in speculative activity and acquisition.
So what's next?
The company is looking to lend out a portion of the funds raised to businesses (borrowers on the platform) almost immediately subsequent to completion, so this is a catalyst slated for May 2018. Beyond that, various platform enhancements (KYC, Digital Passport, a mobile application) should serve to drive user interaction and, ultimately, company valuation.
You can take a look at the White Paper here.
Here's the website for more information.
Disclaimer: This article should not be taken as, and is not intended to provide, investment advice. Global Coin Report and/or its affiliates, employees, writers, and subcontractors are cryptocurrency investors and from time to time may or may not have holdings in some of the coins or tokens they cover. Please conduct your own thorough research before investing in any cryptocurrency.
Image courtesy of 401kcalculator.org
Wirex adds WAVES to its Platform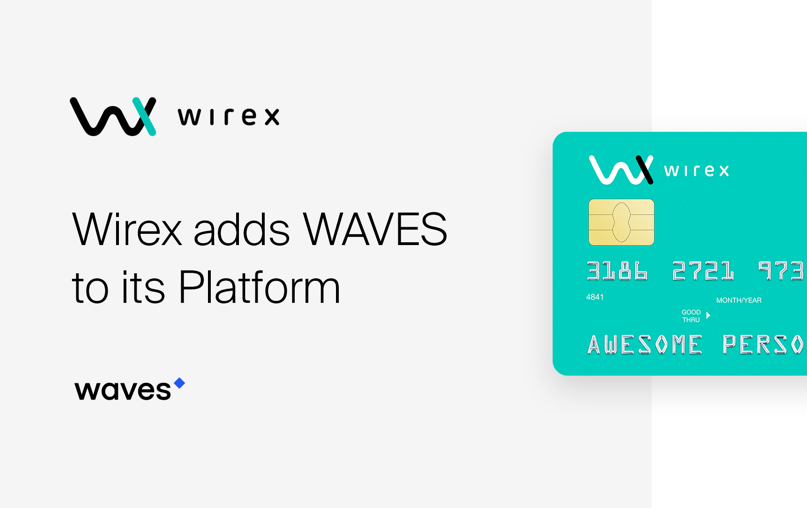 London UK, January 10th2018 – Wirex, the UK FCA-licenced digital money platform that facilitates the seamless conversion of cryptos and traditional currency, has joined forces with Waves to add the in-demand WAVES token to its platform. The WAVES token holds a unique place in the cryptocurrency spectrum because its underlying utility addresses some critical hurdles that hinder the mainstream adoption of blockchain technology, such as scaling, interoperability, and security.
Sasha Ivanov, CEO and Founder of Waves Platform, says, "We see Waves as the bridge that will facilitate the transition from web 2.0 to web 3.0. The goal of our team is to put tools in place that will allow both enterprise and individuals to easily implement their own blockchains while improving the UX of DApps and blockchain infrastructure."
Like Wirex, the Waves Platform was purpose-built, and since its launch in 2016, Waves has become one of the fastest, most secure and user-friendly public blockchain platforms available.
In terms of its underlying protocol Waves is closer to Ethereum than Bitcoin. Ethereum is used to develop various DApps, but it can be expensive due to its Smart Contract language complexity and Gas fees that can grow dramatically over time. Waves Smart Contracts are simplified – they are a plug-and-play solution with fixed fees. Another improvement is the Waves-NG protocol with throughput of up to 1000 TX/s.
Make Profit in the Bear Market? Recommend the 1st Cryptocurrency Futures Exchange – Bexplus
In 2018, Bitcoin has declined from $20,000 to $3100. Is $3100 the bottom of BTC and will the bull come in 2019? I don't think there will be a bull in the cryptocurrency market next year. Instead, it may keeps "steady" price fluctuation, which means Bitcoin price goes up and down but hard to rebound to $20,000 in 2019. So is it possible to earn money during the cryptocurrency bear market? Absolutely YES!
If you've traded BTC spot before, you must know that you can only make profits when its price rises. Different from the spot trading, Bitcoin futures contract as well as other altcoins futures trading are popular among investors, because it gives investors chance to earn money even during the bear market.
What is Cryptocurrency Futures Trading?
Cryptocurrency futures contract enables you to enter a larger trade with a small number of assets that you possess. You can earn money in both directions. For example, buy/long BTC means that speculator can place a "bet" on BTC rising. On the contrary, sell/short BTC means to "bet" on BTC falling. Besides, with X times leverage added, investors can enter a large trade though they hold a smaller amount of BTC. Some investors, especially the beginners may think that futures trading is relatively high risk. But different from the traditional futures contract, Perpetual contract allows you to set stop-profit…
Introducing Interdax: The fastest new crypto trading platform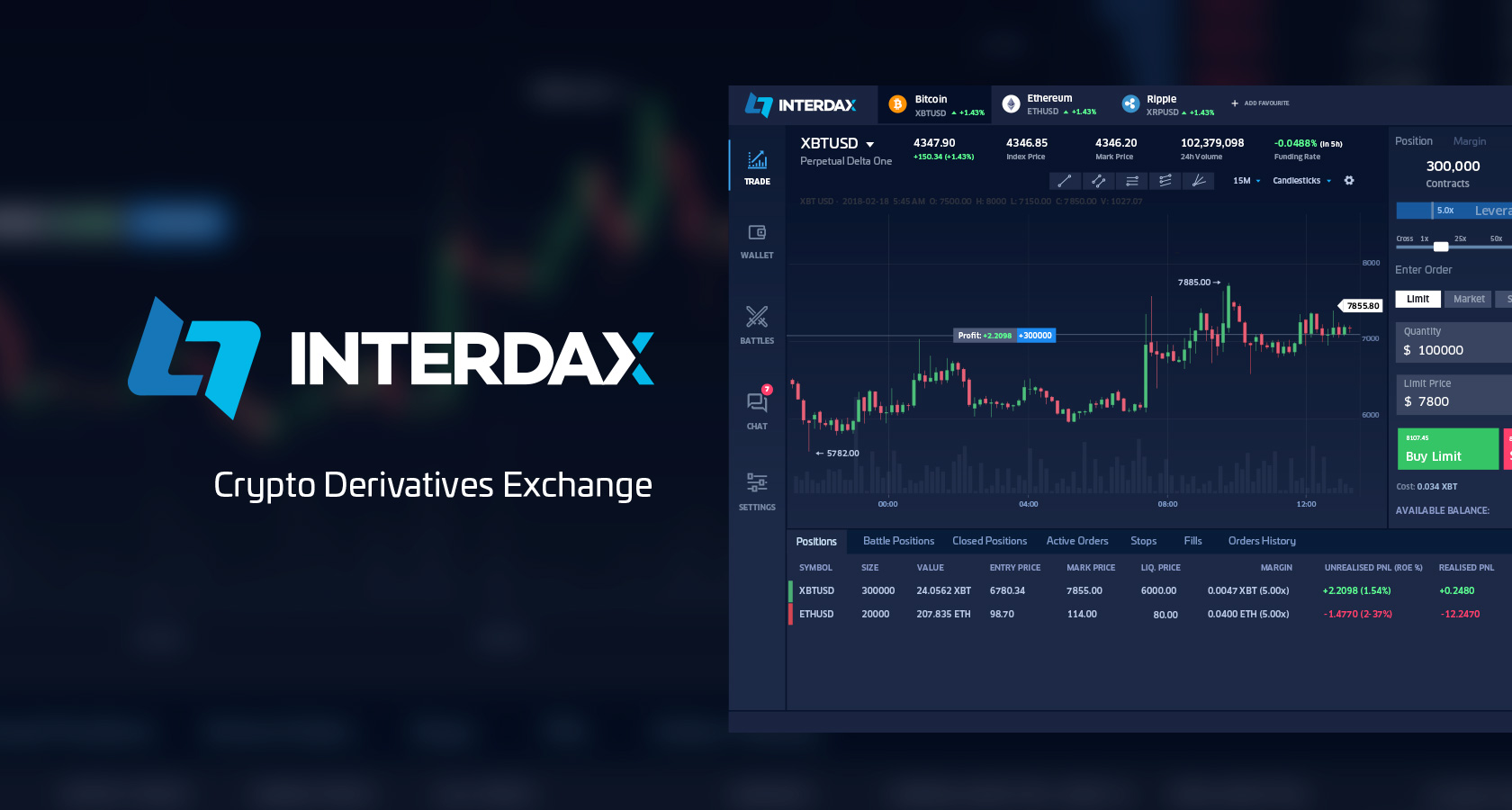 Considering the rapid development of cryptocurrencies, as well as the increase in their popularity and trading volumes, it is also necessary for crypto-related services to advance as well. As modern problems require modern solutions, the newest services can often make quite a difference, if they are done right.
One such service is Interdax — a new, international crypto trading platform that focuses on derivatives, primarily perpetual swaps, and futures. Interdax is a big project that has been under development for over 18 months. After spending so much time working on it, developers are finally ready to push it out of the stealth mode, and into the market.
The platform itself expects to bring massive change to the market through superior technology and innovation. In fact, many believe that Interdax might become a direct competition even to big names such as Bitmex within a few months, mostly due to their excellent offers, such as 100x leveraged perpetual swap contracts with the underlying coin as collateral.
Team & Tech
Interdax aims to become a Wall Street-grade derivatives exchange, and to achieve this, the platform needed to hire a team of experts with a long history in finance and development. The majority of the team members came from well-known financial institutions of the City of London, and even Wall Street itself. This also shows the team members' faith in the project,…