How Nuo is Pushing Decentralized Finance Forward
Decentralized Finance (DeFi) has quickly become a popular application of blockchain technology. And with continued crypto asset adoption, this trend appears poised to continue. By the end of 2018, there were 35 million unique crypto market participants. In 2017, this number was just 18 million – translating to a 94% increase in one year. This accelerated growth suggests that the distributed, immutable, transparent nature of blockchain is increasingly attractive to those seeking to develop alternative investment products.
These parties typically see decentralized finance as a way of overcoming problems that plague traditional financial markets such as:
Unequal Access: globally, there are 1.7 billion people without access to banking services. Blockchain transcends borders through the use of cryptocurrency and is an efficient gateway to financial markets.
Censorship: centralized financial institutions can cut off or limit access to financial services and funds. In a decentralized world, no intermediary holds this power.
Counterparty Risk: in every financial transaction there is a risk that one party may default on their financial obligations. Using blockchain-based smart contracts, counterparty risk is eliminated through automated contract conditions.
Lack of Transparency: current transactional data is held only by centralized entities such as banks. The transparent nature of public blockchains ensures every transaction can be traced and validated.
Applications of Decentralized Finance
Along with several others in the industry, platforms like Nuo continue to develop a diverse offering of decentralized solutions to overcome these systemic challenges. Understandably, navigating this space can be a bit overwhelming when faced with so many options. So before discussing how Nuo is changing decentralized finance, let's explore the distinct market segments of this emerging use case:
Borrowing and Lending
Platforms like Nuo, Dharma, and Compound facilitate the borrowing and lending of crypto assets in a peer to peer market. Crypto holders can either lend funds and earn interest, or borrow funds and pay interest. However, the P2P marketplace is only one iteration of this concept. Alternatively, MakerDAO utilizes Collateralized Debt Positions (CDP). Borrowers put up their Ether cryptocurrency as collateral and receive DAI tokens as a loan. These tokens, known as stablecoins, are pegged 1:1 to the US dollar – protecting against price volatility.
Decentralized Exchanges
Decentralized exchanges (DeEx) such as Kyber and Uniswap allow for the transfer of crypto assets directly on the blockchain. There's no need to deposit your crypto to a centralized exchange to trade it. These DeEX protocols facilitate integrations with other decentralized applications (DApps) allowing for streamlined user experiences.
Derivatives
Platforms like dYdX and Nuo allow investors to trade on margin and short an assortment of cryptocurrencies. This functionality helps align the crypto asset class more closely with traditional financial markets.
Payments
Payment networks such as the Lightning Network and xDai were created to facilitate fast, cheap transactions between two parties on the blockchain. The Lightning Network is a system of smart contracts built on top of the base Bitcoin blockchain. xDai is built on top of the Ethereum blockchain and uses the Proof of Autonomy mechanism to facilitate transactions.
Assets
Crypto assets such as wrapped bitcoin (WBTC) and wrapped Ether (WETH) exist to bridge the gap between otherwise incompatible blockchains. Each of these crypto assets is pegged 1:1 with their native cryptocurrency to ensure continuity of value in the ecosystem.
What Nuo Does Differently in the World of DeFi
Within this diverse ecosystem, Nuo has created a versatile platform that offers unique functionality. But what exactly makes Nuo different?
A Beautiful User Experience
In the world of blockchain, it's crucial that companies acknowledge their centralized incumbent's competitive advantage. Offering superior value and functionality is not enough – the user experience dictates future adoption and retention. That's why Nuo thoughtfully built its app to facilitate an exceptional user experience through a clean, simple interface.
In offering a Web 2.0 experience on Web 3.0 protocol, the company has extracted the inconvenience of using a blockchain solution. Cumbersome integrations with external wallets are a thing of the past – gas payments and block confirmations occur behind the scenes. Users can interact with the Nuo app without regard for background processes.
Offering Flexible Financial Products
Perhaps most importantly, the Nuo platform is non-custodial – they never hold your crypto. Instead, it's locked in smart contracts on the Ethereum blockchain. And when it comes to borrowing and lending with Nuo, you have options. The platform currently support 9 crypto assets on both sides of the market. Inclusivity is an evident priority and Nuo platform delivers on this principle by giving you ultimate flexibility.
Beyond the functions of borrowing and lending, Nuo has expanded its services to include derivatives. Currently, it is the only platform that allows you to be long or short Bitcoin, Ether, and Maker with up to 3 times leverage. And while derivatives aren't an entirely new concept on the blockchain, it's never been easier to participate. Nuo has combined a beautiful interface with ultimate flexibility to deliver an unparalleled product anyone can access.
Nuo's achievements to date
Blockchain and cryptocurrency have facilitated the transcendence of borders and localized monetary policy. For the first time, a global financial system that empowers people, not intermediaries, is within reach. And based on the results seen so far, there's an overwhelming support for decentralized finance.
Since launching in February this year, Nuo has achieved great things. As of writing, the company has amassed over $605K in reserves while providing $249K in loans across 1,039 orders. As crypto asset adoption accelerates, Nuo appears poised to become an essential component of the decentralized finance ecosystem. The company's beautiful, intuitive user interface is built on a robust offering of financial tools. Whether you're new to decentralized finance or an industry veteran, their platform brings something new to the table. Try out Nuo 2.0 – you won't be disappointed!
Play CryptoSlots' New Game for Cash Prizes of up to $1,250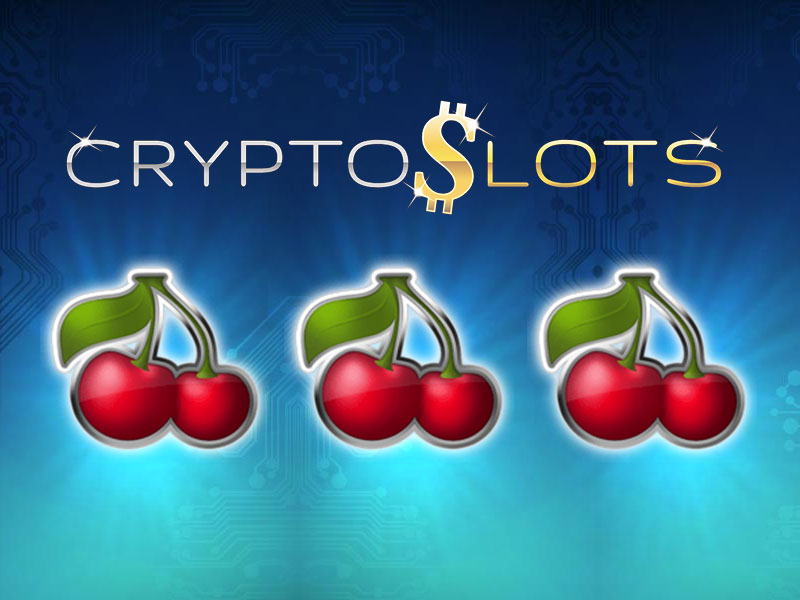 Another game, another cryptocurrency, crypto casino CryptoSlots bring players even more ways to win.
Open Season is their newest release. It boasts bright hunting graphics and bonus extras that pack a punch for online slot hunters. Players trigger big wins by shooting down Free Spins and scoring Mystery Cash Bonuses of up to $1,250.
CryptoSlots is perfect for online players who want to make their gaming easier with cryptocurrencies. Signing up takes seconds – a nice change from the lengthy details required by many casinos online.
Use bonus code MATCH133CTRAFFIC now to match your 1st deposit by 133%! *
This new game coincides with the addition of Monero as an accepted cryptocurrency. Monero is a gift to players who value the highest level of privacy when using crypto online. Transactions are untraceable, and players enjoy fast deposits & withdrawals. CryptoSlots promises all players security and anonymity whenever they play, however much they win.
This online casino launched in summer 2018, by Slotland Entertainment, and gives players a fully Provably Fair casino. This means that any game result on any game can be externally verified as fair. CryptoSlots wants players to have a secure and sure way to win.
Monero joins Bitcoin, Bitcoin Cash, and Litecoin as a deposit and withdrawal option. Deposits…
Rising Star CryptoDozer overtakes CryptoKitties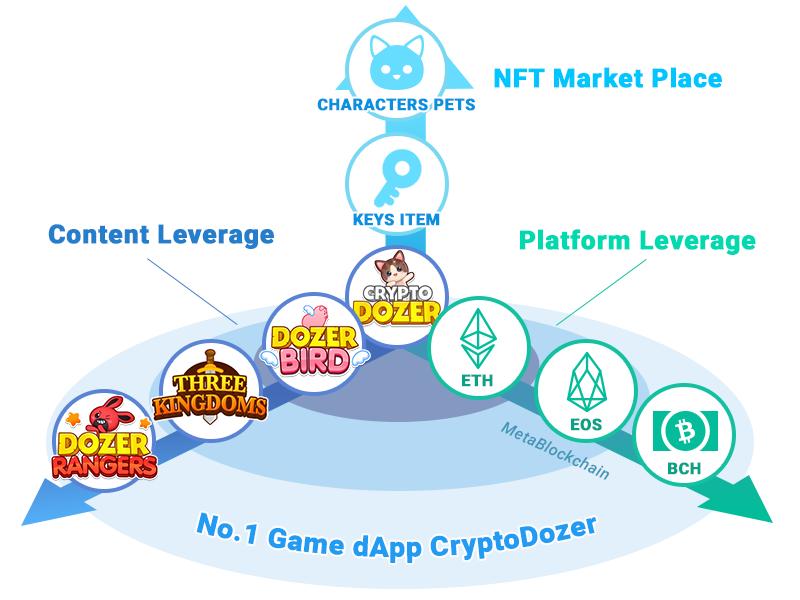 One user has already withdrawn a 70 ETH ($11,000) – value CryptoDoll!
A 4-week-young blockchain game dapp, CryptoDozer, hits record high NFT transactions, averaging 30,000 weekly transactions, eclipsing well-known flagship blockchain game, CryptoKitties. CryptoDozer is a blockchain-powered arcade game with the aim to collect various ETH-valued CryptoDolls by dropping coins. The game has seen thousands of users successfully withdraw ETH since launch. Even the first of CryptoDozer's highest valued CryptoDoll, worth 70ETH, has been successfully won, by a player in Spain last week. The game has seen some serious ETH wins in its first four weeks, such as the college student from Vietnam collecting a 30ETH -valued CryptoDoll, CryptoDozer's second highest prize. As well as the 70ETH – worth approx. $11,000 at the moment – winner, a real-estate worker in Spain. CryptoDozer is converting many users from non-crypto friendly to crypto gamers. In fact, of the four largest winners to date, only one has played Crypto games extensively before playing CryptoDozer.
The team behind the dapp, PlayDapp, is aiming high to ensure sustainable success in the blockchain gaming space. PlayDapp, a team of 20 with former PC and mobile gaming veterans, aims to build a blockchain-powered, open marketplace for individual game enthusiasts and developers. Running CryptoDozer successfully on Ethereum blockchain now, they are also developing their own additional titles and co-developing new dapp games of world-famous traditional game…
Huge promotions, mega-wins, and no withdrawal limits – BitStarz does it all!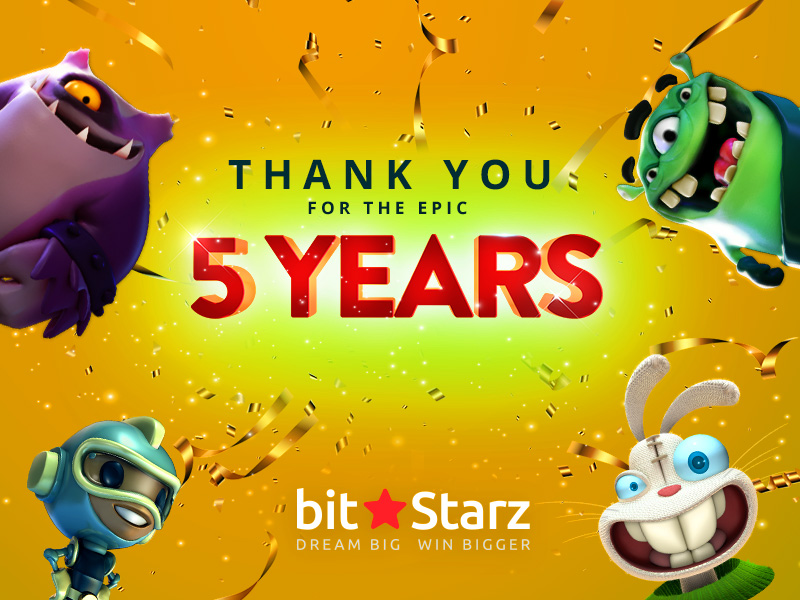 We are almost certain that you know who we are by now, after all, BitStarz is the biggest crypto casino around with the awards to prove it.
2019 has seen us become the only true place to play – no matter the currency you have burning a hole in your pocket – don't believe us? We suggest that you keep reading…
Kick Open the Door
We don't just tempt our players in with some throwaway offer, we let them kick open the doors to a huge welcome bonus that stacks the cash. New players get four – that's right, four – welcome bonuses across our loaded welcome journey. Add everything together, you can rack up 5 BTC and 200 free spins in bonuses.
Let's face it, you won't find a bigger welcome bonus anywhere else – so any high rollers out there are certainly going to want to step this way.
Only the Most Powerful Promotions
The welcome bonus is just the tip of the iceberg when it comes to what BitStarz has to offer. Our promotions have become the stuff of legend amongst online casino punters and for good reason – we go the extra mile. In the past BitStarz has given away Adele tickets, FIFA World Cup final tickets, exclusive BitStarz merchandise, and luxury holidays. Every month, we raise the curtain on a promotion that puts…