NXT And The Horrifying Drop
Anyone following up with the most recent news and updates on digital currencies, which became extremely popular over the course of the last year, was able to see a significant rise in the value of over 100 of different coins in December.
However, if you stuck around to see what's next, you were also able to see the sudden drop of values of many of those same coins that first experienced a massive increase.
While some digital currencies dropped for only a couple of percents ranging from harmless -0.7% to 3% of a decline, some cryptocurrencies like NXT have suffered a horrifying decline.
The Sudden Drop
December 27th and December 28th was all about breaking it or making it for many digital currencies. That is how we've seen even the big boys falling out of the game with Bitcoin's example of having been reaching the peak of its glory and going to 22,000$ per one coin, then all of a sudden dropping to 10,000$ per one coin in just the last couple of days of December.
The 28th was mainly rough on even those coins that were thought to be stable, although many of the currencies that have suffered the drop only experienced a minor decrease ranging from -0.7% to -7%.
However, NXT surprised everyone when its percentage of drop in value reached -48.57%, which is the most significant downfall this currency has ever had.
That is how NXT lost almost 50% of its value, trading this currency at 1.26$ then dropping in the next 24 hours at just 0.41$ per one coin. People who had managed to sell before the price fell were probably the trigger factor for having the price drop so low.
What often happens with the market when some shares, or digital currencies in this matter, have a sudden increase in value many traders are willing to sell to make a profit. That happened with different coins during the past 30 days, at the same time the last month of the current year that experienced a benevolent rise in value.
Many people wanted to sell these currencies in exchange for "real money" instead of using the coins and increasing interest. This might have led to having the value of sudden coins suddenly drop as low as for -50%.
Whatever the reason may be, losing interest and decreased attention for NXT or something else, as it is at the current moment, investing in NXT might not look as promising as it was before.
However, although NXT's value dropped for almost 50%, the total net worth of this currency still makes up for 649.3 million dollars, which indicates that this is not the last we've seen of this cryptocurrency.
An Online Scandal
You might remember John McAfee and his twitter recommendations on some digital currencies he found very interesting. He was later accused of setting up the market for his own personal gain as the value of the mentioned cryptocurrency significantly jumped after issuing recommendations via his Twitter handle.
The tweet was posted on his official Twitter account which caused the public to start doubting in his advice and see through it as a scam for gaining personal profit.
That is how NXT was mentioned in one of John McAfee's tweets only a day ago. Apparently, someone was able to break through Twitter's security and hack John McAfee's account, posting recommendations for buying certain digital currencies. Among the "honorable" mentions, McAfee's followers were able to see NXT as well.
The problem was that all of the mentioned currencies, posted by an anonymous hacker who managed to break through the password and take over McAfee's account for a while, were all dropping at the moment.
And what is the most interesting thing about this online scandal is that for a moment there, many people didn't want to waste their time, so they took John McAfee's advice and started to invest in the mentioned currencies, altogether with NXT. All of these coins in a matter of hours started to experience unpredictable increases. That didn't last for too long as the price went down soon afterwards.
John McAfee, given his Twitter account back, explained that the tweets were not originally posted by himself and that his account was hacked, although it was now recovered.
This is just a reminder of how a person, who is considered to have a certain authority when it comes to analyzing digital currency market, can affect general opinion and later actions of different investors.
What will happen to NXT?
Although NXT experienced a horrifying drop in value in the past 24 hours, this digital coin is still showing promising opportunities to those who choose to stick with it although its drop almost reached -50% during the past day, dropping from over 2 dollars per coin to only 0.41$ per one unit. Many people are now curious to find out more about the future of this coin, especially those who invested in this cryptocurrency.
As financial insiders predict bright future for many digital currencies that have managed to reach the list of at least top 100 digital currencies of 2017, the next year should be even more fruitful for more and more accepted "new age money", so don't lose your hope just yet as the next year might be THE year for NXT.
We will be updating our subscribers as soon as we know more. For the latest on NXT, sign up below!
Disclaimer: This article should not be taken as, and is not intended to provide, investment advice. Global Coin Report and/or its affiliates, employees, writers, and subcontractors are cryptocurrency investors and from time to time may or may not have holdings in some of the coins or tokens they cover. Please conduct your own thorough research before investing in any cryptocurrency.
Image courtesy of coinmarketcap.com
Rewards Platform StormX Offers 50% Crypto Cashback Bonus for Thanksgiving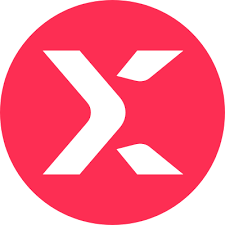 Singapore, Singapore, 23rd November, 2020, // ChainWire //
Blockchain-based rewards platform StormX has released a seasonal promotion for its award-winning Crypto Cash Back App. The promotion will allow app users to earn a 50% bonus on top of their cashback between Thanksgiving Day and Cyber Monday (November 26-30).
StormX has also introduced a brand-new staking service, allowing users to earn an additional 50% per year when they stake STMX tokens. The native ERC20 token of the StormX ecosystem, STMX has a total supply of 10 billion and is available to trade at many of the world's top exchanges, including Binance and Bittrex.
"With Bitcoin's price approaching its all-time high, interest in cryptocurrencies has renewed, though some people believe it's now too expensive to buy in," said StormX CEO and Co-Founder Simon Yu. "What we have done is create an easy way for such individuals to accumulate bitcoin, ethereum and other cryptocurrencies via everyday shopping.
"We're also excited to provide users with the ability to earn greater rewards simply by staking their tokens."
Since the StormX mobile app launched its Shop feature with over 700 stores in February 2020, some 400,000 unique users have been added to the rewards platform. StormX has also witnessed over 50% month-on-month growth for sales. The app is available for download on the App and Google Play Stores, and can be downloaded as a browser add-on from the Chrome Web…
BITTREX GLOBAL CONFIRMS FREE TRADING AND LISTING FOR TOP DEFI TOKEN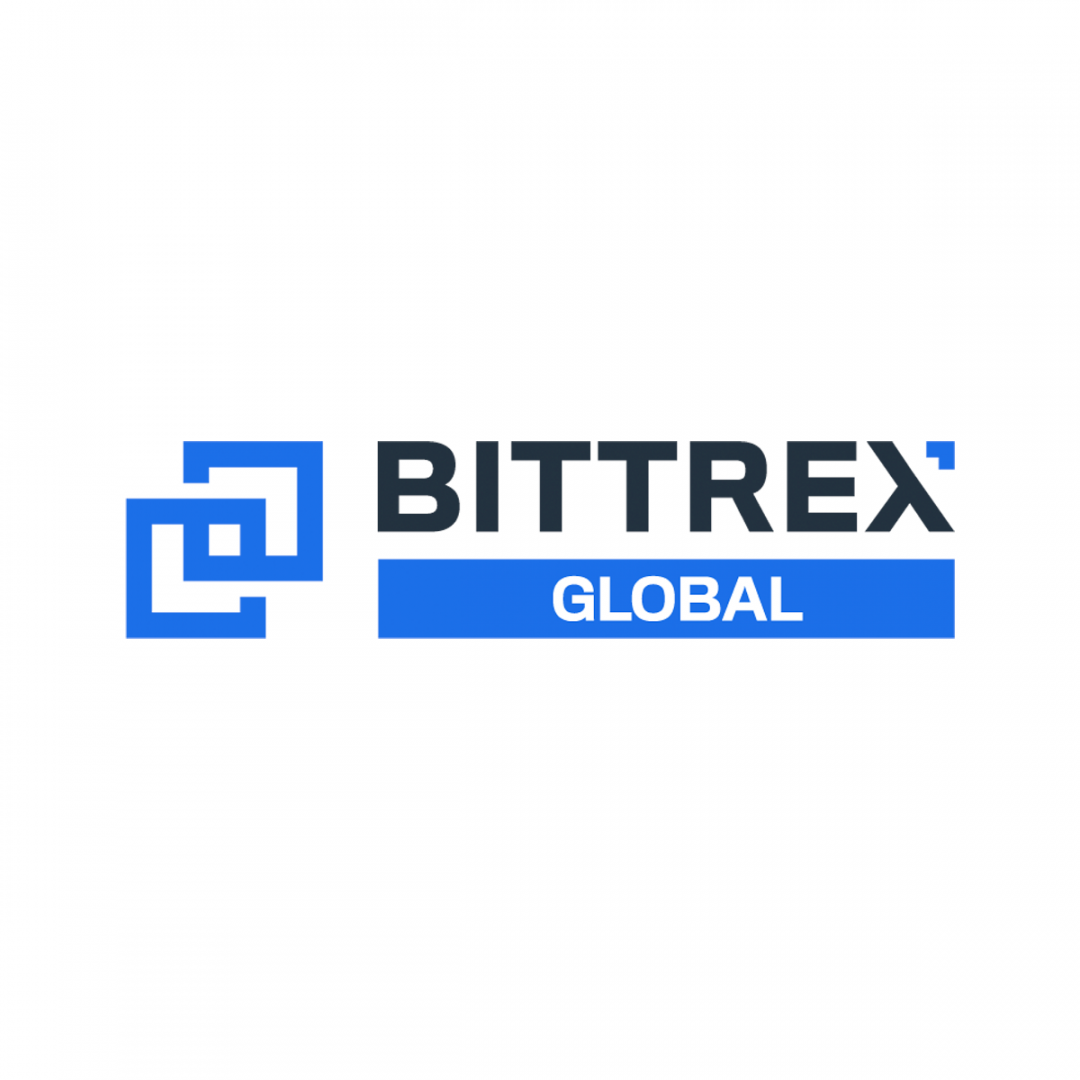 Valduz, Liechtenstein, 17th November, 2020, // ChainWire //
International cryptocurrency exchange promotes free trading and no gas fees for leading DeFi tokens
17th November 2020 — Bittrex Global GmbH. announced today 8 new DeFi tokens will be listed this week including:
UMA (UMA)
Aave (AAVE)
Balancer (BAL)
REN (REN & renBTC)
Kyber Network (KNC)
Band Protocol (BAND)
YF Link – (YFL)
Bittrex Global's users can trade all of their DeFi  tokens with no trading or gas fees until 2021. The decision to enable free trading on Bittrex Global for DeFi tokens  follows on from the 1,000% growth of the DeFi asset class over the course of 2020.
The decision to enable free transactions will see more investors enter the Blockchain Act's digital asset regulatory system, supervised by the Financial Market Authority in Liechtenstein (FMA) under the Due Diligence Act which requires traders to comply with the KYC/AML/CFT standards.
"The last year has seen huge growth in DeFi as an asset class and a number of significant milestones completed," said Bittrex Global's CEO Tom Albright. "As the asset class matures and more institutional and professional investors look at the fundamentals, we are likely to see increased demand and higher trading volumes for DeFi in 2021.
We're really excited about what we're seeing in the space and want to see these DeFi projects grow and help them build stronger platforms through increased adoption. Offering free trading fees…
Ready for Chaos? Swingby's Chaos-Mainnet Launches on December 28th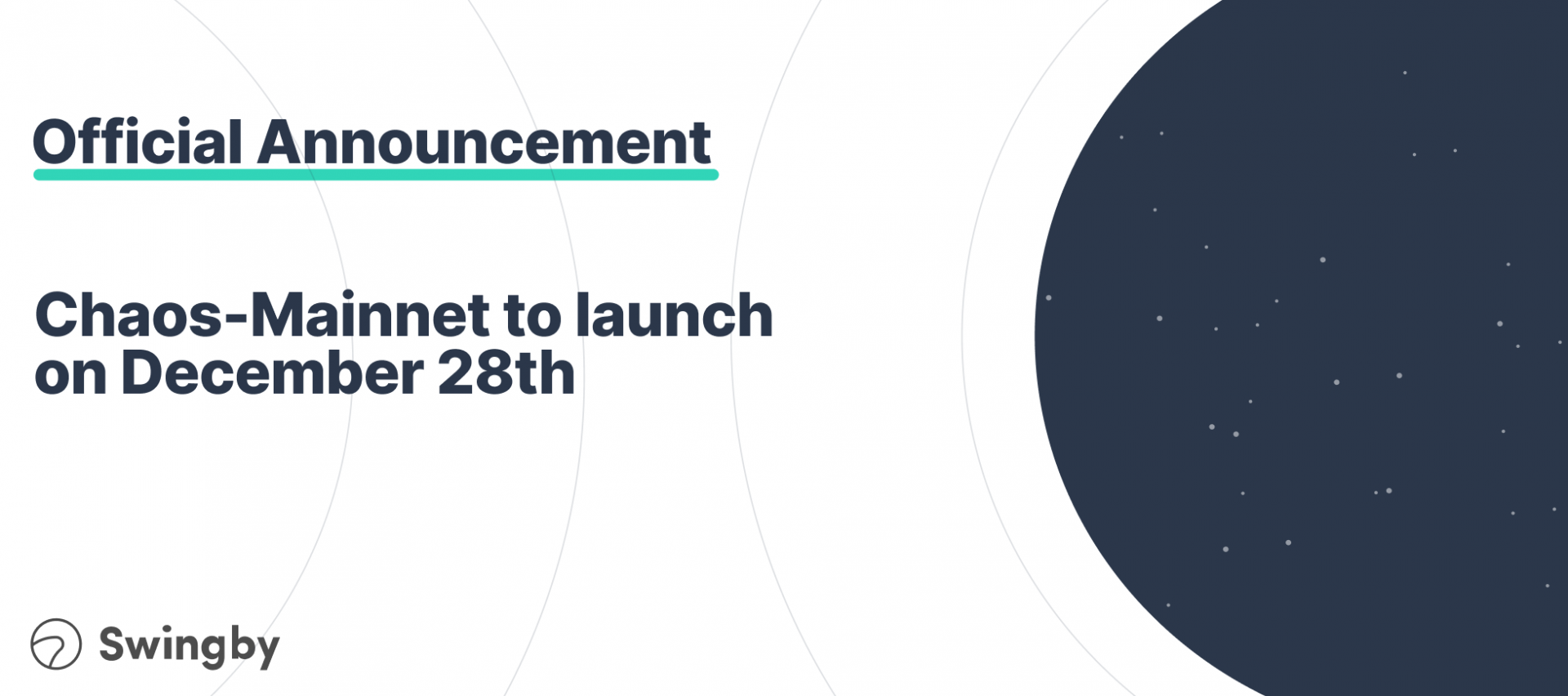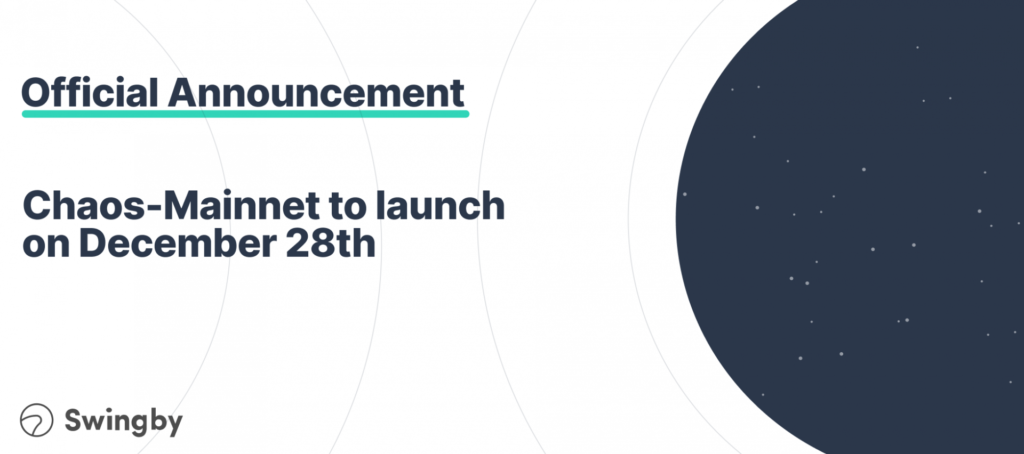 Singapore, Singapore, 9th November, 2020, // ChainWire //
Swingby is the "warp-speed" protocol for inter-blockchain swaps. It allows all DeFi users to move assets between blockchains without a trusted party. 
Today, Swingby announces its first mainnet network will be released on the 28th of December; it will bridge native Bitcoins onto Ethereum via Wrapped BTC (WBTC).
The initial bridge will enable the most liquid digital asset in the world (Bitcoin), currently valued at a $300 billion market cap, to be moved onto the Ethereum network to tap its $10b DeFi ecosystem.
"This launch will be pivotal to Swingby. After December 28th, Swingby will have a fully operational Chaos-Mainnet network which will be generating a tremendous amount of value to the world of DeFi and bringing in a large number of new users" – Yusaku Senga, CEO
Why is this big news for DeFi?
On December 28th, Swingby will be launching its first Chaos-Mainnet bridge, allowing users to easily move their bitcoins into WBTC on Ethereum without the need for a trusted party. Similarly, the bridge can be used in the opposite direction allowing WBTC-ERC20 tokens to be moved back into native BTCs.
What's so special about it?
Trustless: Swingby's Skybridge will be the only way to trustlessly swap BTC into wrapped Bitcoin (WBTC).
Simple to use: The Swingby bridge has been designed to work with standard transaction types removing the need for complex smart contract calls…