Aaron System in Thailand enters into Mongolian Cryptocurrency Exchange market with UBWAVE in Mongolia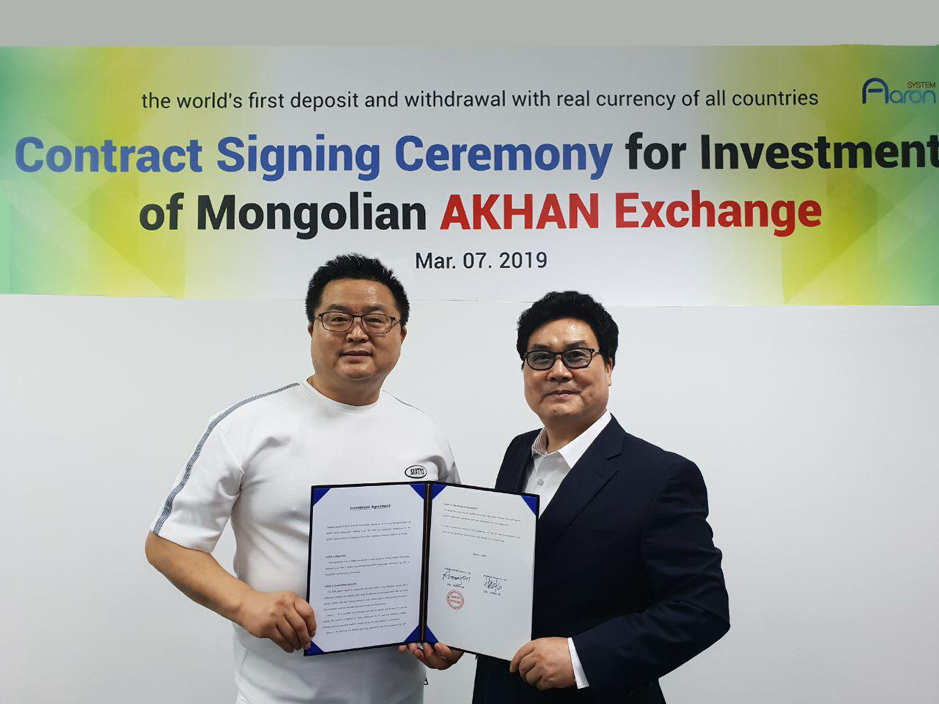 Launching the world's first Exchange that deposit and withdrawal of all countries' FIAT currencies are possible!
On March 7, 2019, Aaron System announced that it has signed an investment contract in Ho Chi Minh City, Vietnam to establish and operate the AKHAN Exchange in Mongolia, the world's first Exchange making all FIAT currencies' deposit and withdrawal in the world possible.
The newly established AKHAN Exchange consists of Tugric (TG) Market in Mongolian local currency, BTC Market, ETH Market, and TabiPay market. And they are also planning for projects' lineup such as Crypto Mining, ICO listing, Community, Incubating, ICO Fund, Blockchain Building, Blockchain contents, Blockchain commerce, Blockchain game and so on for the future development of Blockchain ecosystem.
The AKHAN Exchange is the first project among them and has three distinct features from other Exchanges.
First, AKHAN exchange is the world's first Exchange that is possible for deposit and withdrawal of all countries' FIAT currencies in the world.
The TabiPay, the Stable Coin of Aaron System and the Currency Matching Engine of Aaron Platform are applied to AKHAN Exchange system. As a result, it is possible to deposit and withdraw all FIAT currencies in the world. Currently, it provides the service at about 15 countries, which are 10 Southeast Asian countries, China, Japan, Korea, the United States and so on.
The second feature is the return policy related to the purchase amount of the Exchange coin.
The AKHAN Exchange has a system to return the Exchange's transaction fee profits up to 200% of the coin amount sold on the pre-sale. This is a policy aimed at keeping the demand for Exchange coins after sale and stabilizing prices at the same time while minimizing the risk of losses to early investors.
The third feature is the trading fee's cashback system.
Recently, there has been a steady increase in investors interested in cryptocurrency transactions. But trading is necessarily accompanied by trading fees, causing invisible losses to investors. AKHAN Exchange supports up to 120% of the trading fee per day depending on the level and weight of a trader so that both of general traders and the large volume's traders can use the Exchange without worrying about the fee.
Through this competitive advantage, AKHAN Exchange plans to secure users and create a diverse blockchain ecosystem that has been scheduled.
Aaron Jin, CEO of Aaron System, explained the meaning of this contract:
"This time, the signing of investment contract on AKHAN Exchange in Mongolia will serve as a momentum for EveryCoin and TabiPay of Aaron Platform to be widely used in real life. Now, Mongolia's blockchain market has great potential to become an axis of the world's blockchain market as a stage of preparation for rapid growth. We are not just trying to create a new cryptocurrency Exchange in this Mongolian markets. We aim to create a cryptocurrency ecosystem that shares various benefits on cryptocurrency's new technology and can access safely and conveniently for all people including investors whether they are familiar with cryptocurrencies or not."
James Lee, CEO of UBWAVE, mentioned:
"Mongolia is the first country in the world to recognize cryptocurrency in the government and to issue a license officially. Also, the world's various companies related to blockchain are working there and it is the one of the most suitable countries for mining and the best country to carry out blockchain projects. We will make it possible for AKHAN Exchange to become the link between Mongolia and the world's blockchain. Also, DKHAN coin as well as EveryCoin and TabiPay on Aaron platform are getting ready for official licenses in Mongolia. We think there will be no problem with this."
AKHAN Exchange has currently completed the system preparation and is in beta testing. Moreover, they are also preparing for pre-sale of DKHAN Coin ahead of Grand Open.
Aaron Platform
Aaron Platform, developed by Aaron System, is a blockchain financial platform for people who are excluded financially in the world. It is the project that aims to transform finance through a new challenge in the distorted financial markets where one-third of the world's population does not receive financial services.
The features of Aaron Platform's financial services enable people without existing financial accounts to access financial services easily and conveniently. Based on the multi-blockchain technology, the Aaron Platform solves the problems of the slow speed of block chains and high-value volatility by linking EveryCoin(variable value currency) and TabiPay(fixed value currency). So, this is the project building a blockchain ecosystem that can be used easily in real life.
EveryCoin used by Aaron Platform has successfully completed ICO in December 2018, and has been listed and is being traded currently on global Exchanges such as IDAX, BITONBAY, IDCM, LATOKEN, P2PB2B, and SISTEMKOIN. At the present, it is ranked 450thamong 2,100 cryptocurrency coins based on CoinMarketCap's market capitalization, US$3.5 million,
UBWAVE is building the Digital Nomad Valley in Mongolia, a blockchain hub project that surpasses Malta and Switzerland. They completed the purchase of land near the new airport and are building AKHAN Ecosystem in order to create a better blockchain ecosystem by gathering blockchain-related Enterprises and talented persons from all over the world together.
Visit EveryCoin Website: https://www.everycoin.io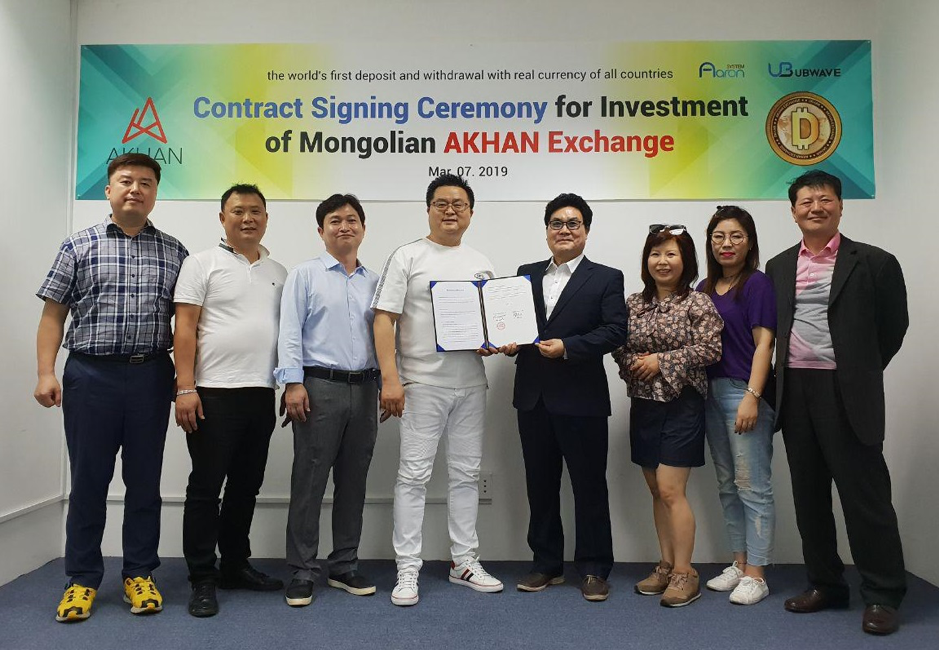 Matrix Exchange receives In-Principle Approval from Abu Dhabi Global Market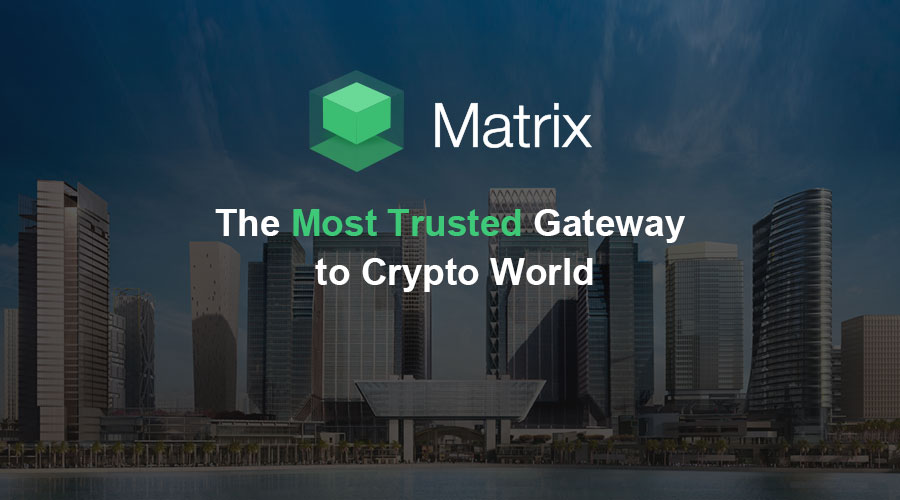 Abu Dhabi-based crypto asset exchange, Matrix Exchange announced on July 12 that it has received an In-Principle Approval (IPA) from the Financial Services Regulatory Authority (FSRA) of the Abu Dhabi Global Market (ADGM) to operate as a crypto asset exchange and custodian in ADGM.
The United Arab Emirates keeps embracing and regulating blockchain & crypto assets into its financial system. ADGM was first in the Middle East and Africa region to establish and launch a fully operational and regulated crypto-asset framework and regime in June 2018. The ADGM business friendly and well-regulated ecosystem continues to attract more and global digital assets investors, blockchain technology companies and other related financial institutions to the UAE.
With digital assets becoming popular alternative investments, compliance is increasingly significant for investors and customers. "The IPA is an important milestone. Subject to regulatory approvals by the FSRA, Matrix Exchange aims to be a recognized regulated crypto asset exchange in the Middle East. It gives us the legitimacy to provide compliant, secure and reliable digital asset transactions for users when we are fully operational." Matrix Exchange Chairman James Wo said.
With a particular focus on the UAE market, Matrix Exchange is also dedicated to establishing a world-class regulated exchange for international investors.
Matrix Exchange is sponsored by Digital Finance Group (DFG), which operates investments in both primary and secondary markets. DFG's blockchain private equity fund has invested…
Distributed E-Commerce: A New Commercial Civilization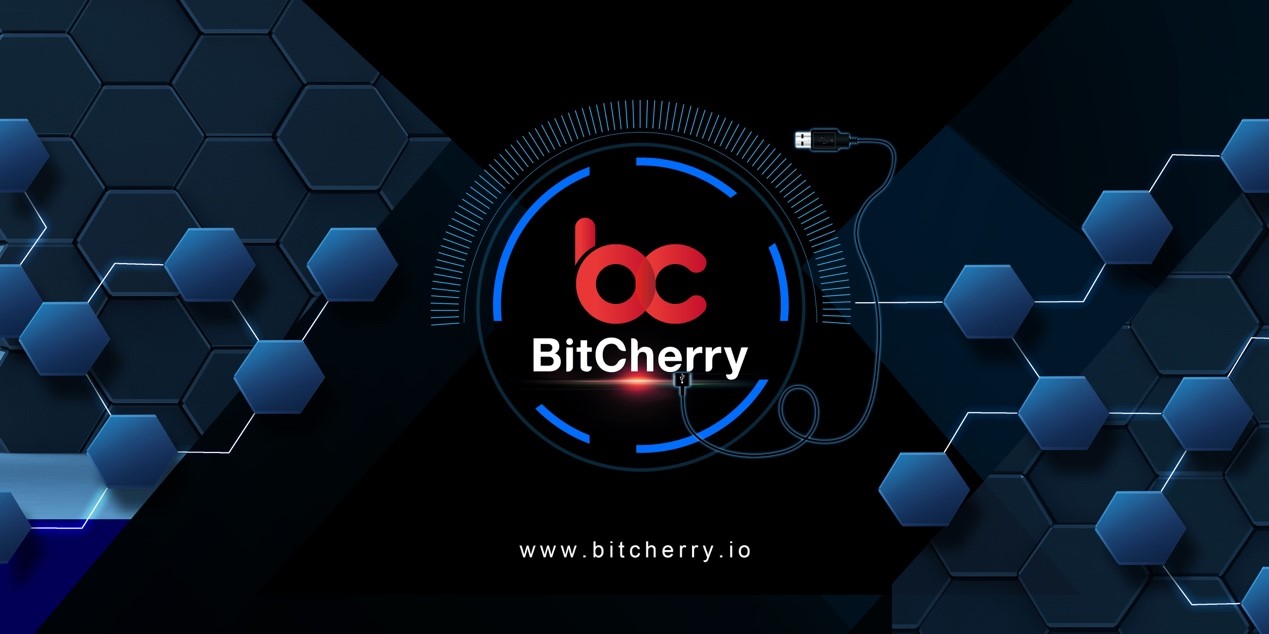 In recent years, during the "Double 11"and "618"shopping carnivals, Taobao, Tmall and JD transaction volumes have rocketed. Especially in 2018, the commodities turnover for the major e-commerce platforms increased rapidly through "618"e-commerce promotion. While centralized e-commerce has created beautiful transcripts, other e-commerce platforms find it difficult to obtain user flow while their customer acquisition costs remain high and consumer rights cannot be well protected. This create a sharp contrast between "prosperity and decline". As a matter of fact, the centralized e-commerce is prominent in the current pain point, and its difficulty to obtain potential developments. On the other hand, the popularity of decentralized distributed e-commerce networks is inevitable.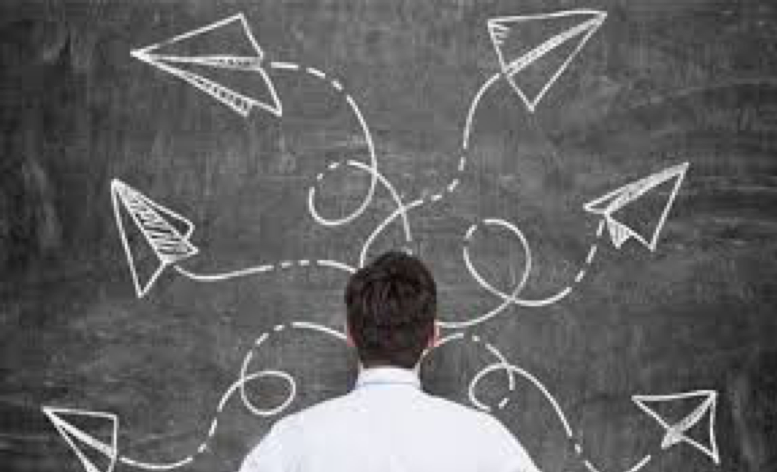 The potential of distributed e-commerce
The root cause for the large gap between "prosperity and decline" is that the centralized e-commerce company born in the Internet era concentrates user flow, customers, and profits on itself, and enjoys the gradually accumulated traffic and benefits it brings. At the same time, it raises the entry barriers of other e-commerce companies, forming a monopoly situation. The centralized e-commerce model has a series of problems from information asymmetry between merchants and consumers, malicious malpractices, to inconsistencies. These problems are suspected of deceiving consumers, causing loss of consumer rights and causing a…
Bitpanda raises €10 million in private sale for its coin BEST and launches public sale
Vienna, 9th of July 2019 – Vienna-based fintech Bitpanda have today launched the public sale of their own ecosystem token. BEST (Bitpanda Ecosystem Token) is the coin of the globally expanding investment platform, Bitpanda. It will play a vital part in the company's growth and will increase customer loyalty even further. BEST will offer a wide range of benefits to 1 million Bitpanda users.
BEST (Bitpanda Ecosystem Token) IEO public sale is live from July 9th 1pm CET until August 6th 1pm CET
Up to 500 million out of 1 billion BEST are for sale
BEST available for €0.09 per token during the first week of the public IEO
25% trading fee discount when paying fees with BEST (Q4 2019)
Priority access to the upcoming Bitpanda Launchpad
Simple investing process with every supported digital asset on the platform
BEST trading starts on August 7th 2019 as part of the launch of the Bitpanda Global Exchange
Bitpanda, the Viennese fintech with 1 million users and more than 120 employees, have today launched the Initial Exchange Offering (IEO) for the Bitpanda Ecosystem Token. BEST is the coin of the Bitpanda ecosystem and offers its users a wide range of benefits. For example, users will get a reduction of 25% on Bitpanda trading fees and gain priority access to the upcoming Bitpanda Launchpad, which will be available later and…