Aaron System in Thailand enters into Mongolian Cryptocurrency Exchange market with UBWAVE in Mongolia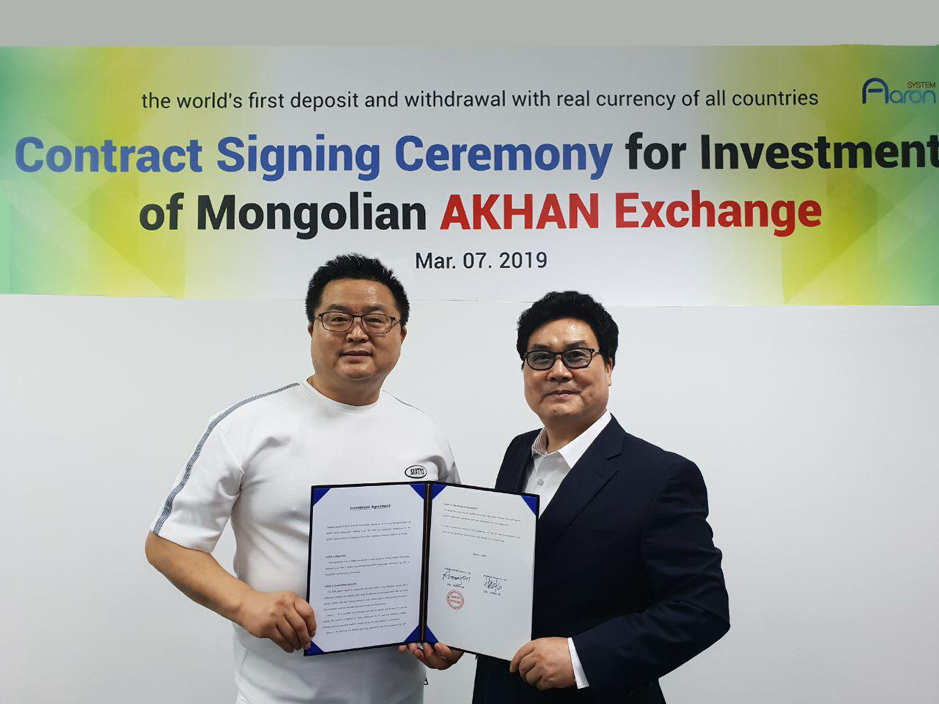 Launching the world's first Exchange that deposit and withdrawal of all countries' FIAT currencies are possible!
On March 7, 2019, Aaron System announced that it has signed an investment contract in Ho Chi Minh City, Vietnam to establish and operate the AKHAN Exchange in Mongolia, the world's first Exchange making all FIAT currencies' deposit and withdrawal in the world possible.
The newly established AKHAN Exchange consists of Tugric (TG) Market in Mongolian local currency, BTC Market, ETH Market, and TabiPay market. And they are also planning for projects' lineup such as Crypto Mining, ICO listing, Community, Incubating, ICO Fund, Blockchain Building, Blockchain contents, Blockchain commerce, Blockchain game and so on for the future development of Blockchain ecosystem.
The AKHAN Exchange is the first project among them and has three distinct features from other Exchanges.
First, AKHAN exchange is the world's first Exchange that is possible for deposit and withdrawal of all countries' FIAT currencies in the world.
The TabiPay, the Stable Coin of Aaron System and the Currency Matching Engine of Aaron Platform are applied to AKHAN Exchange system. As a result, it is possible to deposit and withdraw all FIAT currencies in the world. Currently, it provides the service at about 15 countries, which are 10 Southeast Asian countries, China, Japan, Korea, the United States and so on.
The second feature is the return policy related to the purchase amount of the Exchange coin.
The AKHAN Exchange has a system to return the Exchange's transaction fee profits up to 200% of the coin amount sold on the pre-sale. This is a policy aimed at keeping the demand for Exchange coins after sale and stabilizing prices at the same time while minimizing the risk of losses to early investors.
The third feature is the trading fee's cashback system.
Recently, there has been a steady increase in investors interested in cryptocurrency transactions. But trading is necessarily accompanied by trading fees, causing invisible losses to investors. AKHAN Exchange supports up to 120% of the trading fee per day depending on the level and weight of a trader so that both of general traders and the large volume's traders can use the Exchange without worrying about the fee.
Through this competitive advantage, AKHAN Exchange plans to secure users and create a diverse blockchain ecosystem that has been scheduled.
Aaron Jin, CEO of Aaron System, explained the meaning of this contract:
"This time, the signing of investment contract on AKHAN Exchange in Mongolia will serve as a momentum for EveryCoin and TabiPay of Aaron Platform to be widely used in real life. Now, Mongolia's blockchain market has great potential to become an axis of the world's blockchain market as a stage of preparation for rapid growth. We are not just trying to create a new cryptocurrency Exchange in this Mongolian markets. We aim to create a cryptocurrency ecosystem that shares various benefits on cryptocurrency's new technology and can access safely and conveniently for all people including investors whether they are familiar with cryptocurrencies or not."
James Lee, CEO of UBWAVE, mentioned:
"Mongolia is the first country in the world to recognize cryptocurrency in the government and to issue a license officially. Also, the world's various companies related to blockchain are working there and it is the one of the most suitable countries for mining and the best country to carry out blockchain projects. We will make it possible for AKHAN Exchange to become the link between Mongolia and the world's blockchain. Also, DKHAN coin as well as EveryCoin and TabiPay on Aaron platform are getting ready for official licenses in Mongolia. We think there will be no problem with this."
AKHAN Exchange has currently completed the system preparation and is in beta testing. Moreover, they are also preparing for pre-sale of DKHAN Coin ahead of Grand Open.
Aaron Platform
Aaron Platform, developed by Aaron System, is a blockchain financial platform for people who are excluded financially in the world. It is the project that aims to transform finance through a new challenge in the distorted financial markets where one-third of the world's population does not receive financial services.
The features of Aaron Platform's financial services enable people without existing financial accounts to access financial services easily and conveniently. Based on the multi-blockchain technology, the Aaron Platform solves the problems of the slow speed of block chains and high-value volatility by linking EveryCoin(variable value currency) and TabiPay(fixed value currency). So, this is the project building a blockchain ecosystem that can be used easily in real life.
EveryCoin used by Aaron Platform has successfully completed ICO in December 2018, and has been listed and is being traded currently on global Exchanges such as IDAX, BITONBAY, IDCM, LATOKEN, P2PB2B, and SISTEMKOIN. At the present, it is ranked 450thamong 2,100 cryptocurrency coins based on CoinMarketCap's market capitalization, US$3.5 million,
UBWAVE is building the Digital Nomad Valley in Mongolia, a blockchain hub project that surpasses Malta and Switzerland. They completed the purchase of land near the new airport and are building AKHAN Ecosystem in order to create a better blockchain ecosystem by gathering blockchain-related Enterprises and talented persons from all over the world together.
Visit EveryCoin Website: https://www.everycoin.io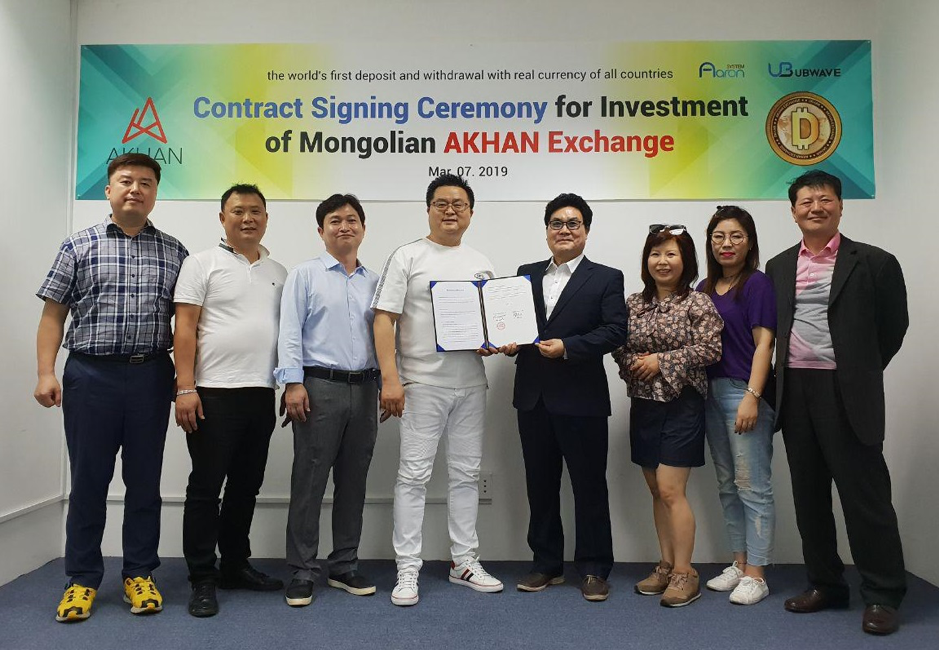 Digital Money Defined and How it Works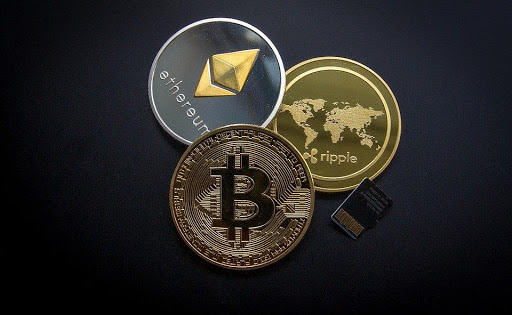 The advancements in modern technology revolutionized the industry such that there emerged digital money. With digital money, international payments are made simpler. The exchange rates are also relatively inexpensive and you are guaranteed with secure payments.
But, What is Digital Money?
In a gist, digital money is an electronic form of payment. Unlike cash, it has no tangible form, and payments or exchanges transpire over computers. Cryptocurrencies such as Bitcoin, Ethereum, and Ripple, are examples of digital money. You can trade in Bitcoin, purchase Ethereum, or buy Ripple through several cryptocurrency exchange platforms. Most of these platforms are relatively easy to use and some even offer a direct link on your electronic wallet accounts.
How Does Digital Money Work?
Blockchain Network
Digital money is created, stored, and exchanged in its individual blockchain network. A blockchain is all about digital information stored in a public database. When a user requests for a transaction, the transaction is broadcast over a peer-to-peer (P2P) network that is composed of computers which are also referred to as nodes. The nodes are integrated with algorithms that can verify the validity of the transactions.
Once the transaction is verified, it is combined with other transactions, which eventually creates a new block of…
BTC Surged Above $9.5K, will it Continue to Explode Towards $10K?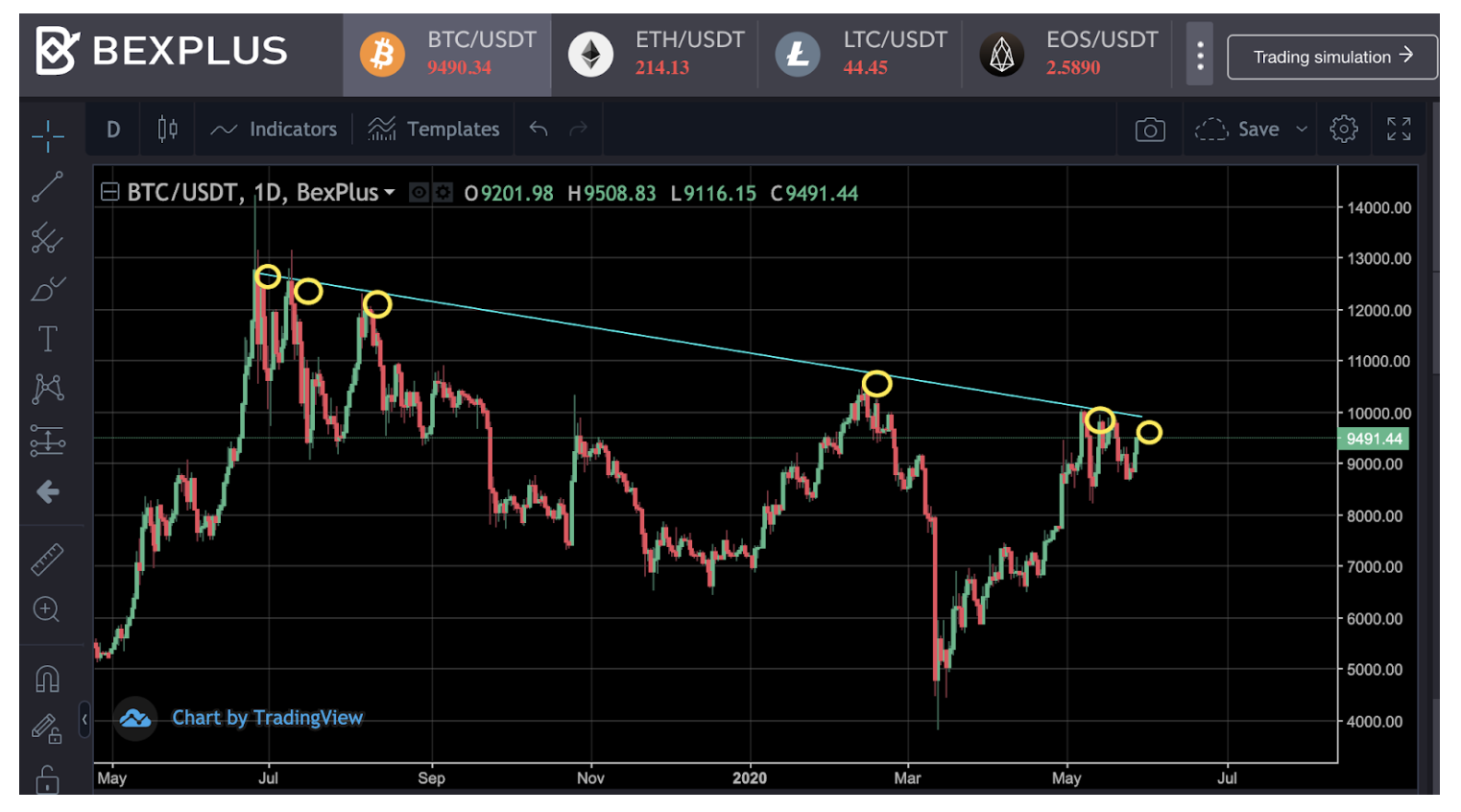 After declining as low as $8,600 on May 25, Bitcoin is currently gathering upward momentum and hit near $9,500, representing a 3.5% gain on 1 day. With the price breaking out once again, there is a confluence of signs suggesting BTC could rally past its monthly high of $10,000 in the near future.
However, Bitcoin has seen six lower highs in a row in the past 12 months, which indicates a bearish cycle spanning over a long period of time. If BTC fails to break above $10,000, it increases the probability of the resumption of a correction.
In addition, BTC may be showing a rough inverse head and shoulders pattern, which is regarded as a textbook bottom indicator. Therefore, if BTC failed to break $10,000 this time, it may drop to at least $6,800 to form the pattern.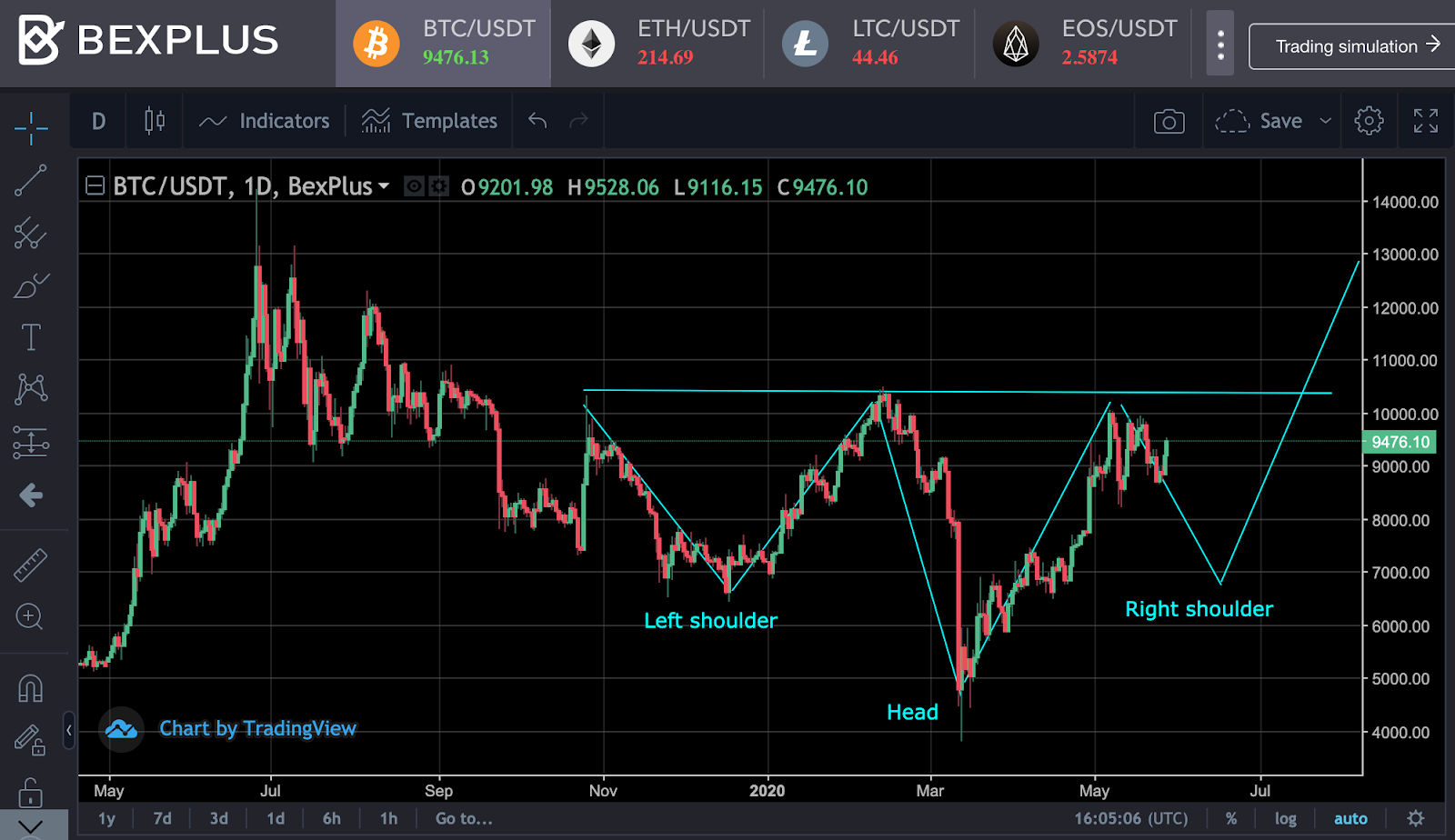 As a result, we can predict that Bitcoin may soon perform a retracement after hitting the $10,000 and change its direction to the upside movement after retesting the support at around $6,800 – $7,100. So how can we profit from the upcoming huge price volatility? BTC futures trading…
Fireblocks Network Adds DigitalBits, Brings Enterprise-Grade Security to Branded Cryptocurrencies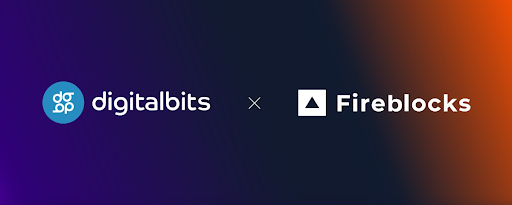 DigitalBits, a blockchain protocol and network layer designed for consumer digital assets, is being added to the Fireblocks Network, the most secure digital asset transfer network for institutions, to deliver a safe and scalable infrastructure for the storage and movement of XDB tokens. Integrating the DigitalBits blockchain with the Fireblocks Network enables enterprise-level security support for branded cryptocurrencies.
Branded currencies, inclusive of loyalty and rewards points, and the emerging subcategory of branded stablecoins, account for billions of dollars in value, and have played a vital role in driving consumer behaviour.  As these assets begin the inevitable shift to tokenization, Fireblocks' novel approach to securing digital assets will prove invaluable to corporate and consumer adoption.
Fireblocks' Network utilizes a defense-in-depth approach to securing digital assets, combining multi-party computation-based cryptography (MPC) with chip-level isolation technology. This removes the single point of failure from the key-management process and enables hardware-based authentication for counterparty transactions.  Fireblocks innovative approach addresses common attack vectors: cyber attacks, internal fraud and human error, while reducing reliance on archaic, time-consuming practices such as test transfers, whitelisting and hardware wallets.    
"DigitalBits is the first blockchain-focused on servicing branded cryptocurrencies to join the Fireblocks Network" stated Michael Shaulov, CEO & Co-Founder at Fireblocks.  "We are looking forward to assisting…