Celebrate BitStarz' Birthday and Win a Tesla Model 3!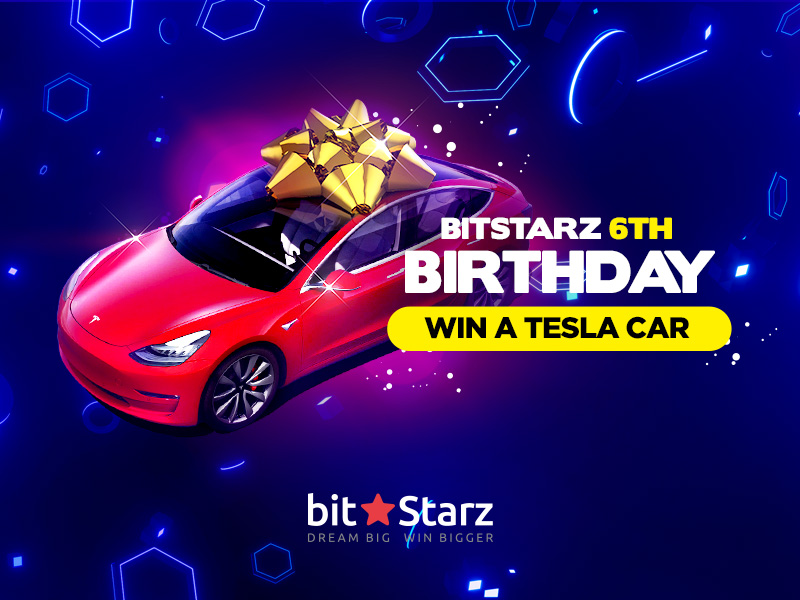 Everyone's favorite online casino is baking a cake, popping the champagne, and inviting you to the biggest and best birthday party of the year. BitStarz is getting ready to celebrate its 6th birthday and we're doing it in style with a promotion that will drive you insane.
If you love cars and casino games, you're in for one epic birthday treat courtesy of BitStarz. When you deposit at BitStarz during the birthday celebrations you will get a ticket (or tickets) that give you entry into the draw for a brand-new Tesla Model 3 – now that's one birthday bash you don't want to miss out on!
Speed Around the Reels and the Race Track
We've all dreamed of owning a Tesla at one point in our lives, and now BitStarz is making this dream a reality. Imagine hurtling from 0-100km/h in as little as 3.4 seconds in your brand-new Model 3, or zooming down the highway at 261km/h in ultimate luxury – we don't recommend doing this, by the way.
It's definitely the only way to travel in 2020, and what's more, you're doing the planet a favor by going electric. Make sure you're in the BitStarz birthday lottery to get your hands on this high-powered and high-tech car.
Entering the Lottery is As Easy as Pie
BitStarz truly cares about its players, making promotions as accessible for all as possible. All you have to do is kick back, relax and play like normal to get your hands on tickets for our huge birthday giveaway. For each €100 wagered, you will get one ticket into the draw, so the more you play, the more tickets you can get.
Don't worry, you don't have to do €100 all in one go. Each spin you make will count towards the €100 wager requirement for a ticket. Just spin the reels like normal and you'll be collecting tickets in no time, or splash the cash to make sure you have the best possible chance of winning this amazing prize.
Join BitStarz to Join in the Celebrations
BitStarz' birthday celebrations are bigger than ever, so it's well worth joining BitStarz in order to take part in the partying. Simply create an account at BitStarz and you'll get 20 free spins for doing so. This process takes no more than 30 seconds to do, so don't pass up on this opportunity.
That's not all, as across your first four deposits you can get up to €500/5BTC and an additional 180 free spins. This is the ultimate welcome package if you ask us and is the perfect way to kick start the birthday celebrations.
Head on over to BitStarz and start playing your favorite games to collect lottery tickets – after all, there's a Tesla Model 3 worth €45,000 up for grabs!
For more information about BitStarz' birthday celebrations or anything else BitStarz has to offer, speak to BitStarz Marketing Manager Srdjan Kapor at srdjan.kapor@bitstarz.com.
Press contact: 
Srdjan Kapor
Marketing Manager
DeFi Wizard Raises $750k from Blockchain Investment Bigshots, to Simplify Multi-chain DeFi Legos
Bengaluru,, India, 24th February, 2021, // ChainWire //
In order to give shape to their 'one-click DeFi contracts creation' dream, Defi Wizard has raised a total of $750,000 from X21 Digital, AU21 Capital, Amsterdam-based TRG Capital, DeltaHub Capital, NGC Ventures, and ExNetwork.
Speaking on latest development Defi wizard founder and CEO, Anand Kamath said: 
"It gives us immense pleasure to announce that our platform, DeFi Wizard has attracted the attention of leading blockchain investors and funds."
DeFi Wizard aims to help cryptocurrency companies and businesses seamlessly create digital assets, without any hassles, with the objective of becoming an all-in-one token creation platform. 
Investment Usage
This recently concluded fundraising round is an important milestone for Defi Wizard. It will fuel the development of the platform along with operations/maintenance.
Other ways in which Defi wizard will receive assistance is with liquidity bootstrapping for Uniswap listing, alongwith added global and regional promotional efforts to generate awareness for the platform. 
About Defi Wizard
Defi wizard is a dashboard for building DeFi (decentralized finance) smart contracts with a few clicks. It offers real-time programmer analytics and allows users to create smart contracts for ERC20 / BEP20 / EDST, staking, yield farming, governance, cross-chain bridge, gasless relayer baked in.
As per the latest statistics, more than five projects are already using DeFi Wizard's staking services and more than $100M AUM has been locked through the smart contracts generated through the…
LGCY and Unido Partner for Secure Custody Services
Unido is an all-in-one platform that serves as an asset management and investment service for crypto-native enterprises. As an incoming wave of companies, asset managers, and investors resort to these technologies, its business banking portal and DeFi interoperability features are becoming essential to blockchain networks looking to welcome new users. 
One such case is LGCY, an open-source blockchain protocol that forks the TRON blockchain to provide more scalable and decentralized functionality. As a Layer 1 DPOS decentralized network, it is capable of handling over 10,000 transactions per second at an average cost of $0.01 per transaction. It also counts on a growing community of developers that seek to build new applications securely. This is why the network has decided to partner with Unido for its secure multi-signature wallet technology.
The network will integrate a white-label version of Unido's wallet where users can store their tokens securely using a patent-pending private key obfuscation algorithm. Developers will also be able to use Unido's Core API to build decentralized applications designed for enterprise solutions. 
While Unido will benefit from the integration of a new user base, LGCY will become a better service for crypto-native enterprises as well as asset managers and investors that need secure all-in-one custody services. 
The teams behind Unido and LGCY announced that "the integration…
99Bitcoins takes over the "Dead Coins" project to become the cryptocurrency undertaker
Singapore, Singapore, 17th February, 2021, // ChainWire //
99Bitcoins, an educational website that maintains a list of Bitcoin obituaries made by the media, has taken over the Dead Coins project as well. This move effectively crowns 99Bitcoins as "The undertaker of the cryptoverse".
Deadcoins.com was established in late 2017 to document the death of thousands of altcoins that popped up during the cryptocurrency mania of that time. The idea was simple – create a list of coins that have ceased to exist after the hype died down.
A coin can become "dead" due to a variety of reasons such as its development being halted, having no one that uses or trades it, being exposed as a scam and more. While the project was initially maintained only by its founders, it was later outsourced to the cryptocurrency community which was allowed to add their own dead coins.
"I think the dead coins project is a brilliant idea that needs a bit of polishing" says Ofir Beigel, owner and founder of 99Bitcoins. "The fact that anyone can add a dead coin themselves made the list of coins very inaccurate. We've spent days going through the complete list and sifted out all of the coins that were buried alive, so to speak. For example, Bitcoin, Tron, Dogecoin and Tether are just some of the coins that were listed when we took…