CryptoSlots Launches Epic New Slot Series with Increased Welcome Bonus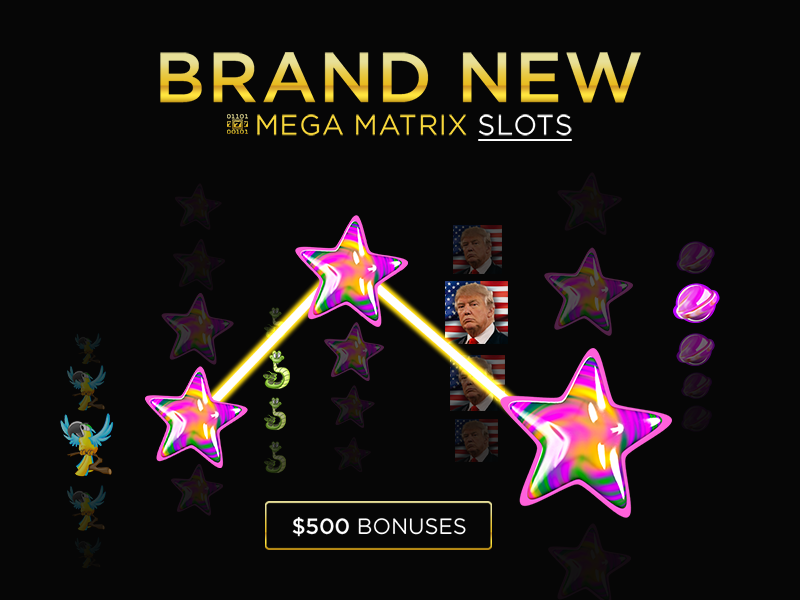 Leading crypto casino CryptoSlots launched Mega Matrix this month, a slot series which promises the exciting and unusual. Three new games were released this week: Big Heads, Candy Paradise and Zoomania. The series will grow rapidly, with another game promised even before the year is up.
As with all games at CryptoSlots, Mega Matrix slots will be Provably Fair, and players can test the randomness of any game result as fair. Unlike most slots, Mega Matrix games will vary wildly in size and form, with crazy themes, paylines and wins.
Big Heads features world leaders, including Trump, the Queen and Putin. The layout is as fun as the theme, with the second and fourth reels consist of only a single row, so two of the 'big heads' appear enlarged. This slot offers huge coin prizes in the Pick Me bonus game. Zoomania is an animal-themed game, offering repeated free spins with doubled wins. Candy Paradise is a sugary sweet slot with fast reels and diagonal paylines, where players can win anywhere on the payline.
More games are soon to come. 'These unique slots will come thick and fast,' said casino manager Michael Hillary. 'I think players will love some of the quirky themes and layouts that we are planning for the future!'
Start playing today! Readers can claim a special welcome bonus of 177% match on their first deposit with code MEGAWELCOME177. *
The release of one more Mega Matrix game is planned before this year is over, and further additions are set to fill 2020. CryptoSlots launched in 2019 and has been a top choice for crypto players, who can play anonymously and securely. The casino's Jackpot Trigger slot offers wins of up to $1,000,000, and the monthly Crypto Lotto gives away thousands more every month. Bitcoin, Litecoin, Bitcoin Cash & Monero are all accepted payment methods. Sign up requires only an email address.
*Bonus must be wagered 35x, only valid for new players on their first deposit.
Media contact:
Grace McKenzie
Celebrate BitStarz' Birthday and Win a Tesla Model 3!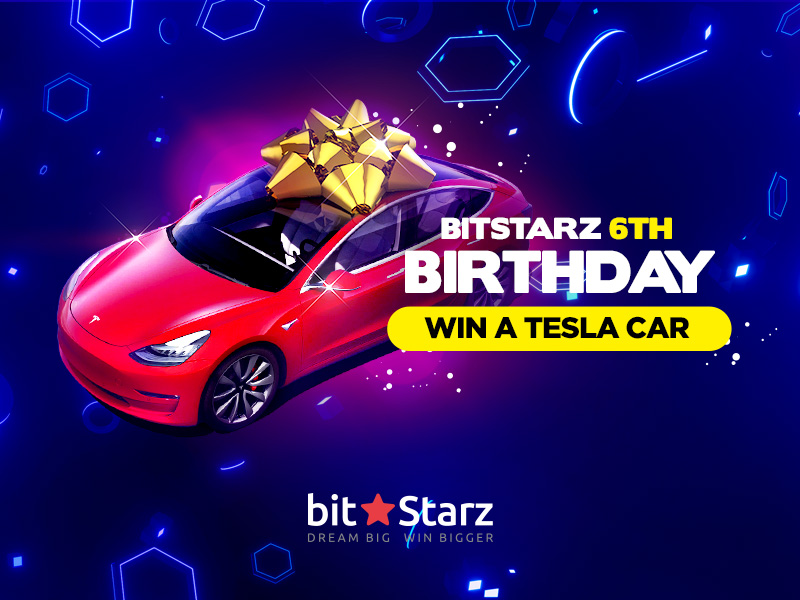 Everyone's favorite online casino is baking a cake, popping the champagne, and inviting you to the biggest and best birthday party of the year. BitStarz is getting ready to celebrate its 6th birthday and we're doing it in style with a promotion that will drive you insane.
If you love cars and casino games, you're in for one epic birthday treat courtesy of BitStarz. When you deposit at BitStarz during the birthday celebrations you will get a ticket (or tickets) that give you entry into the draw for a brand-new Tesla Model 3 – now that's one birthday bash you don't want to miss out on!
Speed Around the Reels and the Race Track
We've all dreamed of owning a Tesla at one point in our lives, and now BitStarz is making this dream a reality. Imagine hurtling from 0-100km/h in as little as 3.4 seconds in your brand-new Model 3, or zooming down the highway at 261km/h in ultimate luxury – we don't recommend doing this, by the way.
It's definitely the only way to travel in 2020, and what's more, you're doing the planet a favor by going electric. Make sure you're in the BitStarz birthday lottery to get your hands on this high-powered and high-tech car.
Entering the Lottery…
Making Your Investment Work: What You Need To Grow Your Crypto Business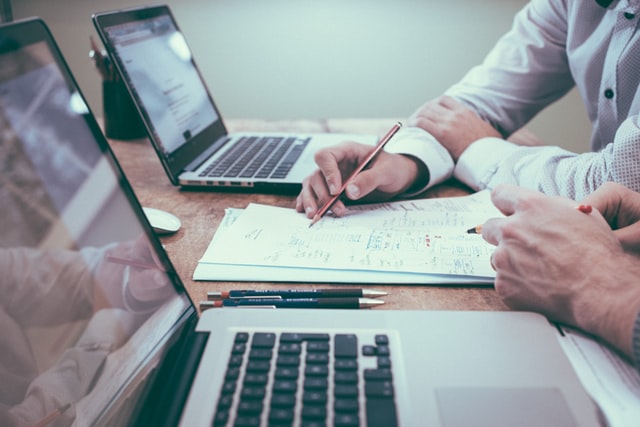 The question of whether or not cryptocurrency is a worthy investment has been answered. It seems that over  61% of Americans have invested in cryptocurrency, according to Finder. That is why establishing a crypto business is a savvy financial move. If you've already got one, the next order of business is to grow it accordingly. So what does your crypto business need to grow?
Added Manpower
One of the top reasons small businesses fail is because of overexpansion, according to the Small Business Administration. So while you're looking to grow your business, make sure it is within suitable means. If your crypto business is looking to take on more clients, it needs more people. Whether you need more programmers, traders, marketing staff, etc. you need to make sure you don't go overboard. The last thing your business needs is being overburdened with additional employees that it cannot afford. So it is recommended that you add people with skills critical to your operational growth.
Suitable Insurance
If your business has a certain number of employees, it will be subject under the Workers Compensation Law that all states passed in 1950. Having workers comp insurance protects your business if an employee becomes injured or ill at work. That type of insurance also covers loss…
Sologenic Lists 30 Securities Exchanges For Stocks Tokenization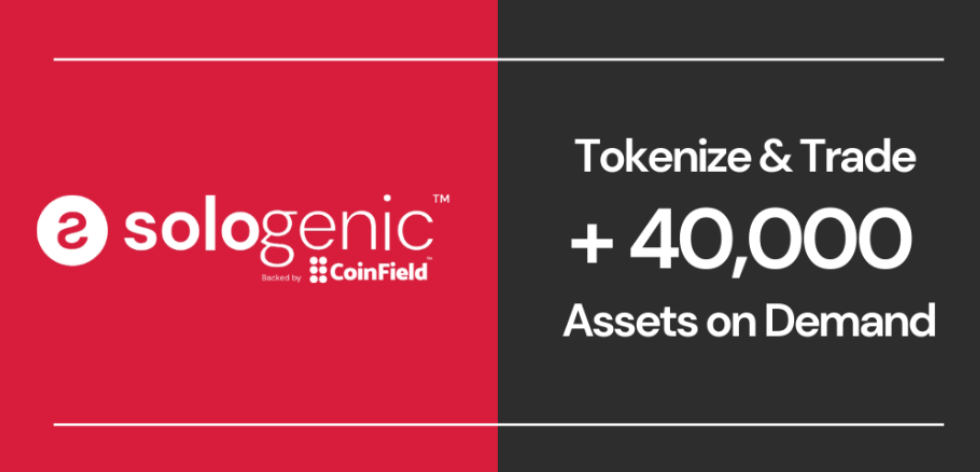 European crypto exchange CoinField is getting closer to the launch date of its ambitious Sologenic project.  This week it announced all of the stock exchanges that will be "compatible" for tokenized assets trading on the XRP Ledger.  Once live, the Sologenic ecosystem will allow trading of 40,000 stocks, ETFs and commodities. These traditional assets will be turned into stablecoins and backed by real-word assets, per Sologenic. 
Here is the complete and very impressive list of traditional stock exchanges that Sologenic is adding to its platform:
NASDAQ
New York Stock Exchange & NYSE MKT
Toronto Stock Exchange
TSX Venture Exchange
Athens Exchange
BME Spanish Exchanges
Deutsche Borse (XETRA)
Irish Stock Exchange
Johannesburg Stock Exchange
London Stock Exchange & IOB
Milan Stock Exchange
NASDAQ OMX Copenhagen, Helsinki and Stockholm
NYSE Euronext Amsterdam AEX, Brussels, Lisbon and Paris
Oslo Stock Exchange
Prague Stock Exchange
SIX Swiss Exchange
Wiener Borse / Vienna Stock Exchange
Warsaw Stock Exchange
Australian Securities Exchange
Hong Kong Exchanges
HK Stock Connect
Singapore Exchange