Moonlite: Smart Crypto Mining through Cost-Effective & Sustainable Green Energy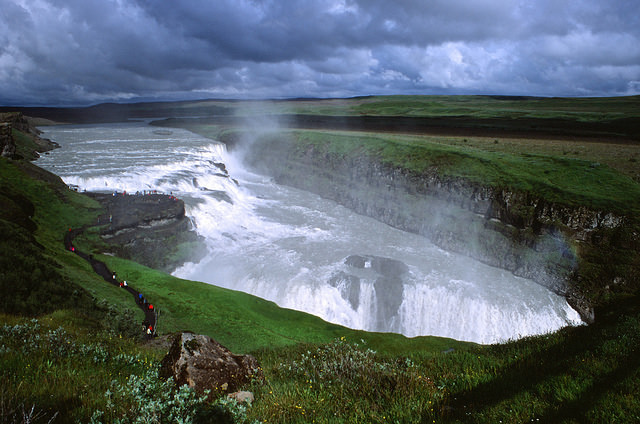 It's no secret, cryptocurrency is huge. In fact, it's worth close to $400 billion & counting. And, has indeed come a very long way since the pioneer of crypto, Bitcoin, saw its first light in 2009.
Today, there are more than 1,500 different coins & tokens that we can choose from, trading on 190 exchanges across the globe. And, worldwide, more and more corporations, institutions and regulators are joining the mainstream movement towards digital currencies.
However, there are also many challenges. And, not the least being the high electricity consumption costs associated with crypto mining. But, Moonlite has secured one of the last green energy contracts available in the new crypto mining mecca of Iceland.
Please continue reading to see how Moonlite is well on track for opening its highly profitable crypto mining center in Iceland later this year. And, how you can become part of the success story by holding tokens in its new-generation, industrial-scale crypto-mining operation.
The high power costs of crypto mining is a dealbreaker
 In an article titled "Bitcoin mining consumes more electricity a year than Ireland", The Guardian reported during November that the bitcoin network consumes 30.14TWh a year; which, not only exceeds the usage of Ireland but also that of 19 other European countries, it says.
 The article further explains how the bitcoin miners are responsible for verifying transactions made with the cryptocurrency, also to protect the system against fraud, as Bitcoin is a decentralized network where "no centralized authority" exists to confirm ledger entries.
During the process of validating network transactions, miners use specialized computers to solve computing problems which demand high electricity usage, The Guardian writes. And, miners receive compensation for their services by means of a "reward", paid in bitcoins.
"Each individual bitcoin transaction uses almost 300KWh of electricity – enough to boil around 36,000 kettles full of water", the article continues. And, by comparison, the Visa credit card company's data centers, which process 200 million transactions daily, only use 2% of the electricity that the bitcoin network does, even while Bitcoin processes fewer than 350,000 transactions per day, it says.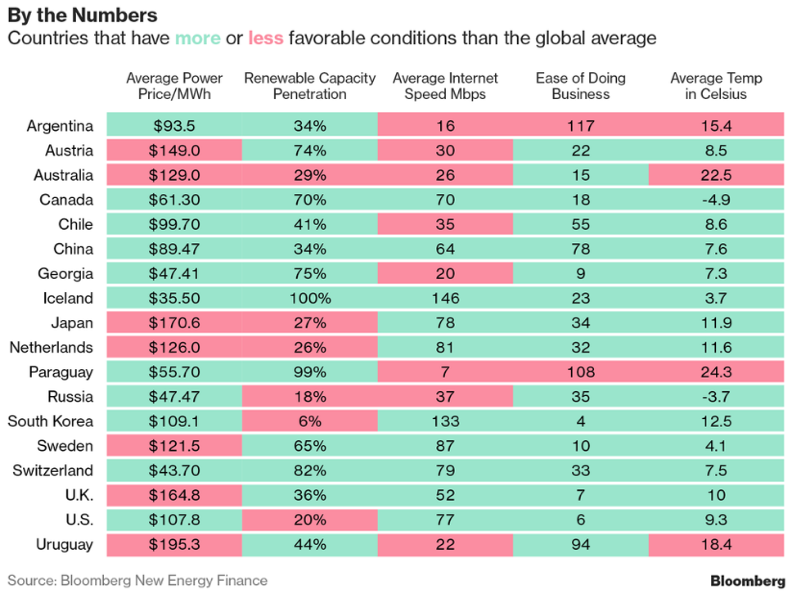 With reference to the above table from the Bloomberg Technology website, the electricity costs in countries like the US, Japan, UK and South Korea vary between $107-$170 MWh.
As noted earlier, bitcoin transactions consume 300KWh or 0.3 MWh each. This means that the electricity cost per transaction equates to between $32 and $51 for the countries mentioned.
When the cost of power represents such a high input expense to crypto mining enterprises, it can be appreciated that the profitability of such operations is under extreme pressure.
This barrier to entry is a major factor that prevents new miners from entering the market and it forces non-profitable, existing entities to cease their activities.
The solution – affordable and sustainable green energy
In its February article titled "How Iceland became the bitcoin miners' paradise", The Guardian explains that it's all about "location, location, and volcanoes".
It continues to explain how the island's magma-fueled power plants harness the power of geothermal energy –from the volcanoes- to generate a cheap and abundant form of renewable energy.
The abundance of the natural source in Iceland is driving down the cost of power on the island. This, in turn, is ideal for the miners of cryptocurrencies, who are able to make higher profits as they run their computers 24/7, 365 days a year, the article says.
Iceland is also extremely water-rich, a resource which is stored naturally in ice caps and underground. Through nature's spontaneous melting processes, it creates a constant and regular flow of water which is harnessed by hydroelectric power stations on the island. Hydro provides the majority of Iceland's electricity needs, the country's National Energy Authority says.
And, another stakeholder, the National Power Company of Iceland is further busy with the development of a network of wind turbines on the island in a project which they dubbed "Energy from the fresh air". There are a number of areas in Iceland that show great potential for the successful utilization of wind energy, the company says.
Also, the country's location at the northernmost tip of the Mid-Atlantic Ridge provides a further benefit in that the cool "Arctic air reduces the need to invest in expensive air-conditioning for the server rooms – crucial, since the specialised chips used to mine most cryptocurrencies produce huge amounts of heat when running at their maximum efficiency", writes The Guardian. 
Moonlite turns green energy into profits
Moonlite is proud to announce that it is one of the last commercial enterprises to be awarded an energy contract in the Keflavik area of Iceland, which will ensure the uninterrupted and large-scale supply of naturally produced, low-cost electricity to its operations.
https://www.youtube.com/watch?v=18GSJmu1T3k
Iceland's authorities, energy, and utility companies receive countless inquiries and applications from around the world, submitted by crypto mining operators and data centers wishing to establish themselves on the island.
However, although entry requirements are stringent and a large percentage of the applicants fail to comply thereto, the energy-supply infrastructure for large-scale commercial contracts in the area has reached its capacity and Moonlite is one of the last enterprises to be awarded such a contract.
It will take many years for the energy infrastructure –notably the electricity links from Reykjavik to Keflavik- to catch up and in the meantime, Moonlite will enjoy a low-competition environment which will greatly enhance its overall profitability.
Moonlite has successfully secured and locked in all the necessary contracts & guarantees for operations in the Keflavik area–also the purchase of real estate- and its progress is well on track to commence business later this year.
More information on the Data Centre Construction and Total Contributions to Date is available on the Moonlite website.
With its focus on industrial-scale crypto mining –predominantly Bitcoin, Bitcoin Cash, DASH & Litecoin- Moonlite is destined to be the largest miner in Iceland, as the key competitors are increasingly following the data-center business model, thereby renting out their facilities and not focusing directly on mining per se.
The Moonlite Project employs the latest technology –see Mission Statement– world-class people and an unprecedented Value Offering To All Investors to ensure a superior return on investment.
A key factor for highly profitable crypto mining operations is access to cheap electricity resources. Moonlite has contractually secured such supply –as described earlier- and will enjoy the benefits of Iceland's plentiful natural resources in that regard.
Electricity costs in Iceland do not even equal 25% of the energy bills in some of the other leading crypto countries' e.g. Japan. Please refer to the electricity tariff table further above for a detailed comparison between the various countries.
The Moonlite Project is therefore perfectly geared for highly profitable operations. More information on Moonlite's Anticipated Investment Returns is available on pg. 27 of the whitepaper. And, a full Investor Pack may be obtained by means of the website. 
MNL Token & ICO
Moonlite presents investors with an opportunity to hold a token in a new-generation, highly lucrative, industrial-scale crypto-mining operation that is focused on efficiency by employing low cost and clean energy sources, also artificial intelligence and custom algorithms.
The MNL token is issued by means of Ethereum Smart Contract and entitles investors to share in 35% of Moonlite profits.
Moonlite's Initial Coin Offering (ICO) is currently underway and ends on 22 March 2018. Investors may participate in the ICO on the Get Tokens page of the Moonlite website.
Full MNL token Facts are also available on the website. And, on pages 19-21 of the Moonlite whitepaper. Participants may further sign up for the Bounty program on the website.
MNL tokens will be available for trading on open cryptocurrency exchanges after the ICO.
Management, Roadmap & Milestones
Moonlite follows a policy of employing only the best operational teams to oversee and maintain the effective operations of its data centers. The Simplified Team Structure is outlined on pages 13-14 of the whitepaper.
And, "We are very selective of who we invite to be part of our team, and only engage with the best talent", Moonlite say. Therefore, the enterprise has the most skilled, experienced and qualified management team & board of advisers.
Further information is available under Our Team & Advisors on the website, also on pages 22-24 of the Moonlite whitepaper.
The Moonlite journey started in 2017 and is fully mapped out up to and until the opening of the Data Center on 1 August 2018. The Milestones can be viewed on the website. Further information on the Operational Plan can also be viewed on pages 15-17 of the Moonlite whitepaper.
Conclusion
Cryptocurrencies and crypto mining are here to stay and busy picking up vast global momentum as we speak.
As is the case with any nascent industry, there are always countless early-movers wishing to take advantage of an imminent rise. And, crypto is no different. Many crypto miners have tried but eventually gave up due to prohibitive costs such as electricity.
This has vastly widened the scope and availability of great market opportunities for serious participants, such as Moonlite, who are in it for the long haul.
Through careful and brilliant strategic planning –such as basing its operations in Iceland- Moonlite is sure to leverage the potential of highly profitable crypto activities for the benefits of its investors in many years to come.
The reasons listed under Why Choose The Moonlite Project on page 26 of the whitepaper is a sure testament to the outlook for Moonlite and its investors for ongoing success in the cryptocurrency industry.
Disclaimer: This article should not be taken as, and is not intended to provide, investment advice. Global Coin Report and/or its affiliates, employees, writers, and subcontractors are cryptocurrency investors and from time to time may or may not have holdings in some of the coins or tokens they cover. Please conduct your own thorough research before investing in any cryptocurrency and read our full disclaimer.
Image courtesy of Alessio Maffeis via Flickr
Bitcoin Price Could Get Extremely Ugly – Barrons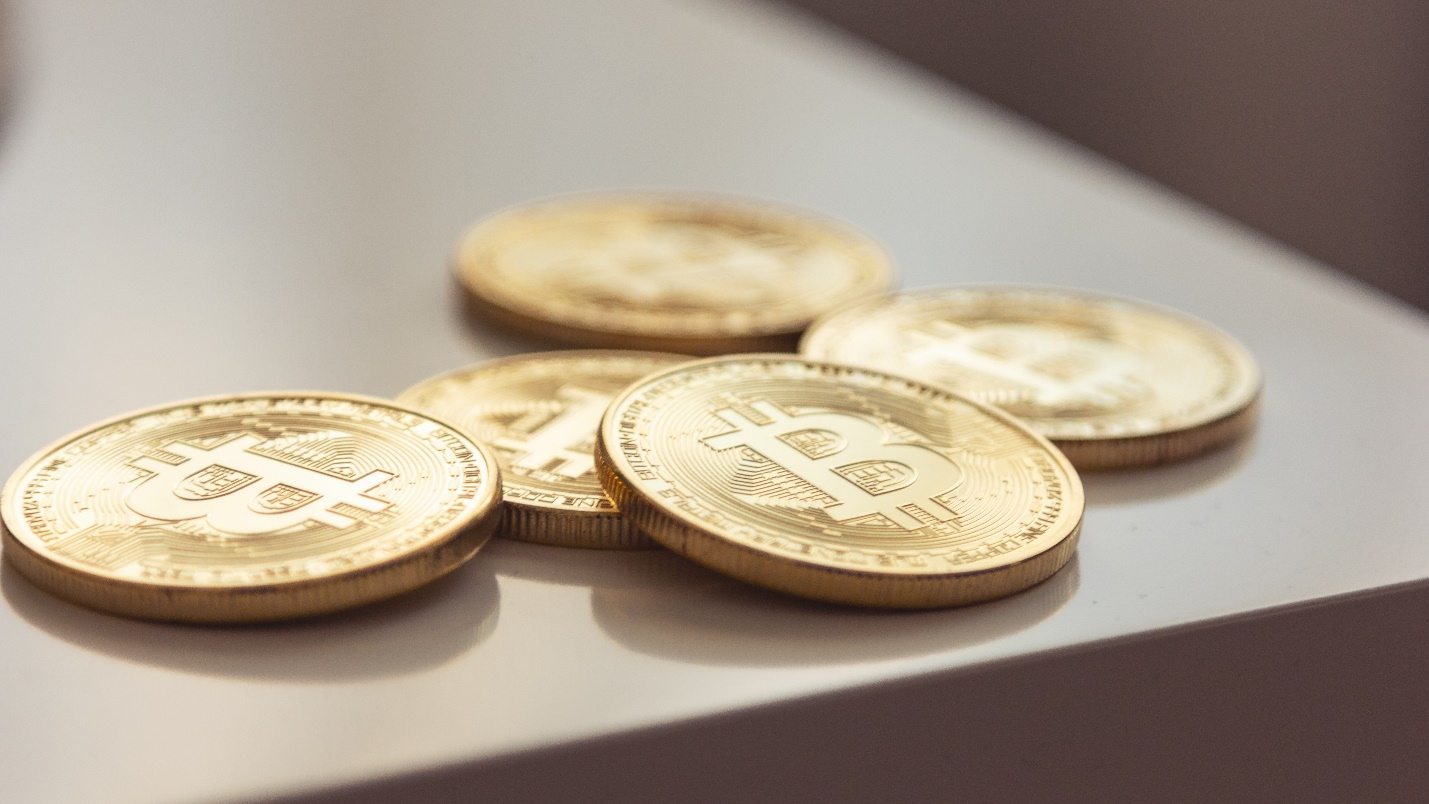 Bitcoin (BTC/USD) price recent rebound has faded and its easy to see why. After soaring to a two-month high of $21,470, Bitcoin has pared back some of those gains to trade at $20,895. This decline is mostly because of the fundamentals and technicals of the coin as I will explain below.
Bitcoin Fundamentals
The main fundamental reason why Bitcoin is pulling back is the rising fears of a recession. A recent survey by WSJ placed the risk of a recession in the US at 61%. That is notable since it is the highest the figure has been in months. 
At the same time, Wall Street banks like Goldman Sachs, Citigroup, and Wells Fargo published weak financial results. Most of them said that their profits tumbled by more than 30% in the final quarter of 2022. Reading between the lines shows that most of them have allocated millions of dollars in credit loss provisons.
Historically, these provisions tend to rise when there is a fear of a recession. At the same time, many safe American companies have starte announcing substantial layoffs recently. Amazon is laying off 18,000 people while Microsoft, Salesforce, Meta Platforms are laying off thousands of workers. In a note, an analyst at Oanda said:
"Bitcoin prices are weakening as growth fears have Wall Street worried a…
2 Reasons Why Bitcoin Price is Soaring in 2023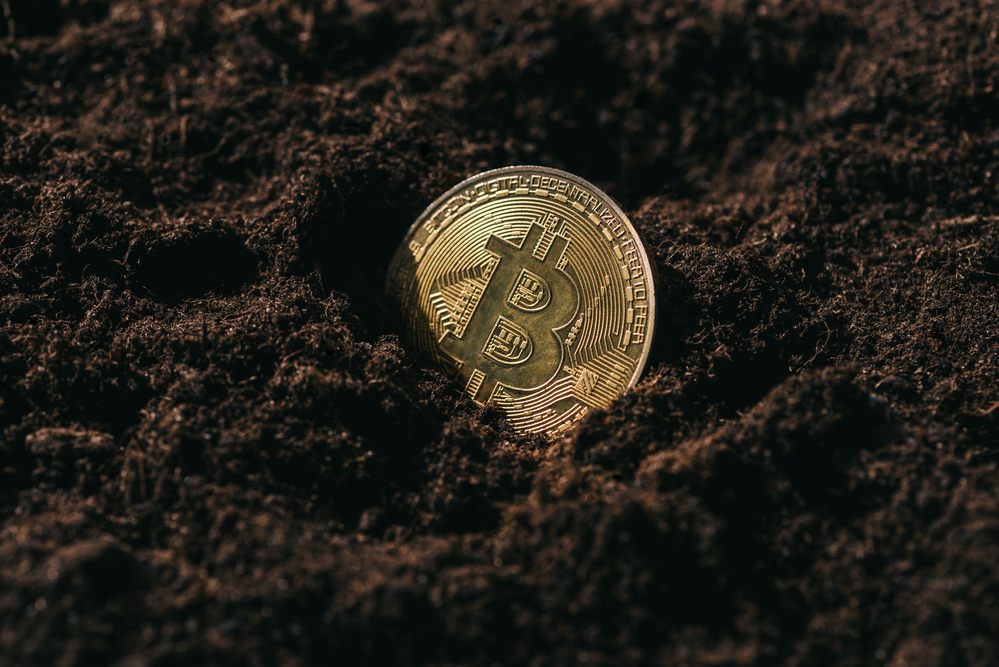 Bitcoin price has staged a strong comeback in 2023 as investors rushed to buy the dip. The BTC/USD exchange rate surged to a high of 21,465, the highest level since November. It has risen by more than 30% from the lowest point in 2022. Here are the top reasons why BTC price is soaring.
Mild recession hopes
Bitcoin and other financial assets like stocks and gold have rallied because of the falling inflation in the United States and around the world. Consumer inflation dropped from 7.1% in November to 6.5% in December. Core inflation dropped to 5.7%. 
And on Wednesday, data from the US showed that wholesale prices dropped by 0.5% in December, higher than the expected 0.1%. The producer price index (PPI), rose by 6.2%, the lowest level since March 2021. This decline happened because of the falling energy prices.
Another data showed that retail sales tumbled in December. They dropped by 1.1% in December, the biggest decline in 2022. In a note, an analyst at RSM said:
"The lag impact of elevated inflation weighs heavily on U.S. households, it's very clear that the median American consumer is still reeling from the loss of wages in inflation-adjusted terms."
A recession is often seen as a bad thing. But in the financial assets, it can be seen as…
Bitcoin Price is Getting Severely Overbought: Is it a Buy?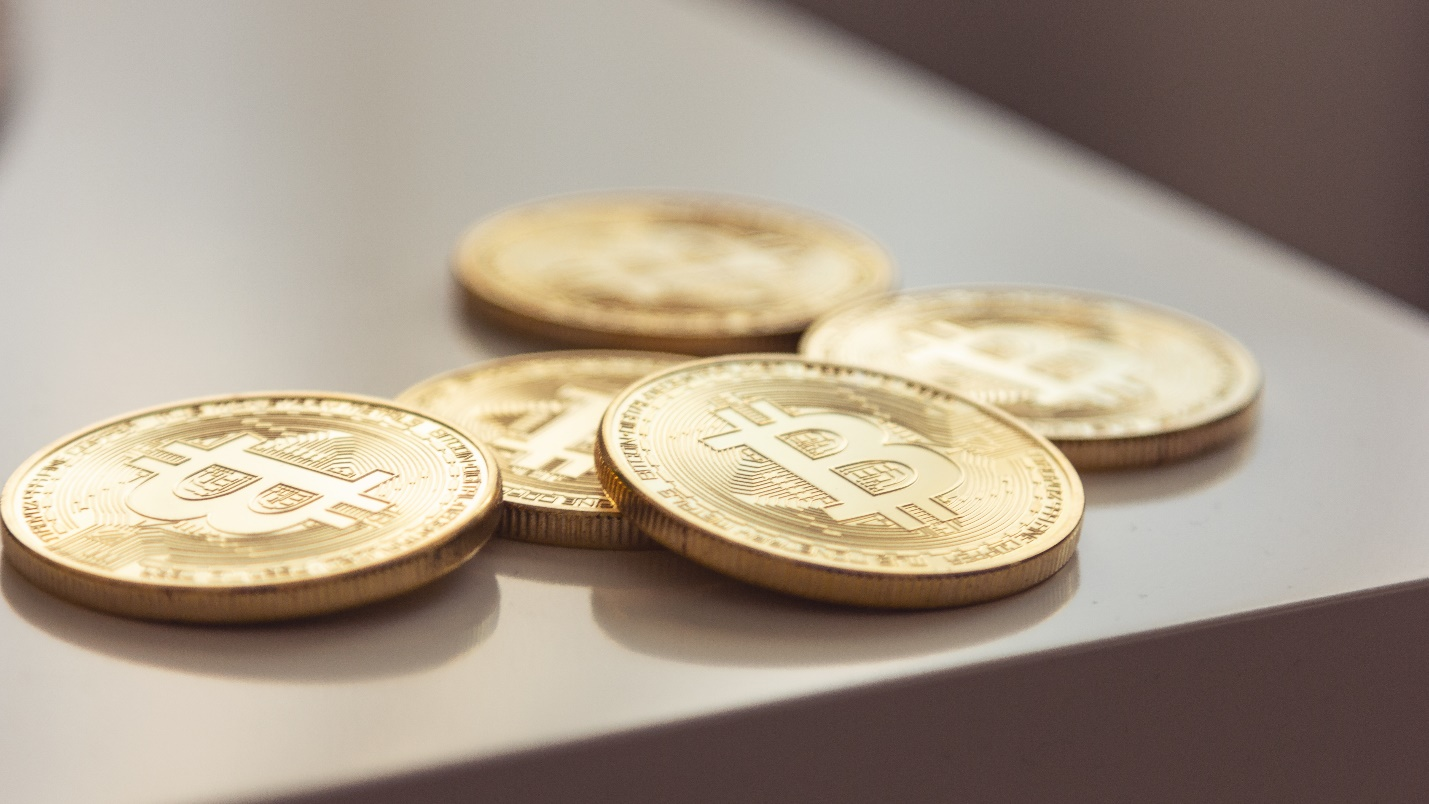 Bitcoin price made a spectacular comeback in the past few days as investors reflect on encouraging data from the United States. The BTC/USD exchange rate surged to a high of $21,365, the highest point since November. It has risen by more than 35% from the lowest level in November. So, is the tide turning?
Will the Fed pivot?
Bitcoin and other global assets continued surging as investors reacted to the latest American economic data. Data published last week revealed that the American consumer inflation inched downward in December. It dropped to 6.5% in December, the sixth straight month of decline.
A week earlier, data by the Bureau of Labor Statistics (BLS) showed that the country's unemployment rate dropped to 3.5% in December. In the same period, wage growth increased by 4.7%, lower than the previous month's 5.2%. A decline in wage inflation is a positive sign for Bitcoin and other financial assets because of the Federal Reserve.
The Federal Reserve has been in a strong tightening phase in the past few months as it continues its battle against inflation. Its goal is to soften the economy and prevent a hard landing. Such a situation will happen when wage growth eases. 
Therefore, Bitcoin has risen because of the rising chances that the Fed will start to pivot. Historically, Bitcoin and other…