Tron (TRX) wants you to join them and support Net Neutrality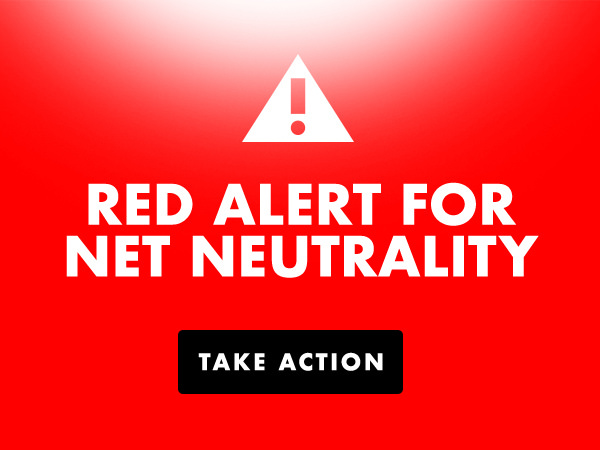 From the very beginning, Tron has been a project with a mission. Just as Ripple's objective is to make blockchain technology the tool around which all the international payments in the world are settled quickly, cheaply, safely, Tron (TRX) aims to use the blockchain so that the whole of the internet becomes decentralized.
Neutrality means that no single corporation or authority (Comcast, Google, AT&T, Verizon, Telmex, Microsoft, Facebook, and many others) is able to decide whether a packet of information is more important (or urgent) to deliver that some other packet. Your ISP should treat every information packet in a democratic, egalitarian way so that everybody gets the same services, whatever you're doing with it.
Because of recent lobbying by big corporations in the US Congress, Net Neutrality is in danger these days and that worries Tron (as it should worry you, and everybody else).
Since Tron wants to decentralize the web via blockchain technology, neutrality in the web is a necessary condition. That's why Tron has taken a public stand in defending net neutrality by donating $10,000.00 to the Donatefornetneutrality.com website.
As a company whose mission is to build the infrastructure for a truly decentralized internet, TRON takes a stand for net neutrality by donating $10,000 to https://t.co/Y6qYnjowzt. We believe in a free, open internet and we encourage others to join us. $TRX https://t.co/yqBSzNAv3V

— TRON Foundation (@Tronfoundation) November 1, 2018
Tron believes in upholding neutrality. It's analog to freedom of speech, independence, and freedom in the digital world. It's under siege by American politicians and Tron is inviting everybody to take a stand on this issue and support the fight for neutrality by donating to that same website.
This is not just about Tron's ambition to decentralize the web, but it matters for all of us. Keeping neutrality alive is the only way we all have to make sure that the internet remains free and doesn't become a kind of digital dictatorial regime in which the big corporations in telecom end up deciding everything that happens with every user in the world.
This is a controversial issue, of course. Many internet users think that fast internet connections should be more valuable than slow ones. That high-quality content should have more value. The problem here is, who is going to decide what high-quality is? It won't be users, universities or scientists. It will be Google, or Youtube, or Facebook, or Microsoft.
The DonateForNetNeutrality website aims to raise $100,000.00 to fund the fight for net neutrality. They currently have $38,328.00, and every donation you make will be doubled by their sponsors. You can even make donations in cryptocurrencies.
The point in this campaign is to overrule the latest FCC ruling that killed net neutrality, only a few months ago. There is a mechanism called "Congressional Review Act" (CRA) which allows reversing previous decisions.
The problem is that time is running out and if this reversal doesn't happen quickly, it could become permanent. That would make everything much harder to correct in the future. Making this happen will need to get the attention of some key lawmakers who are facing difficult races so that they start listening to their constituents.
This is what happens with the money you donate for this cause:
Congressmen and women get millions of calls, emails, tweets.
It finances crowdfunded billboards, newspaper ads, and online ads.
Organize local actions and events.
Keep this in mind: while Tron is not based in the US, the organization understands that lack of neutrality is going to affect every internet user around the world and, especially, the crypto verse in which decentralization and democracy are core values. Tron's heart is in the right place. Let's try and follow suit.
For real-time trade alerts and a daily breakdown of the crypto markets, sign up for Elite membership!
Disclaimer: This article should not be taken as, and is not intended to provide, investment advice. Global Coin Report and/or its affiliates, employees, writers, and subcontractors are cryptocurrency investors and from time to time may or may not have holdings in some of the coins or tokens they cover. Please conduct your own thorough research before investing in any cryptocurrency and read our full disclaimer.
Image courtesy of Flickr
How to Use Cryptocurrency Sports Betting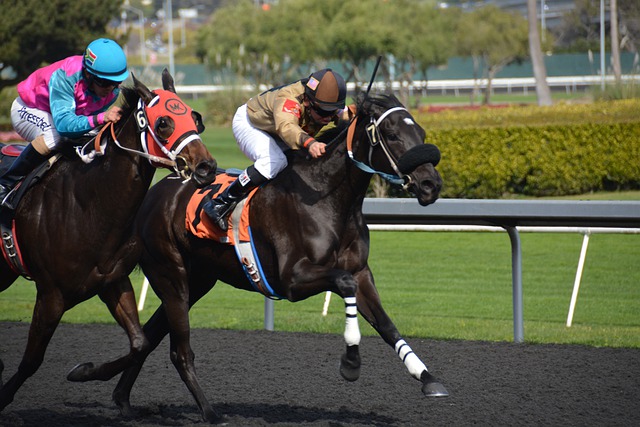 The advent of cryptocurrencies revolutionized virtually every industry, including online gambling. Although the cryptos were initially volatile and a reserve for high-risk takers and speculators, they have stabilized and are now trusted for everyday business transactions. For instance, unofficial statistics reveal that about 60% of bitcoin transactions are related to betting. However, what are the advantages and disadvantages of crypto sports betting? How do you bet with crypto? How do you choose the right cryptocurrency bookmaker? Here is everything you need to know about it and the best crypto sport betting bookmakers
Advantages of Bitcoin and Cryptocurrency Sports Betting
The anonymity of the user during wallet transfers and account creation among some bookmakers which shelters one from government bans on betting in some countries and some taxes

Higher betting limits due to the instability of bitcoin and other cryptocurrencies

Fast and easy deposits and withdrawals because it is decentralized cash with no intermediaries

Lower fees that are almost negligible as compared to other deposit and withdrawal options

Makes it possible for a user to exchange their crypto that may be or will be banned in their country

Accessibility of the bookmakers globally by surpassing local gambling laws
Digital Money Defined and How it Works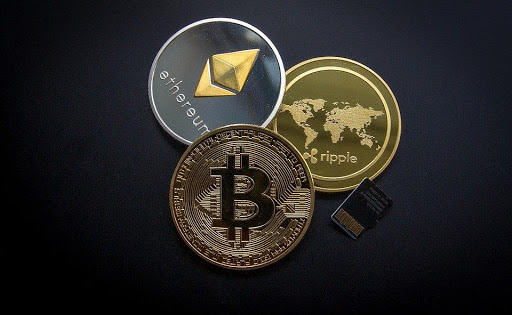 The advancements in modern technology revolutionized the industry such that there emerged digital money. With digital money, international payments are made simpler. The exchange rates are also relatively inexpensive and you are guaranteed with secure payments.
But, What is Digital Money?
In a gist, digital money is an electronic form of payment. Unlike cash, it has no tangible form, and payments or exchanges transpire over computers. Cryptocurrencies such as Bitcoin, Ethereum, and Ripple, are examples of digital money. You can trade in Bitcoin, purchase Ethereum, or buy Ripple through several cryptocurrency exchange platforms. Most of these platforms are relatively easy to use and some even offer a direct link on your electronic wallet accounts.
How Does Digital Money Work?
Blockchain Network
Digital money is created, stored, and exchanged in its individual blockchain network. A blockchain is all about digital information stored in a public database. When a user requests for a transaction, the transaction is broadcast over a peer-to-peer (P2P) network that is composed of computers which are also referred to as nodes. The nodes are integrated with algorithms that can verify the validity of the transactions.
Once the transaction is verified, it is combined with other transactions, which eventually creates a new block of…
BTC Surged Above $9.5K, will it Continue to Explode Towards $10K?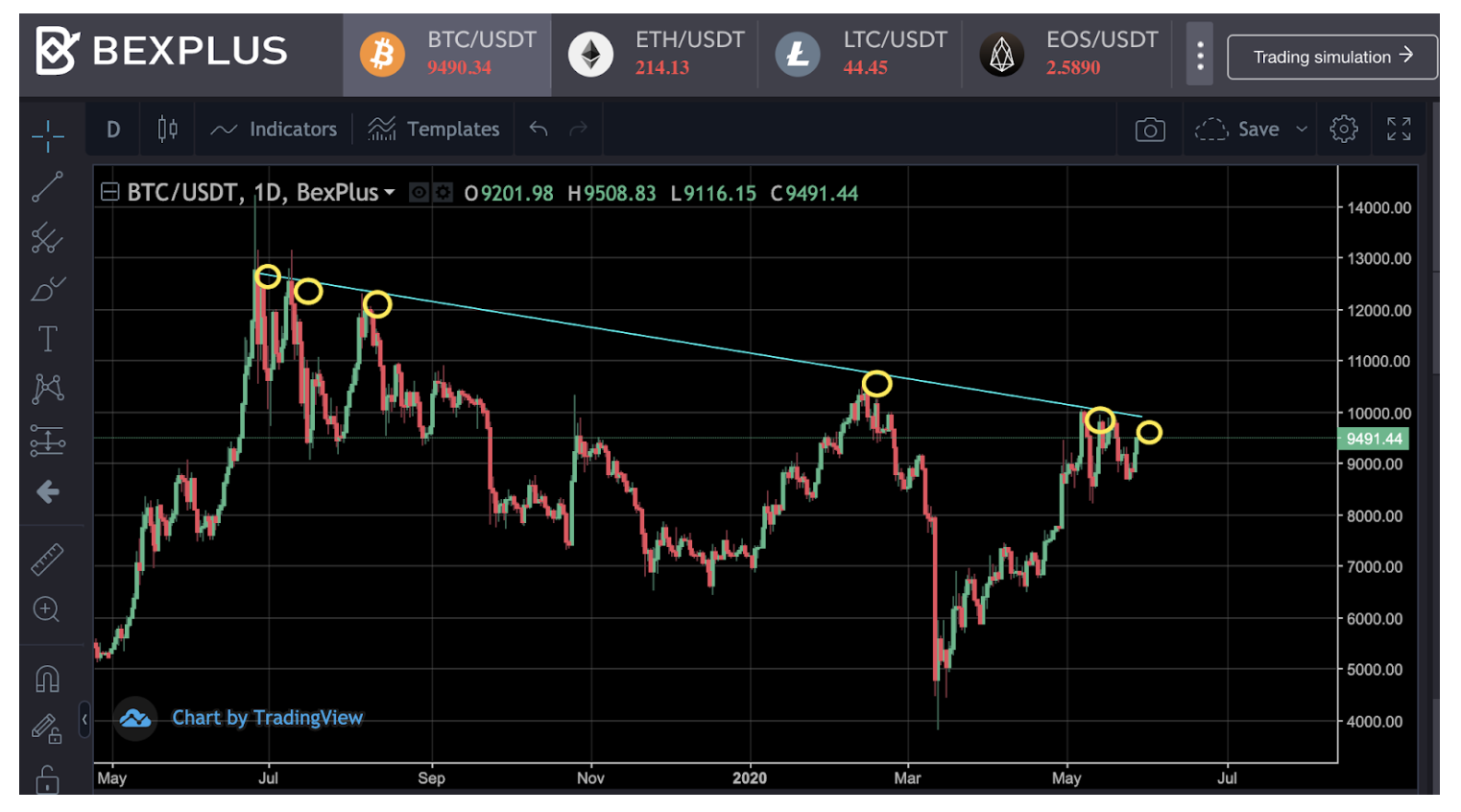 After declining as low as $8,600 on May 25, Bitcoin is currently gathering upward momentum and hit near $9,500, representing a 3.5% gain on 1 day. With the price breaking out once again, there is a confluence of signs suggesting BTC could rally past its monthly high of $10,000 in the near future.
However, Bitcoin has seen six lower highs in a row in the past 12 months, which indicates a bearish cycle spanning over a long period of time. If BTC fails to break above $10,000, it increases the probability of the resumption of a correction.
In addition, BTC may be showing a rough inverse head and shoulders pattern, which is regarded as a textbook bottom indicator. Therefore, if BTC failed to break $10,000 this time, it may drop to at least $6,800 to form the pattern.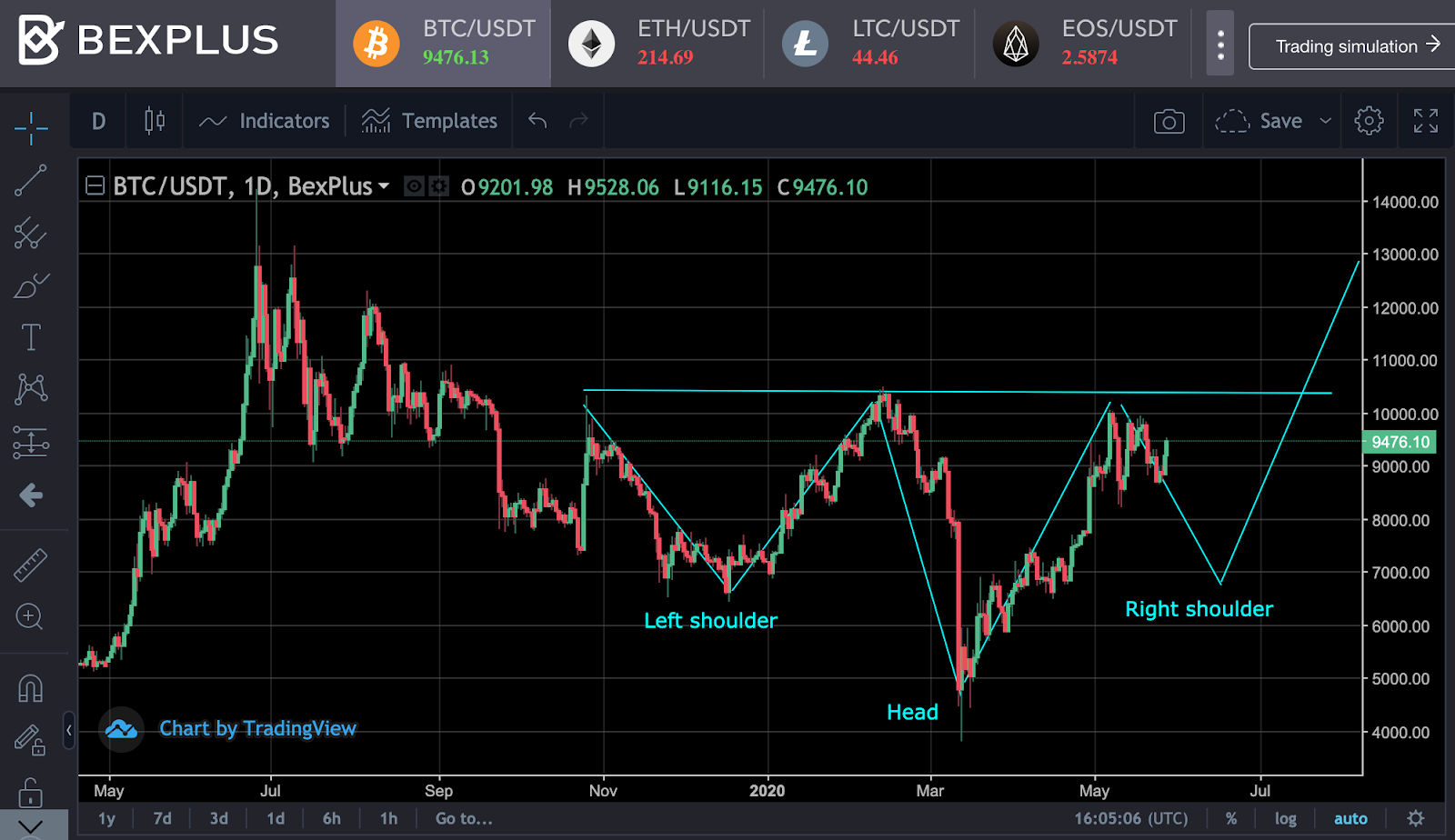 As a result, we can predict that Bitcoin may soon perform a retracement after hitting the $10,000 and change its direction to the upside movement after retesting the support at around $6,800 – $7,100. So how can we profit from the upcoming huge price volatility? BTC futures trading…