For every Genesis, there is an End.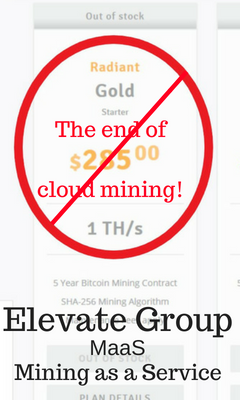 As the founder of Elevate Group, which is a managed co-hosting facility for bitcoin mining, I went to great lengths to analyze how both the mining ico'S are structured and how cloud mining operates. So I believe I'm particularly well qualified to write this article, and I hope the reader gains from it.
Yes, this is also a marketing piece about Elevate Group, but there are no gimmicks or 'specials' or anything like that, I just point out the relevant truths and ask some pressing questions about the industry as a whole. All my numbers are derived directly from the companies websites, all this information is factual and I encourage you to check them for yourself.
So let's start with a basic summary of what bitcoin mining is exactly, and if anyone ever tries to complicate this answer, they are speaking nonsense. Bitcoin mining serves two functions, it secures the bitcoin network and verifies transactions. We, miners, are boring data processors. That's it, that is what we do. In order to make mining profitable, you want to keep your costs low. So if you are a cloud mining company and you're spending money on advertising, marketing, and nice offices, guess what? That means your mining profits will have to cover those expenses, and when you take a cloud mining company like Genesis, who does a lot of marketing and has a lot of those types of expenses, what do you think happens? Yeah, they need to cover their costs and the way they do that is through the mining profits, their customer's mining profits. So you buy a mining contract, they buy miners, put them in their facility, mine bitcoin and then what happens? Right, they first pay their employees, pay their marketing, their rent, ok you get the picture. When all those expenses are done, they then sit down with what's left of YOUR mining profits and say something like 'how much of what's left do we give to the customer?'. You would think that after having paid those expenses you're not gonna have to pay much, wrong.
What you now have to pay is Genesis corporate profits. Does Genesis make a lot of money? Probably yes, and do you know that as a pure mathematical fact, the more money Genesis makes, the less money they have to pay out to buyers of their contracts? That's just simple math; if they have $100 in profits, and their contract calls to pay out $50 in contracts, then their profit is $50. Now if they pay out $30 in mining contracts, then their profit is $70. So there you go, the more Genesis makes, the less they have to give buyers of their mining contracts. The problem is most people don't know a lot about mining but they love passive income, and they know Genesis is big, so that gives them comfort. They do what's comfortable, not knowing that there are much more profitable options out there.
Before we go on, let me give you some more facts. Here is what Genesis mining has posted on their website as their latest 'special pricing':
Now, if you know a little about mining bitcoin, you know that Bitmain is the largest supplier of the most stable ASIC miner, used to mine bitcoin by almost all of us commercial miners. We sell the Bitmain s9 13.5 TH miner for $1,299 right now. The price range I see for those on the market by resellers is anywhere from $1,150 all the way up to $1,800- and that could be without a power supply and no follow-on services like mining it for you, maintenance, and most important hosting.
So let's take an average price of $1,500 for a 13.5 TH machine. Again, we can use math to derive the simple fact that The special pricing offered by Genesis of $284 per TH equates to $3,834, so you're spending that much to get an equivalent of one s9 ASIC miner- which sells for about $1,500. So why are people paying so much more than they have to?
I think it's for two reasons. Firstly, Genesis was one of the first, if not the first, to offer cloud mining. So they arrived at a time where mining was really young and margins were fat. They could charge what they wanted because the bottom line was that if you wanted to mine and you didn't have the tools for commercial mining (e.g.facility, engineers, low power costs), then you saw Genesis as the only viable option. That's not the case anymore, there are companies out there that are able to provide much better options. Before getting into that, there is another problem with cloud mining. The perfect example is what happened with Hashflare in June; suddenly, Hashflare said they would not be distributing mining profits for bitcoin contract holders. The internet was replete with YouTubers angry as heck about their stuck money.
Despite the not so special pricing model, and the fact that cloud mining contracts are not such a good way to go, the cloud miners charge a maintenance fee on top of it. So with Genesis, they charge .14 cents per TH per day (https://www.genesis-mining.com/pricing). That's a hefty fee; at Elevate Group (elevategroup.io) we provide free maintenance, free hosting, and our power costs are 5.5 cents per KwH. That's a big saving, and you pay about $96 per TH instead of $284 per TH.
The last thing that doesn't make sense is that Genesis offers a 5-year contract, this is troubling because everyone in the industry knows that an ASIC miner lasts about 2-3 years, so what are they doing? That's a question I can't answer and to be honest, I wouldn't be surprised if they had a "fine print" section of their contract to explain how the stars have to be in order for them to honor that.
Moving on to the ICO mining sector, I point to a simple feature that should make anyone looking at mining ico's think twice. Remember, it's all about keeping your costs low, and if you're doing an ICO you also are trying to raise as much capital as you can. That means marketing expenses, that means management overhead, facilities, and a bunch more. So where does that money come from? You guessed it. Most often, if not always, investors are paying for all these costs in an ICO, and to make matters worse, nobody is going to really check a smart contract code to see what they are really spending and where. So in an ICO, it's not uncommon that you purchase $500 worth of token, and you get $200 worth of mining power. It's just that simple.
So why did I create Elevate? Because I realized that mining is simple, boring, and the main thing you need is cheap electricity and low costs. In Siberia, where our mining farm is located, power costs are among the cheapest in the world. On top of that, we are located in the same city as Bitmain's repair facility (https://news.bitcoin.com/bitmain-opens-repair-center-russia/), which means we can offer free maintenance on your miners, and you don't have to ship your miner to China when it needs repair. This is a feature that is so advantages, very few people can compete. We took all these benefits and decided not to do an ICO, and to skip the cloud mining model- a model which I believe is going away. We kept it simple, we kept our costs low, we didn't spend a bunch of money(your money) on marketing, so that we could offer you the most competitive and profitable mining platform in the world. So how does it work?
Easy, you buy a miner, we place it in our facility, manage it for you, host it, and maintain it. We pay you your profits every month and charge a reasonable equipment management fee of 20% of profits. When you factor in the fact that we are selling the machines at such low prices, and that we don't charge for maintenance or hosting, and our power costs are lower than most commercial mining farms, what you end up with is a model that pretty much turns the passive income investor into a commercial miner. That is what we do, we have made mining accessible and way more profitable for individuals who can't otherwise open their own mining farms. For a savvy investor, this is a dream come true, and now that word of mouth is doing the marketing for us, we expect our name to get out there and hopefully show people that there are options out there other than the typical ICO and cloud mining contracts.
In an industry and world that is moving at this pace, innovation and efficiency play a major role in success. We believe by putting the investors needs first, we will succeed in bringing the new era of bitcoin mining to individual investors. Not through an ICO and not through a cloud mining contract, but through good old fashion business sense. What does that mean for us? It means keep your costs low, think of your customers first, and make management available so that your customers know you care. That is what we've done. We've been organically growing our telegram community, and while it does not have thousands of members, almost everyone knows each other on a first name basis and almost everyone is mine owner. I believe in the blockchain and I believe bitcoin prices will appreciate significantly in the years ahead. Mining is the stable, passive income way of accumulating bitcoin and holding it for the long run.
Genesis means the beginning, and in the beginning, Genesis provided a valuable service. Now is the time for other more efficient platforms to take the stage and deliver the true value investors seek. We are doing just that, and we're having fun at the same time. Join us in the new era.
Amir Ness
Bitcoin Cloud Mining Startup Miningzoo Receives Strategic Investment from Institutional Investors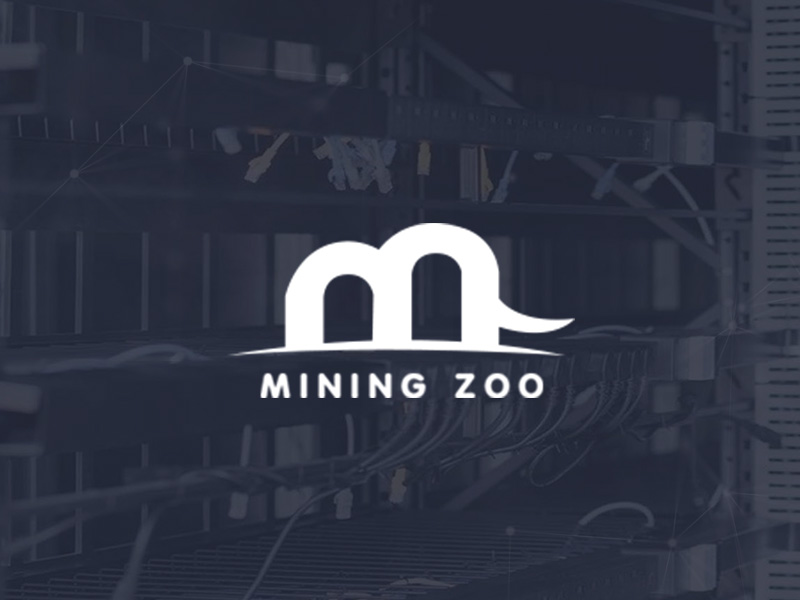 -Long crypto, short fiat!
Looking for an easy and smart investment solution for the crypto market? Cloud mining of bitcoin at Miningzoo.com is the answer for you. This cloud mining provider, though newly launched, has already gained a solid reputation for its convenience, efficiency, and stability. Miningzoo, a rising start in cloud mining, is on its way to become one of the best cloud mining platforms, gaining attention from global investors.
Already in a strategic partnership with Lpool and Li De United Co. Ltd, over the past few months, Mining zoo has obtained new funding from Ceyuan Ventures, a high-tech focused VC and United Capital, adding to its existing investors' list of Longling Capital, Consensus Fund, etc.
Miningzoo boasts large-scale miners based in distributed locations across the globe, equipped with professional operation and maintenance teams, and top-of-the-line miners. Miningzoo provides users with a one-stop efficient bitcoin mining service. At present, the Miningzoo platform focuses on bitcoin mining power for rent. Miningzoo is committed to creating the smoothest experience in cloud mining for clients.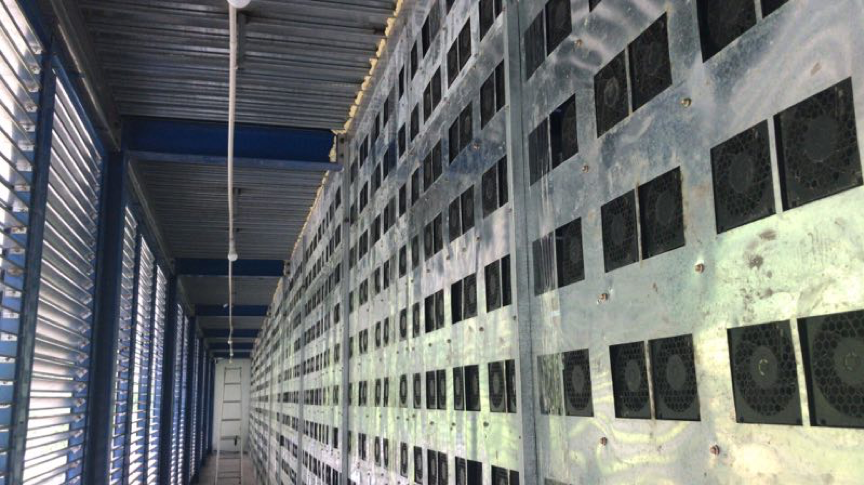 MicroBT – The Most Trustworthy Bitcoin Miner Provider
About MircroBT
Shenzhen Bit Microelectronics Technology Co., Ltd. (also known as "Bit Micro" or "MicroBT") was founded in 2016 and has its main office based in Shenzhen, China. The company is specialized in producing and designing high-end 28nm/16nm/7nm dedicated chips, as well as providing developments in sectors such as blockchain technology, cloud computing and artificial intelligence.
The MicroBT company has independent intellectual property rights over its dedicated chips and ancillary products. The company also deploys cloud computing data centers and platform processes, catering to areas such as cloud computing, artificial intelligence, blockchain, where big data processing is required.
MicroBT Founder
Yang Zuoxing is the Chairman, General Manager, and CTO of MicroBT, establishing the company back in July 2016. He holds a Ph.D. from the Tsinghua University, and is accredited with founding the full-custom chip design methodology, which is the core technology of the dedicated high-performance computing chip.
A serial entrepreneur with more than two decades of experience in chip design, technology management, business and company management, Dr Yang aims to use his full-customization methodology to bring forth the greatest innovation in the field of technology.
What Miners Can You Purchase at MicroBT?
MicroBT's miners can be used to mine cryptocurrency that runs on the SHA256 algorithm, such as Bitcoin and Bitcoin Cash. The five ASIC miner models, M20S, M10, M10S, D1, M21, can be purchased directly from their official website.
MicroBT Whatsminer M20s
The MicroBT Whatsminer M20S has…
Is CCRB's New App The Latest Big Shot In E-Tail And Mobile Mining?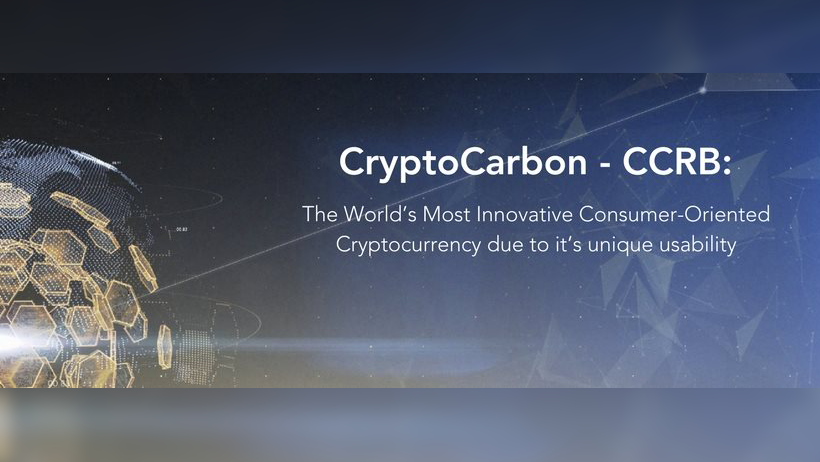 CCRB to launch a dedicated consumer-oriented app allowing users to Shop, Trade, and Earn. While companies like Coinbase with their e Gift cards are just about to knock the doors of this multi-billion dollar market, CCRB has already unlocked a host of opportunities for thousands of consumers from all across the world – including mining through their mobile device. 
Cryptocarbon, a UK based, consumer-driven Blockchain venture is proud to announce the launch of its power-packed CCRB App. The new Crypto Carbon App is particularly designed for crypto lovers all across the globe – it allows users to shop with 100% payments made in cryptocurrency – there is no getting a new card or paying in fiat. The new app is loaded with features as it also allows users to swap between 6 major cryptocurrencies and allows for crypto mining right from their mobile devices.
The cryptocarbon platform is exclusive and unique as it genuinely allows its users to make valid purchases from over 35,000 partner outlets spread across 200 countries using their crypto assets. The exciting new app is a promising development. Big names like Coinbase are coming with typical eGift cards to allow crypto users to directly use their crypto assets to purchase limited products at select retail stores. The team is already working on an advanced version of the app – CCRBXPRO. The pro version will have added features and functionality.
While CCRB already acquired a good…