Recap: Ripple and Santander connect to Apple Pay and use Touch ID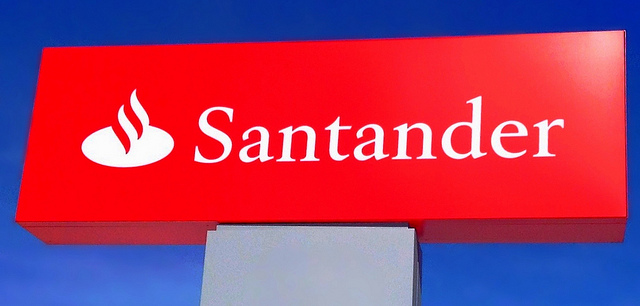 Not too long ago, Banco Santander's UK branch has released new publicity in which it boasts about its strategic alliance with Ripple. The picture says that international transfers are now done over blockchain technology (from 10 to 10,000 pounds) and that it connects to Apple Pay and uses Touch ID. It also explains that time and cost are "drastically reduced" and that new types of transactions around the globe are enabled through Ripple. This is huge.
Banco Santander is not a Wall Street or a Swiss bank. It's Spanish, so it's not considered to be among the classic clique of the world's banks. That being said, it's huge. It has a presence all over the world, and it's considered to be the best bank on the planet as of now. That's just context.
More important is that Santander is using Ripple's technology in production. Many banks (more than a hundred) around the world have announced an intention to use Ripple's blockchain and software to process their international payments, but they are not committed.
They're adopting the technology in tests in order to find out if it really suits them, and can be easily integrated into their current services. Not so with Santander. Santander is in the Ripple wagon 100% and it's already experiencing the benefits.
Santander & Ripple… "it connects to Apple Pay and uses Touch ID"

Thx @XRP_VETERAN pic.twitter.com/FAuO160Ids

— XRP_CANADA (@XRP_Canada) November 22, 2018
For crypto enthusiasts (especially Ripple fans) this is very significative news. Every transaction performed by Santander on behalf of its costumers over the Ripple blockchain creates demand for XRP. This drives the price up. Just remember that in the current horribly bearish market we've seen for nearly a year now (with the three last weeks being truly bloody) Ripple's XRP has been the coin that's performed the best.
Yes, it's lost value too. But everybody is losing value, and Ripple's red numbers are in the one-digit region, while everybody else's is in two numbers. Let's put it in words anybody can understand: over the last couple of weeks, XRP has outperformed everybody, including Bitcoin. It even became the second largest digital asset by market capitalization. This resilience comes, in part, because of Santander's use of XRP to settle international payments.
Let's review this partnership's history briefly.
Last March, both Ripple Labs and Banco Santander announced that the Spanish giant was experimenting with several of the RippleNet liquidity products and creating pilot programs based on Ripple's blockchain. This made Santander notice the levels of certainty, transparency, speed and low cost that are just impossible using the traditional financial tools.
Ed Metzger, Santander's innovation head talked at Swell (Ripple's yearly conference) about the way in which the bank will use Ripple's xCurrent to improve their customer's experience. He noted,
"We believe that financial services is moving to a world of open platforms where companies collaborate to deliver excellent customer service for their customers, and that's at the core of what we're doing with OnePay FX."
What is OnePay FX, I hear you ask? It's a mobile app developed by Santander, deployed for its customers, that went online last October 2nd. It was initially available in Spain, Brazil, the UK, and Poland. Mr. Metzger explained further that the app allows customers to process international transactions seamlessly, quickly, cheaply and easily.
Metzger added that,
"One of our customers was in Italy on holiday and parked in the wrong place. He needed to pay a fine and didn't have his banking card. He was able to use the app to immediately pay the fine, and stop his car from being towed away. It's four or five clicks to do something that would have taken an awful, awful long time in the past."
While many of Ripple's impressive strategic partnerships are still in the test stages, some of them are already working real-time in the real world. Santander is the poster boy in this context. It's validating Ripple's products and tokens. So don't hate Ripple. It's making crypto useful to people who don't even know they're using it. This is why XRP has stayed stable in the current market debacle, and that's why it will stay so in the future.
For real-time trade alerts and a daily breakdown of the crypto markets, sign up for Elite membership!
Disclaimer: This article should not be taken as, and is not intended to provide, investment advice. Global Coin Report and its affiliates, employees, writers, and subcontractors are cryptocurrency investors and from time to time may or may not have holdings in some of the coins or tokens they cover. Please conduct your own thorough research before investing in any cryptocurrency and read our full disclaimer.
Image Courtesy of Flickr.
Unifi Farms Beta Launches on Unifi Protocol to Pioneer No-Stake Farming
Singapore, Singapore, 26th February, 2021, // ChainWire //
Unifi Farms Beta Launches on Unifi Protocol to Pioneer No-Stake Farming
Unifi Protocol announces the launch of Unifi Farms. The most revolutionary part of Unifi Farms is there is no staking of the liquidity token required. The public beta launch of Unifi Farms V1 will take place on not one, not two, but six different blockchains at once. 
Unifi is proud to announce the upcoming public beta launch of Unifi Farms V1 on Binance Smart Chain!
Unifi Protocol is not a clone of other DeFi projects, which has led to some very unique innovations.  Unifi Farms will continue this tradition of shattering expectations and introducing features on Unifi Farms not being offered anywhere else in DeFi!   
Unifi Farms will have several advantages over old-fashioned DeFi farms.  The one that will likely be the most revolutionary with Unifi Farms is there is no staking of the liquidity token required! Welcome to the world of true auto-farming on Unifi, where we refer to it as No-Stake Farming.
Why is farming without staking so revolutionary?
Savings! Everyone agrees the high network fees on Ethereum have a large impact on the farming rewards earned by liquidity providers.  Even on low cost networks such as Binance Smart Chain, the network fee is a cost that reduces the benefit of farming. 
To participate in most farms, the user pays at least five network fees.…
DeFi Wizard Raises $750k from Blockchain Investment Bigshots, to Simplify Multi-chain DeFi Legos
Bengaluru,, India, 24th February, 2021, // ChainWire //
In order to give shape to their 'one-click DeFi contracts creation' dream, Defi Wizard has raised a total of $750,000 from X21 Digital, AU21 Capital, Amsterdam-based TRG Capital, DeltaHub Capital, NGC Ventures, and ExNetwork.
Speaking on latest development Defi wizard founder and CEO, Anand Kamath said: 
"It gives us immense pleasure to announce that our platform, DeFi Wizard has attracted the attention of leading blockchain investors and funds."
DeFi Wizard aims to help cryptocurrency companies and businesses seamlessly create digital assets, without any hassles, with the objective of becoming an all-in-one token creation platform. 
Investment Usage
This recently concluded fundraising round is an important milestone for Defi Wizard. It will fuel the development of the platform along with operations/maintenance.
Other ways in which Defi wizard will receive assistance is with liquidity bootstrapping for Uniswap listing, alongwith added global and regional promotional efforts to generate awareness for the platform. 
About Defi Wizard
Defi wizard is a dashboard for building DeFi (decentralized finance) smart contracts with a few clicks. It offers real-time programmer analytics and allows users to create smart contracts for ERC20 / BEP20 / EDST, staking, yield farming, governance, cross-chain bridge, gasless relayer baked in.
As per the latest statistics, more than five projects are already using DeFi Wizard's staking services and more than $100M AUM has been locked through the smart contracts generated through the…
LGCY and Unido Partner for Secure Custody Services
Unido is an all-in-one platform that serves as an asset management and investment service for crypto-native enterprises. As an incoming wave of companies, asset managers, and investors resort to these technologies, its business banking portal and DeFi interoperability features are becoming essential to blockchain networks looking to welcome new users. 
One such case is LGCY, an open-source blockchain protocol that forks the TRON blockchain to provide more scalable and decentralized functionality. As a Layer 1 DPOS decentralized network, it is capable of handling over 10,000 transactions per second at an average cost of $0.01 per transaction. It also counts on a growing community of developers that seek to build new applications securely. This is why the network has decided to partner with Unido for its secure multi-signature wallet technology.
The network will integrate a white-label version of Unido's wallet where users can store their tokens securely using a patent-pending private key obfuscation algorithm. Developers will also be able to use Unido's Core API to build decentralized applications designed for enterprise solutions. 
While Unido will benefit from the integration of a new user base, LGCY will become a better service for crypto-native enterprises as well as asset managers and investors that need secure all-in-one custody services. 
The teams behind Unido and LGCY announced that "the integration…